09.05.13
At Boisbuchet with Snarkitecture
For those of you who haven't heard of it, Domaine de Boisbuchet is basically glorified summer camp for designers: It's an old chateau and grounds in the middle of the French countryside where, each week for 12 weeks, two or three contemporary designers or studios are invited to host a creative workshop for a group of students and professionals. During downtime, you can canoe, swim in the lake, lay in the grass, drink beers, swing from trees, attend dance parties, or sit around a bonfire and stargaze — it's pretty much rural heaven. So it was a tiny bit funny to be there last week with Daniel Arsham and Alex Mustonen of Snarkitecture (pictured above), who are best-known for their work with white styrofoam, fancy fashion brands, and hip-hop superstars, and who this week are hard at work back in New York installing a 20-foot-tall carved-foam mountain as a backdrop for the runway show of leather-sweatpant purveyor (and Kanye favorite) En|Noir. Luckily you can not only take the boys out of the city, you can take the city out of the boys, whose first instruction to the participants in their "Excavations" workshop was to dredge up wheelbarrows full of dirt, clay, and sand from the lake and its surroundings. The group then spent five days doing hand-casting experiments in the sunshine, in order to "take familiar, everyday objects and find ways to manipulate and alter them to make them serve new and unexpected purposes," as Mustonen put it. Check out all the photos we took below documenting the process from start to finish, then bookmark the Boisbuchet website so you can start planning your own pilgrimage next year.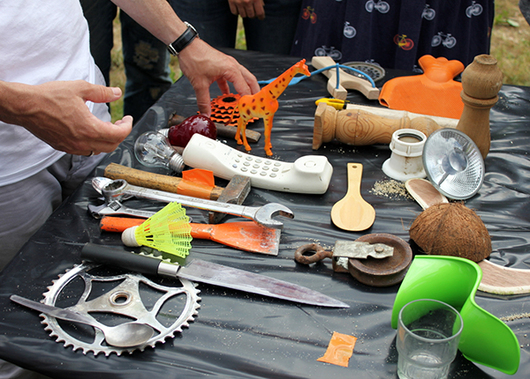 The group started by snooping around the workshops, tool rooms, and other areas for everyday objects with familiar forms that would be easy to cast in makeshift sand or dirt molds. Snarkitecture have often employed casting in their own projects — from their trophy for the Architizer A+ Awards to their new cast-plaster iPhone Pillow — and Arsham's also been using it quite a bit lately in his personal practice, for his "future relics" series.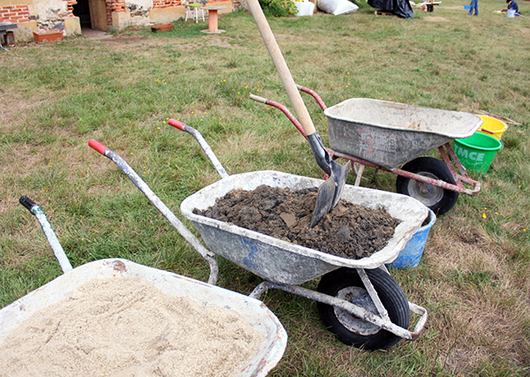 Wheelbarrows full of the sand, clay, and dirt the participants made their initial molds with.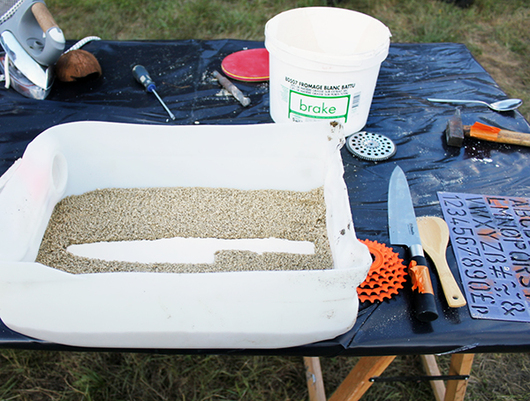 One of the students' first attempts: A kitchen knife cast in a plastic bucket full of sand.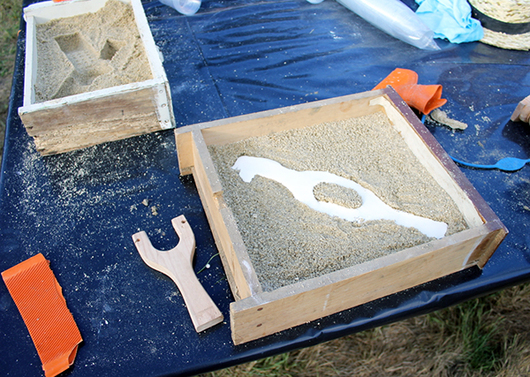 As the students got used to the basic casting process, Arsham and Mustonen encouraged them to start slowly moving away from their objects' more literal forms by multiplying and otherwise manipulating them in the molds.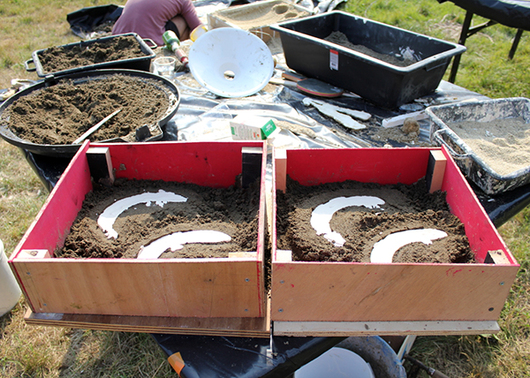 One participant, Urs Mueller, spent the entire time working with bananas, "and going bananas," he said. He probably cast 40-50 bananas over the course of the week.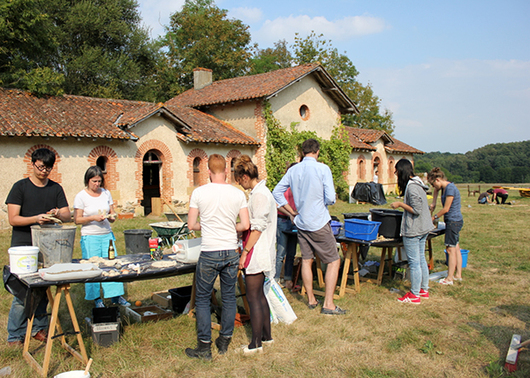 The group's outdoor workstation.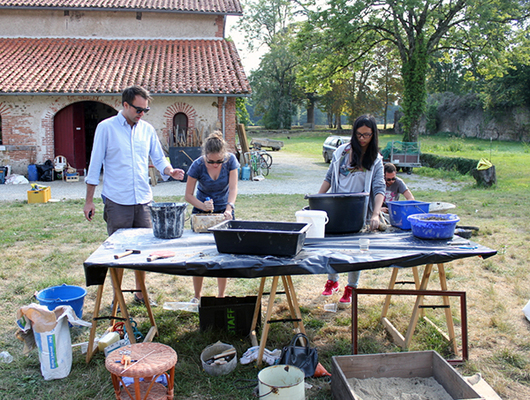 Mustonen (left) giving advice to one of the participants.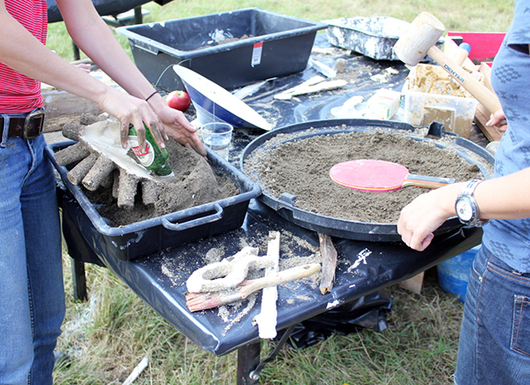 By day two, the casts were getting more and more ambitious; using only the imprint of the top of a beer bottle, Ayla Gresta made a whole series of "crazy underwater sea creatures" that she envisioned to be scale models for tables and benches.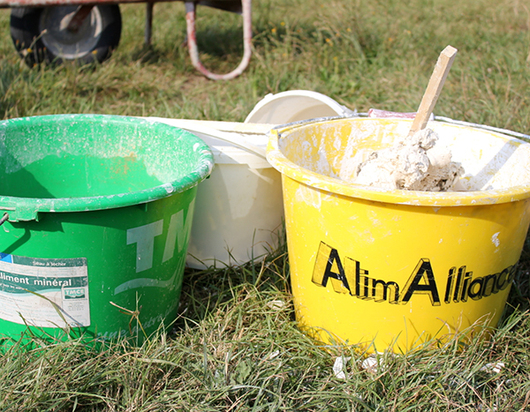 A plaster-mixing bucket whose logo font we loved.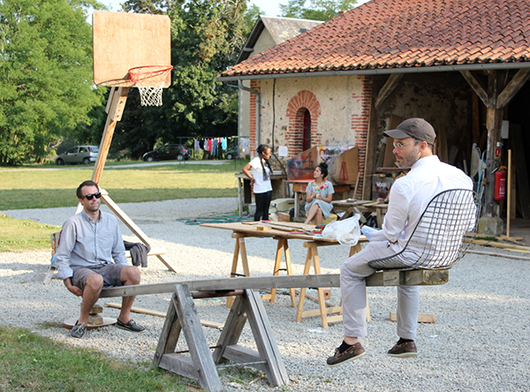 The Snarkitecture boys taking a little mid-afternoon see-saw break by the tool shop.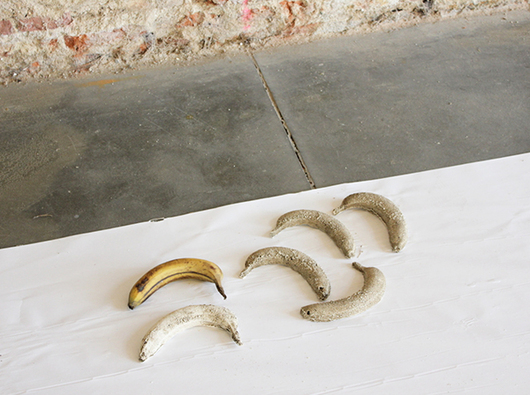 Some of Mueller's bananas, which he cast in two halves, planed, and glued together with wet plaster.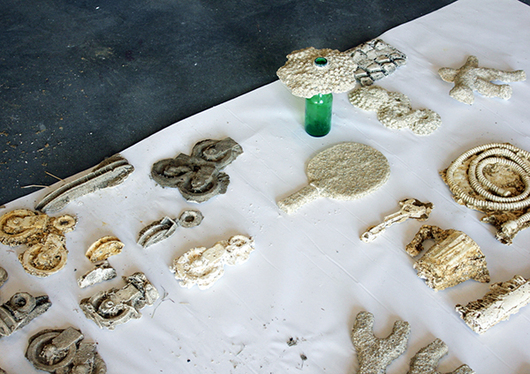 Early experiments with pulleys, wrenches, and Bialettis.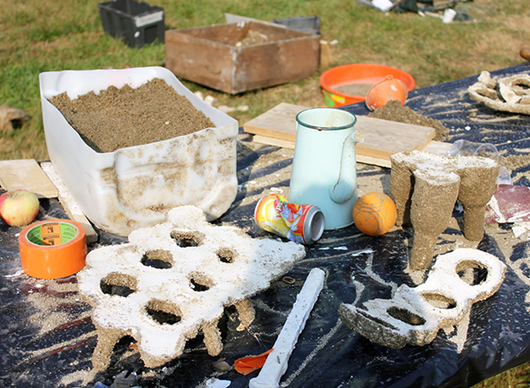 Some of the experimental objects succeeded in transforming simple forms into more complex ones — like this piece by Ricardo Inecco made from the imprint of a plastic funnel — but didn't exactly impart them with new functionalities, as Snarkitecture had challenged. The students kept working towards that goal for their final pieces.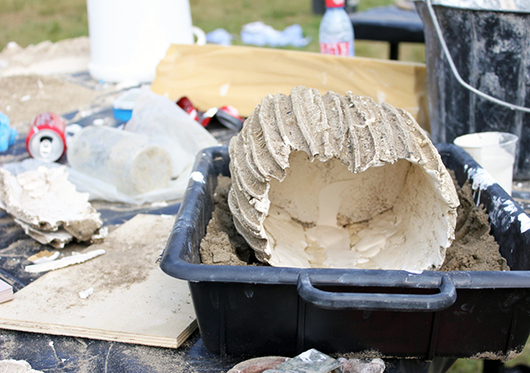 Camille McRae's final object was a vessel made from individual tracks cut into clay using a pulley, which she fused together in a circular shape.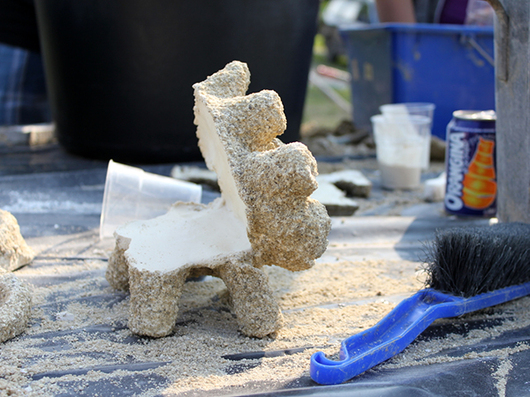 One of Gresta's pieces: a model for a "walking stool."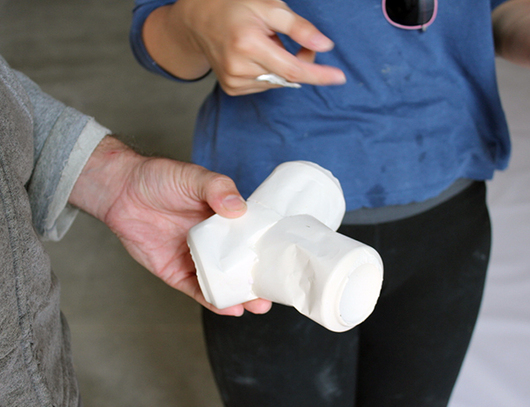 As the week went on, students started monkeying around more with casting techniques. Shan Liu made cleaner plaster casts inside broken aluminum cans.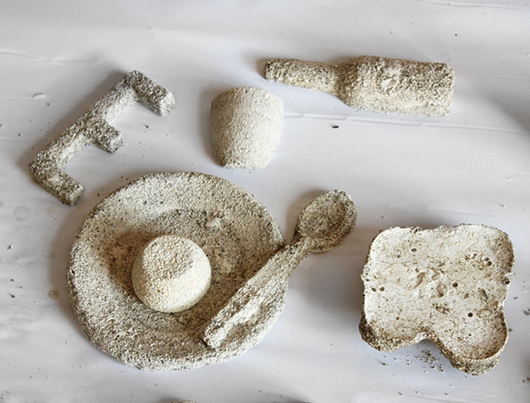 Sand casts of mealtime implements.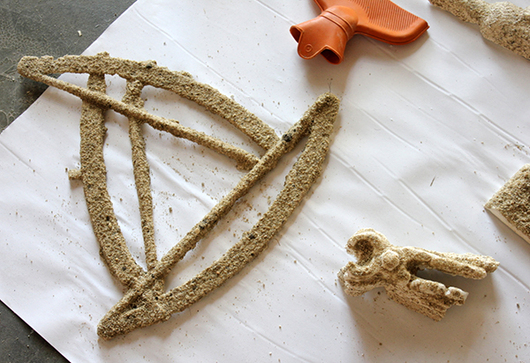 Coathanger parts turned into a sailboat, and a (broken) triple-cast of a wrench.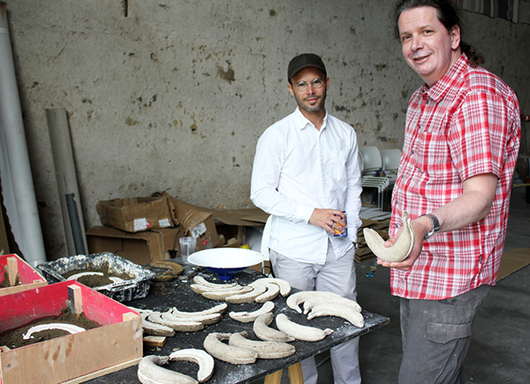 Arsham (left) and Mueller (right) with some of his bananas.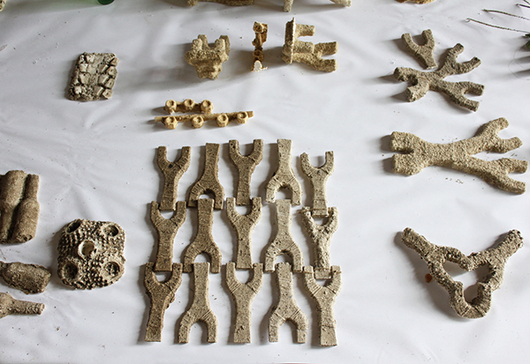 A single slingshot, repeated, became a kind of trivet or mat when tied together with fishing wire.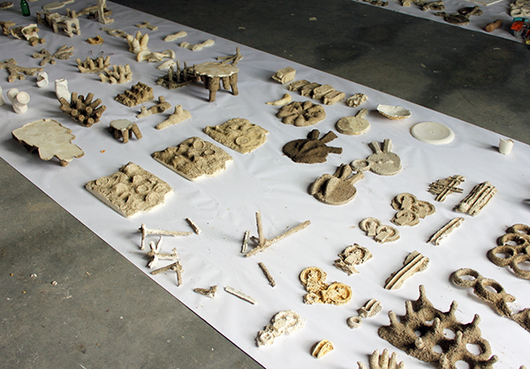 Laying out the results from the first half of the week.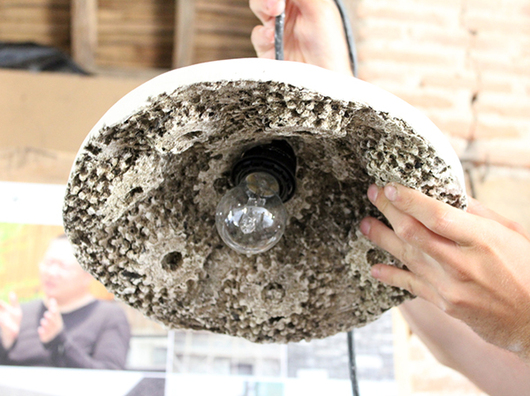 One of the most functional objects to come out of the workshop was this lamp by Niccolo Valcavi, who cast it in two parts: the inside from repetitions of a bicycle gear, and the outside from an actual lampshade.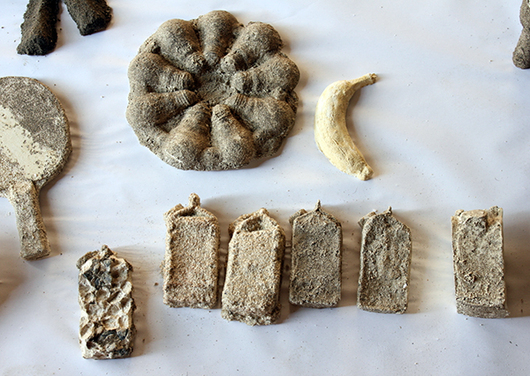 Dasha Gantseva — whose identical twin sister Sasha was taking another workshop the same week — made a series of sand-cast orange juice boxes that played with the idea of pixel resolution, starting with the rough, 72-dpi version at left and going up to a later, smoother cast that represented 300-dpi.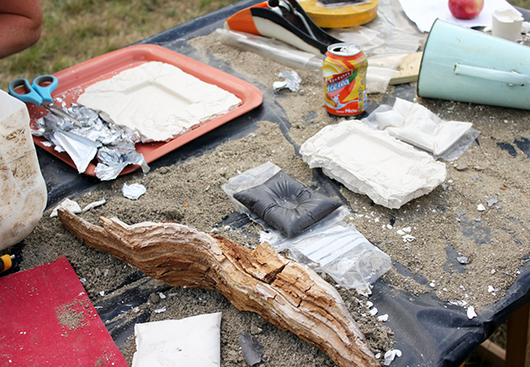 Halfway through the week, Arsham and Mustonen taught the group how to cast inside plastic bags, which turned out to be funny when the students started producing an endless stream of various "pillows" for all kinds of objects — from knives to pills to lipstick cases — closely resembling Snarkitecture's own Pillow series. Way to open-source it, guys!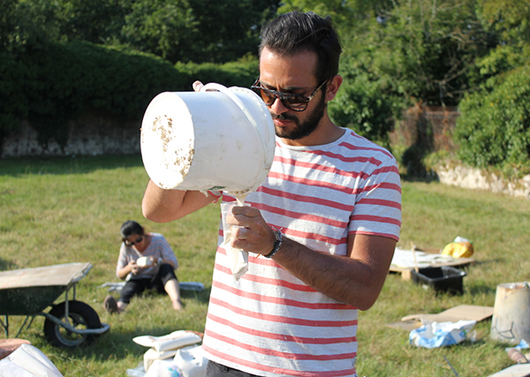 Inecco pouring plaster into a plastic bag.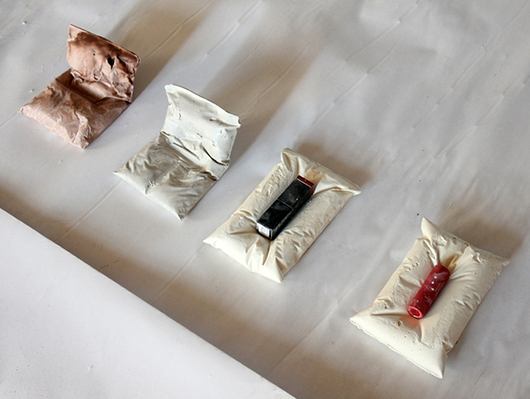 Pillows by Melanie Abrantes, who we found out used to work in Tanya Aguiñiga's studio and is a Sight Unseen reader. Loved her.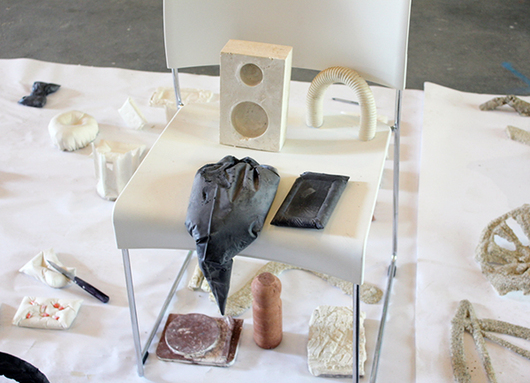 More bag casts, plus a low-tech iPhone speaker that kinda sorta worked.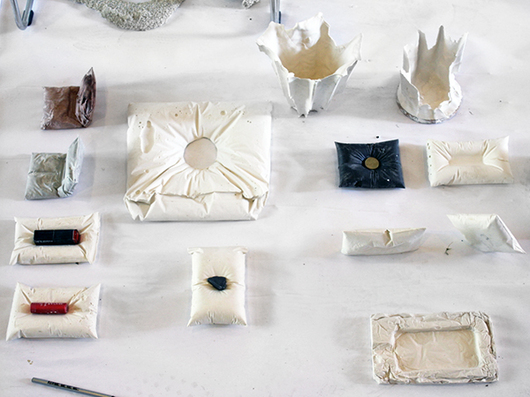 Many more pillows, one (in black plaster) meant for a single coin.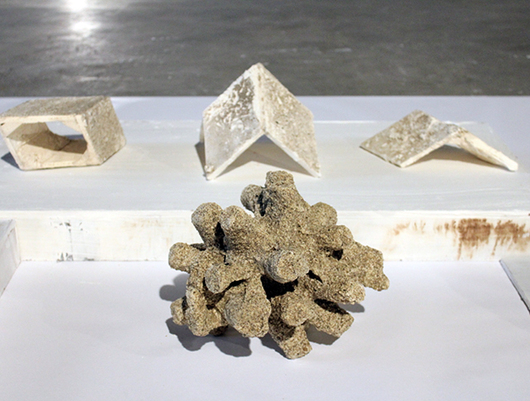 Another complex bottle-top piece, by Hsiao-Han Liu, who wasn't sure what function it could serve, along with geometric shapes cast from individual stone tiles by Biagoja Gorgioski.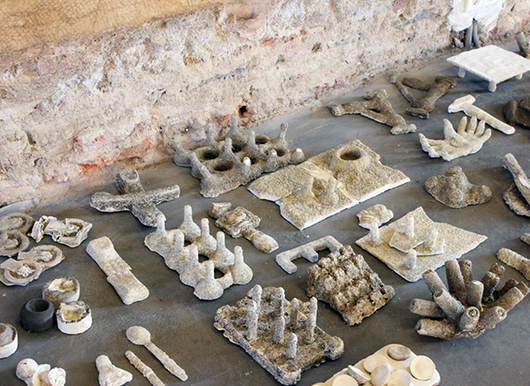 Some of the final objects lined up and ready for the group's final exhibition, which took place Friday night.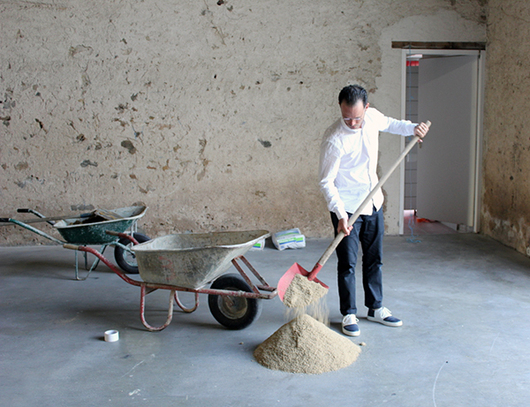 Arsham creating piles of sand, clay, dirt, and plaster which greeted visitors at the front of the exhibition.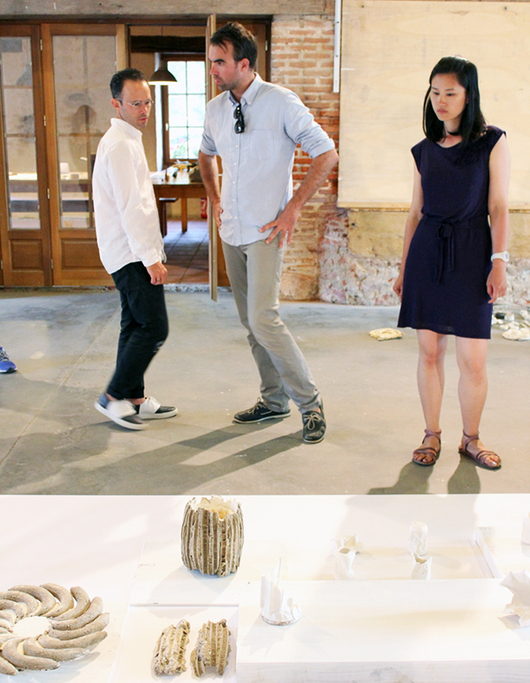 Arsham, Mustonen, and Liu contemplating the layout of the final exhibition.
Mustonen sweeping off bits of sand and dirt just before the exhibition opened.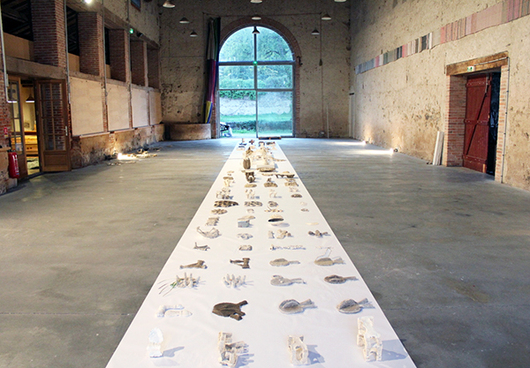 The final results of the "Excavations" workshop!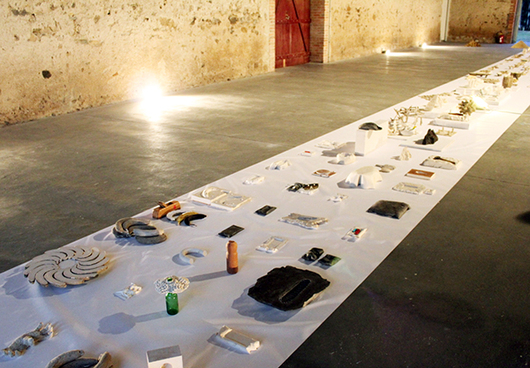 They stretched across the entire length of the room, some 60-80 feet. Needless to say the participants had a busy week, but better to be casting bananas in the country air than be stuck in front of a computer, no? Thanks Snarkitecture for inviting us, and Boisbuchet for hosting us!