10.01.14
In Venice, for the Bugaboo x Diesel launch
As we understand it, this is the dream, right? To turn your art-school thesis project into a multimillion dollar corporation and a brand that's coveted the world over? That's essentially what happened to Dutch designer Max Barenburg, who devised the origins of the Bugaboo stroller back in his days as a student at Design Academy Eindhoven in the early '90s. The original design did not survive intact — Barenburg at first envisioned the now iconic stroller as an all-terrain vehicle that could turn into a two-wheeler and hook up to a mountain bike for a bit of baby off-roading — but its essential DNA was there: the telescoping handle meant to accommodate tall Dutch dads, the central joint that would allow the stroller to fold up using a single hand.
Barenburg could never have foreseen Bugaboo's massive popularity in part because he never could have guessed the collaborations the stroller would inspire. To date, the brand has worked with Pendleton, Missoni, Viktor & Rolf, the Andy Warhol Foundation (we particularly like the stroller covered in a giant Velvet Underground banana), and, as of next month, Diesel. This summer, we had the good fortune of being invited to Venice for the launch of that latest collaboration, which arrives in stores next month. Considering our trip would allow not only a visit to Diesel's Vicenza HQ but also to the Venice Architecture Biennale, where we'd never before been, we jumped at the chance. We snuck a few sneak peeks on our Instagram earlier this summer, but here is the rest of what we saw on our whirlwind trip to the Italian island city.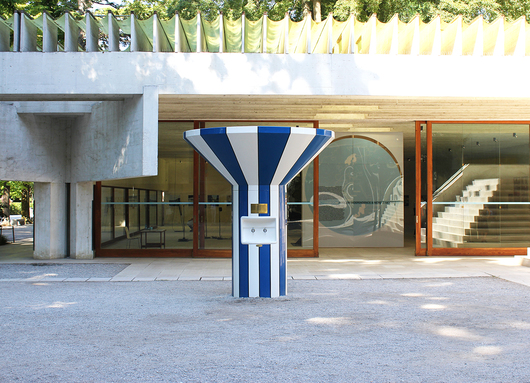 The Biennale wasn't part of the official itinerary, but it made for an excellent first lazy, jet-lagged afternoon. Exhibitions about architecture are notoriously difficult to pull off in an sort of visually compelling way but we had a few favorite pavilions: Israel, the United States, Russia, Denmark, and the Nordic pavilion were our top five. We also quite liked this random water tower parked outside the Kuwaiti pavilion.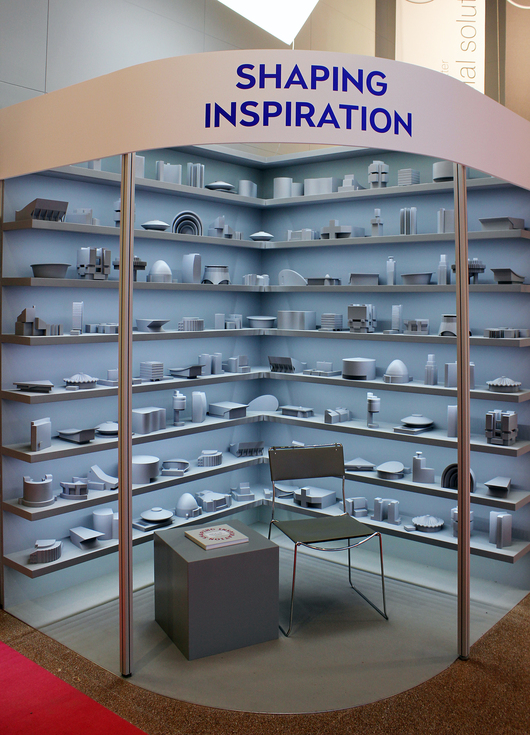 This year's Biennale was curated by Rem Koolhaas, who asked each of the 65 participating countries to address the theme "Absorbing Modernity." Russia had by far the best response to this prompt: An exhibition entitled "Fair Enough," which envisioned the pavilion as trade fair, with 20 fictional companies presenting examples of modern Russian architecture as products and concepts for sale. We loved this "booth" which displayed a series of architectural models for fake building icons.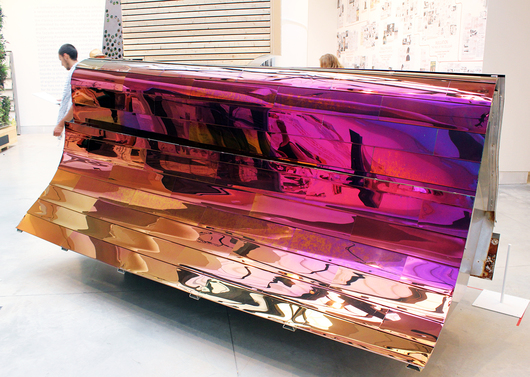 The central pavilion was also a favorite: Based upon the theme Fundamentals, each room exhibited iterations of various architectural elements: walls, corridors, toilets, ceilings, windows, etc. We loved this iridescent example in the "Facades" room, which was originally used by Philly architects Kieran Timberlake at the Suzanne Roberts Theatre.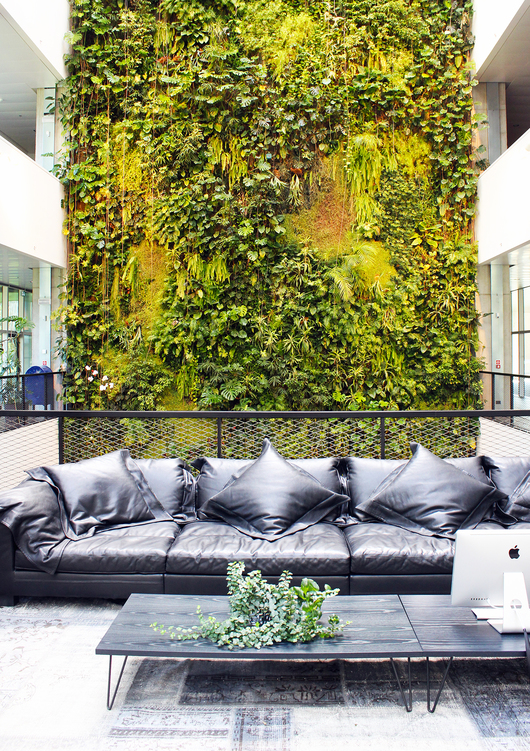 The next day, we took a bus ride into the countryside to Diesel's worldwide headquarters in Breganze, which opened back in 2010. Designed by the Italian firm Studio Ricatti, the building features several sustainable features, like a green roof and a rainwater collection system. The most stunning of these features is this 82-foot-high vertical garden that plays host to nearly 9,000 plants, including some seriously beautiful Monsteras. So on-trend.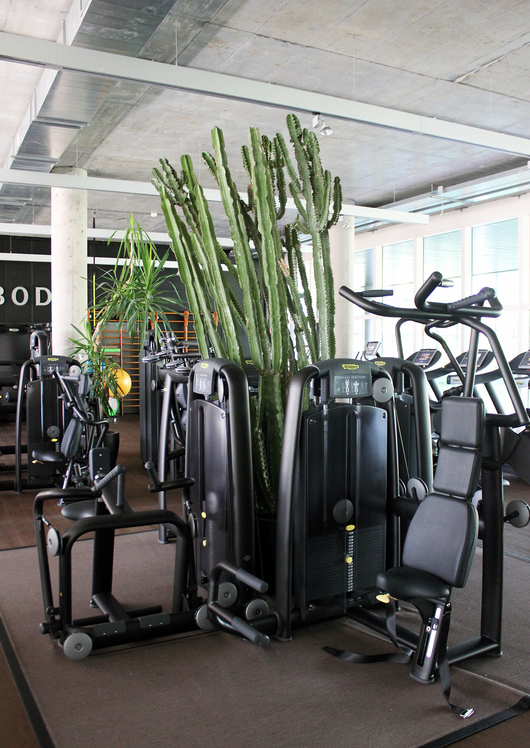 Someone here has a seriously green thumb.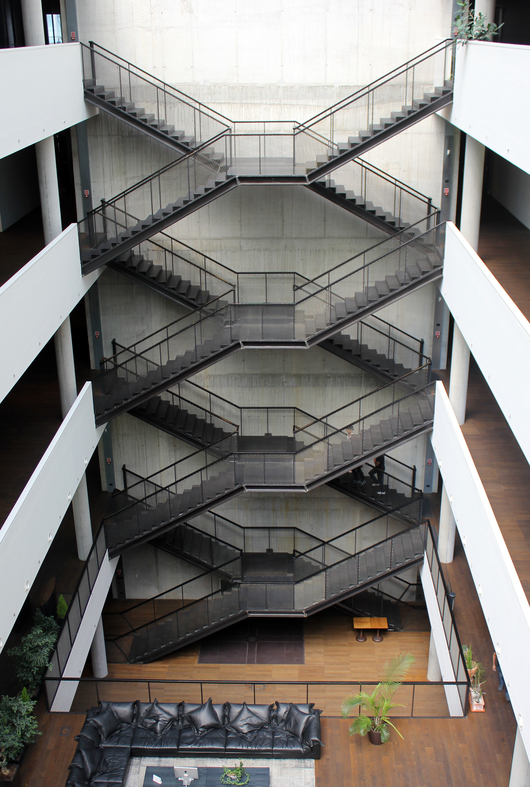 Diesel HQ shares many of the same design characteristics that pop up in the brands Successful Living furniture collaboration with Foscarini and Moroso, which we've long been fans of — rugged leather, fashion-inspired fabrics, and lots and lots of angular metal.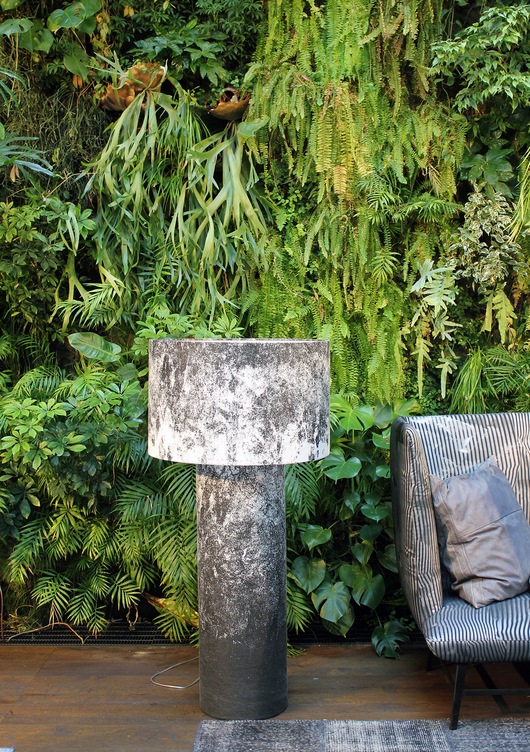 Downstairs, where we gathered to view the new Bugaboo x Diesel stroller and to hear words from Diesel's licensing creative director Andrea Rosso, there were cute, apartment-style vignettes of the Italian brand's various design collaborations, including this Pipe lamp for Foscarini and Gimme Shelter sofa for Moroso.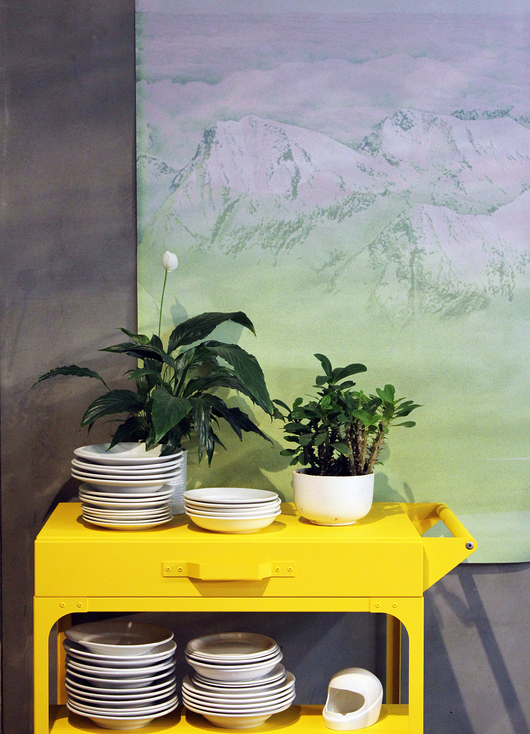 The Misfit cart was part of Diesel's collaboration with the kitchen brand Scavolini, back in 2012.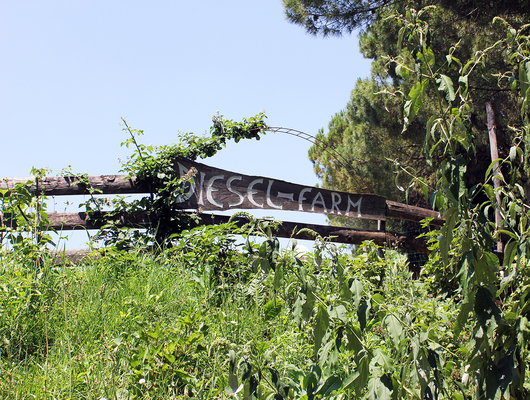 After the presentation, it was off to lunch at the Diesel Farm, a 250-acre estate that was purchased in 1994 by Diesel founder Renzo Rosso. The farm now produces its own brand of wine and olive oil, and plays host to company functions like this one.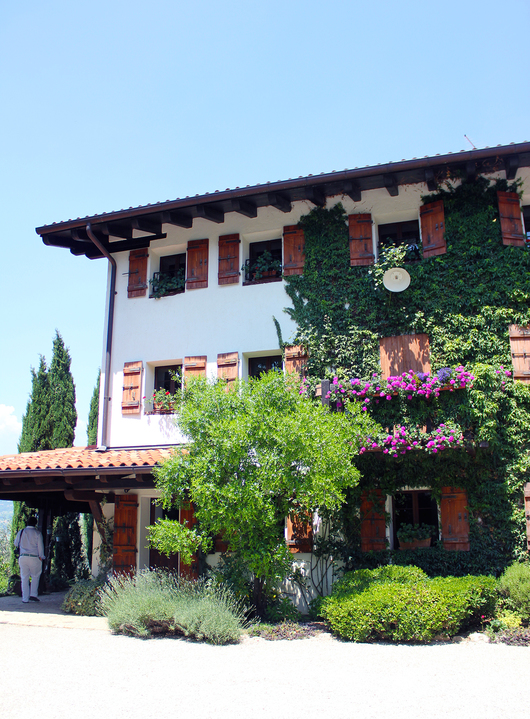 Rosso, who was born and raised on a farm in nearby Padua, meticulously renovated the farmhouse from top to bottom.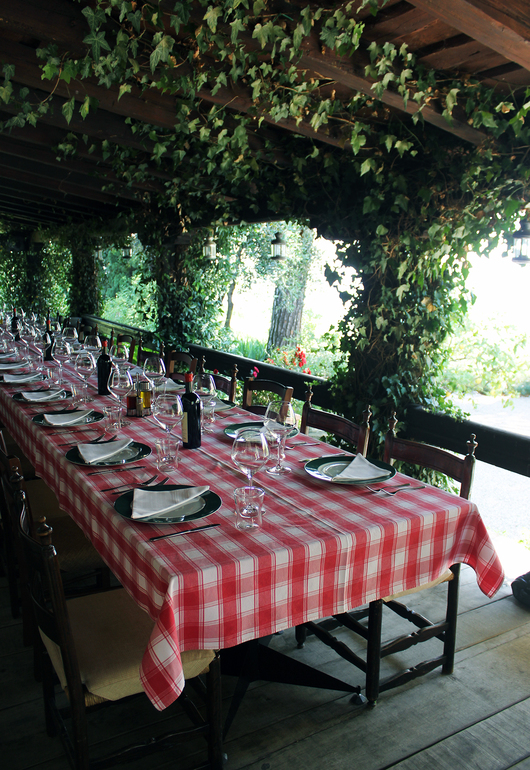 The table set for lunch.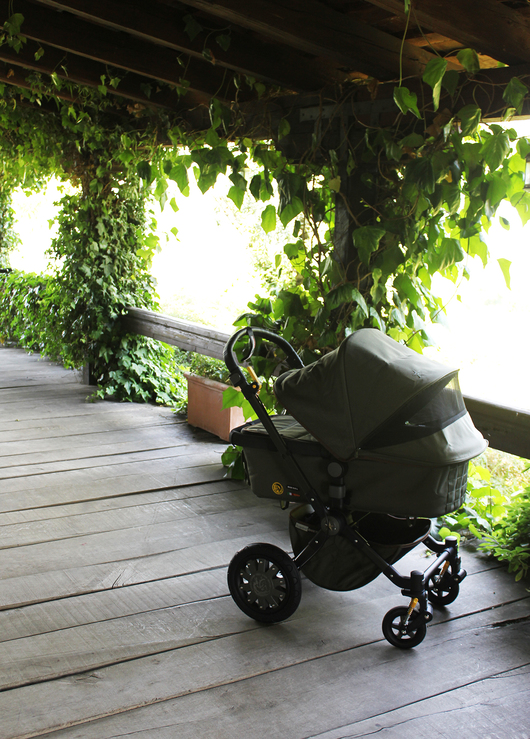 The guest of honor — a Bugaboo x Diesel Cameleon stroller clad in the first of three fabrics inspired by Diesel's military, denim and rock and roll history. The collaboration will span over the next three years, but the first iteration is military-inspired: a dark green anodized chassis with a green canvas bassinet, a faux-leather handlebar, a camo-print mosquito net and finishing touches like a gold metal combat star on the stroller's central joint cap.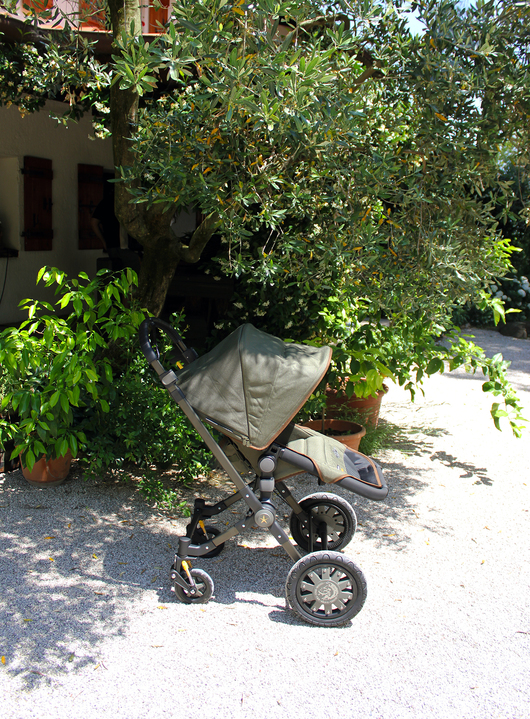 "In Asia they like the Bugaboo Bee," says Barenburg, "and Germans want a bigger stroller. As you grow as a company, you find out that you're leaving behind certain consumers, so now we have things like the twin stroller, the compact stroller, the ultra-max comfort stroller. But the Cameleon's success lies in the fact that it was one size fits all, and it's still our bread and butter."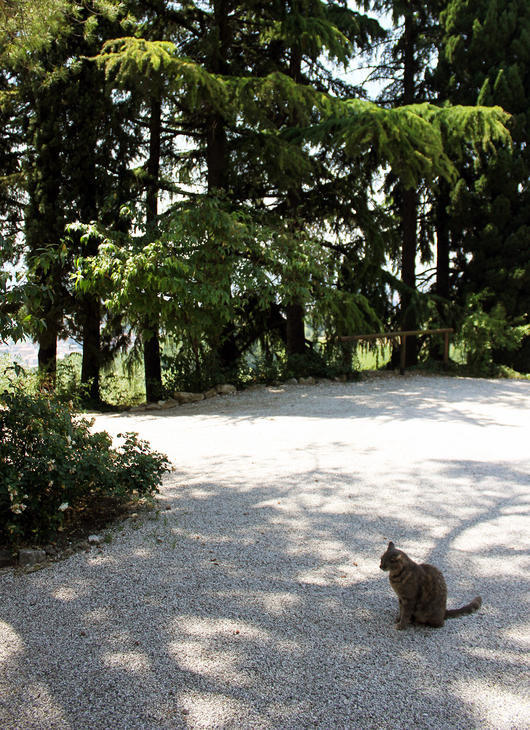 Though the afternoon was seriously idyllic, the little chap above might have had something to do with the full-blown allergy attack I had throughout the proceedings.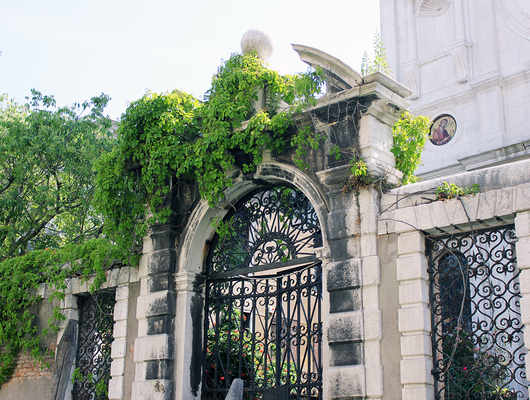 Exhausted and with full bellies, we headed back to town for one last gondola ride to dinner; on the way we passed this beautiful gate, an example of the city's own signature architectural styles. Venice, you're kind of a strange city, but I think we'll be back.
This post was sponsored by Bugaboo, a brand we've long respected for its commitment to design. Thank you for supporting the sponsors that make Sight Unseen possible!