10.31.09
Radius One desk set by William Sklaroff
When I was 19 and my family was moving out of my childhood home, my best friend and I hosted a joint garage sale. I dragged out all the crap the house had accumulated in the 50 years since my grandparents had built it, and she brought over a car's worth of items her parents no longer had space for. Rummaging through her things, I rescued a Louis Vuitton bag from the '80s, the classic children's book The Lonely Doll, and an ashtray with rounded corners that spoke to my then-fledgling love for mid-century design. The box it came in said "Radius One."

I didn't know what it meant until last year, when that friend's aunt mentioned her former boss William Sklaroff, a Pennsylvania-based industrial designer who despite a resume full of influential clients and designs — including clocks for Howard Miller, more than 70 hospitals, and Radius One, one of the most successful desk accessory collections of all time — had little public recognition for his work. So I called him and we proceeded to have a three-hour conversation about design education, the troubles of the contract furniture market, the fact that F. Lee Bailey owns one of his fiberglass Uniplane desks from the early '70s, and finally, the story of how he developed Radius One.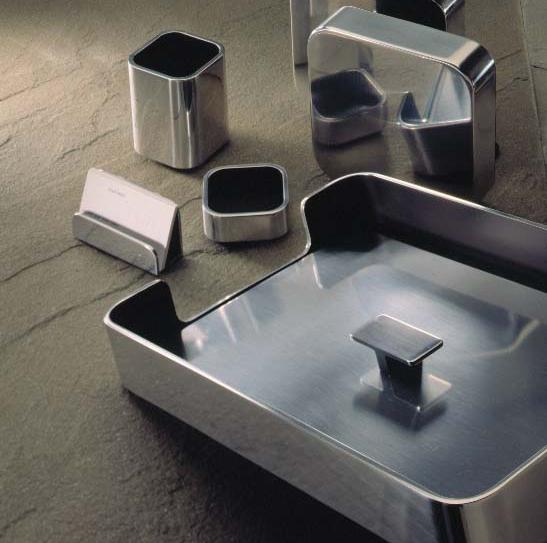 "Plato said there's the perfect door or the perfect chair in the great treasure house up there. I believe that when one has a brainstorm or a really creative idea, when you come up with something that hasn't been thought of before, that kind of thinking comes from somewhere beyond the experiential. One day I was with my dog sketching by the pool. And when I get an idea, it's kind of a simultaneity of design and the materials and methods the design is evolved from. I visualized this form — which at 3/16 of an inch wasn't skinny like sheet metal would be, but something thicker that looked architectural and right — and I immediately knew that this could be extruded, a technique we use in construction and other fields. I realized I was on to something.
"I found out how it could be done, and it's economical because you don't have to spend a fortune to make a die. And so I came up with the concept for Radius One, a collection of metal desk accessories. If you look down at a piece of paper and make a radius at each corner of a square, that would be Radius One at its heart. At one end of the extrusion machine there's a plunger, and it's pushing molten aluminum into a form, like a sausage maker. This enabled the pieces to come out as a square-round form with no seams. Extrusion is a way of getting a form without having to weld or solder — in the past you laboriously had to assemble these things. If you wanted to make an ashtray, you would have to make welds at the four corners and then put a bottom on it. The Radius ashtray, being extruded, was four sides de facto, and all you had to do was force fit a bottom onto it. It was a tremendous savings, but also very beautifully done.
"I developed all of these concepts, then looked around and thought, who are the people that make accessories? And Smith Metal Arts came to mind. So I went up there and like a typical young designer, I tried to explain that this product would really stimulate sales, and it's what designers need because it's part of the new furniture. Radius One was speaking to the new architecture, the new interior design, which at the time was more curvilinear. Desks with radial corners and so forth. Smith Metal Arts was already making rectangular products for Skidmore, Owings and Merrill, to go with the Knoll office furniture and all those things that were popular in the mid-'50s, and it was nice but it wasn't spectacularly different. The owner liked the Radius concepts, but he wasn't very enthusiastic. Finally he agreed and I had to accept very little besides the royalty. And of course once this thing was launched in 1963, it became a huge success. It's been in production all this time, with millions of dollars in sales, and I consider it miraculous. Almost 50 years ago, and you'd think they were designed yesterday."