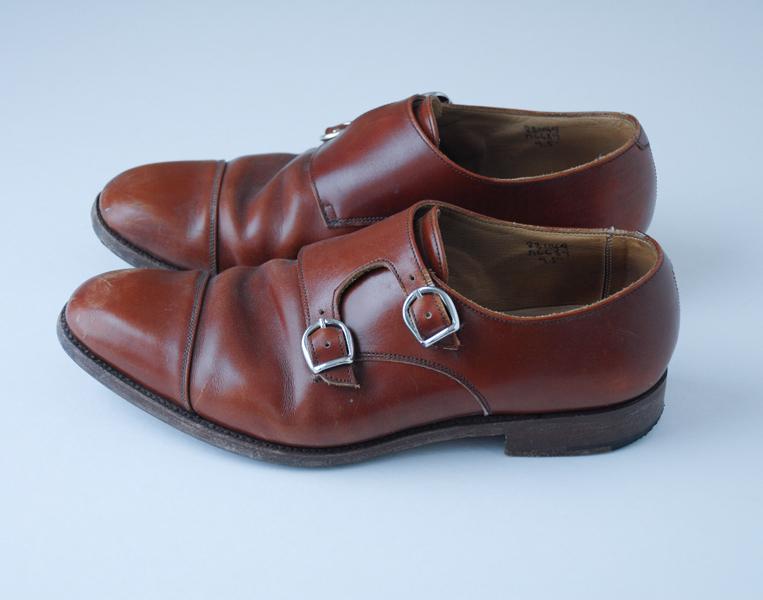 "I like selling clothes that make people hyperventilate," says Sweetu Patel. "Furniture doesn't do that." Trained as a furniture designer himself, Patel was the original founder of the design brand Citizen Citizen, but after giving up that business and putting in five years on the sales floor of New York's Cappellini showroom, he shifted gears to start the online men's clothing shop C'H'C'M' last year. As it happens, though, Patel's purveyorship of classic heritage brands represents more of a return than a departure — back to the clothing he grew up around, back to his sartorial instincts, back to the business model Citizen Citizen was originally meant to follow. We've always been a fan of Patel's work, so we asked him to tell us his story, then share the eight inspirations that have led him to where he is now.
"I was born in India and moved to England when I was three. I spent most of my life in Northampton. My uncle owned a grocery store, and I used to work for him, which is where I discovered magazines. I was really inspired by i-D, and I read it for 10 years starting in 1988. It made me be creative instead of going the academic route, which is what an Indian person at that time usually did — all my cousins were doctors, dentists, accountants. Being a minority, reading i-D made me feel part of something. It opened up a creative world for me in terms of clothing, music, and literature.
"I ended up studying furniture design and interior architecture in Birmingham, and moved to London in 1998. My friends and I started a company that cut up secondhand leather jackets and turned them into bags, and from that I got a job with Alma, Europe's oldest leather merchant. They were starting a home collection, and I was the in-house designer. They had a factory on the East End, so I got to see how the company worked from top to bottom; in the morning I could make a drawing, get a pattern cut, take the pattern to the machinist, and by the end of the day have a product. They had proper artisans making everything, it was old-school. It was like a hidden gem. A lot of fashion designers and architects came through and bought leather there: Smythson, Burberry, Norman Foster.
"After two or three years there I met my wife Nicole and came to the U.S. in 2002, but I couldn't really work. I had all this free time, so that's what made me start Citizen Citizen. I sat down and made it up. I gave myself a year to do all the research, then started it in 2004 with the idea that I'd go to England and bring back the work of young designers like FredriksonStallard. I launched during ICFF with a gallery in Williamsburg, and no one else was selling the things I had. I spent a year and a half running it, and Philip Wood came over to help out, but then it just didn't work out. We got into manufacturing, which I wasn't ready for. Buyers from Japan were knocking on my door wanting to buy 200 candles, and in the end I couldn't afford it so Philip took it off my hands. I'd never meant for it to be that big of a thing. I meant for it to have a neighborhoody vibe; it was supposed to be more like a gallery.
"That was in 2005, and it kind of brought me to my knees a little bit. After that Nicole and I moved to Clinton Hill, and I worked at Cappellini. I'm actually not into making my own designs, I'm more into doing product development for other people. While I was at Cappellini I was always trying to work on something, but it took a full three years to get a business up and running. With all my businesses it's been proper grassroots in terms of the money involved. That's why with Citizen it was really tough — things like that aren't cheap. We got a lot of press but didn't sell that much. The idea for C'H'C'M', which stands for Clinton Hill Classic Menswear, came to me in 2006: I used to collect images — I had a database of 30,000 of them I'd pulled off the internet or scanned — and at some point I noticed most of them were clothes and shoes and bags. I started putting different looks together, and it branched out from there.
"It was meant to be a nice shop selling classic, rather than fashion-based, clothing. When I was a kid, I used to save up for clothes, even if they were quite expensive, because to me they were worth getting. Everything I bought was top notch. C'H'C'M' has that kind of mentality — clothes aren't something you throw away. Like sweaters from Denmark that you'll pass on twice to your son and your son's son, real fisherman stuff. A lot of my vendors are old-school, and with the first few brands, I was the first person to carry them outside of Japan. Maybe that's what Citizen Citizen was supposed to be. The roots of it are pretty similar.
"I carry some new brands, but most are old European ones. I grew up around the shoe industry in England; Trickers was started in 1829, and I still go twice a year every time I visit my mom. It's just down the road, and people are still making shoes there in exactly the same factory. I think because it was around me it probably stuck with me. Someone like Mackintosh is still making clothing the same way since the 1800s, since they invented the rubberization of cotton, which I think is insane. Or the Danish brand S.N.S. Herning, a family business founded in 1931 that still uses the same German machines. I'm really into family businesses and how things are handed down from generation to generation. I think my uncle taught me that — I ran away from it back in the day, but now I understand it.
"In November I'm opening a bricks-and-mortar shop in Noho, and I'm going to have Fronzoni tables and B+B Italia furniture, so in that sense my love for design is still there. If I put my finger on what I'm doing I'll lose it — it's all instinct, so I just let it be."