08.06.10
032c Interviews Rick Owens
On occasion, the editors of Sight Unseen spot a story about creativity told from a viewpoint that's not unlike our own. This one, a lengthy interview with California-born, Paris-based designer Rick Owens, appears in the current Summer 2010 issue of 032c and has just been posted in full on the magazine's website. Among other topics, writer and curator Carson Chan — who co-founded Berlin's influential Program gallery for experimental art and architecture — talks to Owens about his intersecting interests in fashion and design, and how his creative process cuts across both disciplines. We've excerpted a small portion of the interview here, but please note that the images in this post are photographs of Owens's furniture designs which we've gleaned from around the web, and they are not the same images that ran in the magazine. To read the article in its entirety and see the original imagery, click here to visit the 032c website or subscribe to the magazine.
By CARSON CHAN
Just two days after the presentation of his fall 2010 collection in Paris this March, I met with designer Rick Owens (born 1962) for a conversation that started in his studio and ended the next day in his gym. Owens's studio—whose boundaries blur into his office, showroom, furniture workshop, and apartment, which he shares with his partner of eighteen years, Michèle Lamy—takes up several stories of a Haussmannien townhouse in the upper reaches of the 7ème, on a quiet block south of the Seine. Besides having been the former headquarters of François Mitterrand and his staff, it's a space that's been properly celebrated by the press, from PIN-UP to The Financial Times to the pages of this magazine—two years ago, 032c had Max Farago photograph Lamy's daughter, nude, in the apartment.
I arrived in the midst of the post-show buying rush, and the complex was populated by a salad of sales attendants, buyers, translators, press liaisons, models, and support staff, all of whom were dressed in Owens's signature confections: dark drapes, shadowy gauzes, and lop-sided edges—everyday garments that sit well with those who find glamour in the asymmetries and imperfections of life; nothing is held firm, things go out of place. Looking out of the back windows of the studio, one can see the gardens of the French Ministry of Defense, where every few weeks "La Marseillaise" is performed for visiting dignitaries by a uniformed combo. "It's amazingly charming," Owens said, pausing to take in the sight of the manicured lawn. Of average height, Owens is built and tanned, and looks kind of like Iggy Pop with a stronger nose and coal-black hair. He acknowledges the seemingly cliché trajectory of his life; a made-for-television tale of a Catholic-school boy raised by conservative parents, who drove 150 miles south to L.A. right after graduating high school to live a reckless and hazy decade of booze and drugs, only to sober up enough by the mid-1990s to unleash a talent for designing affecting and decadent clothes—clothes that would be picked up by Barney's in New York five years later in 1999, clothes that would win him a National Design Award from the Cooper Hewitt National Design Museum in 2007, and clothes that would command the runways in Paris, his home since 2003.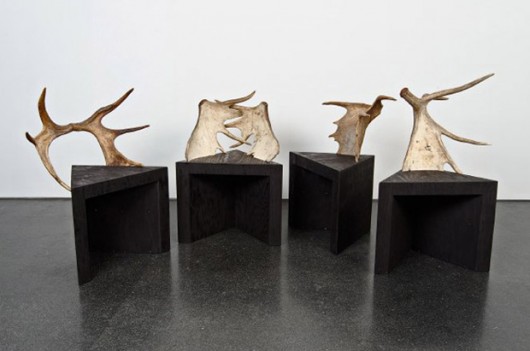 CARSON CHAN: I heard you have a deep interest in architecture and interior design.
RICK OWENS: I do, but I'm very much a dilettante. I'm not a connoisseur, and I don't have the memory for all the names and dates. People ask if it's different to design furniture than clothing, and the answer for me is no. Doesn't every designer want to design their entire environment, and apply their aesthetic to everything around them? Everyone, if they could, would customize everything around them. I don't know if I have the talent for that, but I certainly have the desire. In this way, architecture surpasses fashion. It's totalizing, and once you get to that point, you wouldn't even want to deal with clothes. Designing clothes is the first step—it's the baby step towards architecture. Actually, the triangular pattern that I've been using for my clothes comes from a façade relief in Berlin, though I don't remember from which building.
Do you know of Carlo Mollino's architectural work?
He's one of my heroes. I've looked at his work for years and years. I've been to his theater in Turin.
It's amazing. The plan of the building is modeled after a woman's torso. What is so fascinating about Mollino is that he seems to have designed buildings—these mirrored palaces—so that he could photograph half-naked women inside them afterwards. The building itself is only a part of his imagination. He furnished these places with chairs that would split open the sitter's legs.
You used to work for a clothing company in Hollywood that produced knock-offs of designer clothes, and I assume that gave you a pretty fundamental education in pattern making. The same learning didn't happen with your furniture design, right?
No, it was a completely different, do-it-yourself attitude with my furniture. Actually, the clothes were a do-it-yourself thing too. I started making them with all sorts of improvised techniques because I didn't have the manufacturing capabilities I have now. I had one Mexican sewer in my studio. I didn't have knitting capabilities. I didn't have a Rolodex of suppliers. It was all improvised. Having said that, you can't really start to improvise unless you already have some foundational skills. Artists can't convincingly abstract unless they've had classical training—and I'm not referring to myself as an artist here.
Why not?
Maybe I will on my deathbed. Recently, I was thinking about the differences between approaching art and fashion. I started out going to art school, wanting to become a painter, but I was intimidated by the intellectual intensity that I thought I had to maintain. I didn't think I could do it. It felt like priesthood—that, or I took it too seriously. Now I think fashion has surpassed art as a way of communicating. Fashion has become more defined as a discipline because there is so much competition out there. At the same time, the audience has grown and become more knowledgeable since I began. Fashion is something that has to speak immediately, to hit you in the gut with something profound, something emotional. It's a form that has to constantly be of the moment in order to provoke this reaction. A lot of the art I see these days is always ironic, always a wry joke or a superior comment on society—concepts that artists can wrestle with for a year before committing to show it. It's very indulgent. I disapprove of art these days, which has made me value fashion more than I used to.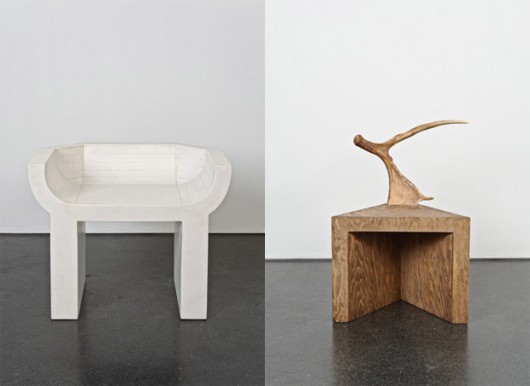 Would you consider fashion a discipline-lite?
I had wanted to go into something fairly frivolous, superficial, and light. I didn't want to be a heady artist. That said, some fashion designers come close to being artists. Nicolas Ghesquière's fall 2010 Balenciaga collection was close to art, and I would consider many Comme des Garçons pieces art. I don't think my individual collections are art, but I think that my complete oeuvre—the whole picture—could be considered as my work of art.
Fashion has a leg up on art as a form of communication because clothing always engages its wearer physically. You are that much closer to your audience than, say, a painter. The choice of one fabric over another allows you to communicate and access your audience in a way most artists can't.
The intimacy is so powerful. It's the most immediate and perhaps genuine way to communicate. People actually integrate the work into their lives, and they have to feel comfortable with it.
Is it difficult to talk about these processes that are so innate, so carnal?
Most of the time when I do interviews with the fashion press, they ask me about my inspirations, and I just have to blab on about nothing. How can you describe clothes? The thing about it is that it has to strike an emotional chord that's a little bit magic and indefinable. If you can define it too easily, the magic is gone. There's not much I can really tell someone else except all the peripheral matters surrounding the business of designing and selling clothes. I can't explain myself. There's nothing more tedious than a designer talking about his inspirations. As far as the process goes, that's easy to talk about. In the beginning, I'll drape fabric on a form, walk away, come back, walk away. It's a long process for me, and I'm not quick enough to do it on a model. At some point, I transform this into a paper pattern, which is then manipulated on a table. It's kind of the same thing with the furniture.
And in the end, what is a good form?
A good form is a rational line from point A to point B. A satisfyingly rational and graceful line will produce a good form. This goes for both furniture and clothes. Women's clothes can definitely bear a little more frivolity and coquettishness. With men, I try to stay pretty severe. The history of uniforms is so well documented that we have a blueprint of what's made a man look the most dignified—what's been done to emphasize his integrity, his nobility. Uniforms have achieved this so well—why reinvent the wheel?
The interview continues at length. To continue reading, click here to visit the 032c website.