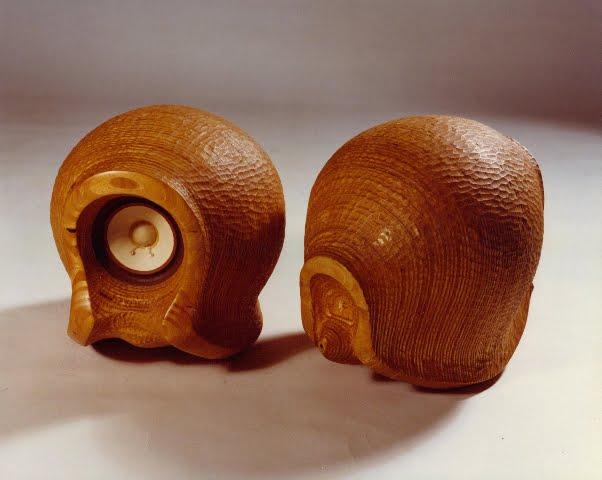 On occasion, the editors of Sight Unseen spot a story about creativity told from a viewpoint that's not unlike our own. This one, posted yesterday on the interiors and art blog You Have Been Here Sometime, chronicles a chat with the three collectors behind Objects USA, an L.A.-based online and pop-up gallery dedicated to mid-century California design and crafts (and San Diego in particular). Ron Kerner, Steve Aldana, and Dave Hampton banded together to start Objects USA in 2005, after discovering they were all pretty much after the same stuff, and they've since expanded their repertoire to include hosting bi-annual "Mod Swap" trading events for other collectors. But though they were fortunate enough to find each other, they're aware that not everyone shares their taste: "Most people have gotten used to basic mid-century modern, and that's certainly where we all started," they write in the interview. "But for someone with visions of Pierre Koenig-style antiseptic interiors dancing in their head, our crazy hippie-modern fiber-art and funk movement meltdowns can seem unsettling." We think you'll like it just fine, which is why we've excerpted part of the interview here, where each partner tells the story behind his favorite object from his own collection. To read more about the trio's ongoing adventures, follow the link at the bottom of this article over to the original piece on YHBHS.
Dave: Speakers by Larry Hunter, 1972 (pictured above)
My pick for an object, although not for sale, is a pair of speakers made from laminated birch plywood that was carved into these little round shapes, and the whole surface was textured with a gouge. They were made in 1972 by Larry Hunter, who ran the furniture design program at San Diego State during the late '60s and '70s. I had seen the speakers in Creating Small Wood Objects as Functional Sculpture by Dona Meilach, and in an old newspaper article. When I got to know Larry and had the chance to buy the speakers from him, I was overjoyed. He was surprised when I brought them up after so many years. They had been put away for a long time, and now I use them all the time. The speakers sound great and they remind me of Larry and San Diego's contribution to California Design.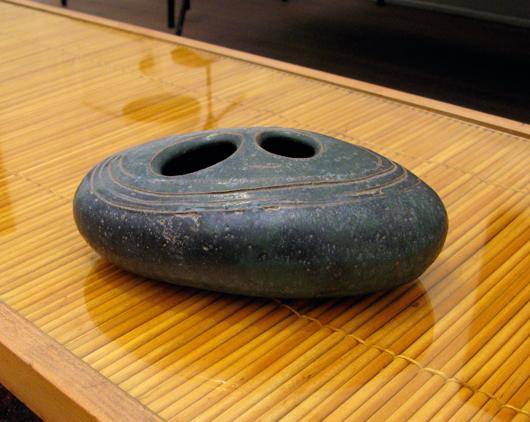 Steve: Rock form by Jean Balmer
Like Dave, my object isn't for sale. That's the problem with obsessive collectors — we keep most of our favorite things. It was 2004, and I was at the estate sale of Fey Marshall, a local artist. There was an unmarked ceramic rock form I was holding onto while I walked around the sale. For some reason I put it down before I checked out. After I left, all I could think about was that rock. This was pre-Objects USA and I barely knew Ron and Dave. I did know Dave was focused on San Diego artists, so when I ran into him that day at a local mid-century furniture store I told him about the Fey Marshall sale. I wasn't able to get that rock out of my head, so I headed over to the sale the next day, only to find Ron and Dave in front of me in line. Anyway, Ron bought the rock. It wasn't until later that I found out that it was by Jean Balmer. At some point, years later, I was able to pry the Balmer rock away from Ron. It was probably during one of our complicated trading sessions. Jean Balmer has become one of my favorite artists. I've been able to build up a nice little collection of her ceramics.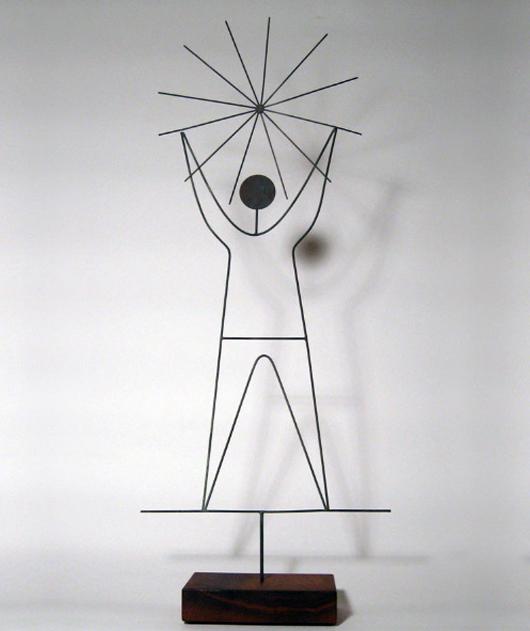 Ron: Untitled sculpture by Barney Reid, c. 1960
Again, the object I am submitting is among one of my most prized pieces and isn't offered for sale on our site. I never really know what's going to become a favorite of mine. Sometimes I think it makes sense based on the history of the piece, how I found it, or simply my initial reaction to a work, but I've also been proven wrong. I have acquired a number of pieces that have grown on me slowly over time to the point that I can't seem to ever let them go. This copper sculpture by local San Diego artist Barney Reid is the type of work that is significant to me on all counts. The way I came about it was during a time when I just started to become interested in local art. There was an estate sale at the late Barney Reid's home that was full of objects of all types by Barney and a number of other local artist's from the '50s and '60s. I purchased about $800 worth of items, and at the time thought I was going way overboard with emotionally charged purchases. Of course, in hindsight, I wish I had bought all I could! Anyway, a local dealer purchased this particular piece the day before the sale and I bought it from him about a week later as an afterthought. Since that time, this sculpture has become one of those works of art that has not only steadily grown on me more and more over the years, but it also signifies a turning point in my life that drives me today.
Click here to read the rest of this interview on the You Have Been Here Sometime blog.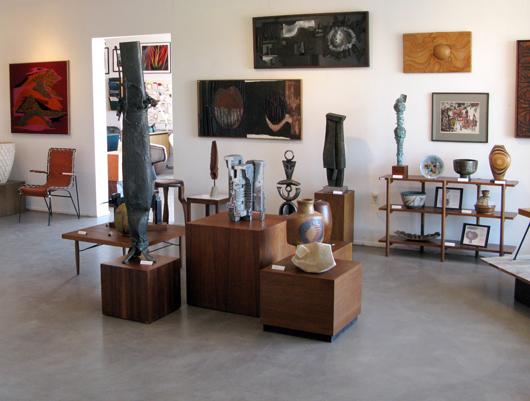 One of Objects USA's pop-up selling shows