04.05.11
Carwan Gallery Launch: Philippe Malouin
In the Ventura Lambrate district at this year's Milan Furniture Fair, half a dozen talented young designers and design brands from around the world are coming together to launch new work under the banner of the soon-to-open Carwan gallery in Beirut, with Sight Unseen as media sponsor. Through April 15, we'll be showcasing each of the participants on the site by documenting how their new products were made, plus what their studios looked like during the development process. First up is Montreal-born, London-based Philippe Malouin, whose projects merge a highly conceptual framework with a practical, process-based approach and visually pleasing geometries. His Gridlock series, for example, shrunk the construction of architectural cross-bracing down to a domestic scale, employing it to make lamps and mobiles, while his new Yachiyo rug uses an ancient Japanese chain-mail technique to create an indestructible floor covering that takes 3,000 hours and an army of interns to produce. Here, Malouin explains how — and why — he did it.
Please tell us what you'll be launching in Milan next week, and how it was made.
"This year I have been doing quite a lot of research on — and work using — metal, and the Yachiyo metal rug is a result of this research. It is a piece designed to last many lifetimes, it is virtually indestructible, and it involves thousands of hand-manufacturing hours, since it is impossible to make by machine.
"The Yachiyo metal rug is made using a very intricate form of chain mail. Having investigated various types of chain mail ranging from traditional/medieval manufacturing techniques to more contemporary, machine-made chain mail patterns, we chose to draw from the Japanese 12-in-2 method. Not only did we find this type of chain mail to be virtually indestructible, but it also created a very stable membrane — structural yet flexible — not dissimilar to a tight hand-tufted rug."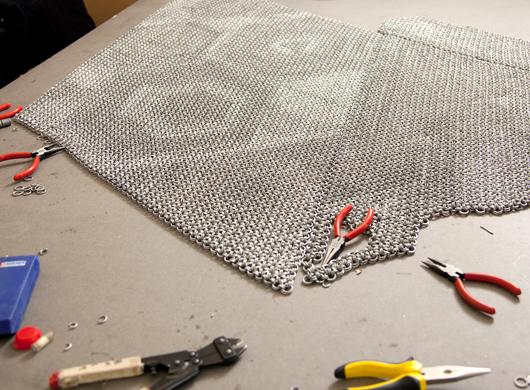 "Having explored ideas for a range of furniture made using this technique, we chose to create a rug because the attention is focused solely on the 2-D object itself; the craftsmanship can be better admired this way. The metal rug is completely handmade from galvanized steel wire, the same type of wire used to make animal-pen fencing in farms. The looped wire is taken and, using a metal rod connected to a power drill in a timber frame jig, wound into a tight coil. This coil is then removed from the metal rod and hand cut into small rings. These are riveted together one-by-one in the Japanese 12-in-2 pattern, which consists of 2 central rings with 12 perpendicular rings connected around (pictured above). This process is painstakingly repeated to create the rug, which takes more than 3,000 to complete. The entire piece was hand-made in London by Yachiyo Kawana, Greg Austin, Carlo Cialli, Anna Perugini, Vic Margevich, Maria Kuzmenko, Midea Diomideia Kolani, Xue Dong, Khadija Durbar, Jade Blair, Zahra Rajaei.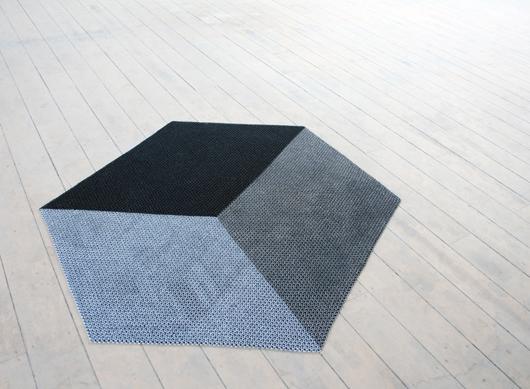 "The final piece (above) presents an isometric rectangular prism which we created through playing with ideas of perspective, so that a two dimensional object like a rug could visually spring into the 3-D realm. Each of the three colors within the rug is a metallic coating, which is industrially electroplated onto the three distinct parts before they are assembled together by connecting the rings one-by-one. One of my amazing interns Yachiyo Kawana has worked on this project from the beginning, which is why the piece is named after her. It is also very fitting as, like the chain mail method, Yachiyo is Japanese."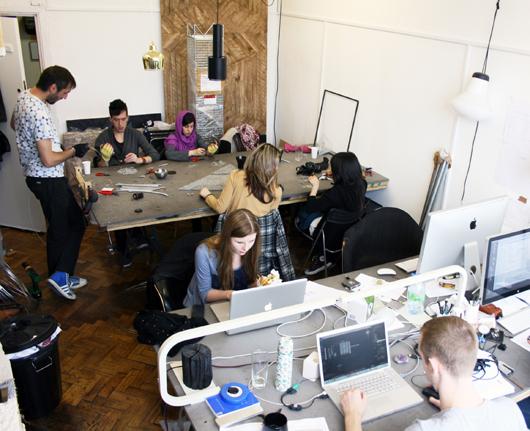 Please show us an image of your studio at the moment and describe what's going on in the photo.
"At the back table you see my amazing interns manufacturing the rug from a to z. The tall guy standing up is Vic Margevich, who is coiling the 'virgin' wire around the rod in the timber gig, giving us the spring pieces that will evetually be cut into little rings one by one with a pair of special pliers. This is what Khadija Durbar, the girl in black, is doing at the bottom right of the back table. Then you have the small rings being opened one by one so they are easier to assemble, that is done by Carloi Cialli sitting at the back left. All the rings are then assembled one by one using pliers, which is what Diomedia Kolani is doing on the bottom left. I know it looks bad that I'm not there, but I'm taking the picture…"
What was the best design you saw at last year's Milan fair, and what are you looking forward to doing or seeing this year?
"Last year, my favorite piece was not a piece of traditional furniture, but a very amusing garden swing chair that would completely swing around. It was connected to an engine and would go on all day long. It was such a fun piece to look at that you forgot that you were at such an event as the Salone del Mobile; it made be laugh, which is very welcome, when Milan means being serious and big business… What I am relly looking forward to this year is seeing lovely people that I don't get to see very often, like Kaman Tung, a designer from Hong Kong who is one of my best friends, and Jacob Brinck, a designer from Berlin with Llot Llov, also one of my best friends. I'm also looking forward to seeing which overall direction the design scene is going in. As I don't often read design magazines, it will be nice to see what people are up to."