02.06.12
Jason Miller's Big Fade Dishes
If you haven't been on the hunt lately for info about his iconic Antler Chandelier or Duct Tape Chair — or the trio of designs he's contributed to his own lighting label, Roll & Hill — you might not have noticed that Jason Miller quietly updated his personal website last week (screenshot below), adding e-commerce and setting the stage for what he calls "Jason Miller Studio 2.0." It's been two years since Roll & Hill's splashy New York launch, after all, and while Miller is still tethered to his growing company, he's slowly begun finding the time to get back to his own independent projects. Hence the new site: "The idea was to take the emphasis off some things I thought were either dated or that I changed my opinion of slightly, and to refocus it on what I'm currently doing and plan on doing for next three or four or five years," Miller says. One of those current projects is a new series of plates inspired by his recent trip to an airbrushing stand in Miami, where he bought his daughter a t-shirt featuring palm trees and rainbows. Miller told us the full story behind his Big Fade dishes here.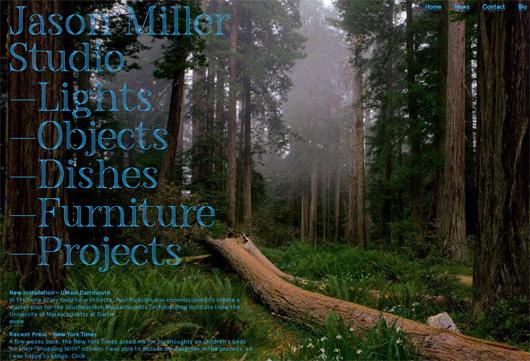 "The Big Fade plates originally came out of a project I was asked to do for Boston's Isabella Stewart Gardner Museum: a private-label collection of dishes for the gift shop. The commission was in conjunction with the opening of the museum's new Renzo Piano wing, and this design was one of the rejects. I'm still not finished with the museum collection — I'm on version nine, and this was version two — but I've decided to produce this series myself in the meantime.
"What I was trying to do with the fade around the edge was to create a blank slate, a decorative element that would highlight a little icon in the center. The icon functions the way a monogram might, and it was supposed to be an alternative to putting the museum logo on the plate, which no one would want to buy. I showed the Gardner 10 potential icons, but the knot was the one that I liked the best. The fade idea was sparked by a recent trip I made to an airbrushing shop in Miami, and it also references those cheap enamel serving trays that use a similar visual. What I think is nice about those two things — the trays and the airbrushed t-shirts — is that they both have a very happy, lighthearted feel to them. It's about bright colors and dreamy images, and it's just easy.
"These plates feature a fade around a knot, but I'll be making other ones with other iconographies in the center. I'm starting to work on a series with the graphic designer Alex Lin that feature custom monograms in the center. There will also be other fade colors as the project grows."
Click here to buy the plates on Jason's new site.