05.05.15
An Interview With Ford's Moray Callum on the Future of Car Design
Next week marks the start of New York design week, which is jam-packed with events like Sight Unseen OFFSITE, Collective Design, Wanted, ICFF, and more. Add to that the fact that Frieze NY has backed its show up to the same week, with NADA and all the other art fairs following suit, and you're looking at one of the most insanely hectic cultural schedules this city has ever seen. But there is one place you'll be able to find a moment of respite from all the madness: inside the Dynamic Sanctuary, a 5′ x 9′ responsive light chamber created by Brooklyn studio the Principals for Sight Unseen OFFSITE (pictured above), which is meant to bring the design thinking behind the 2015 Ford Edge to life. The lead sponsor for this year's show, Ford — under the design leadership of Moray Callum — has spent years researching user responses to build a car that's sleek and fast-looking on the outside but calming and open on the inside (despite being packed with potentially intimidating levels of technology), and we figured there couldn't be a more perfect metaphor around which to build OFFSITE's signature installation. We'll be giving you a behind-the-scenes peek into the creation of the Dynamic Sanctuary next week, but first we wanted to start by talking to Callum, who's been with Ford since 1988, about the company's approach to design in general — and where that approach is headed.
Sight Unseen: How has Ford's design approach changed over the years?
Moray Callum: It's changed quite a lot. When I was growing up in Britain, for example, Ford of Britain had different vehicles from Ford of Germany, and when I moved to America, Ford of America had a completely different set of vehicles again. What's happened over the past 10 years or so is we've truly become a global design entity. The Fords you see in the US are same Fords you see in Europe and the same you see in China. We've brought the design studios together and created a common, global design language. But the design language itself has to be flexible enough to fit the function of the vehicle — you can't use the same design language on a large truck as you'd use on a small family car in Europe. We work with the design team to come up with what gives the vehicle its own identity, but at the same time stays true to what makes a Ford a Ford.
How would you define what makes a Ford a Ford?
We see Ford as being a little more exciting than other brands, but at the same time quite practical and affordable. We've also always seen Fords as fun to drive, so the aesthetic of the car needs to match that. Then there's the integration of technology, which is important to us as we move forward — getting the balance right of getting more and more technology into an interior that the customer still finds comfortable, without feeling overwhelmed. It's quite a challenge. People are used to technology in other areas of their lives, but not necessarily in their vehicle. It's a very important factor for us in designing our car interiors.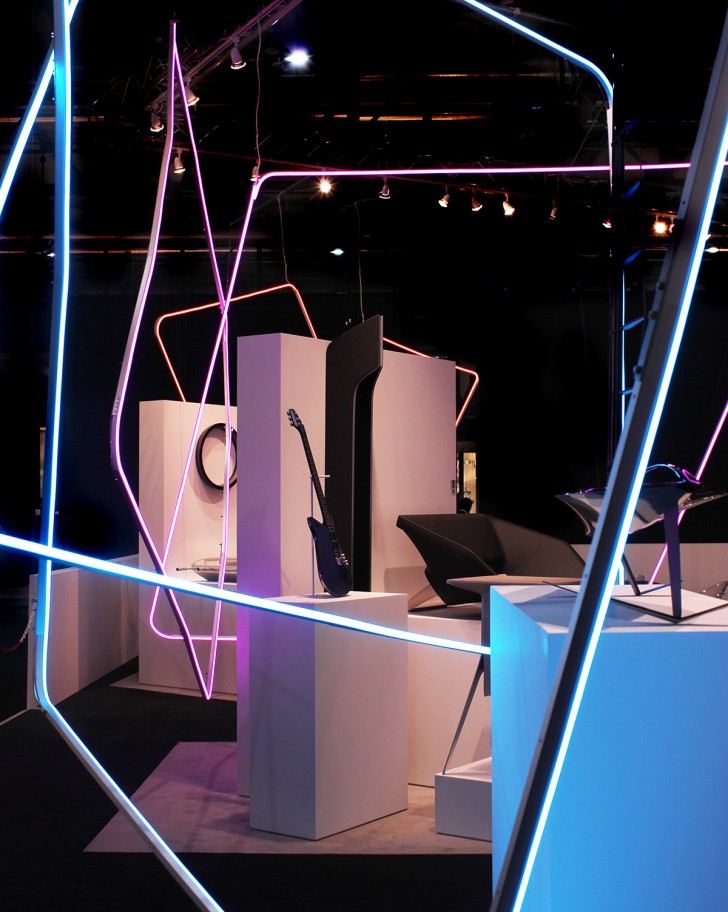 The Ford Design Lounge at the 2015 Salone del Mobile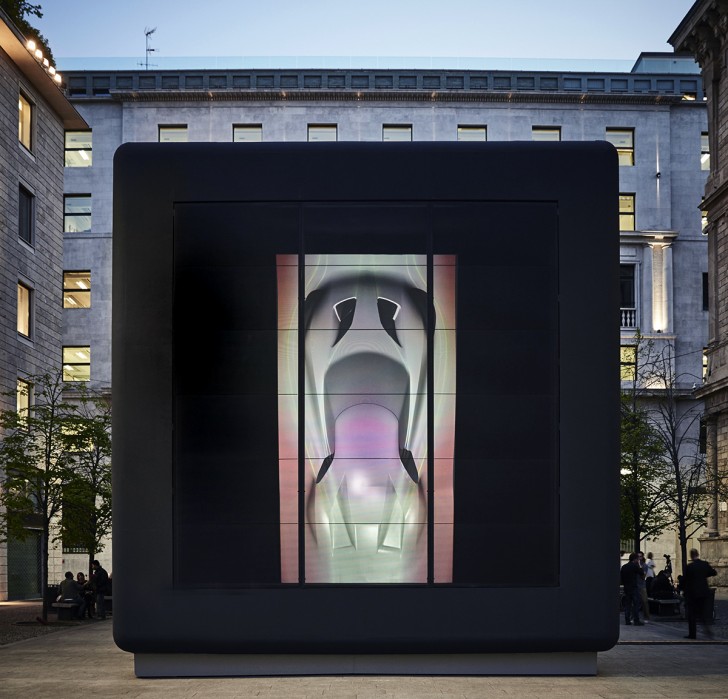 Ford's "Favilla, To Every Light a Voice" installation during the 2015 Salone del Mobile
What was the impetus for getting involved in design shows like the Salone del Mobile and Sight Unseen OFFSITE?
We were one of the first car brands to show at Salone. In 2001, we showed a concept vehicle in collaboration with Marc Newson, which was quite innovative, and we've also presented the past three or four years. It's important for us to highlight our design talents. This year in particular, it was important to show the global nature of our design studios and to invite them to design products using a similar design brief we would use for a car. It was a great exercise for us not only in terms of showcasing the talents of our designers, but also testing our design philosophy — when it's applied to products other than cars, or to an installation like the Principals' Dynamic Sanctuary, you begin see the coherence in our design language.
Another thing I talk about is that what you see in the cars is only the tip of the iceberg for us. There's so much process work and design work that you never see. We go through many iterations of designs in the studio and you probably see 10 or 15 percent of that. Imagine a designer who can work on the exterior or interior of a car for two or three years — if it doesn't get selected, he doesn't actually get to show anyone that work. This is a great opportunity to take some of those restrictions away.
Has design become more important within Ford since you've been there?
If you're a designer, you've always known how important design is, but it seems to have been an amazing realization in a lot of companies over the past five years. Design has really become one of the last great differentiators. The other attributes in the product are getting so well-honed, it's difficult to tell the difference between one vehicle and another. The next challenge is to educate people about what design itself means: It's not just car styling. It's actually designing the interaction with the product itself, what we call designing the experience. It's not unlike the experience we're going to have next week at Sight Unseen OFFSITE – it's all about how to react to what the customer wants and feels and how to design to that.
Why have those other vehicle attributes become so similar?
Technologies are shared, and there's a big supply base that offers a lot of the same components as well, and everyone goes to the same conferences. It's natural that everything should migrate to same level of technology, or even safety. It's how you differentiate the brand that's become important.
How does the Ford design team's process tend to work?
We go through different research phases. We try to talk a lot about the desires of our target customer — we try not to pick a single demographic but to look at a wider range and understand their aspirations. We actually don't talk about cars at all, at first. We talk about what our customers want, what they do every day, and how their life can be improved. Then we go back and start looking at the experience we would like them to attain in our products and how we can take the existing experience and make it better. We also talk about, conceptually, what flavor of car the customers want — do they like to eat Italian or French food? That sort of thing. That helps the designers understand. Not really till we've done that do we start designing the vehicle itself. We gain a lot from customer insight.
Do you look at other industries for visual inspiration?
We don't look at any one industry, but obviously going somewhere like Milan is inspiring for our designers, in terms of seeing how people are using materials in different ways. It's always interesting to learn from industries that are lower-volume — how can you have the same effect on a higher volume industry? We love objects that are hand-crafted and beautifully made, but how can you translate that to something you can make 300,000 of per year? That's our challenge.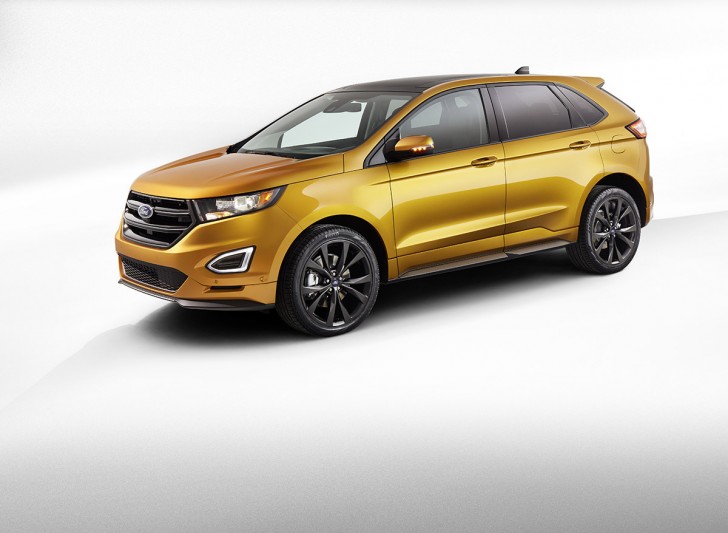 The 2015 Ford Edge
Can you talk about some of the influences that informed the design of the Edge, and the concept of Dynamic Sanctuary?
When customers talk about their image of the exterior of the car, versus what they want from the interior of the car, it's quite difficult. They usually want something that's very expressive, sporty, and sexy, but then they want real utility — for the exterior of the car, they'd like a sports car, but for the interior, they want a box. So our challenge is trying to marry these two and get that balance right. One of the things we're proud of in the Edge is that from the outside of the car, it's quite expressive and sleek, but when you get into the interior, it's spacious and quite a social environment, unlike a sports car. We want people to fall in love with the exterior and then be surprised by the interior when they open the door. I also think people want sanctuary even though they're not always going to be alone, so we need to balance that out — when you're on your own, you have that sanctuary, but a lot of the time you're carrying your kids around. So you need everyone to have that sanctuary but at the same time to share that experience together.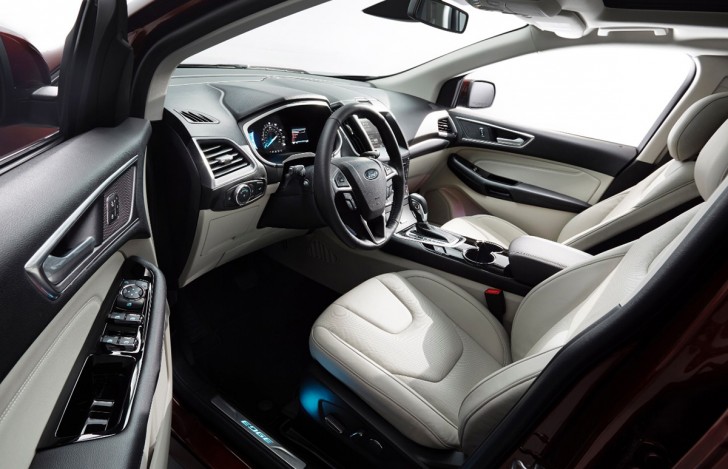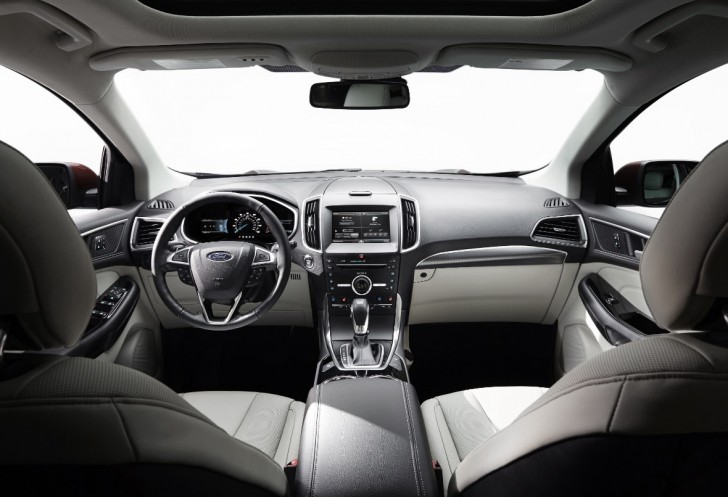 Interior of the 2015 Ford Edge
How did you design the interior of the Edge to encourage this calming effect?
We're using biometrics, we're using eye movement — we're trying to analyze how people look at an interior. We can track, for example, the order of what people look at in an interior, and then measure their brainwaves, skin temperatures, and pulses to see what's agitating them about the interior, what's pleasing them, what's exciting them. We're really looking at new methods of understanding what's important in interiors. For the Edge, if you look at the profile of the instrument panel, we put quite a lot of sections in the center console. That helps break up the mass of the vehicle, so you don't see this big, flat wall, which tends to be more imposing. We designed the volumes of the interior to pull the visual center of gravity down, so you feel there's more air in the interior. It was a trick of playing with volumes to make sure it feels like you're in a more open environment.
Do you literally have a lab in Michigan where you can hook up people to the car?
We've taken it to research in California and we're currently repeating that research in China. We invite target customers in and observe them. We're doing a controlled model — we've painted the interior all one color so people don't get distracted by the materials or the textures, and we can measure the level of uncomfortableness, for example, as the level of technology moves up. It's interesting because millenials can't get enough of technology, whereas other groups like myself would like a more calming environment.
The Principals were very interested in that idea, that despite there being so much technology in a car interior these days, it's important to have that recede into the background, which is part of what they're highlighting with the design of their Dynamic Sanctuary installation.
That's one of the areas that's changed more in the past 5 years than anything — the introduction of more tech into cars. People are so used to having technology at their fingertips in their daily lives, but you need to be cautious of it in an automotive environment so you're not creating too much of a distraction. It's getting the balance right of helping drivers intuitively know how to use this product without being mesmerized by it. You usually find that engineers love their own piece of technology and they want it to be highlighted, but we need to turn it around and look at it from the customer's viewpoint: If this is a switch that's only going to be used three days in the winter, then maybe we don't need it front and center. And how can we introduce that graphically so customers intuitively know what the symbols mean? It's not getting any easier, either. We're putting more technology into cars every day. We're in the stage of researching now to guide those experiences in the future.
This story is part of our partnership with Ford, the lead sponsor for the 2015 Sight Unseen OFFSITE show. Join us at OFFSITE during New York design week to view The Principals's Dynamic Sanctuary in person May 15-18 at 500 W. 36th St.