01.13.16
A London Studio on the Fine Line Between Utility and Art
Minimal and often utilitarian, Listen Studio's designs are inspired in part by the studio's industrial Hackney setting — of "huge decommissioned gas towers that recall a 70's sci-fi film set," says design director Joel Muggleton — and by Muggleton's background working in sculpture. "Making work that exists in a gray area between two fields of practice can be a challenge," explains the London designer. "But as those fields become increasingly elastic it can also be an interesting space in which to be positioned."
Whether working on functional displays or sculptural statements, the studio has found a middle ground where it's equally comfortable creating architectural interiors for high-end fashion brands or sculptural objects for more abstract settings. (See our favorite Image Vase below, made from two swirling, marbled cast resin elements.)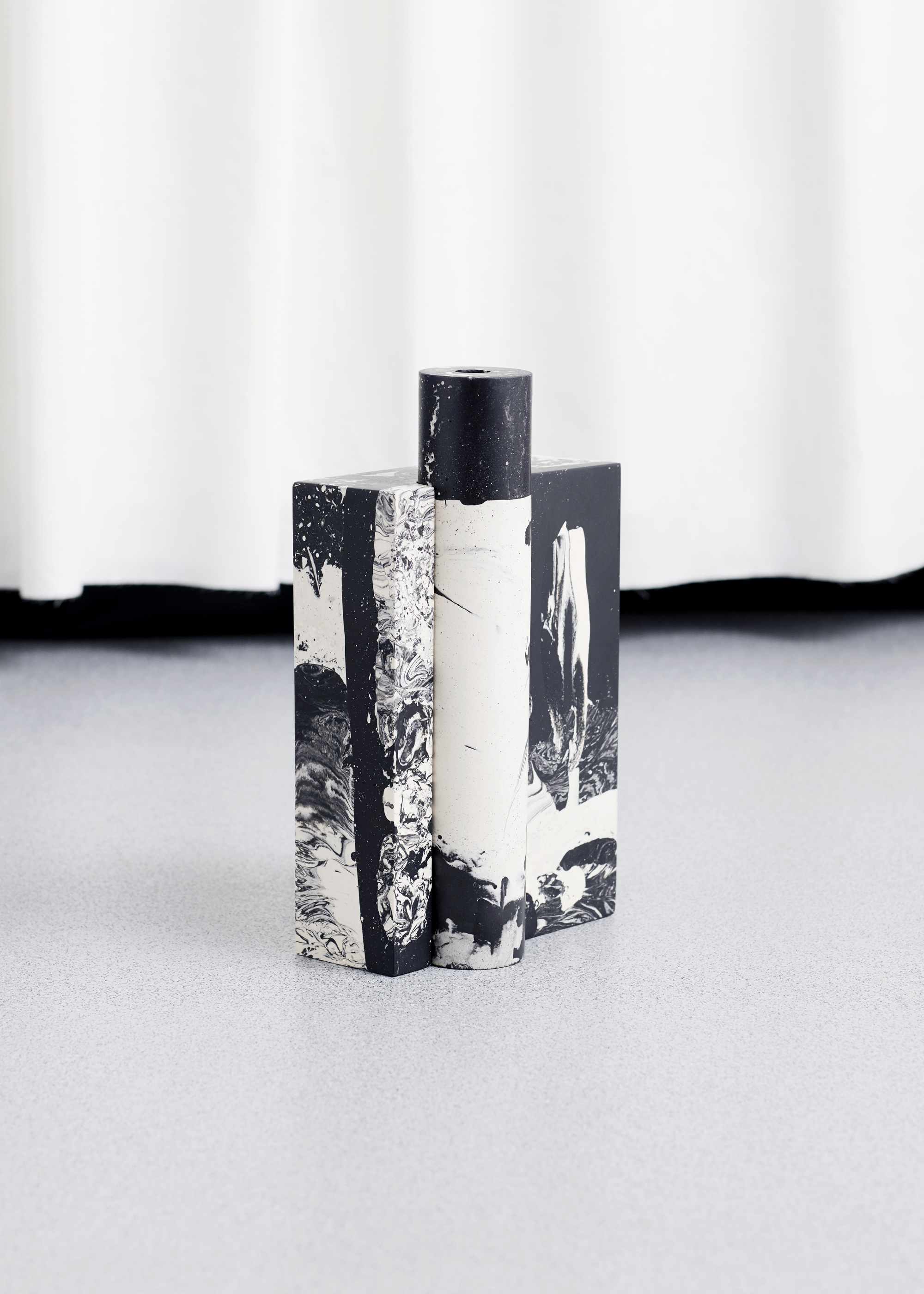 Though technically the only person in Listen Studio, Muggleton regularly opens his doors to a mix of technicians and designers from various disciplines. Last fall, for instance, the studio worked with Dutch interior designer Erjan Borren on a new retail space for British bag and accessories designer Ally Capellino. Muggleton was immediately drawn to the store's curved stainless steel façade as a starting point for the interior design — an aesthetic that continues in store, unified by a cool palette of utilitarian grays. The space also plays host to some of the studio's existing products: the Frame Shelving wall-mounted units, clad with fabric panels and produced extra-large for a bag display, and the oversized and typically floor-length pendant Column Lamp, here seen hovering horizontally above display tables to provide an additional layer of light.
We recently spoke to Muggleton about the projects in store for the coming year and for insight into where we might catch the studio's fast-expanding portfolio next.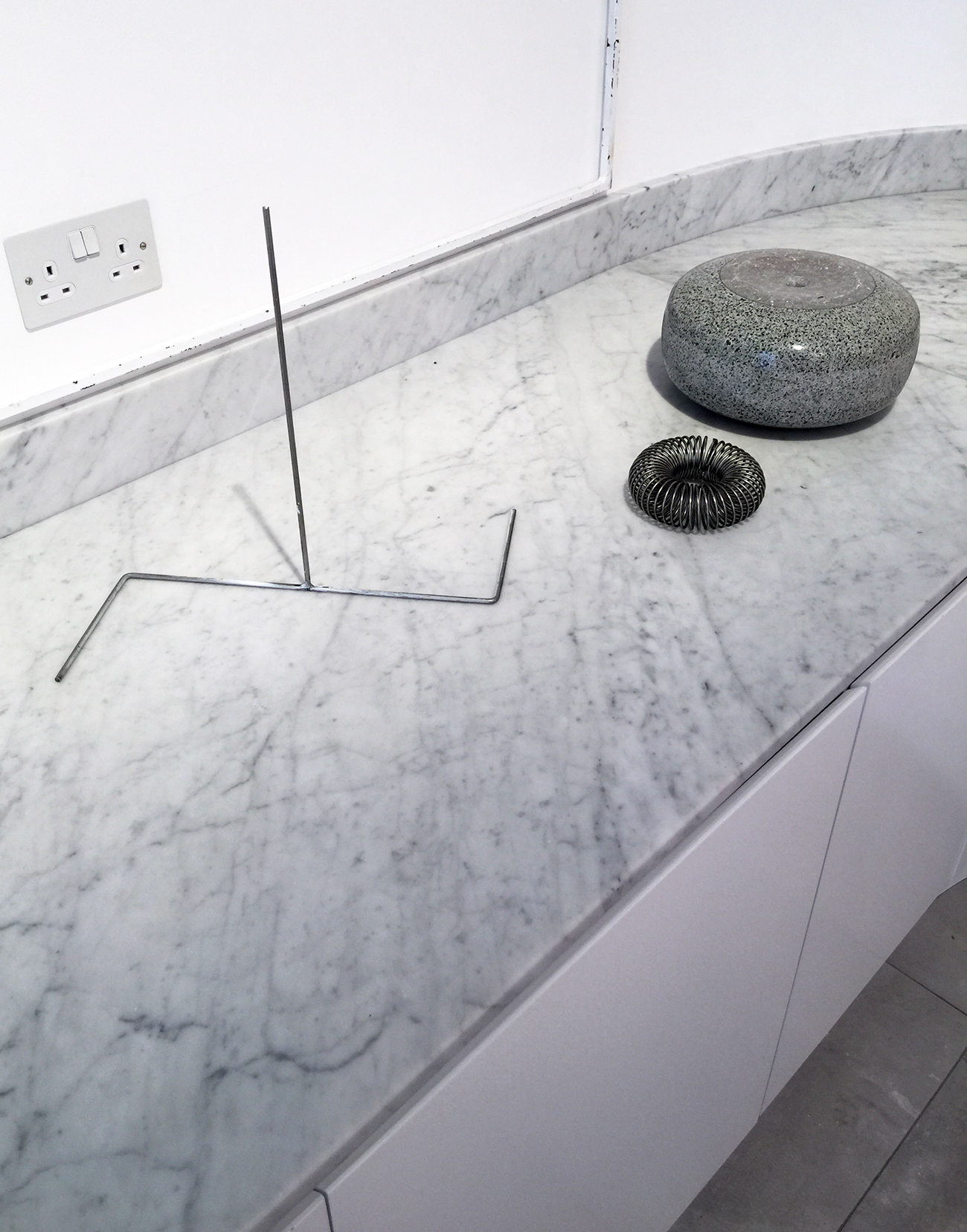 Describe your most recent project and how it was made.
For last September's London Design Festival, I was invited by Heal's to produce an installation for their newly opened Queens store. Within the context of a furniture showroom, surrounded by objects that are a result of the design and manufacturing process, it became interesting to then look at the start of this process. The resulting installation was a display of objects collected in the studio that inform my work: an overview as to what I find compelling in an object or material and as a group, that could communicate the development of language and interests in the studio's work.
The installation itself existed somewhere between a library of collected items, a window into the studio environment, and an abstracted interior. One of objects included was a full size curling stone I had produced up in Scotland, one of the only two manufacturers in the UK supplying these particularly robust Granite products. It's a sexy object, with its curved form and polished surface, but I also enjoy it as simply a lump of rock and how this primitive function as a large weight makes it useful to have around.
Describe your next project and how you're currently making it.
There are a couple of new projects taking shape simultaneously. I've been invited to work with a Dutch furniture producer called Van Rossum on a new collection for 2016. They are a second-generation family business based in Holland who specialize in solid French oak furniture. It's the first time working with a producer in this way, through all the stages of development. I'm excited about an engagement with this particular oak material and where it will take us.
Secondly, I will be working with UK fashion brand Joseph to design an architectural piece for their concession at Selfridge's department store. As part of a huge re-development plan for the third floor of the store, five selected brands will each create a folly that acts as both functional display unit and sculptural statement.
It's quite early days on both of those projects, but Selfridges particularly has the potential to be really interesting and I'm curious to see how each designer interprets the brief.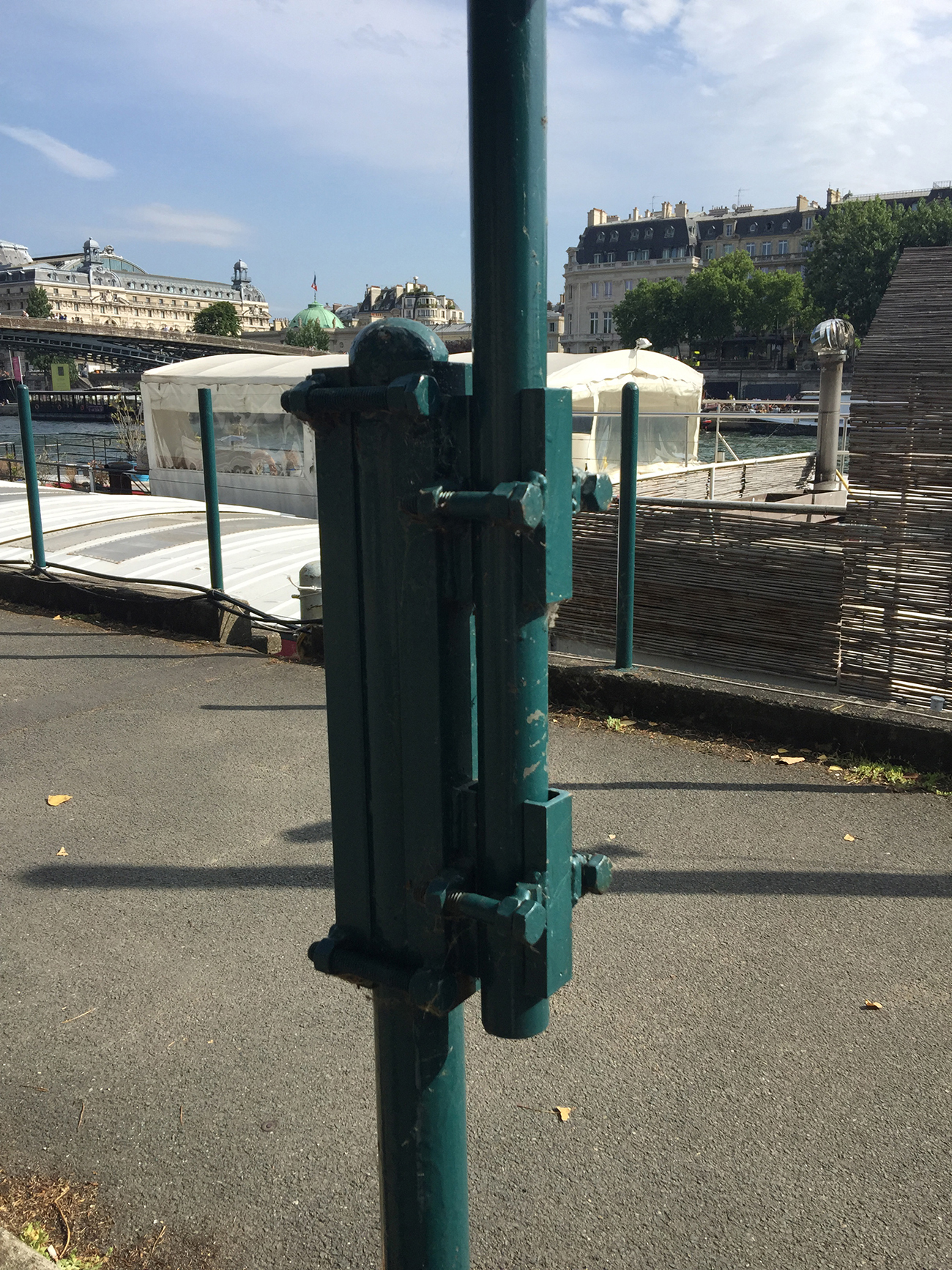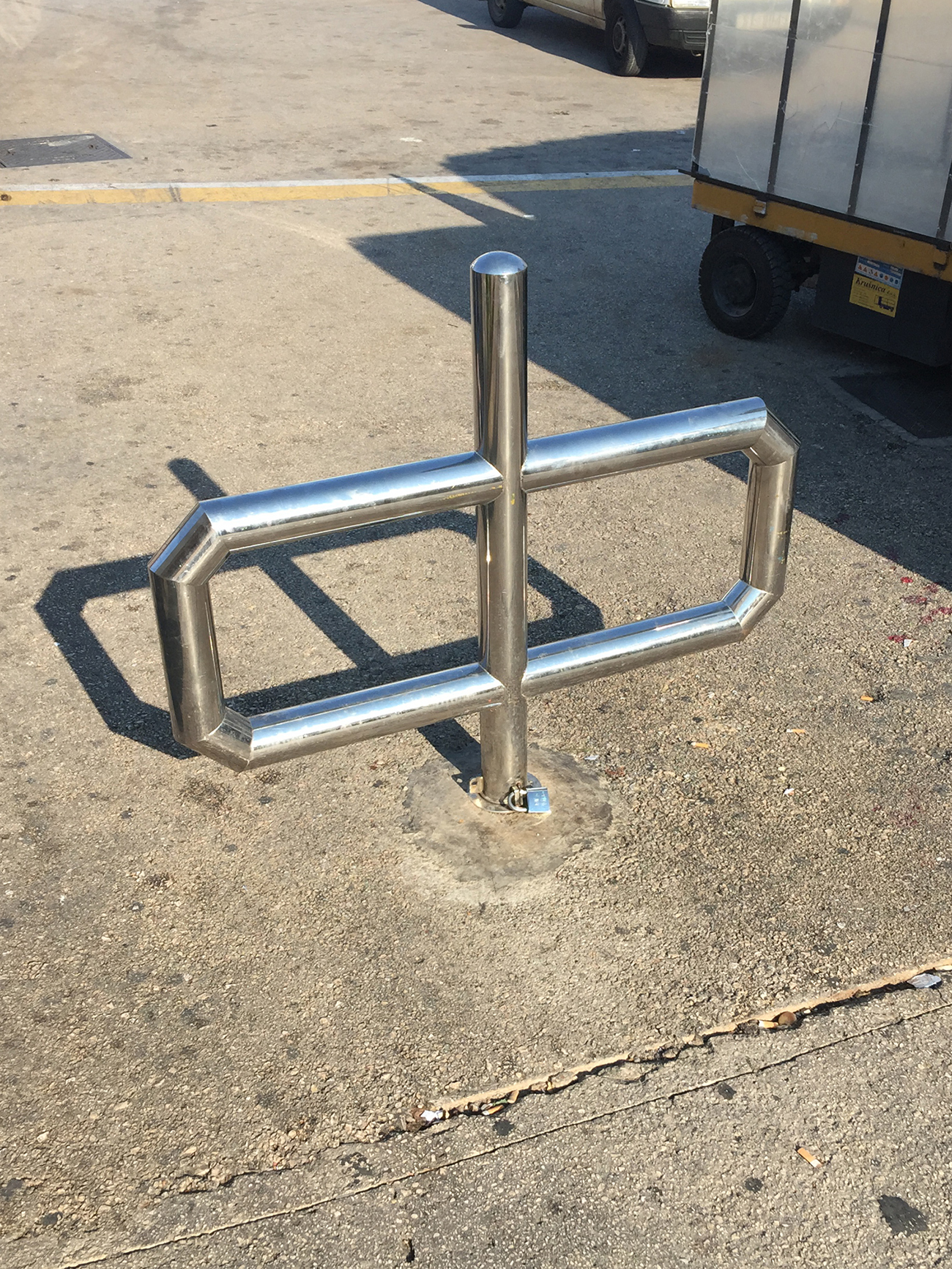 Tell us one thing that's been inspiring you lately and why.
London is a very patchwork city and to walk through it offers up some fantastic examples of stitching and layering of quite contradictory materials. There are some lovely moments when two projects meet, where two histories rub together or where forms shift to accommodate other forms. Objects designed to function in the street are often quite clunky, quite direct and they engage with decoration in a different way to objects of the interior. These are characteristics I enjoy. The street bollard, for example, is something I find quite compelling. These great protrusions from the ground operating quietly around us, offering a moment of rest as a lean-on or stool; holding your coffee for you whilst simultaneously directing the flow of city traffic. One of the biggest advantages about the technology developed for mobile phones is that I always have a decent camera on me now and I'll return regularly to these records as reference for my work.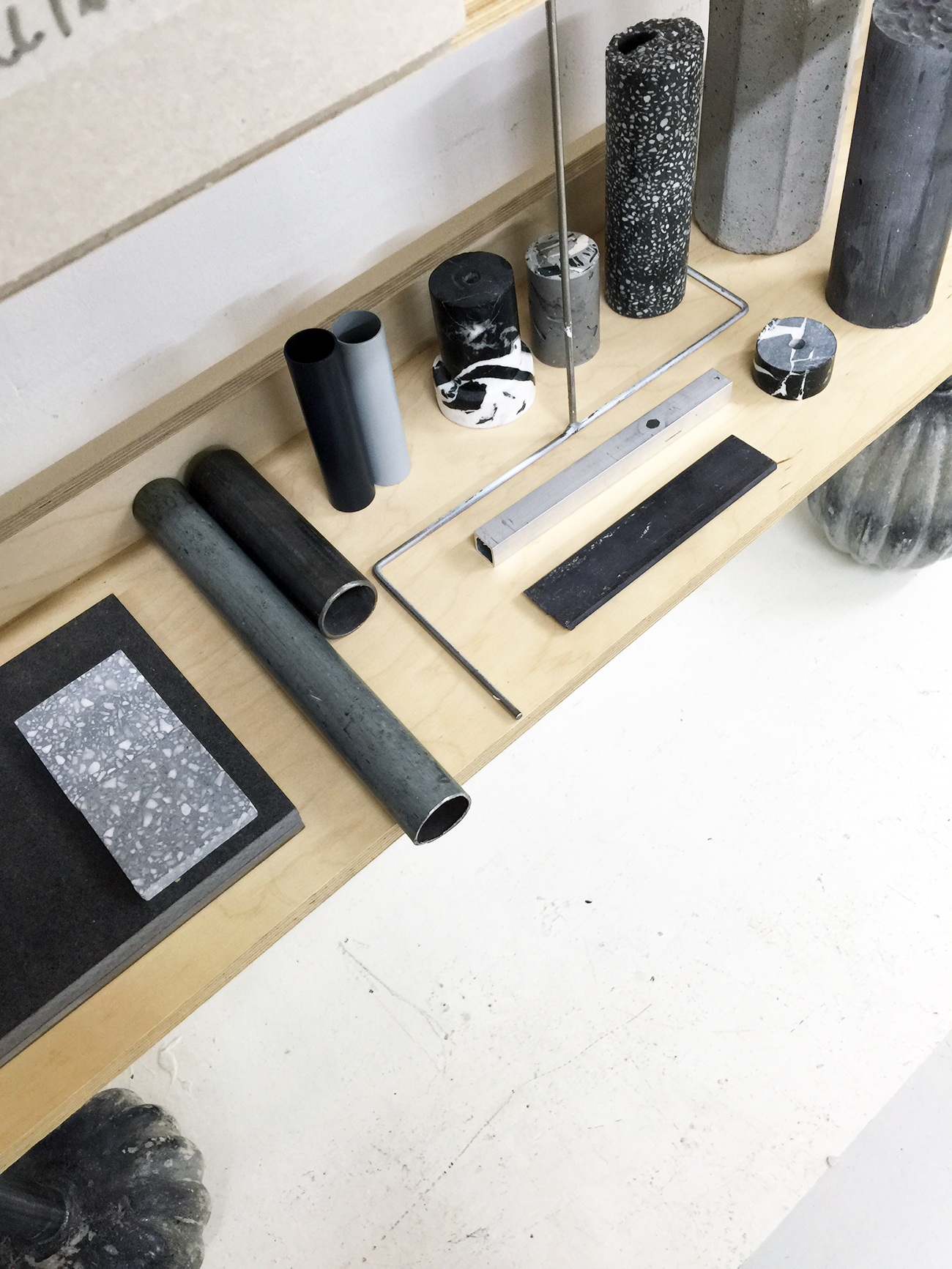 Show us your studio and tell us what you like about it.
The studio is located on the top floor of an industrial building just off London's Hackney Road. We have been here for around three and a half years now and right now it's working well. We have a lift that connects the top floor with an off-street car park for the building at ground level. This alone is integral to the success of the studio's operations — not only can large items be easily brought in and out, we are also able to extend our workspace to the outdoor car park, which features this nicely covered area in the building's overhang. Messy fabrication work like casting can be produced away from the more ordered working space upstairs. The upstairs space is a good size but has no windows and is lit completely by daylight fluorescents. This might sound hellish to some but I find real concentration here and this is productive, even if you may leave some evenings thinking 'Crikey, how long have I been in there?' Having said this, from the staircase at the rear of the building we have, in my opinion, one of the most stunning views in the city, a series of huge decommissioned gas towers creates this undulating landscape that recalls a 70's sci-fi film set.