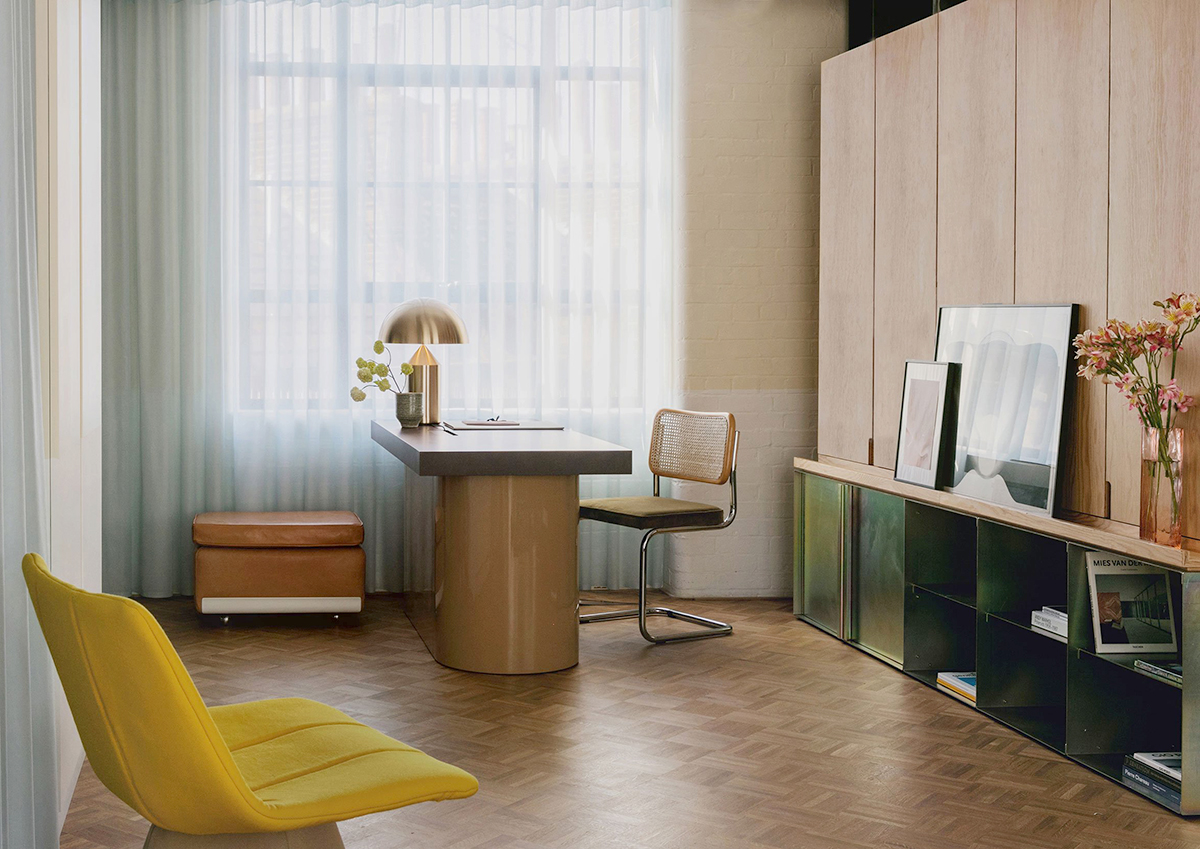 A weekly Saturday recap to share with you our favorite links, discoveries, exhibitions, and more from the past seven days. This week: master glass blowers empowered lady edition, the dawn of the "rufflessance," two photo fundraisers to kickstart your art collection, and a London office that has us nostalgic for workplace life.
Discoveries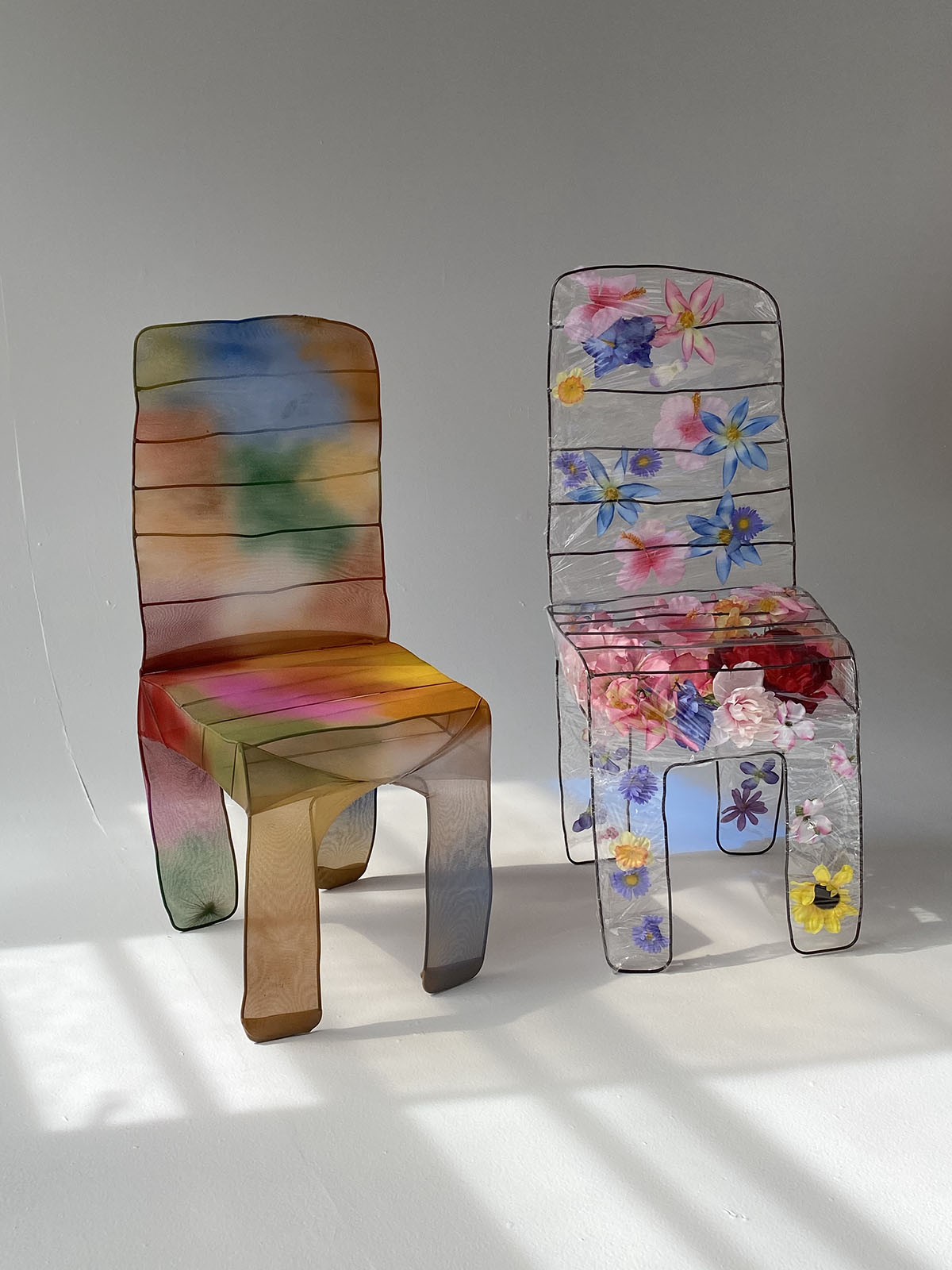 Artist Lane Walkup had the idea to cover her minimal wire-framed pieces during quarantine, resulting in her viral "isolation chair" series. Aesthetically inspired in part by childhood visits to her grandmother's North Carolina trinket shop, Walkup says she worked with whatever materials were at hand while in lockdown. "I did a chair with plastic wrap and fake flowers with my florist friend Manu Torres (above), and then I covered a chair with a homemade plaster mix combining a roll of toilet paper and glue, then stuck little disco ball mirrors throughout." While not available for sale, Walkup's other creations can be found in her online store now.
Servomuto's Bikini wall light is an "ode to summer" inspired by the swimsuit. Available in rattan and a range of striped fabrics by Dedar, the fixture offers diffuse light and a chic little naming anecdote for when it's spotted in the background of your Zoom calls.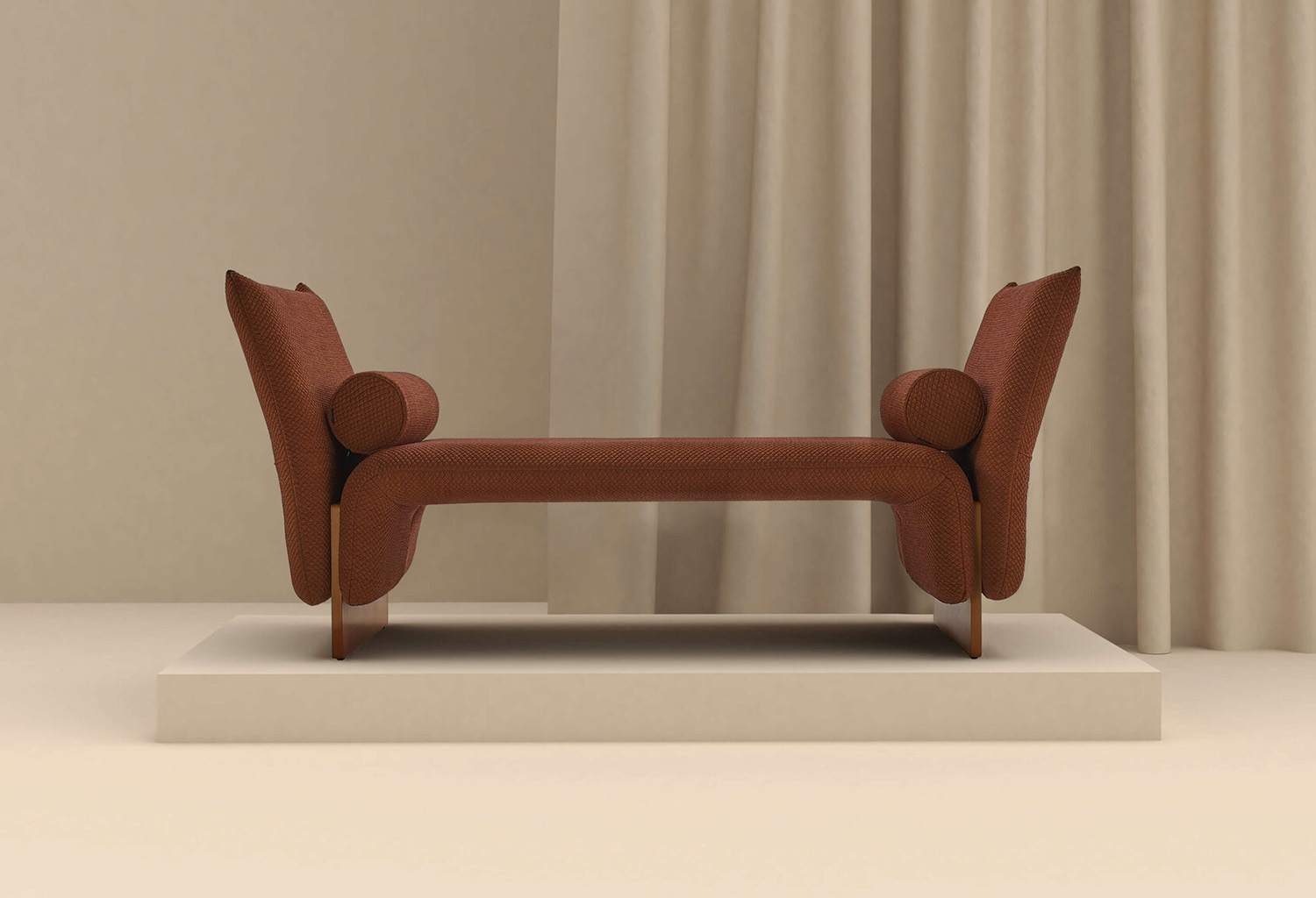 Pedro Ochando's Diwan, designed for the Spanish heritage label Sancal, is inspired by the history of the city of Valencia. Available as a classic divan and chaise longue, as well as modular benches and an armchair, the Diwan comes in a range of rich colors and textures and will be available soon.
Interiors
Yatzer took a comprehensive peek inside these Daytrip Studio–designed London offices (also pictured at the top of this post), sparking a tiny flame of nostalgia for a fully functional workplace, or at least the well-designed world beyond my dining room table. Not that anywhere I've worked has ever been this striking. Photographed by Mariell Lind Hansen.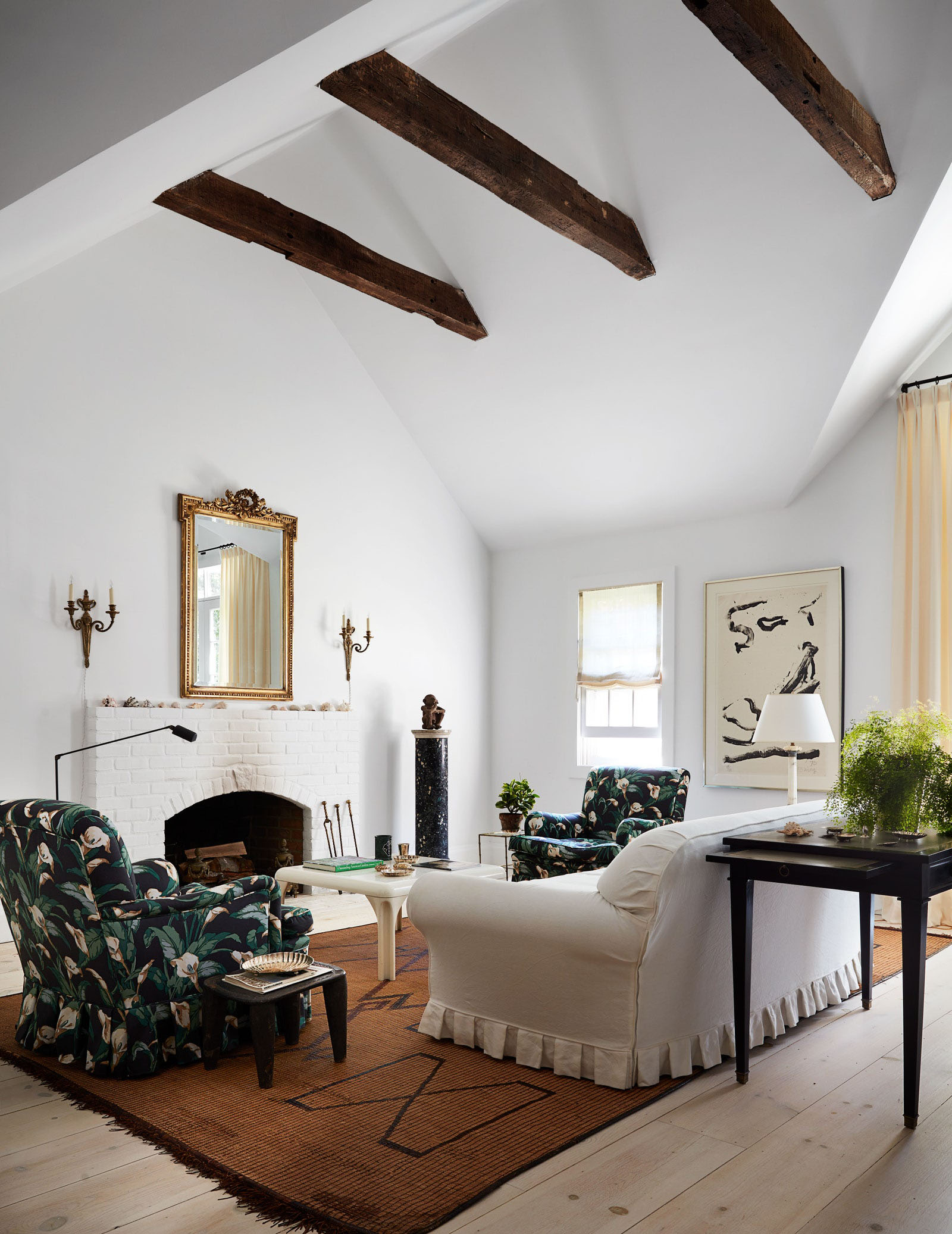 Architect Reinaldo Leandro and designer Patrick McGrath's Hamptons retreat made waves this week after dropping in the latest issue of Architectural Digest. Jill simply tagged me saying "pls see sofa skirt ruffle," so you heard it here first, folks — it's the dawn of the rufflessance! Photographed by Stephen Kent Johnson.
Exhibitions
Wallpaper* profiled artist Tore Svensson's Miro and Arp-inspired brooches, currently on view at Hannah Gallery Barcelona — strictly by appointment only. The collection of 33 pieces are made in steel, paint, porcelain, silver and MDF and are up until July 24.
Pierre Charpin's Similitude(s) at Galerie kreo presents an eclectic mix of pieces in a range of materials enabling his "chromatic and formal research." Coffee tables, vases, mirrors and lights are presented and arranged in a series of vertical and horizontal "scenes" meant to animate the landscape; the exhibit is on view in Paris through July 31 with a virtual visit accessible via the gallery's website.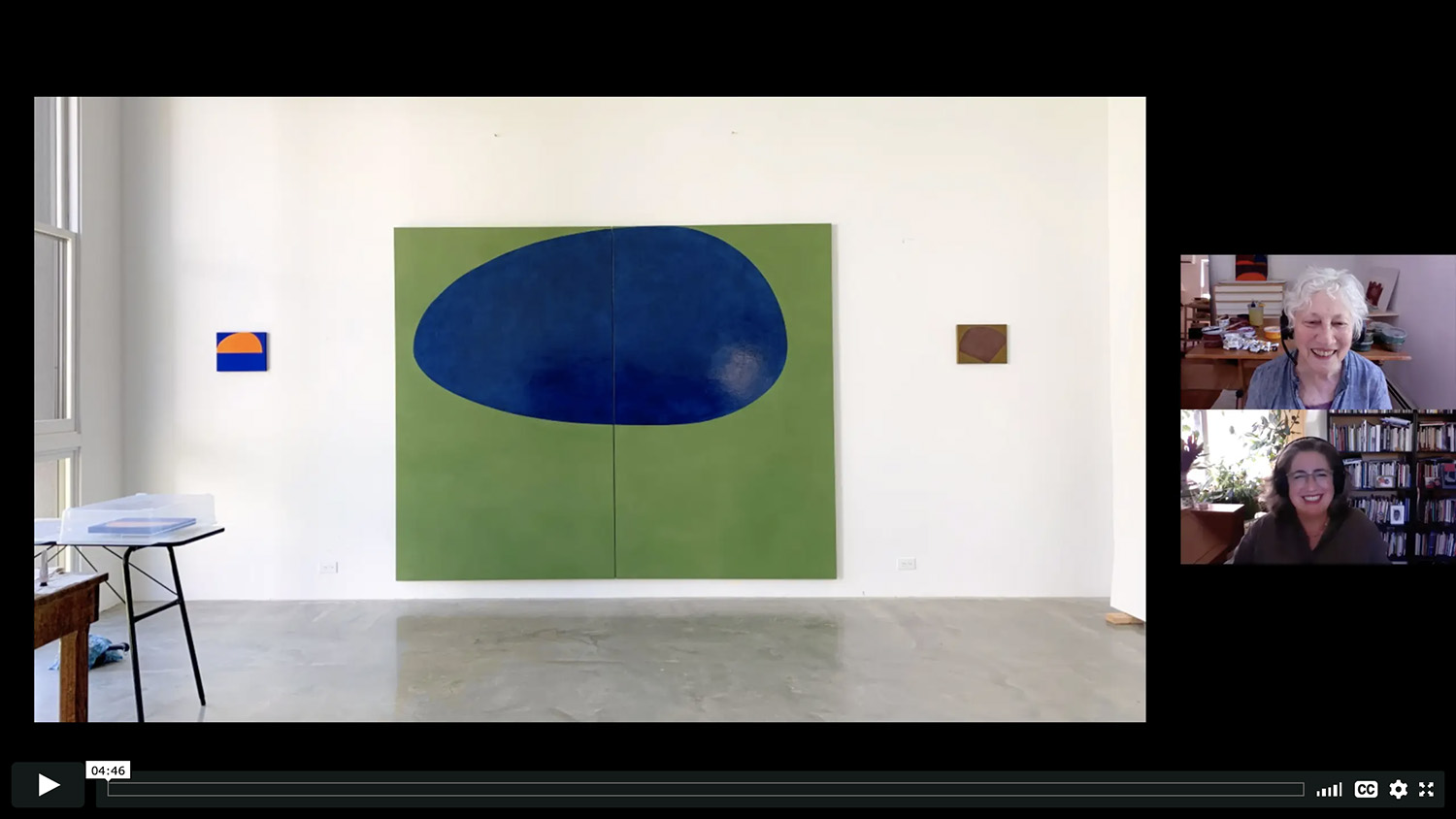 The latest edition of David Zwirner Studio presents the work of artist Suzan Frecon, including a new abstract oil painting and a selection of watercolors. To round out the online-only viewing experience, visitors are treated to process images and video as well as a conversation between Frecon and her daughter, the poet Marcella Durand.
Rug making is the oldest textile program at Creative Growth, the Oakland-based nonprofit that offers a studio environment to artists with developmental, physical, and intellectual disabilities. In the program, studio instructor Tara Tucker helps artists fabricate rugs based on their own designs; their first-ever viewing room, launched this week, was a huge success, selling out of thirteen available designs in just 24 hours.
Fundraisers
Don't Back Down! is a fundraiser benefiting The Okra Project, Inner-City Arts, and Equal Justice Initiative. The limited-edition archival prints include the above works by Emman Montalvan (top) and Renee Parkhurst (below), as well as contributions from Eric Chakeen and Danielle Levitt. All prints are $150 each. (Instagram)
For any readers situated across the pond, the Anti-Racism Photography Fundraiser benefits the Black British charities and organizations The Black Curriculum, Black Minds Matter, and Exist Loudly. Our favorites (it's hard to whittle down) include "Chaise" (2018) by Christa Leonard (above), and "Arcades" (2017) by Wendy Huynh (below).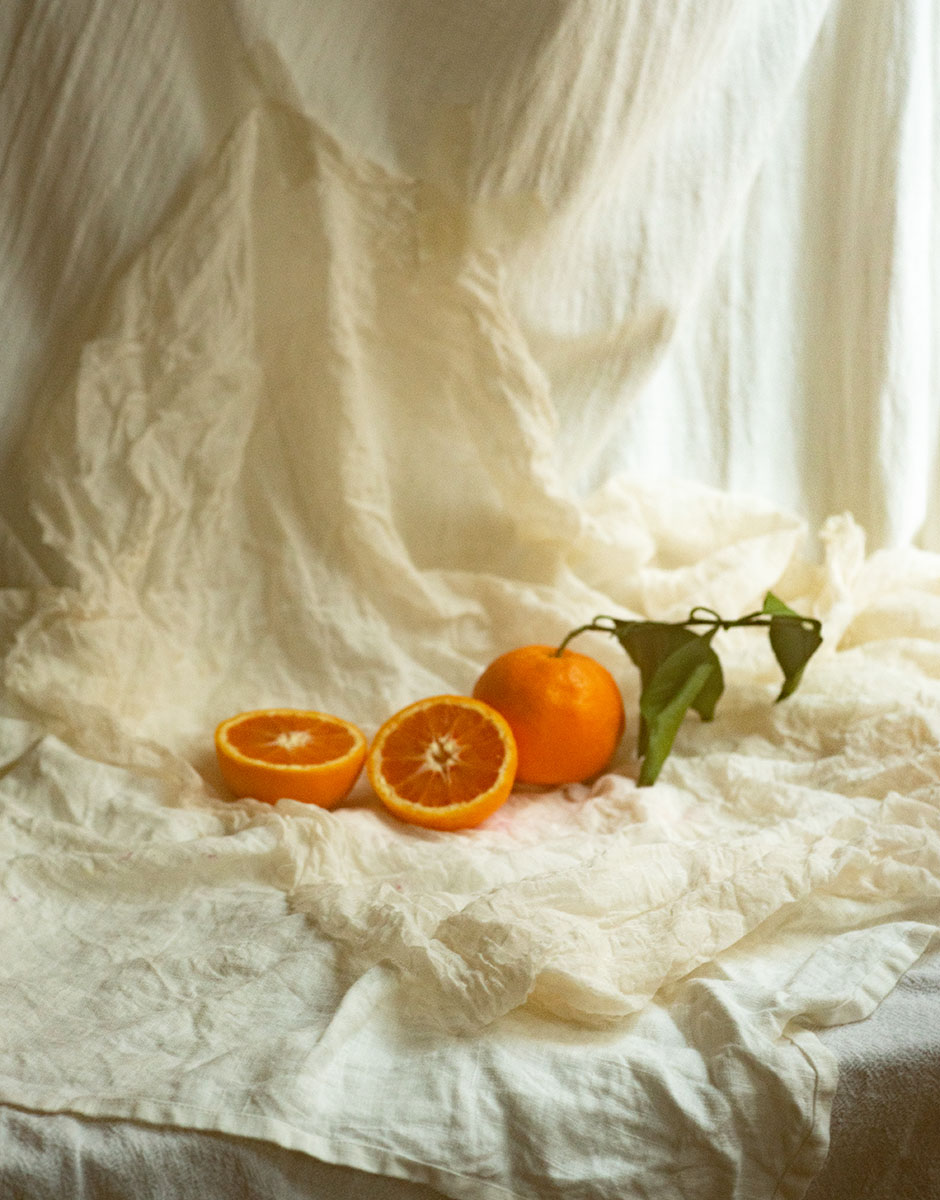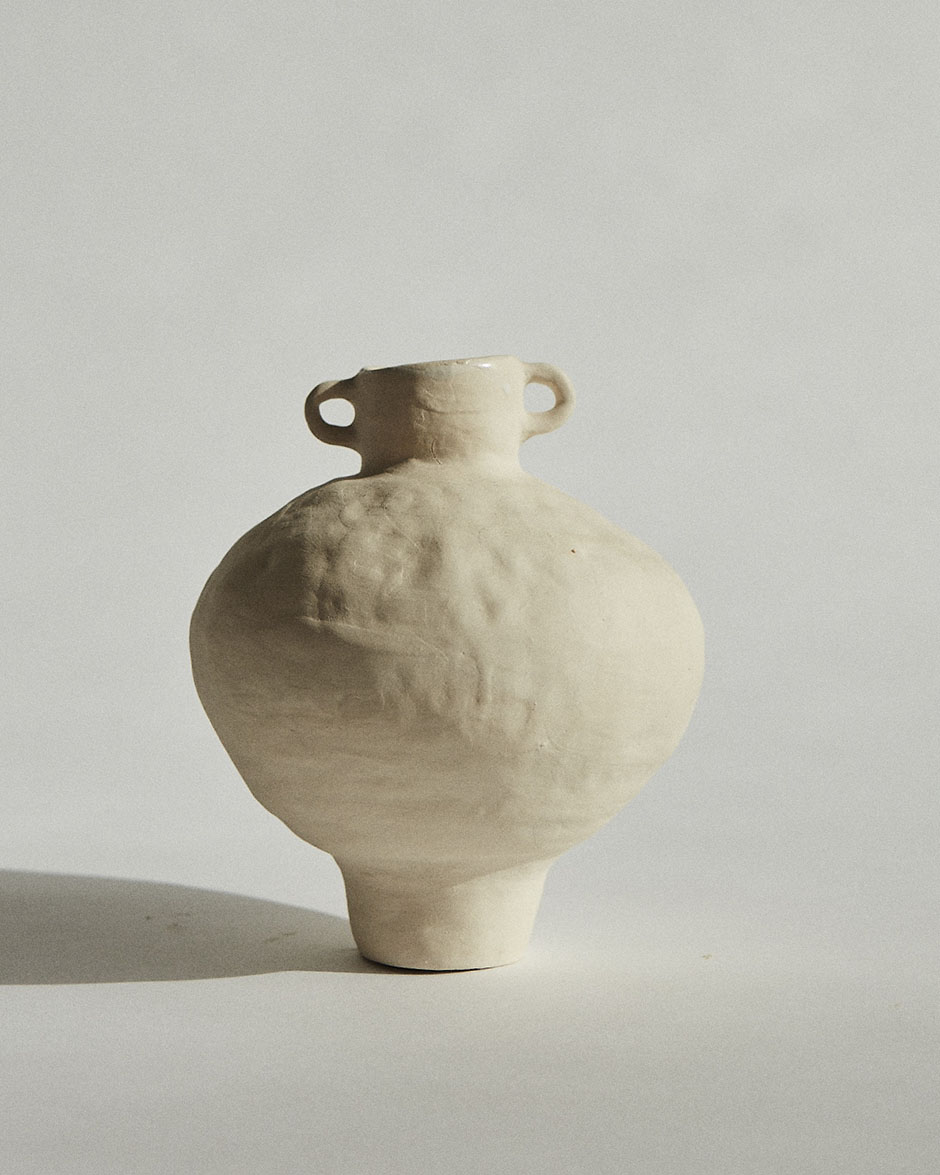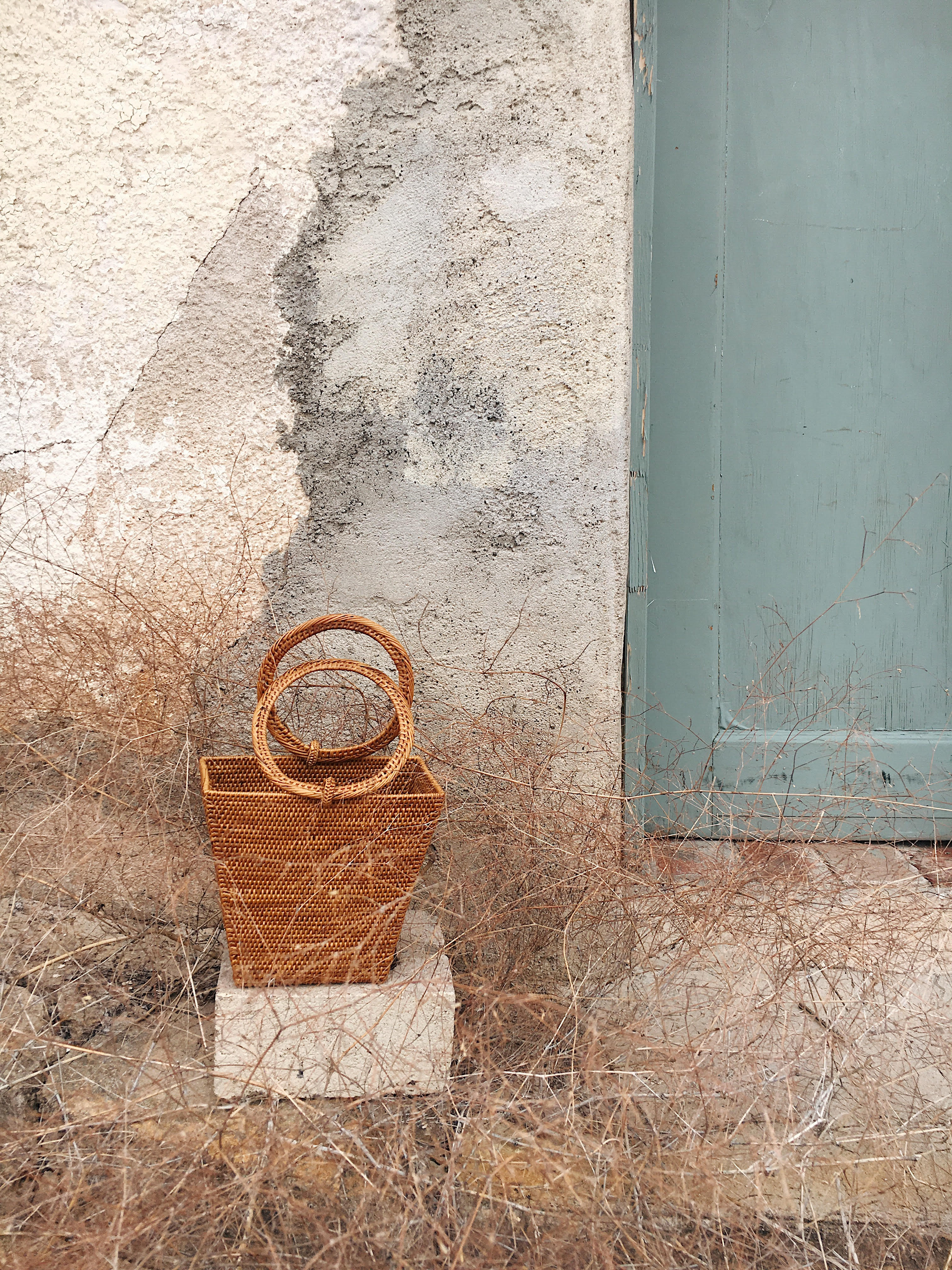 Art for Light is an international auction taking place on Instagram July 10-20, organized by London-based photographer Kat Gillespie to benefit the International Rescue Committee Yemen and National Black Justice Coalition. Gillespie had originally planned to sell prints of her work (top) to raise money but the initiative has now grown to more than 50 artists, auctioning everything from ceramics (those are Marta Bonilla's in the middle) to artworks to bags (including the straw number by Bembien, bottom).
Shopping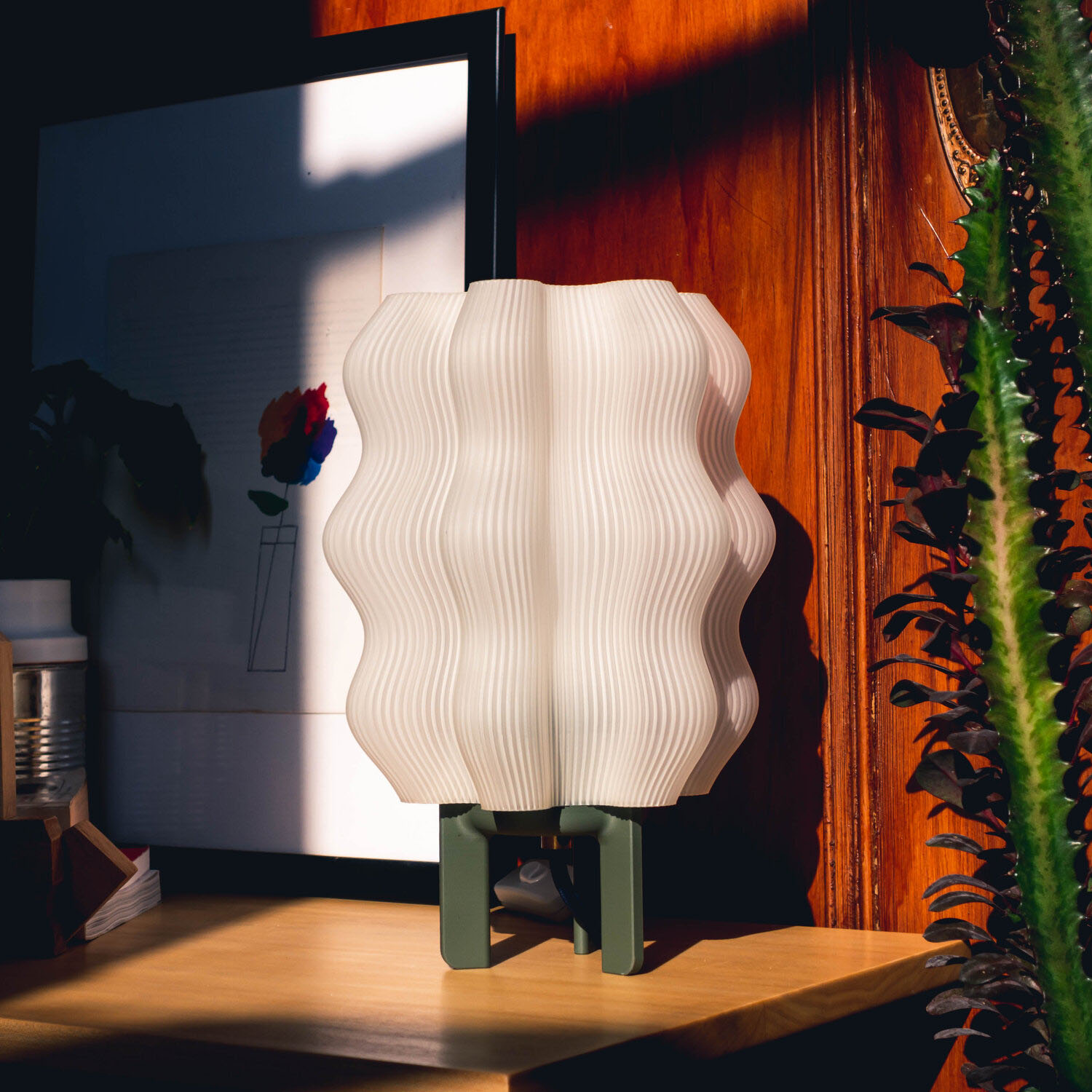 Monica discovered this cute "wavy lamp" from Brooklyn-based Wooj. 3d-printed using corn-based PLA plastic, it looks like the svelte eco-offspring of a couple of promiscuous Noguchi lights.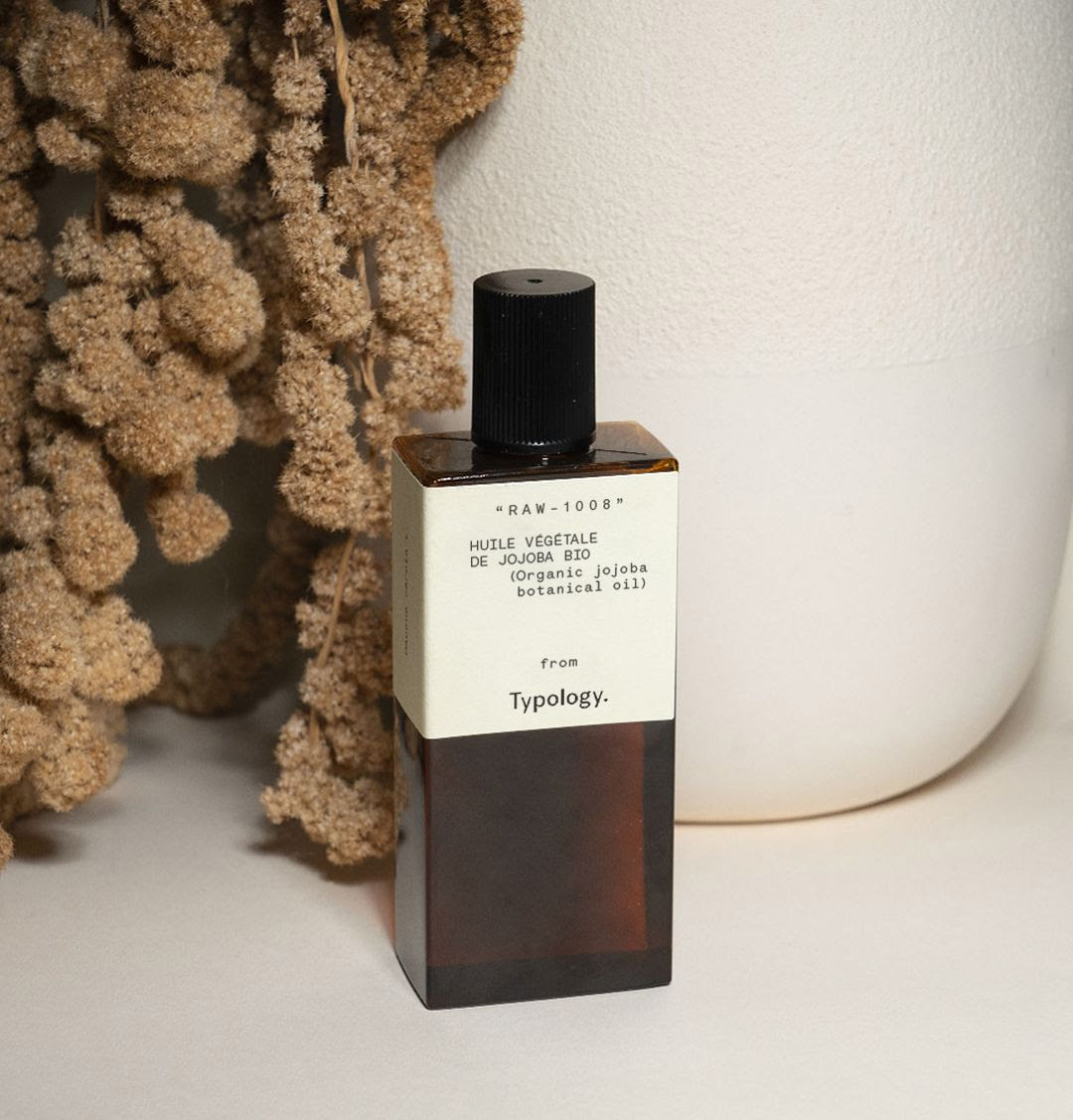 Typology is a Paris-based brand from founder Ning Li, whose mission is to demystify skincare with pared-back ingredient lists and environmentally-friendly packaging. The branding is understated in a rich way, like an antique apothecary bottle reimagined as a sacred talisman. The obvious parallel is Aesop, though the French bent and type treatment call to mind Le Labo or fellow DTC-newcomer Nécessaire. Time to upgrade your medicine cabinet?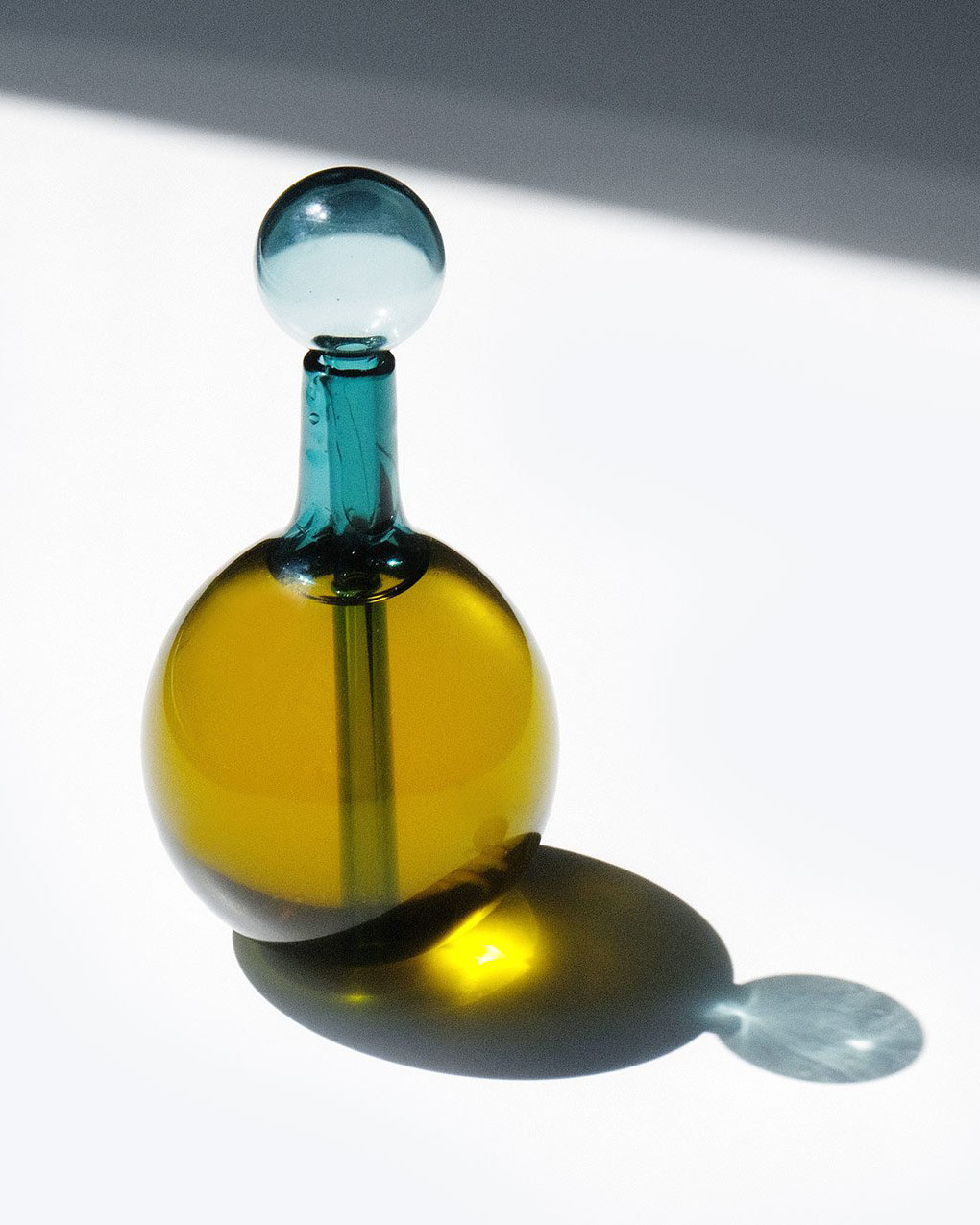 Similarly, e-tailer Kindred Black's apothecary selection is packaged for maximum eco-efficiency in collectible glass bottles with perfume droppers, "handmade in the US by a female master glass artisan." (The site also refers to a dildo as a "minimal piece of pleasure art.") Ok! It's as GOOP-y as it gets, but the various oils and potions are truly gorgeous, and I'm assuming that when you get to the bottom a sexy genie who looks like Rosie Huntington-Whiteley pops out and yells "Feminism!"
Last, but not least, Austin-based retailer ByGeorge has an exclusive run of architecture and artifact-inspired silk scarves from the artist and photographer Alexandra Valenti. Made in Italy, the abstract designs are based on a series of Valenti's multimedia works that were shown in 2018 at Preacher gallery. Nothing was lost in translation.