05.04.23
Thank This Couple For Bringing a Dose of Color to Berlin's Interiors
Progressing from designing furniture for children to interiors for the whole family could easily result in spaces that were too kitschy or twee. But not in the hands of Berlin studio Jäll & Tofta, whose projects marry the joy and spirit of childhood whimsy with a sophisticated, well-considered maturity. If you ever needed proof that colorful can be chic (which we didn't, obviously), this is it.
The studio was founded by Sina Gwosdzik and Jakob Dannenfeldt, who met at school and became partners in work and life. After a few years designing furniture for kids — including their own — the pair expanded into interiors, never losing their acute skill for deploying color and shape in a playful way. With inspirations ranging from Memphis to old Disney movies, Gwosdzik and Dannenfeldt describe their application of color as "intuitive." Thankfully, their polychromatic aesthetic is catching on in their home country, which typically leans much more conservative, decor-wise. "In Germany, people are a bit scared to use color, or to have a strong visual language within their home," says Dannenfeldt. "It's typically much more neutral. But now there seems to be more of a transition for people to think about colors outside of the kids' rooms." Jäll & Tofta's work isn't just about pretty paint choices, however. Gwosdzik and Dannenfeldt carefully consider the function and layout of their spaces first, particularly in the tight confines of urban apartment living, then "dress" them in the varied hues that have come to define their style.
We caught up with the duo to chat about their trial and error approach to color blocking, and how — perhaps counterintuitively — it's easier to make a design statement in a shop than a home.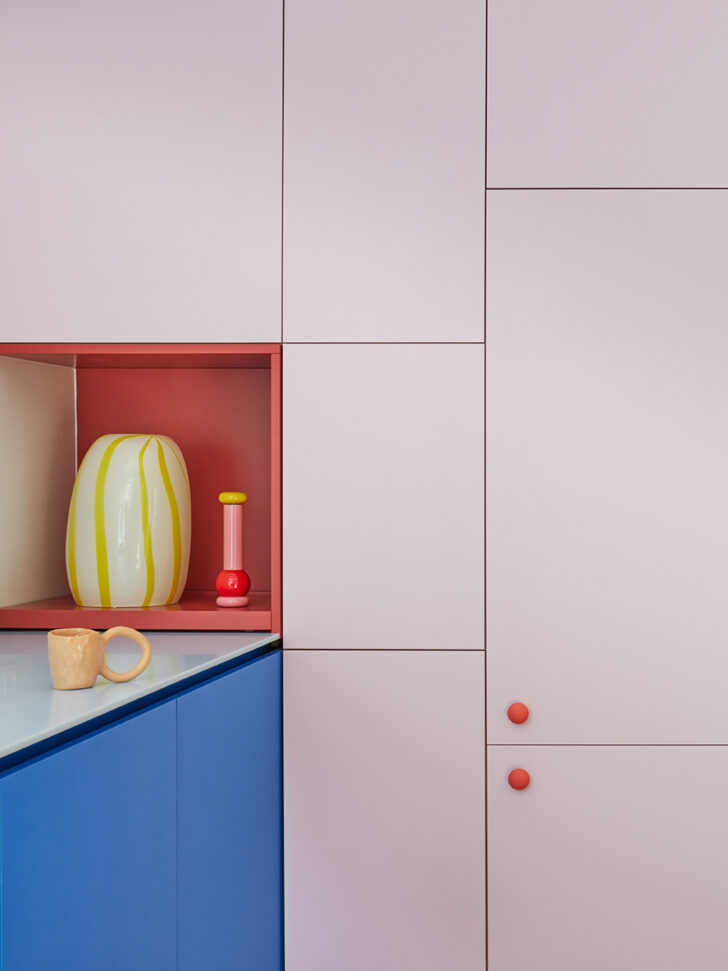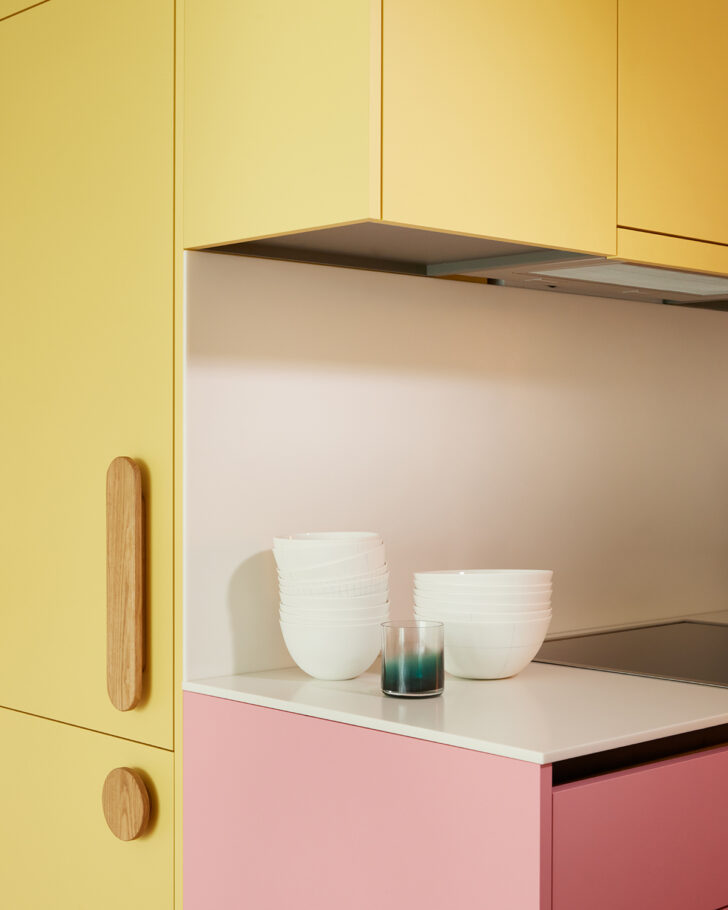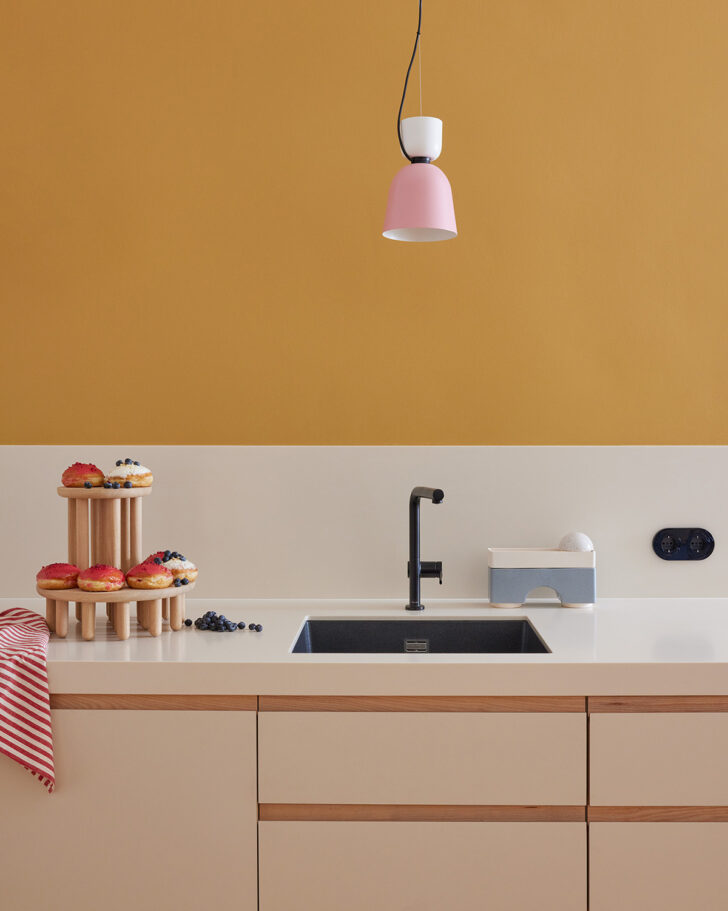 Take me back to how the two of you met and founded your studio.
Jakob Dannenfeldt: We actually met at university, and after that started our own studio from scratch, making children's furniture. 
Sina Gwosdzik: I think it was easier for us to start with kids, because we'd just had kids ourselves. And we just didn't find anything we wanted to use for ourselves. Then when we started with interior design, we found that it's more exciting because you have a real client, and you have to develop something special for them, and you can try so many things with every new project.
JD: Looking back, I don't know how we had the patience to stick with a single product and develop it. We find it more interesting to work on several projects, for much shorter time periods.
When you moved on to larger projects, were there any elements of your design style that you took from kids' furniture and rooms, and then applied at a different scale?
SG: When we were working on product design, we always had to consider the function, and how long something can last. I know that we have a strong visual language, but we often feel that because of that, people don't see the thinking, or the functional side of what we do, when in fact the first thing we do is consider the workflow and what's best for the room.
We often have projects in cities, where space is getting more expensive, and people are living in smaller apartments. So we have to do a lot of functional thinking before we start drawing and putting materials and colors into a visualization. So I think that's one of the things that we still have, this "design thinking" that involves looking for a good solution.
JD: One of our priorities is to work with a lot of strong colors, and to try to implement them into our projects. We didn't do it on purpose, to take the color language of kids' rooms into other projects. In Germany, people are a bit scared to use color, or to have a strong visual language within their home. It's typically much more neutral. But now there seems to be more of a transition for people to think about colors outside of the kids' rooms.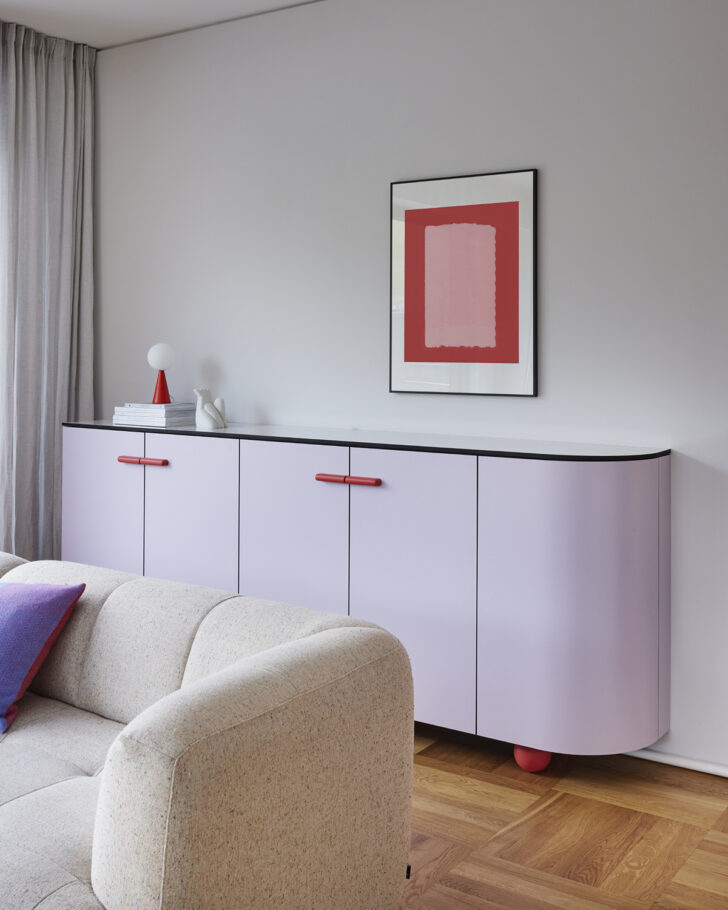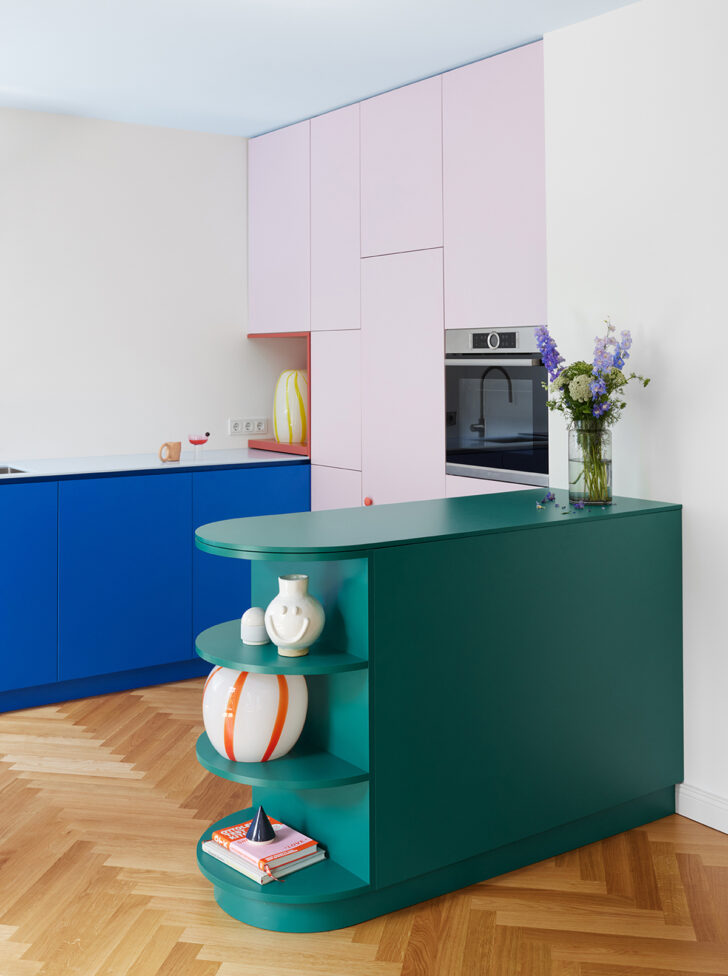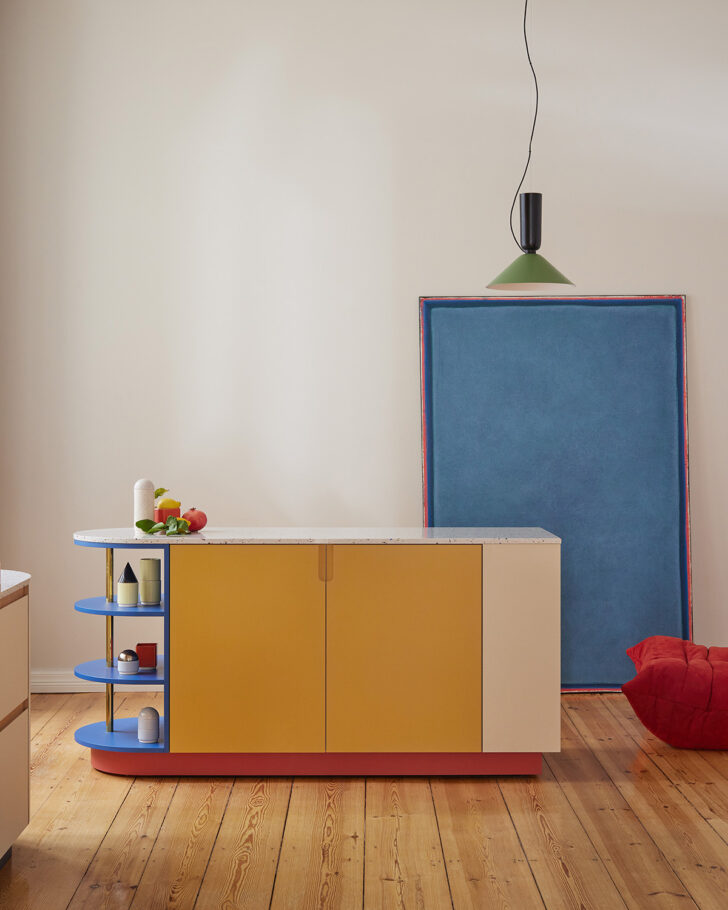 You use color in a very interesting and exciting way. What's your process behind selecting colors that will fit well with one another for a particular space? 
SG: It's kind of an intuitive process. Sometimes you meet people, and they say they love colors, but actually want to have it a little bit more neutral. And then we try to suggest something that they might like, and when they see it in the 3D visualizations, they think that it's interesting.
But the process itself is that we really start with the structure of a room or a piece of furniture, and then at the end, when we try to put a cloth of color over it, or dress it. And then we play with real samples of colors and materials, like every I think interior designer does, and try to figure out what goes well together. Sometimes there's a feeling it should be more of a contrast, sometimes the colors should be more similar. But really it's trial and error, and sometimes when we see it on screen, it doesn't work, so we make it a little bit different. And then there comes a point that feels good to us, then we show it to the clients and hope they agree.
So it really has to feel natural and comfortable within the space that it's in, and for the people for whom you're designing?
JD: They have to like it. It's not like we just decide for them, and they have to put up with it. We tried to do within the project with our clients. We're not going to dictate that the wall has to be blue, otherwise we're not going to finish the project. Everyone has to feel comfortable with it.
SG: Sometimes it's kind of a playground for us to develop stuff for ourselves. Because we might have a strong idea of something, but the clients aren't willing to give us full freedom from the start. So when we design things for ourselves, we can show our clients what it looks like when we do have total freedom. These projects are important for us, because when a client sees them as an example, they can decide that they like it, and we can use the example as a starting point for something new for them.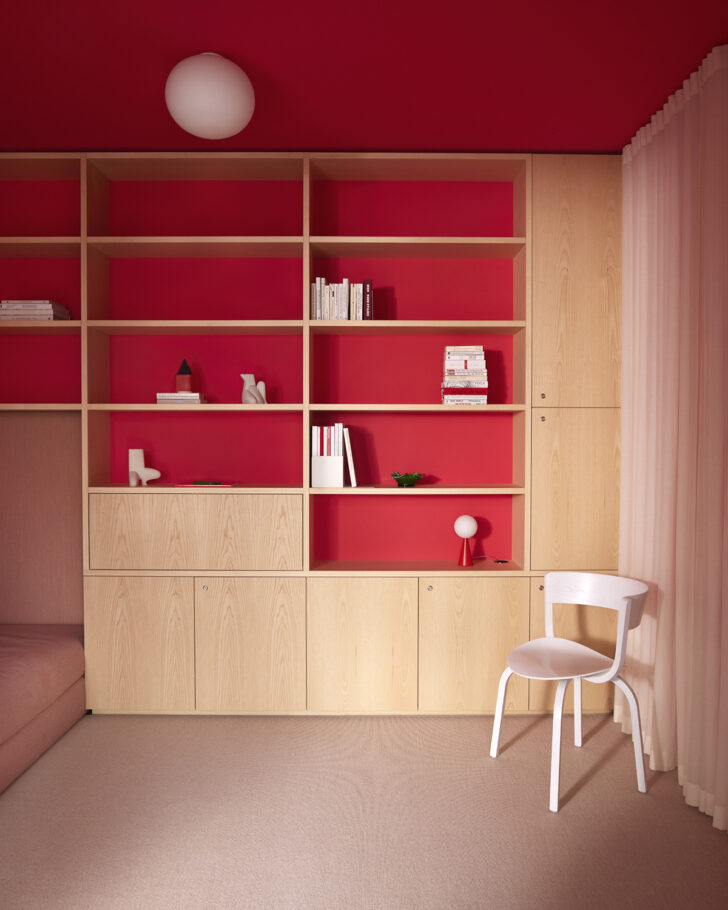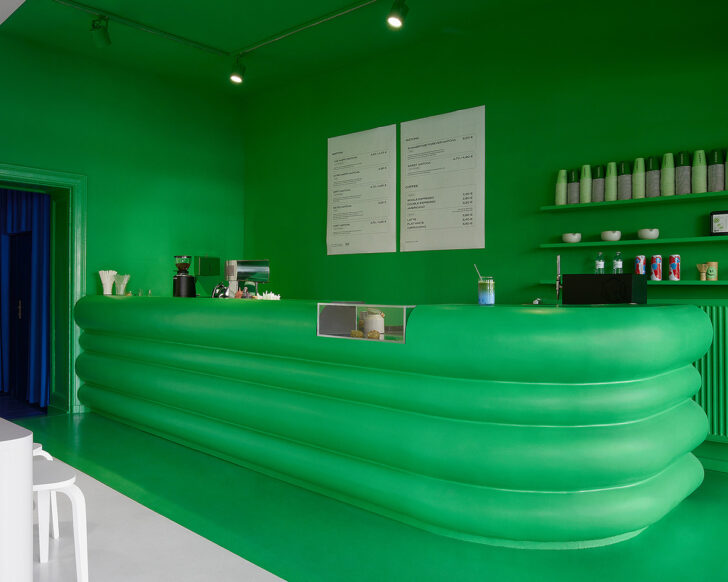 Is there any era or particular designer or style that really influences you?
SG: We get inspiration from so many places. Sometimes it comes from art galleries, or museums, just not from the pictures or the art itself, but also the experience of the room or the building. People often ask us about Memphis and the Bauhaus, and of course we get influences from there. A couple of years ago, totally by chance, we stepped into a Memphis exhibition in Venice, which was super interesting and had a great impact on us. This was a time when people started to design stuff in a different way, and were trying to break away from all these common living scenarios.
We also watch a lot of films, and we have kids, and when we see kids' movies like old Disney films, for example, where you have these strong colors, this can be inspiring too. And of course, there's a lot of stuff in the city, and we visit different places and cafes and stuff. It's a hard question though.
You've also worked on commercial spaces as well as residential. Do you take a different approach to those types of spaces, like a store or a cafe?
JD: I suppose it's a bit different, although we haven't done too many commercial projects. Of course, the look has to be even stronger, to leave a bigger impression on the customer. The task is about finding a strong visual language that speaks to the company and that sticks in people's heads. And that's a totally different approach than say a kitchen or a kid's room.
SG: I think the clients' position is a little bit different when it comes to commercial projects. People are more afraid to decide for the home because it feels so personal. Even if it's a wall color, they second-guess and think maybe it should be a little bit more neutral. But when it comes to commercial decisions, it's more like, "Okay, let's try it." So decisions are a bit easier, because people have more distance from their cafe or office design than for their own kitchen at home. So that makes the process a bit easier, at least with the clients we've had so far.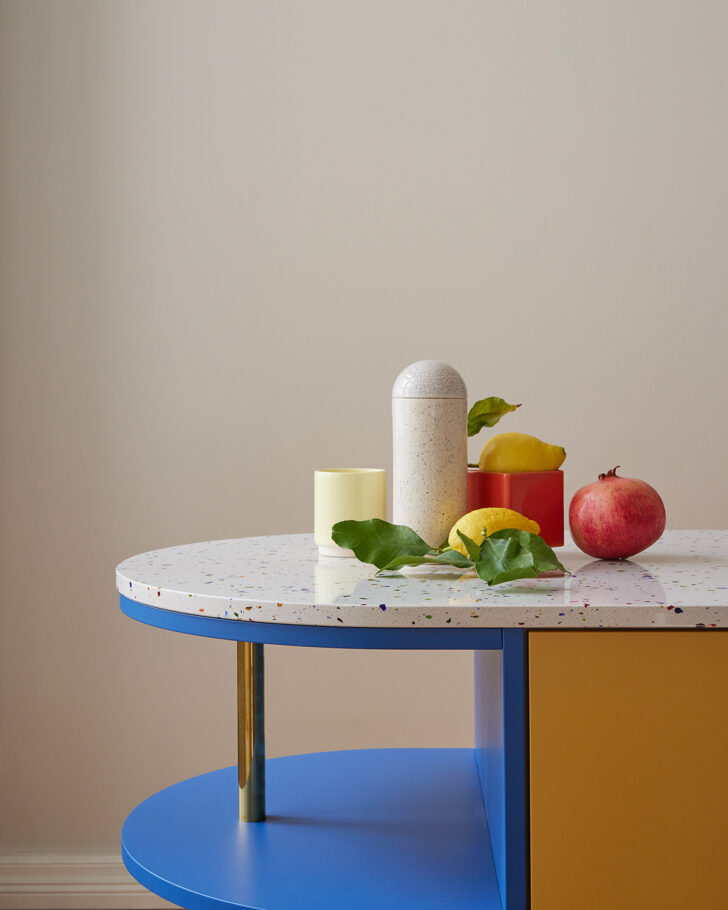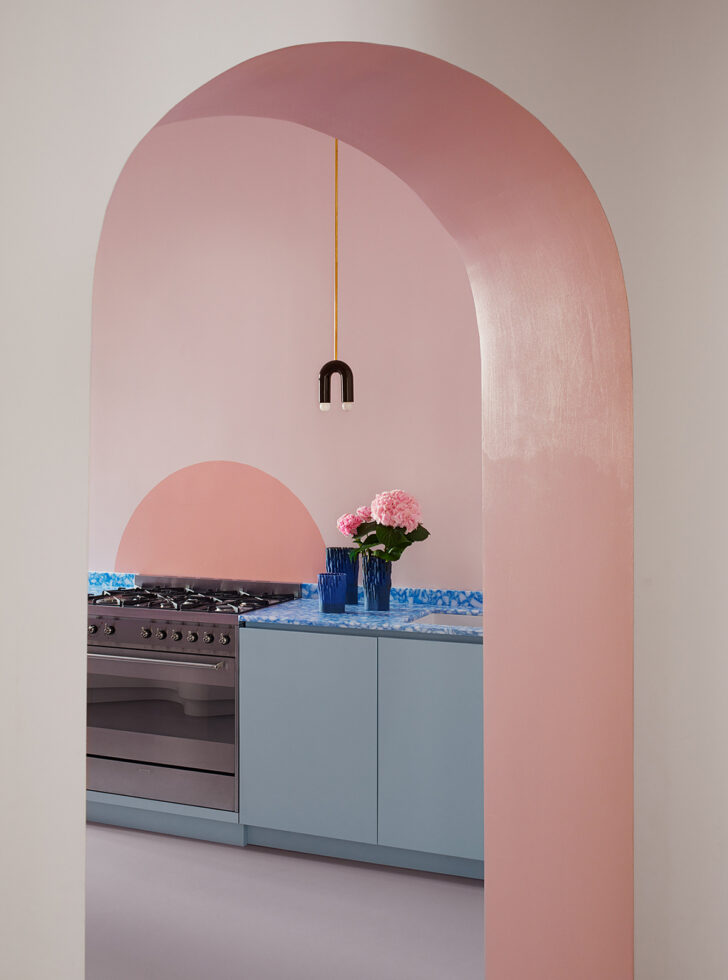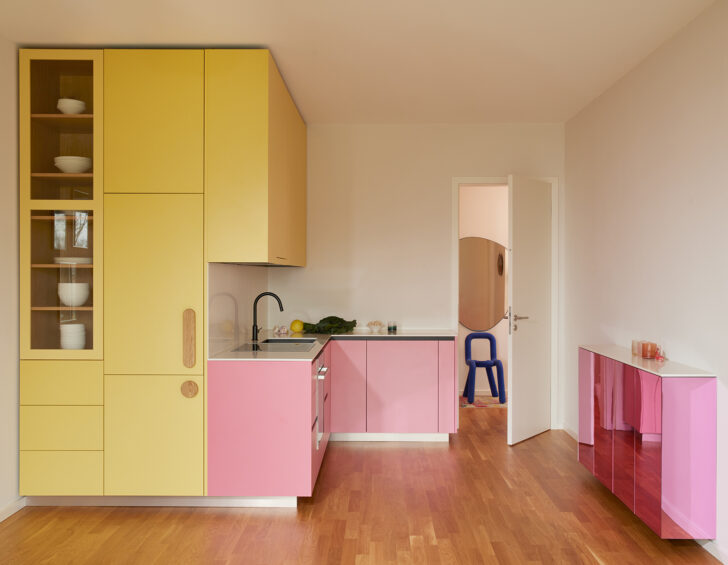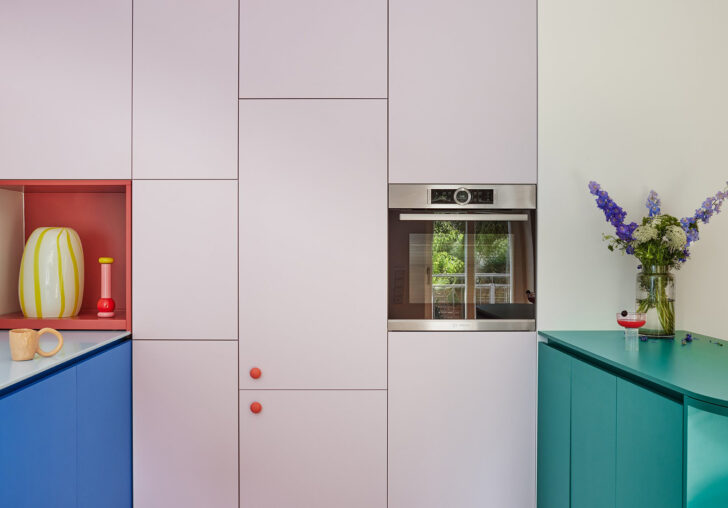 You spoke about kids' rooms at the beginning, but is there a particular type of space or environment that you enjoy designing the most?
SG: I can only speak for myself, but I find that kitchens are always interesting. There's so many different variations you can create. At the beginning, it seems to be pretty easy, then you start with the project and there's so many options, so it's never boring. We appreciate when we can work on a whole apartment. That makes it easier, because every time you work on a project you have to get to know the people. As I said earlier, it's a personal process, so the more you're able to work together, you can find out more about what they like.
JD: I think what we like is the variety, rather than just working on kitchens all the time. That's kind of exhausting after a while, so that's what we like about our jobs and different types of clients. With every project, we can jump into a totally different world. One week it's a cafe, the next it's a kitchen. A couple of weeks later, we'll work on a kid's room. So we always have to think about going down new and different roads.