06.29.23
This Design Duo Makes the Understated Furniture They Couldn't Find Anywhere Else
"The pursuit of approachable everyday objects, put together using readily available materials and simple fabrication techniques," is, it turns out, much harder than it sounds. For visual designer Masha Osorio and architect Christian Kotzamanis, the search was, in the end, futile. So they decided as the newly-formed Mock Studio to design and produce the simple, reductionist pieces they'd been looking for themselves. 
The pair had worked together on a few projects for Kotzamanis's design-build firm CKMS before they decided to collaborate further on custom furniture designs and installations. As Mock Studio, they now work on commissions for client projects — filling the gaps where their desired furniture piece is missing — as well as their own tests and experiments with forms, scales, materials and typologies. "Some of the recurring themes in our work are explorations of proportion, balance, and scale, as well as comfort, usability, seamlessness, and solidity," says Kotzamanis. "We always try to prioritize the process rather than the product."
One of their biggest hits is the Domino shelf, comprising seven intersecting planes of stained wood, with the central element angled for presenting large art books. The narrow design sits on wheels, and can also be used as a spatial partition. Then there's the Alabaster side table, made entirely from columns and sheets of the translucent stone, which has also been scaled to coffee table size. Meanwhile, the Miter table so far has been iterated in acrylic, aluminum, wood, and nylon in exactly the same shape and dimensions. (This tiny table was among Mock's offerings at Sight Unseen's New York Design Week show and is for sale through us as well, along with several other pieces.)
Through these various investigations, all produced in their Brooklyn workshop, the duo has amassed quite a collection of designs, which they recently also presented as a small exhibition in Chinatown during NYCxDesign. Ahead of the showcase, we had a chat with Osorio and Kotzamanis to learn more about their process, how they aim to minimize waste, and their mission to create the perfect stacking chair. 
PHOTOS BY SEAN DAVIDSON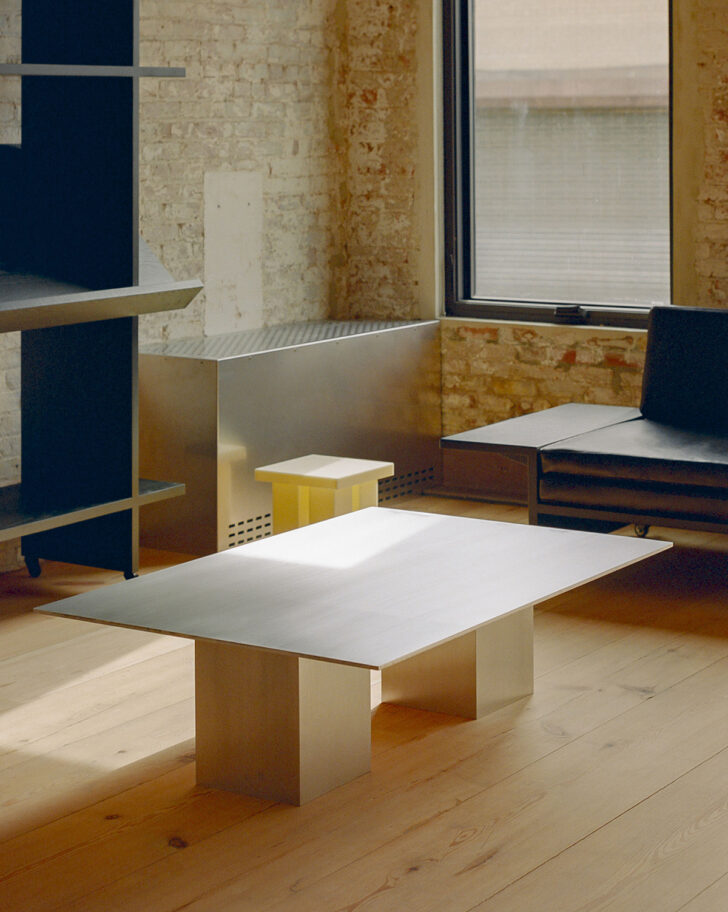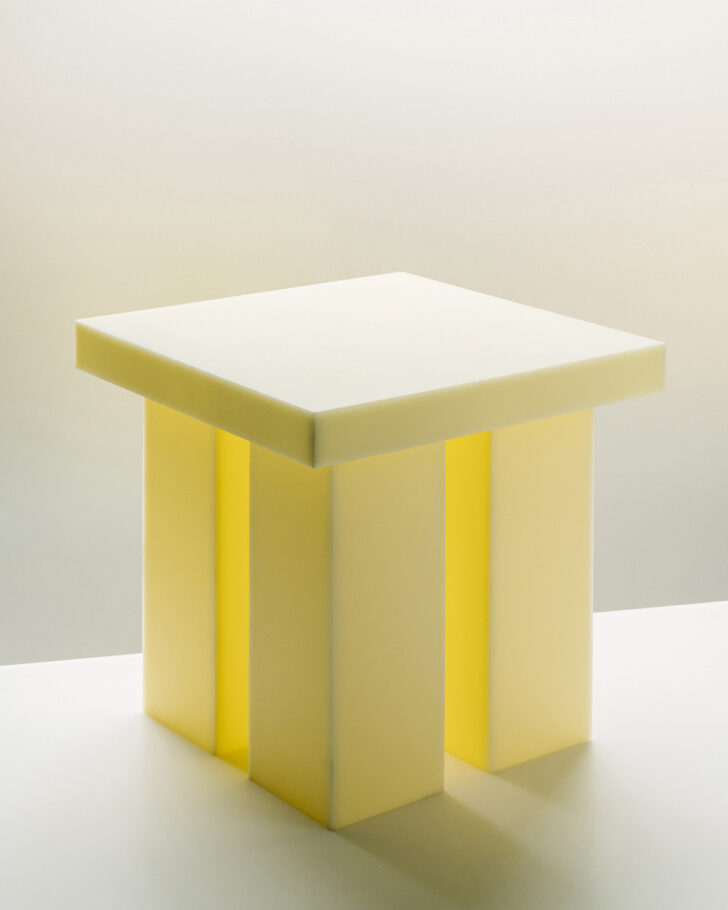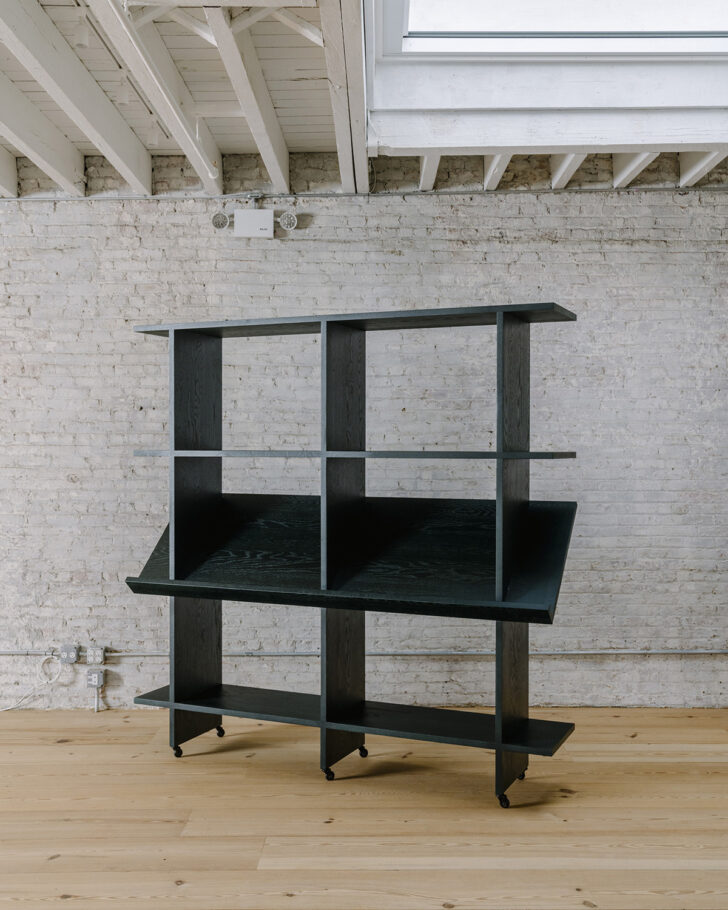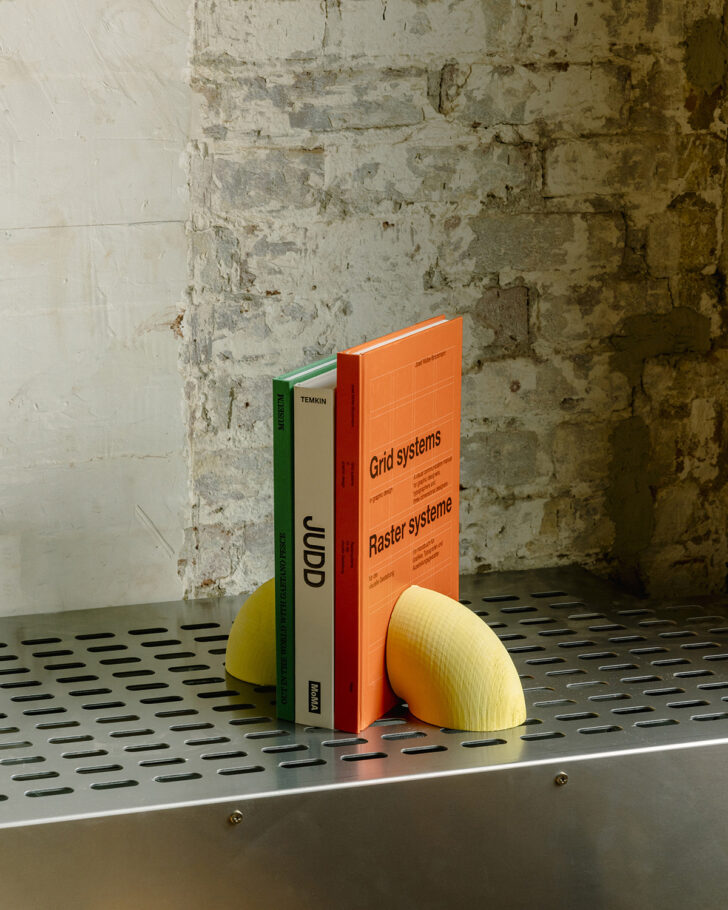 Let's jump right in. It seems like you do a few different things under different umbrellas. Can you explain how it all fits together?
Christian Kotzamanis: So I'm an architect.
Masha Osorio: And I'm a visual designer. We merge together the visual design and the architectural side of things to create physical objects.
CK: The furniture design business, Mock Studio, is basically Masha and I coming together under a new umbrella for furniture design and installations. But my background is in architecture, and I have a design-build company in New York, CKMS, where we offer design, architecture, construction, fabrication services. That was the precursor to Mock, which grew out of that to some extent, because a lot of the design-build projects that we've been doing required custom furniture.
We really enjoyed the process of collaborating together with Masha. So we decided that, to be able to achieve a certain degree of freedom on the furniture, we'd create Mock Studio so that we're not only serving commissioned projects. We see Mock as a more experimental initiative where we could both serve clients and do commissioned work, but also do our own non-commissioned stuff. We set up a workshop facility and started doing our own thing. Some of it is serving the design-build business, and some of it is standalone.
Do you produce everything in house?
CK: Yes, everything is done in-house in our workshop in Brooklyn. Our shop is set up primarily as a prototyping space, but we also do production in small batches. So far, we haven't really needed to outsource anything, only some small aspects.
How would you describe the pieces that you create, in terms of style and purpose?
CK: We focus primarily on furniture and installations, inspired by reductionist design philosophy. Some of the recurring themes in our work are explorations of proportion, balance and scale, as well as comfort, usability, seamlessness, solidity. We always try to prioritize the process rather than the product.
It's based around the pursuit of everyday approachable objects, put together using readily available materials and simple fabrication techniques. Our studio emerged out of a yearning for understated pieces. We feel that there's a trend in the furniture world for maximalist design, overly expressive and kind of complicated design, whereas we gravitate more to a very simple, clean, minimal, reductionist approach to design, while trying to keep this pursuit for simplicity, but at the same time uniqueness.
It's that duality that we're constantly bouncing between: How do you do something simple and timeless, but also something that's memorable? We like simple materials, and we like to use materials in as raw of a state as we can get them. We don't like to over-process materials, but rather keep them as close as possible to the state they come in. We try to do as little as possible with the maximum effect.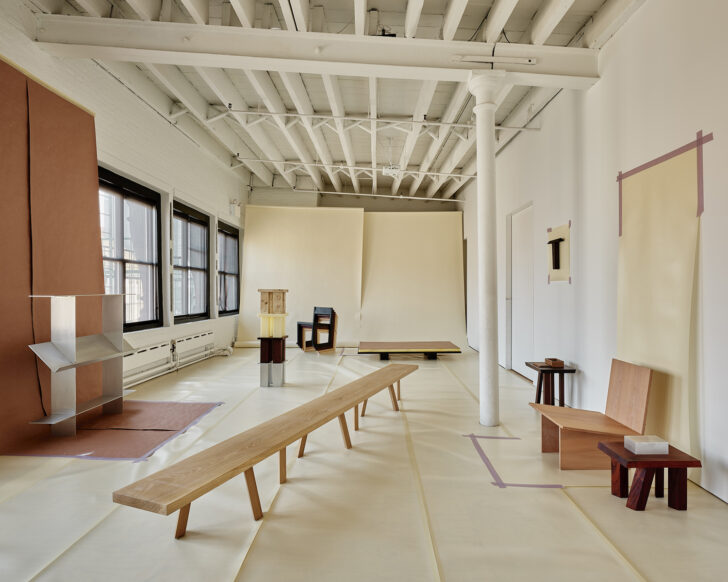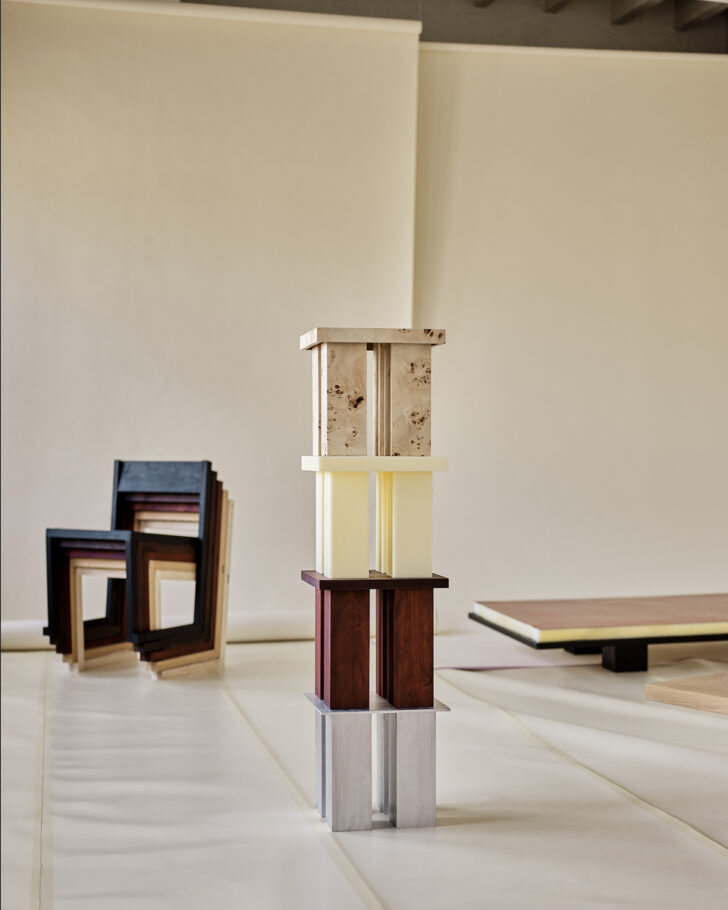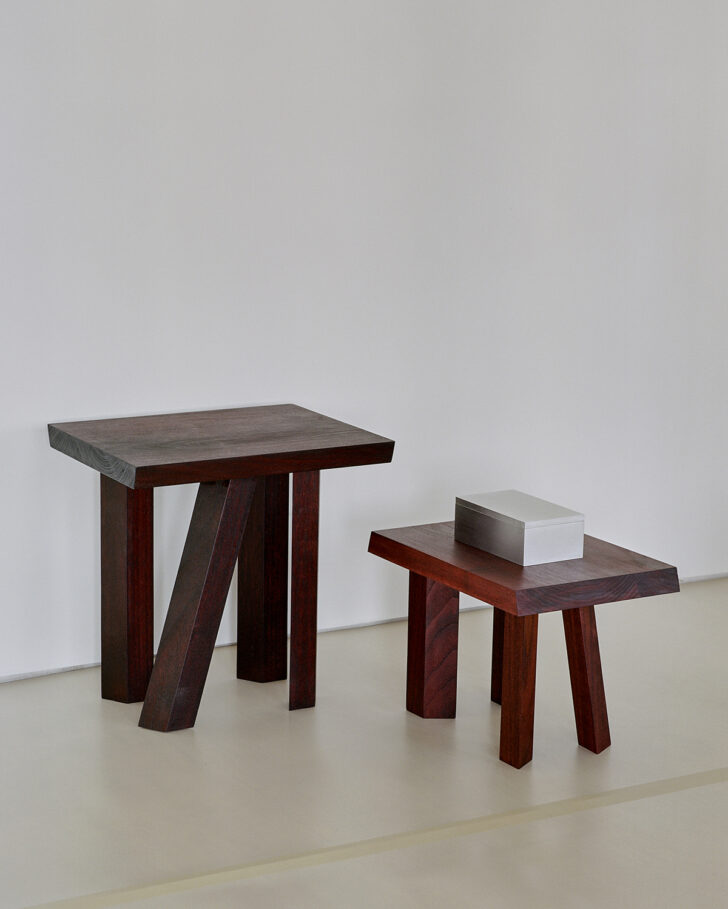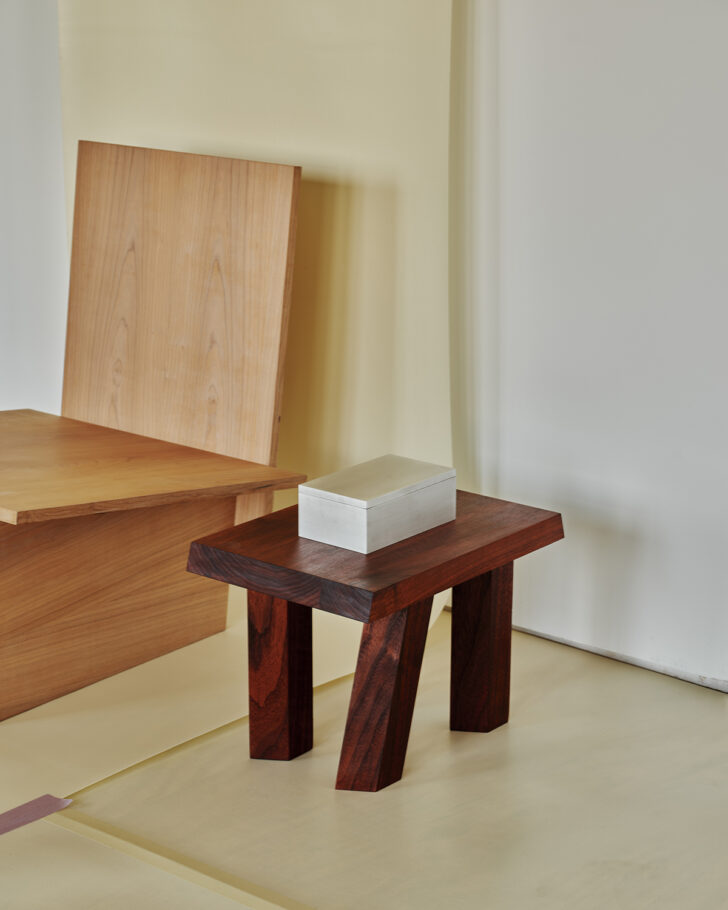 So when you're creating these pieces, do you think about them in terms of collections? Or are they all one-offs designed and produced based on need?
MO: I think it's a bit of a mix. Sometimes we'll create a piece to fulfill a need, but most of the time, we'll create a piece that can evolve into a collection. So there are different iterations of the same shape, or aesthetic, or feel, or the way the pieces are built, which extends into a collection.
CK: We explore multiple threads simultaneously. So it's not like we'll say "we want to spend the next three months working on this idea and this collection," we bounce back and forth between different things. We'll have ideas that we come back to and explore as collections, but it happens in a kind of random, ad-hoc fashion.
You mentioned that some pieces are sparked by a project, or sometimes just because you see a lack of something in the market…
MO: It depends on the situation. If we're designing a space and find that something may be missing, we go through this process of sketching, and starting to build prototypes. But basically there's a library that we've created and we can just pull pieces from our lineup while building. 
It's intuitive, for example for a coffee table, we find a material we like for exploring the box, with a very simplistic approach and paying attention to proportion. Those are our core values when we go into building things, really looking at proportion, and how things feel in terms of their weight and size, and their visual appeal in a way that's simple and understated.
CK: We'll make minor adjustments to the width, or the thickness, or the height, or the balance of the object to affect how it comes together. Very small variations on those things will make a big difference in our minds. With regards to what triggers or spurs an idea, it can really come from anything. We might have a practical need for a coffee table, or it could be that we see a material somewhere that triggers our interest, and we think that it would be really cool as a chair.
One of our recent and current ongoing experiments is how to produce a stacking chair, which comes from an absence of a very simple stacking chair design that can be easily fabricated, using readily available materials and fabrication techniques, and without the need for complex equipment or complicated assembly technologies. So we've been experimenting with that. Inspiration can really come from anywhere.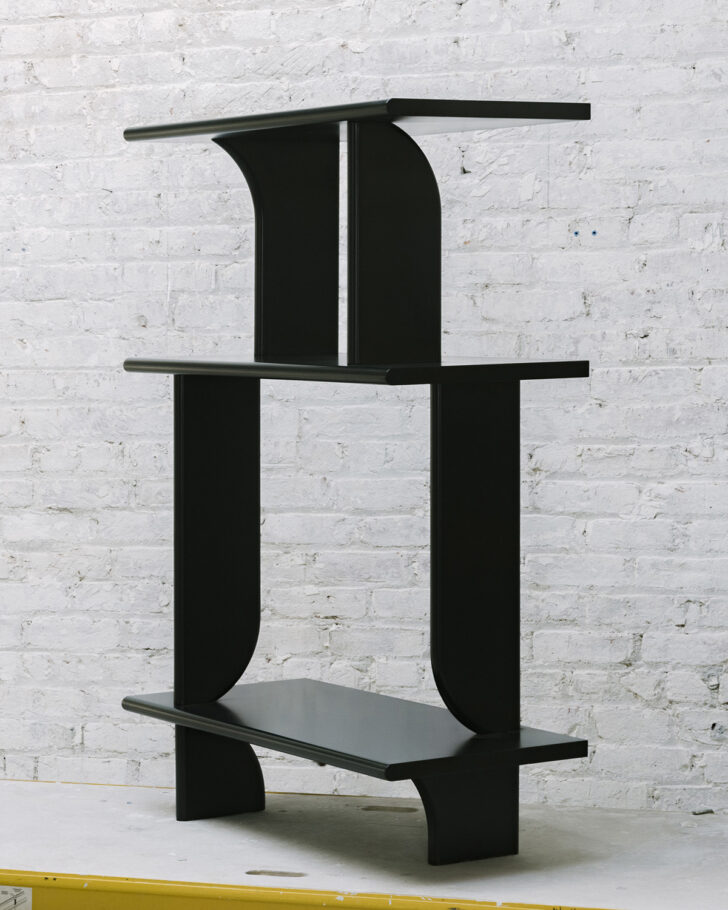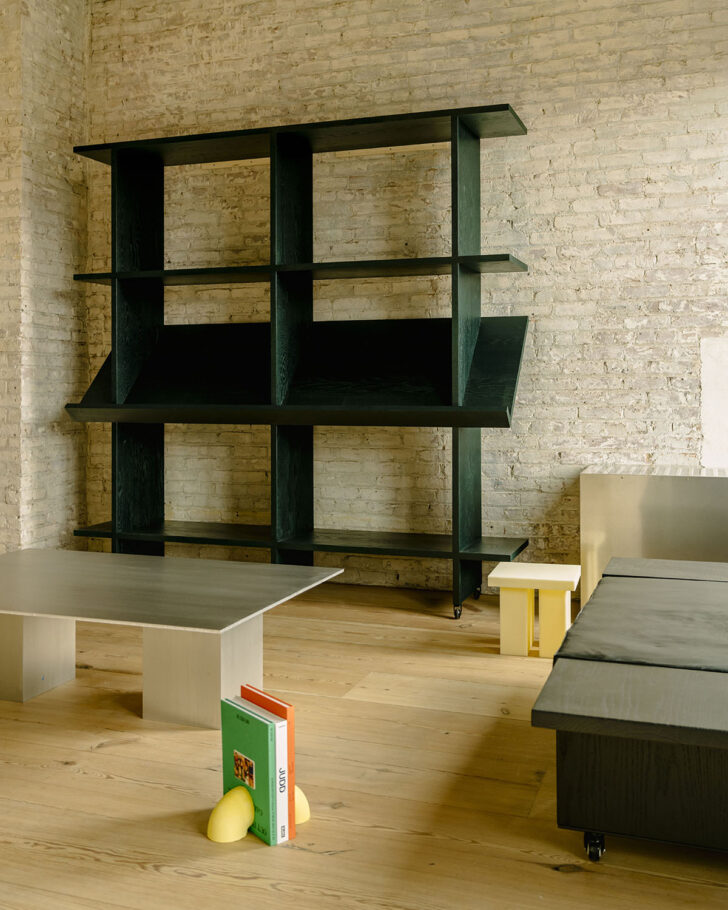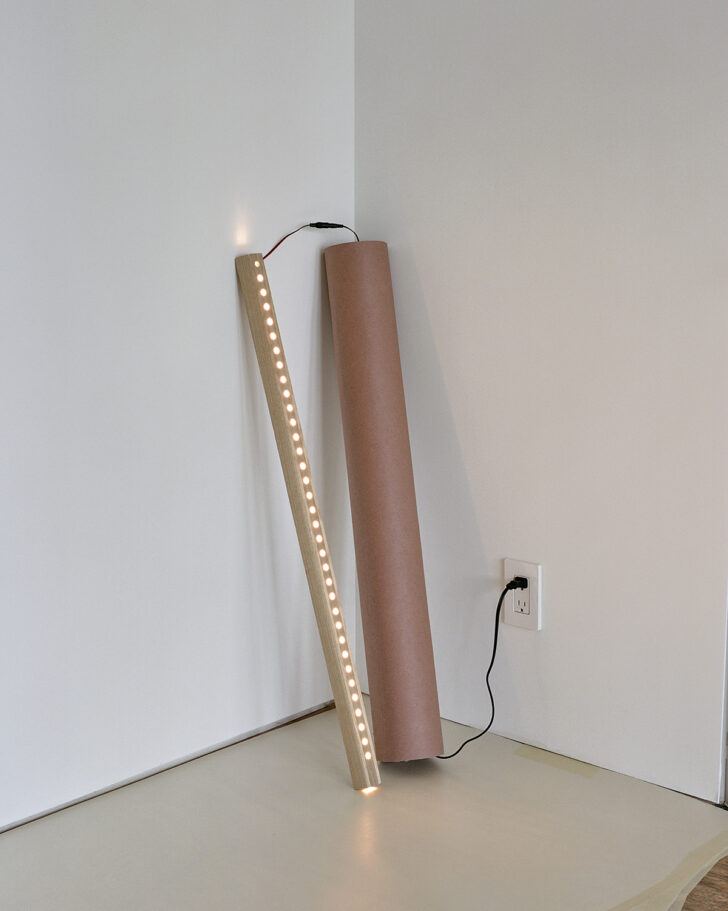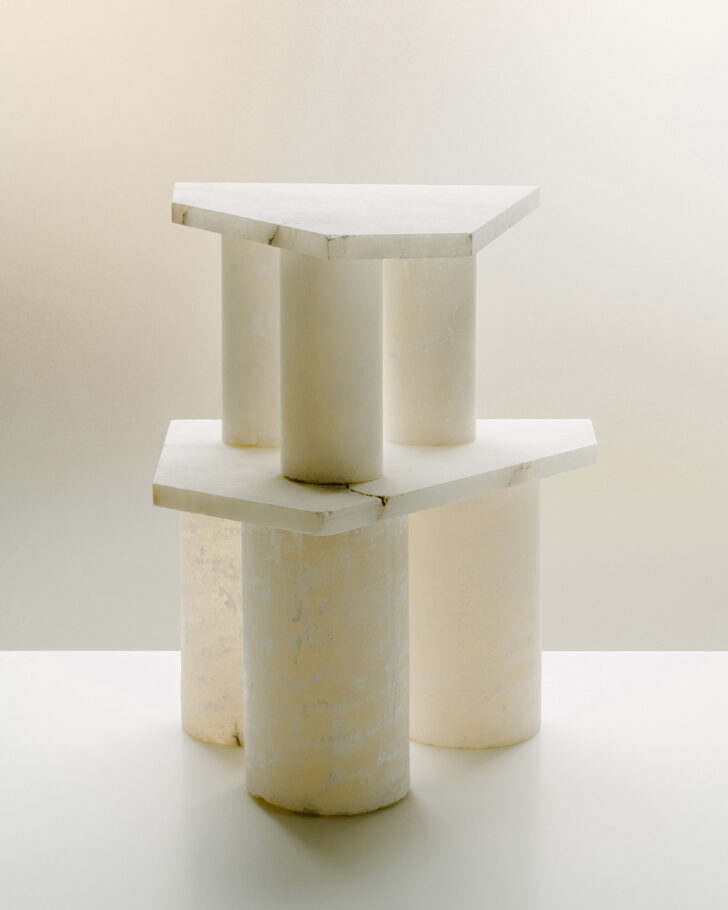 Could you describe a couple of examples of pieces that you think really demonstrate your design philosophy and your visual style?
MO: One of our most popular ones, in terms of the response we've received to it, is the Domino bookshelf, which really encompasses a lot of our design beliefs.
CK: The Domino shelf is built using solid wood planes that intersect at 90 degrees, with one angled at 45 degrees. It's intended as a display shelf for large-format art books, but also it's on wheels and it's very narrow, so it also acts as a spatial divider. Again, it's about bringing elements together in a minimal way, with an impactful visual result that really satisfies our aesthetic inclinations.
Any others that you think are particularly indicative of your approach?
MO: It's always like changing. It's interesting, because we've noticed in the industry that there will be a designer who may pick one material and become the expert on that. But in our case, we're always evolving and exploring different methods, and ways of constructing, and building, and experimenting with materials. We're really just continuing the exploration of proportion, and balance, scale, and applying this to all of our pieces, while crossing various functions.
We also tend to do a lot of small pieces like side tables. The Miter site table is a good example of how balance and proportion come into play. And that has evolved from a very small piece into a very large communal table with a bench, which follows that same philosophy of mitering the edges in the same way. We've explored it in different materials like nylon, acrylic, wood, and metal. So taking one simple aspect of building and expanding it, and stress-testing what would happen if we take this to the next, maximal level versus the smaller versions of it.
CK: There's a vocabulary that permeates all of our work, and we borrow from one piece and apply it to another, or we'll come up with an idea for a side table, and it will be a very simple reduced geometry. And then we'll try and build that exact same thing out of very different materials, so there'll be one made out of wood, one out of metal, one out of acrylic. Then due to the difference in the materiality, they'll require different assembly methods or different fabrication techniques. So, it's the reverse of taking the material and trying to see what the material will produce. It's more like, how do we make the material do what we want it to do?
MO: In regards to the materials we use, they're all locally sourced, and we tend to finish everything using natural and non-polluting products as well. And we try to create geometries that will minimize waste of material, and we also tend to use off-cuts to continue to build prototypes too. We're really conscious of this side of things, as well as keeping in mind the human ergonomics when we're designing. So that's another aspect of our work.
CK: With off-cuts from one process, like if we're mitering the corners of a piece of material to join it to the next piece, we will have 20 off-cuts of the same exact thing. So instead of that becoming waste, we'll take the offcuts from one piece and these will maybe spur an idea for for a new piece is as a result of the off cuts from another.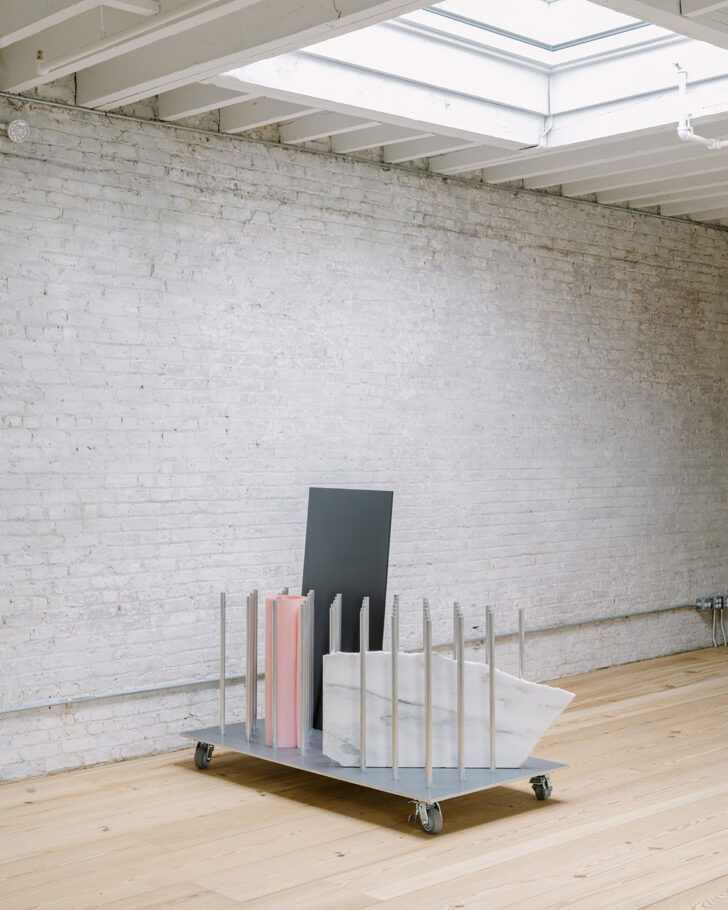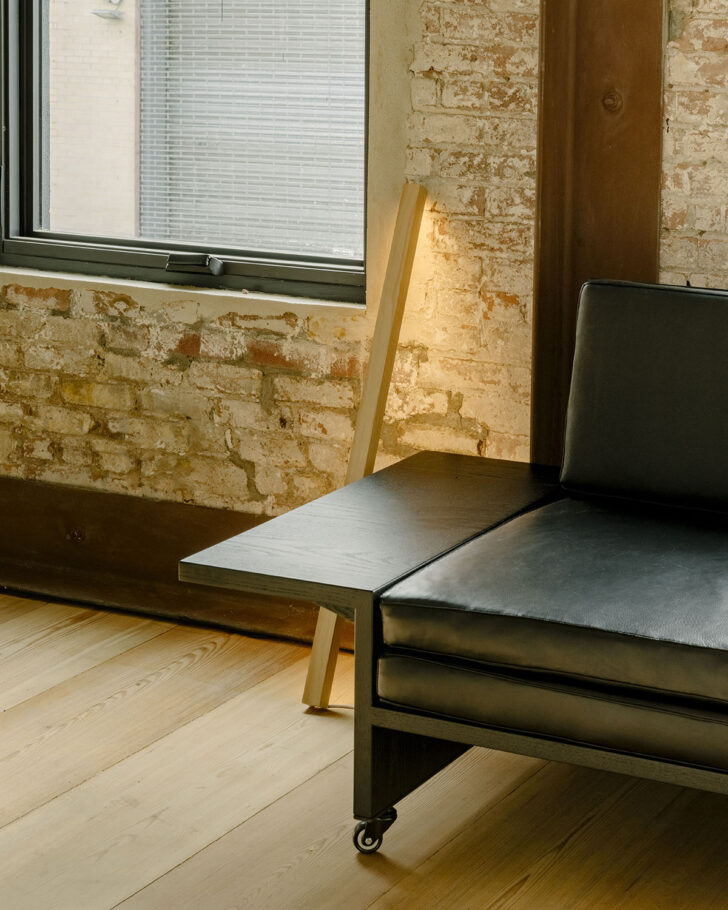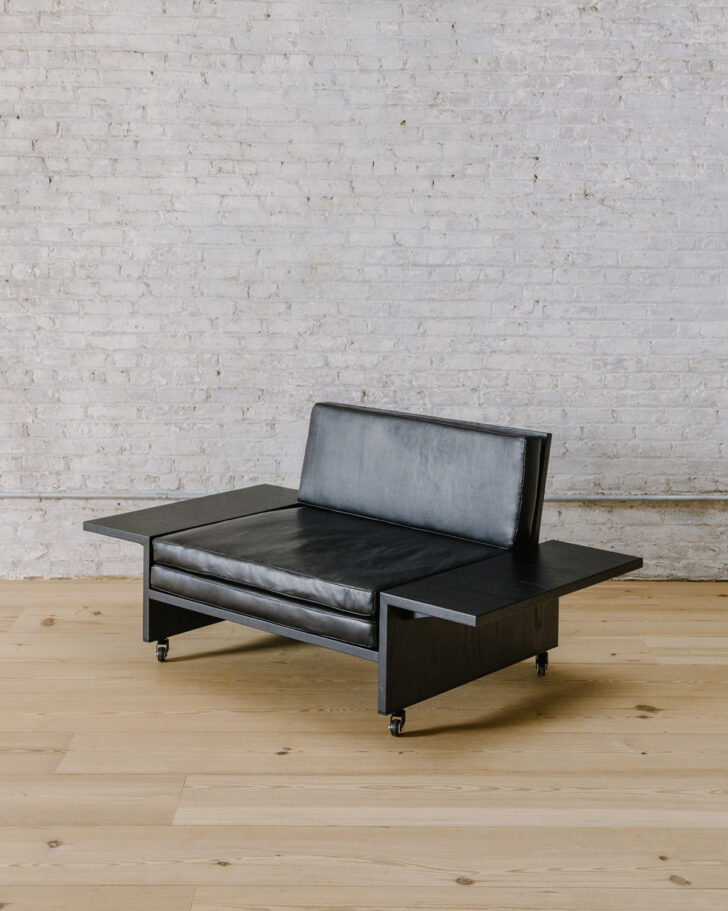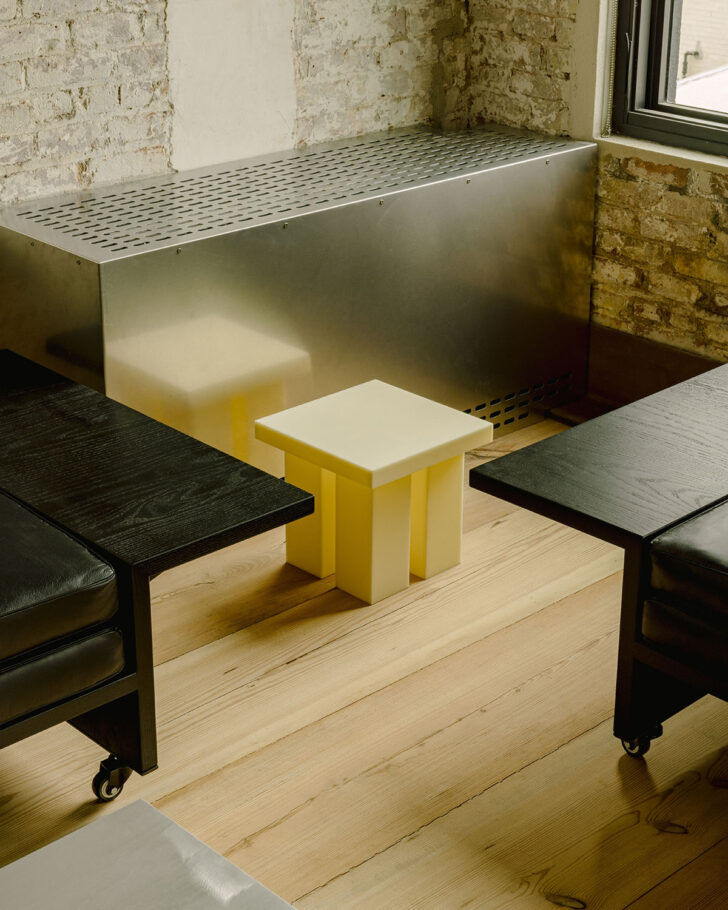 Do you have anything exciting coming up that you'd like to talk about?
MO: We're actually putting on a small show together featuring the work that we've been doing for the past two years, so we've been busy making those come to life. We have, as Christian mentioned, been exploring the idea of a very simple stacking chair, but also we have more of our larger pieces like the Alabaster coffee table, which plays off the Alabaster side table that we've created. It's like this large puzzle piece that comes together, and transforms and can be rearranged in different ways. That's one of our most exciting pieces that we're looking forward to building.
The show's primary exercise is in defining our attitude towards form and materiality to serve as our studio's foundation. All pieces are made entirely by us in our workshop using locally sourced materials and primitive tools, nothing from the show was outsourced, nothing was commissioned. All of the pieces are made using leftover material and/or offcuts from materials bought and used for the studio's commissioned projects.The flooring material is a sound muffler used under vinyl flooring installations. We identify with the color and consistency, and the butter yellow is our signature color! We refer to this color as MOCK yellow.