07.08.21
Our 2021 Collection Launches Today on 1stDibs — With New Work From 16 International Designers
The pandemic may have prevented us from hosting our Offsite show this year, but we didn't want to entirely abandon our role as a platform for supporting the work of independent designers — especially since they haven't let it stop them from coming up with brilliant new ideas, even without a physical fair to debut them at. So for 2021, we decided to curate a special collection of furniture and accessories by 16 contemporary designers and launch it exclusively on 1stDibs, starting today. The collection includes chairs, tables, lamps, vases, outdoor furniture, and more by talents hailing from North America and Europe, many of whom we've featured or collaborated with in the past.
Among those included are Nazara Lazaro, a Berlin-based furniture designer who has created a whimsical coat rack and chair for the project (pictured at top); Italian studio Zaven, whose colorful Tubes chair and table are made from recycled magazines; popular Los Angeles ceramicist Bari Ziperstein of BZippy & Co, who's debuting her first magazine rack; and Portland glassblower Robbie Frankel of Balefire, who's expanding his repertoire for the first time to include blown-glass lighting. The collection also marks the debut of work by Brooklyn newcomer Arvo Ray. Scroll down to see all of the works from all 16 designers — and read about some of their inspirations — then click here to shop the full collection.
Adrian Cruz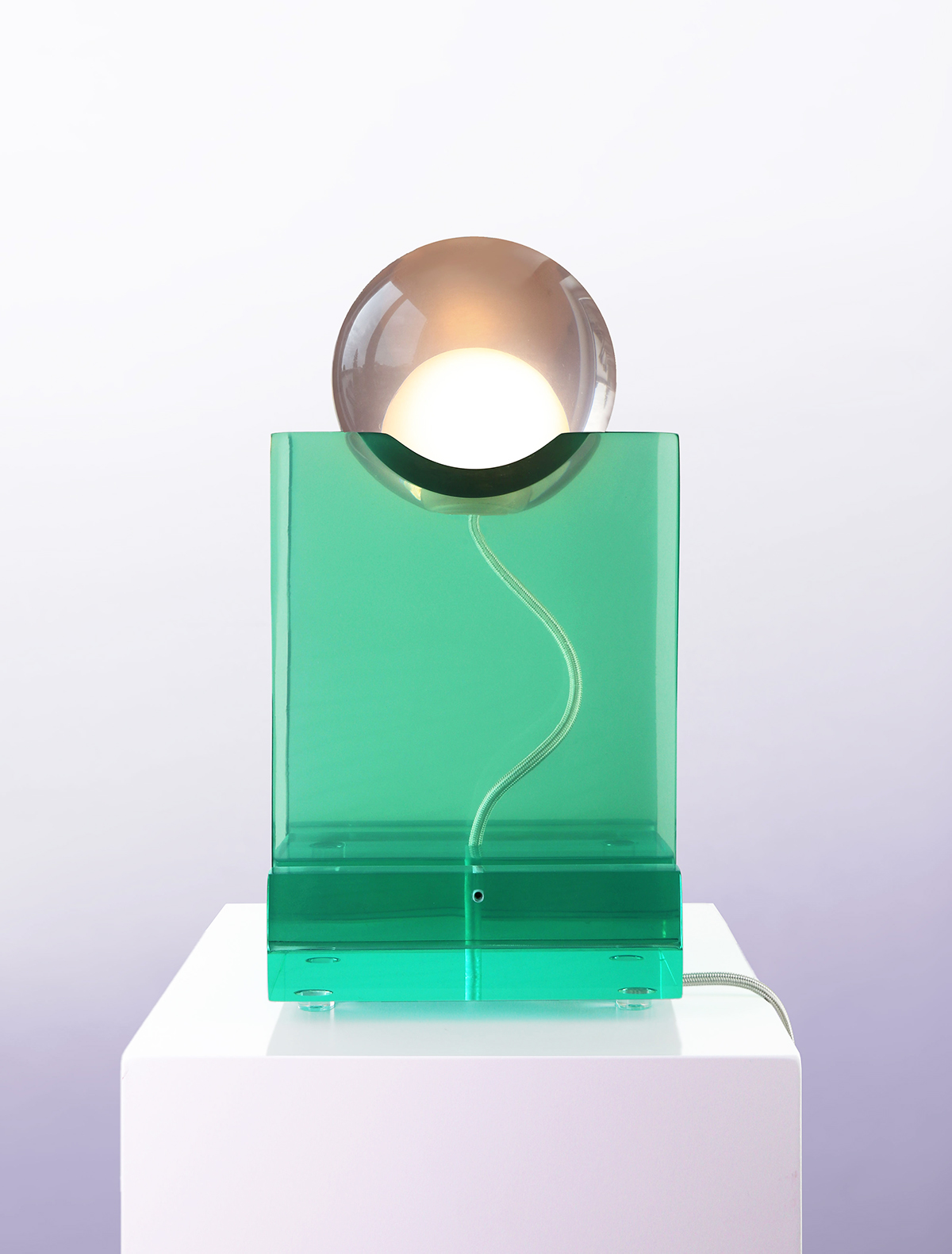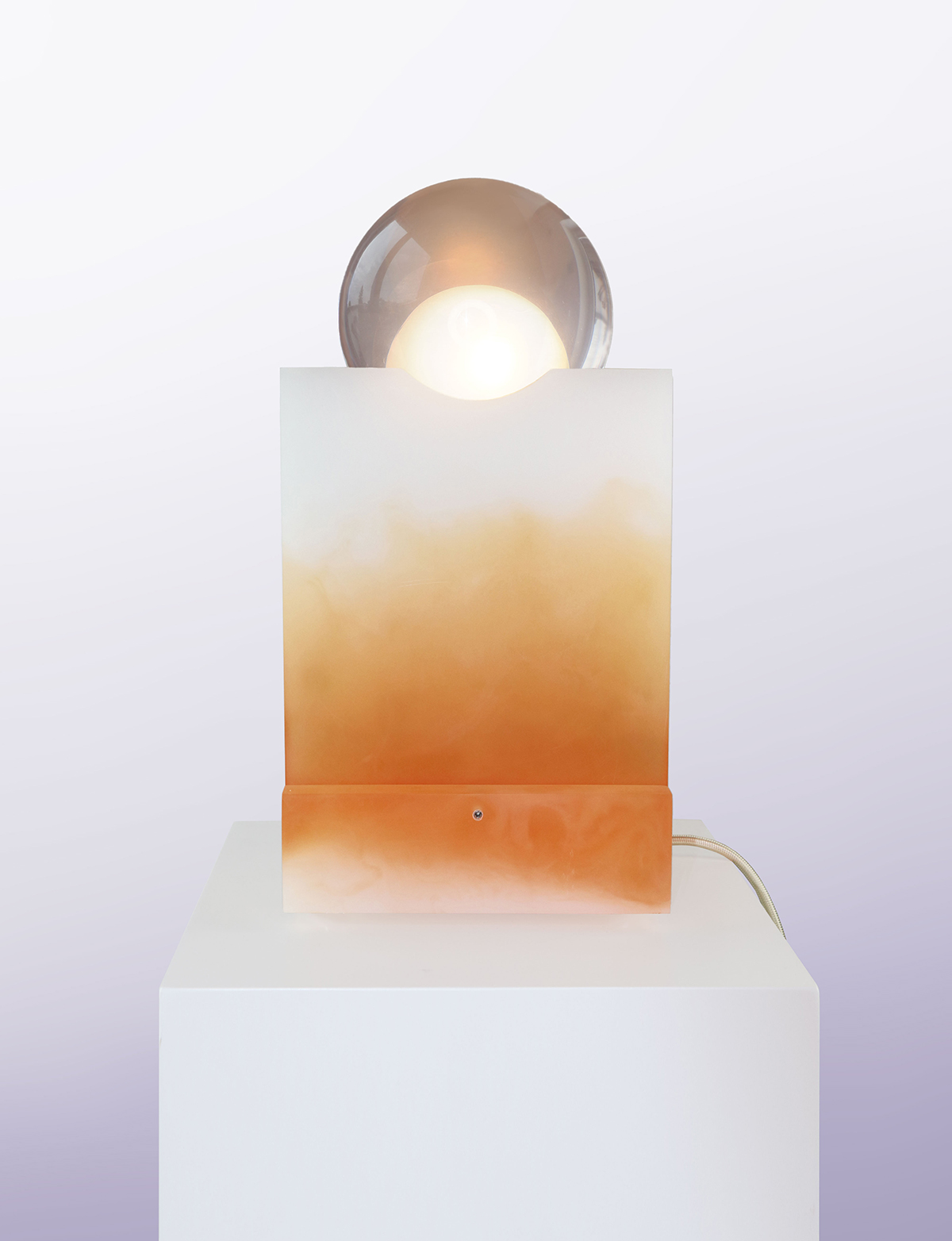 In 1946, Adrian Cruz's grandfather started working with resin in his small atelier in Mexico City. He created toys, buttons, and household products, but also started to experiment with new forms, encapsulating flowers and insects in resin to create magnificent artworks. When Cruz was a child he would play with these objects, fascinated by their translucency and the three-dimensional illusion that light creates when it passes through the resin. After finishing his architecture studies in Italy, he realized that those objects were still on his mind. Today, using the unique and sophisticated technique that his grandfather developed, he mixes colors inspired by the Mexican culture with pure forms in onyx and marble.
"My Rotonda lamp takes its name from the Renaissance-emblematic Villa La Rotonda, in northern Italy, designed by Palladio. The square base symbolizes the earth, and the dome symbolizes the universe. The lamp itself features a lightbulb held aloft by two resin plates — a weightless balancing act. It's made using a specially designed spherical mold that has an internal concavity, and its colors are influenced by Mexican folklore. In the orange lamp, the sandy effect is obtained by catalyzing the resin with a blend of white sand and salts from the Mayan coast. Natural pigments are then carefully applied to obtain the gradient effect. The orange tone recalls the Cempasúchil flower or Mexican Marigold, which symbolizes light reborn, and is used during Mexico's All Saints celebration on November 1 (also my birthday). The green lamp recalls the emerald and turquoise hues of the Mayan coast."
Another Human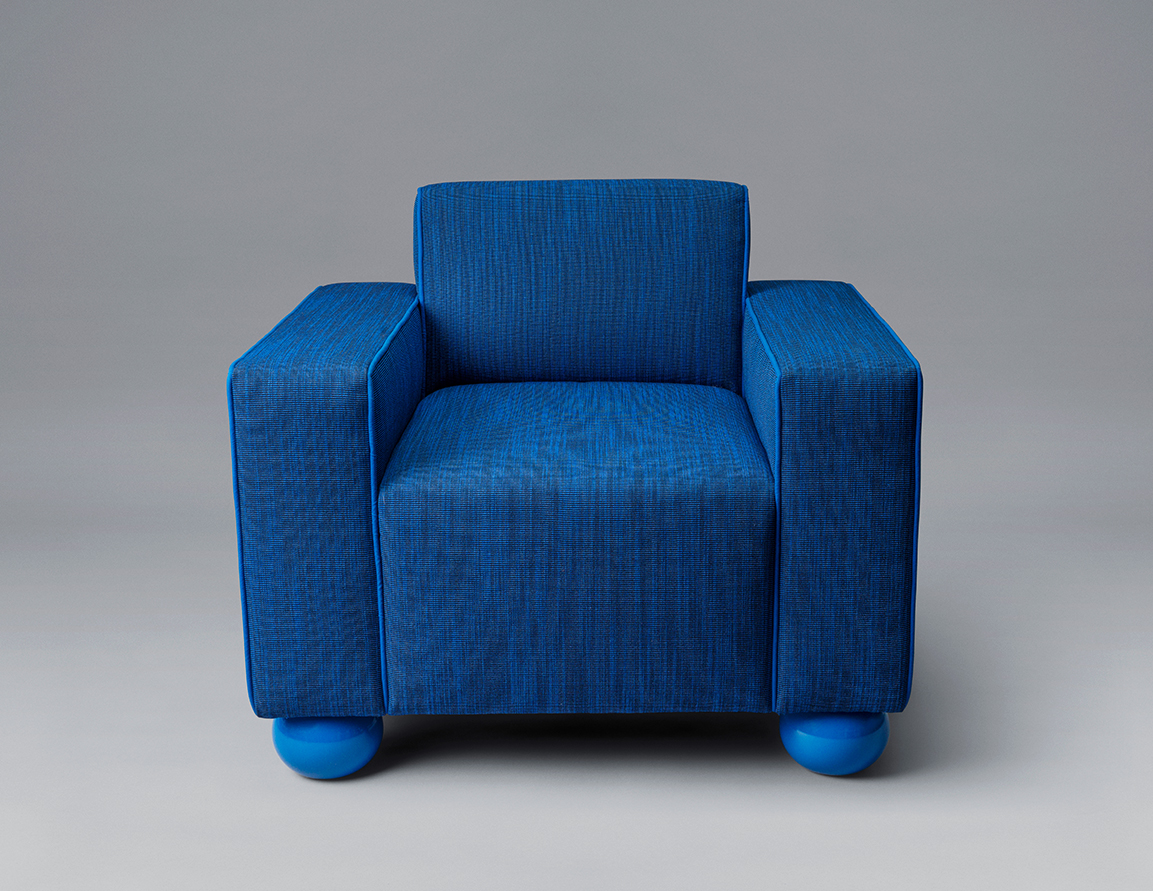 Another Human is the practice of the multidisciplinary designer Leah Ring. She honed her aesthetic over the past decade working in high-end interior design, and founded her Los Angeles–based studio in 2017. Drawing inspiration from sources ranging from the Memphis Group to outer space, her aesthetic is playful yet highly considered, often blurring the line between design and art.
"The inspiration for my Baby Blue chair happened mid-pandemic when I wanted to make something really comfortable. A lot of my work is a bit more sculptural or conceptual, but I wanted to make a chair that hugged you and invited you to relax, read a book, enjoy a cup of coffee — basically engage in all of the small rituals that comforted us during the pandemic when so much of our daily routine was upended. I love the forms of Art Deco upholstered furniture and often look to Art Deco geometry when thinking about my own work (which of course is also inspired by the geometries of the Memphis group in the 1980s). The chair's form took cues from curvier Art Deco chairs, but it's also boxy, which felt contemporary and unique to me. I've also been looking for an opportunity to use oversized bun feet, and I loved the feeling that this big, boxy chair was being held up by these shiny balls that look like they're being stretched under the weight of the chair."
Arvo Ray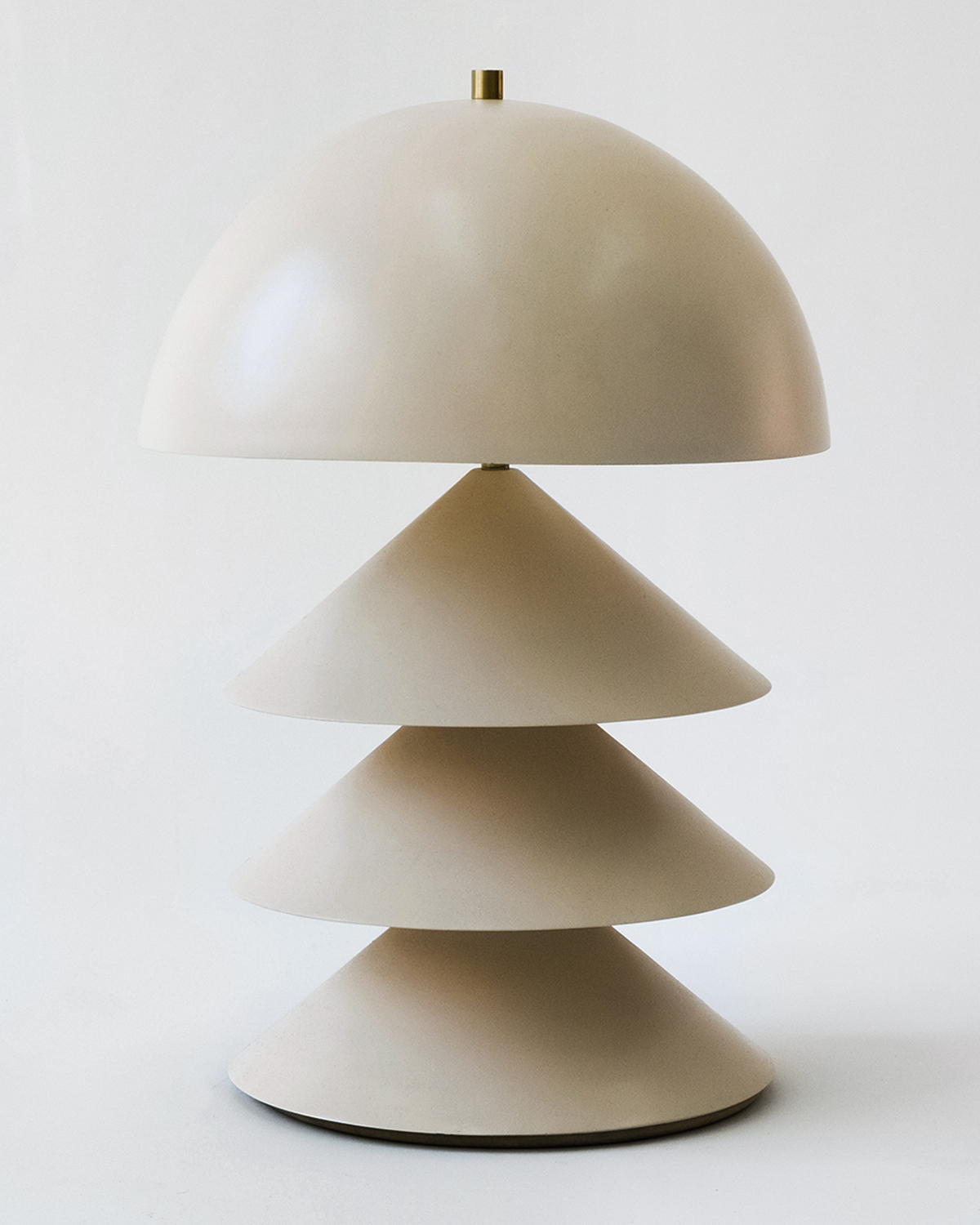 Arvo Ray Studio is a Brooklyn-based design and manufacturing company founded in 2021 by Seth Premo. The studio aims to pair uncompromising fabrication techniques with an exploration of materials, finishes, and playful design.
"The Junius Lamp, the first object I'm releasing since founding my studio, is designed to float in space yet remain rigid, and to continually reveal itself as it's seen from new perspectives. The lamp is constructed with a powder-coated steel shade and body, brass hardware, and a cork base. Inside the shade, a surprise of hand-gilded, genuine silver leaf reflects and amplifies the light emitted by the lamp."
BaleFire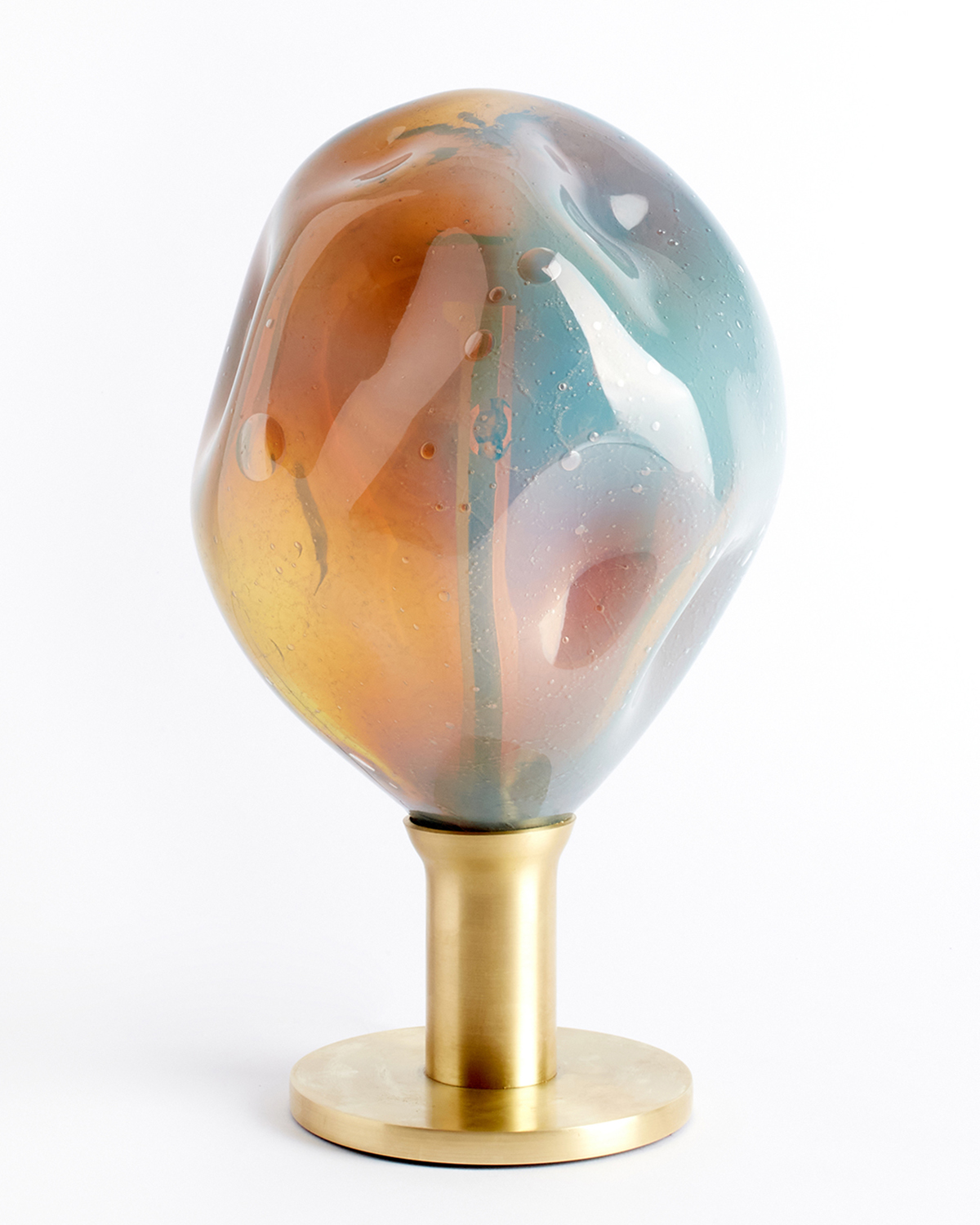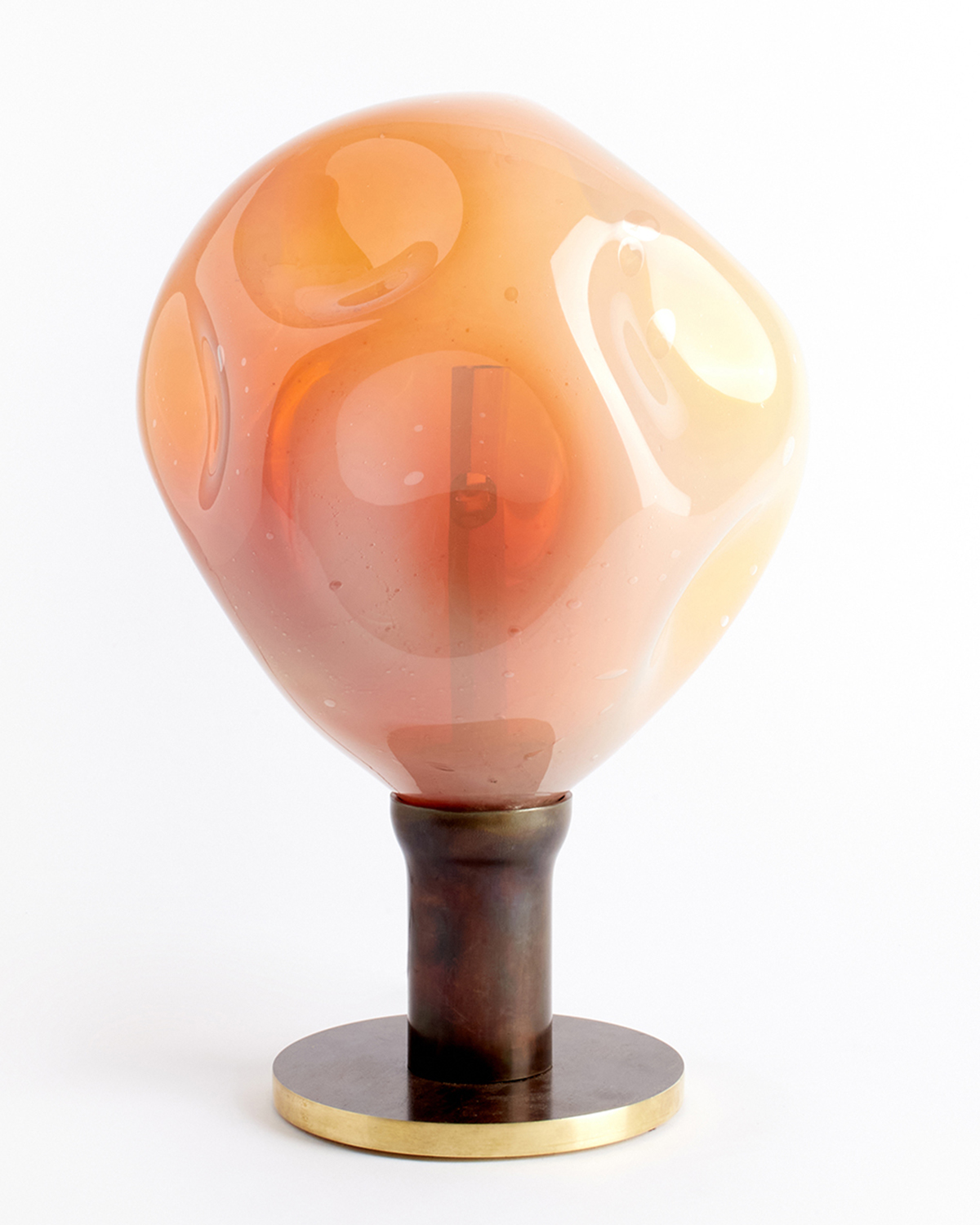 EPIPHANY VASES AND VAPORUM TABLE LAMPS
A bale fire is a pagan tradition of making a bonfire on the weekly Sabbath: A bale of hay is set ablaze, and the community comes together to do ceremonies, celebrate, create, and use this magical signal fire to send messages to brethren far and wide. BaleFire Glass is a line of sacred art objects designed and handmade by Robbie Frankel in Portland, Oregon. Each object is a sculpture in itself — organic, visceral, bringing glass art into the home. With more than 10 years of glassblowing experience, Robbie lets the glass guide the process. Through experimentation and non-traditional color techniques, he imparts his objects with a feel and look like no other.
"In my Epiphany vases, the colors swirl and contrasting hues play off of each other, giving each piece its own personality and making each one of a kind, like a painting. This vase has a base color of energetic red vermillion, embellished with marbled lavender, yellow, white, magenta, and teal. It's blown and sculpted by hand into a form reminiscent of flowing fabric, narrow at its base and open wide at the top.
"My Vaporum table lamp — a collaboration with Splinter Metalwurks — pushes the boundaries of transmitted and reflected light. Like a captured cloud of interstellar gas and dust, the lamp has a dynamic feeling of movement and volume. Available in either Iris Gold or Miracle Blue, the sculpted blown glass can appear one color when the lamp is off and reflecting light from its surface, and a different color when turned on, throwing colors and shapes onto nearby surfaces. The shade is held by hand-formed brass base, with a faceted spire of machined brass suspended inside to hold the light source. It's a sculpture in itself."
BZippy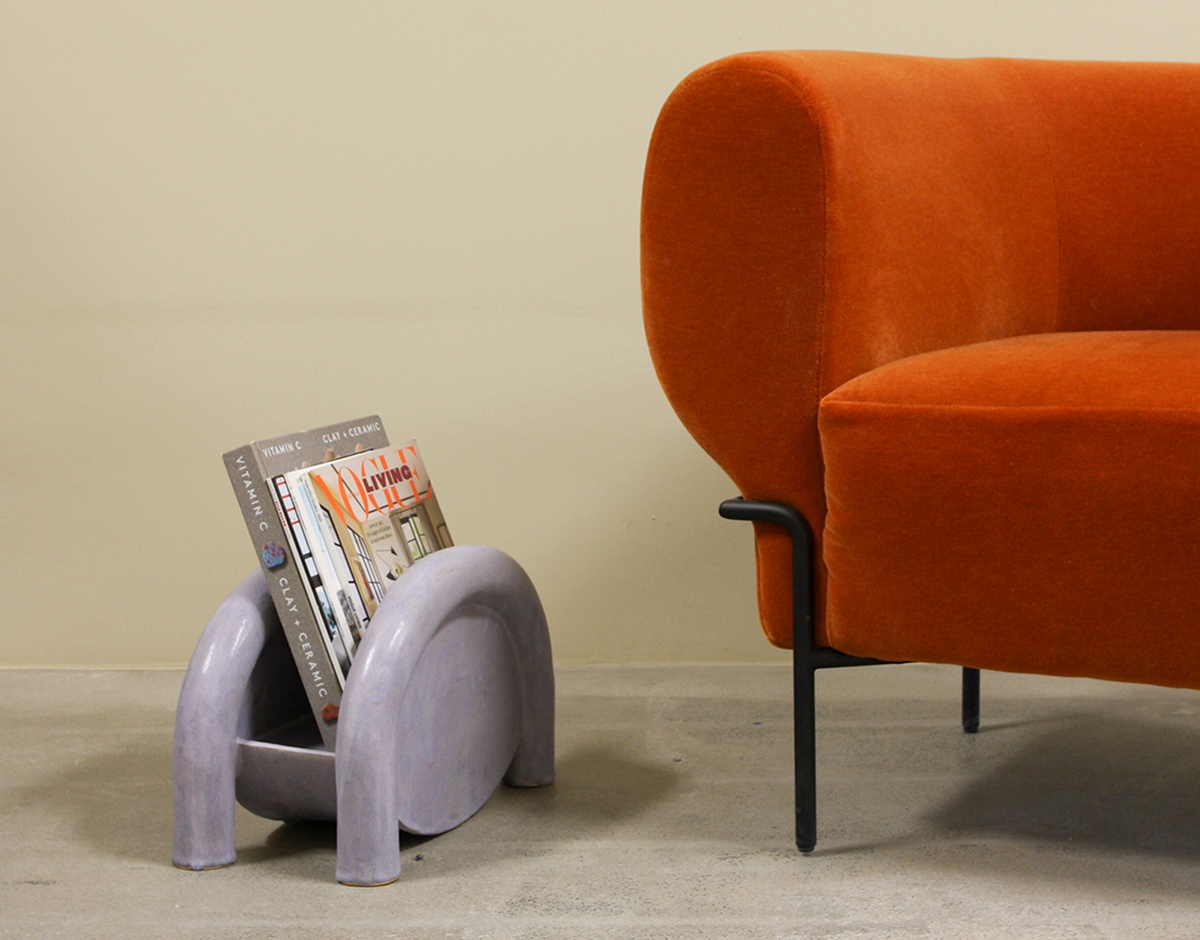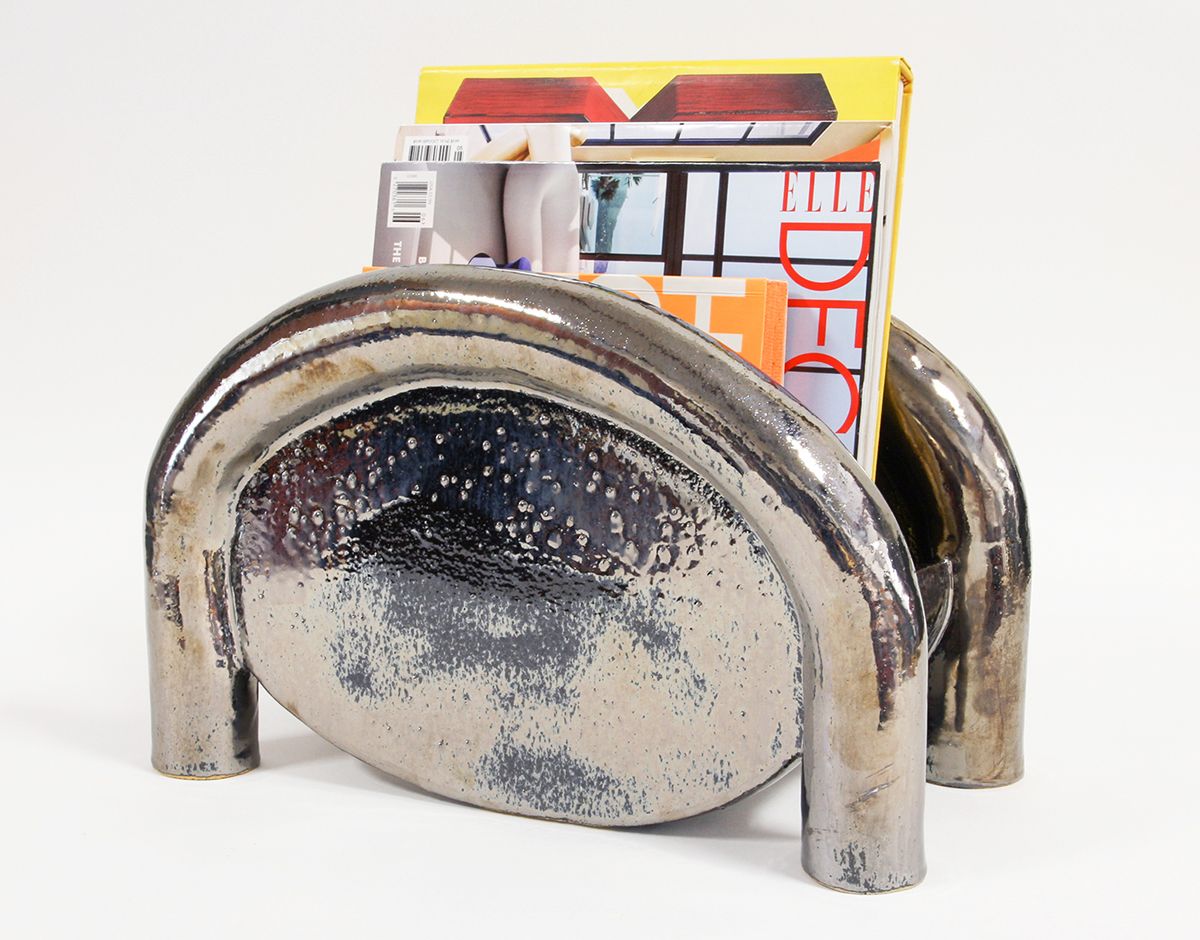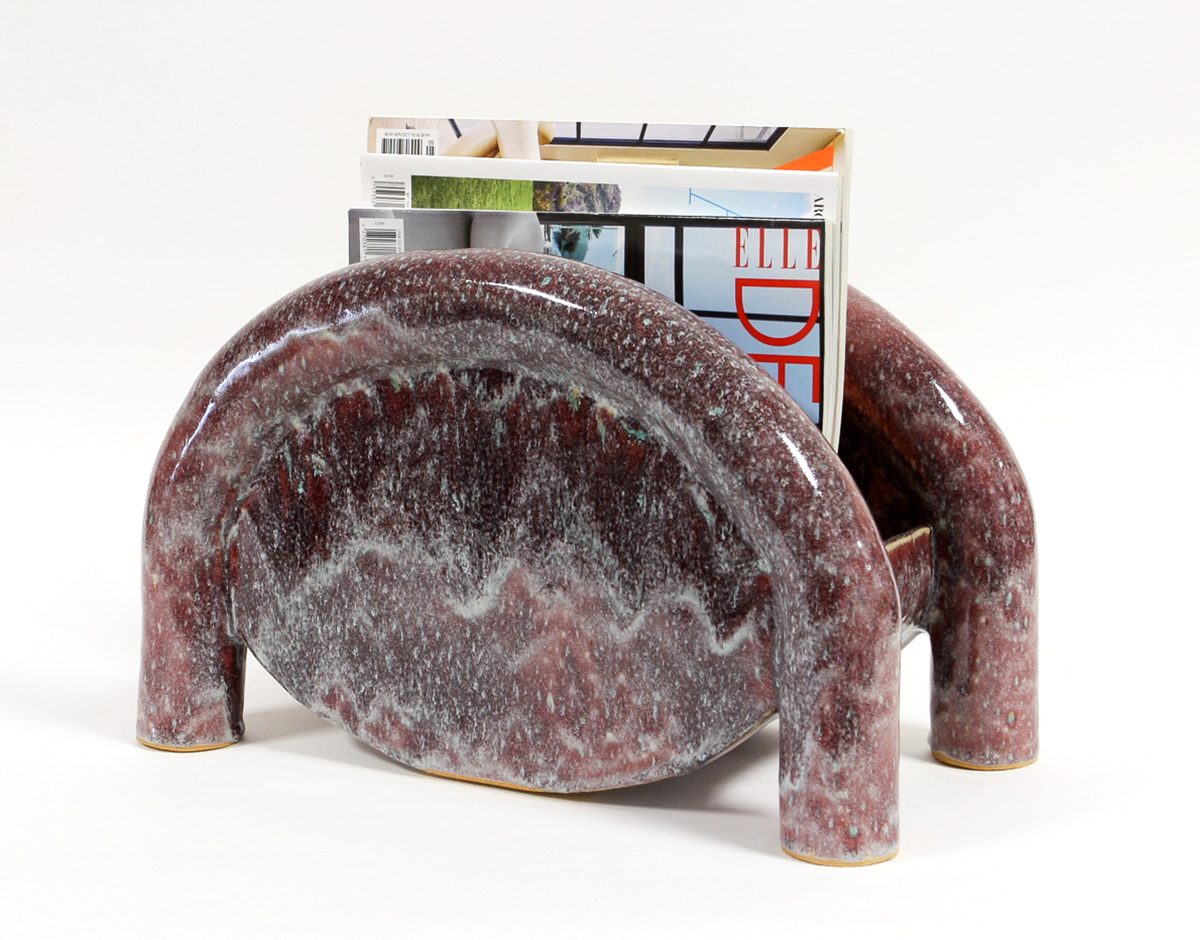 Founded in 2008 by artist Bari Ziperstein, BZIPPY is known for experimentation and innovation with ceramics. Working tirelessly to develop engineering methods that challenge conventional notions of slab construction, BZIPPY is known for inventive shapes, unique glazes, and an ambitious approach to scale. Over the past decade, the company has produced both intimately sized and architecturally scaled ceramic vases, vessels, lamps, and furniture, often made in limited editions.
"A new functional sculpture in the realm of my other work, the Magazine Rack is a playful, chunky, tubular vessel for everyday objects such as magazines, books, and records. This form nods to my interest in furniture and vessels, my goal having been to create a new type of vessel beyond those used for flowers and plants."
Hayden Richer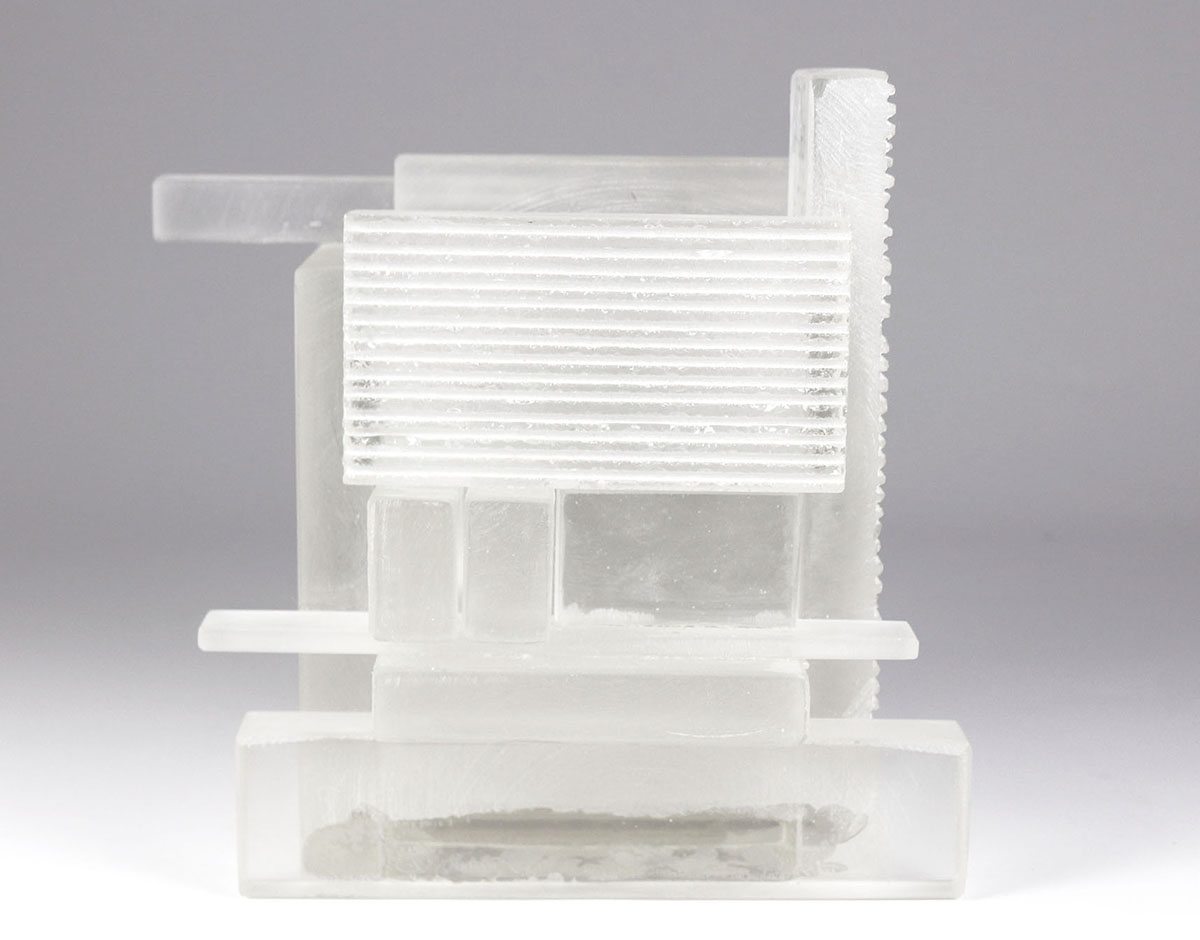 QUARRY VASE
A graduate of the MFA program in ceramics at Cranbrook Academy of Art, Detroit-based artist Hayden Richer's works focuses on the preservation of weight and mass, and their sculptural convergence into furniture — emphasizing opposing ideas of voids, removal, and form succumbing to pressure, breakage, monotony, and weathering.
"My Quarry Vase is a cold-work assembled vase made from cast-glass ingot slabs. It's chopped and carved to evoke gestures of excavating marble from marble quarries, but through glass, it's lightened to show its process and appear both massive and delicate at the same time."
Henrik Ødegaard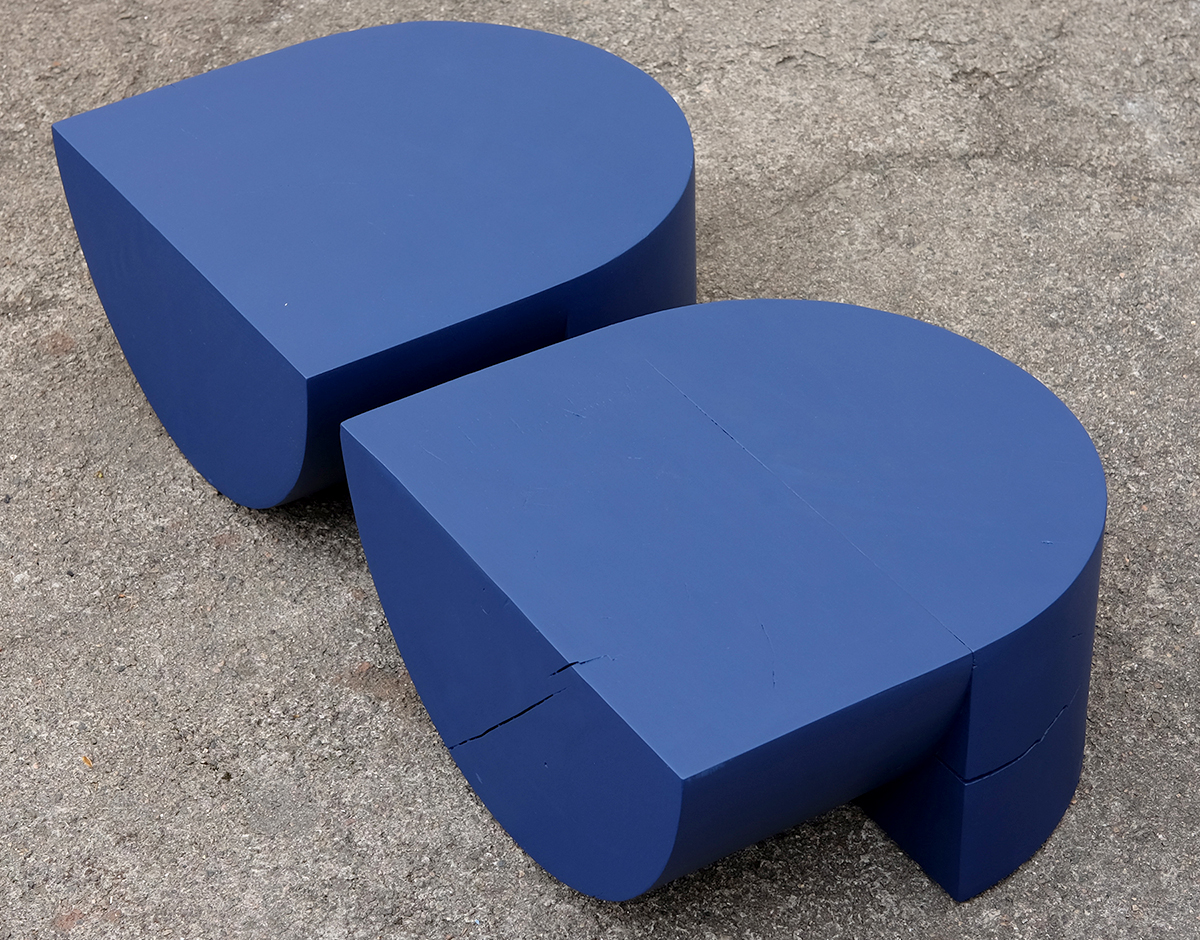 Henrik Ødegaard is a Norwegian designer and architect living and working in Oslo. His work spans from expressive forms to material-based tests, often with a hint of fun. In his studio he mostly shapes and develops wooden objects based on a directly tracing his sketches. The surfaces of the wooden objects are often pushed in a direction where the warm, wooden feeling is kept under a hard visual coating, whether car paint or an imitation of other hard materials. As he makes objects, he saves the leftovers, which gives him the possibility of making new stuff and eliminates waste from his practice.
"Para is a side table made of solid Norway spruce, left over from the production of houses. With its double-half-moon shape, it can be can be used alone or put together with its siblings to create a larger constellation. It's part of a series of objects that follow the same geometric rule, as structural play."
Kompaniet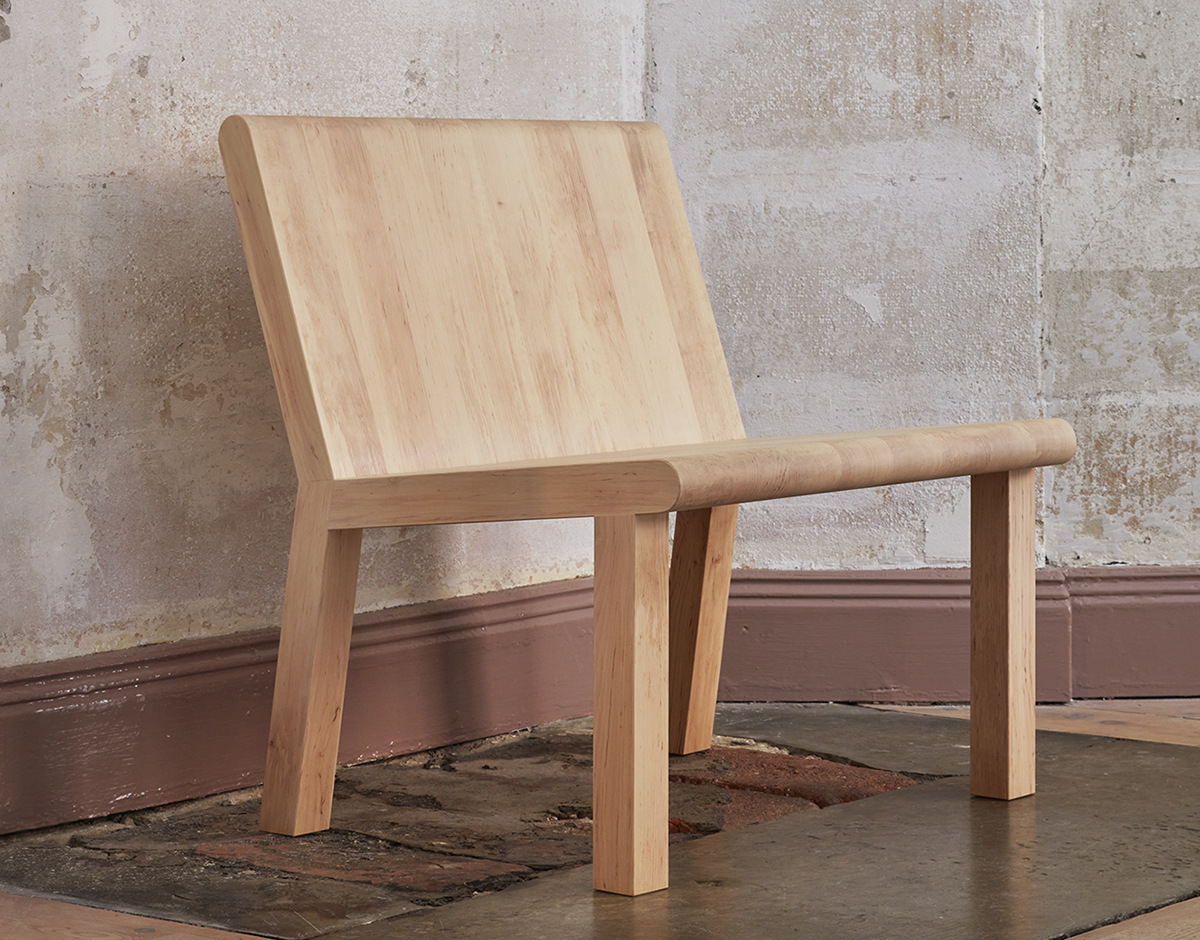 Sofia Almqvist is a Swedish designer with a master's degree from Konstfack. The owner and founder of the Stockholm based studio Kompaniet, Sofia has experience in both art and commercial design contexts, working independently as well as for other companies.
"The Lolo lounge chair's minimalistic design highlights its craftsmanship and the material's expression. The generous width, the seat's angle, and the rounded edges make the chair really comfy without being soft. And the proportions are inspired by kids'w furniture – childish yet sophisticated."
Laun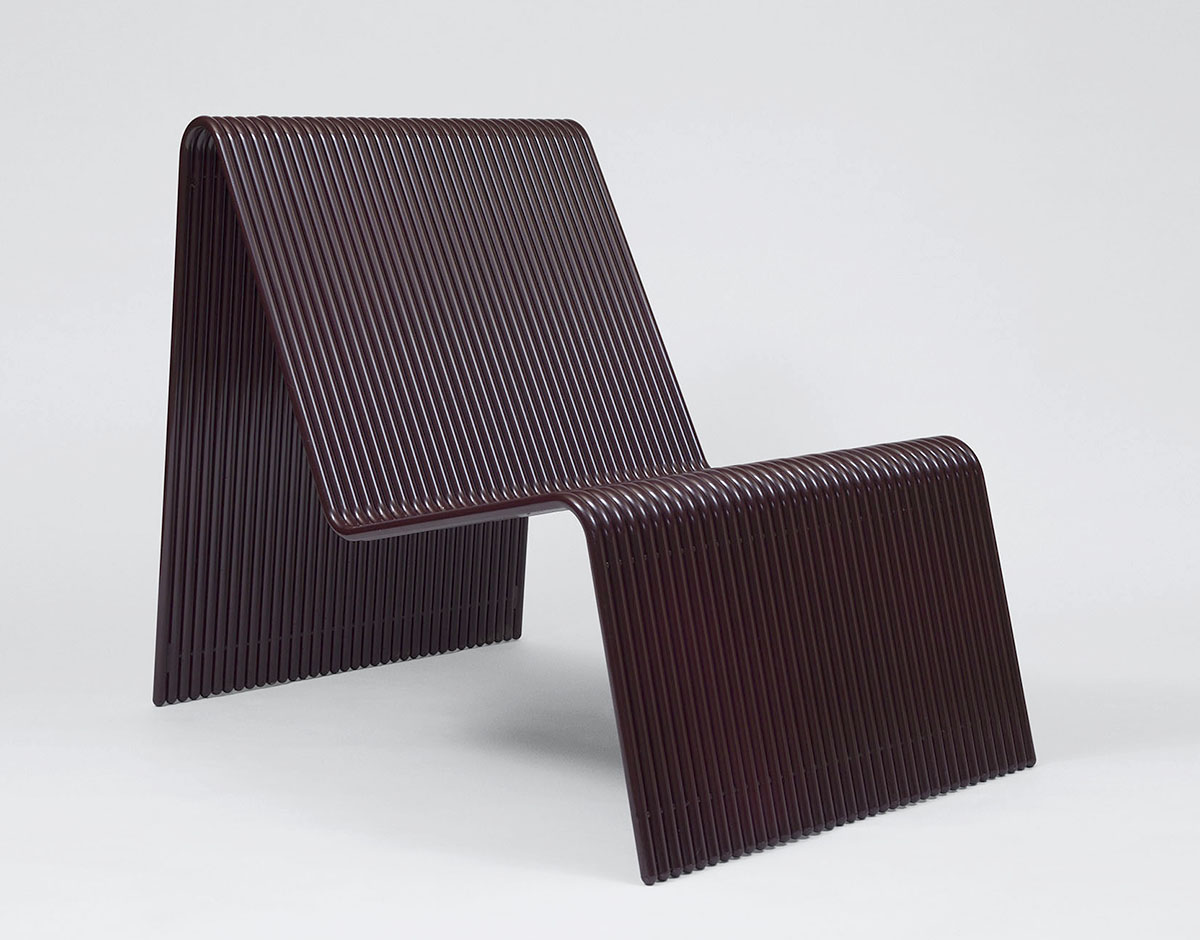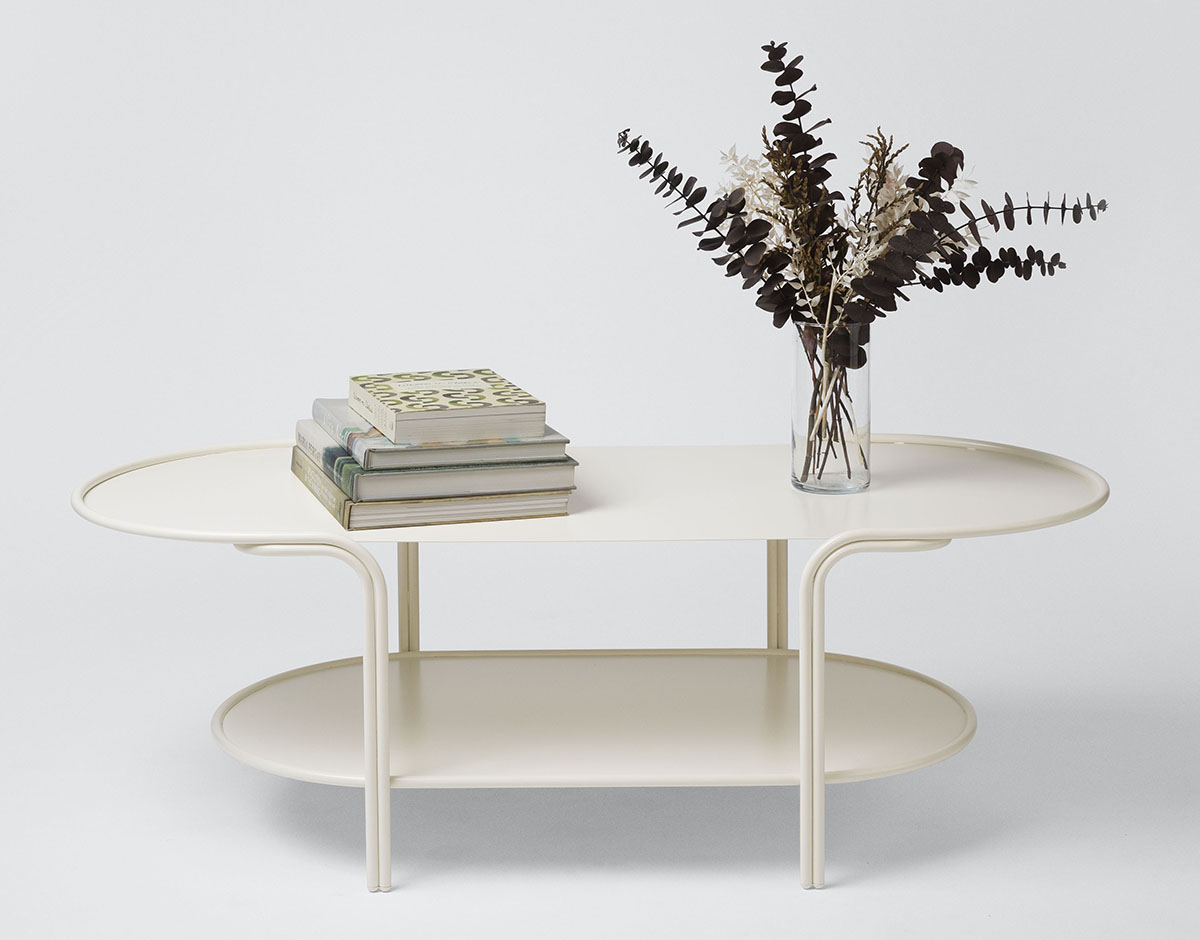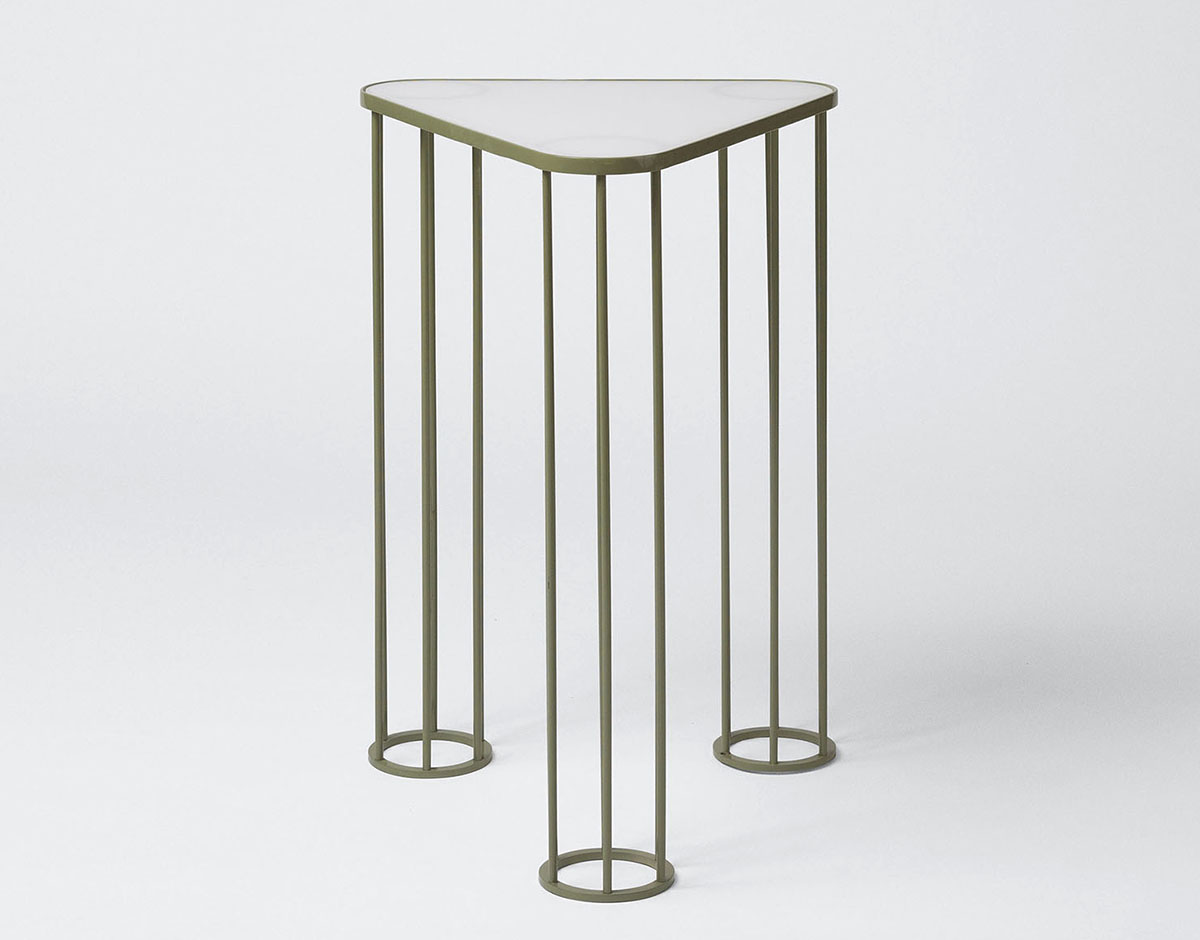 RIBBON LOUNGE CHAIR, BANCROFT TABLE, MUHLY TABLE
LAUN is a collaborative design firm marrying glamour and pleasure with the built world. In 2018, friends Rachel Bullock and Molly Purnell brought together their backgrounds in woodworking, metalworking, and architecture to build a practice of enduring spaces and products. LAUN's object line harnesses the unique talents of Los Angeles manufacturers to craft timeless, heirloom-quality furniture suitable for both indoor and outdoor use. LAUN's work is committed to attention to detail in both form and material.
"Simultaneously delicate and bold, our Ribbon Lounge Chair features layered aluminum tubes that stack together to form a solid array and enable the chair to be produced in custom widths and an infinite combination of forms. Our Bancroft coffee table is inspired by LA's Streamline Moderne architecture, and it works equally well by the pool as it does in a formal living room. The Muhly table's name is taken from the native Californian Muhly grass found in the San Bernardino mountain range. It can also be spotted at the Huntington Library Gardens, where it grows near the 19-foot-tall beryllium-copper and brass Bertoia piece Sounding Sculpture. The Muhly table seeks to invert expectations of what is solid and what is void, which results in a delicate, grasslike base reminiscent of the vertical lines of a Bertoia sculpture. The triangular top conveniently fits at an angle between a sofa and side chair, but it also works as a standalone piece."
Marco Campardo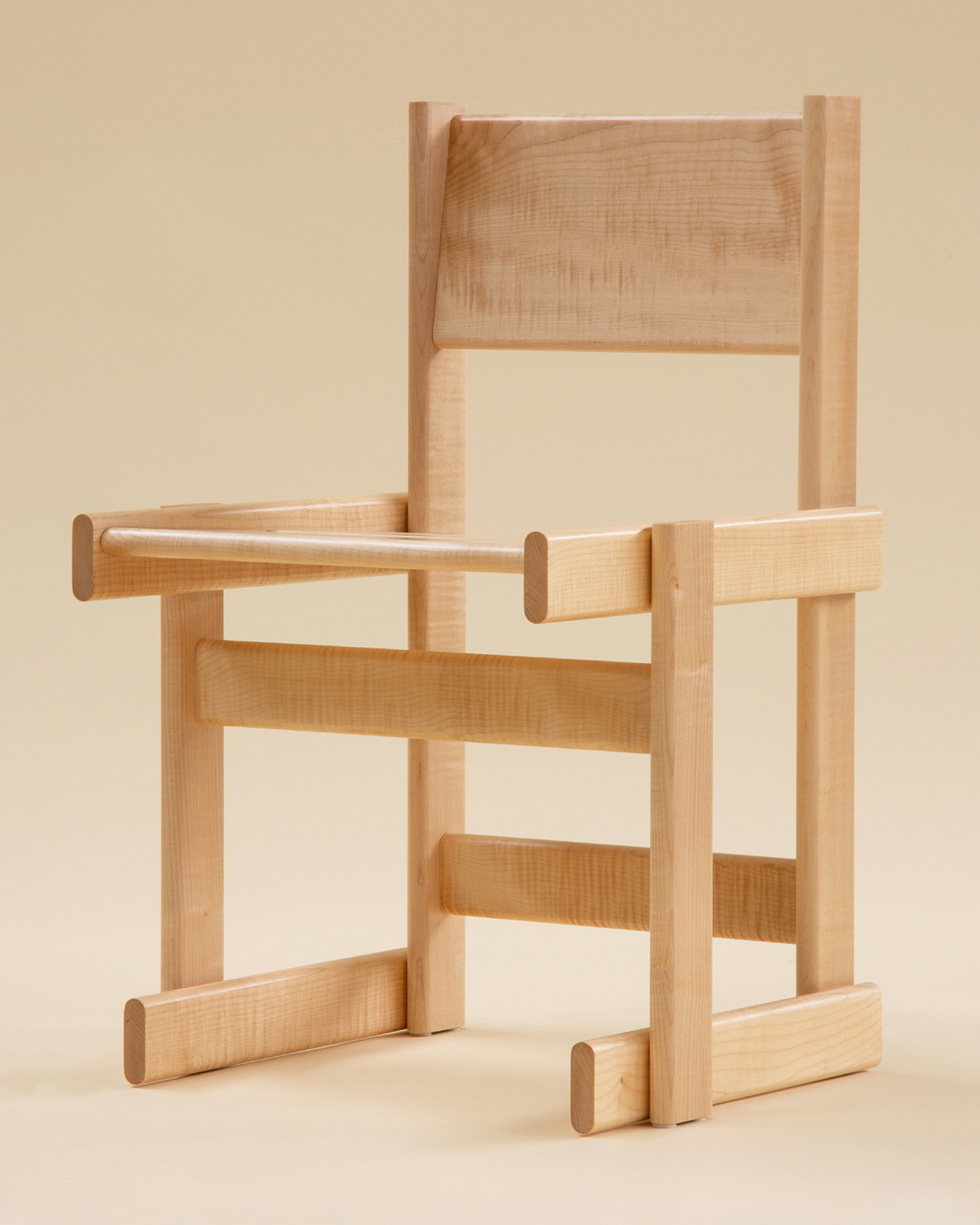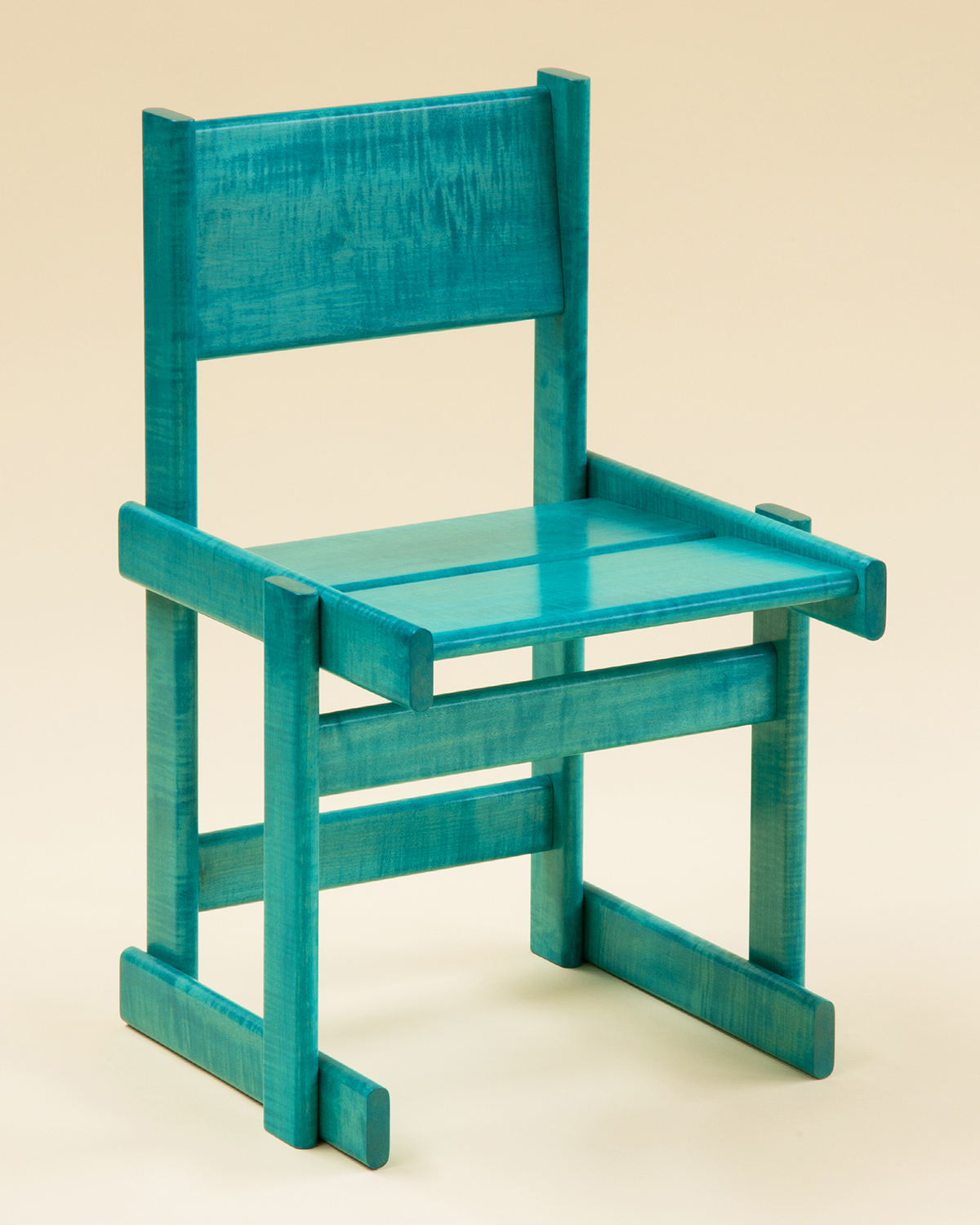 Marco Campardo is a London-based designer focusing on production, research, and teaching. He has a particular interest in making and material experimentation as a form of critical practice, using it to explore wider narratives about culture, materiality, identity, and authenticity. His work starts with hands-on experimentation and research to question the nature of contemporary models of production. His research seeks to subvert or adapt industrial manufacturing processes to propose an alternative to standardized mass production.
"Bullnose is a solid wooden chair made of a selection of woods. This special edition is made exclusively in curly maple, a wood in which the fibers are distorted during growth in an undulating pattern, giving the chair its rich natural texture. The shape of the piece was determined by my desire to make a chair based on the same modular section: a rectangle with smooth edges, a bullnose. Four different variations of the module are used to create the chair. The challenge of this myopic stubbornness is to create a comfortable chair without any curves, even though our body is organic. Finished with "olio di gomito" (elbow grease), solid virgin amber wax, and pigment, Bullnose exalts and celebrates the endless beauty of nature."
Mike Ruiz-Serra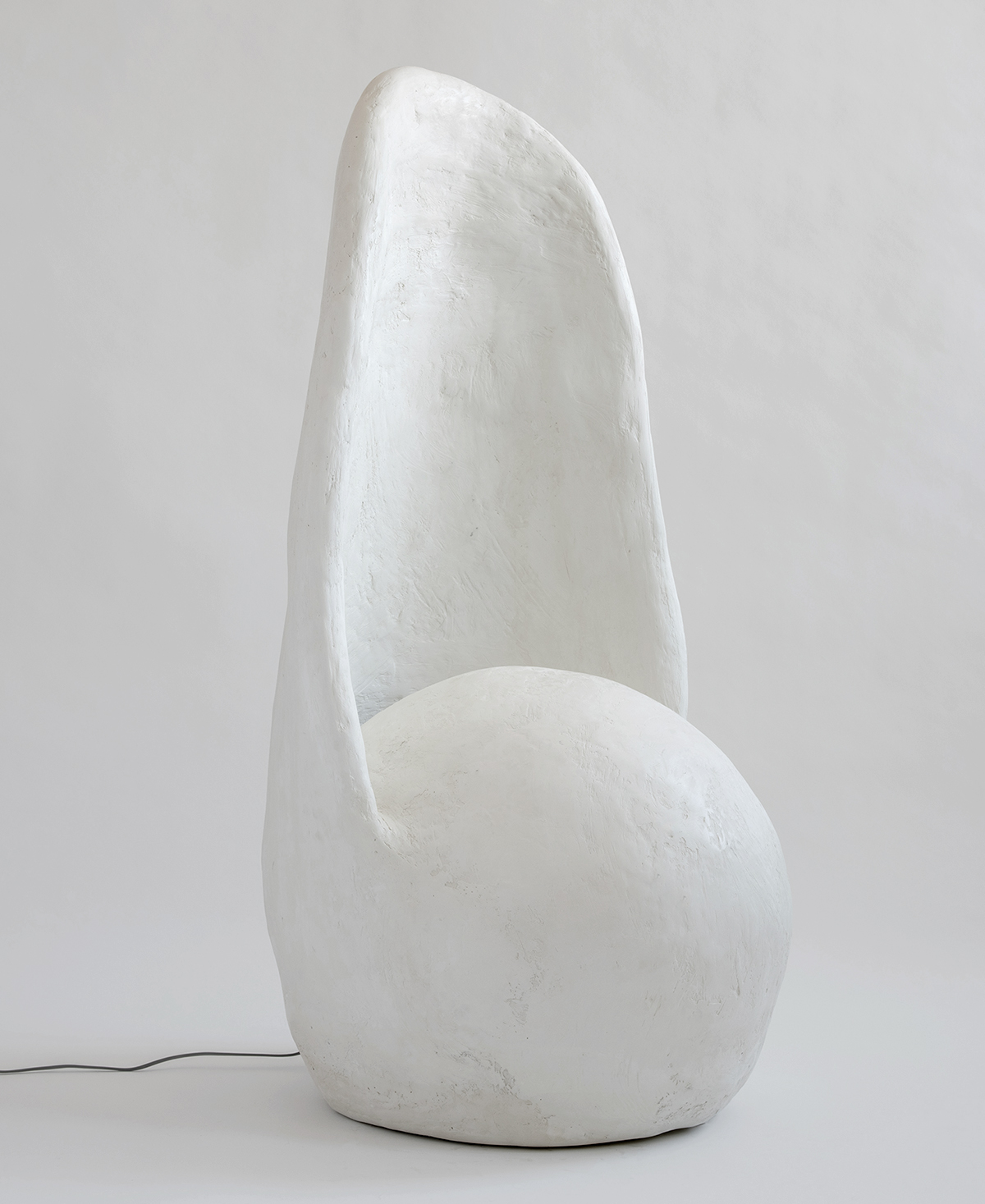 Mike Ruiz-Serra's Pulp furniture is made from plaster and recycled paper pulp, but think of it less as papier-maché and more as fiberglass — used throughout history to build structures and boats, the New York designer resurrected the technique and experimented with it until he achieved maximum structural integrity, giving his hollow, monolithic pieces a hard, stone-like surface. Colorful non-toxic dyes make them look less like paper, too. Ruiz-Serra plans on using his practice to further explore unique takes on natural materials and to continue implementing production techniques that predate modern history.
"My first collection started as an exploration into the structural characteristics of paper pulp–reinforced gypsum. It now exists as a series of open editions that are manufactured using a mixture of molded gypsum and/or manual layups over inflatable molds. Like all of the pieces in the collection, the Holon XL Floor Lamp is finished with shellac, a non-toxic and natural finish. This gives the gypsum a slightly warm, bone-like white color."
Nazara Lazaro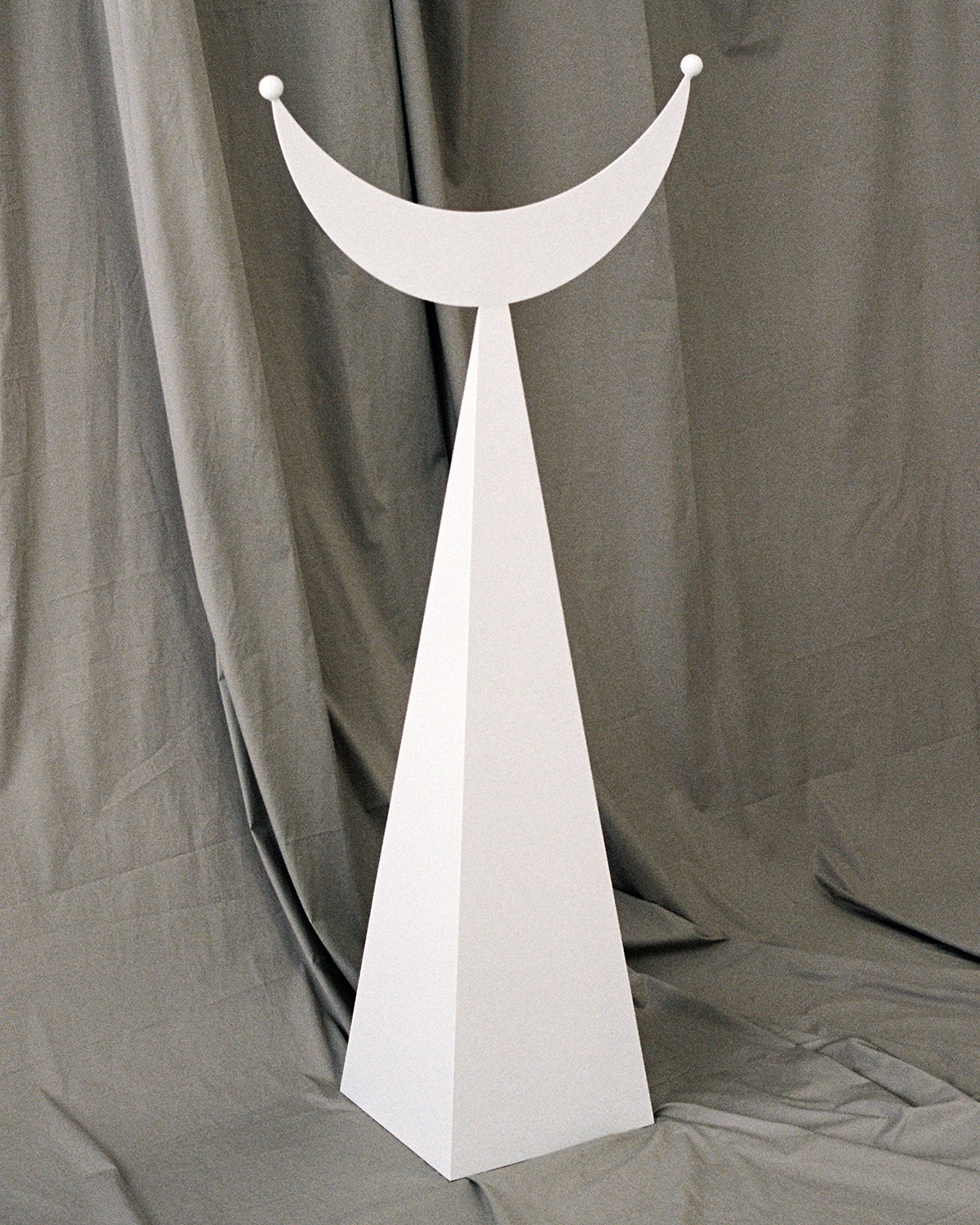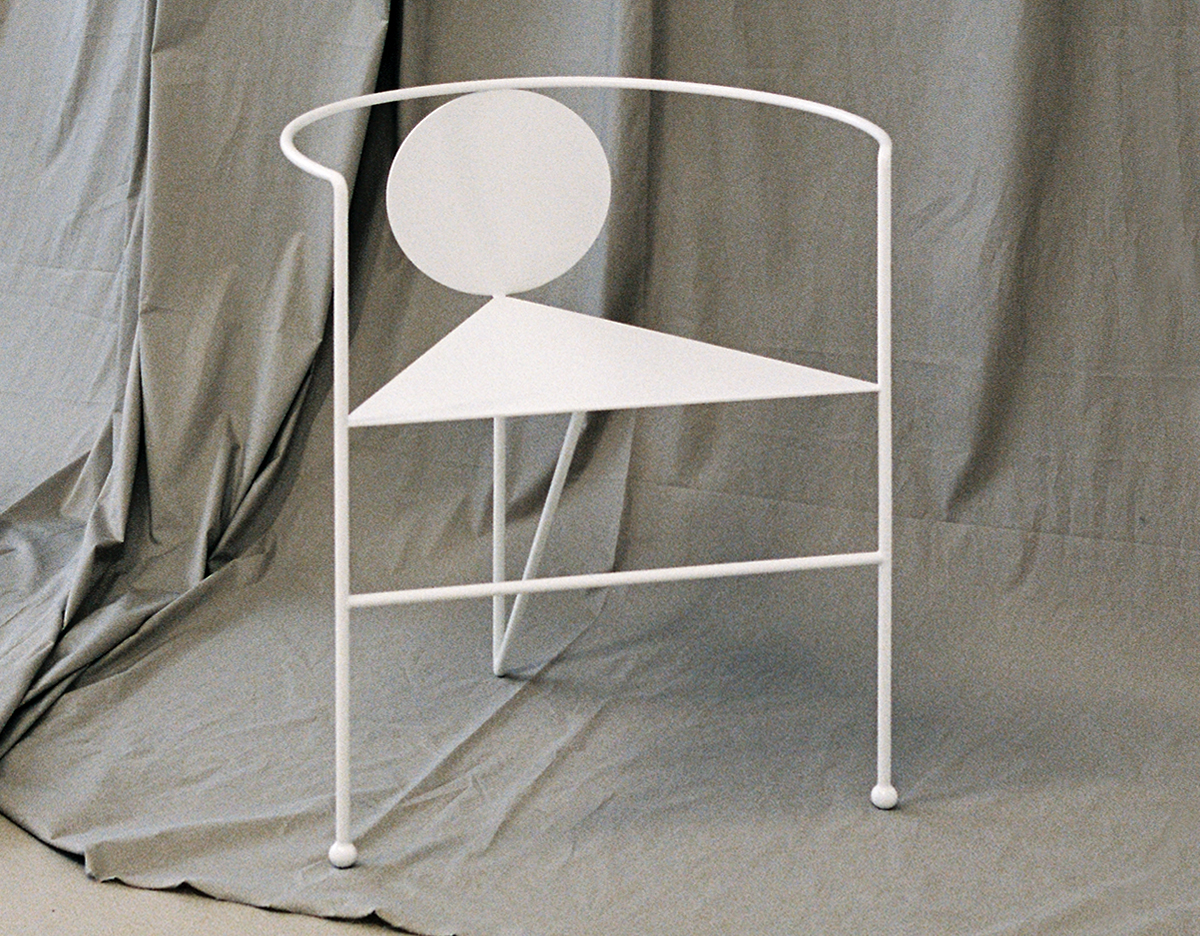 MIRO COAT RACK AND TRIANGLE CHAIR
After studying interior design at the Istituto Europeo di Design in Madrid, Nazara Lazaro traveled to Japan, where she stayed for almost two years, learning about Japanese woodwork, architecture, and exhibition design. Since 2014, she has been based in Berlin, working as a freelance interior and product designer, 3D artist, and creative director.
"My first series, the Crooked Collection, was all about asymmetries. This one is all about pure geometric shapes — the triangle, the circle, the sphere, the pyramid. I wanted to allow myself to play a bit more this time, and so I took inspiration from expressive and playful design movements from the 1980s as well as early avant-garde artists. To keep it simple and aligned with my previous designs, I decided to leave the powder-coated steel pieces just plain white."
Objects & Ideas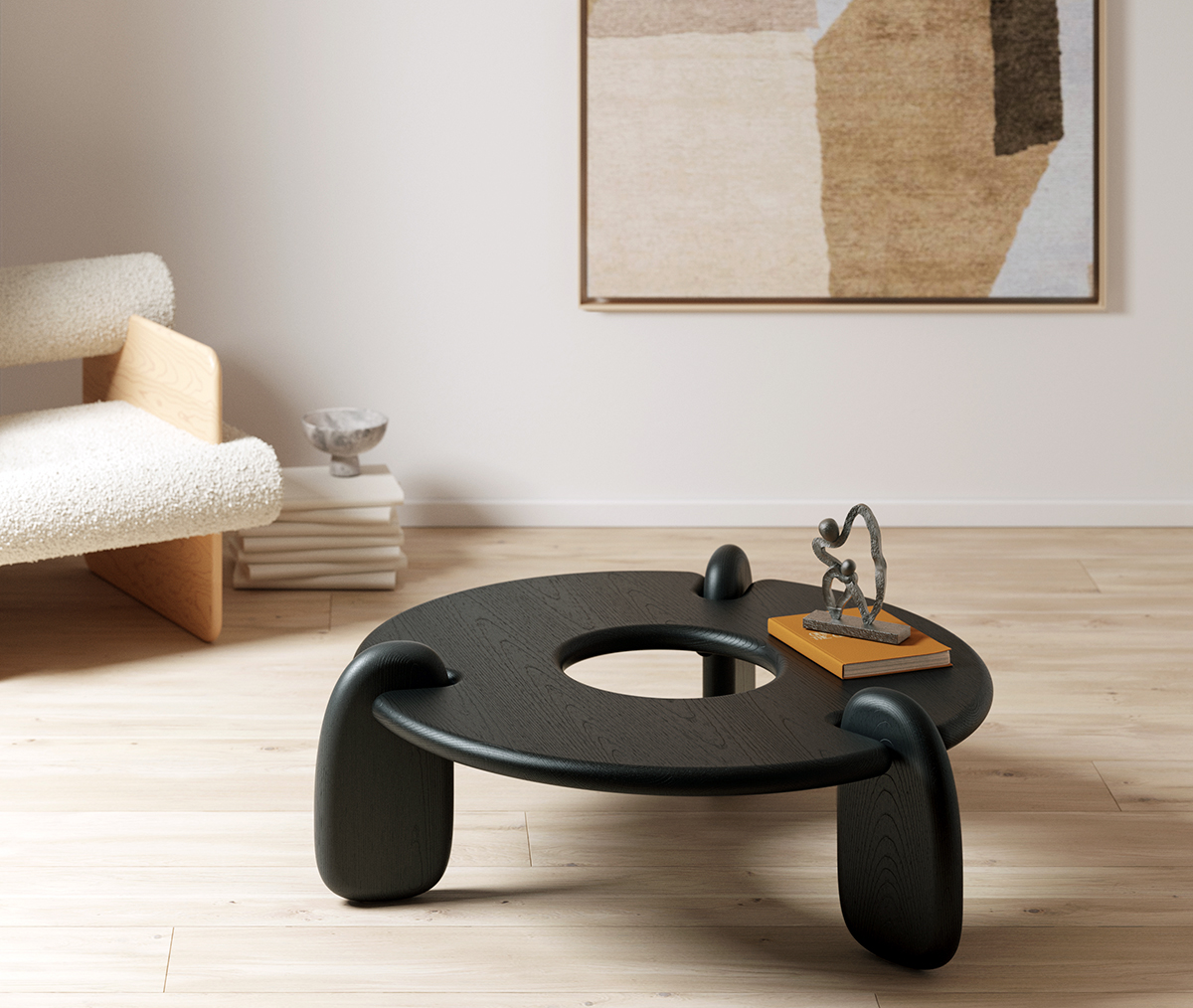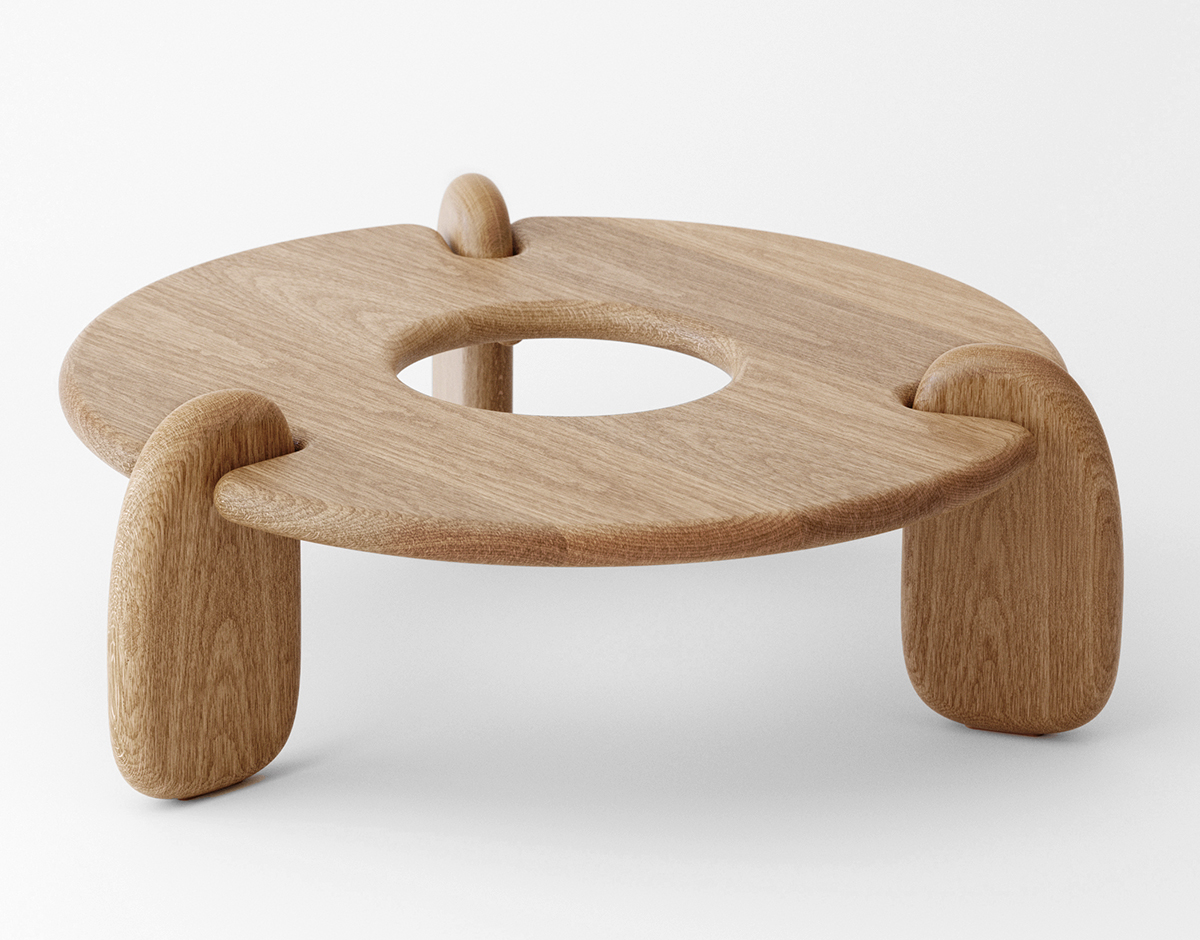 Di Tao and Bob Dodd founded Objects & Ideas as a Canadian design practice in 2015 in order to pursue their vision of a transformative design process, one that could turn their unique ideas and concepts for furniture and homeware into objects of desire. Their mission, as designers, is to enable furniture to speak for itself, and to inspire people to use, love, and touch it every day.
"Taking inspiration from neolithic stone circles, our Henge Coffee Table is supported by three solid-wood pillars that are notched into the slab-like disc surface to produce a piece that is deliberately sculptural. The soft, organic shape of both the pillars and the halo formed by the disk adds a lightness to the solidity of the wood."
Peca
Since 2007, designer and studio director Caterina Moretti has infused the Guadalajara, Mexico–based Peca with her unique ability to work with natural materials, explore texture and form, and bring nature indoors in surprising ways. Collaborations with local artisans and invited designers have contributed to the spirit of Peca, resulting in a catalogue that is rich in both tradition and innovation.
"For the Impronta terracotta duo of tables, I was invited by my friend, the Australian designer Andrew Carvolth, to reinvent his pieces using traditional Mexican craftsmanship and materials. The cylindrical tables each rise to a different height; one bears two decorative fins while the other table has four. Each is topped by a piece of signature repurposed fused glass — a window from which to contemplate the union of form, color, and matter."
Tellurico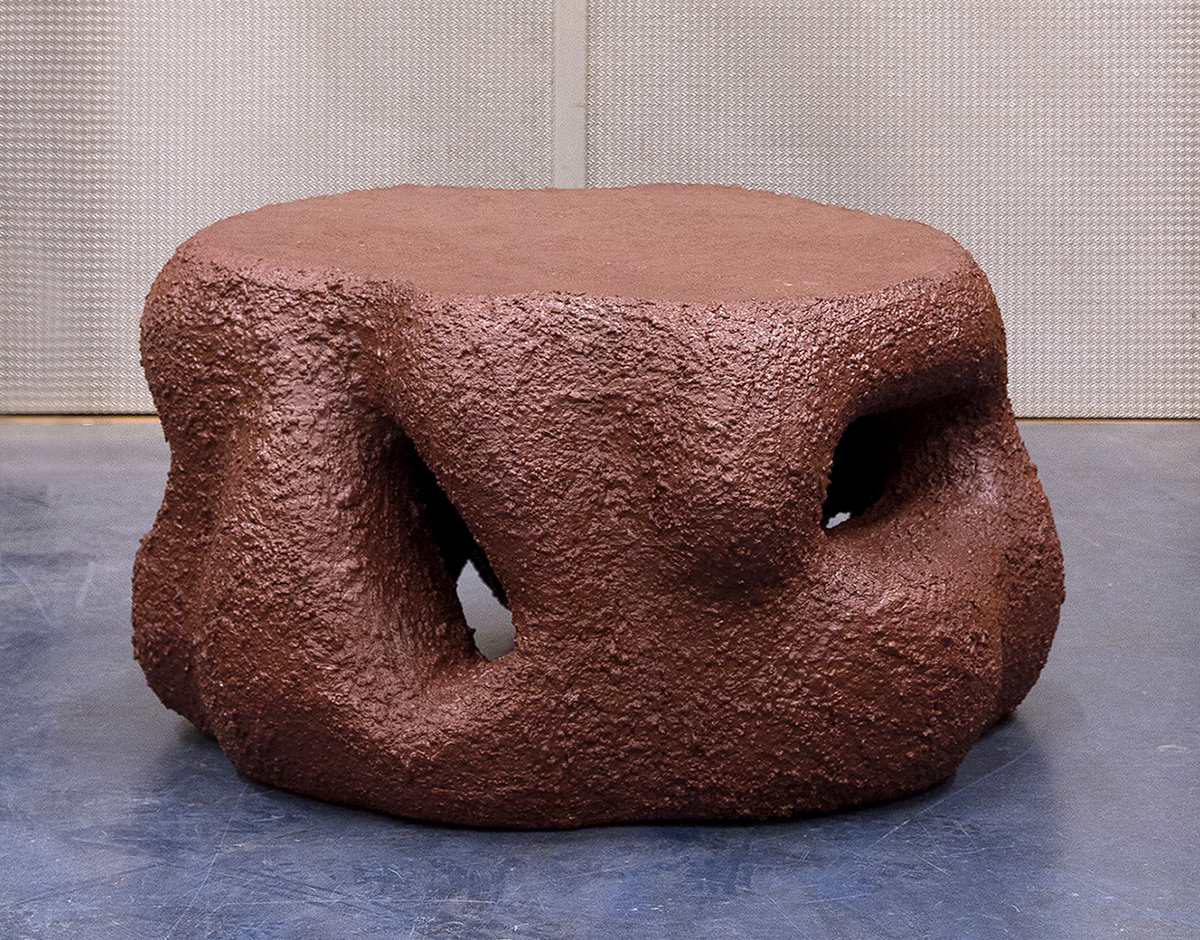 After graduating from Design Academy Eindhoven in 2017, Francesco Pace founded Tellurico, a multidisciplinary design studio specializing in objects, spaces and installation design. The investigation of alternative solutions through the study of folklore, together with the relationship between crafts and the environment, is at the center of Tellurico's practice. What binds the objects of a place to the characteristics of the place intertwines historical, geological, and social elements, as well as the uniqueness and simplicity of every-day life. It is an always expanding field of investigation, as endless are the ways to live.
"Ollain is my latest collection, where each piece represents a re-interpretation of the Italian craft of stucco. During the process of making it, an inner structure of EPS foam is carved by hand. Then, a mixture of Jesmonite and processing waste is added, creating an organic and unique texture. The Ollain coffee table is a fully functional sculpture, with a contemporary design aesthetic ideal for a modern design house."
Zaven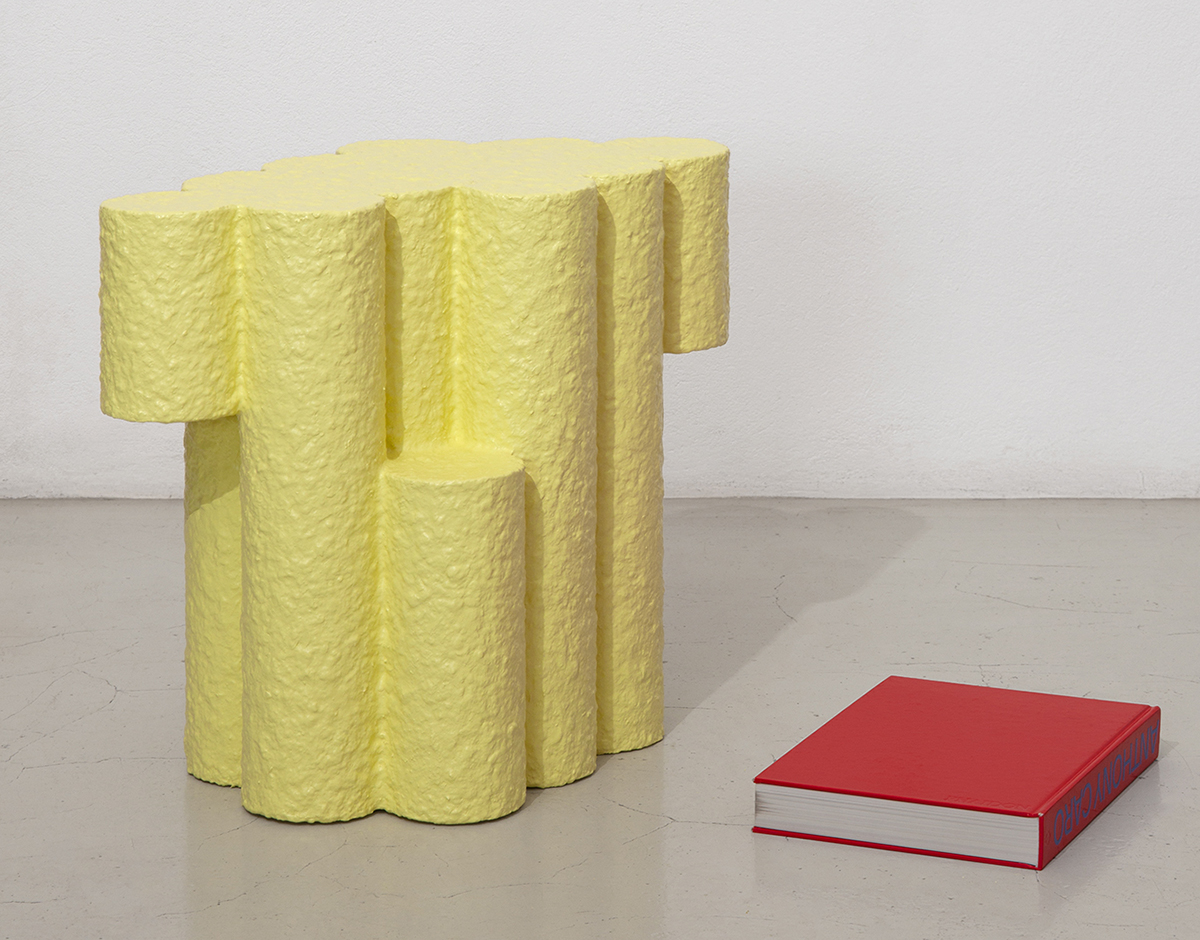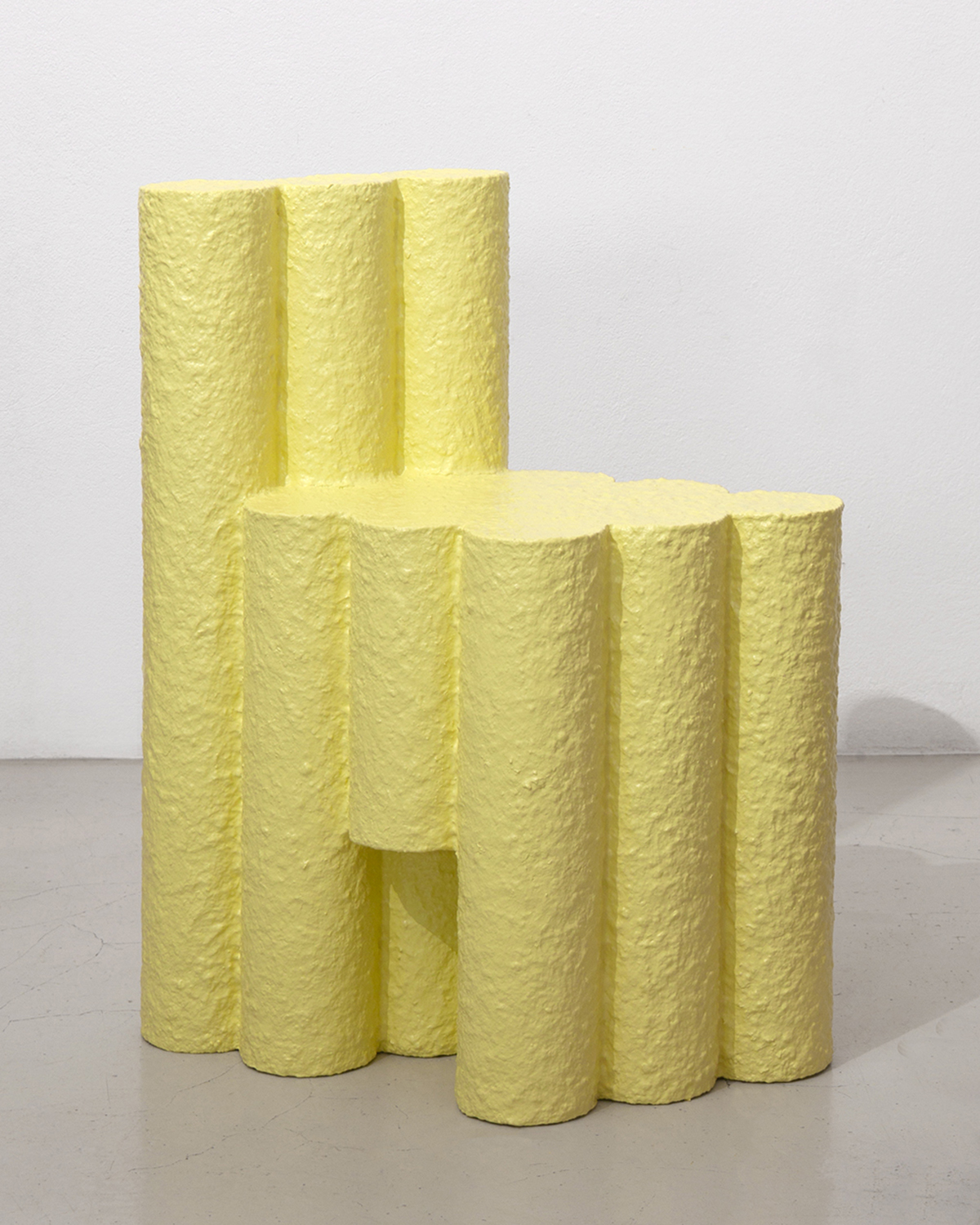 TUBES TABLE AND CHAIR
Zaven is a Venice-based design studio founded in 2008 by Enrica Cavarzan and Marco Zavagno. They operate at the crossroads of product design, graphic design, interior design, and art direction. For Zaven, design is an analytical process: each project is driven by extensive research taking form in the final product. Whether it's an object of everyday use or a visual communication project, Zaven always aims for formal clarity. The studio has initiated numerous collaborations with creatives from different contexts and holds classes and workshops in various universities, academies, and design schools.
"Our Tubes series was initiated during lockdown in the spring of 2020, when we were both stuck at home. We decided to build a new piece of furniture for our living room using the material we had at our disposal — mostly paper from old lifestyle magazines. Back in the studio, we decided to develop the project and investigate it using various types of objects. The result is a series of elements that open our imagination to different perspectives, and a collection of furniture entirely made from recycled and recyclable materials."