11.18.09
Nacho Carbonell, Designer
It's half past eight on a Wednesday evening, and in the kitchen of the Pastoor Van Ars church, a few miles from Eindhoven's prestigious Design Academy, a long table has been set with two propane gas burners. Normally, the burners here are used to boil massive amounts of newspaper into pulp bound for the cocoon-like structures of Nacho Carbonell's Evolution collection. But tonight the Spanish-born designer has hijacked the flames to fry up two huge paellas: chicken and pancetta for the meat-eaters, eggplant and artichokes for the vegetarians. Family meals around here are nothing new; the church is home to Atelierdorp, a loose collective of more than a dozen design studios, each of which takes a turn whipping up daily feasts for lunch or dinner. Tonight, Carbonell is in charge.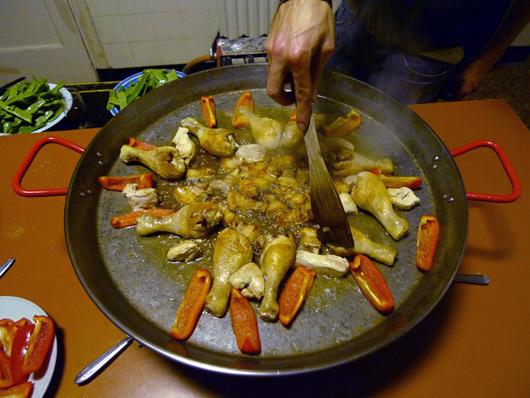 "I never follow a recipe, except when I'm cooking paella," he muses, carefully moving two crisped chicken legs to the perimeter of the pan. He learned the importance of precision in the dish from his grandfather, who spent Sunday afternoons in Valencia tending rice for the family. "He's an engineer, so it was like dut-dut-dut-dut. The time. The measurements. He doesn't even know how to fry an egg. But a paella? It's always perfect." Knowing when to improvise, however, is something passed down to Carbonell from his grandmother, who made paellas "with feeling — a little here, a little there."
It's the latter trait that informs his work, most of which has a loose, gestural feel, from the crudely sketched latex animals of his Pump It Up graduation project — sit on an air-filled chair and the attached critters inflate — to his Tree Chair, a whimsically uncategorizable piece that debuted with Milan's Rossana Orlandi gallery at Basel in June: Part of the Evolution collection, its slatted back yawns upward into a ladder, which then connects to a cubbyhole-like crawl space (pictured below). Nacho himself admits that his projects have a tendency to go wonderfully off-course. "I have so many things I want to develop, but I don't know how to start them," he explains. "When I was working on the Evolution collection, I started out wanting to make a lamp. I've done two degrees and I've never managed to design a lamp, so I said, 'Ok, this time I'm going to design a lamp.' And then at the end it turned out to be a chair."
Mistakes in these pieces, Nacho points out, "are really a pain in the ass." For the Tree Chair, for example — one of which, during our stay, was being hand-built out in the workshop for Brad and Angelina's brood — a wire mesh skeleton is covered three times over with papier-mâche. "If something goes wrong with a layer, and then you try to add the same mix the day after, it never works," Nacho says. "It dries in a different way, so you have to recover the whole piece again."
Back in the kitchen, wine has been poured, and a blender is whirring, grinding up whole tomatoes and garlic into a sofrito. An army of sous-chefs is at work, snapping off the tough ends of broad beans and cubing chunks of zucchini, while Nacho's girlfriend Paloma darts in and out, occasionally reminding Nacho of something he's forgotten — like the saffron. A trip is planned to a nearby apartment to secure the rogue ingredient.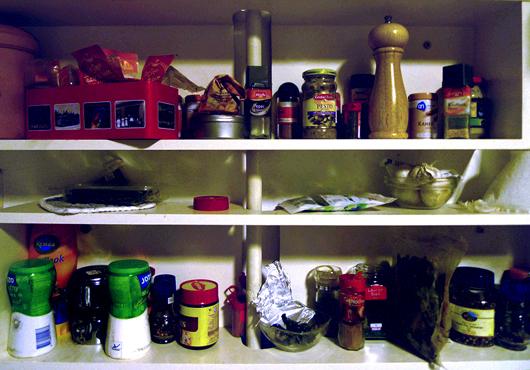 Nacho explains his paella process: "You need to first cook the chicken, then the other chicken, then the pork, then the vegetables. Everything needs to go in at the right time. You can't just put everything together. Cooking needs to be done with a lot of love." He pauses. "It's the same with my projects."
Perhaps fearing he's become a bit too earnest, Nacho stops and thinks again about what exactly it is he likes about being in the kitchen. "When he's cooking paella," Nacho says, grinning and slapping the back of one palm into the other for emphasis, "a man feels more like a man."
Nacho Carbonell's Valencian Paella

"Fry equal parts chicken, pork, and rabbit in oil. While I fry the meat I like to also fry red peppers cut in long pieces. (When they're ready, take them out. You'll place them back on the paella once it's almost finished.) Once the meat has begun to cook through, push it out to the edge of the paella pan and fry the Italian flat beans in the middle. Then add a bit of sofrito — which is tomato pureed with lots of garlic — and fry the meat and beans all together. Add saffron (or a yellow colorant) that's been soaked in water, and then add two cups of water for each cup of rice (one coffee cup of rice is for one person, but not an American coffee cup!). When the water starts boiling, add the rice. Don't forget to salt the water and each of the previous ingredients while you are frying them — this is important! When the water is in I also like to add a bit of chopped garlic. Stir the rice and the other ingredients so you have a uniform base, and then let it boil over a high flame for 10 minutes. Lower the flame for another 10 minutes. With about 5 minutes to go, remember to arrange on top the peppers we cooked in advance. Let the paella rest 10-15 minutes before you start eating it, and then enjoy!"