09.12.11
Marije Vogelzang of Proef, Designer and Restaurateur
Back in 2000, when Marije Vogelzang had graduated from Eindhoven with a product-design degree and begun turning a school project — a funeral table set with all-white cuisine — into fodder for her nascent career, food design was still a relatively unknown discipline. Martí Guixé was already making experimental tapas and rice wine bottles with edible corks, but Arabeschi di Latte didn't exist yet, Jennifer Rubell's first art-brunch was still eight years away, and other young would-be practitioners like Franke Elshout, Annelies Hermsen, Katja Gruijters, and Janina Loeve were still just a twinkle in Li Edelkoort's eye. By the time Vogelzang founded Proef, her Amsterdam restaurant and food lab, in 2004, she was at the leading edge of a movement that aimed to use creativity and critical thinking to heighten the sensory and emotional experience of eating. Ten years, countless interactive food events, one book, and a TED Talk later, her ideas are a constant source of curiosity for those both within the design world and beyond. We at Sight Unseen have personally been fans of Vogelzang's work since we first took a hammer to her clay-baked vegetables at the London Design Festival in 2008 — an opinion only reinforced as we sipped artisanal cocktails laced with edible flowers at Proef this past winter — so we tracked her down to find out more about her own personal adventures in eating.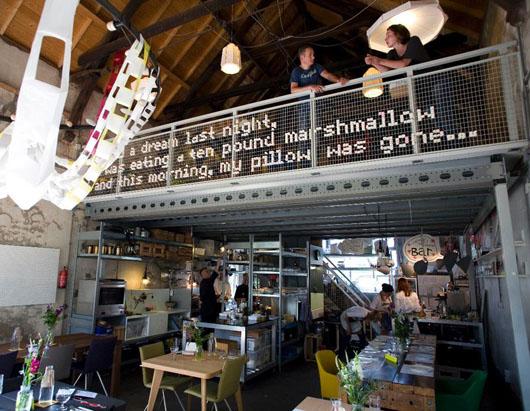 Marije Vogelzang's Essentials
RESTAURANT
"Of course I like Proef (above) because it's exactly how I would like a restaurant to be: relaxed, great food, playful, different. I also enjoyed Momofuku in New York, and the fact that you could order a whole pig's butt. But I went to Noma two weeks ago in Copenhagen, so I remember it the most vividly: I loved the experience of being allowed to eat with my hands, and that in the setting of this fine dining restaurant I still felt comfortable licking my fingers and relaxing. (Of course there wasn't much time for relaxation, since the parade of small, exciting dishes was served at a very high pace.) I was intrigued with eating moss and with how pure simplicity alternated with more complex and surprising flavors.
"One course was a living shrimp on ice. At first I thought it was a bit of a cheap way to get a reaction out of people, but later I realized that the psychological effect of the experience was very interesting. I had some trouble eating the shrimp, and I chewed it over-the-top hard just to be sure it wouldn't jump up and down in my mouth. I felt really silly about it, but I couldn't help shivering a little. I asked the waiter whether mostly women were having trouble with the living shrimp, but he told me there was a couple the other day where the woman had already directly eaten it and the man was screaming about it. After a while the woman got so fed up with him that she took the shrimp, tore its head off, and threw it on the man's plate, exclaiming: 'There you go! Now it's DEAD! Are you happy now?'"
RESTAURANT VISITED WHILE TRAVELING
"Street food in Bangkok, Manna Epicure in Cape Town, Chez Panisse in Berkeley, Tim Ho Wan for Michelin-starred dim sum in Taipei, DeliCees Dordrecht in the Netherlands, Taji the Chef's Japanese pop-up restaurant, Tawlet in Beirut, and Jeff and Lisa in Michigan, who do the Selma underground breakfast restaurant. I was in town for a lecture about eating design at the University of Michigan when I was taken to Jeff and Lisa's: Every week breakfast is prepared by different chefs, either professional or amateur, and by attending you're helping support the building of greenhouses for local organic farmers. All the produce served is organic and local. What I remember most was the atmosphere — upon entering their house, you get a piece of tape to use as a nametag, and everybody instantly started to connect and interact with each other. Friendships were being made over tasty food. When I was there, a neighbor passed by with his pet llama, who then walked into the house. According to the regulars that was rather normal…"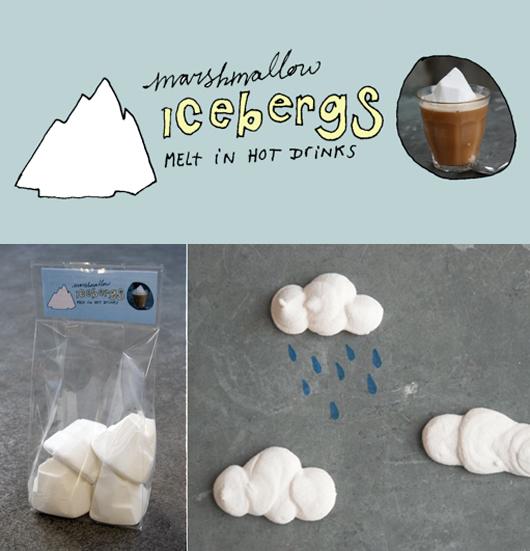 FOOD SHOP
"Dean and Deluca and Whole Foods in New York, Kaufhaus des Westens in Berlin, and Souk el Tayeb Farmers market in Beirut, a wonderful place founded by Kamal Mouzawak. There's a kind of crafted marshmallow they sell at Dean and Deluca that inspired me to start making marshmallow clouds and icebergs.
Marshmallow icebergs. Make your own tasty inner-climate change. Melts in any hot beverage.
Marshmallow clouds. Made with real rain. Also available: dark and gloomy clouds. 
INGREDIENT
"Sundried mango, the one without sugar. Every piece is somehow different — sweet, sour, crumbly, chewy hmmm! But I can't use it at Proef because it doesn't fit the concept of working only with local ingredients. Mangoes don't grow in the Netherlands. I'm also very much into using the middle eastern herb Za'ataar."
DINNER PARTY SOUNDTRACK
"Bang Bang by Nancy Sinatra."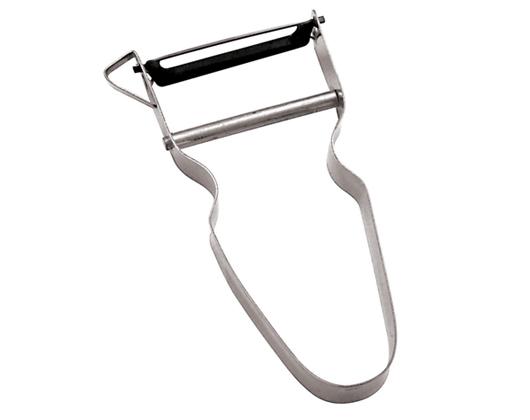 KITCHEN TOOL
"I'm a huge fan of the vegetable peeler. A few different northern European countries claim they invented it — people think that's very funny because it shows how economical their culture is, to produce the least waste possible! But I like it not only for peeling a very thin layer but also for making thin slices of, for example, carrots. If you take purple carrots and slice them lengthwise, you see the beautiful color change the carrots generally have on the inside. You can also use a peeler to make a vegetable 'tagliatelle.'"
FAMILY RECIPE
"Using a passe-vite (food mill) to make vegetable soup. I rarely see another Dutch family that uses one of those. My grandma's soup is my mother's soup and mine as well, but we all make it differently. It's a tomato soup, so we only make it in the summertime. You need to get a heap of cheap and overripe tomatoes from the market. The trick is to boil the tomatoes with other vegetables like leeks, onions, a few peppers, and herbs like celery and parsley but NOT to use water — just the juice that's naturally inside the tomatoes. (But as I said it's always different, and there are no exact measurements.) Eventually you put everything through the passe vite and you end up with a very thick, nicely textured, super healthy soup. You could add some chilis, soy sauce, Marmite, or whatever you like to give it a bit of tartness. My mom adds soybean sprouts. I like to add ginger and make it more hot."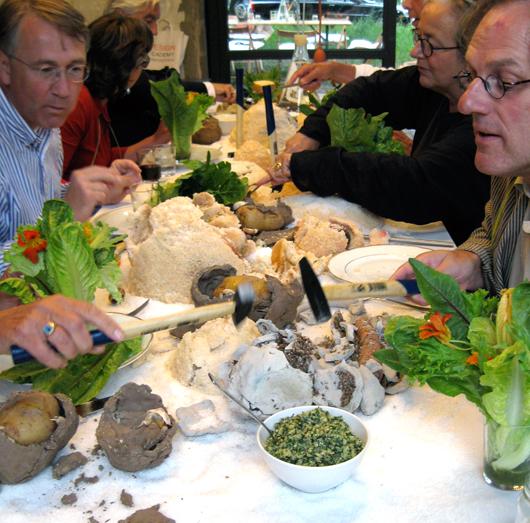 TABLE CENTERPIECE
"A heap of beautiful root vegetables. I've also done a couple of dinners where I made sculptures of root vegetables baked in clay (above); one would have to hammer the sculpture, break the clay, and then discover the warm tempting scent of a fragrant baked root and herbs."
COOKING RITUAL
"There are different ways of cooking: relaxed cooking, fast cooking to feed your family in time. Both require different strategies. But I do like to have music on while cooking so I can make a little dance if necessary…"
FOOD THINKER
"I met Michael Pollan at PopTech in Maine. I like his curiosity, and I respect the simplicity of his statement to just eat whatever your grandparents would recognize as food. In my work I tend to do crazy things, but most of the time I like to keep the food as pure as possible. I don't design food. Food is already perfectly designed by nature."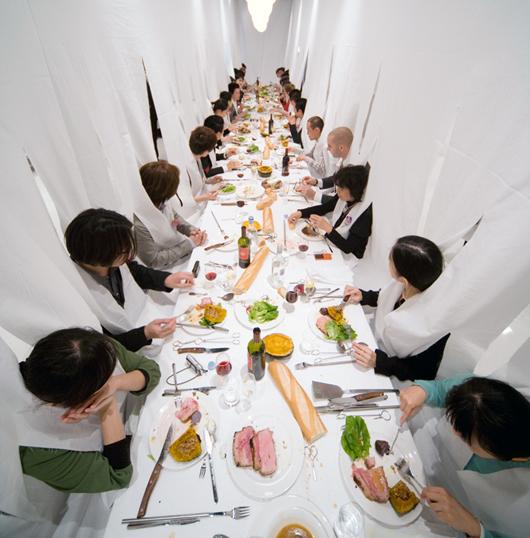 DINNER PARTY ICE-BREAKER
"I use the idea of sharing a lot in my work. If food can be shared with others, conversations start to happen naturally. In 2008, I held a sharing dinner at the Axis gallery in Tokyo (above). Cloth extended down from the ceiling to drape over each of the guests, who became equal because their identity — as communicated through their clothes — was covered. Every guest got one part of the meal, and people were encouraged to share."