02.10.12
Julien Renault on Found By James
Julien Renault is the kind of designer who wears his influences on his sleeve. Not only does he create his own utilitarian furnishings — a series of lightweight aluminum stools that appear forged like steel, a desk made from recycled-plastic boards that resemble wood — he collects everyday anonymous objects and keeps them as a kind of inspiration library, like a second-generation Jasper Morrison or third-generation Castiglioni. And as if that's not enough, he also totes around his father's old camera wherever he goes, shooting whatever he's drawn to and saving the images for future study. As a consequence, the Brussels-based designer has not one website, but three: Julien Renault Objects houses his portfolio, Inventory his fly swatters and pumice stones, and Magic Argentic his photo album (which incidentally is full of things we're itching to add to the brand-new Sight Unseen Pinterest account — stay tuned!). We'd been meaning to feature Renault somehow when we came across an interview with him on the enigmatic site Found By James, where an unnamed curator with impeccable taste and a serious case of wanderlust keeps both a shop full of random objects he's purchased on his travels, and a series of features on young creators he encounters along the way. Read an excerpt from James's interview with Renault below, then prepare to spend the rest of your day — hell, weekend — getting lost in the two talents' sites.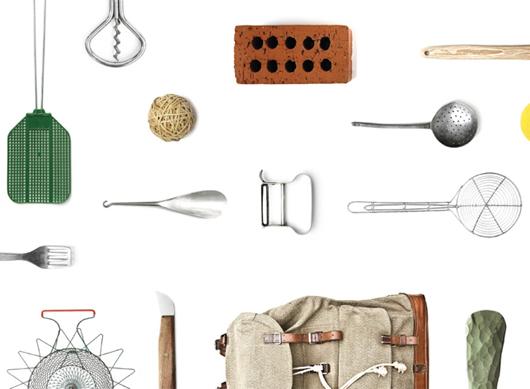 Interview by James
Mr. Julien Renault is a creator and a collector and exceptionally passionate about typology. Objects are subject to his continuous search for origin, tradition and context. From these studies he develops new ways to work with the shapes or to re-work the objects. Julien and I seem to have a similar approach towards a few things in life. I was interested where his inspiration came from, thus we sat down for the following interview.
Julien, I'm impressed by your career. How would you describe yourself and your education that helped you to get to this point?
I was born in France in a suburb of Paris. I studied design in Reims for four years and then I lived in Paris for six months where I worked as a trainee for the Bouroullec brothers. After that, I moved to Lausanne and integrate ÉCAL for a year and a half. Since then, I have been working as a designer and photographer in Brussels, for three years now.
After your graduation in 2009 you went to Brussels, where you simultaneously worked for an industrial designer and for an antique design dealer. Was this decision based upon a design philosophy?
I do not focus on the past much, but my job with the antique dealer is the most interesting and inspiring job I ever had. I met him when I was working in a clothing store. Then one day, during lunchtime, I went to see the antique dealer's gallery and had a nice chat with him, showing him my portfolio. We immediately connected and I offered him my services. It was the perfect match since he needed someone for the development of a new re-editions brand called Fathers. We began to work together, learning from each other's knowledge.
Today I am still working for him and since we started, two years ago, we have been developing the brand, as well as new products. At this moment we are working on a prototype of an old Belgian designer called Christophe Gevers. In 2012 we hope to launch this collection.
I really believe in the combination of new technologies and vintage design within today's industry. That is what I'm looking for when I begin a new project; I always have to know where it comes from and what can be the gap to perpetuate typology. I am always looking for references and inspiration. I believe in objects and it's crucial for me that what I design will exist for a long time.
Your work is very research driven. What are your favorite spots to 'investigate,' or which places inspire you?
For me, places are defined by their atmospheres. I am really led by the way I am feeling in a place and the atmosphere it surrounds me with. For that reason, I love Brussels bars like Walvis and Delecta.
Of course I love flea markets, I really enjoy coming across inspiration from effective, anonymous design. I like Biggs, village flea markets and the Marché aux Puces in Brussels. I think my favorite is the 'Biggs,' Waterloo (near Brussels). It is located on the parking of a supermarket. It's a real flea market, with professional market people. I love the fact that it is there every Sunday morning. After a real Sunday breakfast there is nothing better than to go there and come back with a lot of things.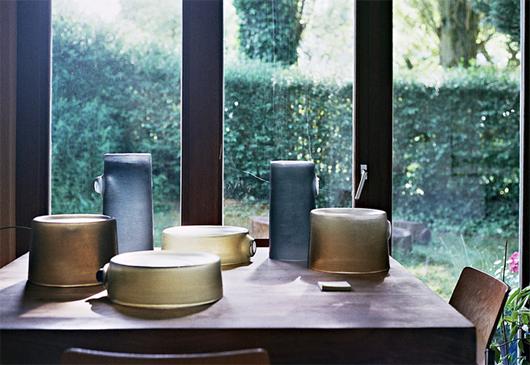 Does the place where you are/live influence your work (process)? Do you often travel for inspiration?
Reims gave me my artistic sensitivity in design. In Lausanne and Switzerland things were different; there was a need to be realistic, functional and effective. Now I am really happy to be based in Brussels; it's a peaceful city without too much stress. Everything is possible – there are workshops were prototypes can be made, interesting people to meet, and nature is always close-by.
I also find inspiration from traveling, I love it. What I love to do, is visiting flea markets everywhere I go. This summer I spent one week in Berlin and we visited all the flea markets in the city. We also visited the Museum der Dinge, it was great; all I was hoping to see… even the display was perfect.
What are other inspirations for you?
At Magic Argentic and Inventory I display my inspirations. Above you can find a selection, but please note this is an ongoing process. Next to that, the following designers come to mind: Willy Gulh, Max Bill, Alvar Aalto, Dieter Rams, Breuer, Castiglionni, Enzo Mari and Jasper Morrison. And the artist Nathalie du Pasquier, a friend of mine, inspires me as well.
Which object, in your opinion, needs a reinterpretation or re-design?
I think outdoor furniture is something where a lot of things can be done. My Recycling Plastic Range explores this typology. It is an interpretation of a basic massive wood construction build up from planks made of recycling plastic granulate. For the material I partnered up with a specialized Belgian company. Furthermore, I would love to design a basis stackable chair in wood and the table that goes with it. And I would love to design a door handle as well.
Do you already have new ideas for your next project?
I am redeveloping my tabletop mirrors. The first project has had a lot of success but it turns out to be impossible to keep producing them in polish steel sheet. That is why I am now creating them with more classical materials. Right now I am searching for a new typology to use for a mirror. For this, I used the idea of a frame that you can put everywhere you want. It's in progress; I hope it will come out soon… maybe for Milan.
Lastly, my girlfriend is a jewellery designer and maker. We are working on a kind of abstract sculptures range for jewels. It is going to be our first project together – very exciting.
This interview was excerpted from a longer piece with many more images on Found By James. Click here to read the original story, then check out the site's other interviews with creatives around Europe.