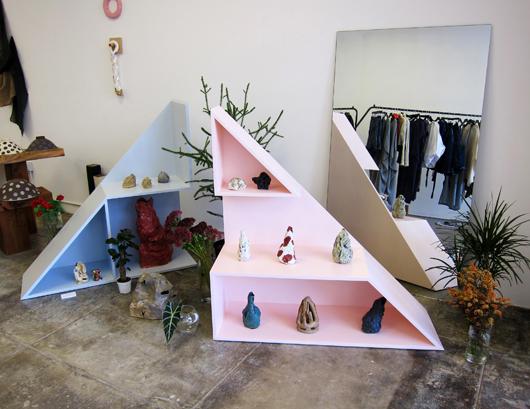 The launch of the first-ever Sight Unseen printed edition — debuting in April as part of the Karlsson's Vodka Unfiltered project — is just around the corner. As of today, we're putting the first 100 copies up for pre-sale in the Sight Unseen Shop, which will ship to buyers on approximately April 13. We're only printing 400 for now, so click here to grab one while you can! An 88-page softcover designed by Studio Lin, it's packed with 21 brand new, up-close-and-personal stories on Peter Shire, Anntian, Keegan McHargue, Shabd, Shin Okuda, Wary Meyers, Andy Rementer, Raven & Boar, Cmmnwlth, Sanntu Mustonen, Leutton Postle, Chen Chen and Kai Williams, New Friends, Jade Lai, Nacho Alegre, Patrick Parrish, Brian Janusiak and Elizabeth Beer, Felix Burrichter, Roanne Adams, Roman and Williams, and Sebastian Wrong.
Meanwhile, today is your last chance to guess the subject of our sneak-peek photograph for a chance to win a free copy. Here's a quote from the designer, whose pictured shelving units are among the many furnishings he's made for the Los Angeles store his girlfriend founded in 2009: "At first I wanted to make the opposite of this curving, really design-y stuff. I wanted to just make a shape, a triangle shape, but at the same time make it functional. Wood was just the material I was capable of using."
Head over to our Facebook page to log your guesses! Anyone who posts the correct answer (even if someone's already posted it) is automatically entered to win a free copy.