12.11.13
At Art Basel and Design Miami 2013: Part III
We never quite know what to say after attending a large art and/or design fair. Did we see anything that particularly stood out? Of course. Did we identify any trends? Does it matter? Sure, there were motifs here and there — marble abounded once again in the design tent, as did Prouvé, while the artists seemed really into pineapples and coconuts this year — but all that feels pretty inconsequential to us. When we attend shows like these, we have a lot of fun documenting them as we go, and meeting new people doing interesting things along the way. Then we come home with a trove of new talents to explore for future Sight Unseen stories. That's really the heart of it. So while we'd planned to tell you more about what sold (Sebastian Errazuriz's motorcycle, clocks by Humans Since 1982, Vuitton's Perriand cabana), what didn't sell (actually we have no idea), and what the mood of this year's show was like (It was better than last year! It was worse than last year!), we think we'll leave it at this: 134 annotated photos on our Facebook page sharing our highlights from the fair, so you can make some discoveries of your own.
Top:  Tai Ping Carpets' collaboration with designers Chen Chen and Kai Williams — a series of rugs made from a melange of fabrics and techniques to match the design duo's coasters — at Inventory's fourth exhibition, TIME.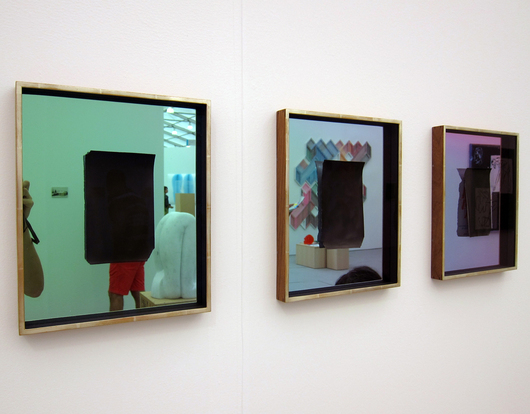 Of course we loved this ombre mirror triptych by Jonathan Scott at NYC's Katharine Mulherin Contemporary Art Projects, which reminded us of Minale-Maeda's mirror for Droog. Of course. (It was sold out.) Spotted at the Untitled art fair.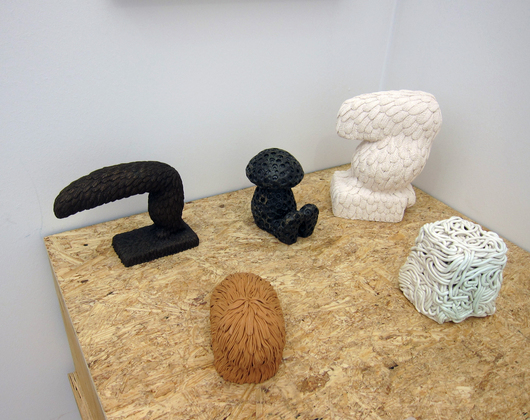 A series of small tabletop sculptures by Carl D'Alvia, also at Katharine Mulherin's booth.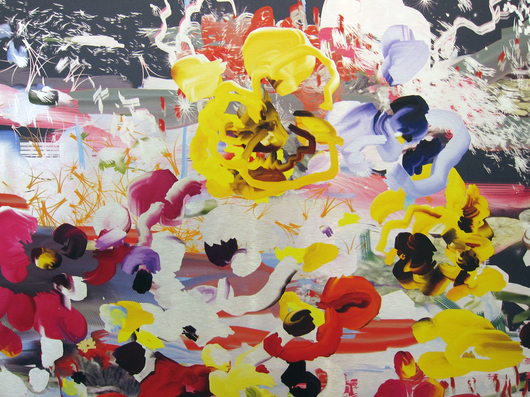 We've long been a fan of internet artist Petra Cortright, but we'd never seen her digital "paintings" — this is a detail of aspen AND nude NOT sex, shown by Steve Turner Contemporary at Untitled.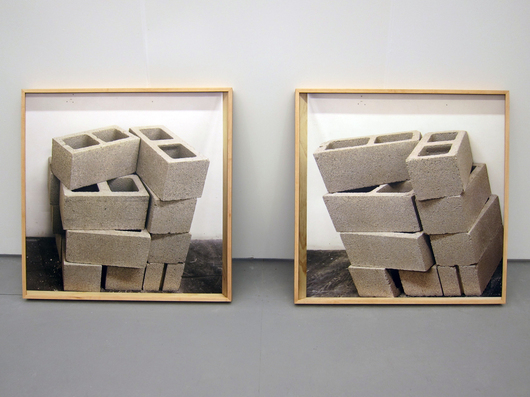 Cinder block photos by Chris Engman at Luis De Jesus Los Angeles.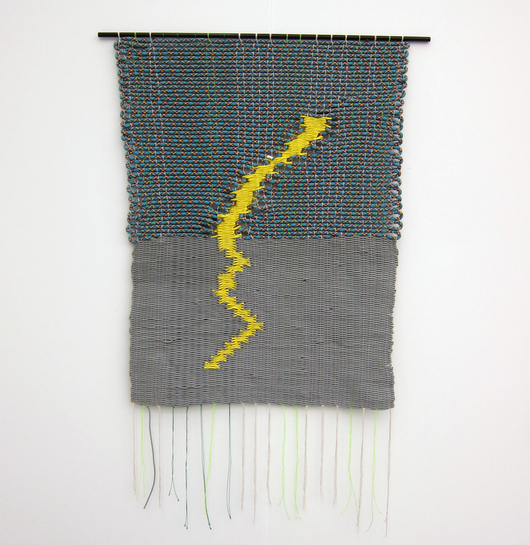 A cool large-scale weaving we saw at Highlight Gallery's booth, by Ben Barretto.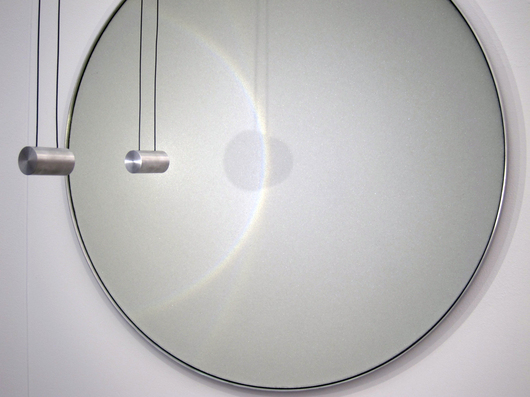 Another work at Highlight Gallery: LEDs shining on a kind of aluminum lens, with all kinds of neat halo effects.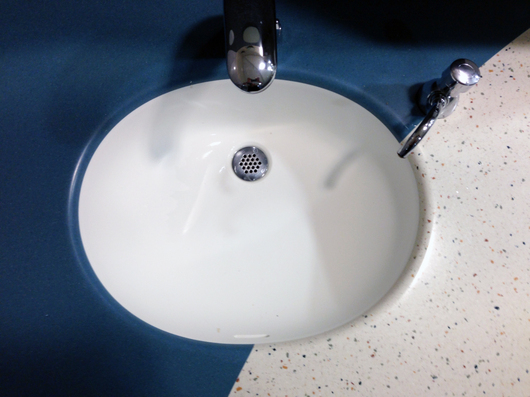 We couldn't resist taking a pic of the bathroom sinks at Art Basel, which had a cool crisscrossing terrazzo thing going on.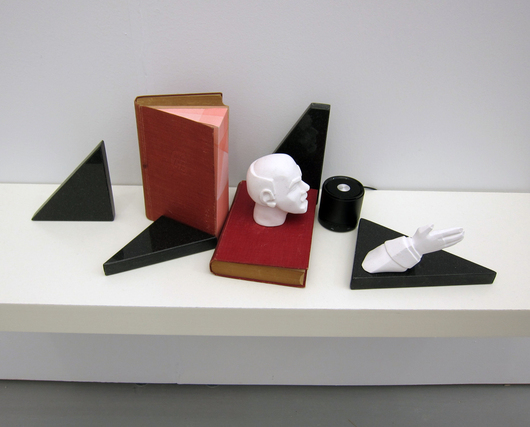 An assemblage piece by Amadeo Azar at Galería Nora Fisch.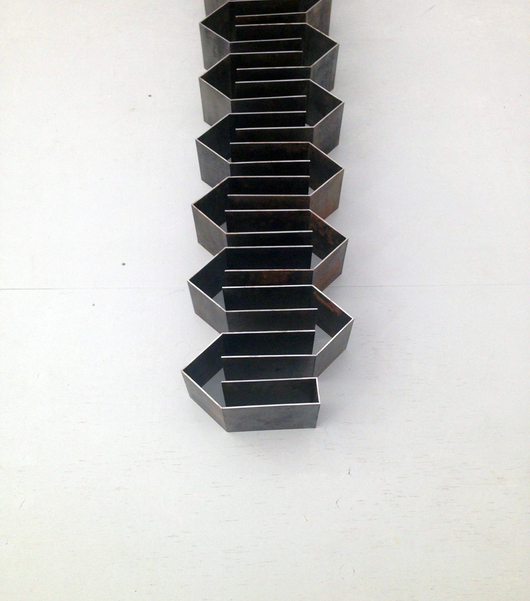 Missed the name of this floor piece at Untitled.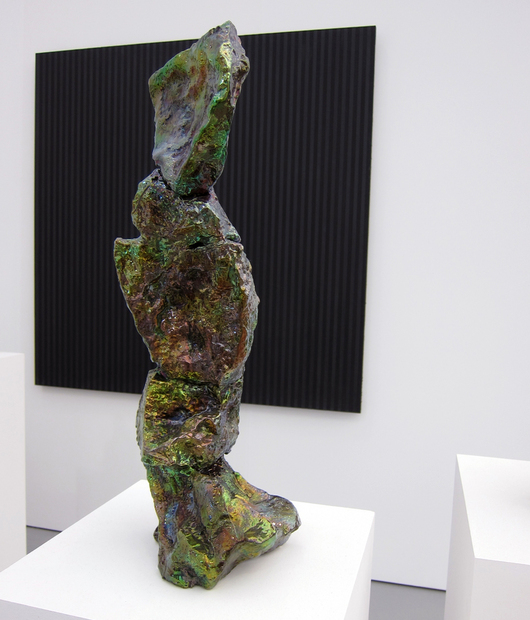 An iridescent sculpture at Sandra Gering gallery's booth by Julia Kunin, who also makes a series of Scholar's Rocks vases sold by Moss Gallery.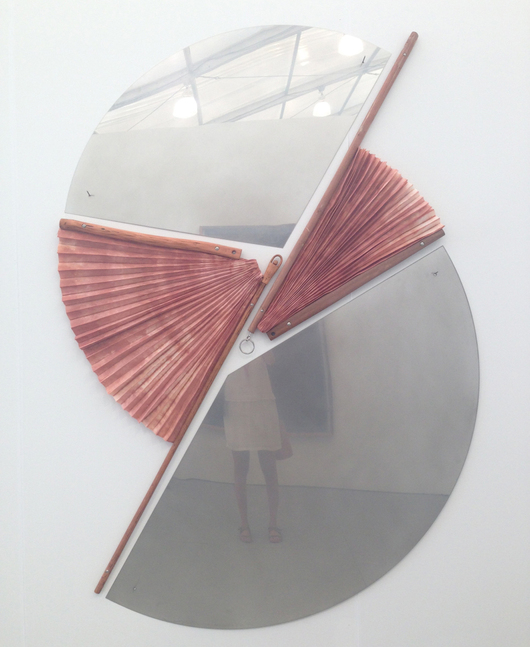 A wall hanging by Rachel Foulan at Halsey McKay Gallery.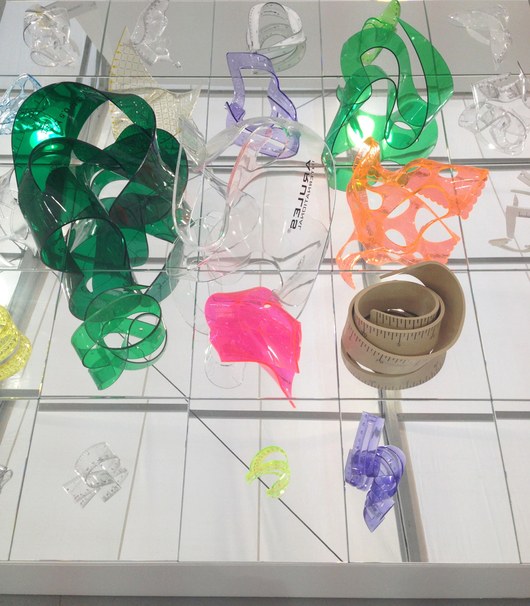 An incredible collection of handmade plastic artifacts by Juan Luis Moraza at Espacio Minimo gallery.
Click here to see nearly 40 more photos in the second half of our Art Basel / Design Miami photo album on Facebook.