12.06.13
At Art Basel and Design Miami 2013: Part I
Hello from sunny Miami! Sight Unseen has been here all week attending the 2013 Art Basel and Design Miami shows, and it's been a wild ride, as usual. We've brunched with Ruinart and Piet Hein Eek, partied with Dom Perignon and Jeff Koons, and seen performances by Jonah Bokaer and Pharrell. We almost did yoga with Grey Area, but got (happily) stuck hanging out at NADA instead. We tried to document it all, but it hasn't been easy — here's a small taste of what we've seen so far! We'll be back next week with a more comprehensive post, but for now, check out these pics and then head over to our Facebook album to see dozens and dozens more. The next time you hear from us, we'll be sulking back in the New York City winter. Until then…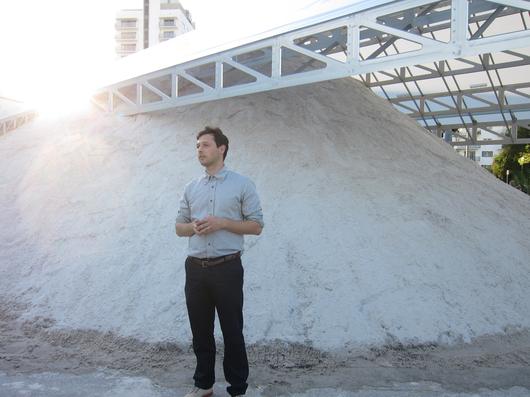 Garrett Ricciardi, one half of Formlessfinder, in front of the duo's Tent Pile design for the entrance of Design Miami.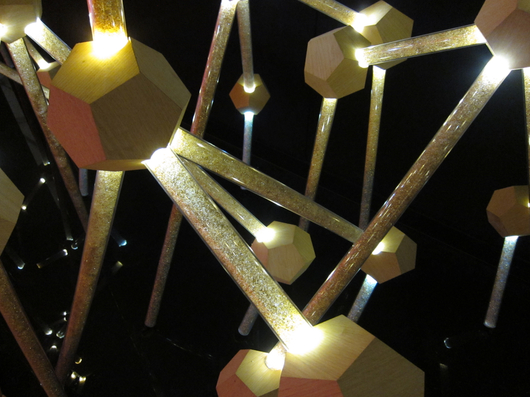 Close-up of the crystal-filled Mangue Groove installation by Guilherme Torres for Swarovski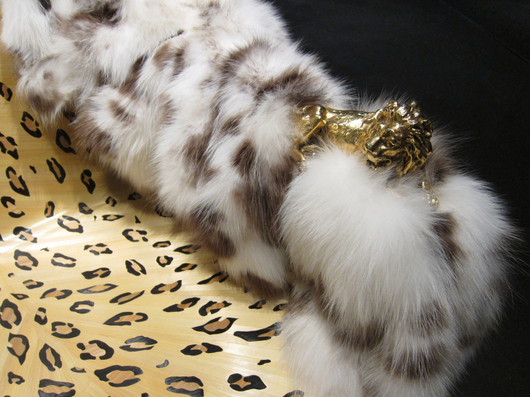 Close up of a decadent new chair by Maria Pergay for Fendi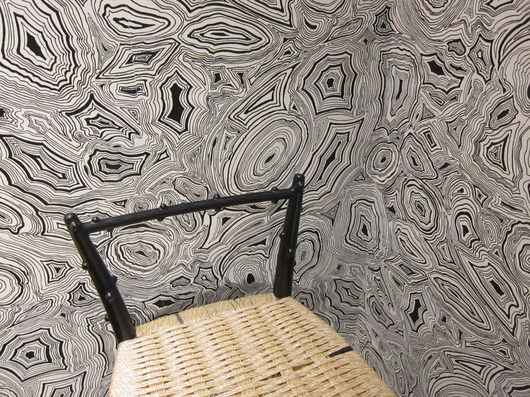 Sebastian + Barquet's Design Miami booth was lined in our fave Fornasetti malachite wallpaper.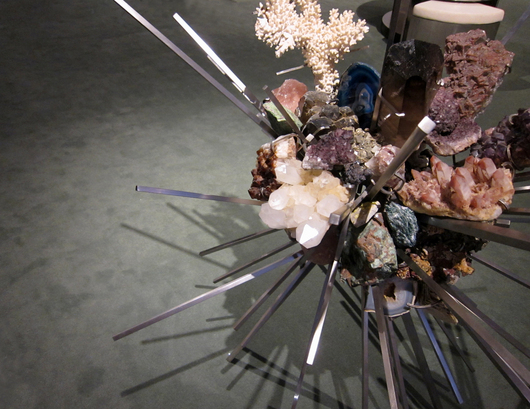 In our Design Miami top three: This insane sculptural piece by Maria Pergay at Demisch Danant. So gorgeous, so hard to photograph!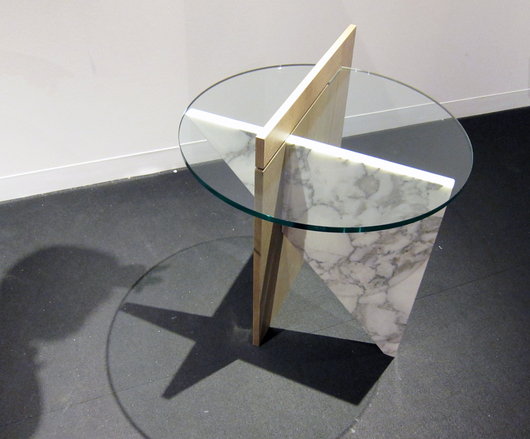 BCXSY debuted a new version of their Contrast side table in marble, wood, and glass with Spazio Rossana Orlandi (that's co-founder Boaz Cohen's shadow pointing at it, in fact).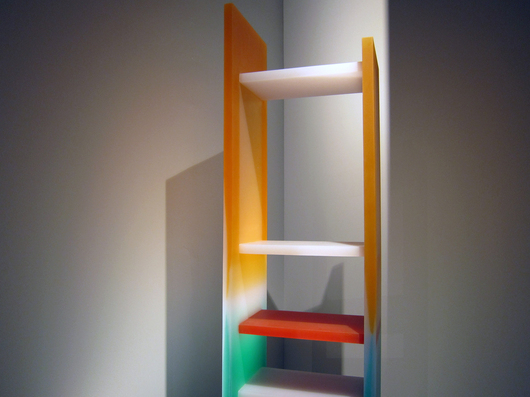 Rossana Orlandi also debuted this an update on Wonmin Park's resin furniture series with this shelf made especially for Design Miami in poppy Miami-inspired colors.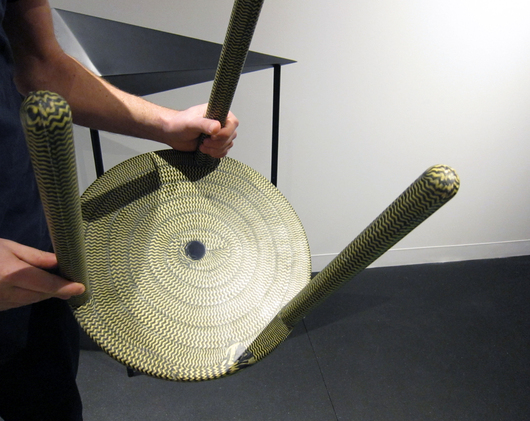 The always fantastic Volume Gallery brought Jonathan Muecke's latest collection to Design Miami, which we covered on Sight Unseen a few months back. Muecke added a brand new carbon fiber and kevlar stool to the series especially for Design Miami. Muecke held up the stool for us and showed us how it's made: a single tube of fabric is coiled by hand into a pressurized mold and coated in resin.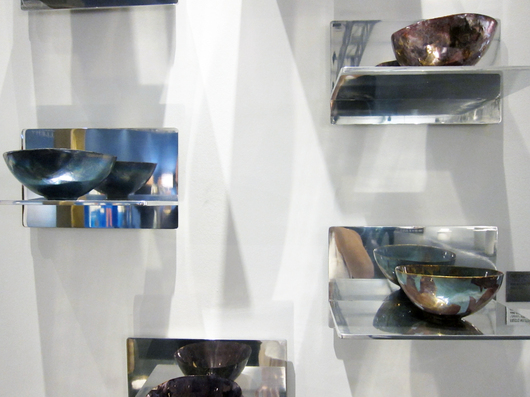 Jonathan Nesci exhibited these polished metal shelves at Casati Gallery's both, propped with $6,000 ceramic bowls by Fausto Mellotti.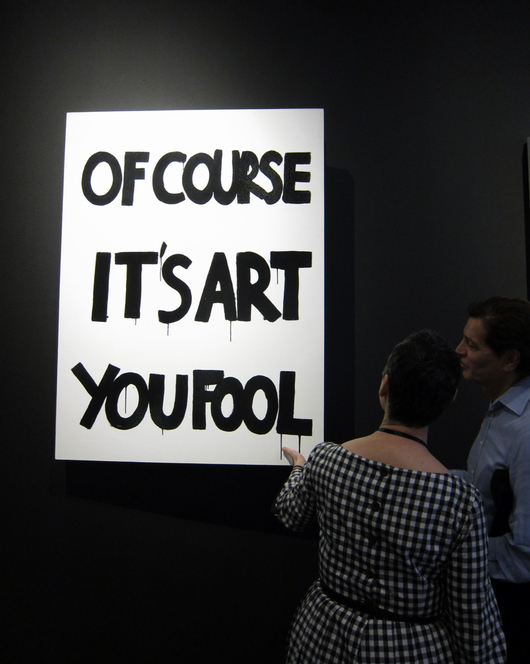 Cristina Grajales showing this clever painted wall cabinet by Sebastian Errazuriz to a client.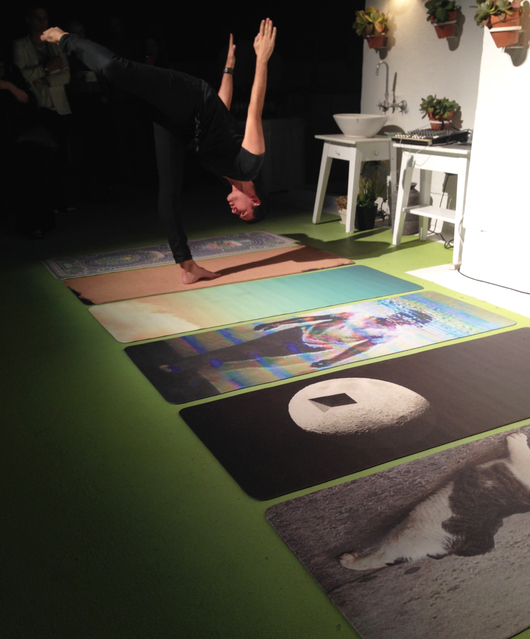 Jonah Bokaer performing at a dinner celebrating the launch of GREY AREA's fantastic new yoga mat series, with works by Daniel Arsham, Kon Trubkovich, Andrew Kuo (Earlboykins), and more.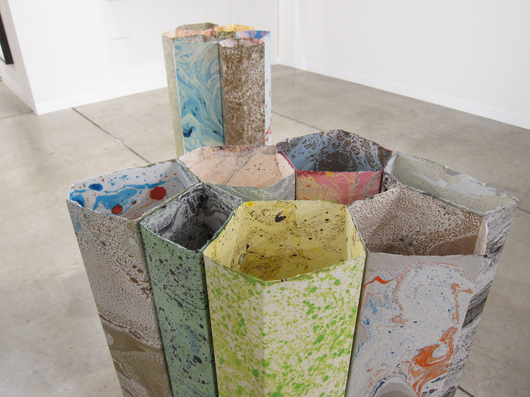 Beautiful marbled paper sculptures by Richard Deacon.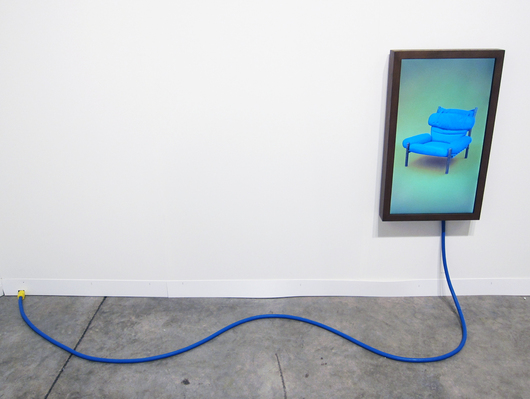 Loved this piece but didn't catch the artist's name!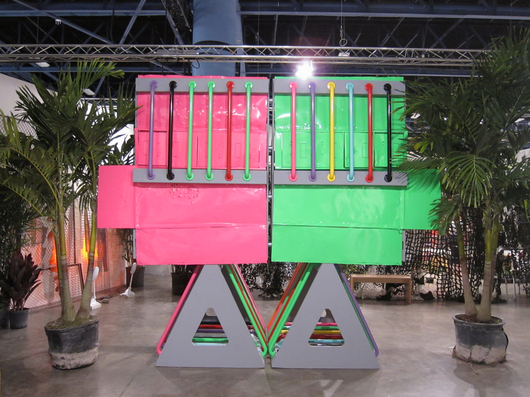 The entrance to Paradise Working Title, a huge, foliage-filled collaborative installation with a cafe in the middle by Jim Drain and Naomi Fisher in partnership with the architect David Andrew Tasman.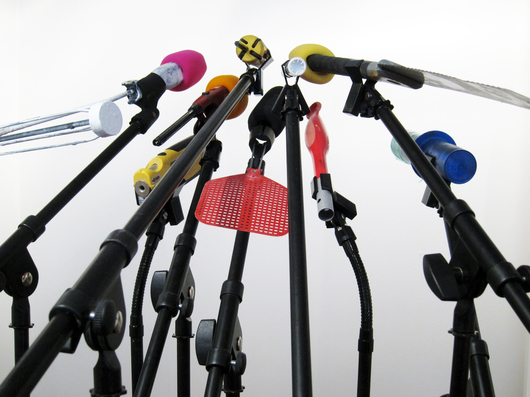 Joel Holmberg's modified microphones at American Contemporary.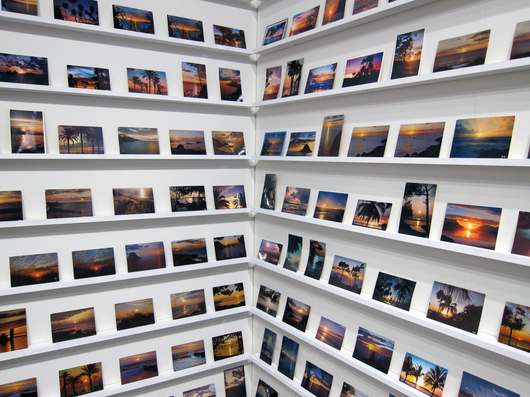 One of our favorite pieces at Art Basel: Three walls full of vintage beach postcards, arranged in a massive color gradient, by Oriol Vilanova for Parra & Romero gallery.
Come back next week to see more of our report from the 2013 Design Miami and Art Basel shows, and head here to see tons more photos on our Facebook page!