07.15.14
DAMM Design, Lighting Studio
There's much that sets DAMM Design apart from the current crop of up-and-coming American designers, but perhaps the most obvious thing is the town they call home: Brenda and Robert Zurn, the married couple who founded DAMM in 2013, have lived and raised five children in St. Petersburg, Florida, for the better part of two decades. To the casual observer, it's the most random town to have produced great design since Donald Judd went to Marfa. But as Brenda explains: "Although St. Petersburg used to be known as a retirement destination, the art scene is vibrant, and we live in an area saturated with glass blowers. Chihuly is here; Duncan McClellan is here." Despite the proximity to so many hot shops, the Zurns only recently began working with blown glass. The majority of their lamps are made from elemental materials — brass, wood, marble, copper, or concrete, often buffed or blackened to bring out the material's inherent beauty. They deviate from that natural palette in the most delightfully whimsical of ways — an enameled mint terrace meant to evoke the Art Deco aesthetic of their home state, or an ombre motorcycle-paint fade on recycled lighting components. We were so tickled by their work that we invited them to participate in our Sight Unseen OFFSITE event this year (where they put their oldest sons to work as interns) and to share a bit more their story with us in the interview below.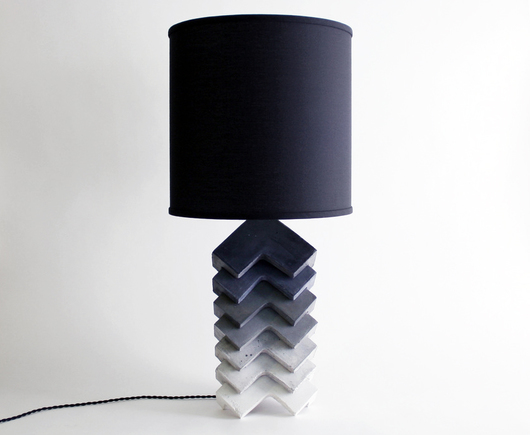 Describe your most recent project and how it was made.
"We collect things that have some sort of potential in our eyes, even if we may not know what that potential is exactly when we take it home. Interestingly enough, some packaging material that we thought had a captivating shape had been on our 'inspiration shelf' for over a year. We were pursuing another project with a friend, Jonathan Haywood, a wizard with GFRC concrete, when we realized this was the perfect material to bring the shape to life as a lamp. We've only played with concrete in the past, but this lamp gave us concrete fever as we learned all about the material and its potential. The process was so inspiring, we filled up a notebook with future concrete project ideas."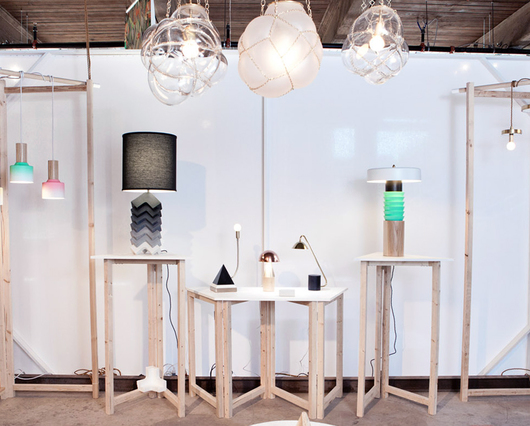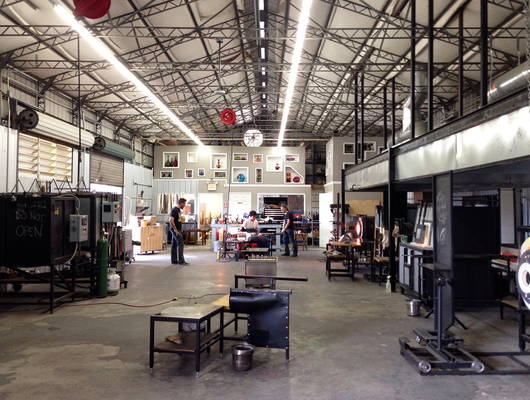 Describe your next project and how you're currently making it.
"Our Nimbus lights were shown at Sight Unseen OFFSITE (top of first photo), but they were prototypes, and so now the tweaking and perfecting begins. We had to make adjustments along the way as we adapted to how the material (glass) was reacting to the way that we were manipulating it. Our original design on paper is not what we have in front of us. Sometimes that works out for the better, but in this instance, we're going to try to make some improvements to get back to what we originally envisioned.
"We're working with some amazing glass blowers in our community: Jacob Stout and Mariel Bass at Duncan McClellan Glass. It's been a very hands-on process for us because we're at the studio the whole time that they're blowing the glass through the wire cages, problem-solving together. Collaboration is the best feeling! There's a little bit of all of us in each hand-blown glass bubble. We didn't know how to get the effect that we wanted, so we went through trial and error many times. Basically, Robert and I make the wire cages, Duncan's glass studio (pictured above) blows the glass, Robert removes the wire from the glass through a chemical bath and cold works the openings, and both Robert and I chain the entire piece with 24K gold chain. It reminds me of my jewelry-making days, and I enjoy doing most of the chaining. The sandblasting was an additional thing that we did to one piece of glass and we both like it a lot. Also, I want to have one blown in dark black. I think that would be hot."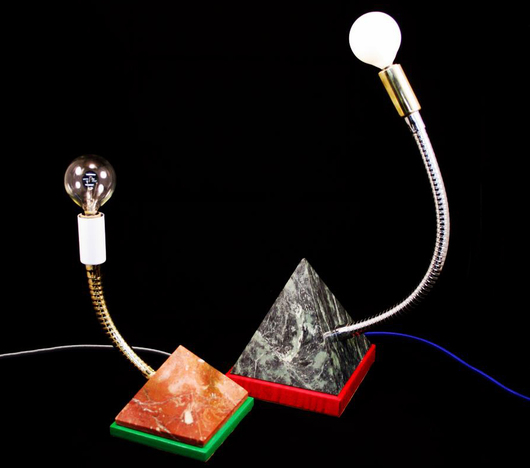 Tell us one thing that's been inspiring you lately and why.
"We've been inspired on a few levels lately. First, it's been very exciting for us to create new lighting — from the conceptual stage all the way through to a finished piece — as a team. We've learned so much about our strengths and weaknesses and how we compliment each other. It's something that has been surprising, because we've worked as a team for so many years raising our family and have been through so much, we never would have guessed how much more we'd learn about ourselves by starting a creative business.
"We've also been inspired by all of the amazing designers, makers, and creatives we've met while on this journey. We're now more connected to our local community by working with talented artisans, and we've plugged into a larger community of young vibrant designers that are living their own version of this adventure.
"Lastly, we've been inspired aesthetically by a continued exploration of colorful postmodern design being coupled with hand-worked and natural materials. We're excited by the audacity and vibrance of 'anything goes' design that's expressed in elemental material with enough editing to make it chic. All of that is to say that we love trying to make design that is striking, new, and makes you gasp a little when you first see it, but has the warmth and authenticity of a vintage object." Pictured above: DAMM's Memphis lamps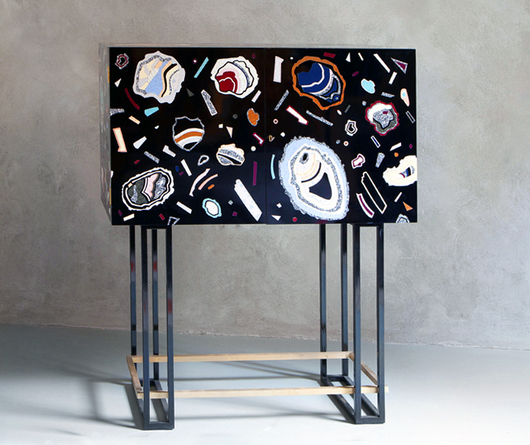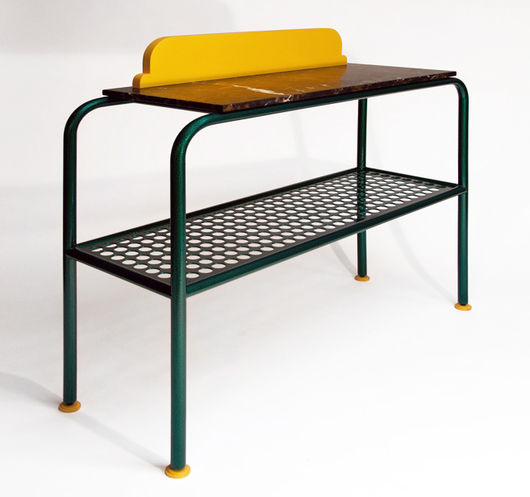 Name your favorite piece of design from the last 10 years, and tell us why you like it.
"It would be hard to choose one piece of design as a favorite, but here are three that excite us, in no order: 1. Bethan Laura Wood's laser-cut laminate cabinets and tables (pictured, top). 2. The writings and work of Matthew Sullivan (AQQ) (pictured, bottom). 3. As lighting designers, we think Lindsey Adelman's studio has raised the bar for all lighting designers and created some very important work that has and will continue to influence a lot of young designers."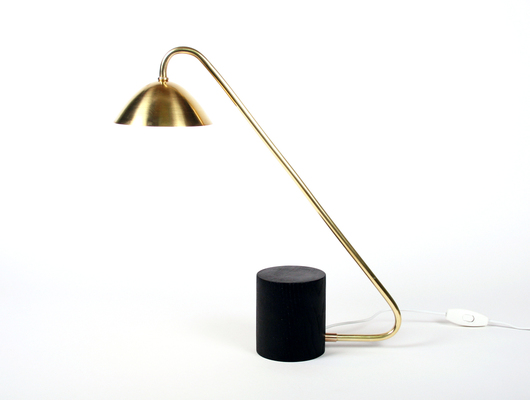 Theorem lamp by DAMM Design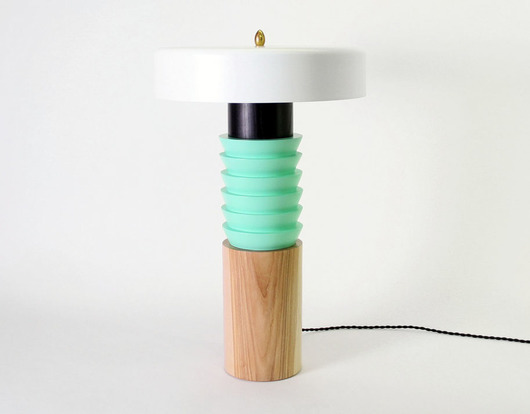 Terrace lamp by DAMM Design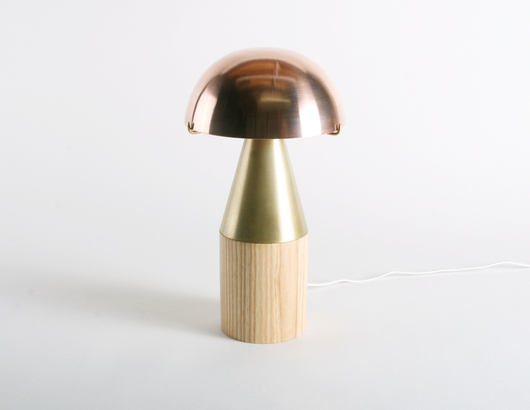 Fovea Lamp by DAMM Design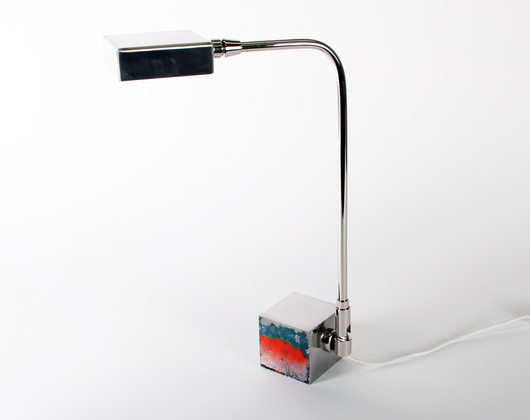 Artifact lamp by DAMM Design