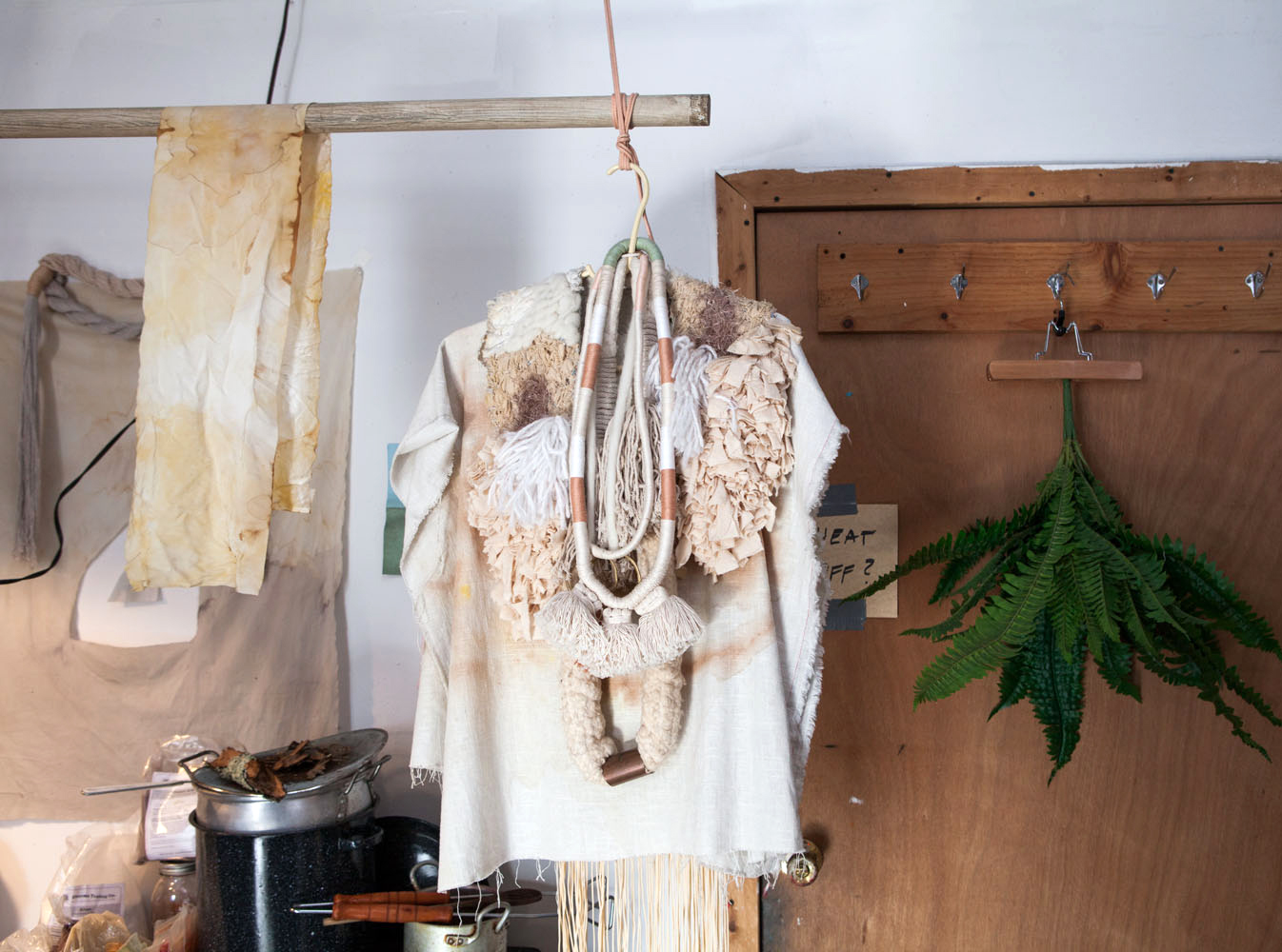 PHOTOS BY MIKE VORRASI
We discovered Cave Collective by way of their jewelry, which we spotted at the boutique No. 6 in New York, this past October. In late November, we shot founders Cat Lauigan and Alex Wolkowicz in their Greenpoint workspace. Then, by the end of January, we found out that they'd dismantled most of the studio and jewelry line, that Lauigan had relocated to California, and that both artists were focusing on their individual practices until they figured out what to do next. And yet by that point, we knew enough about Cave Collective to take the news in stride — ever since Lauigan and Wolkowicz began their collaboration in 2010, it's been an endlessly shape-shifting and exploratory project, one that's seen them living thousands of miles apart for nearly as long as they've lived in the same city. Even their jewelry, stocked in stores like Bird, Need Supply, and at one point Anthropologie, has always been more of an experimental art practice than a proper business.
When the pair first met, in fact, neither of them had even dabbled in jewelry. Lauigan was making large-scale graphite drawings of things like crystals and mountains while living in Oakland, while Wolkowicz had traveled there from her home base in Liverpool for a residency with the LoBot Gallery, where she installed a tree impregnated with broken glass. "Friends introduced us, and we just clicked," recalls Wolkowicz, who joined Lauigan on an impromptu photography road trip to Pescadero Beach before heading back to England. "We started pen-palling with this dream of doing a project together, sending ideas and images back and forth." The Pescadero trip became a collaborative zine, the zine inspired the duo to try jewelry as a potential mode of working together in a new medium, and the jewelry became part of a larger artistic universe they began itching to construct together. The following year, they pitched an idea for a joint residency at San Francisco's Headlands Center that would incorporate the drawings, the sculptures, and the jewelry, plus the costumes and sound compositions they'd begun making as well: "We envisioned building a healing cave inside which we'd do ambient soundscapes wearing our jewelry and shawls," says Lauigan. The proposal was rejected, but it gave them both a name and serious creative momentum.
By 2012 the pair had relocated to New York, where they staged their first joint installation as Cave Collective, at the now-defunct Lower East Side gallery End of Century. It incorporated many of the same elements they'd envisioned for the Headlands project, and also marked the launch of their official jewelry line, which married cast-metal elements by Wolkowicz with dyed-fiber ones by Lauigan. "People responded to it immediately, which surprised us in a way, because we were just making things to try and form this bigger world," says Lauigan. They agreed to make one-off pieces for a few shops, but kept their focus squarely on multi-faceted performance projects involving elements of ritualistic, costumed sound-bowl playing, textile-making, flower-arranging, and live drawing. Despite their temporary hiatus, that's likely where it will remain: "Both of us would like to return to our personal work, explore that, and then see how those contributions can make their way back to Cave Collective," Lauigan explains. "We've created a world, and we want to see what we can do with it."