02.02.15
To Star on Ellen's Design Challenge
PHOTOS COURTESY OF HGTV
If the weirdness of Ellen Degeneres starting her own Project Runway–style furniture-design reality show didn't fully strike me when I first heard about it, a couple of months back, it definitely hit home shortly after the show first aired on HGTV last Monday night, when I got the following text from my mom: Do you know any of the designers on Ellen's Design Challenge? The weirdest part of all, of course, was that I did: Katie Stout, one of Sight Unseen's inaugural American Design Hot List picks and the winner of our own erstwhile design competition (our 2013 pumpkin-carving contest), is one of the show's six contestants.
After watching the first episode myself, in which Stout introduces mainstream America to the squiggly cabinet above, we knew we had to get the full story from the designer. "It was really surreal," she says. "A highly skilled carpenter helping me out and an incredible shop is not something I have access to in real life. And I didn't have to think about all the logistics you usually have to think about when you're designing and making in New York, like where to keep the work or how much it's going to cost. It was basically like an amazing residency, only it was being filmed, and I had to follow all these rules." Read on to hear more of Stout's reflections on the experience, then be sure to watch episode two of the show when it airs on HGTV tonight.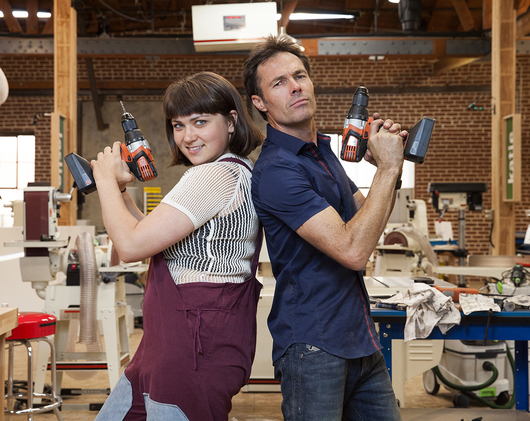 "The whole thing started when the producers of the show emailed Misha Kahn — we think they got a list from RISD — and Misha called me, saying we had to apply together. We were living together at the time and were like, why don't we have a reality TV show already!? So we pitched ourselves as a package, but they didn't really go for it. They only wanted to interview me. The first round was super casual: a half-hour video conference from my bedroom, where they asked questions about how I would describe my work — to which I was like, 'naïve pop!' — and whether I was competitive. During the third interview, Ellen came on and asked me questions about why I loved furniture and why I wanted to be on TV. And then the fourth was them surprising me and telling me I had made it on the show. They asked if I could find a large space for that interview, so I called Bjarne Melgaard, and I'm in his massive beautiful studio with all his weird paintings everywhere when they're like, you're on the show! The whole process took about four months.
"I never thought I'd be on TV. It was totally random. I've never applied for any other show — it's not something I saw in my trajectory. I did have a psychic once tell me that I was going to be on TV, but I was like, whatever. I also had never really even seen much reality tv before this. I'd watched The Real World in high school, but I'd never watched Project Runway or Top Chef, or even American Idol. So after I got accepted onto the show I was like wait, I need to do some research. I started watching all of these reality TV shows, and now I'm hooked. I love it."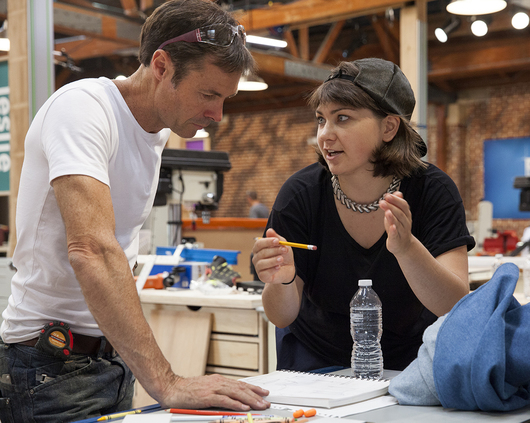 "On the show, we had like 15 minutes to come up with each of our designs. That was totally real. We had to do it quickly so we could start building, since we only had three days to finish each one. Nothing I did was predesigned, either. I came with no preconceived notions about anything. I just thought, I'll let this be what it's going to be, whatever seems right. It was really on the fly. For example, the cabinet I made in the first episode (pictured throughout this post), I'm not even really sure where it fits in my body of work. I quickly realized that at the end of the day I could only do my best, and that was really calming for me. I was like, this doesn't have to be the best thing I've ever made. I learned to dissociate myself. Not having to do everything by myself also made it so much less stressful.
"I didn't really have a strategy for winning. Honestly I was just so down with the whole thing, and so happy to be there, because it was such a cool experience. I never really thought about the possibility of going home. I was just sort of in my zone. You're away from home, you don't have all the other stuff you're normally thinking about — I feel like I just thrived. Although the show did make me want to act absurdly and make really weird things. And all of the participants did talk about, you know, maybe Mark was sent home because he was too normal. Or maybe Leslie has to stay because she's coming off as dramatic, and Carly has to stay because she's the female blacksmith, and Gaspar has to stay because he's the American dream. But it was mostly just us joking. I honestly don't think it was like that at all. The judging seemed super objective. I also feel like furniture designers are inherently more grounded. It's furniture! It's not Project Runway, where you're making clothes and everything is a little bit more vapid. There was a natural camraderie, and at the end of it I felt like I really knew these people."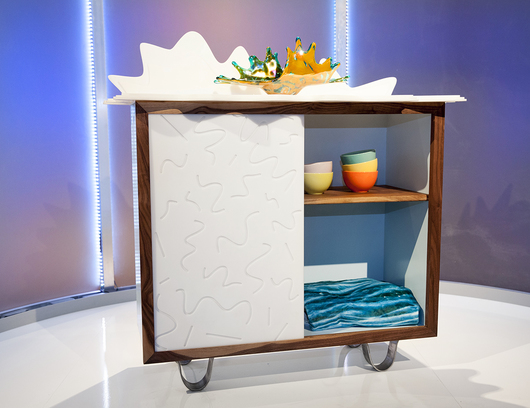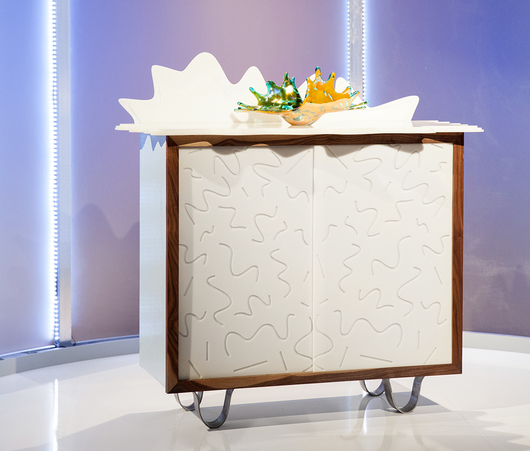 "The whole experience was so eye-opening to the way I want my process to be. I loved working with someone who really, really, really knows how to build stuff — Carl, my carpenter, was so skilled, he was like an encyclopedia for material and method. The way I normally work is that first I'll make a drawing, and figure out the form that I'm going for, and then try to get an idea of the material that would be great with that form. So I would tell Carl what I wanted to make, using my crayons, and he was great — the cabinet started as this super vague doodle and he immediately got what I was going for, and worked with me on how it would be built, which informed all the details. If you're in New York and you're making something, as a designer, you usually have to make it yourself, unless you're very established.
"Watching the first episode on TV was the weirdest thing I've ever experienced, though. I have really funny mannerisms, and I knew that, but I just didn't realize how funny they are. I didn't know that the way I talk is the way I talk, and I was like OH MY GOD. I was definitely aware that I was being filmed, though, and I wasn't about to bitch-talk someone, so that was good. But I also don't really do that in general. I went on Twitter after the show aired to see people's comments and it was so funny, I was dying. People were either like, she's eccentric, but I think I like her, or she's so annoying, shut her up, I hate her voice. Either way, I think it's great to expose those people to my point of view. The stuff that we see in the design community we're a part of in New York, I didn't realize before how much of a niche it is. Doing the show made me think that maybe it would be interesting to have a dialogue with this other side that's not New York or Europe, just because. I had concerns beforehand about this weird notion of selling out, and then I was like whatever, it's really cool to be able to share my perspective on furniture that blurs the line between art and design, especially with the HGTV audience that's maybe not as exposed to it.
"If I were to win the $100,000, my plan was really simple: to put it back into my business and maybe move out of my basement studio in Bushwick. I have a bunch of design ideas that I want to execute and then show at Johnson Trading Gallery. And I want to buy a car."