09.30.15
SARKOS, a Brooklyn Wallpaper Company
One of the primary objectives of Sight Unseen OFFSITE has always been to feature up-and-coming designers who are experimenting with materials and processes in interesting, and often very personal, ways. So we were delighted earlier this year to welcome Stephanie Dedes Reimers's just-launched wallpaper company SARKOS to our line-up. SARKOS — whose name translates from an Ancient Greek word for the tactile sense of our earthly spirit — mixes deeply personal inspiration with fine art, hand-painting techniques, creating a line of papers that are muted and highly individual.
SARKOS's debut line of hand-painted wallpaper was inspired primarily by the landscape of Greece, where Reimers's father grew up and where she still returns year after year. "It's where I inherently feel good, and I never get tired of looking at the landscape," she explains. Her unique way of drawing inspiration from simple, somewhat mundane things (i.e. a peeling plaster wall or the Mediterranean sky at a certain time of day) enables her to create wall coverings that are truly one-of-a-kind. Read on to see what's been inspiring her lately, and what we can expect in the future from this talented creative.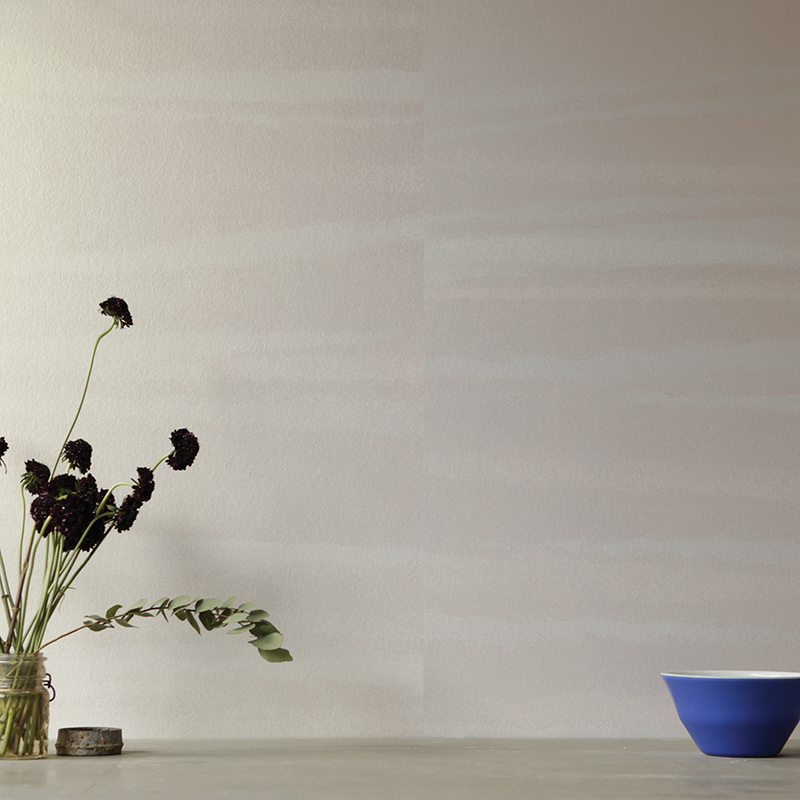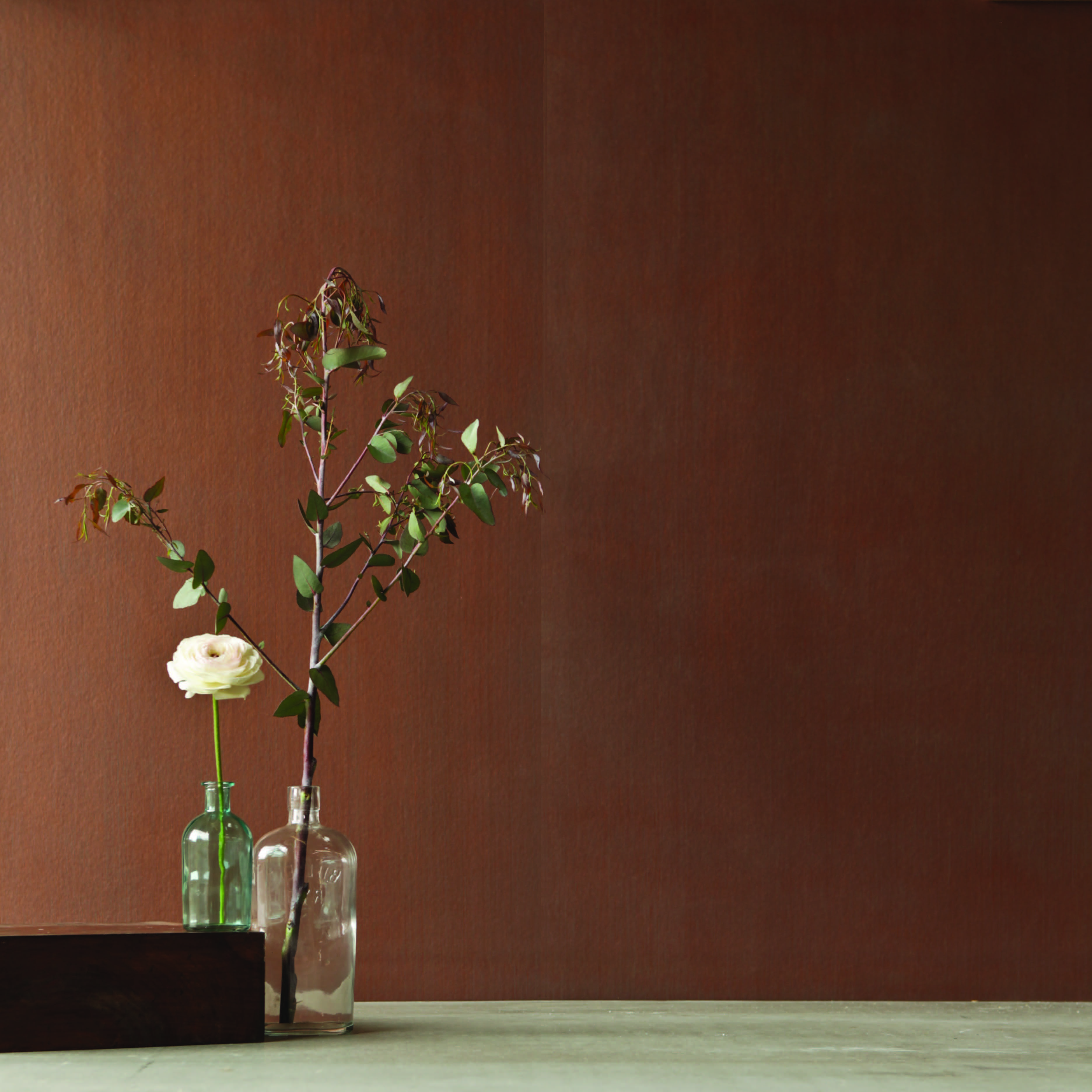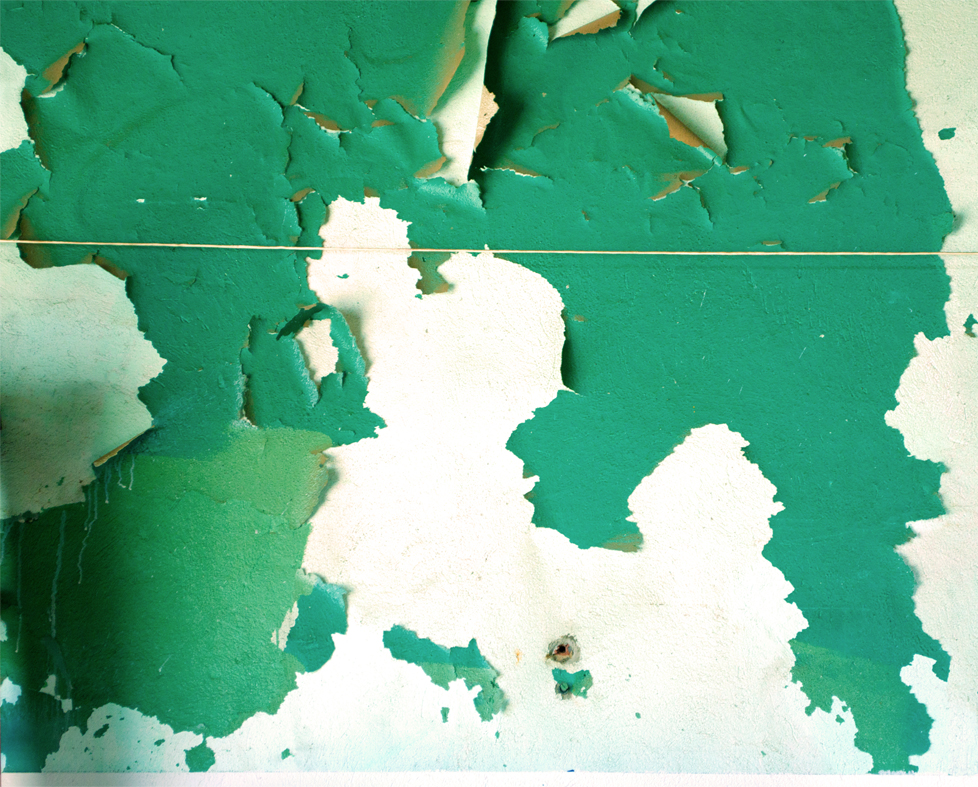 Describe your most recent project and how it was made.
SARKOS launched at Sight Unseen OFFSITE in May, and I can pretty much say the brand as a whole is my latest and biggest project to date. I began developing the designs over many years, while working in the commercial painting world, daydreaming and drawing the Greek landscape in my mind. But the actual finished SARKOS product line came about quickly in the grand scheme of things.
During the summer of 2014, amidst a storm of high-energy projects, I showed some friends my work and someone nonchalantly said "wallpaper." It stuck in my brain and all I could think from that point on was, "That's what I want to make." Shortly thereafter, my husband and I spent several weeks in Greece, studying the language, relaxing and talking a lot about the prospect of starting this new company together. It was on the island of Crete, sitting along the water, that we decided to really make a push for it when we returned to New York. Working together, we were able to clear my schedule to begin the process of testing colors, processes, papers and paints. Being a lifelong painter, I decided at the inception that every line would be hand-painted and nothing would be printed, because painting is what I love to do, it's what I know well, and it's where I offer the best of my abilities in design and execution.
Nothing is digital, down to the stamp that spells out what each panel is. Every panel is made to order from base to finish and so every panel is unique to itself, in that each is hand-painted individually. No two walls will ever be exactly the same. This is also what makes the seam so freeform, a part of the unique nature of each wall. On some of the designs, like TOPIO, the seam stands out in a rather magical way; we actually love tiling this line in order to create more seams. With others, like Oneiro, it magically disappears in a way that one would never suspect.
I finalized the last of my eight lines the evening before installing at OFFSITE! I had the concept for the line AVRA for a while, but hadn't found the right color way. Avra in Greek translates to a cool afternoon breeze that comes up on you while enjoying whatever it is you are doing. I looked up at my studio walls that day and it hit me. The sun hitting our wild, peeling green paint coming off its aqua blue base gave me the colors for this line straight away. The Cosmos line specifically is named for the region where my father grew up, and each line has specific inspirations for each colorway as well. Within Cosmos, Elikonas is the large mountain looming over the nearby villages and the Korinthian Sea; Hlios is named for the sun that constantly shines down on it all.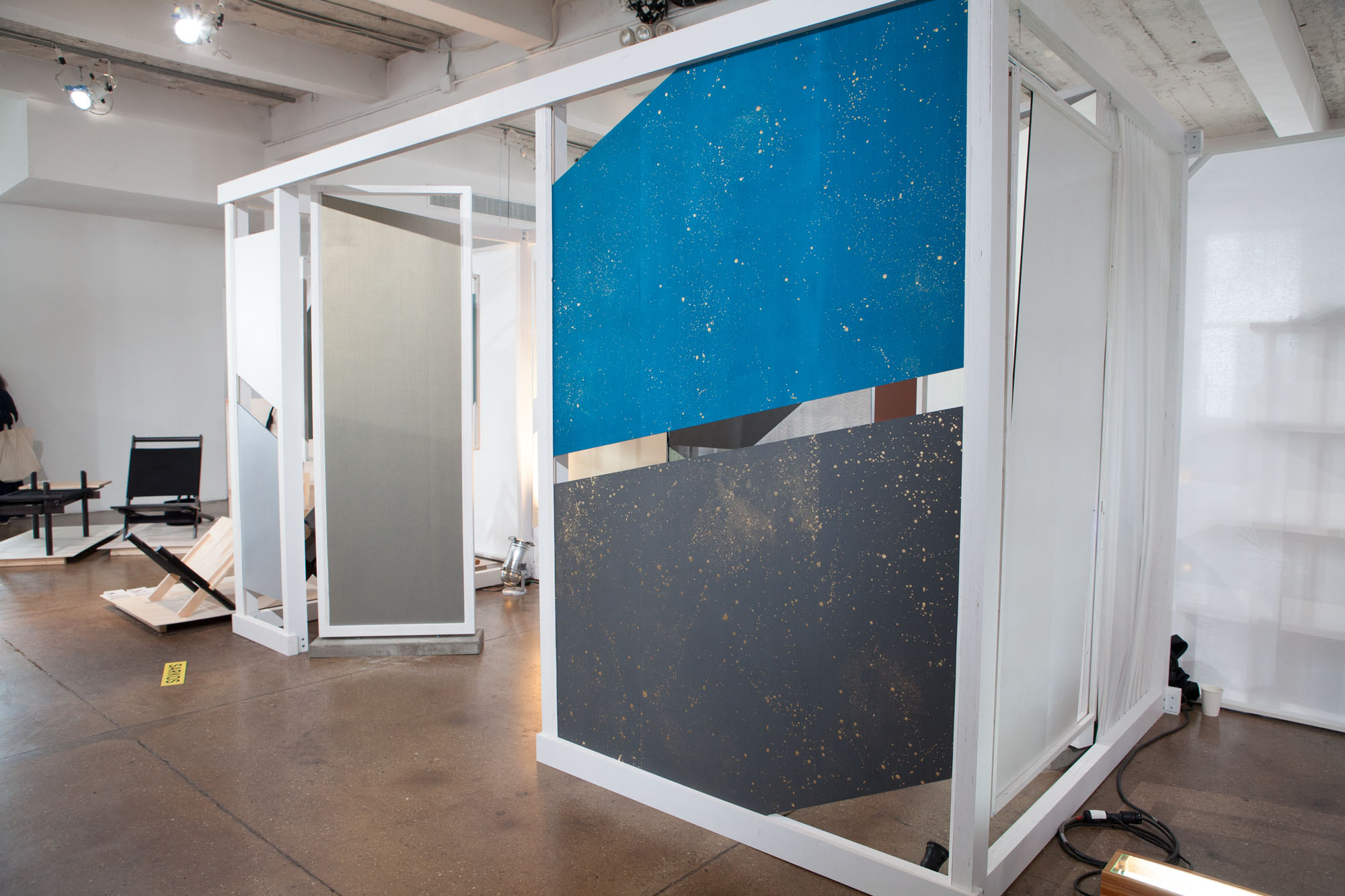 Describe your next project and how you're currently making it.
While pushing the SARKOS wallpaper line and testing out new designs and colors, we're also prototyping a few home furniture and object pieces. For our OFFSITE display (above), we had some concrete base double-sided walls that inspired a couple of room dividers we're developing. Additionally, we're making a picture frame to display our wallpaper in, as well as to offer on its own. These items are a lot of fun for us because they're more a collaboration and a broader platform for us to bring our minds together.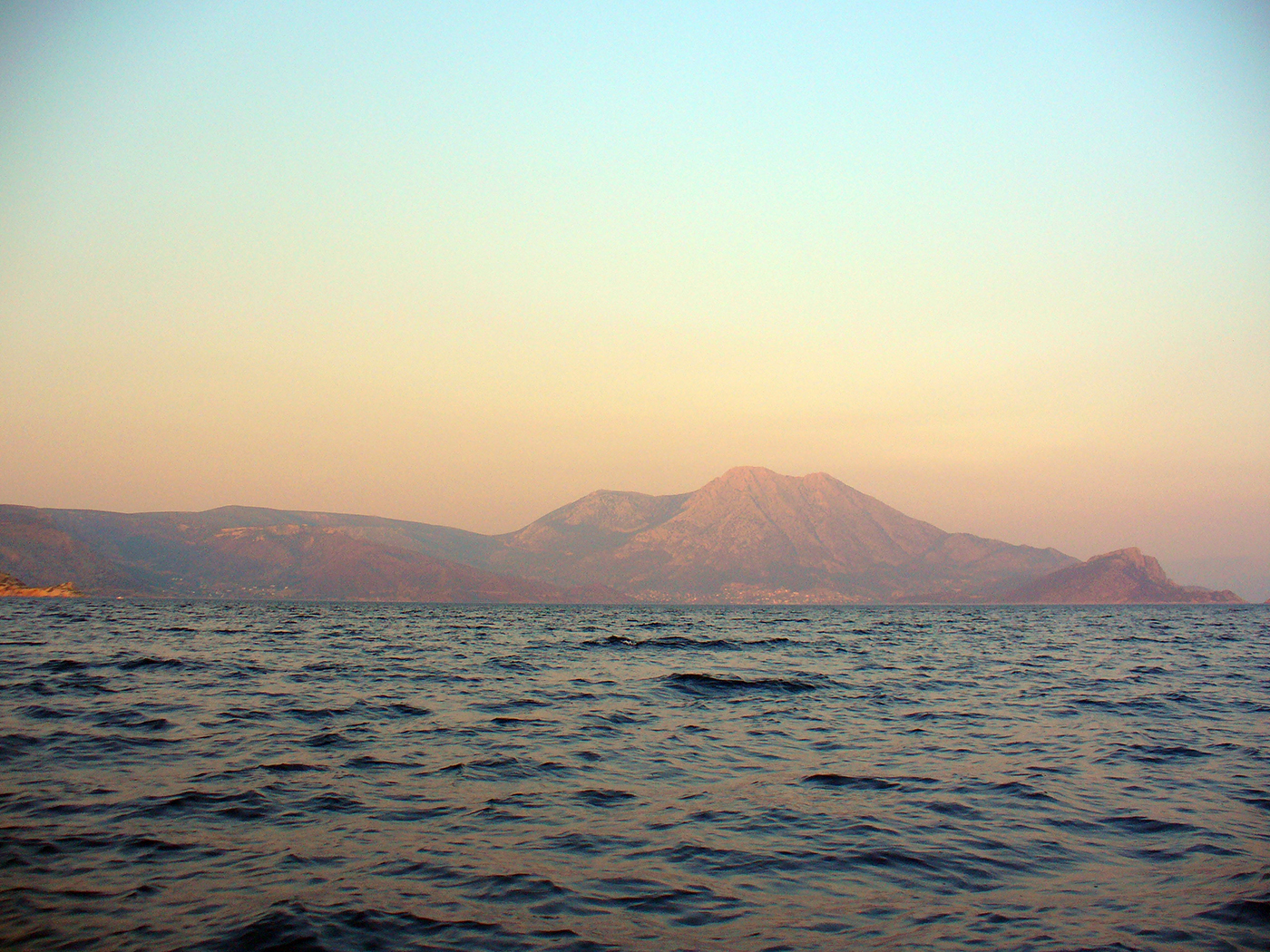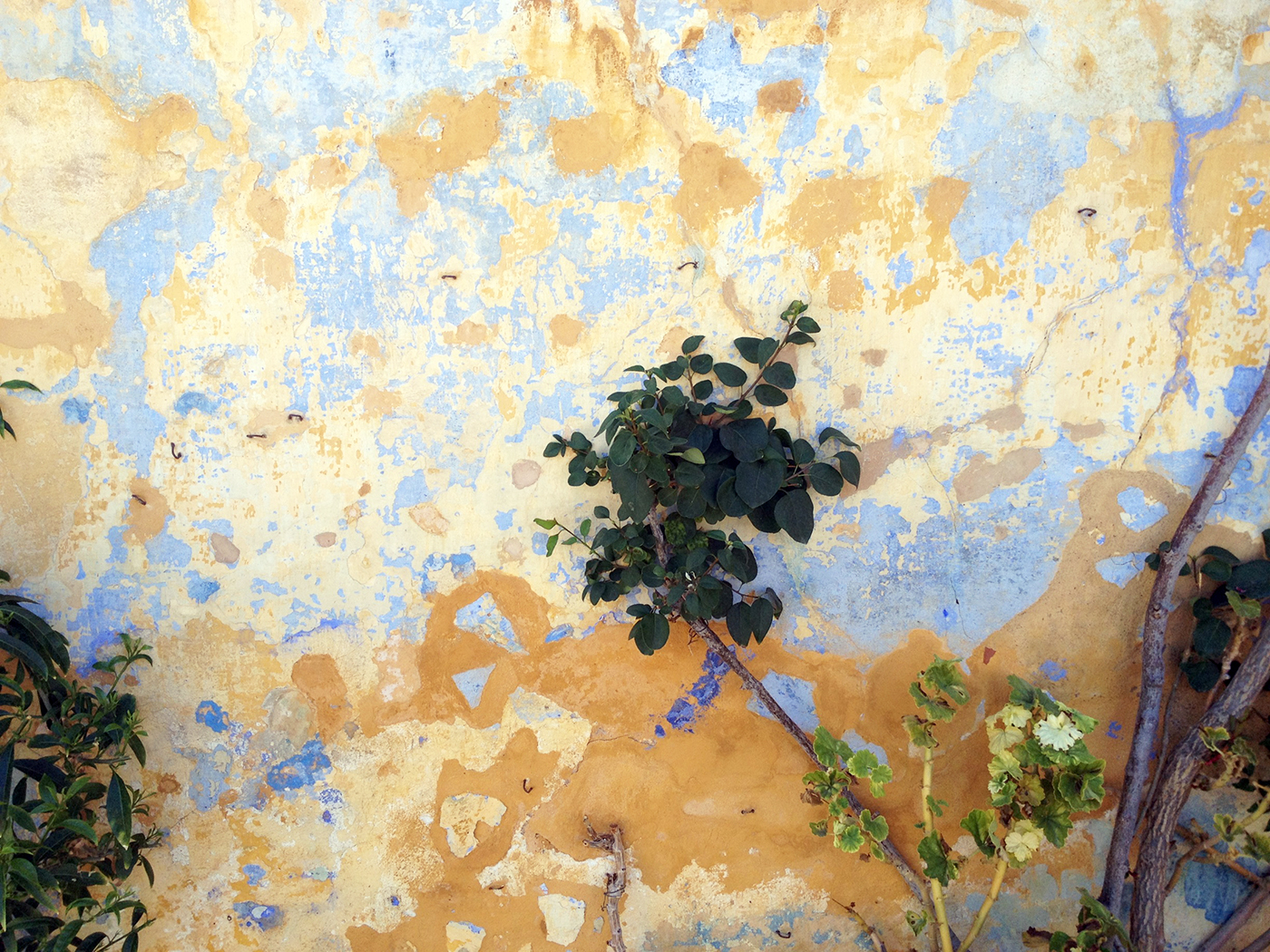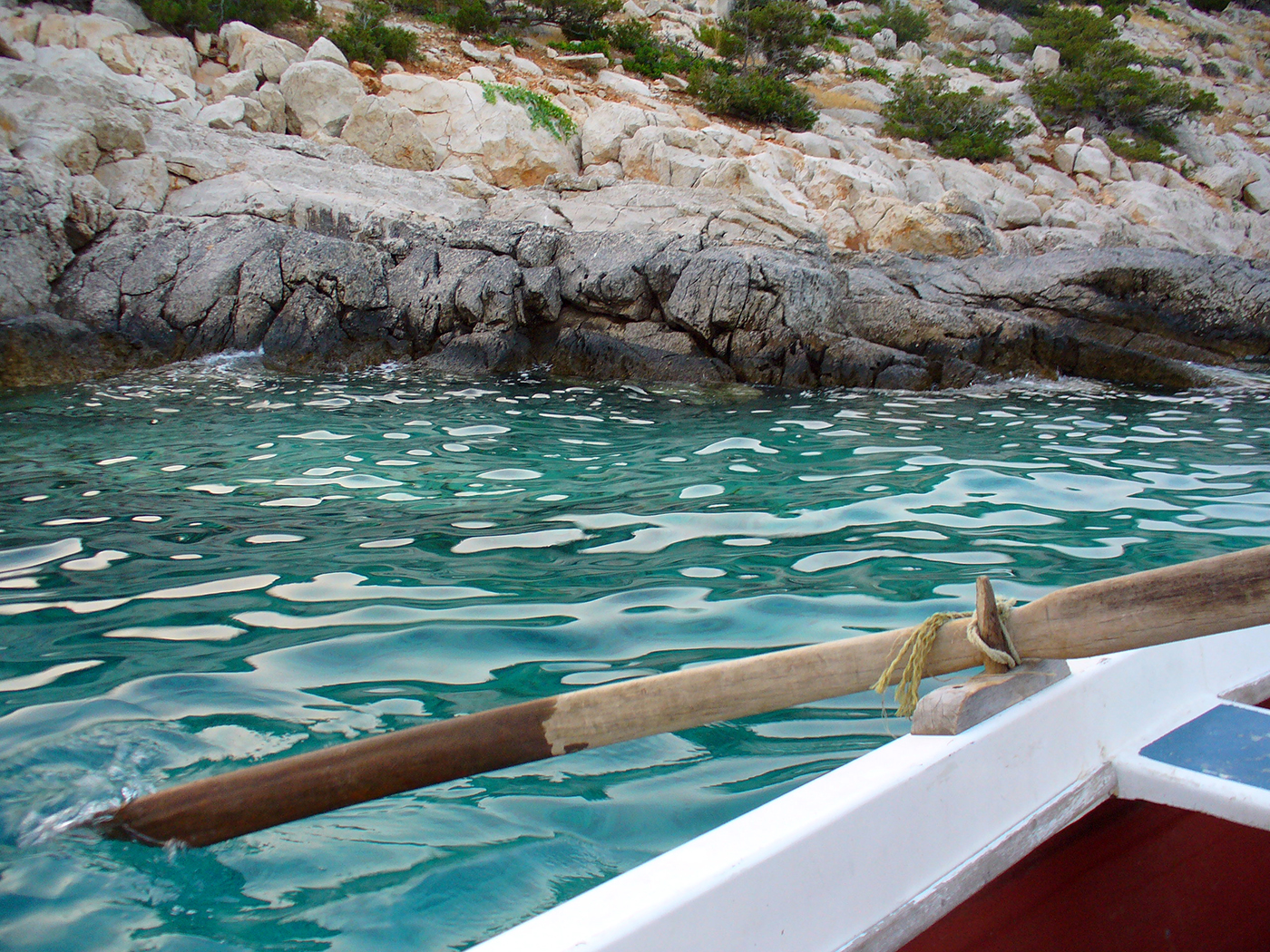 Tell us one thing that's been inspiring you lately and why.
The strongest specific motivation to me right now is the vision of what I want SARKOS to become — a painting and design studio that has a small group of employees and incorporates an apprenticeship program that teaches participants not only painting but business skills as well. I'd also like SARKOS to become an international base so that I can take the inspirations I drew from Greece (pictured above) and bring them to a tangible level of connection with small Greek businesses (and, of course, being headquartered in a giant, beautiful space somewhere close to nature while still being in New York City).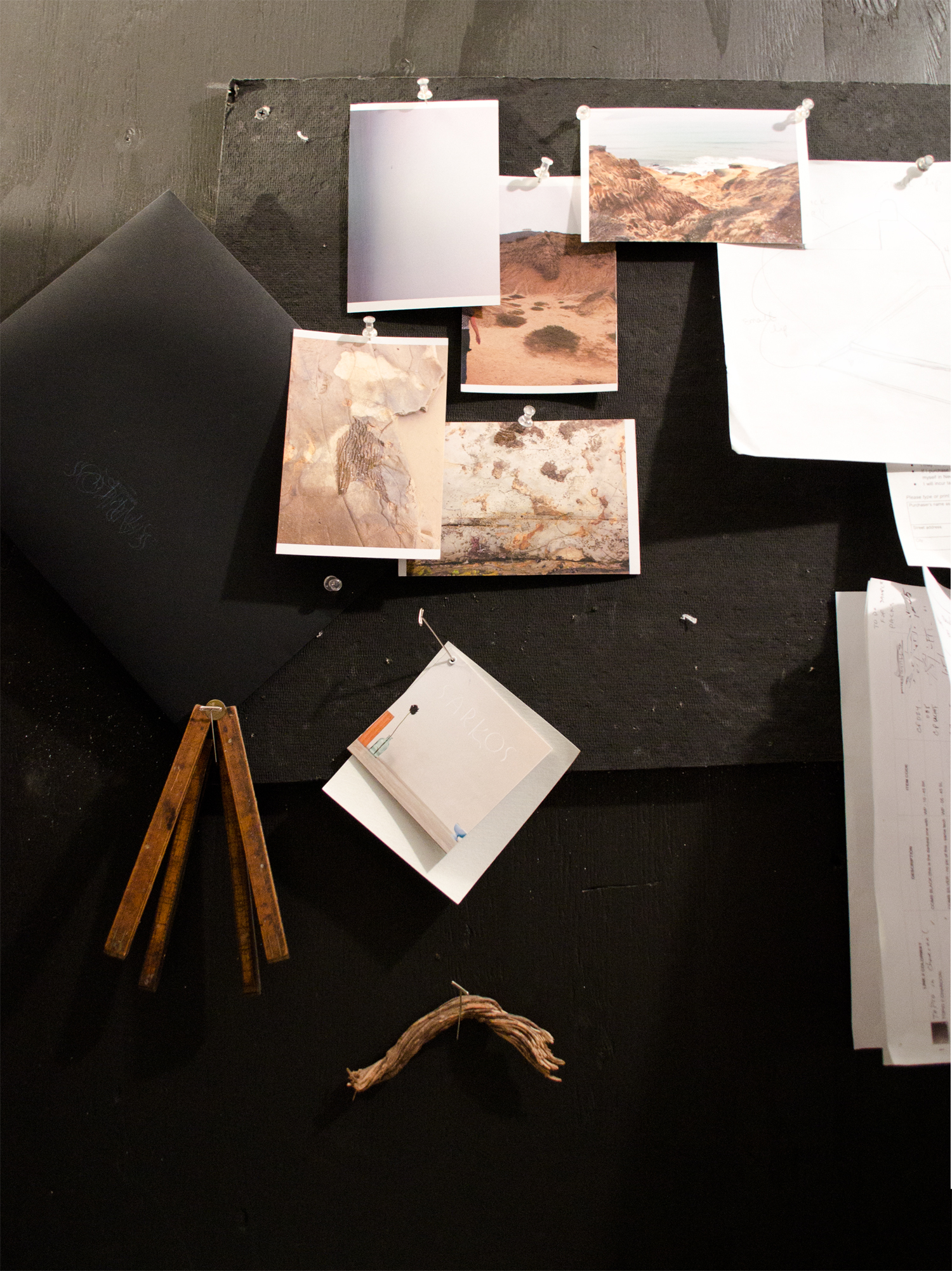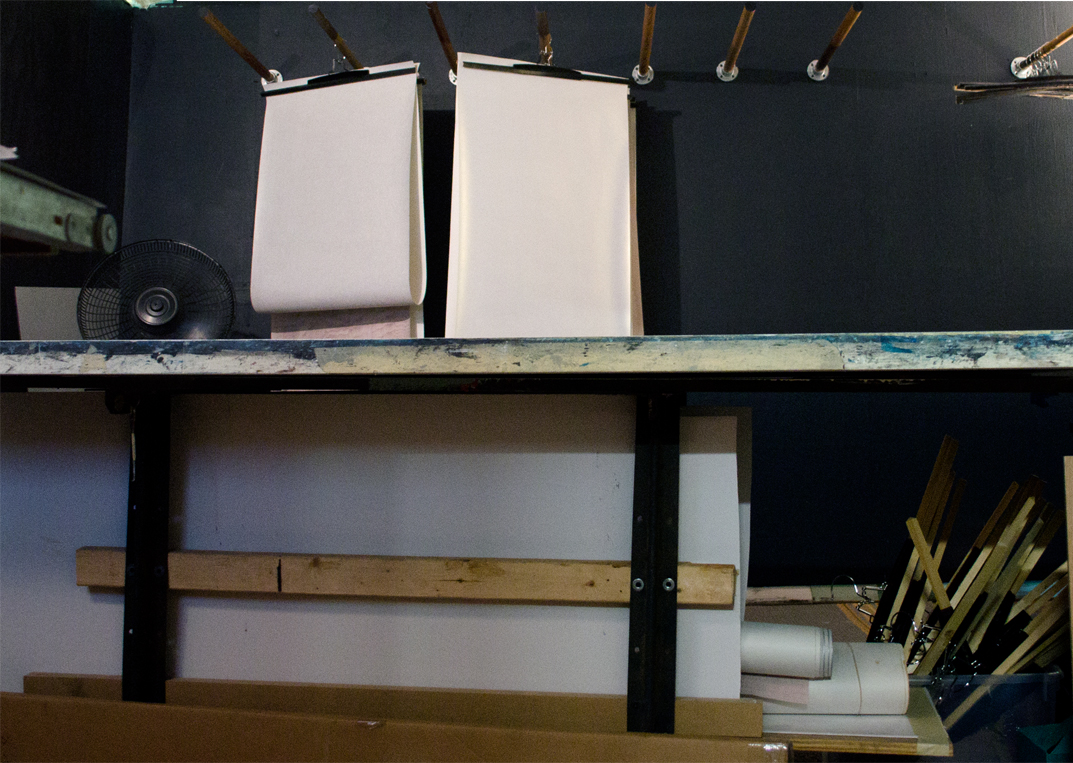 Show us your studio and tell us what you like about it.
My studio right now is a crazy space that I love. It's a small room inside of Brooklyn Fabrication's design/build shop. It's an old kitchen equipment factory, a relic of what Williamsburg used to consist of, and it's filled with highly skilled craftspeople and creative, community-oriented hearts and minds who collaborate and help each other all the time. I feel very lucky to be here.
In my own space, half of the walls are painted black, which will always be the color of my office walls because, like a blue sky, the black walls give me a space to look and think into. Additionally, for some reason, having dark walls in such an old space, with no hint of white gallery walls, gives me the edge/inspiration to just mess it up however I want, whenever I want.
I appreciate my space's size constraint. It helped train me in a way that I would have missed had I began this process in a larger space. Hand-painting long sheets of paper, getting them delicately to their drying place, and having them hang out while curing, was not an easy feat to figure out. After lots of trial and error, it's now one of my most enjoyed systems. It's a beautiful process in movement and now that I have the muscle memory for it, it feels somewhat like a dream. Likewise, the contrast between the subtle, luxurious product I make and the space that it's made in creates a wide world that I thoroughly love!