10.21.15
Painter and Accessories Designer Kindah Khalidy
The work of Bay Area artist Kindah Khalidy has the rare quality of being both irreverent and euphorically naive. Working across fine art, fashion, and design, Khalidy is the driving force behind her own label — offering a selection of wearable art, patterned accessories and hand-painted textiles — as well as one part of a duo that brought to us the delightful post-internet creations of Pamwear. It's her paintings, though, that capture the childlike, acid-tinged intensity of her aesthetic in its purest form. Bursting with happiness, the abstracted shapes come together into busy landscapes where bold composition is offset by the soft quality of individual paint daubs.
Imagine that same visual impetus translated onto fabrics. Some of Khalidy's pieces, like the hand-painted dresses and confetti filled tank tops, are an unapologetic celebration of arty flamboyance, a party trick for the modern mad hatter. Others, like the recent collaboration with Julia Busenitz, are more toned down but still capture that same sense of euphoria. We recently caught up with the artist to find out where all that positivity comes from. Scroll down to read more about her creative method and different forms of expression.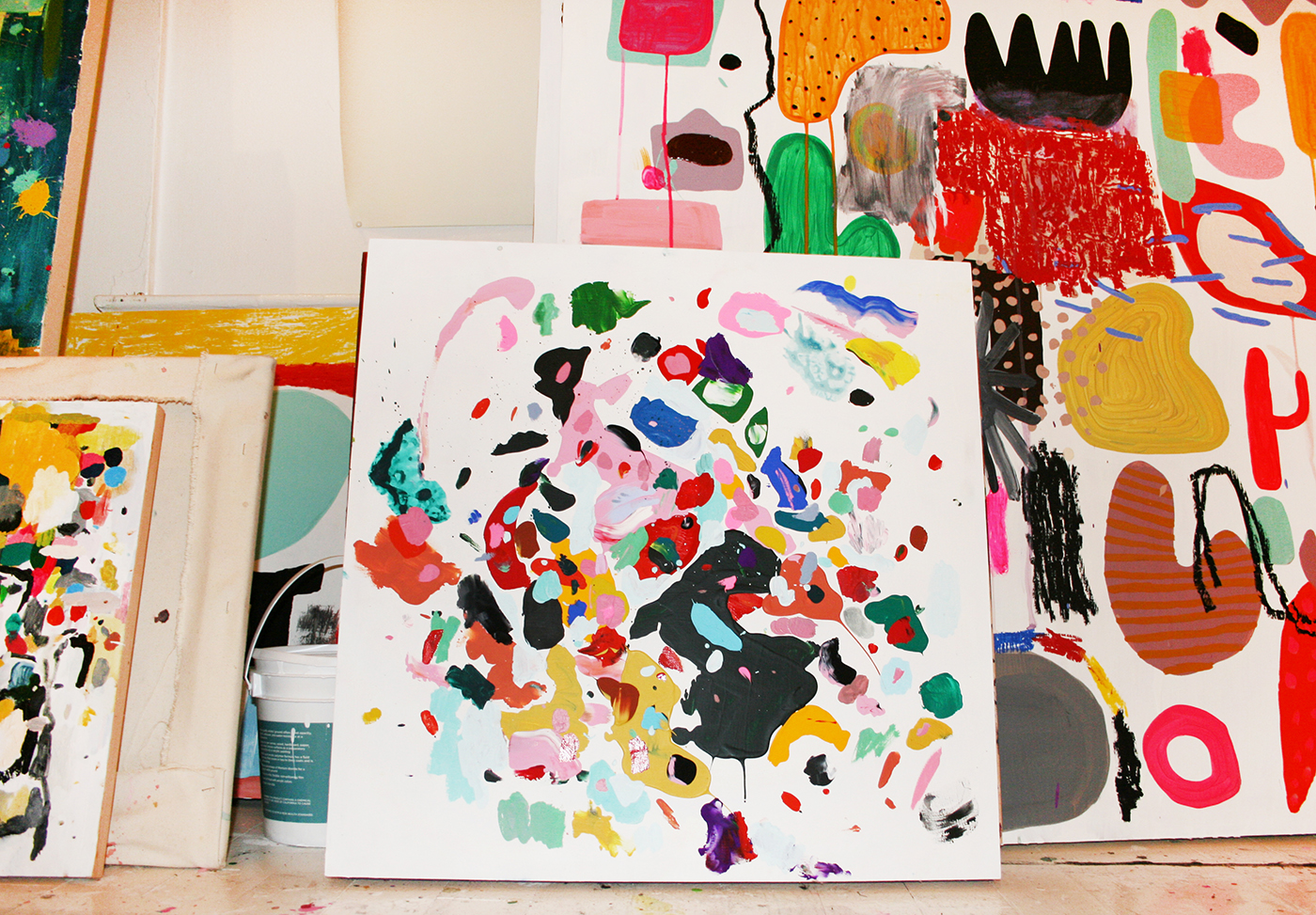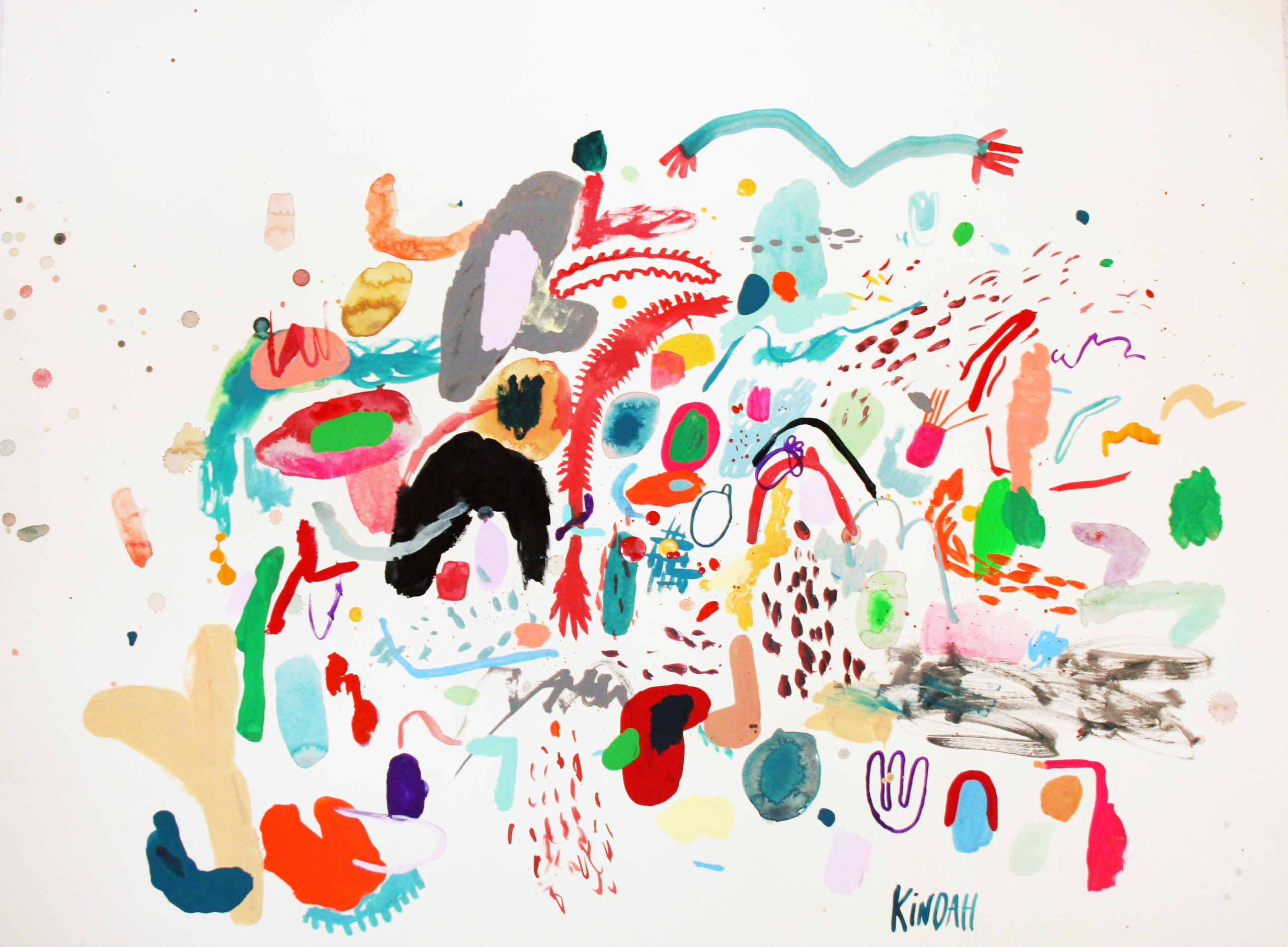 How and why did you start your practice and what keeps you motivated?
I started painting this way when I got to a point in my career where I was ready to make what really made me happy. I took a break from thinking about what would do well commercially or look cool. Working this way is my favorite thing to do — creating comical and bizarre forms that interplay in a composition, drowning in color. I didn't want to create something that was easy to look at. I wanted to make something more honest. My paintings are supposed to be open for interpretation. I would say it feels closest to developing a method, and now that I've cracked it open I know that I have a lot of work to do in making this entire body of work.
I started designing textiles because I couldn't find the fabrics that I wanted in the market. I wanted to make something that had a hand-drawn feel, and was feminine, even comical but not too gushy. When I started designing everything was really graphic, so I wanted to get away from that by hand painting almost everything.
Do the different media you work with provoke different forms of expression?
I work mainly in mixed-media painting, surface design, and textiles. There's always a surface to experiment on. My paintings are totally uninhibited whereas when I am designing textiles, there is a lot of planning involved about where the artwork will be used and for whom.
My biggest inspiration comes from listening to music, I start to visualize sets and costumes that could go with the tracks. I'm working on a series of short films with my filmmaking friend right now. I love thinking of plots and little interactions between characters, and the Bay Area is an excellent source of inspiration for atypical human interaction. One of the films is about this girl who sees a dance squad practicing and then becomes instantly fixated on becoming a professional dancer.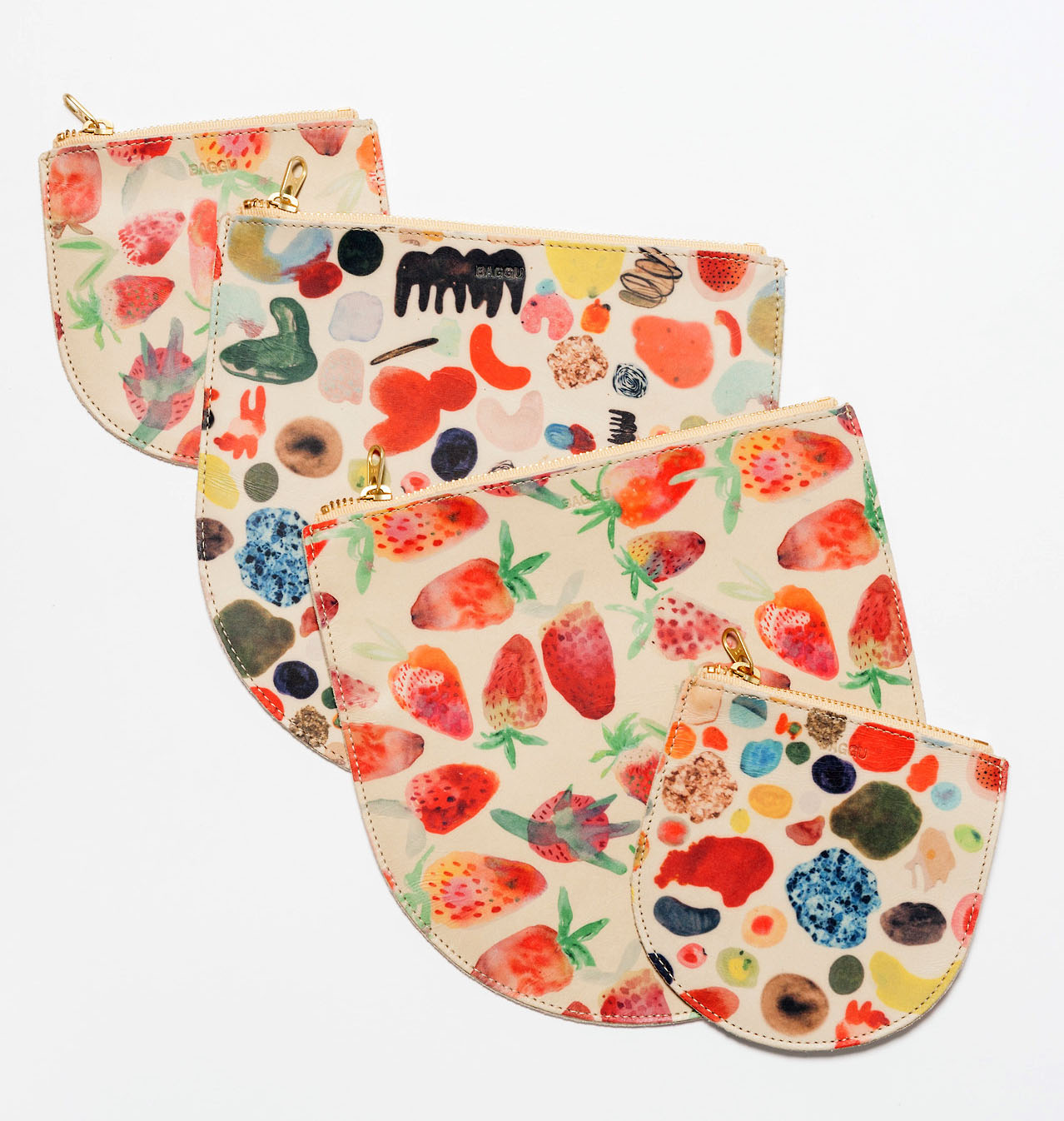 How do you approach a surface?
That first moment where the canvas is totally blank is the most exciting, and then once I put something down (I don't have any superstitions, it's always a different shape) it becomes a challenge. It's pretty smooth for the first round of shapes, and then I spend a lot of time stepping back and staring, figuring out the next moves. If I can't choose which move to make, I'll start another painting so that I can make both decisions happen.
How do you balance abstract expression and symbolism in your work?
I see the shapes I'm making as individual objects that sit next to each other and cause chaos. I like to play with the relationships between forms and I'll ask myself, "Would this being here make the viewer feel happy, confused, in turmoil for a few seconds, nostalgic, or maybe giggle?" It's a mix of strategically making marks and every so often letting my hand uncontrollably jiggle.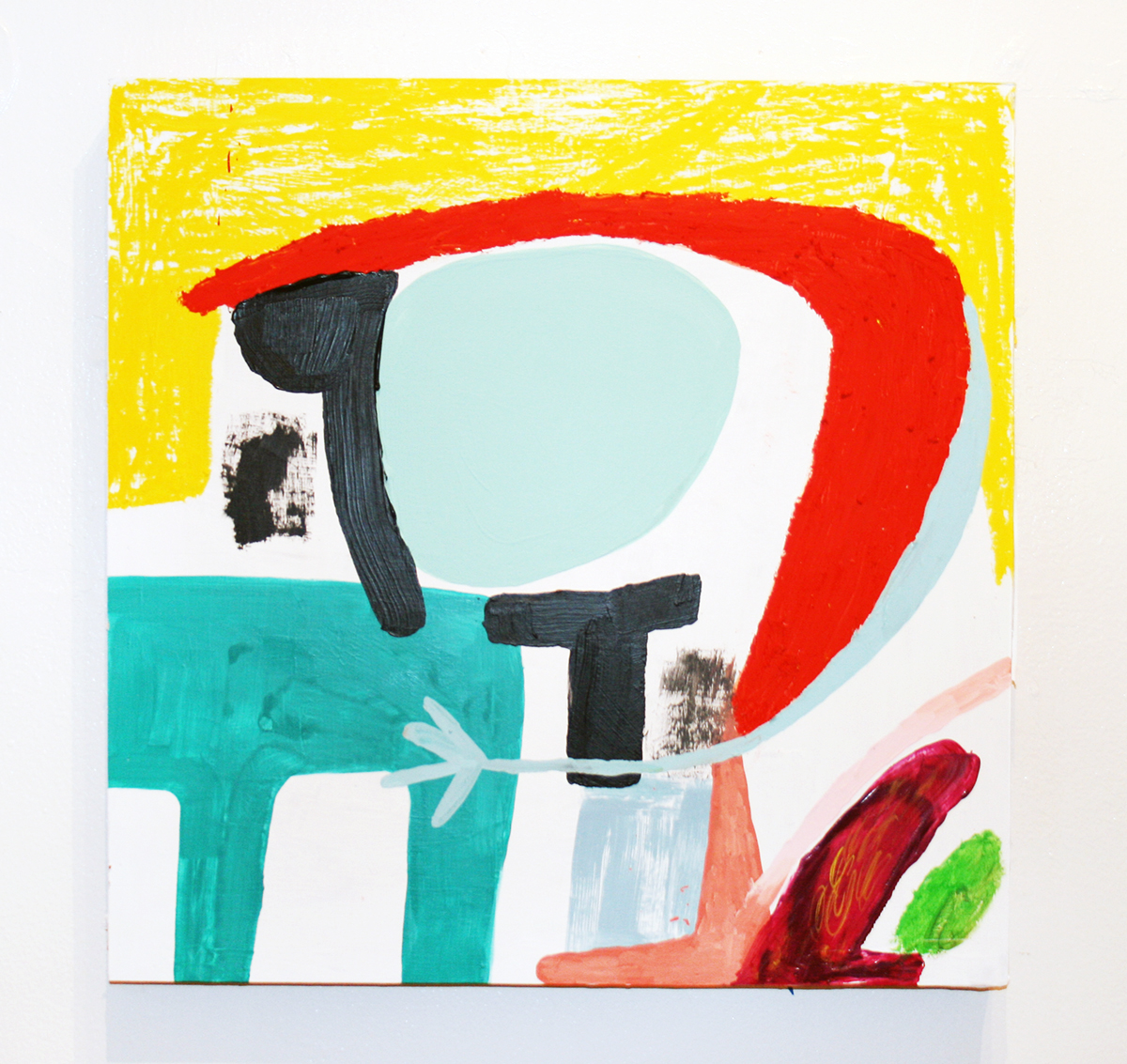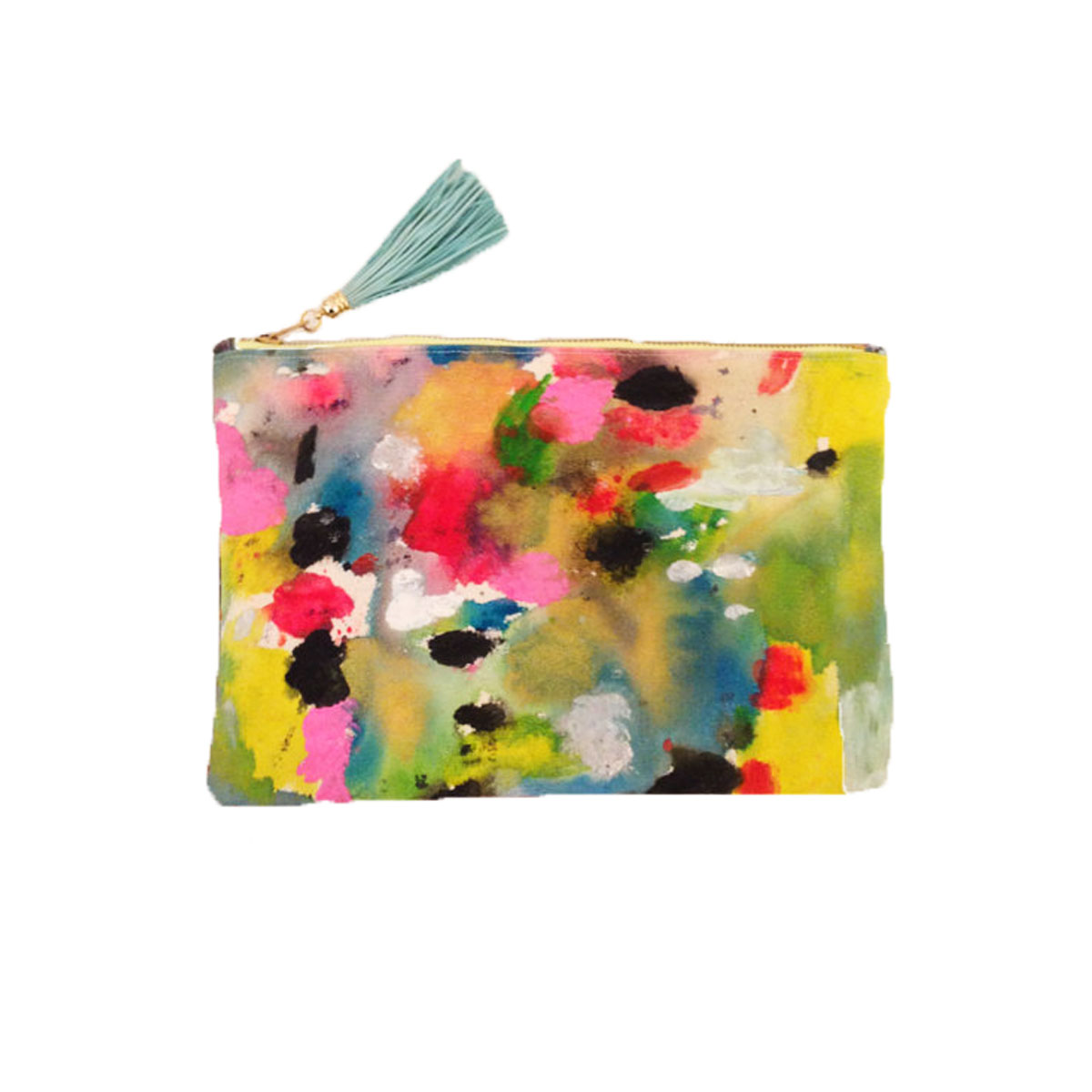 What is the relationship between your paintings and your wearable pieces? Is there a different dynamic to the process and inspirations behind the two forms?
Sewing is a lot like drawing, slowed down. I love the raised surface of fabric, and customizing stitches. Often I imagine things I'm painting as three-dimensional, and the wearable paintings are an extension of those thoughts. When I am working on the wearable paintings, I have to use a lot of found materials and make them my own. I spend a lot of time collecting fabrics from thrift stores, estate sales and the Internet and then I hold on to them until it's their time to shine. It's difficult not to hoard fabric; you never know when you might need a certain color or sequin for a wearable painting. It's more work, but I am mostly focusing on trying to find more complex textures and similar colors to my paintings so that I can recreate the ideas in 3-D.
Most of the wearable paintings fit like a tent. I like putting the focus on the surface design rather than trying to squeeze a body into a garment. There's already so much of that. The idea is that the patterns are so talkative and expressive, that you can get an idea of the wearer's personality from the fabric alone. We are all just sacks of bones and organs at the end of the day, and there is so much pressure to fit into fashion that's being designed for the masses. Wearing a colorful tent is a nice way to take a mental break.
What qualities do you look for in shapes and surfaces?
I'm definitely attracted to the weird shapes and I try to mix colors that are not straight from your average rainbow. I love when you surface design that's decorated in some way that makes you stop and think, "Did they really just put this design on that surface?"
What are the different techniques that you use to create the pieces?
They vary based on where the process takes each one. I might get it on the first shot, and other times I'll be erasing and painting over for months (or let it sit in the back for a few of years). I love oil paint because of how much it looks like frosting, and it stirs just like frosting too. I like to get really cakey; it's thrilling to apply paint by the pound.
What kind of response do you hope to evoke in the viewer?
I think the initial reaction most people tell me is having feelings of happiness because of all of the color. Then, when you start to stare at them you can see these unsettling moments mixed within. There's these perfect little things interacting with some chaos, it's all a balancing act. I hope that comforts people and gives them something to relate to.