03.11.13
Figures & Routines by Eva Berendes at Jacky Strenz Gallery
Plenty of great artists and art historians have pondered the idea of painting leaving behind or transcending the canvas, but when I visited the Berlin studio of Eva Berendes last winter and heard her talk about her own work's gradual journey beyond frames and stretchers, the first person who came to mind was Bruno Munari. In his amazing little book Design As Art, the Italian icon describes the idea behind his hanging mobiles — aka "Useless Machines" — as an attempt to free painting from its fundamentally static nature and give it movement and dimension; Berendes describes her own pieces in much the same way. Despite focusing almost entirely on painting during her graduate studies, she decided to create an enormous curtain for her thesis project because she found it somehow liberating, and she's kept dipping her toes into the world of design and objects ever since, blurring the line between two dimensions and three.
For her latest project, on view at Berlin's Jacky Strenz Gallery through April 8, she's ventured even further into that world, mounting a jumble of vintage objects, packing materials, and hand-painted silk swatches onto hand-welded black metal grids, thus "abolishing any distinction between the inimitable and the mass-produced," according to the gallery statement. Three images from that show are featured here, along with a few older works and an excerpt from the unpublished interview we did with Berendes last year. (Above: Eva Berendes, grid (tie), 2013)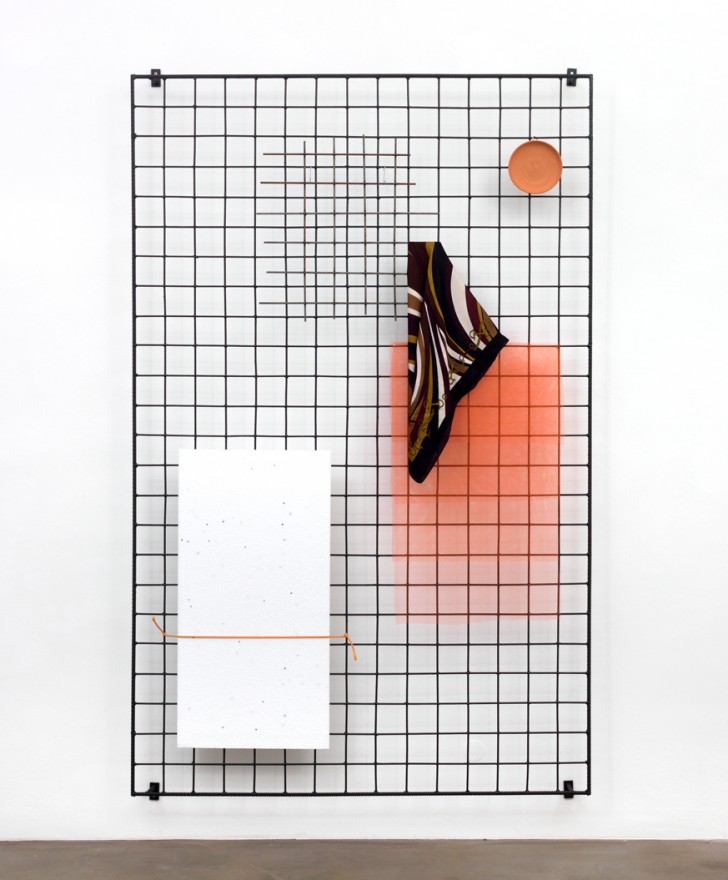 Eva Berendes, grid (umbrella), 2013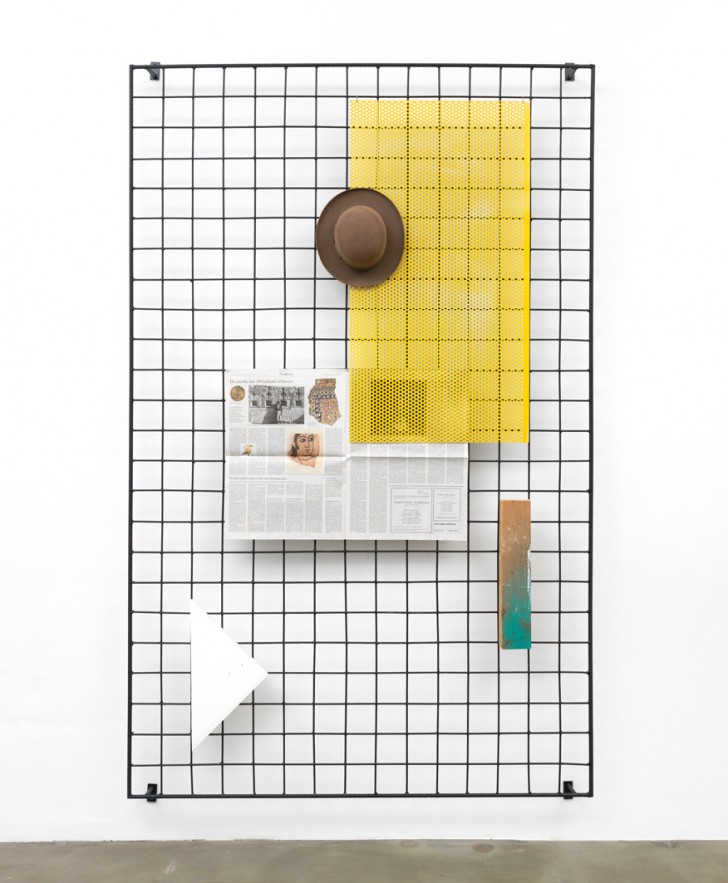 Eva Berendes, grid (hat), 2013
You studied painting in school, but did you also dip into other disciplines?
During my studies I did mostly painting, from still life, and then gradually moved on. I did some colored pencils, then for my degree shows did sculptures with wood, and the first curtain pieces. I made a big tie-dyed curtain for my MA show, and it came from a tie-dyed canvas on a stretcher on which I'd collaged shapes directly onto the fabric. I started to wonder why it had to be in that format, and then I worked out this installation for my show in which I had both elements separate — the boxes floating in the space, and the fabric around the walls and in front of the windows. It was still a similar image, a superimposition of shapes, but it was more flexible in a sense. What I like about the curtain is that it is essentially a painting, but doesn't have the burden of a painting — it's lighter, both in materiality and in the idea that you haven't got the same expectations of a curtain that you have of a painting. My practice is really rooted in that kind of thinking, that collision almost between applied art and abstract painting, and that has allowed me to move into other fields.
This certainly doesn't look like a painting studio…
No, it doesn't; just the other day I was thinking of getting my old oil tubes out of the cupboard to paint onto objects, and I realized I haven't used them in 12 years. For me it's always been about color, and the two-dimensional to some degree. Which is painting, I guess!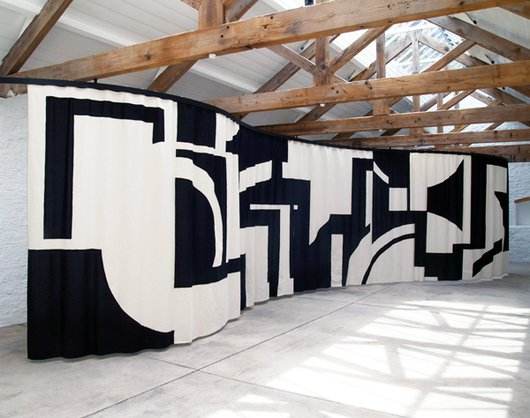 Eva Berendes, Major Chord Curtain, 2006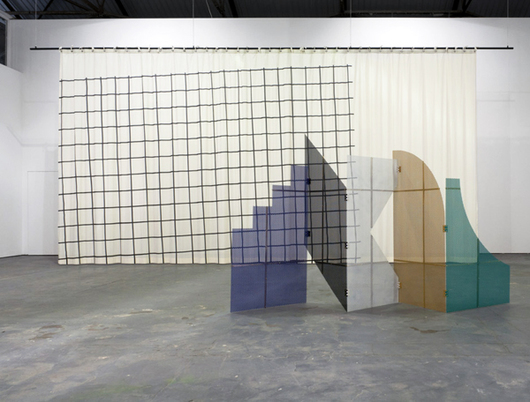 Eva Berendes, "People and Events will be the Decoration" installation view, 2011

When it comes to your folding screens, why exactly are they screens and not paintings?
If you have geometric shapes that are rigid and straight in a painting, very quickly you end up making something rigid and boring, that doesn't have any dimension. My works have a physical presence that's very different. I wanted them to have a kind of transparency, a broken surface that let other things come in. That transparency runs through much of my work; it's something I've observed in retrospect and wondered why it comes up, and I've translated it into that perforated steel. It's something you can relate back to painting, of course, and the way colors come together — if they're opaque or transparent, and how they interact. But if it wasn't transparent, then you'd have more of a reason to ask why it's not on the wall.
As objects, some of my works are kind of inseperable from design. And yet with the curtains, say, I wouldn't sell them to anyone who would just put them in the bedroom, because my interest is different, and there's too much work that goes into them, and I'm not going to make a second one. So as much as it's inseparable from an object of design, it's also inseparable from a drawing or a painting, conceptually. You approach it as a curtain, but then you don't, and you're left in doubt about it. You're pushed to the point that you're uncertain about how to look at it.
It's funny because I've made all these curtains, and yet at home I have my little sister's old yellow curtains that are too short, just because I needed something to put up on the windows!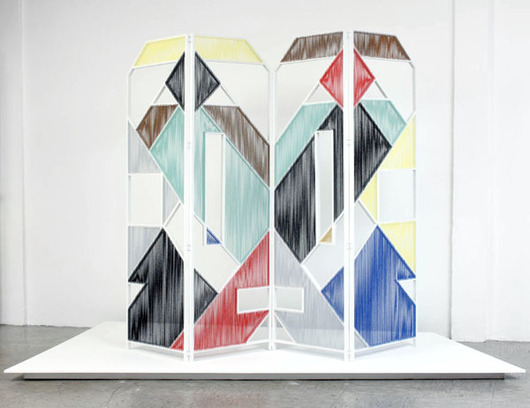 Eva Berendes, Untitled, 2008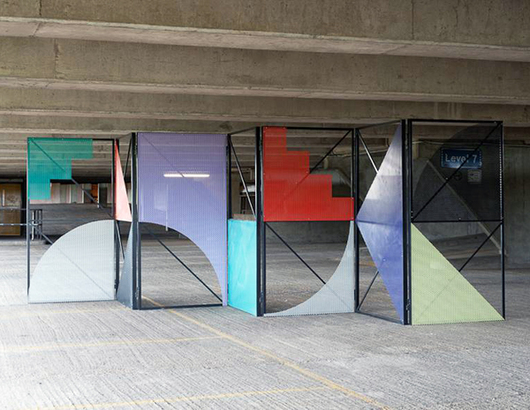 Eva Berendes, Untitled (Osaka), 2011
Do you know what your interest in shapes and colors stems from?
With colors and shapes, what attracts me about it is that it all takes place in almost a different sphere. If I hadn't studied fine art, I would have probably studied philosophy, something very abstract, where you're playing with something — a structure and a logic — that's disconnected from the everyday. But also using basic shapes like circles, squares, rectangles interests me in that I'm looking at it as a language that goes through the decades and is being used all the time. Some artists go more into finding extremely specific points of reference that no one knows of, that aren't part of the canon of art history. And so they work from that outsider perspective with something really special, but you can also do it the opposite way and focus on things that everyone deals with in order to participate in a bigger discourse. I find that more interesting because I think it's more communicative. So many people have used this language, just in a different way.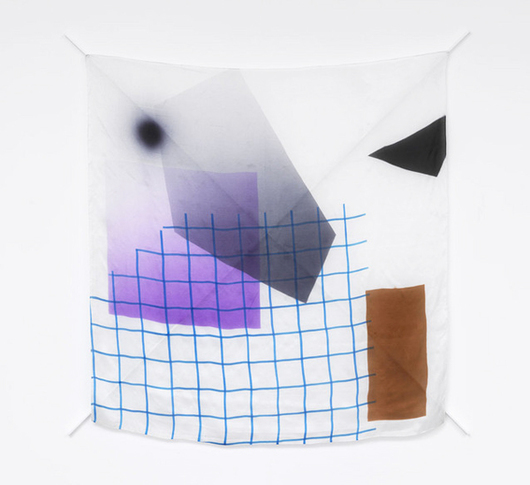 Eva Berendes, Untitled, 2010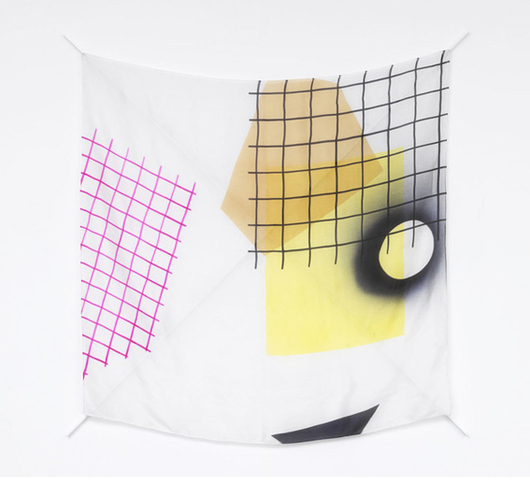 Eva Berendes, Untitled, 2010
Some of your pieces remind me of '80s postmodernism. Is that one of your influences?
It's been there for such a long time, and I feel like people don't pick up on it. They always see the older references — every press release, every little article, they always say she draws from Russian Constructivism. The postmodernism thing came in slowly. At some point I saw all the Memphis furniture, and it made me understand postmodernism better, all the other stuff that came later that was quite horrible. Memphis has that same funny combination of painting and objects, and it's really exciting to me the way the surface ignores the object, how they have a pattern go over something in a completely ignorant way. Even the Mendini armchair — it's great, it's such an aberration. I can't believe someone did that. It's something you're tempted to do but don't, and there he is and he did it. It really helps to get rid of categories a little bit. If you think about how he tried to treat an armchair like a painting, you think, what would happen if I tried to treat a painting like an armchair? It's about trying to get two things together that always try and push apart, that you can't really perceive at the same time. You always look at something as either a painting or a piece of furniture, you can't combine it, but to keep trying to do that, that's the fascinating part.