06.15.16
Inside the Rope-Painting, Basket-Making World of Gemma Patford
Before embarking on the career that would bring her into the homes — and Instagram feeds — of design lovers all over the world, Gemma Patford's friends would often refer to her as "the most creative non-creative person they knew." After all, Patford comes from a family of knitters, painters, and woodworkers, and as kids, she and her siblings were always messily playing with paint, clay, and dirt. However, the Melbourne-based designer's first career path wasn't in design at all: After completing a science degree, she took a role at a company that creates vaccines and other life-saving sciences. Shortly after, however, a woven basket made by fellow Australian craftswomen Vicki Fowler was given to Patford by a friend, sparking her initial interest in the craft. After attempting to learn to crochet, Patford realized it was not for her and instead turned to artists who were working with rope like Doug Johnston, who remains one of her heroes. "I muddled my way through the Internet to find a process that worked with my abilities and with what I had at home. I had a sewing machine and paint — and the baskets were born," she says. Soon Patford had left behind her science career and was busy keeping up with orders for her vessels crafted from rope. Science's loss has certainly been craft's gain.
With the help of another Melbourne maker Jessica Blume, Patford's ideas are transformed into tactile vessels and baskets. Blume's support with the actual construction of the baskets allows Patford to progress with concepts and experimentation: "I'm not a planner; I just get in there and see what works. It was only this week I finally got a color wheel." But she must be doing something right: Patford's rope vessels have grown to become a common sight in design stores around Melbourne, and she has arguably contributed to putting the practice of rope craft into the spotlight. Rather than keeping her skills a well-guarded secret, Patford instead makes them readily available through workshops and DIY kits, willingly sharing tips about the types of rope she uses or the best ways to weave. The share-ability of her practice stems from her desire to "push the craft so forward until it is as common as ceramics or knitting."
Describe your most recent project and how it was made.
Each year I work on a new range of baskets and this year I'm trying to focus on color-blocking. At the moment, I am really enjoying the rich dark colors — heavy greys with pops of rich mustards.
Alongside my creative practice, I'm also working on new DIY kits. These kits were born out of pure demand. I am always answering emails about what kind of rope I use, where I source my paint, which thread is best, etc. Enthusiastic people also visit me at craft markets, and I encourage them to pick up all the pieces to investigate and see how they are made.
I hope the DIY kits are a simple yet comprehensive guide to rope vessel crafting, as it's been great fun for me to put them together. The DIY kits also include a step-by-step visual guide that teaches you everything you need to know to create your own rope vessel from start to finish. I worked closely with a wonderful artist, Ashley Ronning, on putting together the guide part of the DIY kits, and the colorful illustrations complete the kit. It's a challenge for makers to collaborate with a 'zine artist like Ashley, so it was an extremely fun project that I found really meaningful.
Describe your next project and how you're currently making it.
A rope making machine – oh yeah! The other week I had a few glasses of wine and was looking through the Internet and found a vintage rope maker. It's made its way to me all the way from the United States.
Rope is easily made from cotton thread by braiding and twisting it together. I am excited to see how this hand made rope will take my pieces into a new direction. So far, I've been dyeing and experimenting. I'm looking forward to sending cotton twine to my favorite natural dyers around the world and getting it back to make rope out of it. The only limitation is that if you want to make twenty meters of rope, you need twenty meters of space.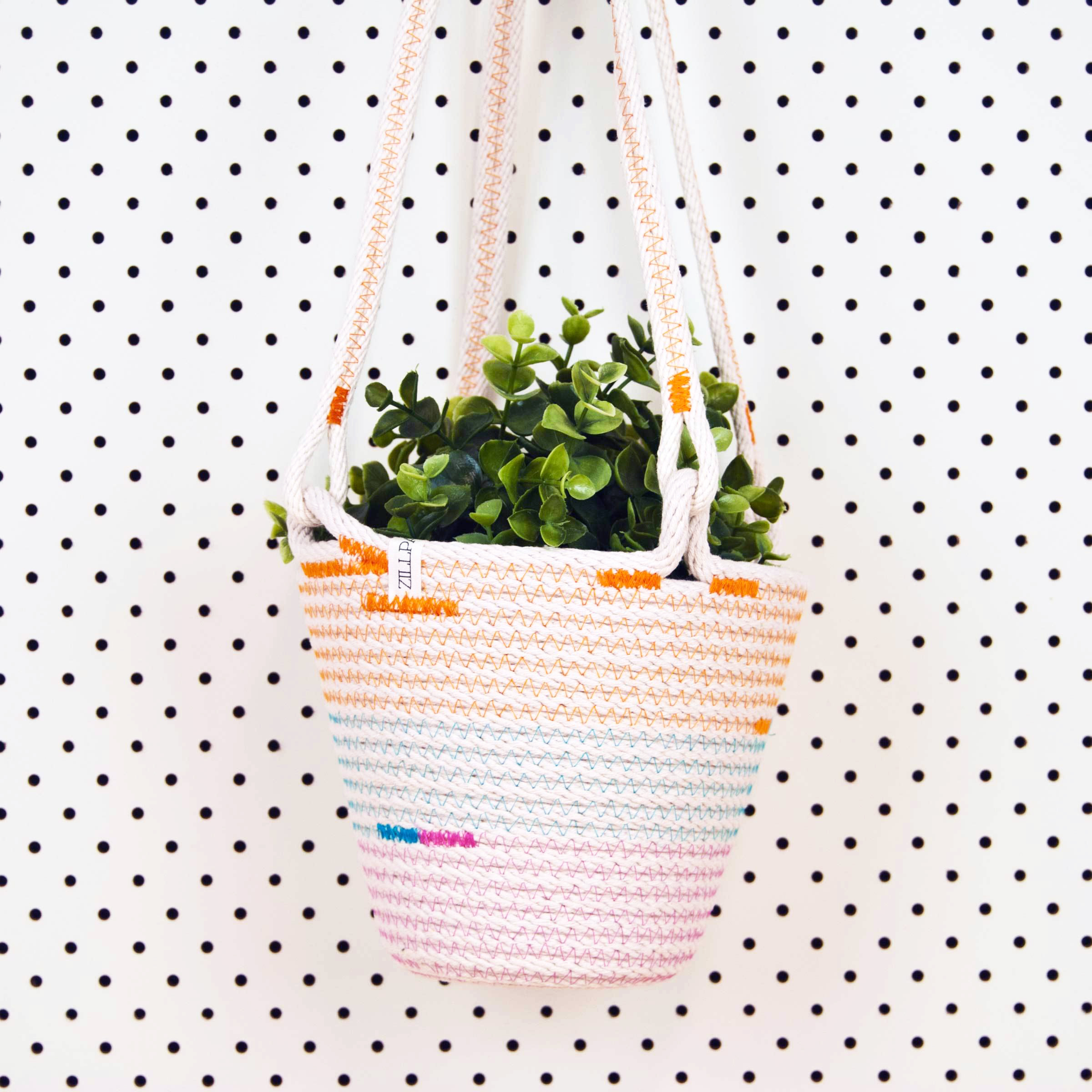 Tell us one thing that's been inspiring you lately and why.
Literally everything inspires me. From a rich paint sample, a rough textured ceramic, 70s wicker furniture, beautiful natural fabrics, patterns on patterns… I love it all and I am always looking for new ways to incorporate these things into my pieces.
More specifically, other creatives who are working in a similar medium also inspire me – such as Clare from ZILLPA. I am constantly trying to think of something where we can collaborate together. We're both of the same mindset that we want to create a community of makers, not individuals.
Show us your studio and tell us what you like about it.
My studio is lovely and big. It is a space within the Magic Johnston Studio building in Collingwood and it really encourages me to get cracking. Magic Johnston is home to approximately 50 creatives in Collingwood — one of Melbourne's particularly creative suburbs. The space not only includes artists, but is also home to clothing makers and graphic designers. The space itself has a lovely huge window and high ceilings so I don't feel boxed in. I like to keep it clean to give my head space to focus.
Sadly however (and excitedly), I'm about to move studios to another studio in Brunswick, at a creative space called Home-Work. The space houses a stable of artists and makers, which means I can chat to the other makers and see what they are doing. It is a really supportive space and I'm excited to get in there.