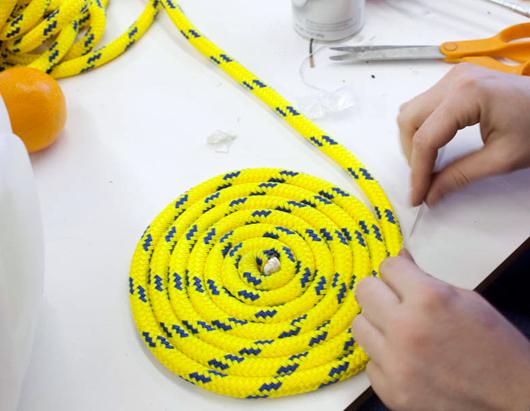 Because they spend their lives under car hoods, or between walls, or tucked inside backpacks, most industrial or utilitarian materials are purpose-built without any consideration for aesthetics. The people who engineer these materials get paid to make them perform well, not look pretty; when one of them gains crossover appeal, it's usually either by happy accident or a general shift in perception — the pendulum of culture swinging back, as it has recently, to a fervor for all things mundane and overlooked. Yet if climbing rope suddenly feels just as relevant in galleries and high-end fashion boutiques as it does strapped to a harness, enforcing the border between life and death, the reasons are obvious: it's cheap, it's durable, it has built-in visual interest, and the same vibrant color combinations that assure its visibility on a mountainside render it irresistible to designers and artists.
When we first noticed how many of them were making climbing rope a core part of their practice — from Proenza Schouler to Stephen Burks to the artist Orly Genger, many of whom use it to play with notions of high art vs. low — we decided to launch a new column called "Material" that quite simply tracks an unconventional material's appearances throughout multiple disciplines in the visual arts. See anything we missed here? Head over to Sight Unseen's Facebook page to let us know.
Furniture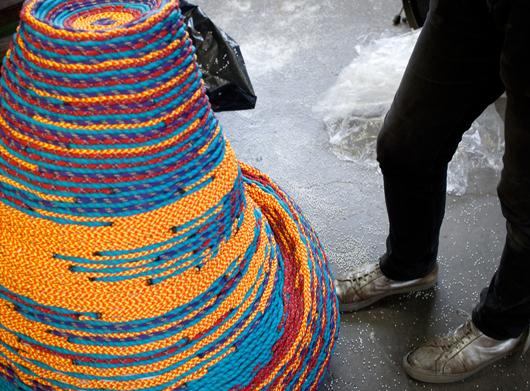 In his exhibition at Harlem's Studio Museum last May, which we previously featured on Sight Unseen, New York designer Stephen Burks made Rope Chairs, Soft Baskets, and a new stool version of his Tatu table out of coiled and sewn climbing rope.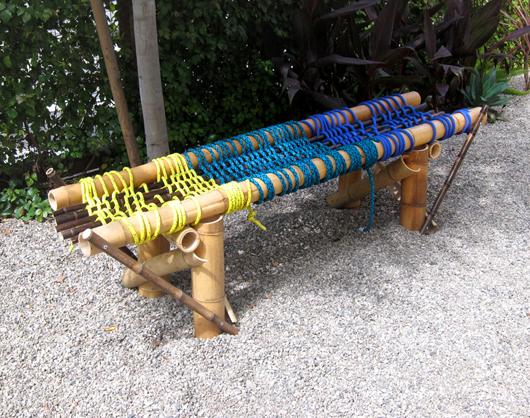 The emerging Swiss artists Tobias Madison and Kaspar Müller recently collaborated on the Bora Bora series of works made from bamboo wound and woven with brightly colored climbing rope, some of which — like this bench — were shown at the Los Angeles gallery Blum & Poe earlier this year.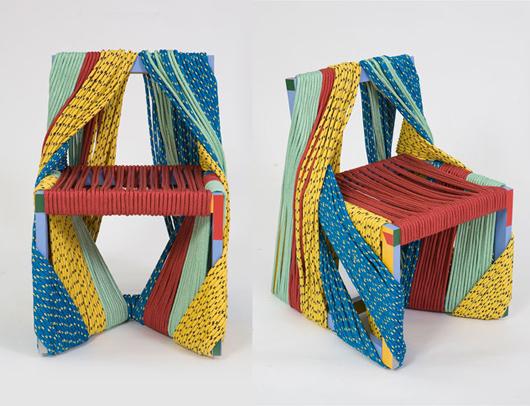 There's a glimmer of the Campana Brothers's influence in Brazilian designer Rodrigo Almeida's knack for elevating inexpensive and locally accessible materials to the level of high design.
Products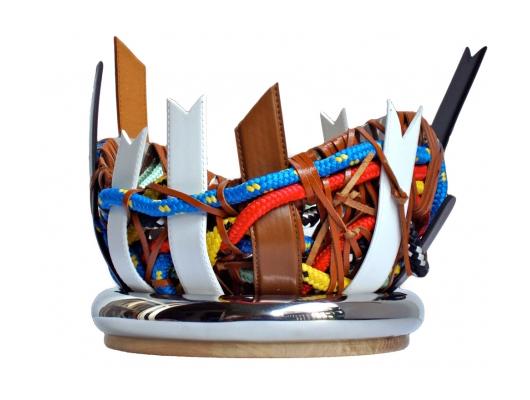 Alongside discarded belts, plastic mesh, shitty task chairs, and even sneakers, climbing rope figures into many of Almeida's works, even when it comes to small-scale objects like this bowl.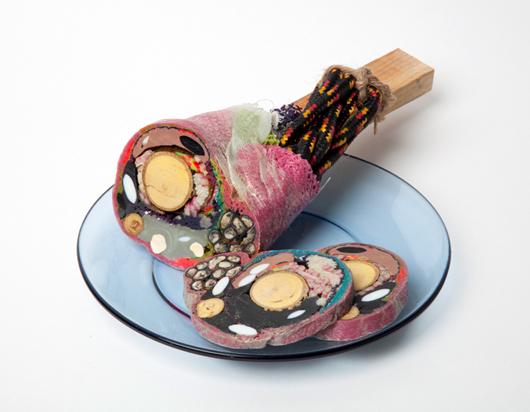 Brooklyn newcomers Chen Chen and Kai Williams developed their popular Ham Hock series of one-off coaster sets as a submission for Sight Unseen's first pop-up shop, held in May as part of our Noho Design District event. They used climbing rope because of the way its colorful two-layered construction makes for an interesting cross section when it's suspended in resin and sliced. They've also used this method to make it into bookends.
Art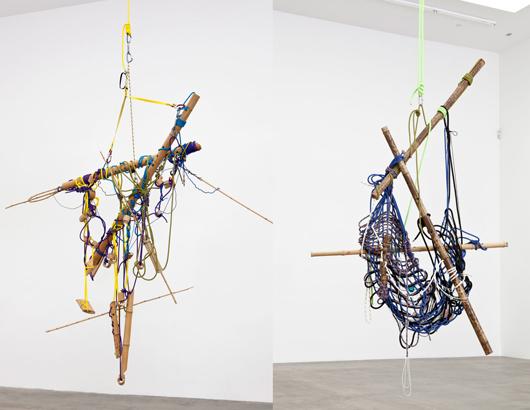 Madison and Müller's Bora Bora series also included non-functional artworks like these two hanging mobiles.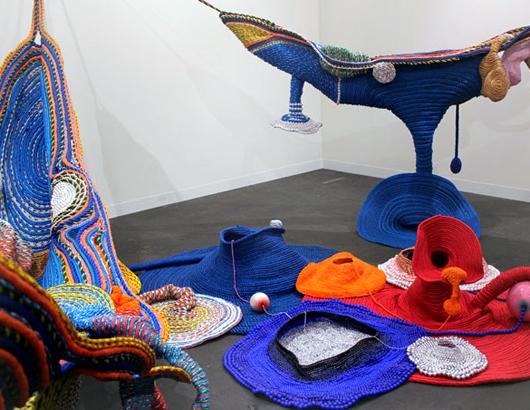 Also a native of Brazil and inspired by its indigenous craft techniques, artist Maria Nepomuceno makes installations out of hammocks and strange alien landscapes woven from climbing rope and plastic beads. She shows with fellow artist Ernesto Neto's influential Rio gallery A Gentil Carioca.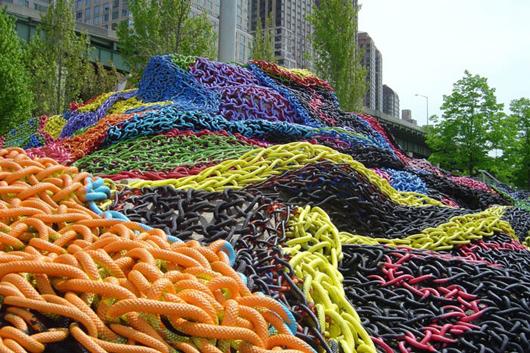 New York artist Orly Genger uses latex paint to obscure climbing rope's telltale markings, then crochets it into massive blankets she places in incongruous outdoor settings.
Fashion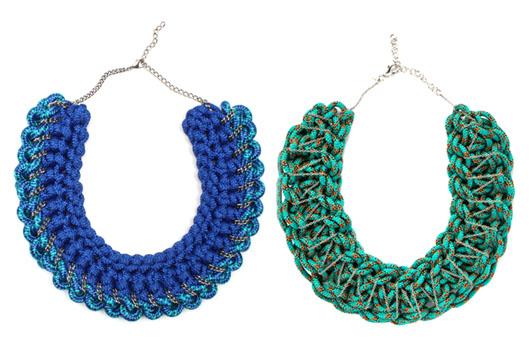 Genger also collaborates with the fashion designer Jaclyn Mayer on a line of jewelry that directly references her large-scale artworks.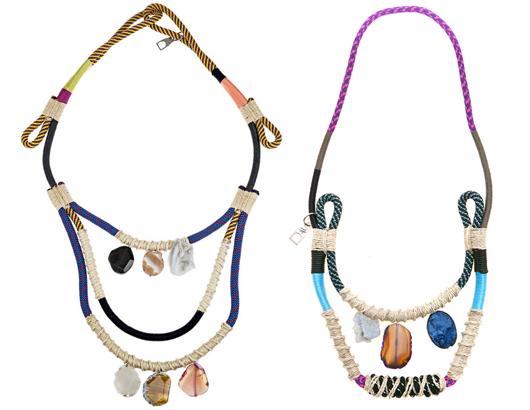 The rock-encrusted climbing rope necklaces from Proenza Schouler's 2011 resort collection inspired universal lust among the fashion label's fans, followed by a slew of online DIY copycats.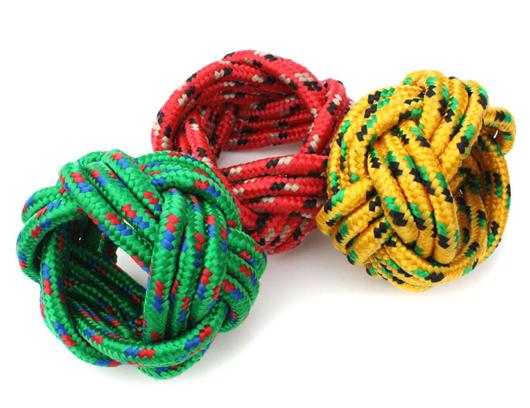 L.A. furniture designer Tanya Aguiniga produced a much more straightforward rendering of the material, using in place of the pale fishing rope she normally makes her braided bracelets from.
Interiors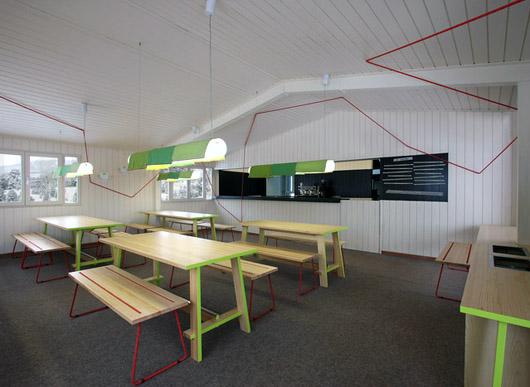 Halfway across the world, at the Javalambre ski resort in Teruel, Spain, the Madrid-based firm Stone Designs outfitted a cafe with benches whose metal legs are cloaked in the typical woven-nylon shell of climbing rope. The optical illusion continues on the walls, where the rope is held in tension.