04.22.14
Doug Johnston, Basket Artist
Growing up in Tulsa, Oklahoma, Doug Johnston was surrounded by the Native American art that his parents voraciously collected — woven rugs, Kachina dolls and coiled baskets made from materials such as pine needles, yucca, acacia and bear grass. But when the Brooklyn-based designer decided a few years ago that he'd like to learn coiling himself, to make baskets from stitched lengths of cotton rope, he didn't travel to the Southwest to train with a master craftsperson. Instead, he went on YouTube, scouring instructional videos for a new approach. "Traditional coiling techniques are really labor-intensive," he says. "You have to go inch by inch, one stitch at a time, and mastering that technique could take years. I was too impatient."
Johnston began experimenting, and the formula he invented hasn't changed much since. His baskets mimic the visual vocabulary of Native American vessels in their use of thread as both structure and decoration, but Johnston runs them through an industrial sewing machine for maximum efficiency. His materials are familiar, but when combined, seem forward-looking. In most of them, braided sash cord is stitched with red, navy, or yellow zigzags, and stacked layer by layer to form everything from trivets to bags to hydra-headed sculptural vessels that resemble Armadillo heels on steroids. "Traditional coiled basketry is more about the craftsmanship," Johnston says. "You can tell the baskets were made by hand, but most of them are so perfect it's mind-boggling."

But while Johnston's baskets are made using a machine, they remain relatively unique. "We don't use forms or molds, and each shape depends on things like how you hold the basket relative to the machine, where you press on the rope, and the position of your hand," he says. It's this feature — seeing the hand of the maker in what's essentially a mass-produced design object — that makes his baskets so appealing.
When Johnston first started, he showed some of his efforts in a holiday pop-up; by January, he'd completely sold out of everything in his webshop. Now he's one of the most in-demand home accessories designers around, working around the clock with his wife and assistants to produce limited-edition, custom and one-of-a-kind pieces for the world's most influential design stores and galleries.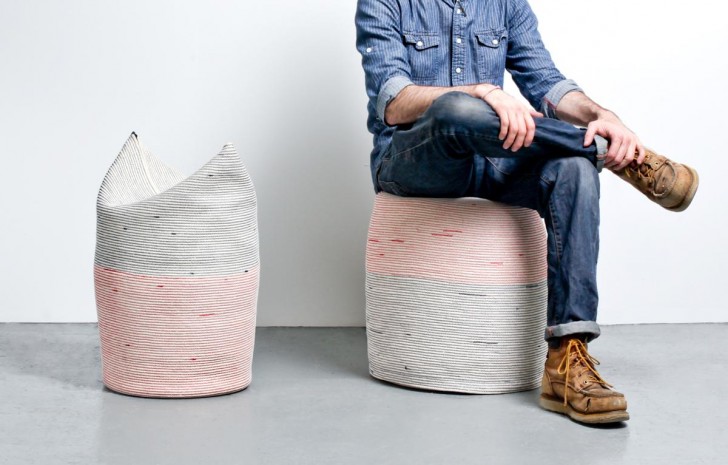 More recently, Johnston has begun to explore another aspect of traditional basketry: using stitching to create more elaborate patterns on the surface of the basket. But he worries that, unlike his previous iterations, these don't stray far enough from their original inspirations. "If I don't think about it and I just start making them, I create these patterns that reference Native American weavings, and it makes me uncomfortable," Johnston says. "That craft was developed over many generations — I don't want to sit down in a couple of hours and bang something out and say this is it."
So what does he want to do? Johnston dreams of one day building a large-scale installation — complete with musical performances and wood constructions alongside massive stitched-rope pieces — but right now he's content to focus on the next logical step. In addition to working on sculptural wearables and a series of wall-hanging pieces, he's continuing to collaborate with friends like Caitlin Mociun and his wife Tomoe Matsuoka, as well as turning out smaller commissions for bags, masks and baskets. It's going to be a busy year.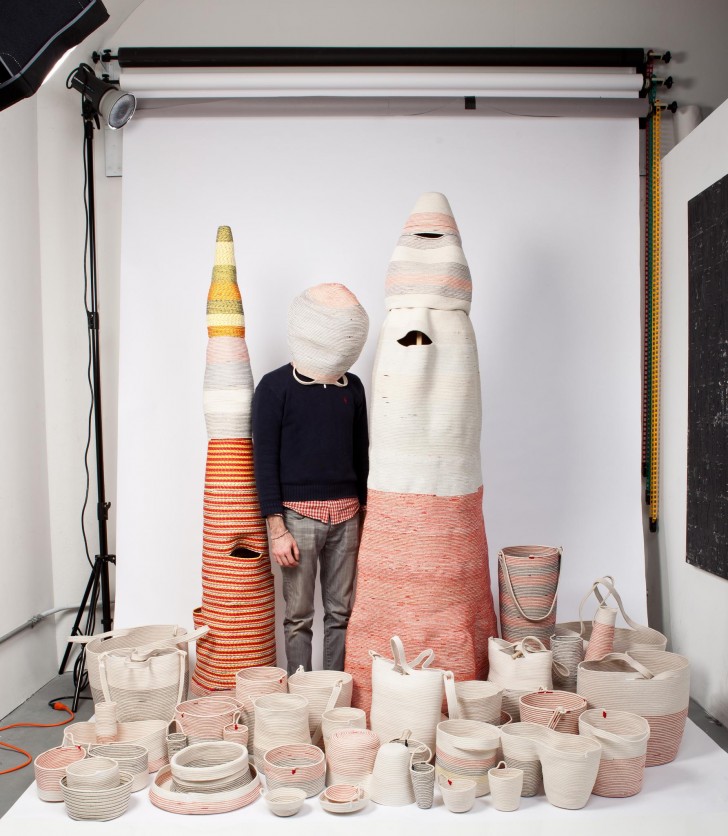 What originally inspired the baskets?
"The baskets came from an attraction to the cotton rope as a material. I wanted to make a bag with it, as I had been making my own bags for several years. I tried some traditional weaving techniques first, but I wanted something quicker and more uniform in texture so I looked into traditional coiling techniques. That led me to the machine-stitched coiling and I really fell in love with it."
"The more sculptural pieces started happening while I was working on some 3D printed models in my previous job at a metal fabrication shop. I realized I could use the sewing machine more like a 3D printer and it opened so many more possibilities for me."
Favorite collection:
"I used to collect all kinds of things: key chains, weird toys, random thrift store trash. I grew up in Oklahoma and went to school in Missouri and Michigan, and there was always an abundance of odd, cheap junk as well as endless space to put it. Living in New York has limited my access to those things and I kinda don't collect anything these days. Well, except books."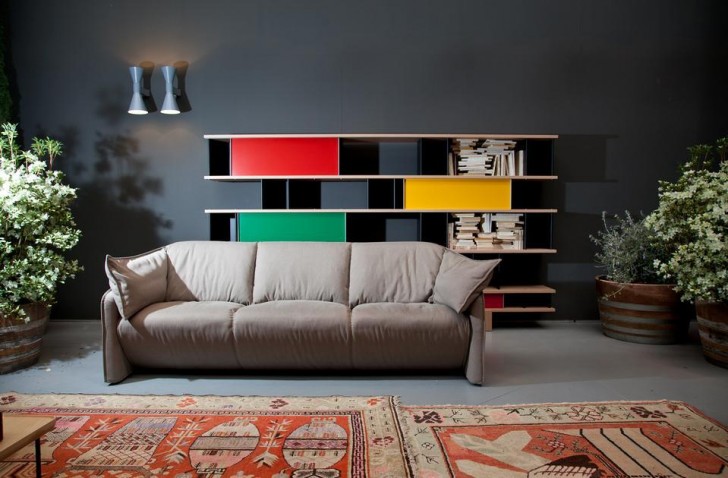 Design hero:
"There are many, but a few that stand out are the Eameses, Charlotte Perriand (above), Ant Farm, Ken Isaacs, and Atelier Van Lieshout. I was fortunate to spend my summer of 2006 working at AVL in Rotterdam and it had a huge impact on me."
Style movement you most identify with:
"The decade from 1965 to 1975. There was so much incredible work happening then, fueled by major societal shifts, the space/moon programs, and unprecedented optimism for the future. People were really pushing and doing incredible things. I wish I had been around then!"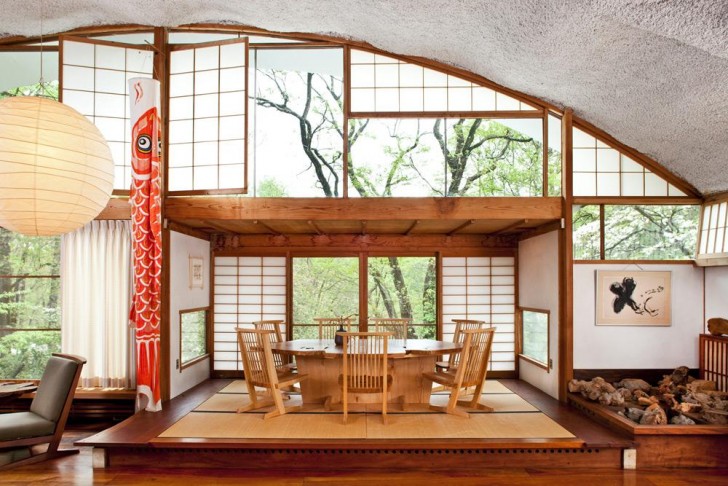 Place you go to be inspired:
"The Nakashima home and studio in New Hope, Pennsylvania (above). Such an amazing place."
What inspired you to be a designer?
"When I was a little kid, like 4 or 5 years old, I was in the car with my mom driving through our neighborhood in Tulsa. I noticed a house that looked different from the others, a sort of suburban Spanish colonial ranch-type, and asked my mom why it was different. She told me people called architects decided how the houses would be inside and out, and I decided I wanted to be an architect. Eventually I realized that my desire to create was broader than that, and that architecture was the closest approximation to a satisfying medium."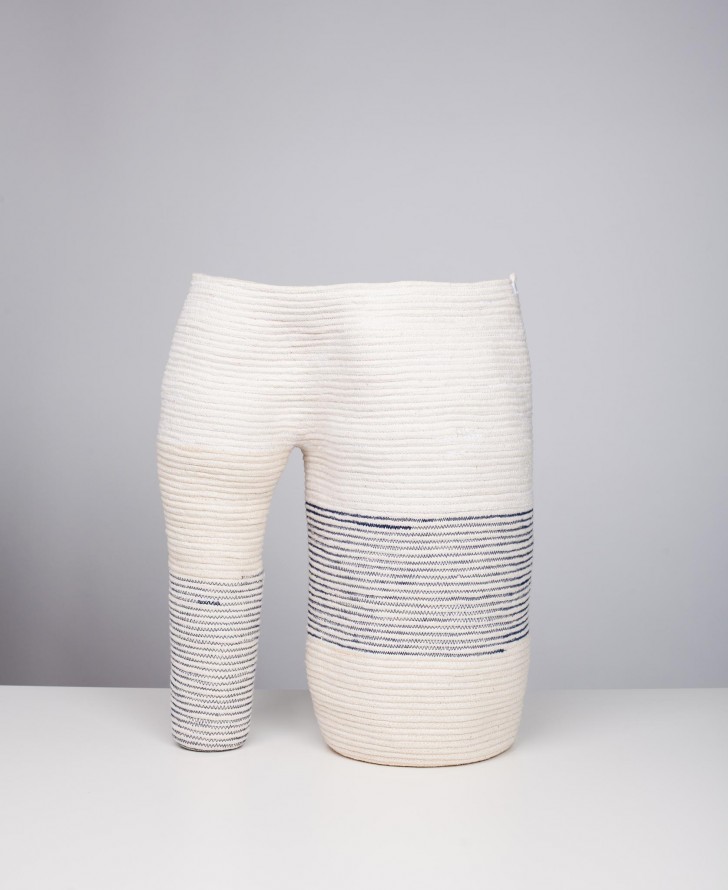 What's your color inspiration?
"The baskets originally used a lot of red and navy and white thread because that is what I could find in large quantities in my neighborhood. Navy and red have been favorites for a long time; I will never grow tired of them and they always have a classic and common feel that I love. I am also partially colorblind, so certain colors don't register well with my eyes."
"When stores place a wholesale order I give them the option of selecting their color combinations, which has led to some really great designs that I might not have tried on my own. I'm working with a few to use specific or exclusive colors and sometimes it's a little out of my comfort zone. Certain types of colors or combinations go in and out of trend, which is an odd phenomenon to me. I guess I get it, but I don't design or shop that way."
First thing you ever made:
"When I was a kid I dragged some lumber chunks, my dad's hammer, and nails into the back yard and made some weird wooden thing. The urge to make this thing was so intense, like it would solve all problems and bring me eternal bliss, but I was so utterly disappointed with the actual product! I guess it's good though, because the urge stayed and matured a bit."
Piece you wish you'd made:
"AVL's 3M Minimal Multi Mobile from 2002, or their AVL Bench which is a small sofa from 2006."
Favorite everyday object:
"It's not really my favorite object, but the most crucial is my phone because I am hopelessly addicted to Instagram."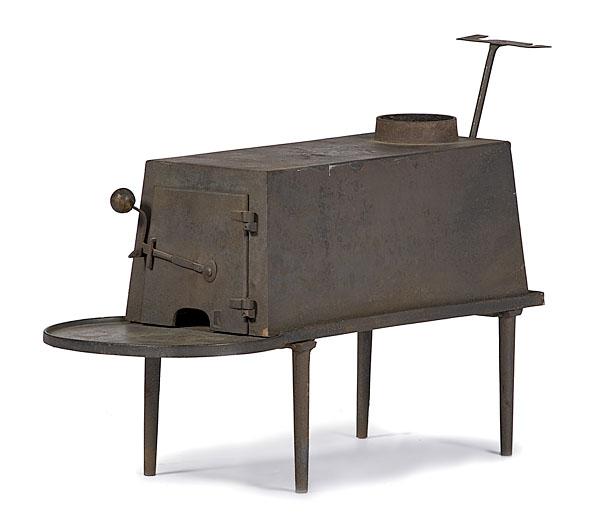 Favorite design object:
"For a few years I've been stuck on these little cast iron shaker stoves. The slightly animal-like appearance and the rough-cast surface combined with the refined engineering is so perfect."
Fictional character who would own your work:
"I think the artsy PoMo couple in the movie BeetleJuice, the Deetzes, and their interior designer Otho, and would be into the sculptural vessels. That comforts me."
Favorite shop for materials:
"I don't go to shops for materials very often anymore. It's more like I know what I want and I search the Thomas Register and call suppliers to find the best fit. That often leads me to spend hours researching materials or processes and that gets ideas flowing. I have become an industrial sewing machine fanatic and the guys that repair and deal them tend to hoard them in vast quantities in their little New York apartments. I love seeing all the machines made for slightly different sewing operations or specialty stitches."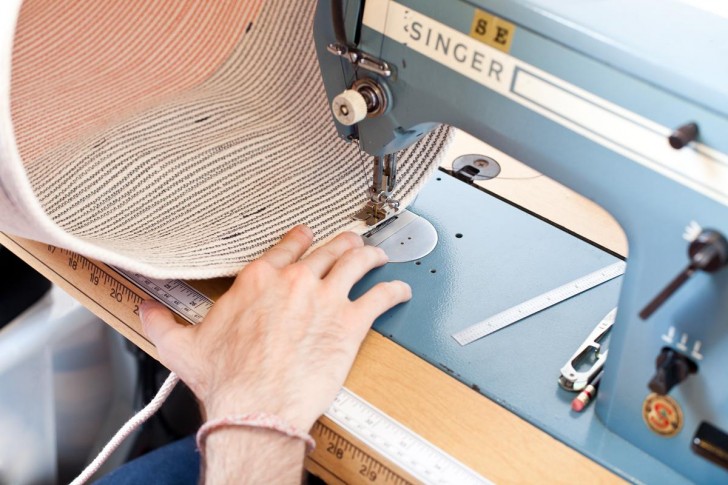 Favorite material to work with:
"I guess it's pretty obvious that I have fallen in love with braided rope and cord. I will probably never get tired of the way it look, feel, moves, sews. But my favorite type of work is probably metalwork. I worked in an architectural metal workshop for a few years and it's fascinating. I am a complete novice at all of it, as it takes quite a bit of skill and knowledge that can only come about through years of practice. Welding is magical and Zen-like when you see the metal melting in tiny pools before your eyes. In the future I would love to have a little metal workshop for basic welding, cutting, bending and milling."
If you weren't a designer, what would you be?
"Probably a cultural anthropologist. I've spent a lot of time researching historical American utopian communities like the Oneida Community, the Shakers, Owenites, Fourierists, Harmonists, etc. I would probably move somewhere like New Harmony, Indiana and write research papers or work on restoring old commune buildings. That part of American and human history is super fascinating to me, but it's been mostly swept under the rug because it's also the history of American socialism. I'm also a drummer and would also play a lot more music."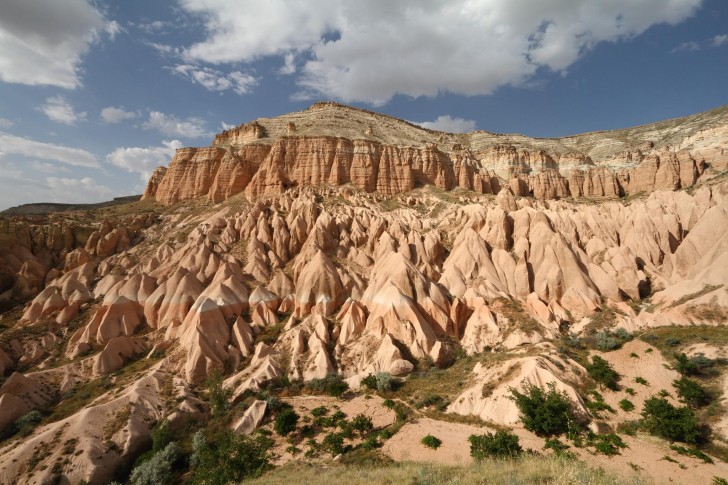 Favorite Google Image search:
"Cappadocia."
Parts of this story were originally created for and published on Lincoln Now — a comprehensive storytelling platform designed to celebrate individuality — as part of a sponsored series Sight Unseen participated in for the Lincoln Motor Company. Lincoln Now looks at some of the most intriguing artisans, makers and craftspeople that Lincoln has had the pleasure of working with in the fields of art, design, fashion, cuisine, engineering, and more.