11.02.16
Our Top Finds From Dutch Design Week 2016
It's been fifteen years since the first-ever Dutch Design Week, and since then, Eindhoven's 10-day celebration has seen both highs (international success and prestige) and lows (the slashing of arts funding as well as high-profile resignations from the esteemed Design Academy). What has stayed constant is the country's ability to remain relevant in response to new challenges and worldwide issues. The investigative mentality of young Dutch designers is can often seem head-and-shoulders above their European counterparts. This year's theme attested to this, putting an emphasis on process and highlighting research and experimentation as the driving factor behind an end product. We flew in contributor Rae Blunstone from her new perch in the Canary Islands to scout out our favorite projects, and to confirm the city's reputation for churning out some of the next best design talents.
Popcore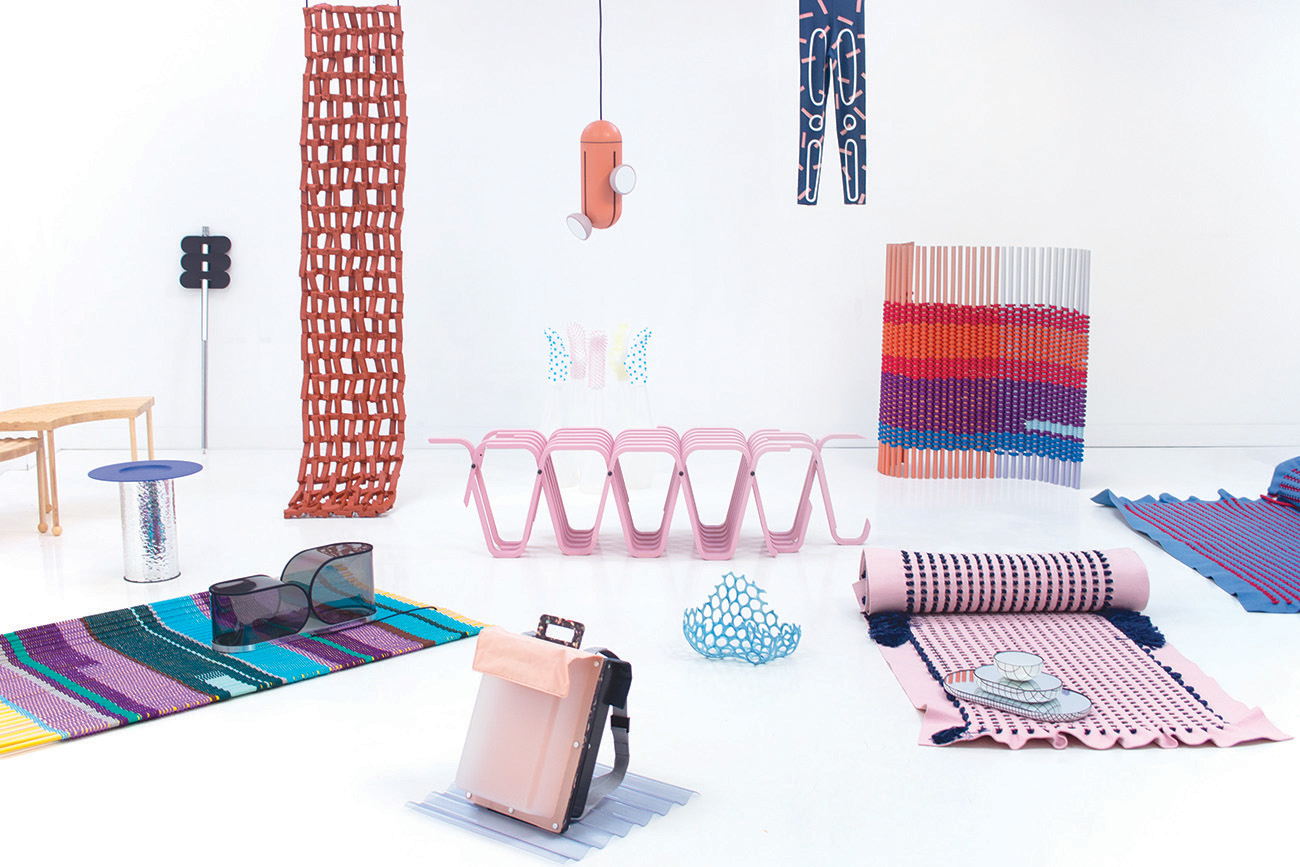 The first port of call following a much-needed warming cup of coffee was Popcore. Conceived as an antithesis to the Normcore trend, the exhibition showcased works by 15 young designers with a distinctly millennial attitude towards living – a common thread running across all the designs (aside from color) was an engendered sense of freedom and playfulness.
Tanita Klein created a kind of a sliding system with which her curved nesting Idaho tables could be moved around and played with, while co-curator Emma Wessel harnessed her fashion and textile background to develop a collection of versatile woven surfaces. The warp threads are replaced by wooden dowels to enhance flexibility and stability in shaping pieces to lie on, rest against or use as a table.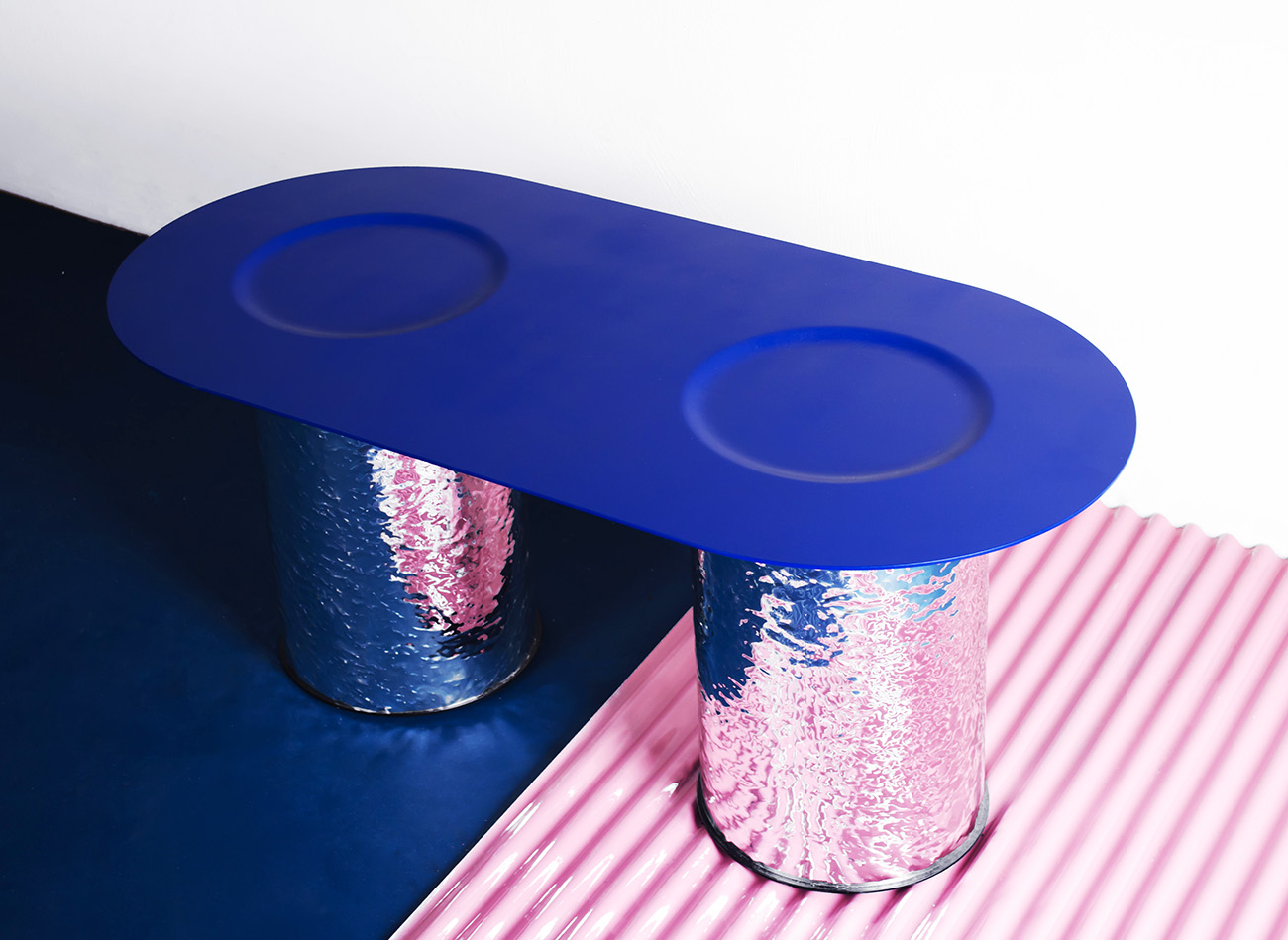 Job van den Berg Side Table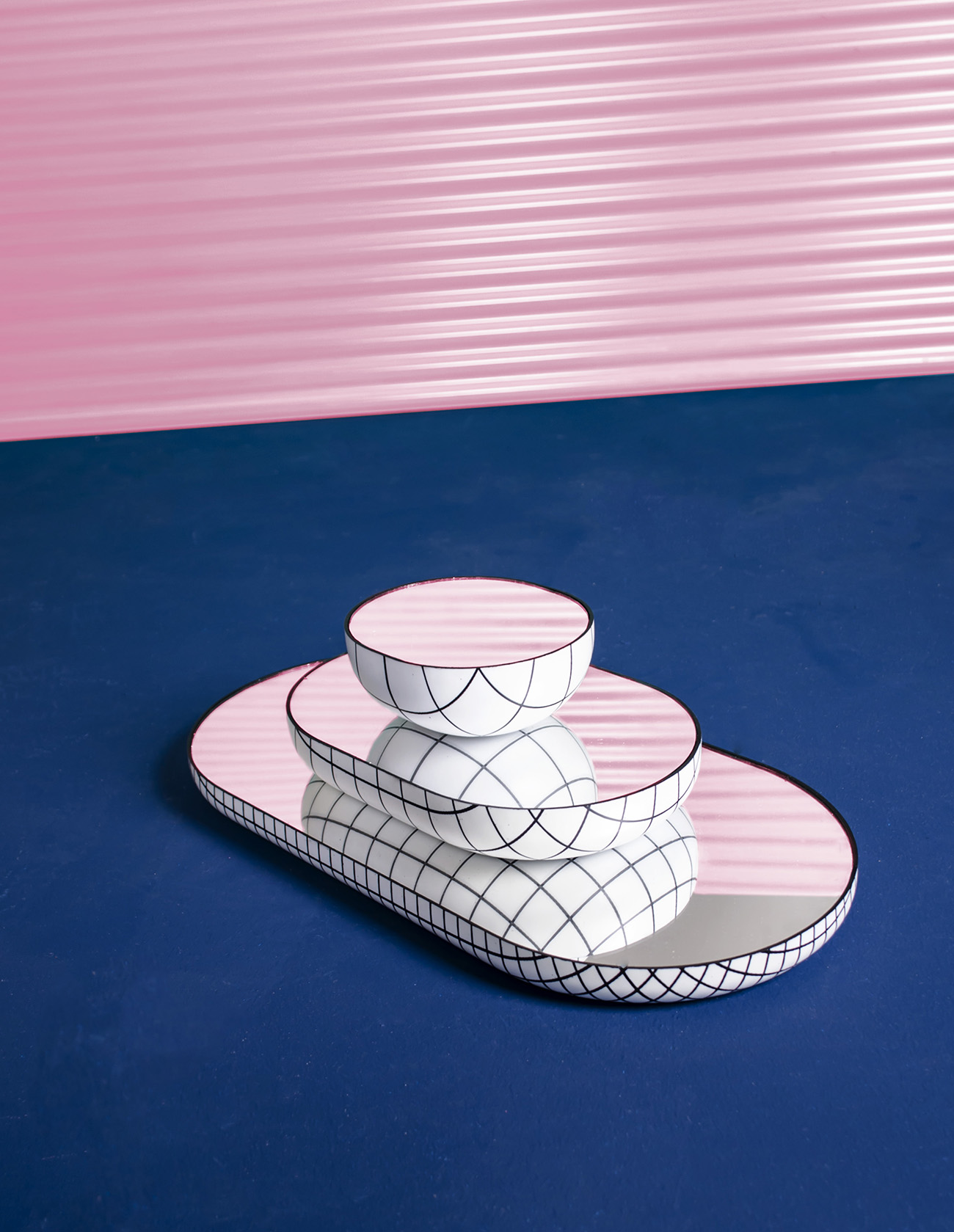 Grid mirrors by Hans van Sinderen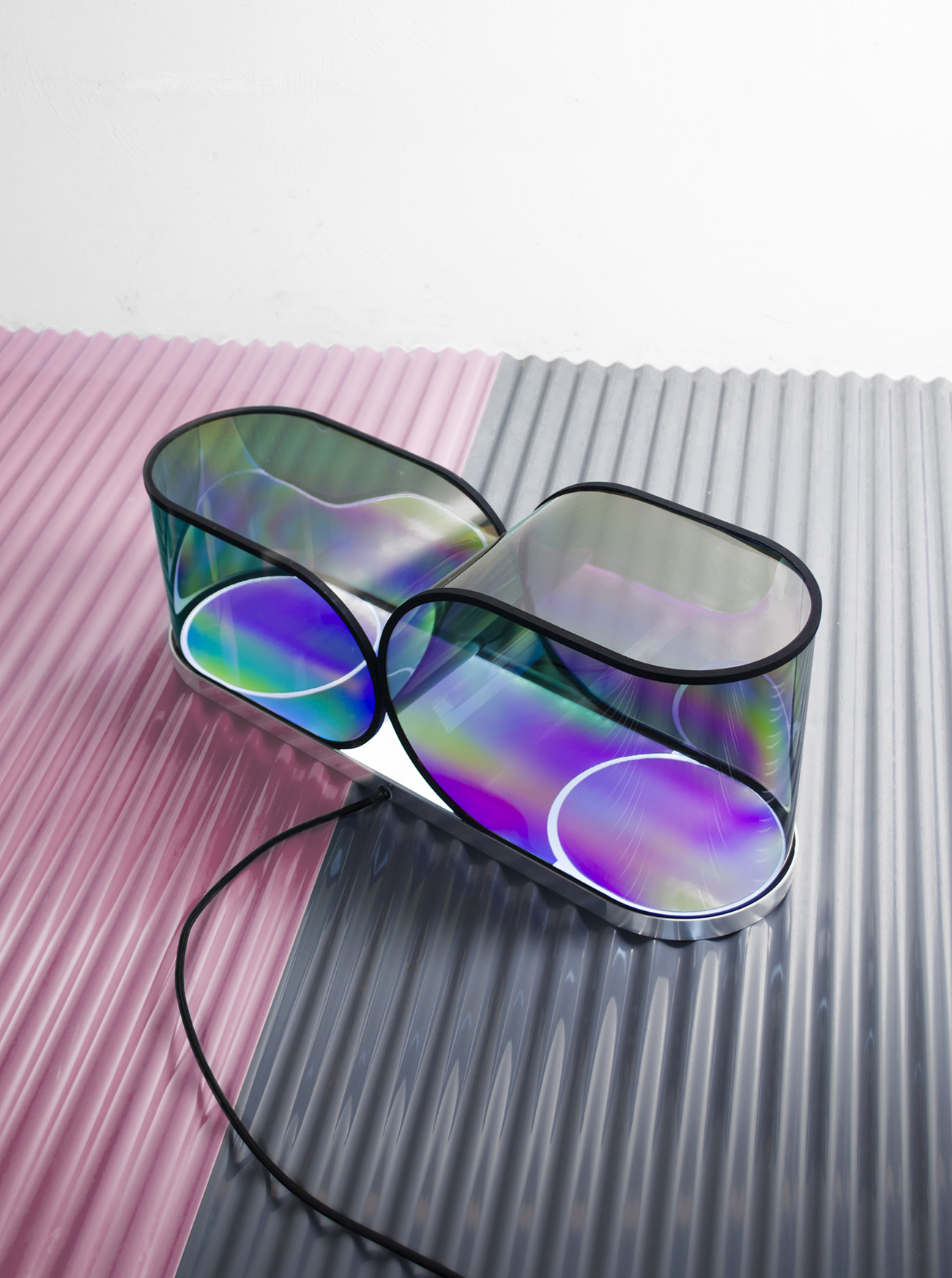 Onno Adriaanse Spectrum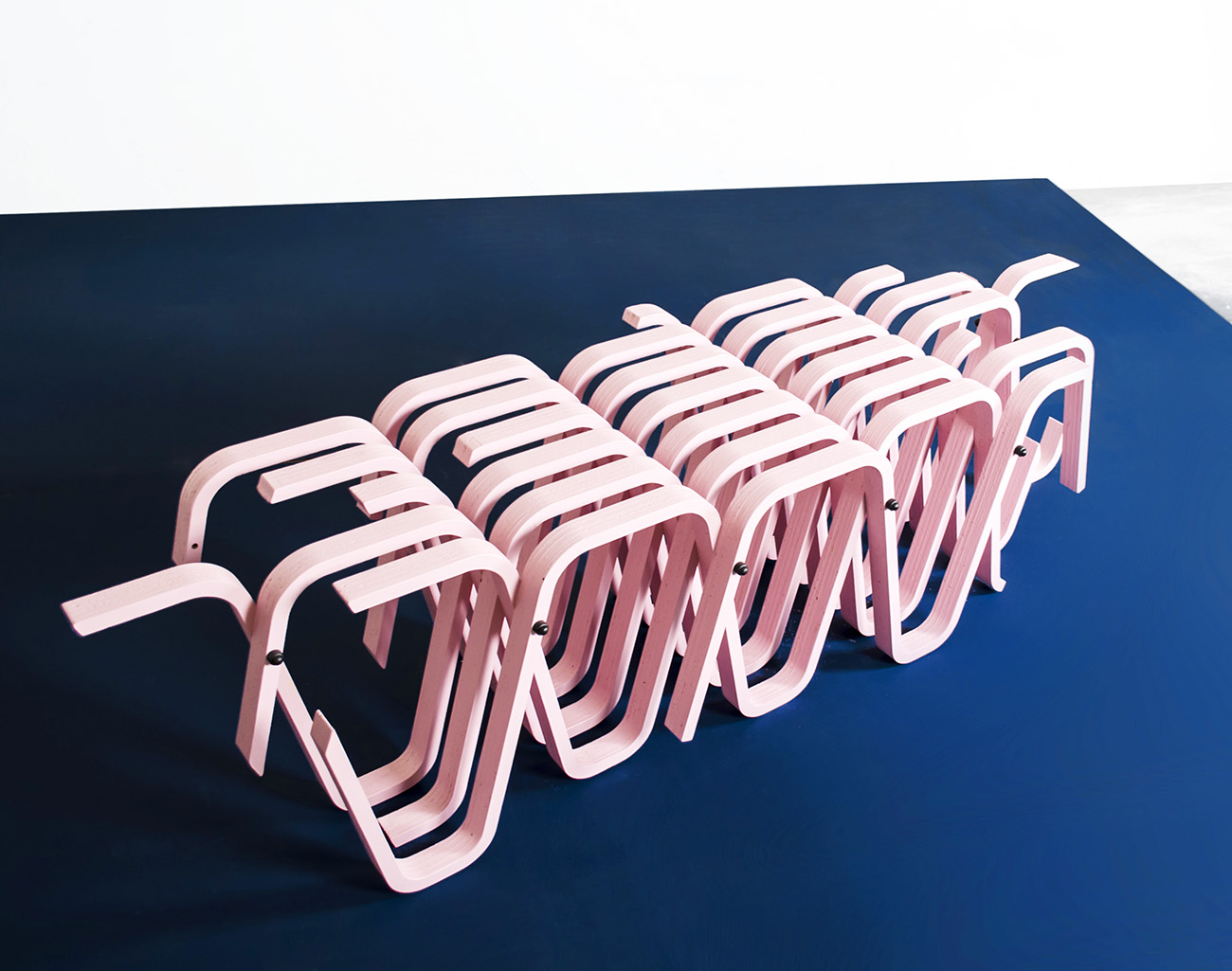 Wesley de Boer's Warp bench
Design Academy Eindhoven
At the Design Academy, where this year's focus was optimism in an era of uncertainty and chaos, the 117 students challenged big industry, exploring new methods and material innovations that appeal at a human scale. We liked the rounded towel heaters by Alicia Pola Knabe (top), with their pleated felt able to filter the surrounding air, absorb humidity, and feel softer on the skin. Studio Lisa Bo (bottom) looked to activated charcoal as a material to filter the air in our homes. Her purifying pendants trap charcoal pieces between a circular frame of porous fabric, and can be hung in homes or offices alike.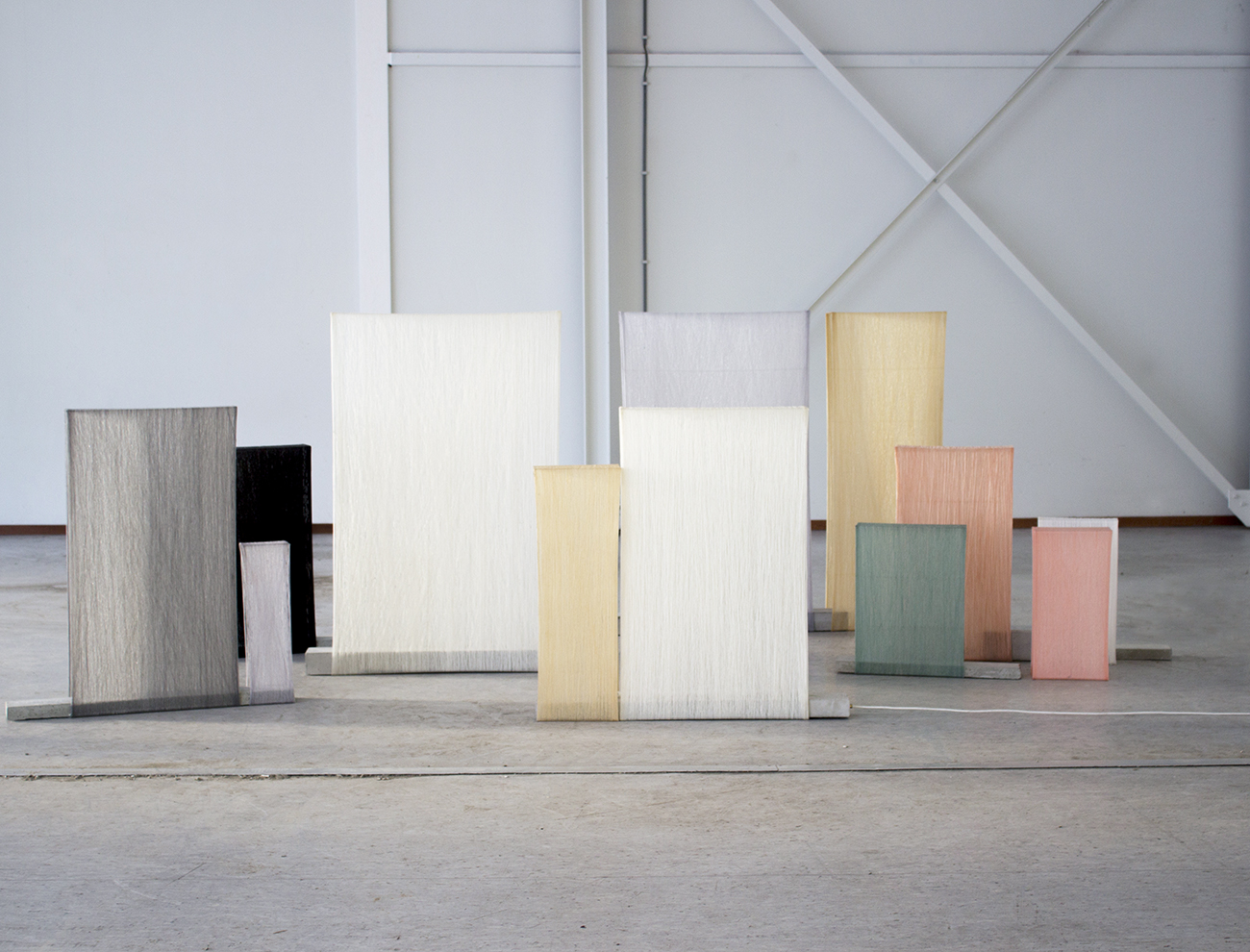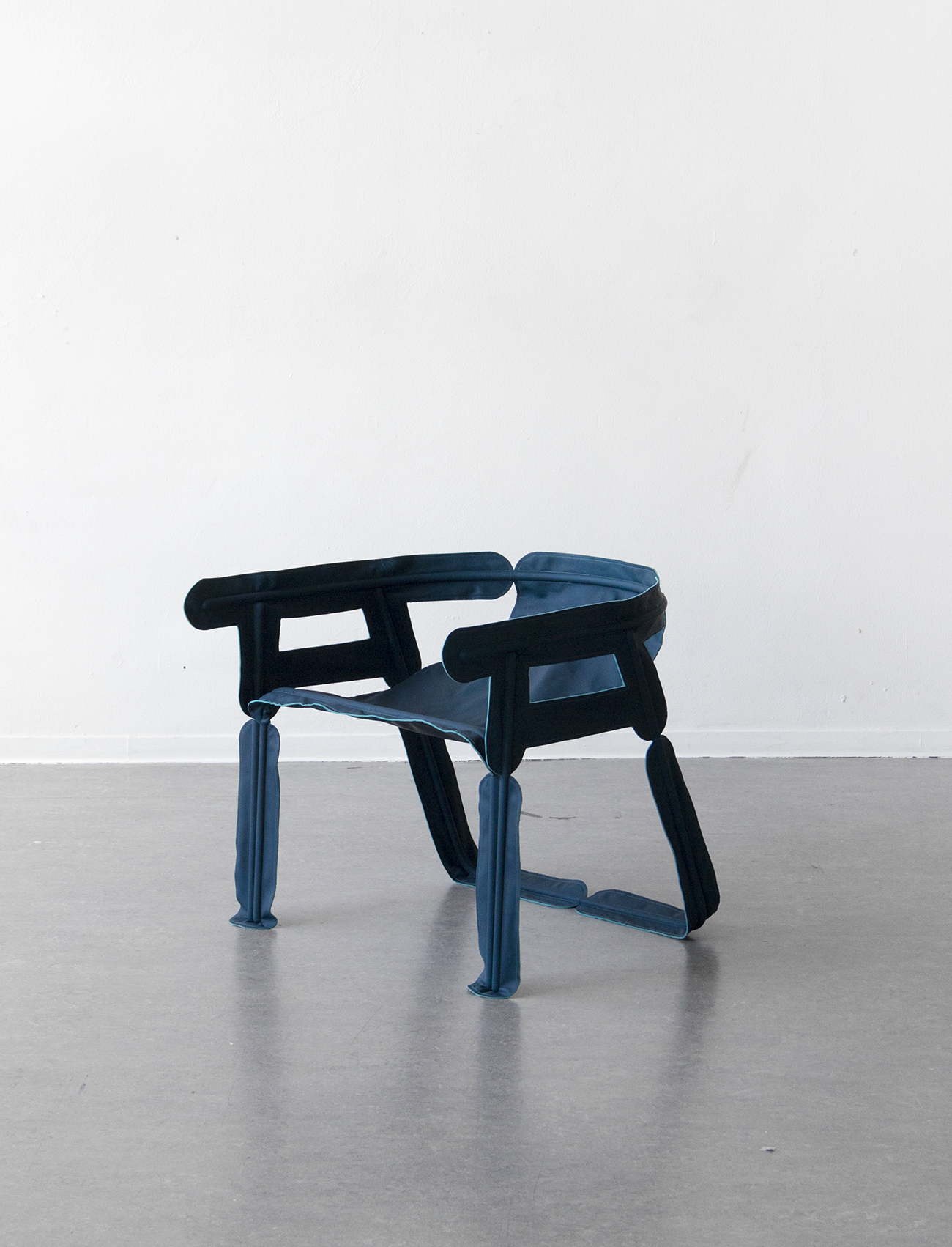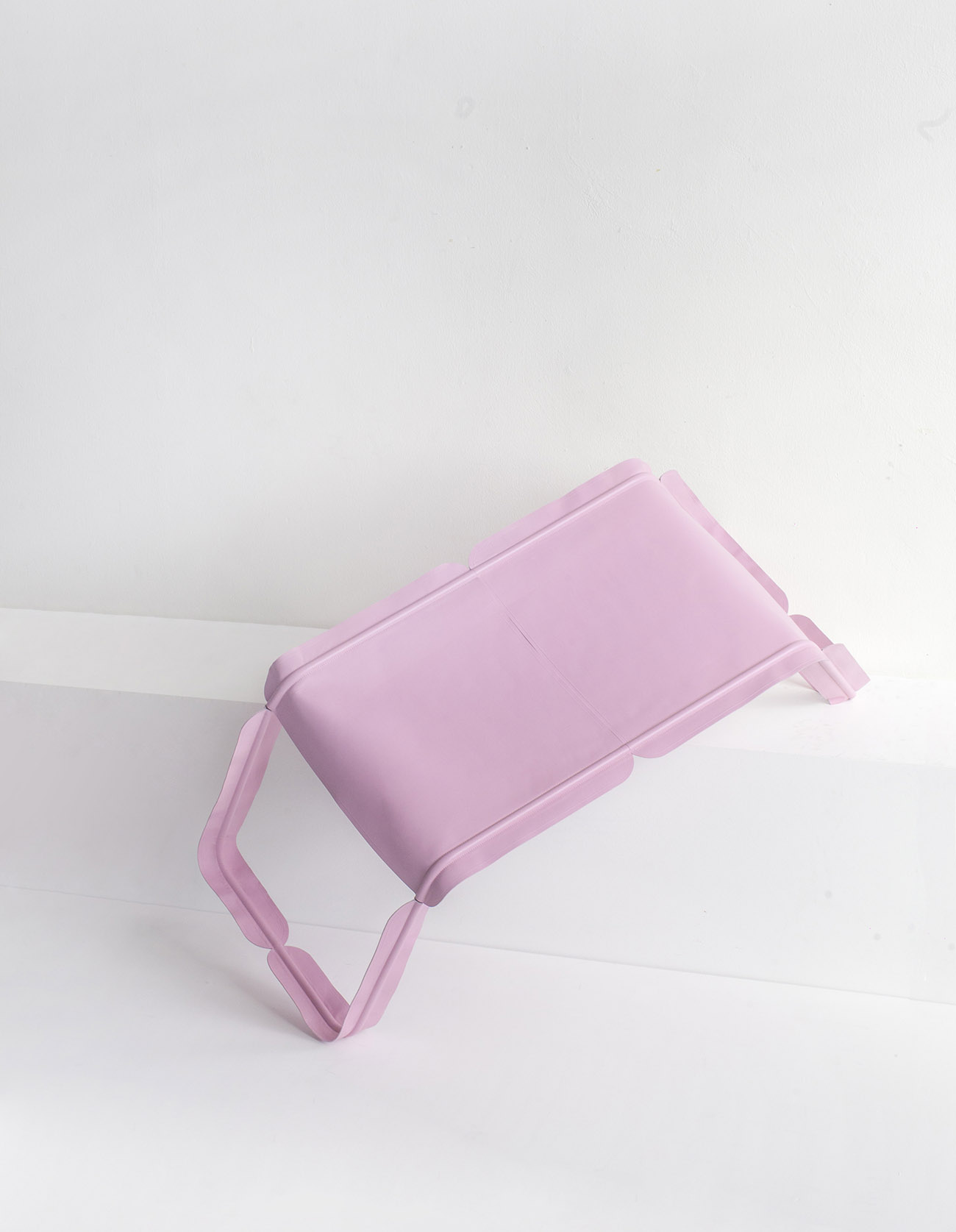 Once coated in epoxy resin and wrapped around a rectangular frame, Juno Jeon (top) transformed thread into functional shapes that might serve as room dividers or luminous light shades. Also looking at shortcutting the construction process, Christian Heikoop (bottom) created a series of easy-to-assemble chairs, benches and stools. Inspired by retro camping equipment, metal tubes are simply inserted into pre-cut leather sleeves, negating the need for extra tools and screws.
"I'm fond of the autonomous way objects can light themselves," says Nai-Dan Chang, whose acrylic furniture pieces demonstrate the pleasing glow and ambient effects of fluorescent colors placed behind translucent and matte planes.
Looking to reinterpret old craft traditions, Tim Vanlier (top) reimagined traditional Delftware via a series of experimental methods; enlarging and abstracting elements of the pattern or using new applications of color for a contemporary collection of porcelain bowls, while Seungbin Yang's (bottom) modern adaptation of Korean lacquerware uses a lighter, paper base rather than the typically heavier and expensive wood.
Envisions
Following their debut at Milan Design Week earlier this year, Dutch collective Envisions returned with a second iteration aimed at shining a spotlight on a product's process. Products in Progress – Part 2 exposed the experimental work-in-progress behind ten designers, offering not only insight into various phases not typically seen by the public, but acting as a breeding ground for new direction and dialogue amongst manufacturers.
From top, experiments by Iwan Pol, Jeroen van de Gruiter, and Roel Deden. (Photos by Ronald Smits)
Nightshop
Ward and Adriaan of the Rotterdam-based Nightshop looked to office furniture as a blank canvas for drawing on – literally. The duo took markers to tables and cupboards before covering them with thick layer of clear resin to preserve the dynamic patterns. Sort of like a 2016 version of a Monet?
rENs + SannenJacobs
Split and Store by rENs and fellow Eindhoven-based studio SannenJacobs is an all-in-one room divider and modular storage system. The sliding doors and shelves are made of the light-diffusing Plexiglas Satinice, which offers varying transparencies of color as seen throughout the day.
Baars & Bloemhoff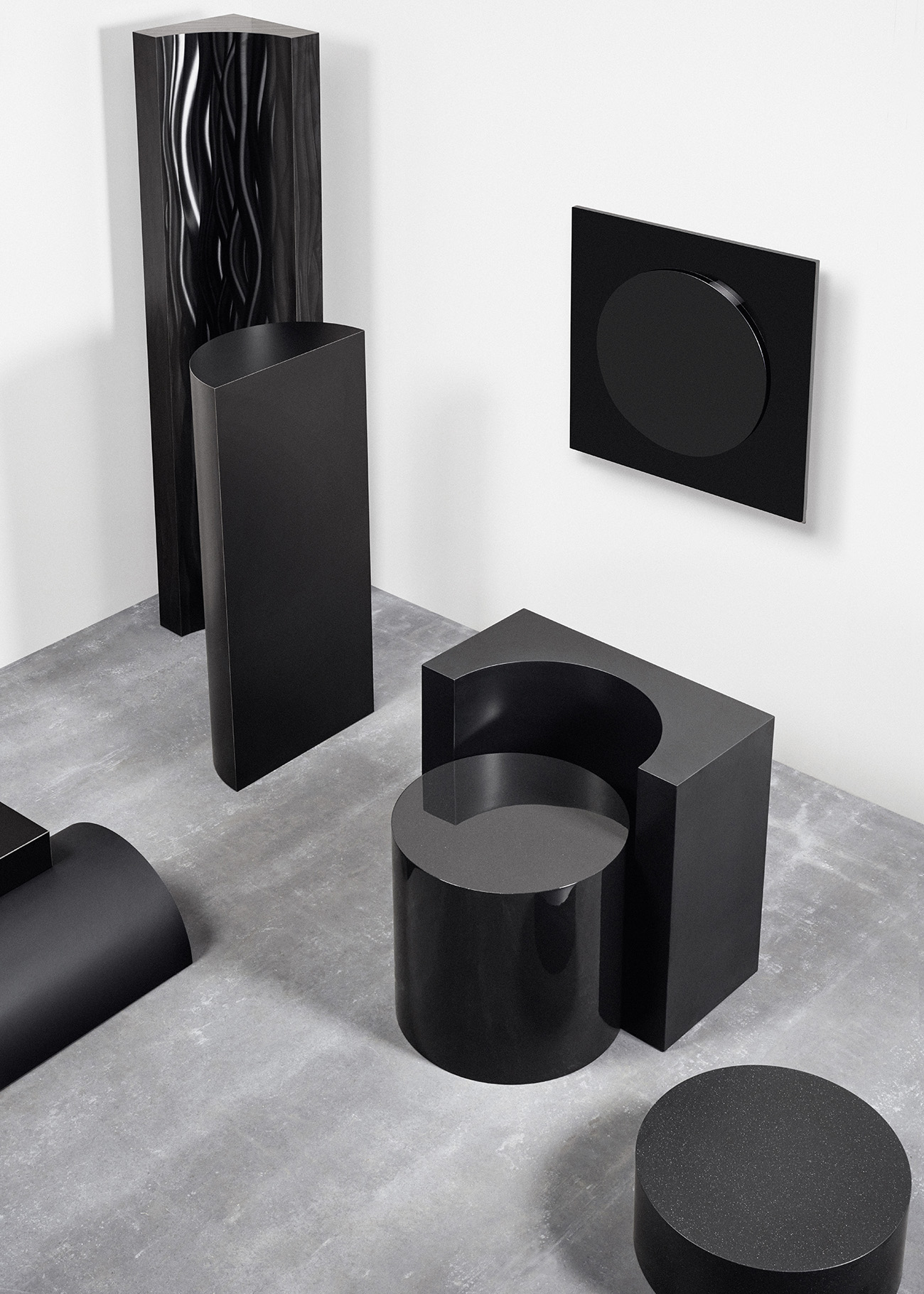 Similarly modular is rENs's set of building blocks for Transitions 2. Baars & Bloemhoff for the second year commissioned young designers to shape one of their decorative materials; rENs played with the subtle surface nuances across various black materials from the Dutch distributor's library.
Design duo Daphna Laurens (top) harnessed the malleability and two-tone matte quality of linoleum to create their organically shaped lamp, bedside chair and storage containers. For her Filter series of lights, Sabine Marcelis (bottom) combined HI-MACS acrylic stone with various colors of cast resin. (Photos by Ronald Smits)
Studio Ossidiana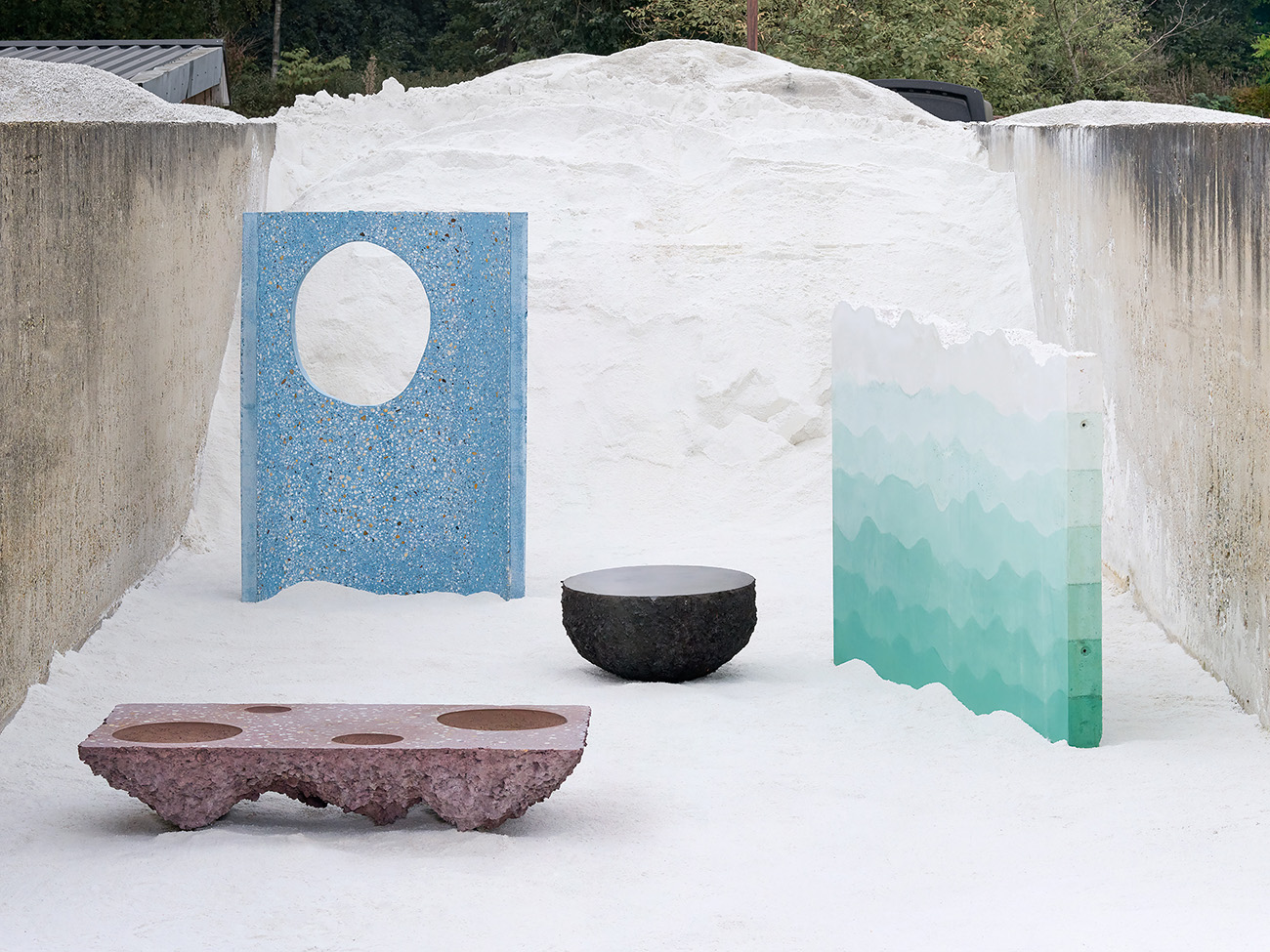 An installation of concrete architectural elements by Studio Ossidiana looked to reinterpret the ideal paradisiacal garden found in Persian carpets. Elements like a surrounding wall; central fountain and doorways to the garden were transposed onto various objects and cast in concrete with differing techniques of color and texture. (Photo by Kyoungtae Kim)
Following last year's inaugural launch, the up-cycling initiative Bottle-Up launched two new products — the Bottle Brick, a building block designed for construction and made from cement and glass fragments, and the Trending Terrazzo collection (shown), which comprises pigmented concrete and glass fragments that are formed using molds found on Zanzibar, allowing for the production of sustainable furniture on the island.
StoneCycling
More material up-cycling from Bottle-Up collaborator StoneCycling, who've worked with Ultra Studio to develop an interiors arm of the business: the furniture line The WasteBased Collection offers a dining table, pendant light and floor lamp all made from demolition and industrial waste.
Forbo Flooring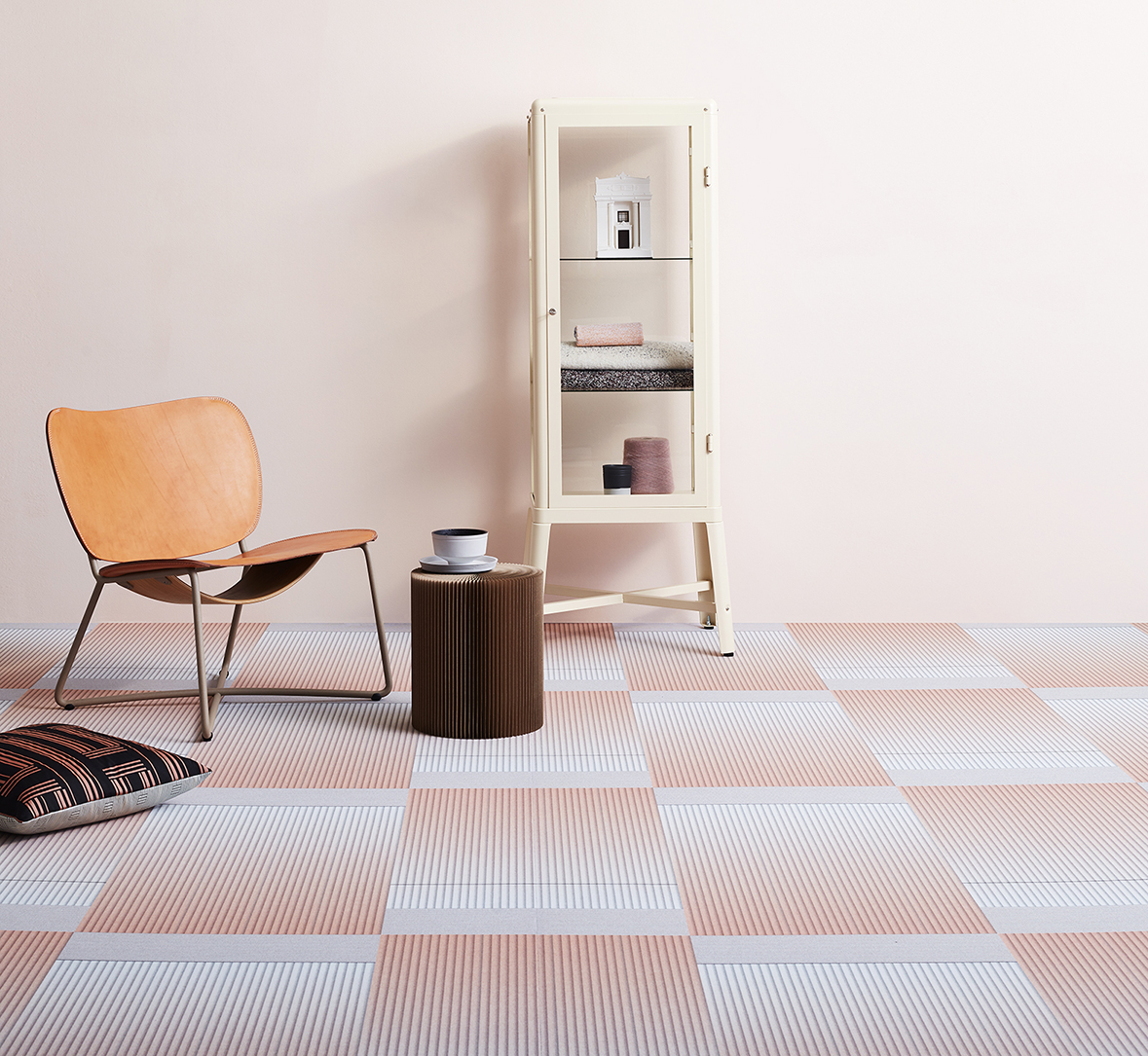 Forbo Flooring challenged six Dutch designers — including Mae Engelgeer (shown) and Sigrid Calon — to translate their unique signature into a series of contemporary patterns for their Flotex flooring surface.
Studio Thier&VanDaalen
Studio Thier&VanDaalen released a wave of new interior products including their Infinity glass panels (top), which capture the appearance of light filtered through patterns in glass.
Dutch Invertuals
This year's Dutch Invertuals theme of Power Play challenged the 13 designers to imagine a landscape of future energy in an era of technology. Our favorite entry by Emilie Pallard and Niels Heymans asks the question "What would light look like as a material?" (Photos by Ronald Smits)
Segments by Angela Willemsen are a set of wall decorations, consisting of three shapes in two sizes: a semi-circle, a triangle and a rectangle, with which users can form their own compositions. The objects are handmade in the Netherlands out of Anröchter grünstein, Carrera marble and Belgian bluestone.