08.23.18
This Parisian Studio's Digital Interiors Will Make You Want to Live in a Virtual Reality
For Sarah Espeute and Léa Bigot of the Paris-based studio Klima Intérieurs, "discipline" is a dirty word. Both women studied graphic design and share a fondness for 20th-century art — not to mention an appetite for cross-pollination that's more laboratory than font library. It makes sense, then, that they've found themselves in the unique position of running a studio that takes the abstract idea of a "multi-disciplinary" approach and runs with it until it more closely resembles pastiche; projects bleeding into and onto each other in ways big and small, mediums and vernaculars blended and bent beyond, sometimes, recognition. The name of the studio is derived from the German word for air conditioning, "Klimaanlage," implying their collaborative efforts are a breath of fresh air. "The word in French is written with a 'C'; the letter 'K' is just one detail that creates singularity. It sums up our philosophy well," notes Espeute.
Launched in December 2016 with a risograph book (below) of illustrated interior design projects,  Klima Intérieurs has since developed a practice that is fittingly informed by materiality and possibility in equal measures. "We want to open the horizons between the different sectors of creation," declares the duo's website. Below, Espeute and Bigot chat about inspiration, decoration and the world-making magic of matter.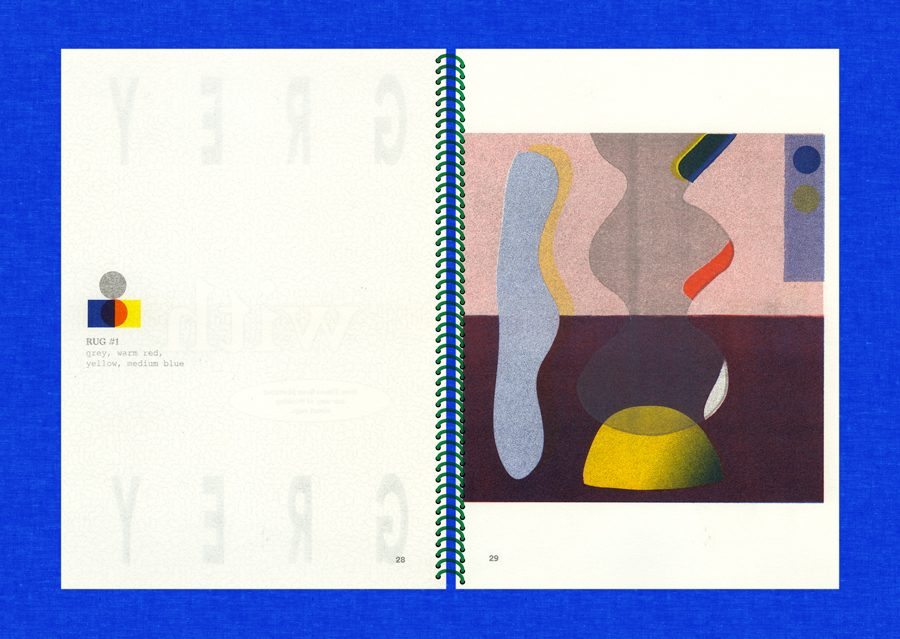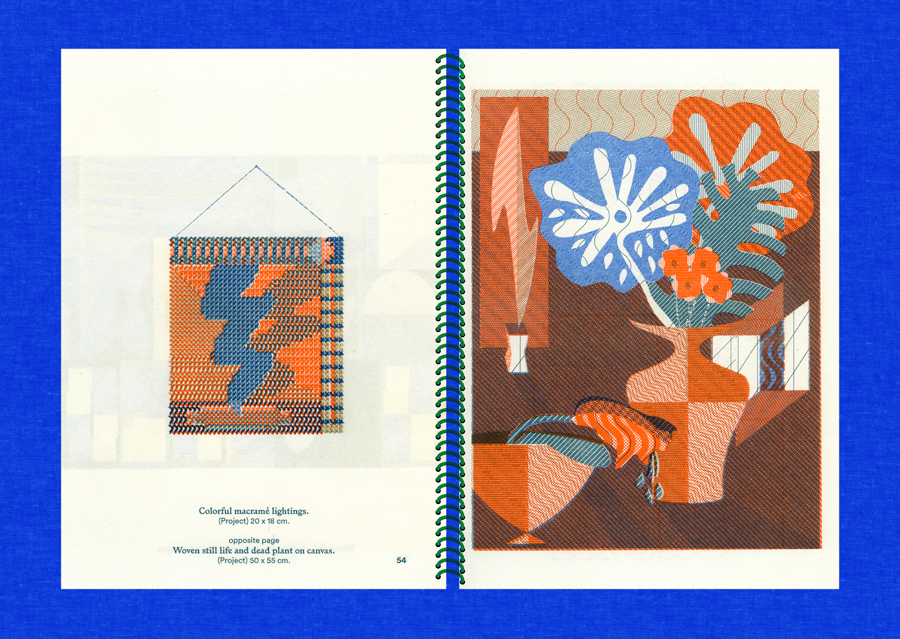 How did you decide to work in so many mediums, or to collaborate with artists across so many mediums? Which feels most natural to you?
Sarah Espeute: Our first love is digital illustration, and that's where we are the most comfortable. This is the starting point for all of our different pieces, but we feel we are at the intersection of artists/illustrators and designers. We see ourselves as "artistic designers."
As artists, we're drawn to creation in general; each medium is like a new playground that we are eager to explore. To us, the vision is the most important. Creation can happen completely digitally, as with my last collection, "Peintures." I was able to play with digital tools (such as digital oil, chalk, watercolor, gouache or even a digital ceramic effect) to create lifelike paintings, whether abstract or figurative. We printed them as Giclée Art prints and the result is amazing—so real! To create a real decorative and unique object, I designed tailored frames for each painting and I called the whole "Tableaux." Framing is very important to us. For this first set I used caning, linen, stone coating, and even traditional Zellige tiles to make unique pieces that tell their own story. The last ones are bigger, with their unique handmade framing; they blur even more the frontier between digital and classical art.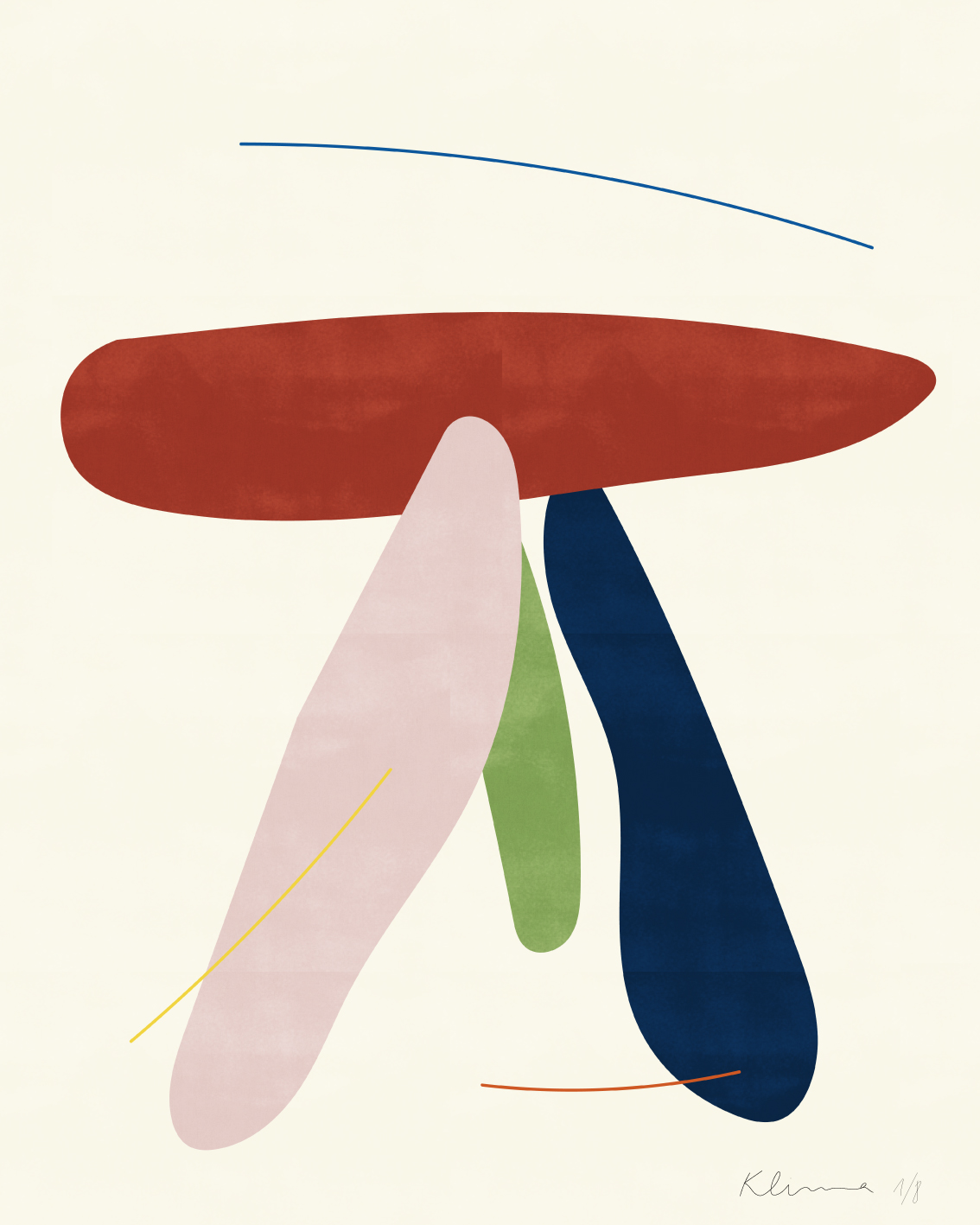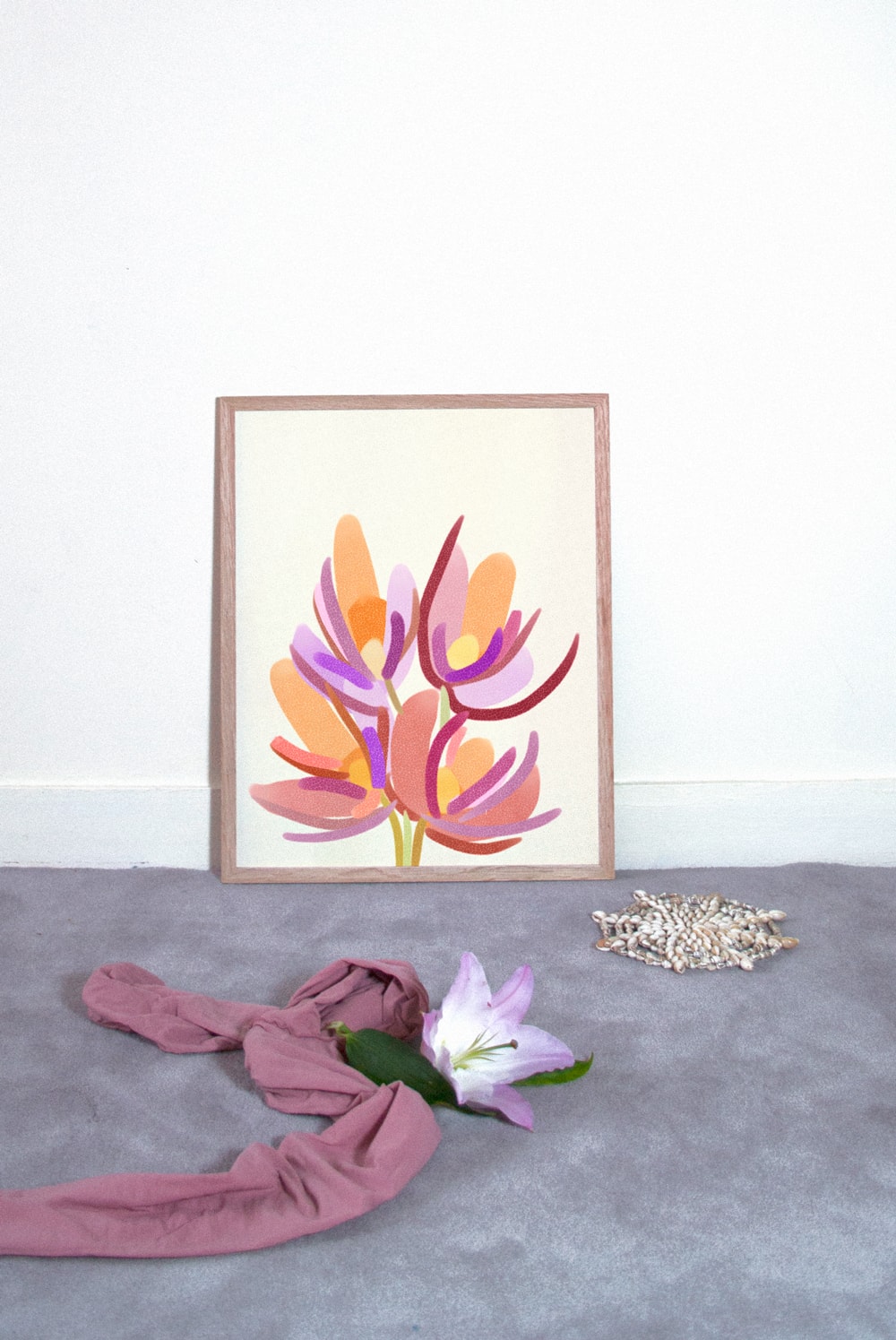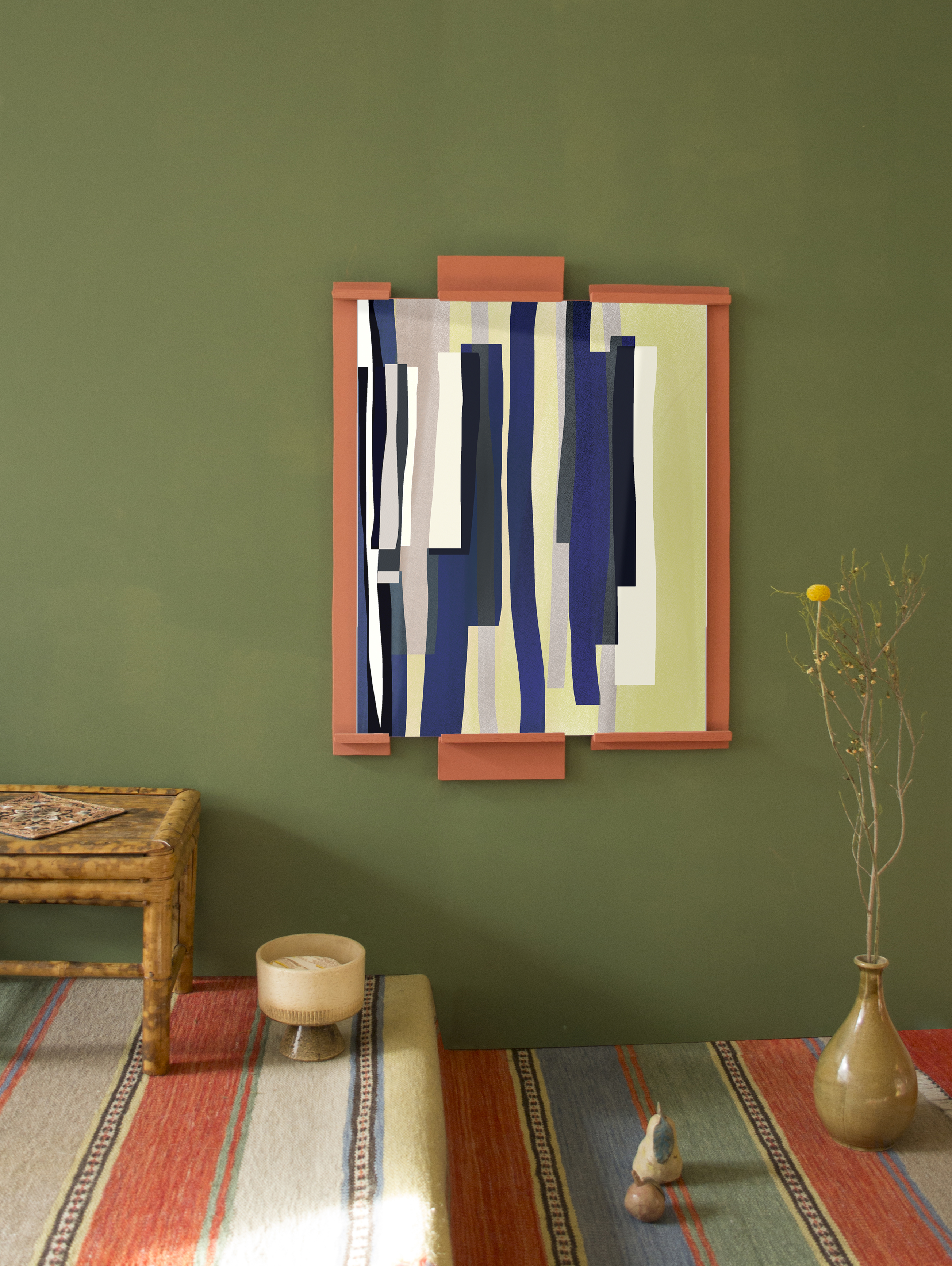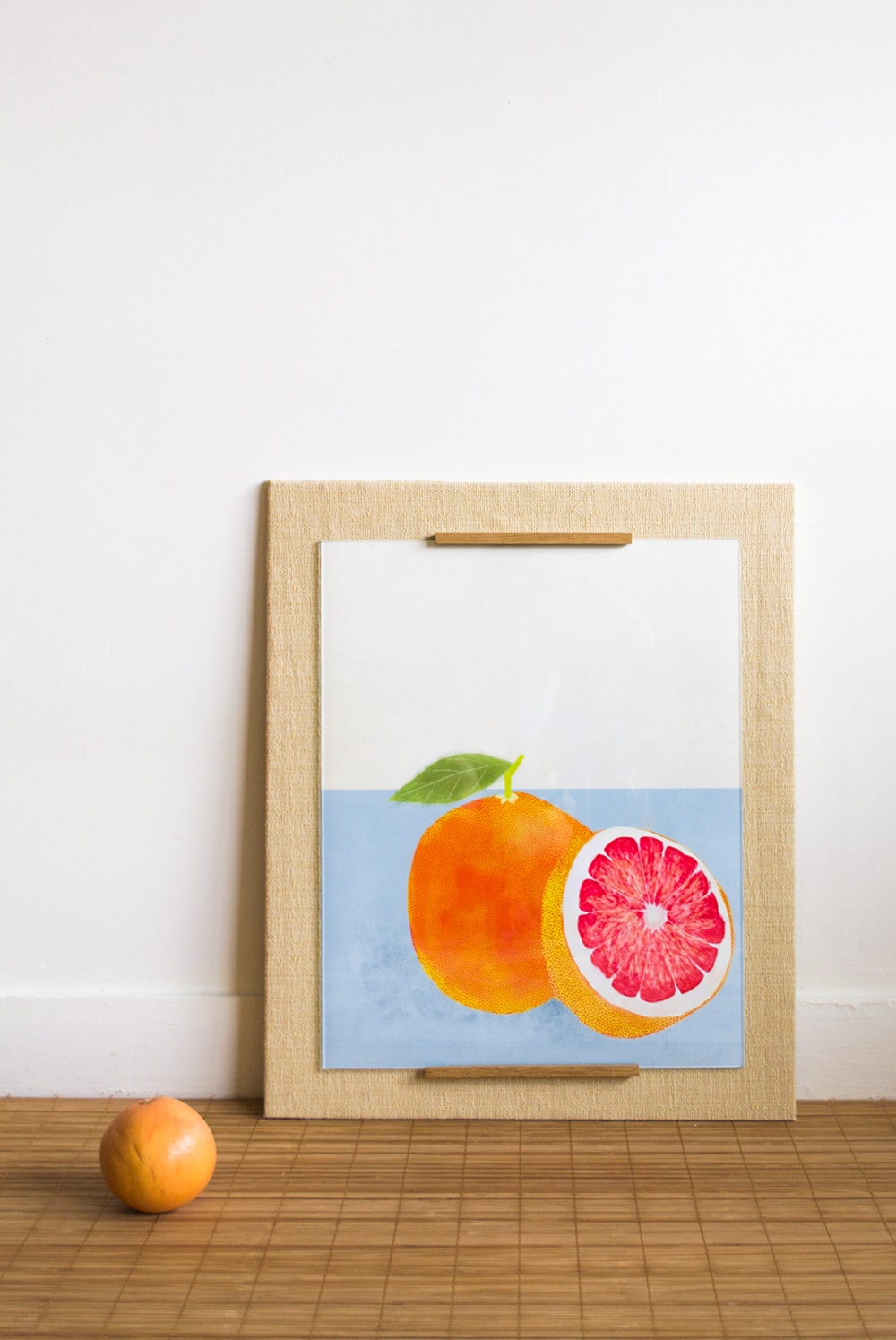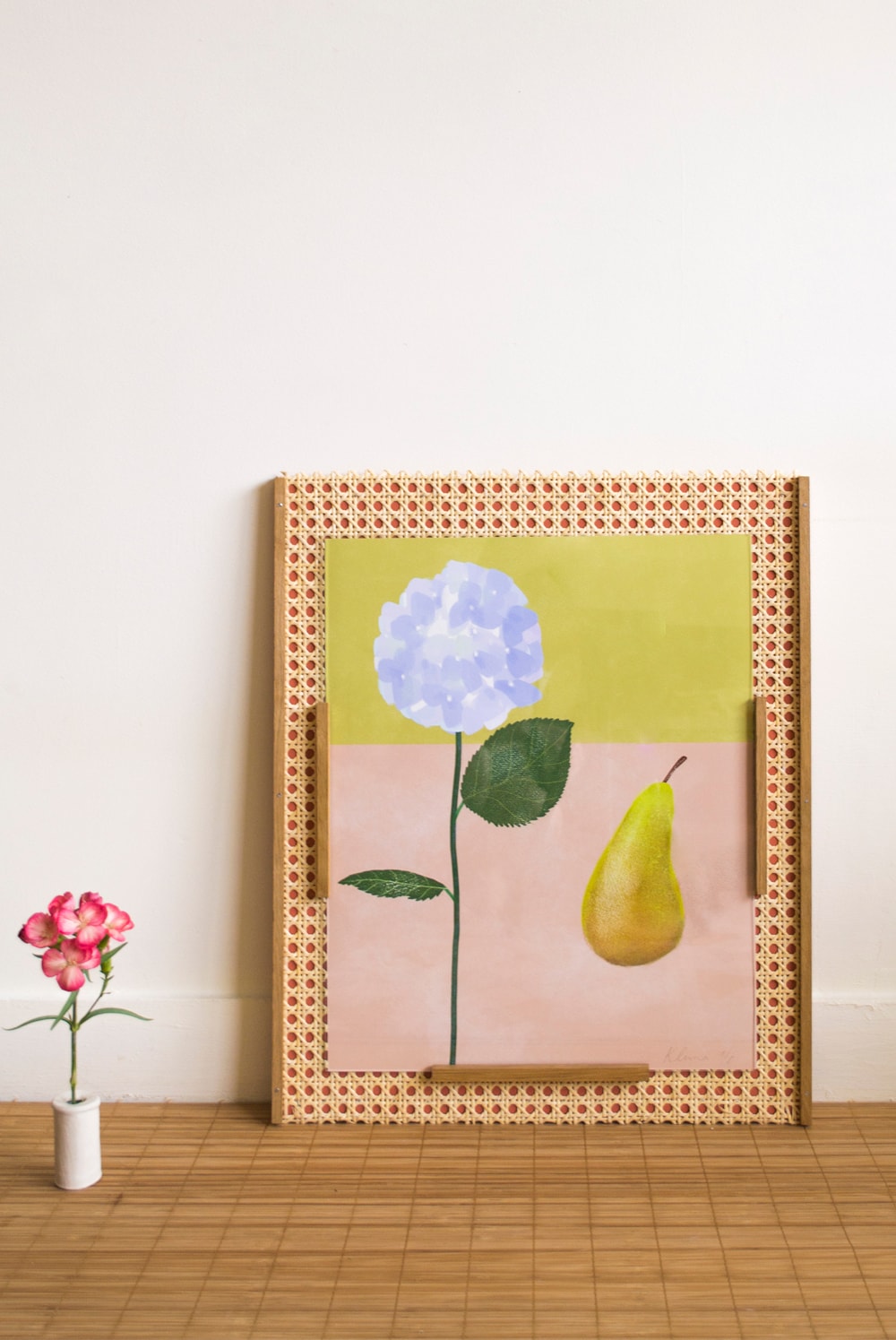 Léa Bigot: But creation can also come in the form of sculpture, paint, or even ceramics, far away from our computer! With help from our friend Charlotte Jankowski we recently presented a set of ceramic vases at General Store Paris for the first time (below). The whole process has another rhythm and demands different faculties compared to the instantaneousness and abstraction of digital illustration. Right now, a ceramic mobile is giving me new challenges about weight, balance, and density. Working with real matter is very refreshing and also kind of magic to us. We have a strong admiration for craftsmanship; it's what drives us as designers. Both of us come from somewhere where steeped in culture: in the South of France, Perpignan, for Sarah and Reunion Island for me. Actually, we are planning to start our first collection of interior design with Reunionese artisans. We like to discover artists and artisans with skills that we don't have, to collaborate with them to create unique objects. Following this goal we are currently keeping a long-distance collaboration with Freja Kramer, a textile artist based in Sweden we met on Instagram. We made together a first prototype of experimental lamps mixing ceramics and textile.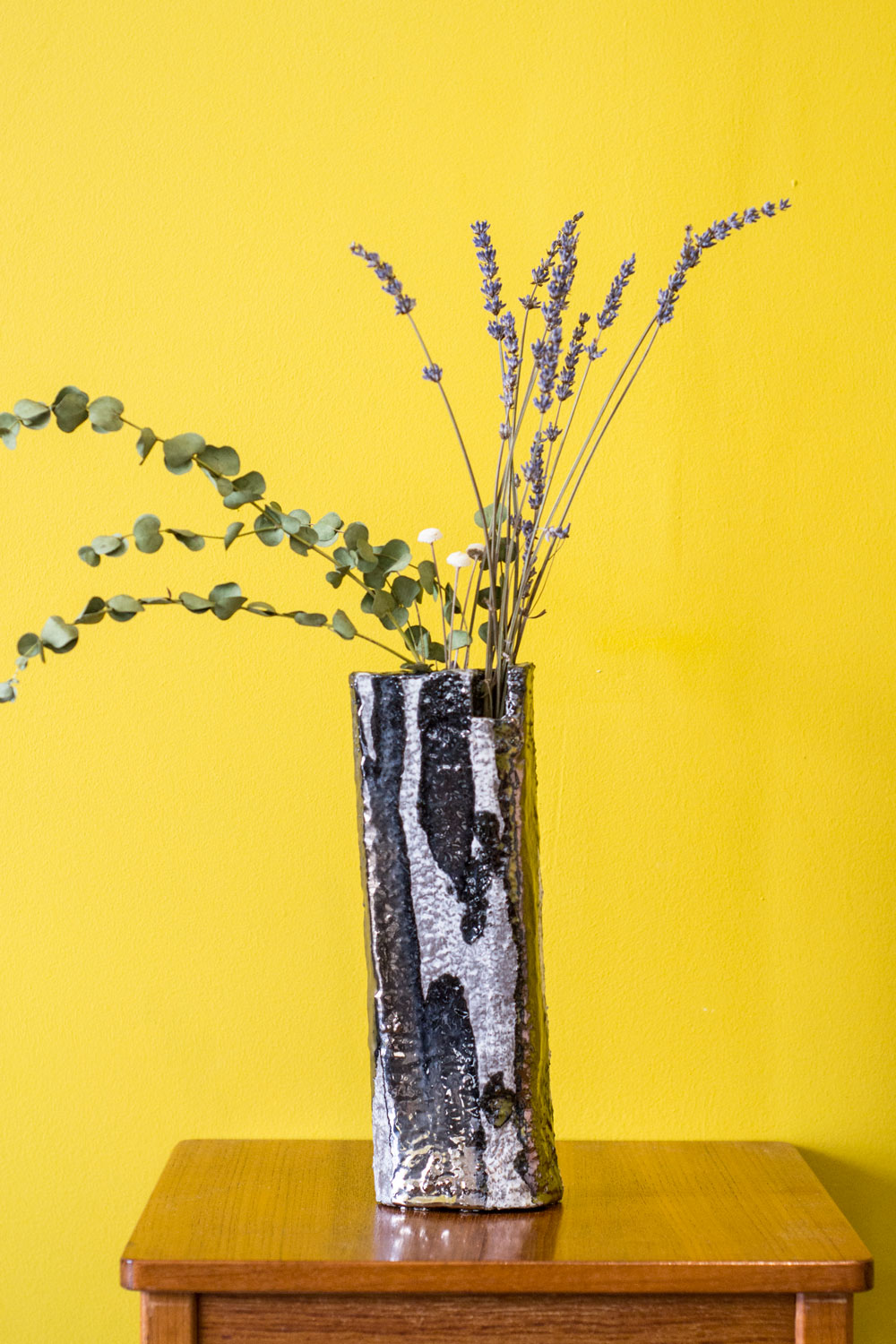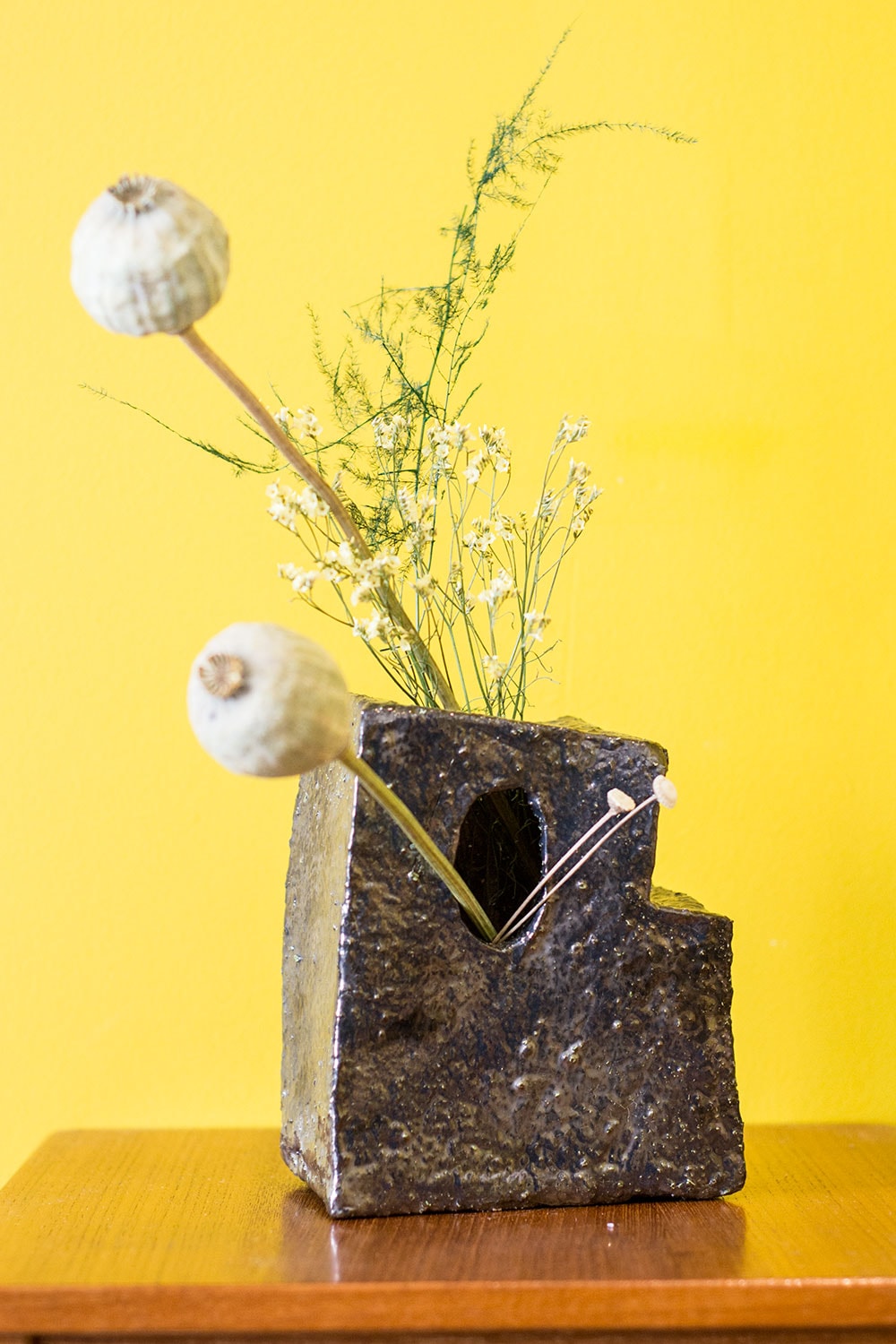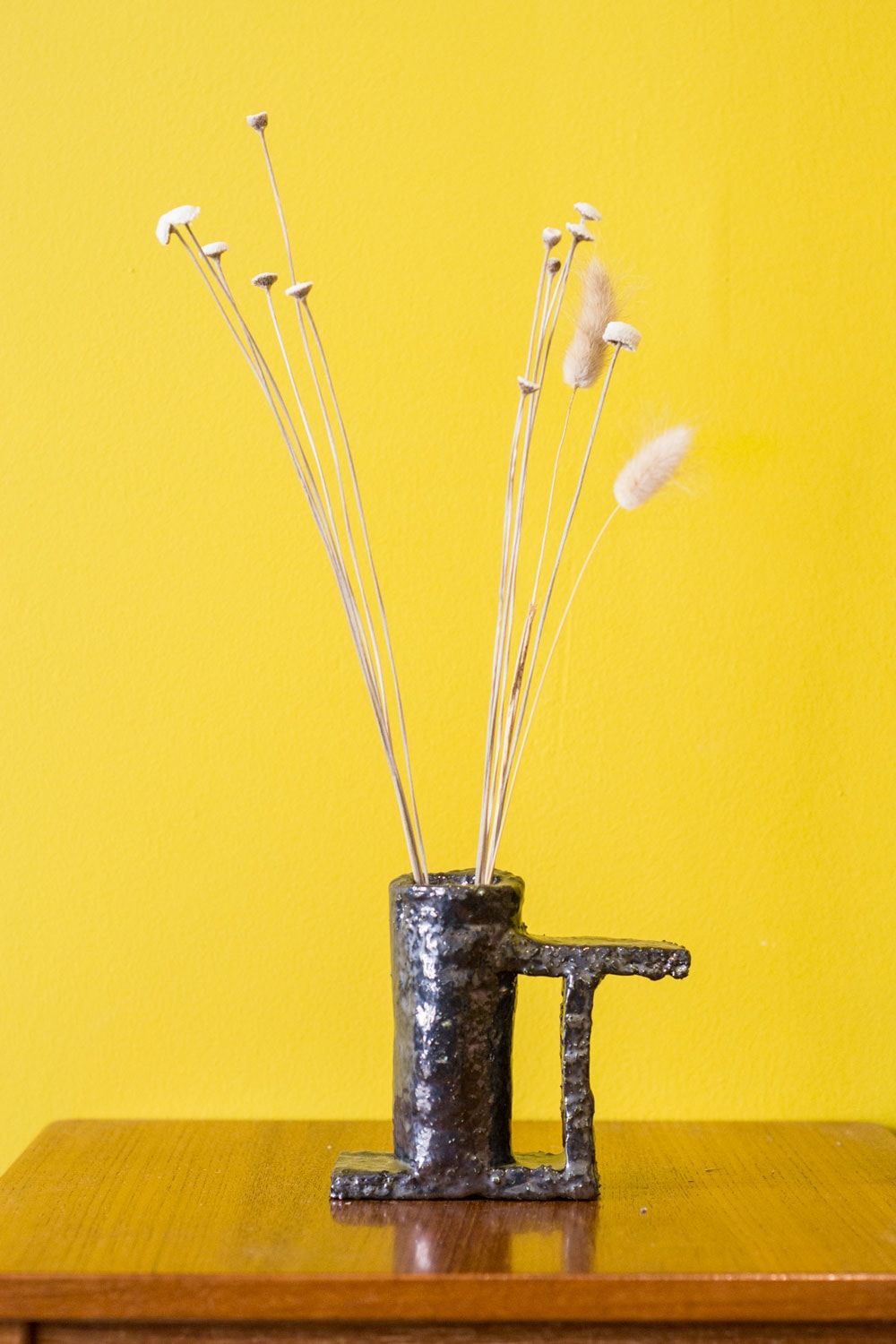 Who are your inspirations?
LB: We have a lot of different sources of inspiration. It could as well be a rock with a particular shape, or simply a color next to another on a flower. We are constantly inspired and amazed by nature.
SE: We came across four artists, among others, that are giving us a lot of inspiration. Our first loves are Andrée and Michel Hirlet, plastic artists working with ceramics, who keep amazing us with their incredible assemblies and shapes. We had the chance to meet them at the museum of the National Manufactory of Sèvres and felt very close to their way of thinking about art, design, and industry. We also discovered the work of Raoul Ubac in the Maeght Gallery in Paris. We absolutely love his subtle way of working with colors and matter. And earlier this year, we discovered Helen Frankenthaler at the Gagosian Gallery; she's become an inexhaustible source of spontaneity in colors and composition.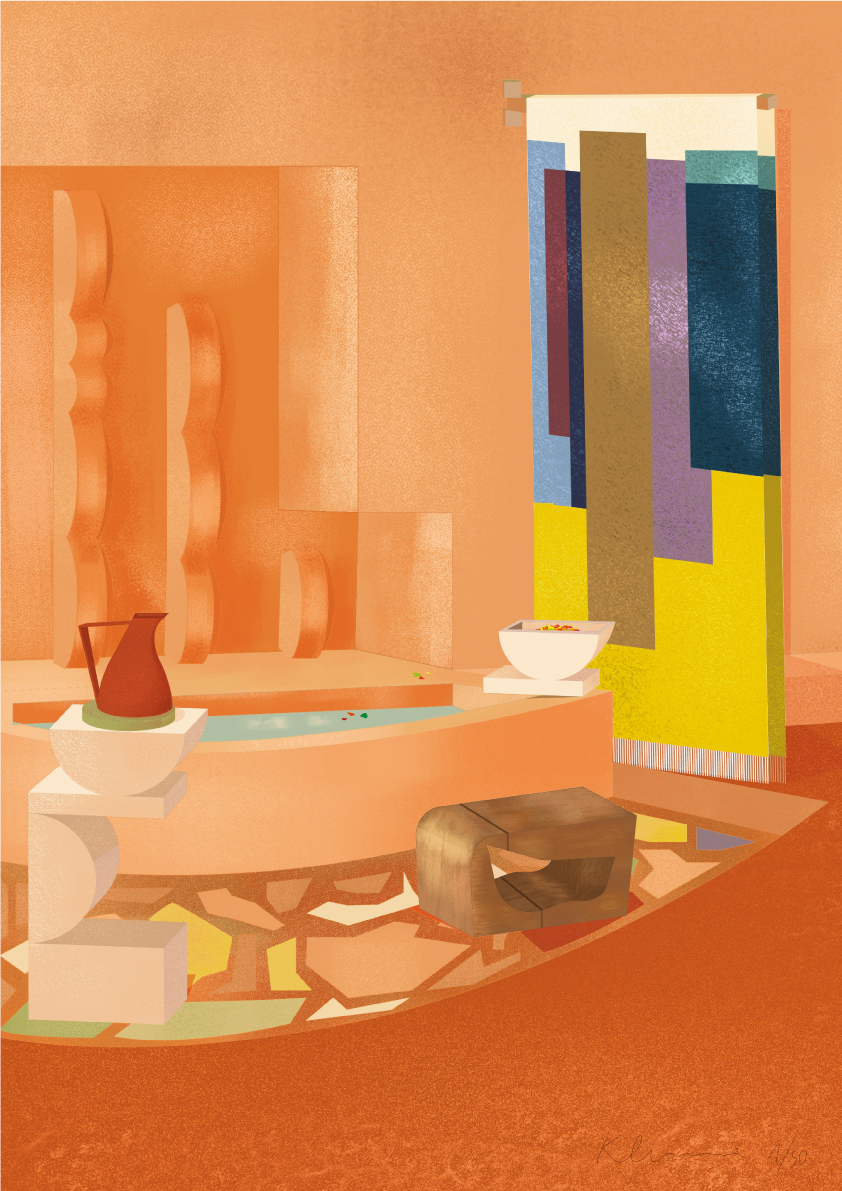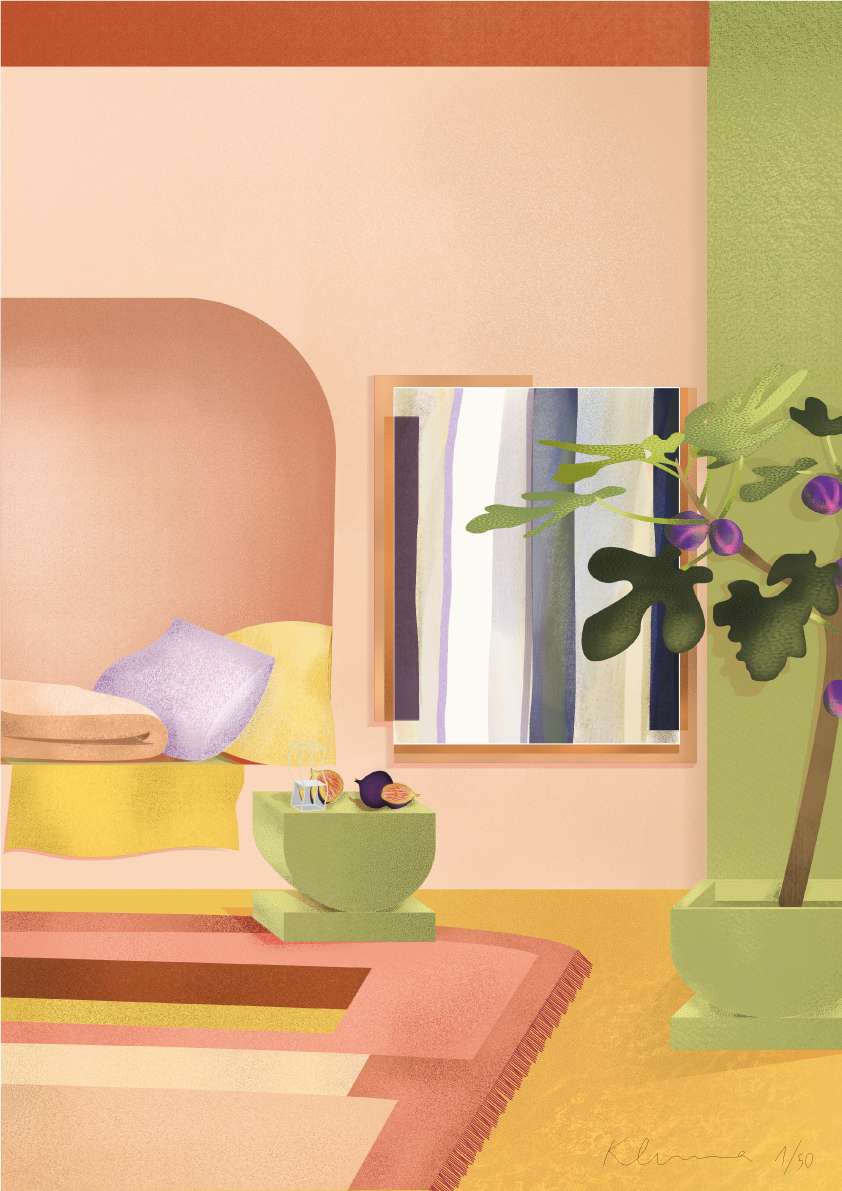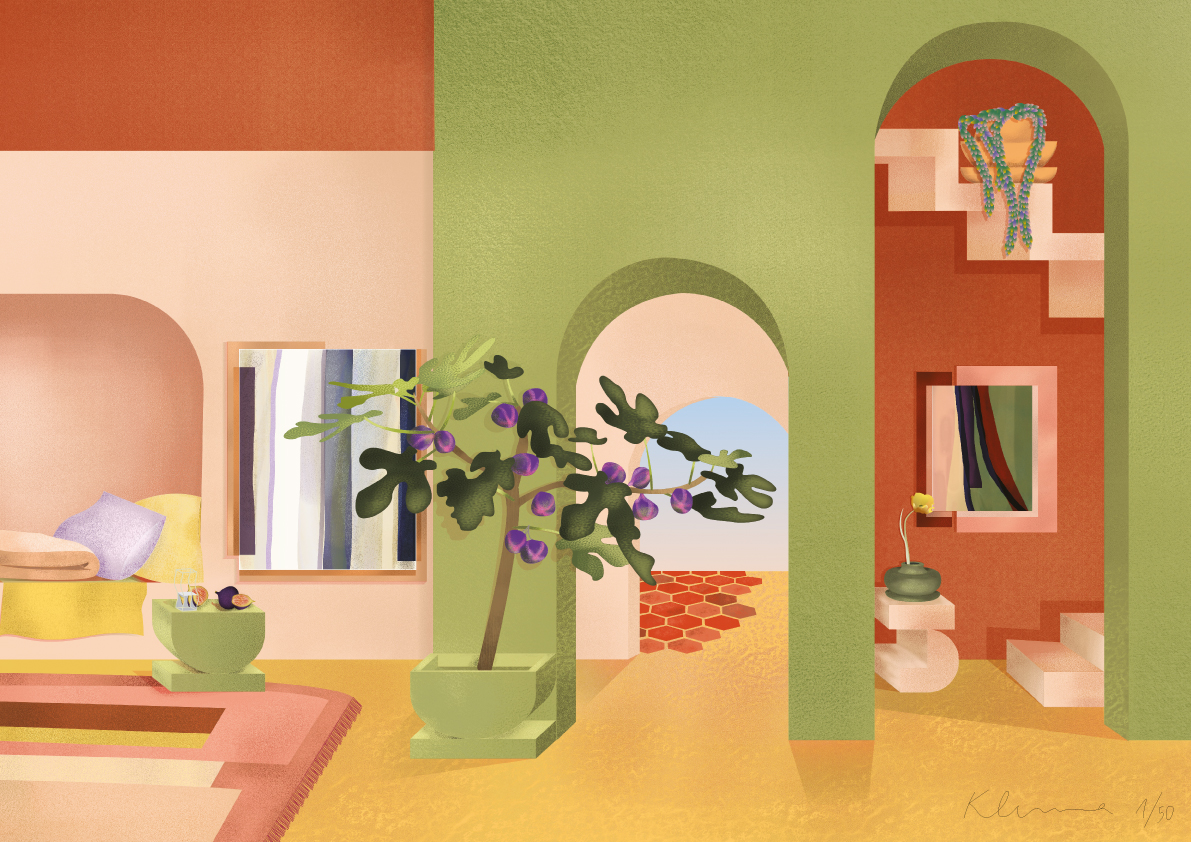 How do you make your posters (above)? Do you use analog or digital mediums or both?
LB: Our posters are where we like to imagine the spaces in which our objects could live happily. It's all digital. We employ a process using two different softwares: one to draw the skeleton of the architecture and the objects (Illustrator) and the second to give them textures and life (Corel Painter). The infinite possibilities of digital painting fascinate us and, since we don't have any actual architectural backgrounds or 3D skills, it has really became our own artistic style and our unique way to imagine interiors. This process is bringing a completely different approach to interior design. Each view of a space is like a set-up for a painting where each detail contributes to tell the story.
SE: At the beginning, we used to work with real photographs as textures to make our imaginary objects and it looked more like collage. We wanted more realism and more freedom to imagine new textures. With a little practice, we now manage to make real trompe l'oeil! It allowed us to work on a set of illustrations commissioned by Wallpaper Magazine for the W*House in their last issue. We had to depict designers' items as seen in the last Salone del Mobile and to create their environments. Léa was very good at making them look real.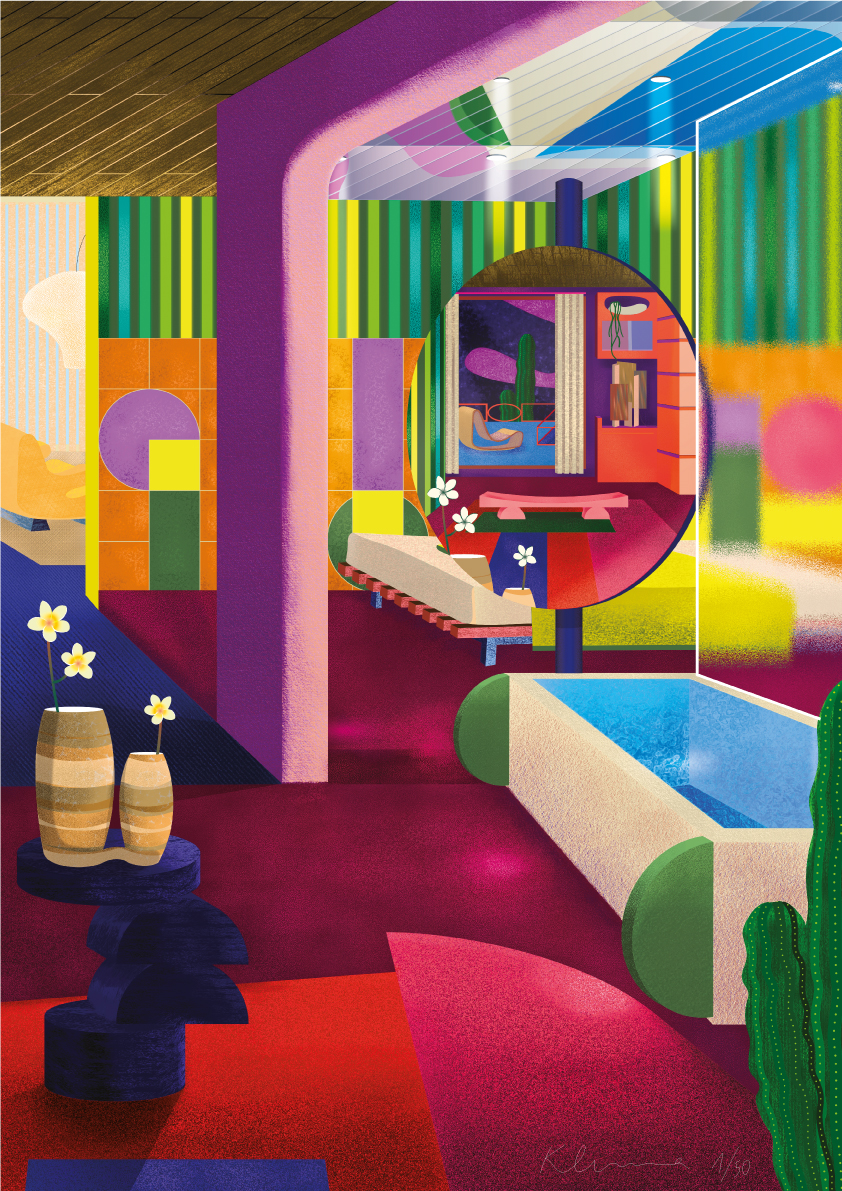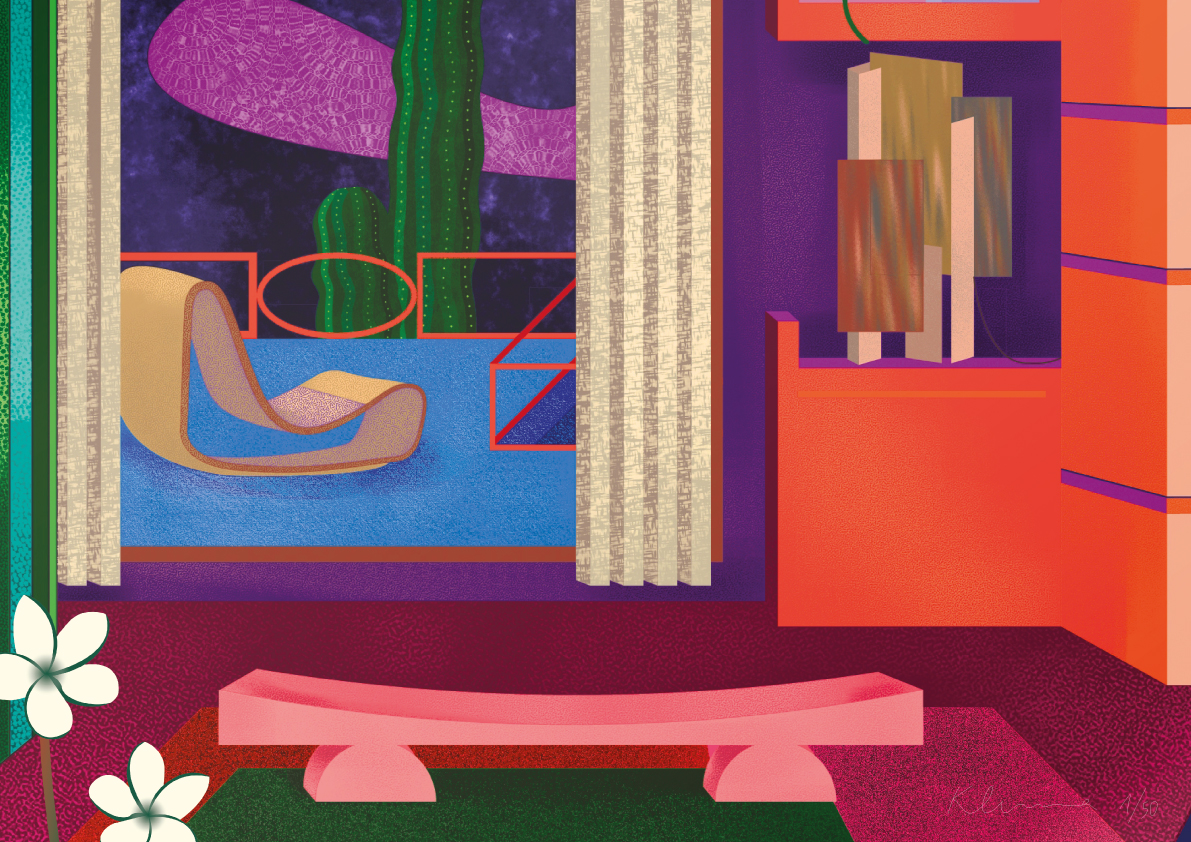 How does narrative and collaboration inform your practice?
SE: We are always telling a story whenever we create an illustration, a picture, or an object. We are constantly talking and imagining a context: names, uses, ambiances. Our world is sensory and we never stop defining it. This narrative aspect comes from the collision of our two sensibilities; it creates one unique vision. It's very fulfilling to collaborate together and we are constantly enriching the Klima story and our friendship.
LB: For example, the starting point for the "Pamela's Bathroom" poster (above) was the colorful personality of Pamela, the imaginary owner of this interior. She is not depicted in the image but her presence is told by her objects, furniture, and home decor, which shows her taste for exuberance. We imagined what this charismatic woman would have done with the space. Our fantasy about Pamela was our guide through this piece.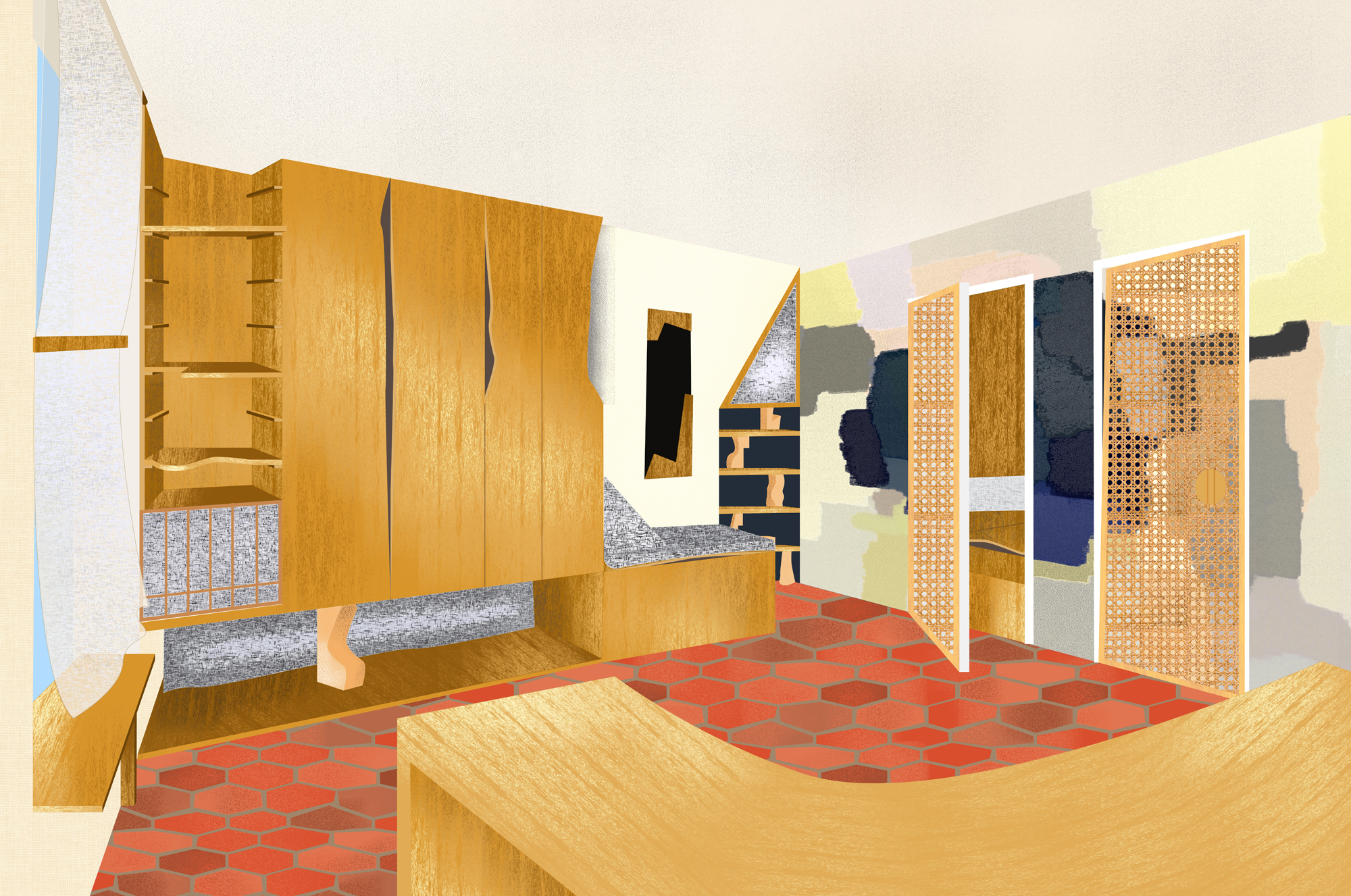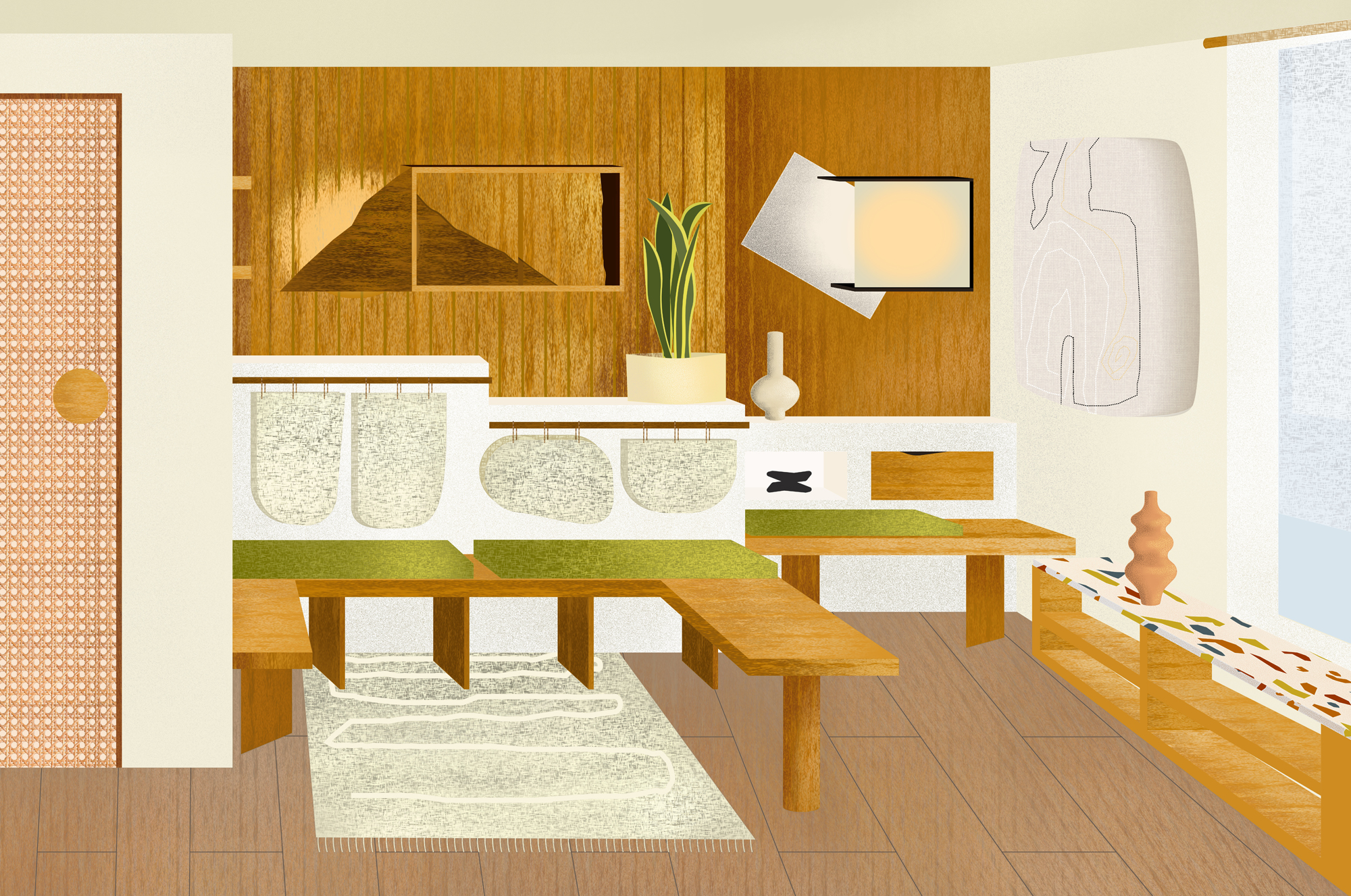 Are you interested in pursuing decoration and interiors as part of your practice? Are the "projects" renderings of interiors you hope to one day design?
LB: This has been our distant goal since the beginning, but we haven't had a real professional opportunity yet. Although recently, a friend of us bought a new flat in Paris and trusted us to imagine his new apartment interior. We proceeded with the same recipe we are using for our posters. We proposed an overall ambiance containing the furnitures, objects and posters we envisioned in each of his rooms. After a few adjustments with him, he agreed on a direction and we took it to the next step. This meant transforming our illustrations into actual pieces of furniture. For this, we collaborated with our dear friend Eimear Ryan, who is an actual interior and furniture designer. She made the final designs and drew the blueprints and 3D plans with the right proportions for the fabrication. We are now at the stage where we are closely working with our wood manufacturer, Lucas Bazin, to make the sofa and the shelves.
SE: We are learning a lot from this. Since we have to work with a small budget, we need to take into account the price of materials and the cost of fabrication. There are also a lot of pieces we will create ourselves from scratch, like wall-cushions and sculptures, and of course posters to decorate the walls. This project plays into our affinity for designing a tailored universe for a particular space and person. In other words, we would love to have more projects like this one in the future.