11.27.18
Tour the Chic, Vintage-Filled Silverlake Home of an Up-and-Coming L.A. Interior Designer
To anyone who's wandered into Night Palm, a small furniture and art gallery on a happening stretch of Silver Lake Boulevard in Los Angeles, the home of interior designer and collector Tiffany Howell may feel the slightest bit familiar. Howell's private space is a relatively seamless extension of her public one — a highly personal and eclectic mix of vintage furnishings in velvet, brass, lucite, stone, and wicker, punctuated by rock photography and paintings by Jessalyn Brooks — yet it puts her vision more fully in context. Completed earlier this fall, the mid-century Silverlake home she shares with her husband and son gave her 1,500 square feet in which to fully realize pet ideas like a "postmodern Golden Girls" bedroom, making it the perfect second installation in our Creative Women at Home collaboration with Sonos. We've teamed up with the smart speaker brand for a storytelling series in which we're visiting the homes of four influential women to find out how they live, work, relax, and listen.
Howell began her career working for the legendary photographer and director Herb Ritts, then found herself art directing music videos for several years before realizing that interiors were her true calling; we spoke with her at the precise moment when her career is taking off in Los Angeles and beyond. She recently completed the interiors of the buzzy new Hollywood boutique hotel, bar, and recording studio Gold Diggers, and has a handful of residential projects on the horizon. Get to know her — before everyone else beats you to it — below.
PHOTOS BY MAGGIE SHANNON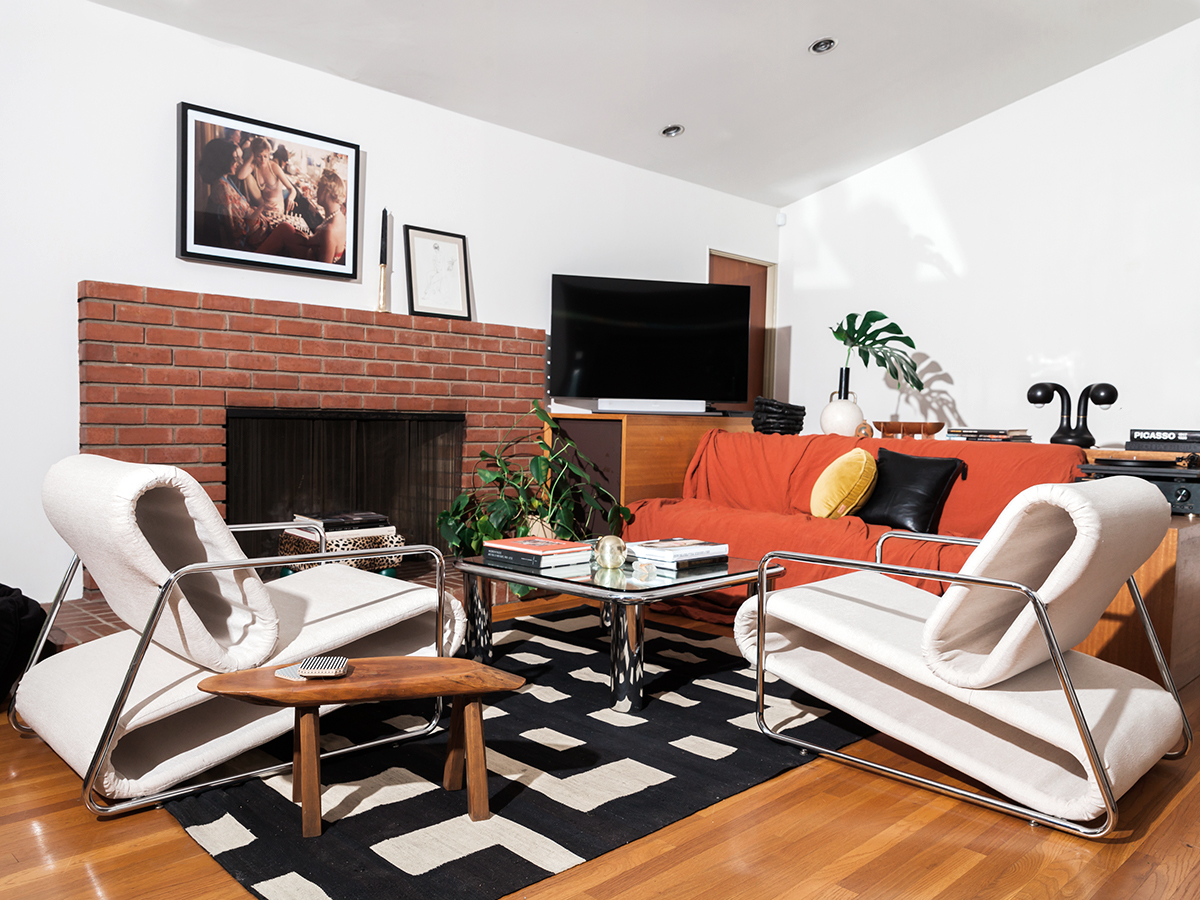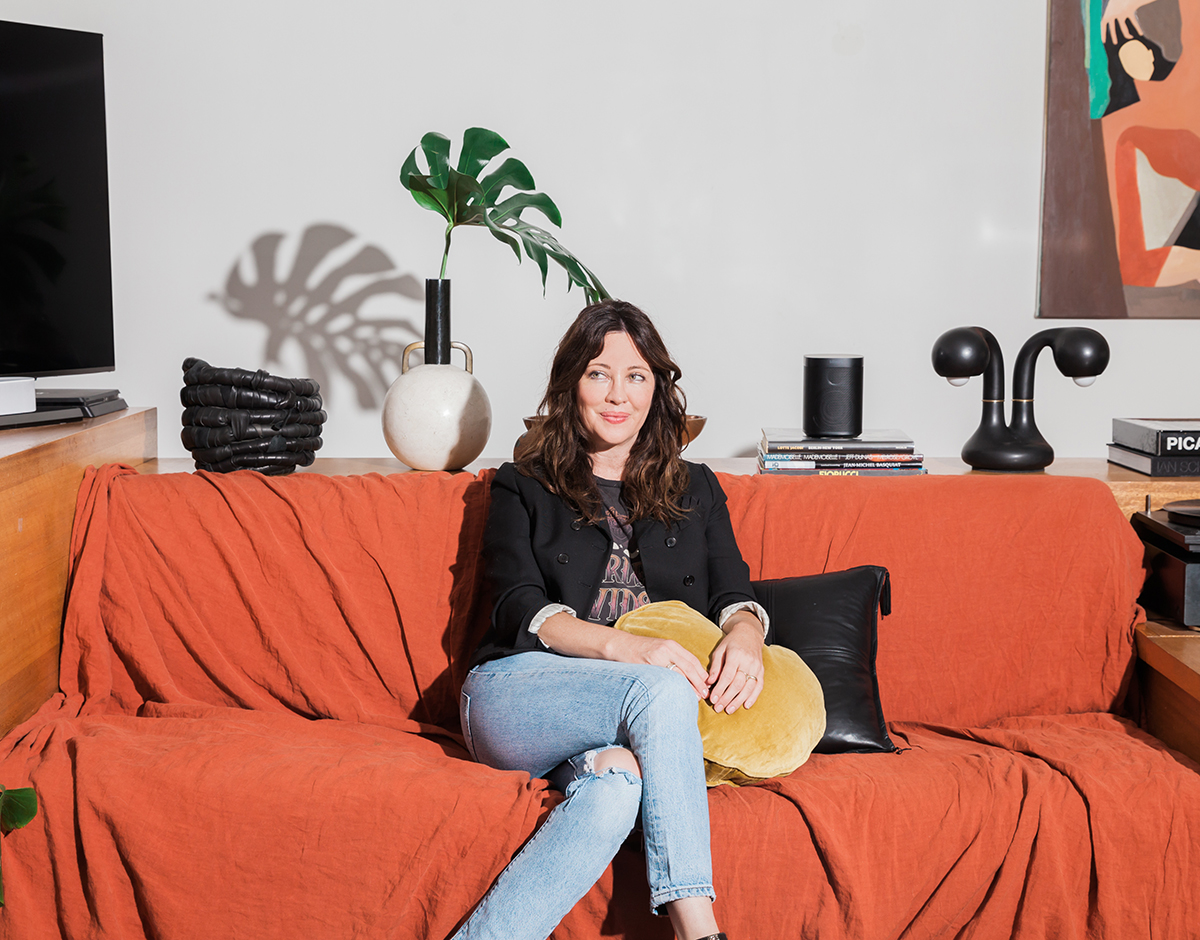 SU: So let's start with a little bit of background. Have you always lived in LA?
Tiffany Howell: I've lived in LA most of my life, off and on. There was awhile when I was doing part time in New York and part time in Los Angeles, but then I had a kid and I stopped doing that. I've also lived on the East Side most of my adult life too — I was here even when there wasn't even a Starbucks or anything. It was crazy here when I first moved here. I bought my first house in Echo Park in 2001. I saw the East Side and I thought, this is such a cool Bohemian place that no one knows about yet. There were gang shootings practically every night, but I loved it here. It just felt so special.
SU: When did you start designing interiors? Was it right out of the gate, or did you get there after doing other things?
TH: Actually I started out working for Herb Ritts, when I was 20 years old. I worked my way up to running his music video division, stayed there doing that for a while, then left to start my own company and direct music videos. But I've always been doing interiors, it was just more like a hobby — I was always doing everyone's houses, and also designing interiors for sets.
The company I started when I first left Herb's was with a friend of mine, and we said, 'Let's just make this a creative think tank where we do whatever we want.' We did Target commercials and we did interiors and we did documentary music videos. Then I had a child and I was like, 'When I go back I only want to do interiors because it's what I'm supposed to be doing.' I left all the production stuff behind.
SU: Were you doing music videos specifically because you love music and you really wanted to be involved in it somehow? Or was it more just that it was the first job you got, by accident?
TH: I knew I wanted to be at Herb's. I knew it was going to be my creative schooling. Herb's partner became my mentor, and he knew my family were all musicians, and he was like, 'Music is your thing. You don't want to be doing commercials. You should do music videos. Let's give this a shot.' I brought in directors like Mike Figgis, which was thinking outside the box for them. They let me curate interesting things within the company, we would try it, and then eventually it just led to me doing music videos full time.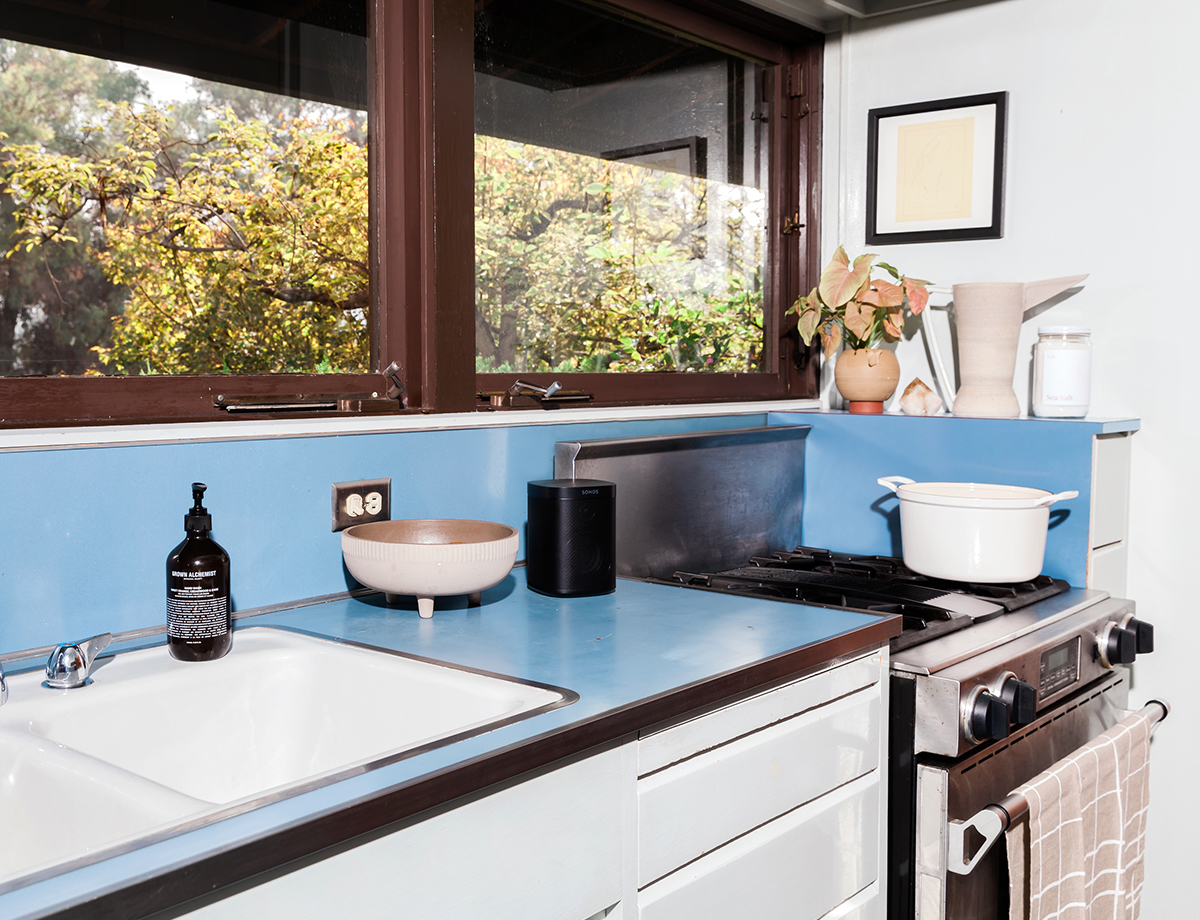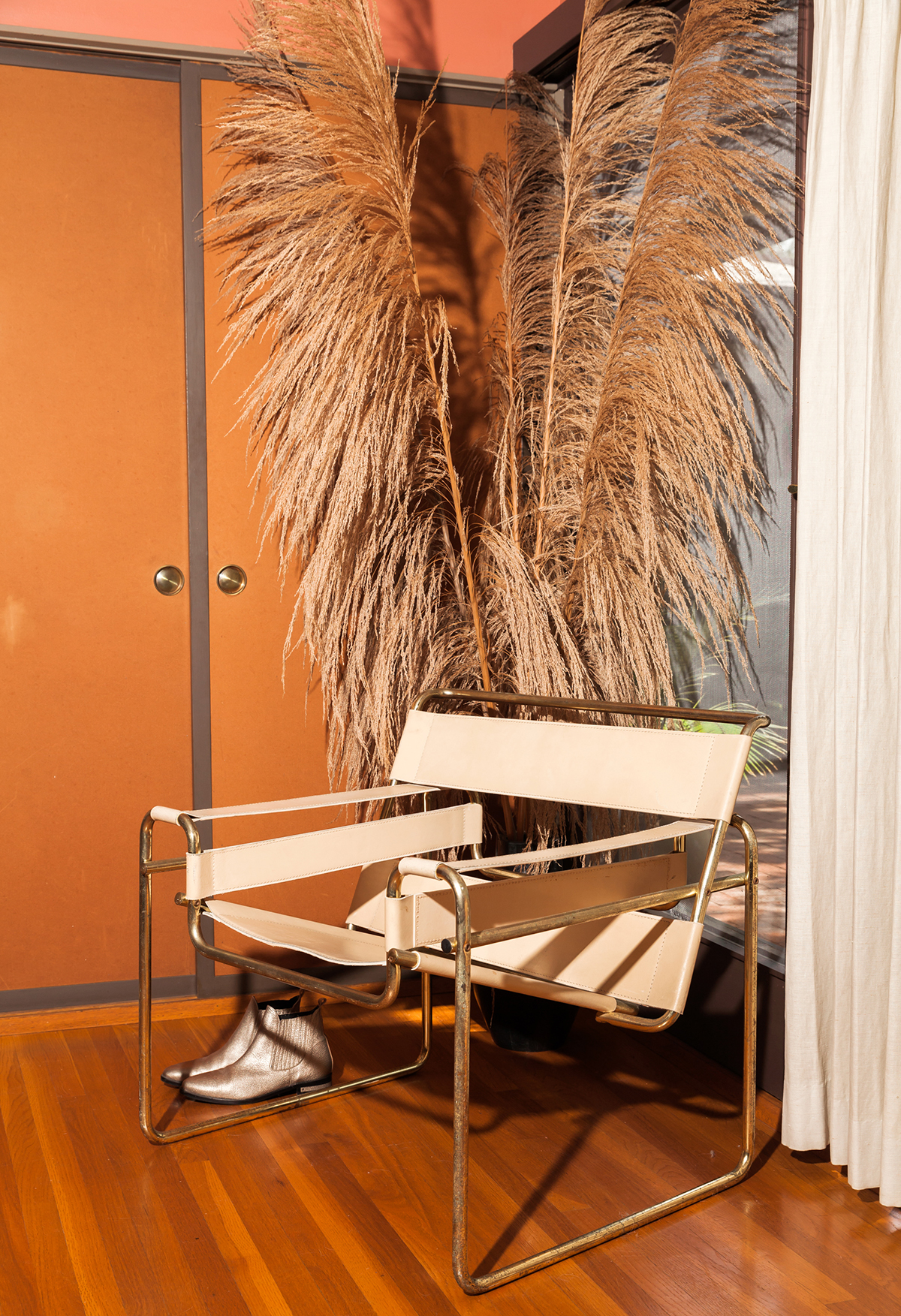 SU: Your family are all musicians?
TH: My mom was a singer and she can pretty much play any instrument, but she stopped once she became mom. She was a backup singer for Ricky Nelson. My dad was a musician and a radio disc jockey, and my brother is a musician too. He was signed for awhile. Everyone was a musician except for me. I can kind of play the drums, and I was a dancer, but I was just around it. When we're together there's always music and everyone is playing instruments and singing and being silly.
What's interesting is that I didn't really get to fully appreciate my mom's creativity because she became a single mom, and with the pressure of raising two kids, she wasn't able to meet her full potential. So although I was constantly around creative people, I feel like she almost steered me away from doing a creative job. Now she looks back and she's like, 'You were the most creative thing I've ever done.' She lives vicariously through us.
SU: Where did your interest in design come from?
TH: I was designing when I was, like, three. My mom said I was always designing the house even in junior high — I would make my own wallpaper. I would cut magazine pieces out and piece them together and make crazy wallpapers for my room. And I'm not talking like just like taping magazine pieces up like girls do. My room had to be designed, even at seven. I was very specific with colors, and it had to feel a certain way and look a certain way.
My cousin is an interior designer in Japan, and my grandmother was very into interiors, too. She wasn't a designer, but I would say if anyone inspired me it would have been her. Her house was very retro, but in a very good way. I'd go over and we would redesign her house together.
SU: When you started doing a bit of your own design in the professional space, what were some of your earlier influences? What was your style?
TH: I'm more of an object person, where I get into the idea of finding two amazing pieces and then I design around that. I always say my style is postmodern Golden Girl, but it's also organic European old-school. I think I'm more in love with objects than any one specific style. But anyway, back then it might have been a little bit more earthy. I don't dare say Boho, but… You know what I mean.
SU: Sort of like, Stevie Nicks meets Coachella? Haha.
TH: Ha, no. But there might have been a point when I'm sure I did a couple of Venice houses, and I can still do that. I'm dying to have someone let me do a postmodern, shabby-chic, Laura Ashley vibe. I want to do that so bad. But yeah, I think for me it's falling in love with pieces and then building a room around that.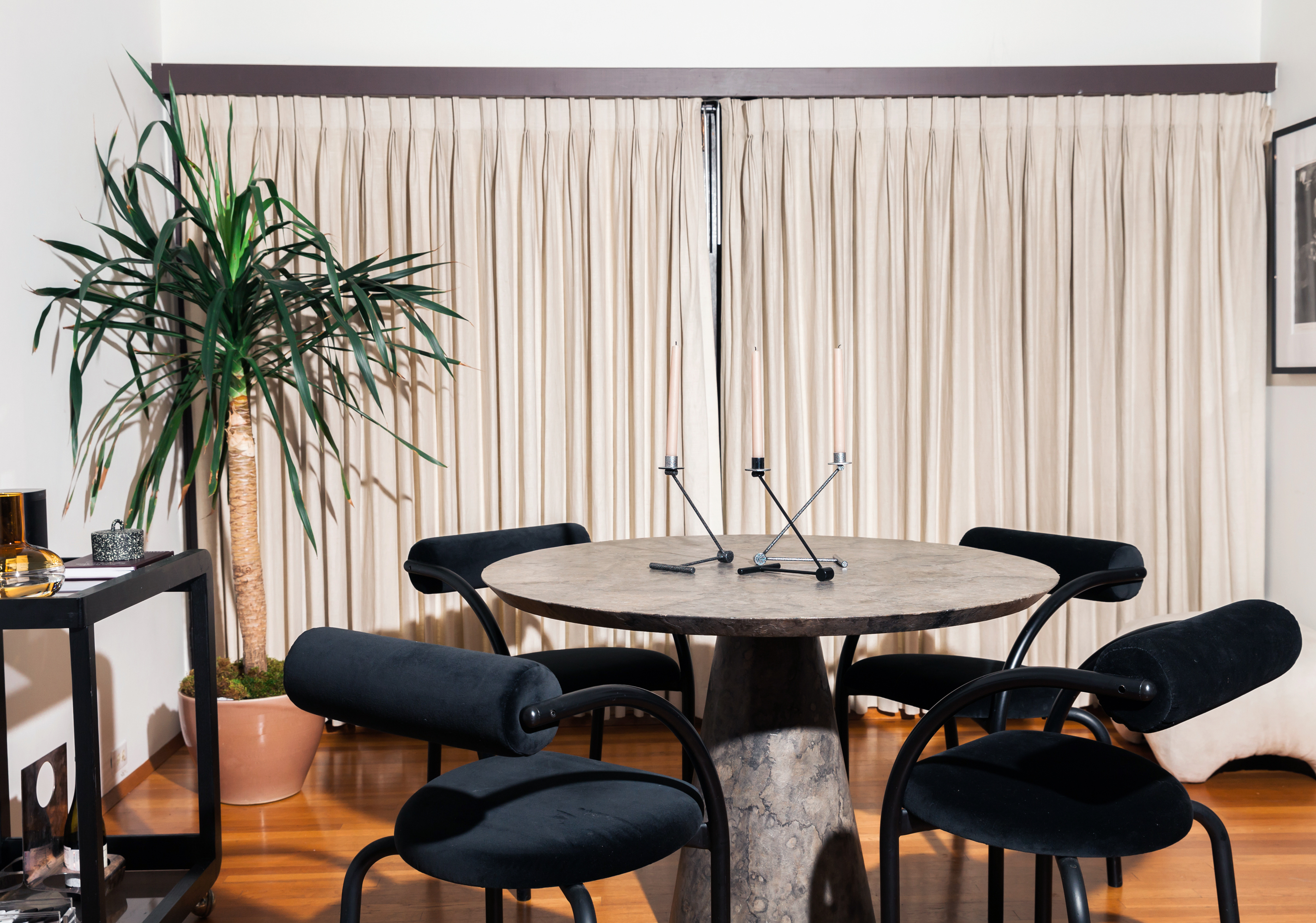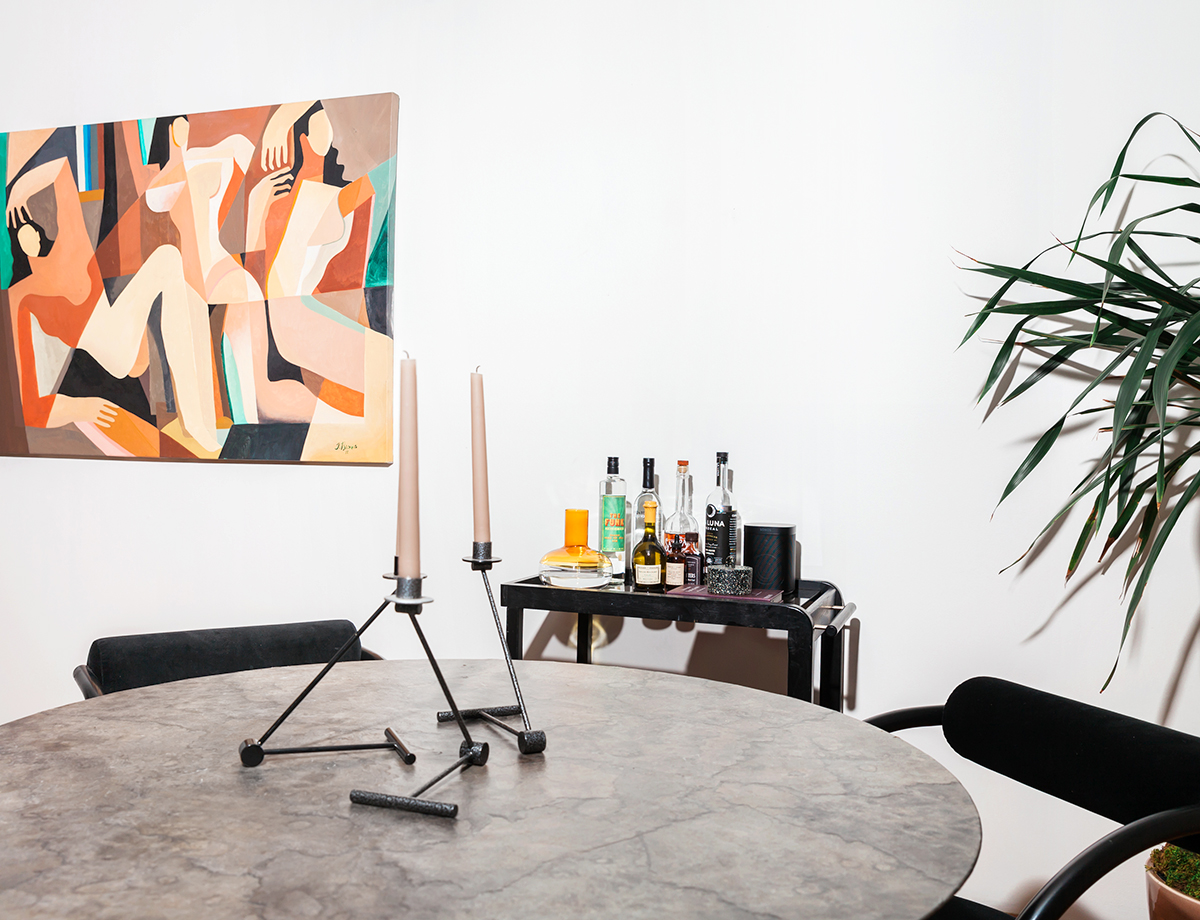 SU: What's your house history? How many of your own spaces have you really put effort into designing?
TH: I've lived in so many different houses, because eventually I'll get bored and want something different. I've done a '70s cabin, and my first house was very Spanish modern, and then I've also done an arts and crafts house. I've done it all, but this is the first house that I didn't design quickly, that I actually put a lot of time into.
SU: How did you end up living in this house? How did you find it?
TH: I've been in the area for a long time, and I walked past this house for years, and I was obsessed with it. I was drawn to the architectural aspect of it, but then it also has these lush gardens out back, and a huge deck overlooking the Silverlake Reservoir. But the owner was keeping it for his daughter and it just wasn't ever going to happen. Then we were looking for a house in Ivanhoe for my son, and my real estate agent was like, 'Oh, I have this amazing house. I think you guys are going to flip,' and we show up and it's this house. I couldn't believe it. I feel like I manifested this house somehow. I think we might be the first renters who ever lived here.
SU: Oh, it's a rental — so that changes how much you could do with it.
TH: Yeah. I can't change it to be exactly the way that I want it to be. And being a designer and living in a midcentury would be dreamy for most, but for me to have all these built-ins is kind of annoying, because I want to move stuff around constantly and do things but I'm confined by the built-ins. They're stunning and gorgeous, but limiting.
SU: Is it by an architect of note?
TH: It's called the Hampton House, and it was built in 1951 by an architect named Harwell Hamilton Harris, who studied under Neutra and Frank Lloyd Wright. It's on the midcentury house tour circuit. In fact, Neutra's son Dion just popped by the other day to make sure we weren't changing anything. He's like 90 years old and he just pops into our house and says, 'Just please don't change it.' I was like, 'Don't worry. We're not allowed to.'
SU: What were Harris's signature design moves?
TH: The indoor/outdoor aspect was a big thing for him, bringing the outdoors in. The whole house pivots open to the outside — all the doors and all the windows, everything pivots open. Also he would make small homes out of modular systems.
SU: When you found out that the house was up for grabs did you immediately have a vision for it?
TH: When we first moved in I wanted to live in the house for a bit and get a feel for it, but I kind of knew what I wanted to do with it. I knew I wanted to do something other than midcentury. I mean I have a few midcentury pieces, but I also brought in a '70s Italian vibe. I wanted it to be a little bit more eclectic.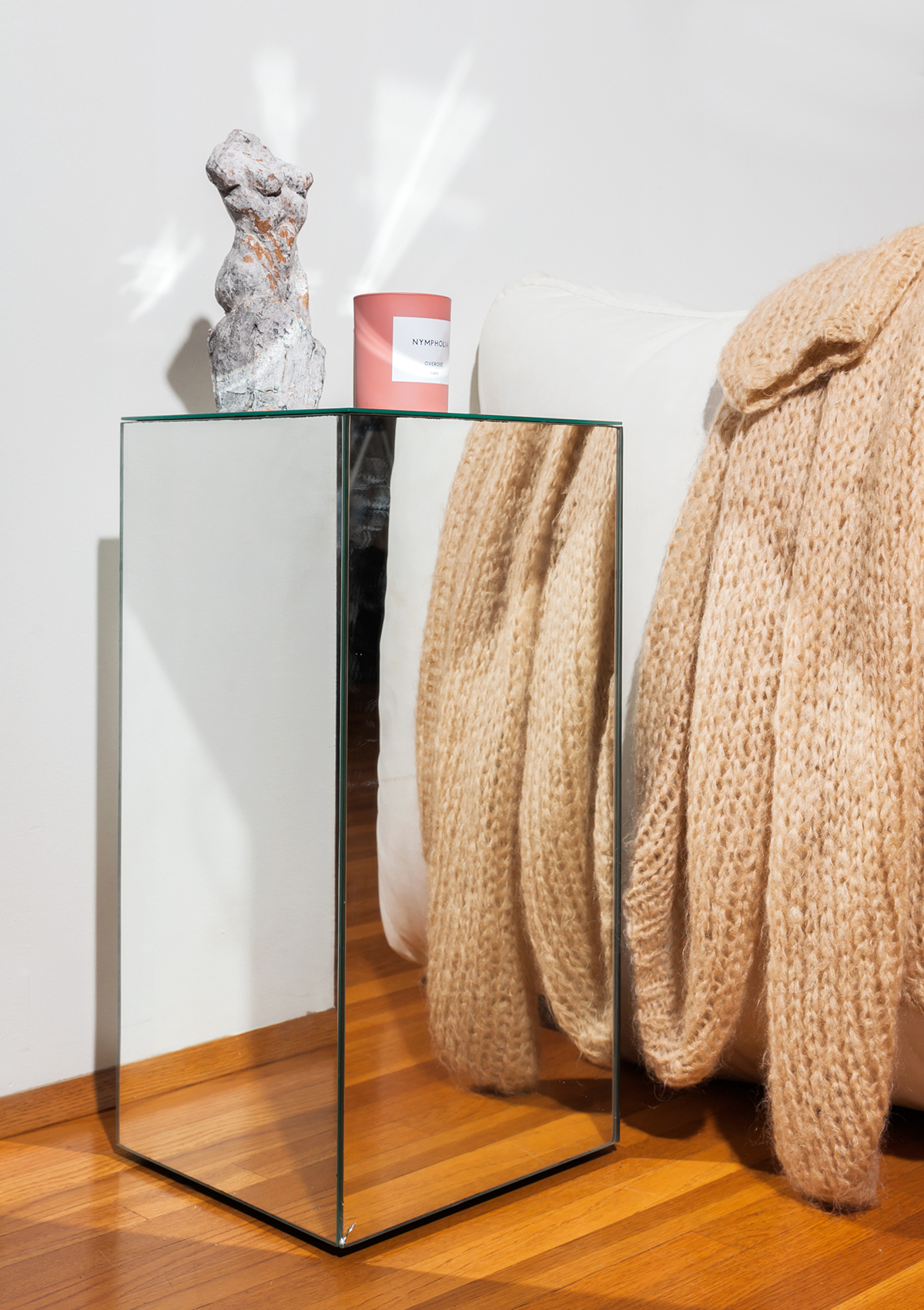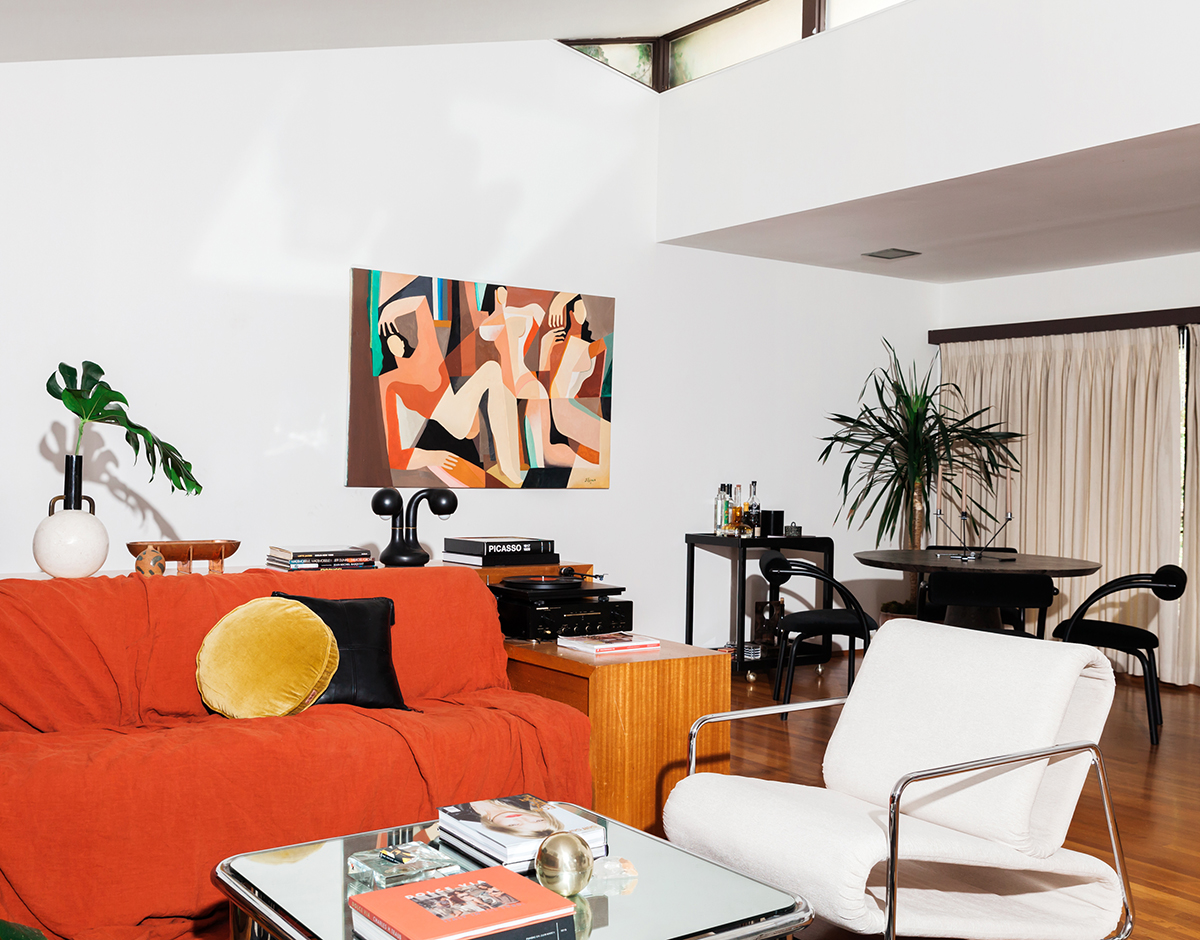 SU: And how does it work with your store, Night Palm? Is it fluid, where you'll take things from that collection and put them in your home, and vice versa?
TH: Yeah, I do that all the time. I'll take stuff from the store and bring it here and live with it for a while, then when I get sick of it I'll bring it back to the store or I'll rent it out for production design. The Percival Lafer chairs in the living room, for example, were from a client of mine who's an actress and imported them from Brazil, then we didn't use them in her house, so I put them in mine. I have to be really in love with a piece to keep it forever. I'm a Gemini.
SU: Where do you source your pieces?
TH: I'm always shopping, which is how the store started — I had to get rid of some of my hoarding. I shop everywhere from Chairish to estate sales. I also have people that shop for me that know my taste and present things to me that they find. And I do a lot of flea markets. I'm at the Rose Bowl every month for sure. I also I shop new, too. There are so many great stores here in Los Angeles for that: Lawson Fenning, A+R store, and Hawkins NY. Vintage stores I often shop at are MA +39, The Luxe Lust Life, and Amsterdam Modern. As far as what I'm on the lookout for, I really, really love '70s and '80s Italian. That's my favorite.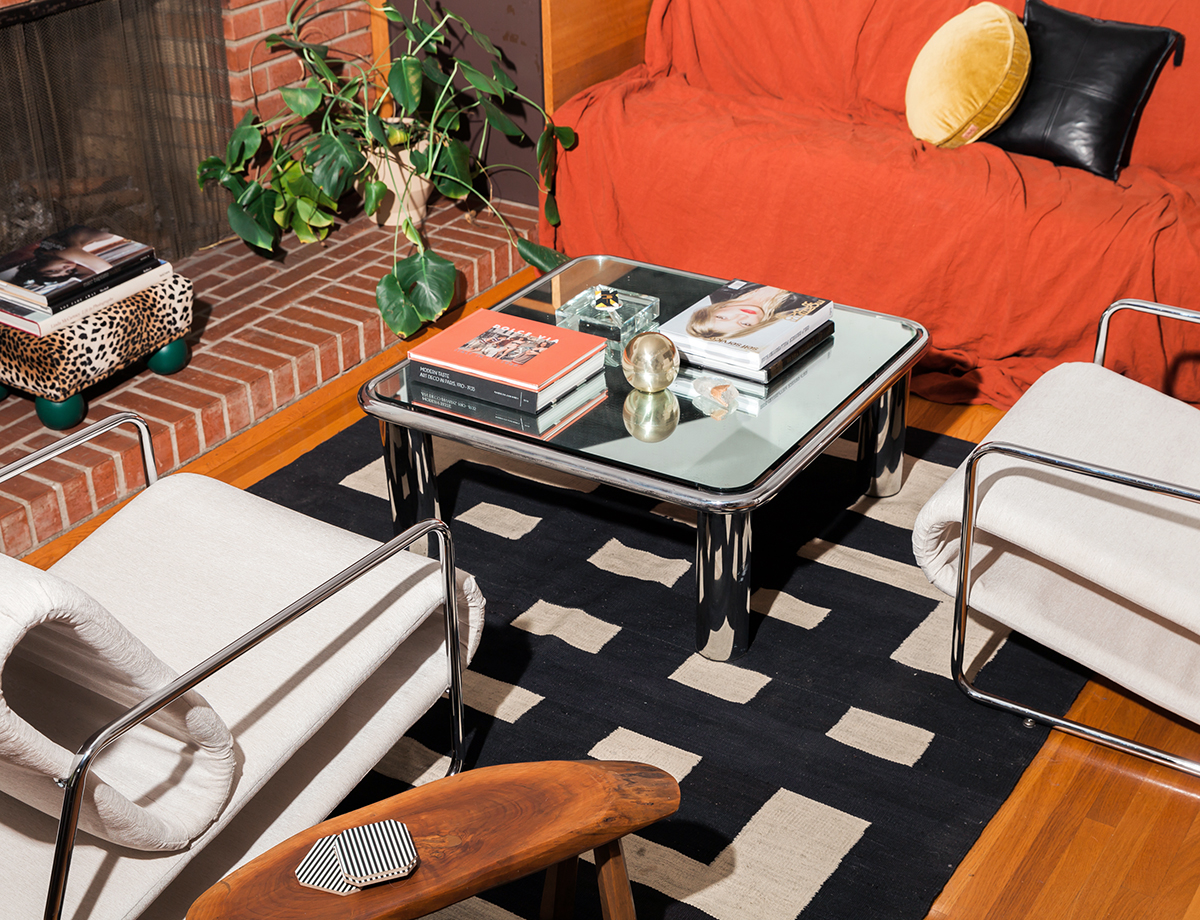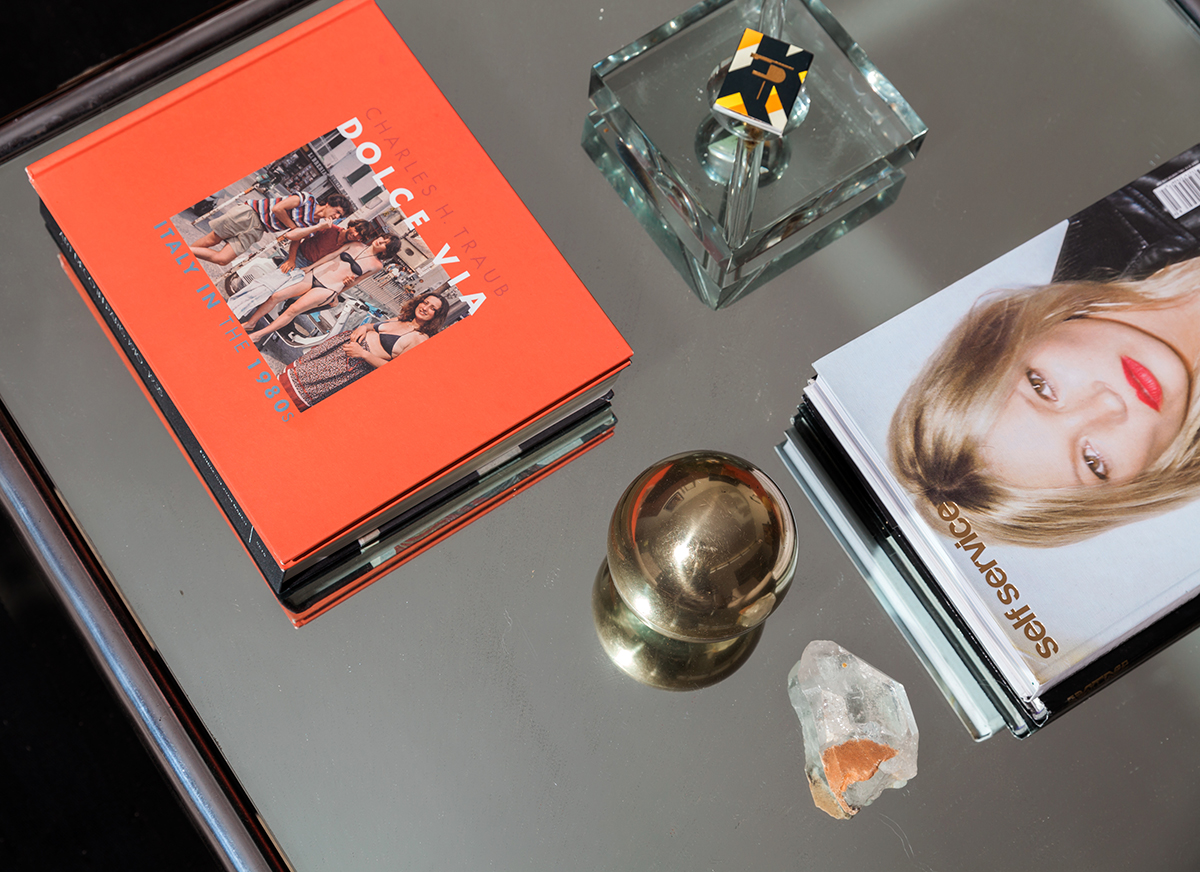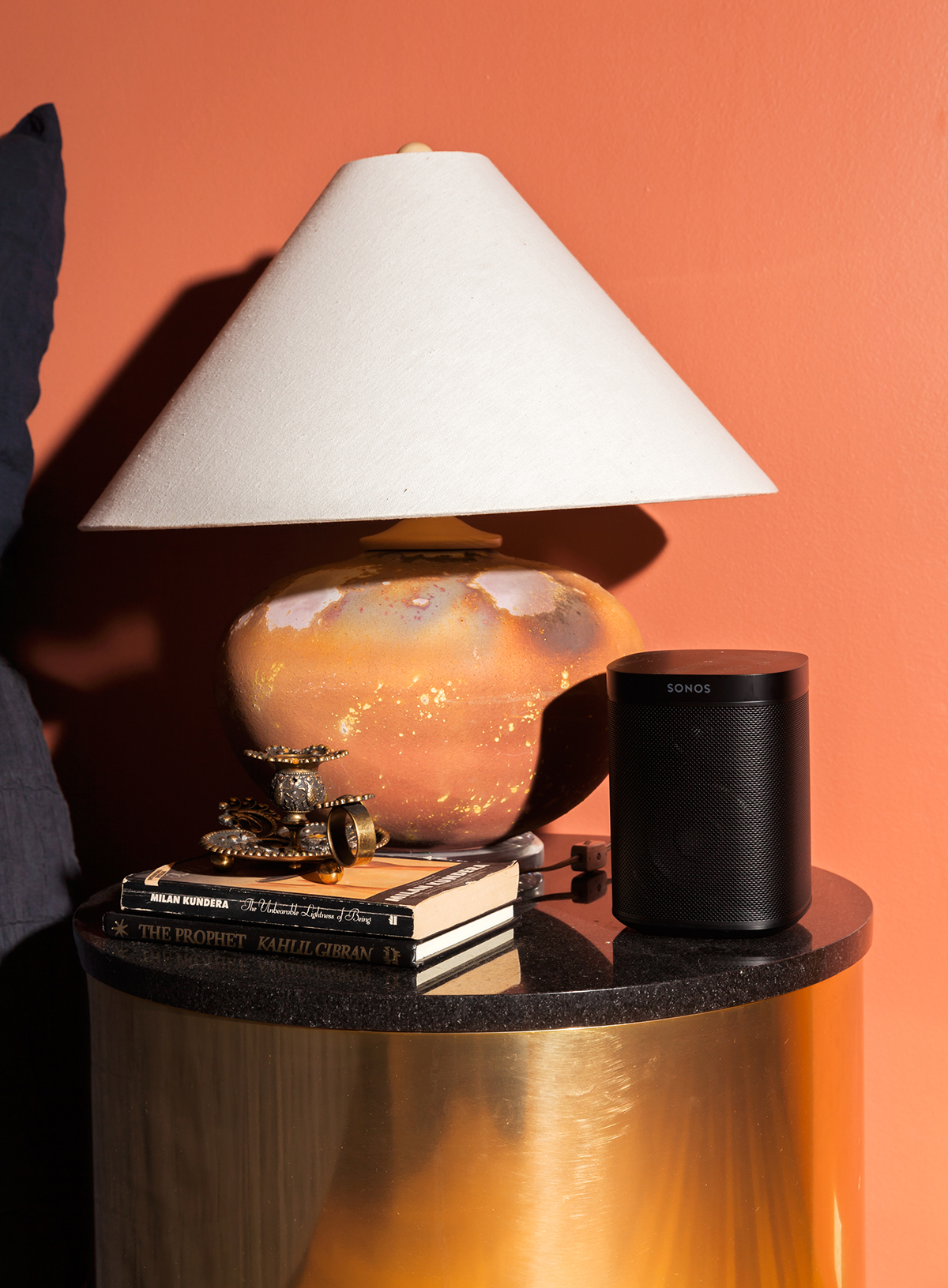 SU: Can you walk me through a few of the moments in the house where you got to try something you'd really been wanting to try?
TH: This may sound silly but I've been wanting to work with chrome — normally I have a tendency to do brass or gold, but for this house I included pieces like the Bellini table in the living room because I thought chrome would work really well with the wood and all the textures of the house. In my bedroom, I painted my walls terra cotta, which was something I'd been wanting to do for awhile, and actually I kept the room much more simple than I normally would. I wanted it to feel soft and subdued and represent almost like an old European — I don't know — piece of clay. It's like Estelle Getty in Tuscany or something. I wanted it to feel very peaceful. Normally I would have a bunch of art on the walls.
SU: Speaking of art, you have a lot of music photos around the house — how did that collection come about?
TH: When I was younger I started collecting music photography that friends of mine took who were band photographers or who worked for festivals or tours. I started buying their work and then it became an obsession. So I have photos of Elvis Costello and of Keith Richards, and of Bowie and Led Zeppelin and Brian Ferry. But it's not just rock photography; I love collecting art in general, and also photographs of people that I'm infatuated with, like Andy Warhol or Gordon Parks. The running joke is that I put the people on my walls that I'd want to have a dinner party with.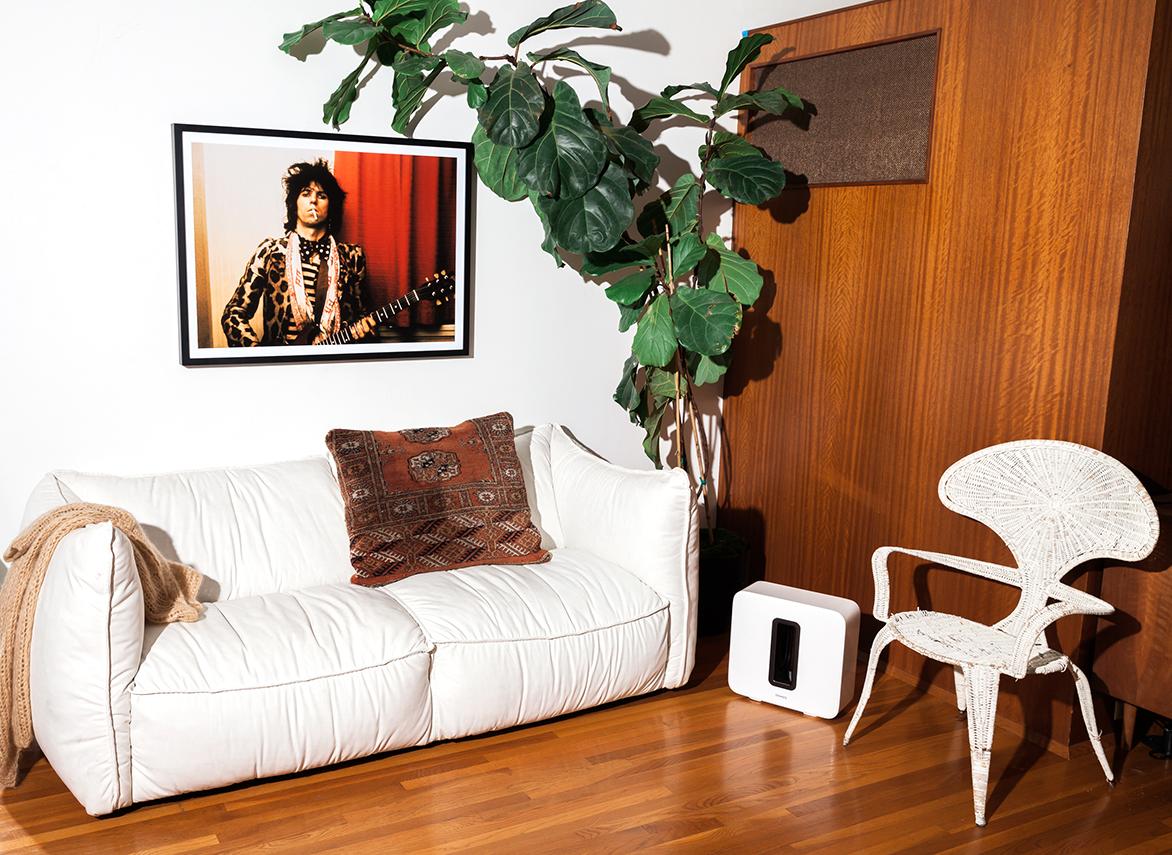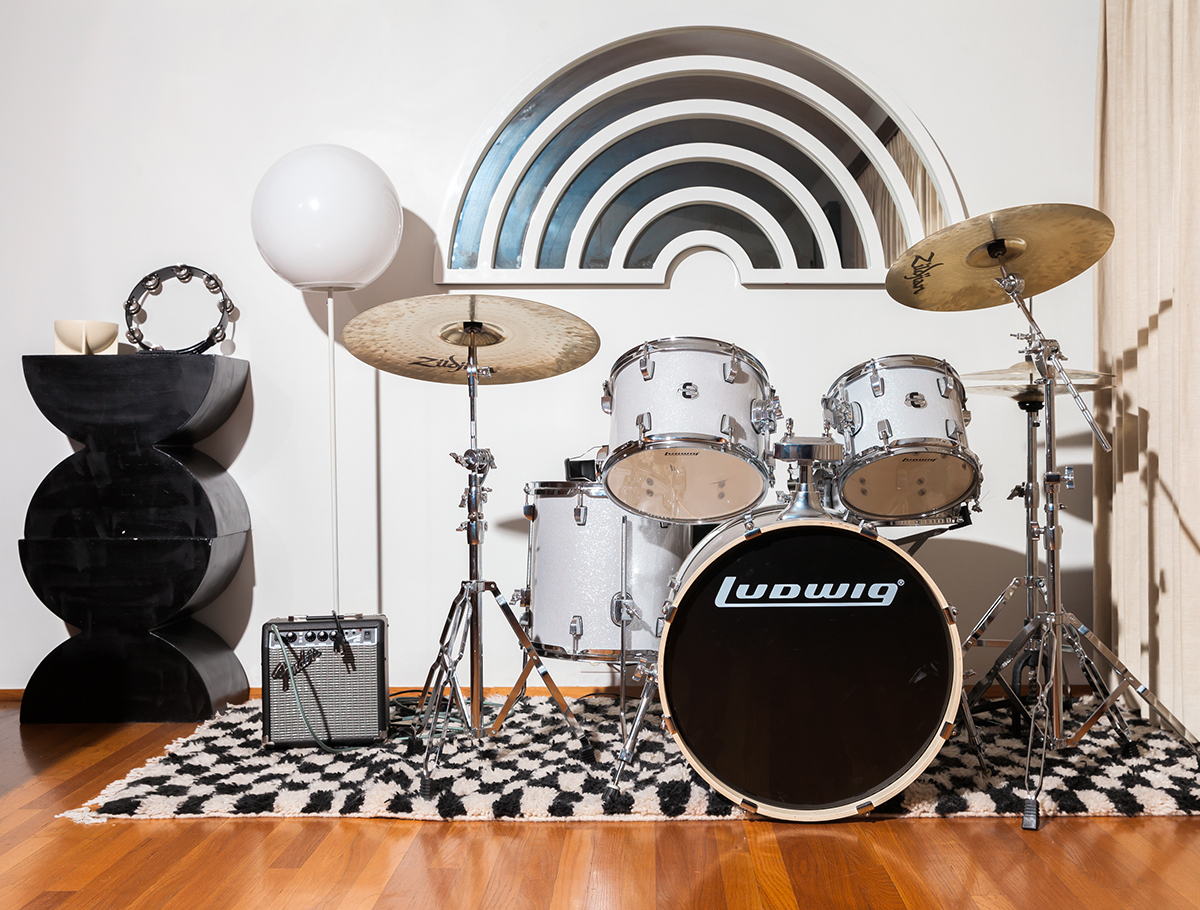 SU: Can you tell me about the wicker chair in the main room? It's so great.
TH: Isn't that stunning? I've never seen another chair like it, but I'm not sure what it is. My friend who I bought it from owns an amazing store here and she doesn't know either. It's just this sculptural white wicker chair and it's just so pretty. I don't get so hung up on names. I do more so now, because I like to support contemporary artists, but I don't feel like I need to like stock my home with a bunch big-name pieces.
SU: And what about the drum set up? Is that for your son?
TH: Yeah. He's 8 and he's a little musician already. And I don't care if there's noise in the house because I play the drums myself. He helped me design that area for himself — he loved that rainbow mirror so much.
SU: Do you guys do family jam sessions?
TH: We do, almost every day. We have a bunch of instruments and we have a karaoke machine and we have microphones, and a lot of our friends are musicians so they'll come over and we'll have dinner and start playing music. We have the best time. When I was growing up we did the same thing. We actually have a crazy keyboard from the '80s that my son loves to use as a DJ booth, and people in the neighborhood come and do it with us. In fact a lot of our neighbors around us are musicians, so they don't mind if my son drums at 8 in the morning.
SU: Does he write music as well? To the extent that he can at age 8?
TH: He's actually pretty gifted. He tries to write his own music, and if he hears something he can typically teach himself to play it on the keyboard. He hasn't had lessons yet but he can play instruments on his own.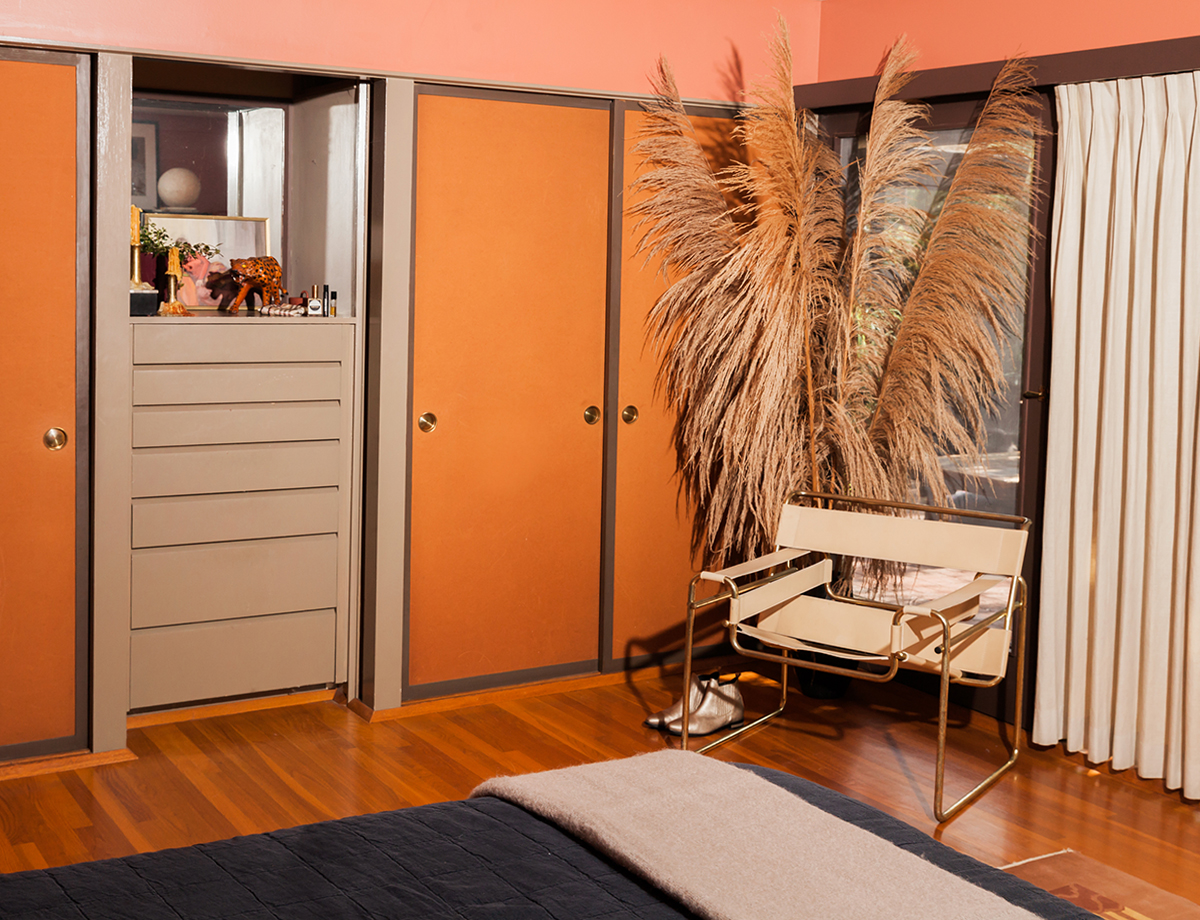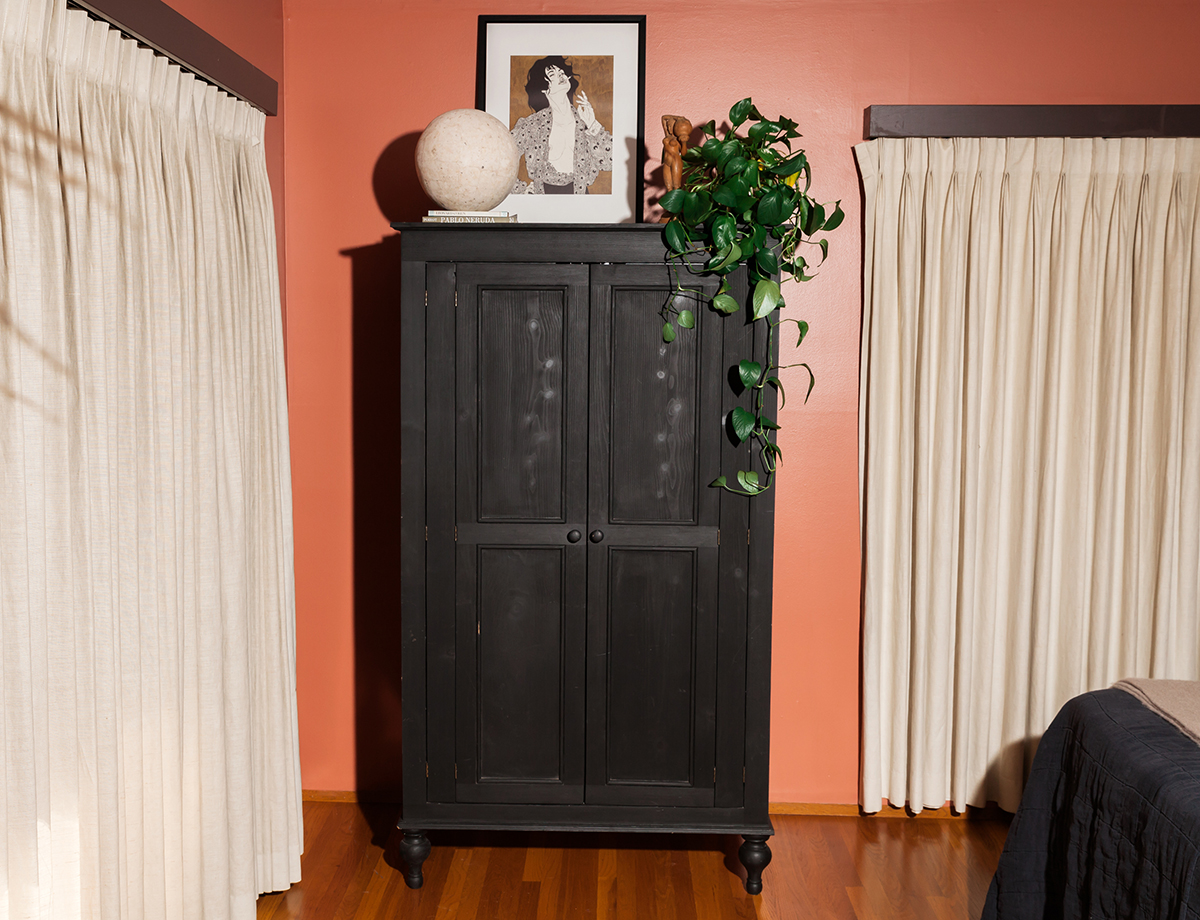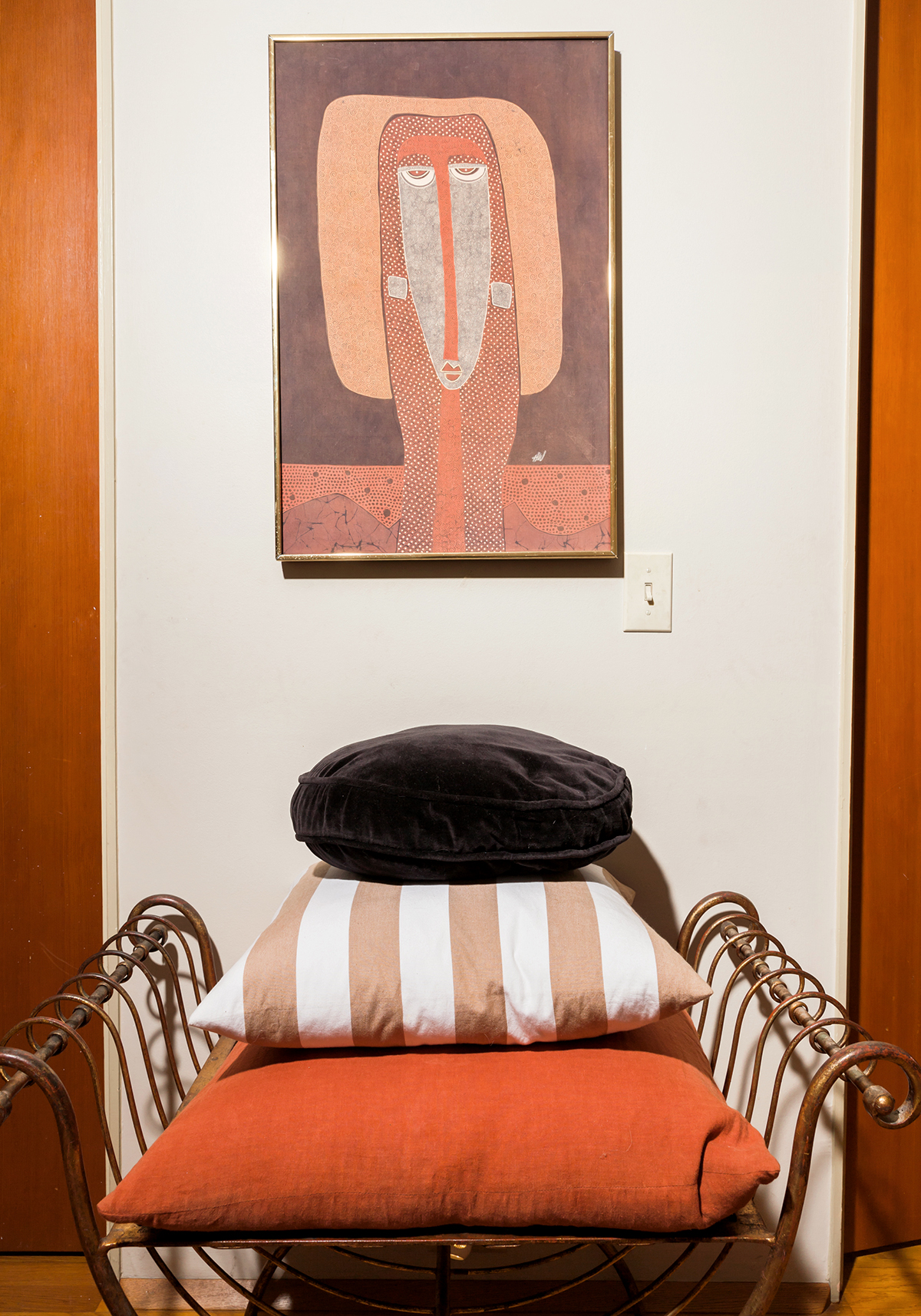 SU: What about listening to recorded music? What do you listen to when you're working, or do you find it distracting?
TH: Oh, no, I have to listen to music all the time. I'm so excited listening to music on Sonos. I just love it so much. Leonard Cohen is on a lot, and I love mood music when I'm working, like The Japanese House, or Sade. Something mellow. And then if we're having a slow day, which doesn't really happen so much anymore, I love putting on rock music too. I love it all. The only thing I don't like is modern day country, though I do like old-school country.
SU: Are there certain albums or musicians that make you feel more creative or that you associate with certain projects?
TH: Back to the Leonard Cohen thing, when I was designing the interiors for Gold Diggers in L.A., which is a hotel and bar with recording studios, in my head it was all inspired by the Chelsea Hotel. I dug into the Chelsea Hotel and all the musicians who frequented it, so I was listening to a lot of Leonard Cohen, Patti Smith, and Grace Jones. And then I don't know if you're familiar with the Aquarium Drunkard, who has a podcast on Sirius, but he curated all the music at Gold Diggers, and he ended up creating a record for the hotel, so when you check in you get a copy of it. And actually we put a Sonos in each of the rooms too.
SU: And then when you're at home, hanging out with your family or cooking or having people over, how do you tend to listen to music then? Do you have playlists, do you play records?
TH: We play a lot of records and we also do a lot of playlists, definitely both. I have a pretty extensive record collection. I inherited my step-dad's record collection when I was younger and I got into records really early on, and since then I never stopped collecting. We have a few record players in the house. My son has one too, so he likes to play records already as well.
SU: How has the Sonos changed the way you guys listen to music at home?
TH: The fact that I can walk into any room listening to the music is lifesaving for me. I love it so much, and our mornings are so much fun now because we all have the Sonos in our rooms and we all make a decision on what we want to listen to while getting ready in the morning, and then we put it on and we're dancing through the rooms. Also we have a projector and we screen outdoor movies for the neighborhood, so having Sonos is amazing because with the Beam you can put surround sound out there.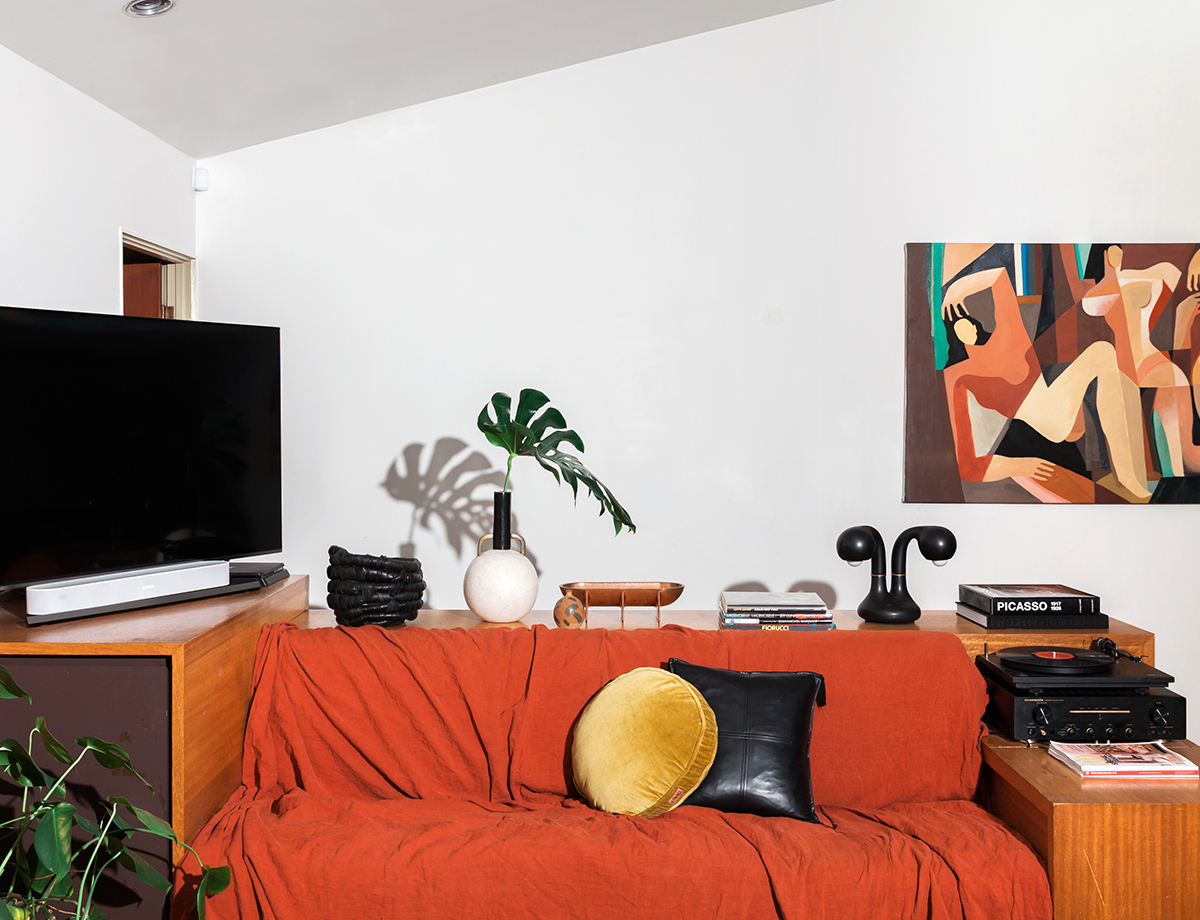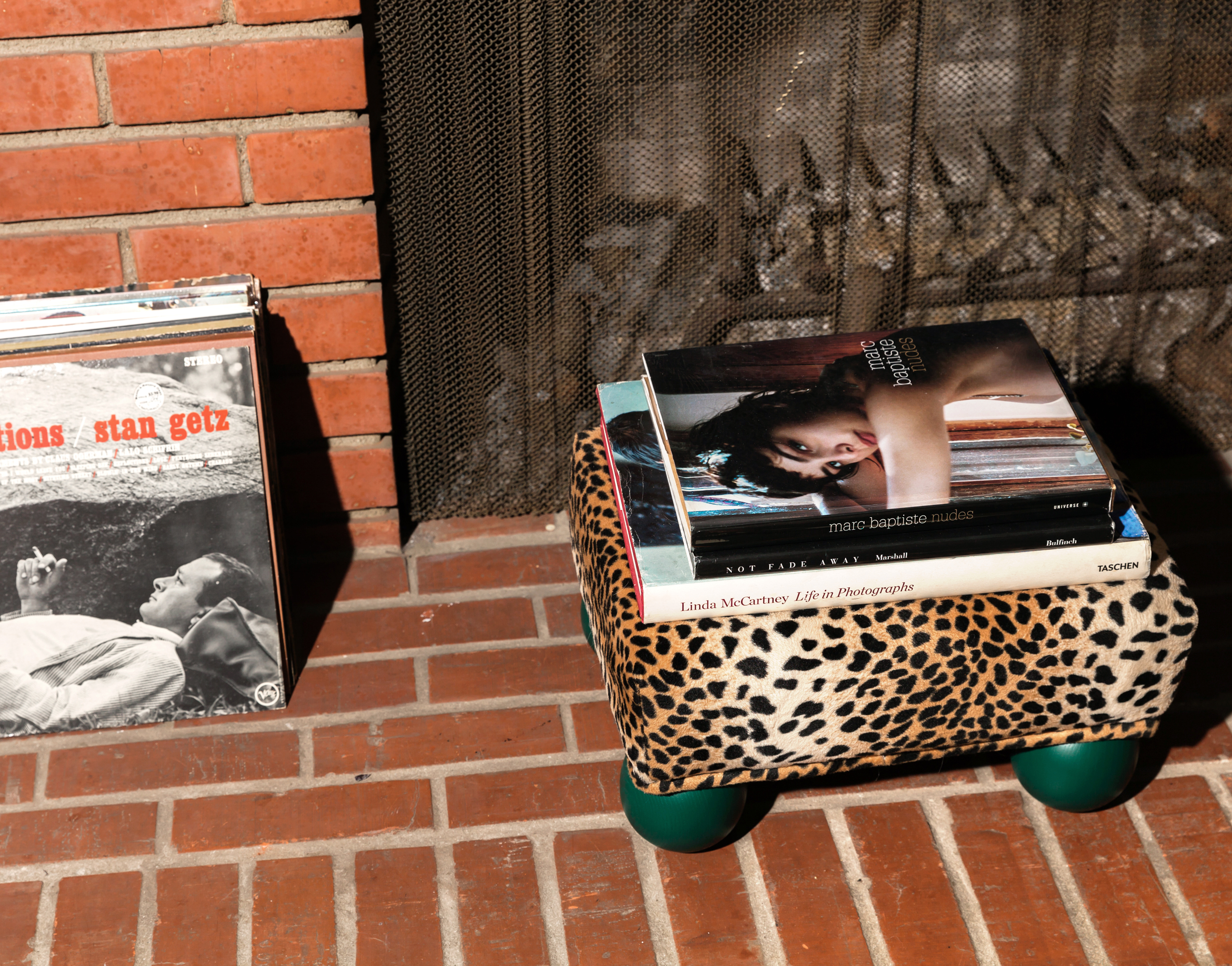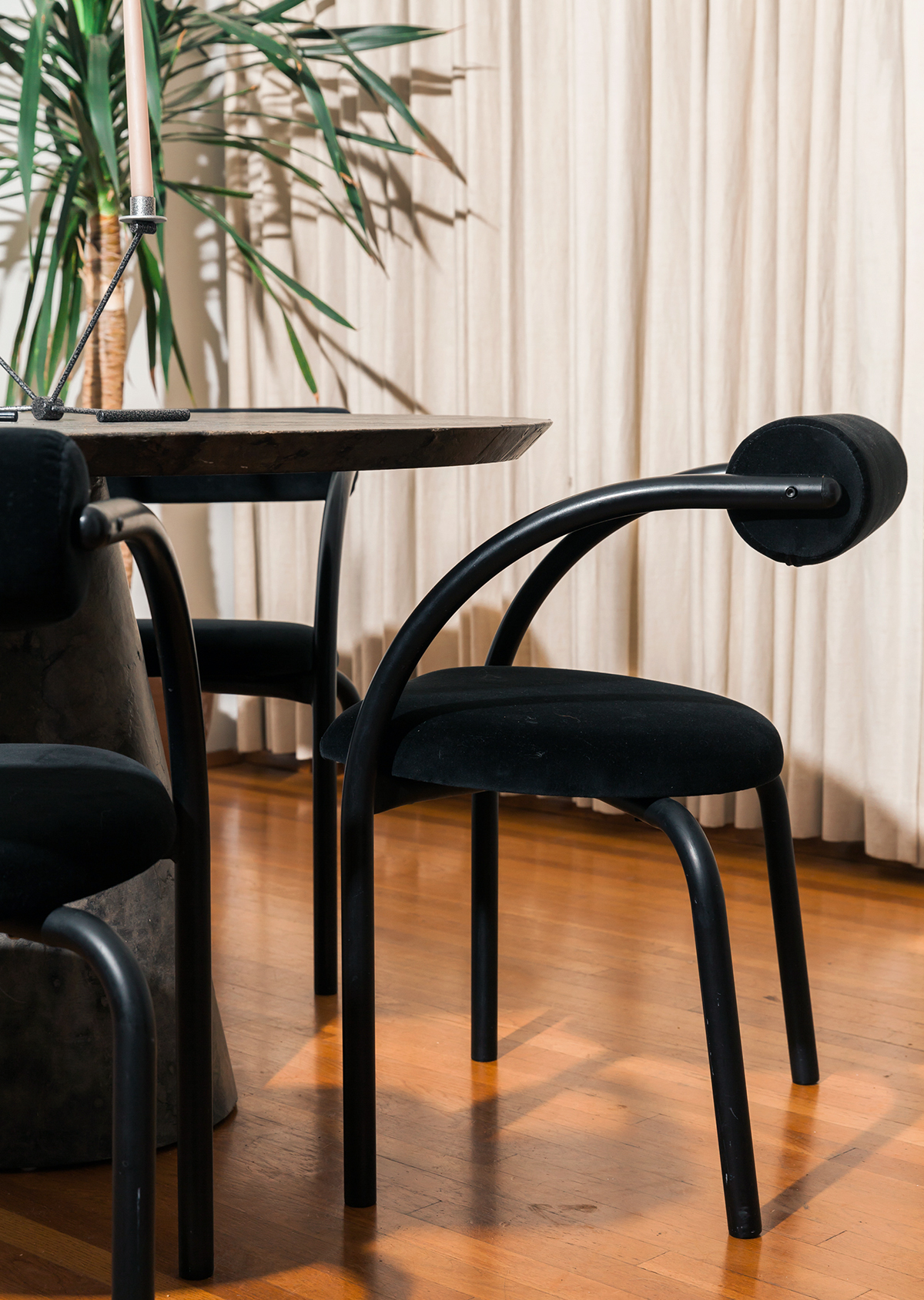 SU: Are there any objects in your living room that have a particularly interesting backstory?
TH: Well, the leather-wrapped basket is by a friend of mine who is this amazing artist who does stunning leatherwork, she goes by the name of All Hands. She made this basket for me. And then next to it is a sculptural black and white stone vase — it's one of a bunch of pieces I bought from a woman who bought deadstock from a Beverly Hills furniture company in the '80s. And then of course I love the Bellini table a lot, and the black lamp is by the L.A. lighting company Antler Studios. And I have quite a bit of cheetah print, I'll admit, like the small bench with the green legs in front of the fireplace, which was a collaboration with Prettypegs (a company that makes replacement legs for Ikea furniture). They'd wanted to do something with me for awhile, and while I didn't want to doctor Ikea furniture, I reupholstered vintage furniture instead.
SU: What about the pieces in the dining room?
TH: I don't know who made the chairs, though I know they're Memphis and when I first got them they were a bright colored back and seat. I had them reupholstered in a black Belgian velvet. The table is Italian and I'm not sure who it is either. The tree planter is also vintage. I'm always on the hunt for vintage '80s planters, or at least that color palette.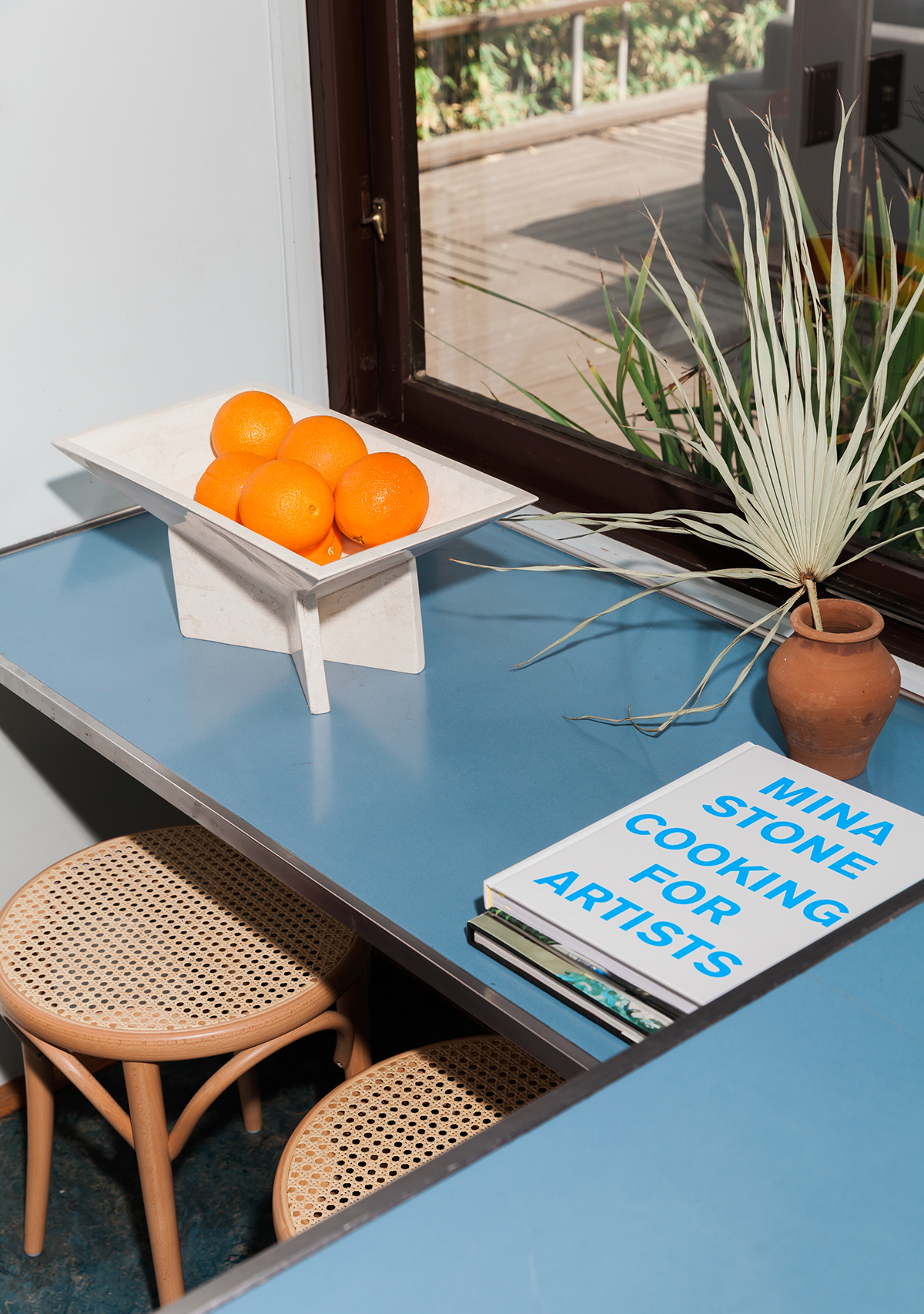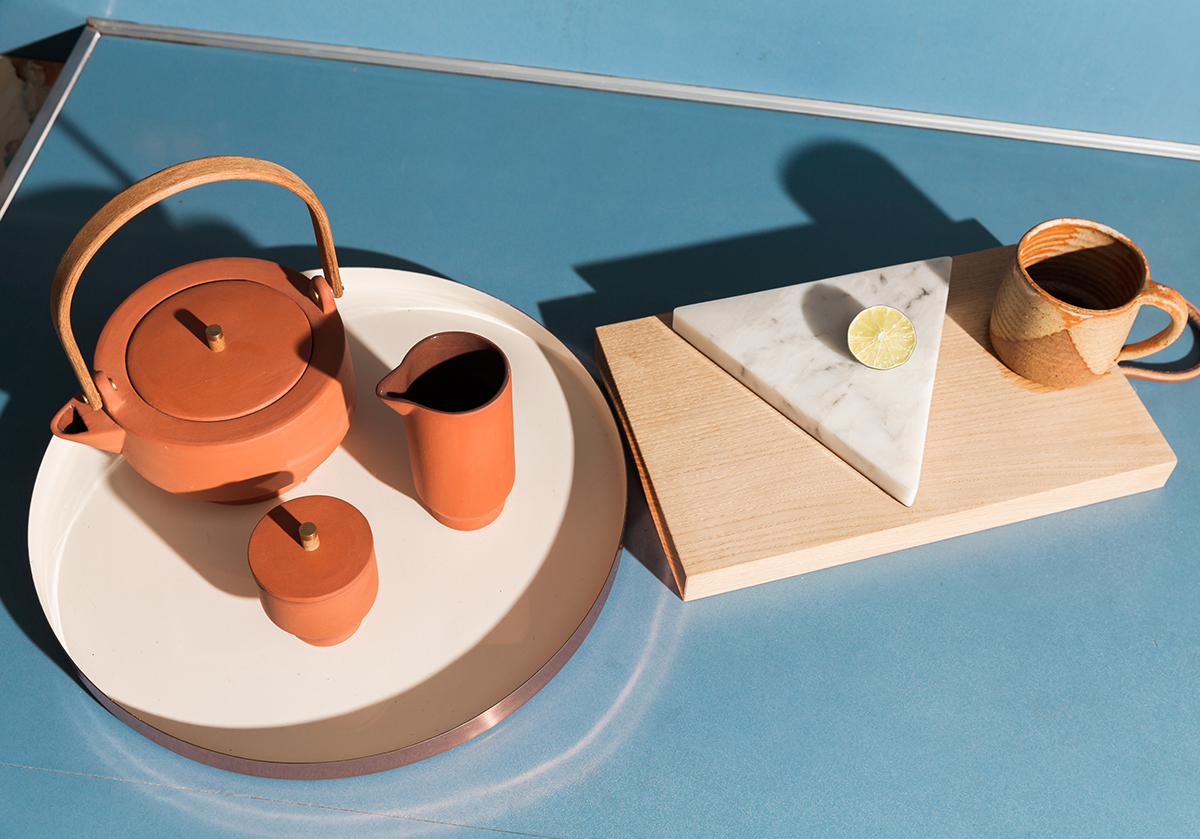 SU: The blue countertop and floors in your kitchen are crazy. Is that original?
TH: Everything is original. In this house nothing, nothing except for paint has been touched because the owner wants everything to be original. We don't even have a dishwasher because he wants to keep it historical, and so yeah, the counters are this beautiful kind of powdery slate blue with like a chrome metal around it, and then the floor is almost like a marbleized blue linoleum. Even the drapes in the house are original.
SU: Now that you're pretty much done with this house, what's next?
TH: Well actually, we're already looking for a new house right now. I love this house — the view of the water, the big windows, the indoor/outdoor feel — but our family has outgrown it. And to be honest, I've always romanticized finding an 1930s Spanish-style home in LA where I can put my spin on it but still keep its architectural bones. Work-wise, I have five residential projects on the east side of L.A., a cabin 100 miles north of Seattle, and the recording studio for Gold Diggers. Beyond all that, I'd really like to do more collaborations with brands I love, and definitely more commercial projects, like another boutique hotel, bar, or restaurant. It would also be exciting to do some international projects. Any excuse to get over to Italy and shop!
This post was sponsored by Sonos, but all thoughts and editorial content are our own. Like everything at Sight Unseen, our partner content is carefully curated to make sure it's of the utmost relevance to our readers. Thank you for supporting the brands that support Sight Unseen.