06.11.19
Philippe Malouin on How He Created What Just Might Be Basel's Most Unusual Collection Ever
Every year, it seems like the contemporary work exhibited at the premiere design fairs gets more intricate and labor-intensive, more whimsical and wacky, more conceptual and process-driven — catered to the collector who needs to understand design in an art context. At this week's Design Miami Basel show, however, Salon 94 Design is departing from that convention in an epic way, with a presentation called Industrial Office that evokes exactly what it says: a utilitarian executive office from the '70s, enlivened with some bright colors and unexpected shapes, but made entirely from basic industrial materials. The suite of furniture and objects was designed by Philippe Malouin for the New York gallery — an offshoot of Jeanne Greenberg Rohaytn's art gallery, run in partnership with Paul Johnson — and draws on basic ideas and questions from Malouin's ongoing work on commercial office furniture, but pushed to extremes in terms of materials, engineering, and fabrication. We spoke with Malouin, below, about the project, how it was made, and why it would never work in the commercial contract world, where companies are scared to be strange.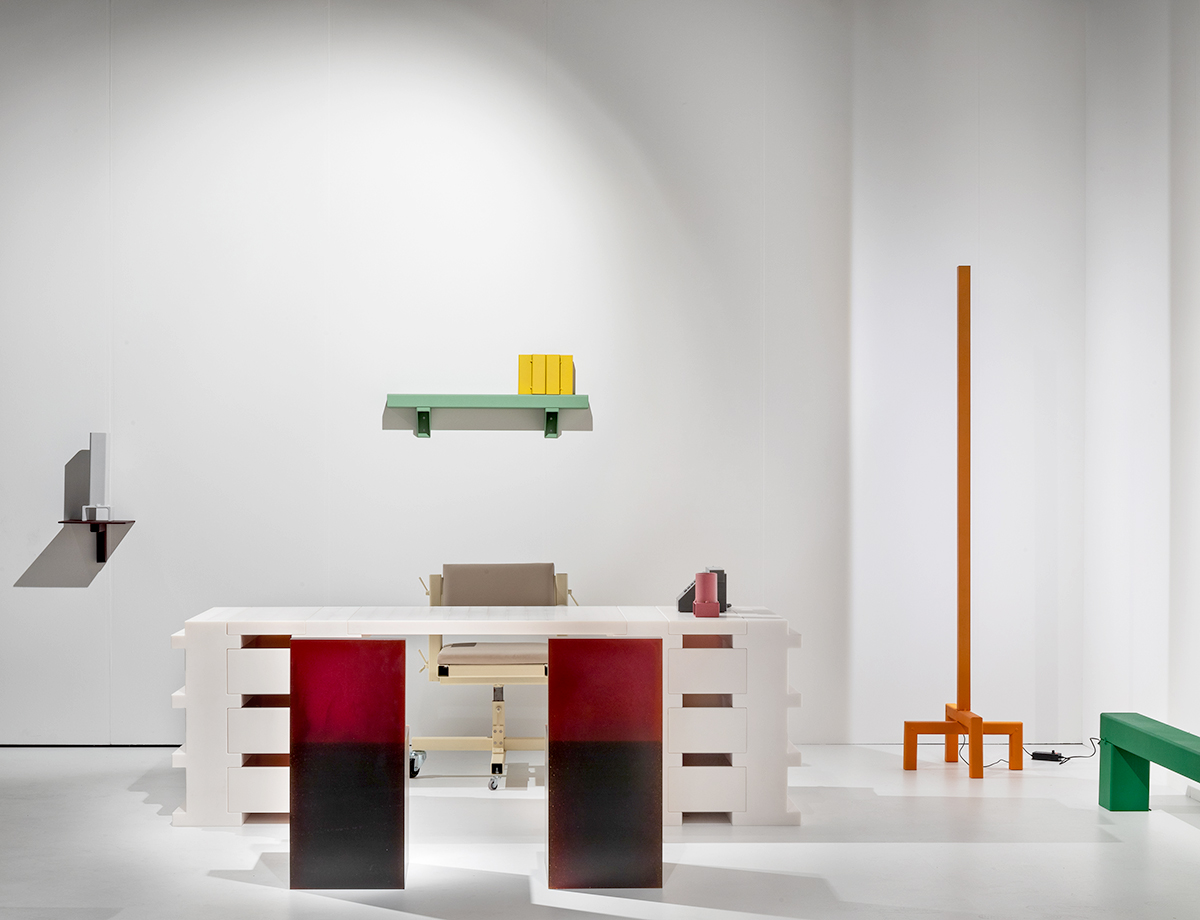 So, presenting office furniture in a gallery context — and at a show full of art collectors — is pretty left field. How did that idea arise?
I've been working on office furniture projects for the past couple of years. We've done a lot of research, and invested so much time looking at certain archetypes and typologies, that it came completely naturally. Paul Johnson, after having visited the studio a few times, cleverly came up with the idea. I wouldn't necessarily have thought to do this. Because, as you said, it's pretty left field. But Paul is cool like that.
Was the idea to take your office furniture research and turn it into collectible items? Or more just to be an office furniture thought experiment for you, and Paul trusted that whatever forms arose would naturally work in a gallery because he trusts your aesthetic?
It was definitely not our focus to create collectible objects. The only focus was to push certain areas of our research to experimental levels, whether it was modularity, or movement, or basic notions of ergonomics. The nylon pieces, for example, are hyper-engineered, yet couldn't be more simple. The office chair is very raw and rough and complicated. The idea was to experiment with these notions and push them to interesting aesthetic and material extremes.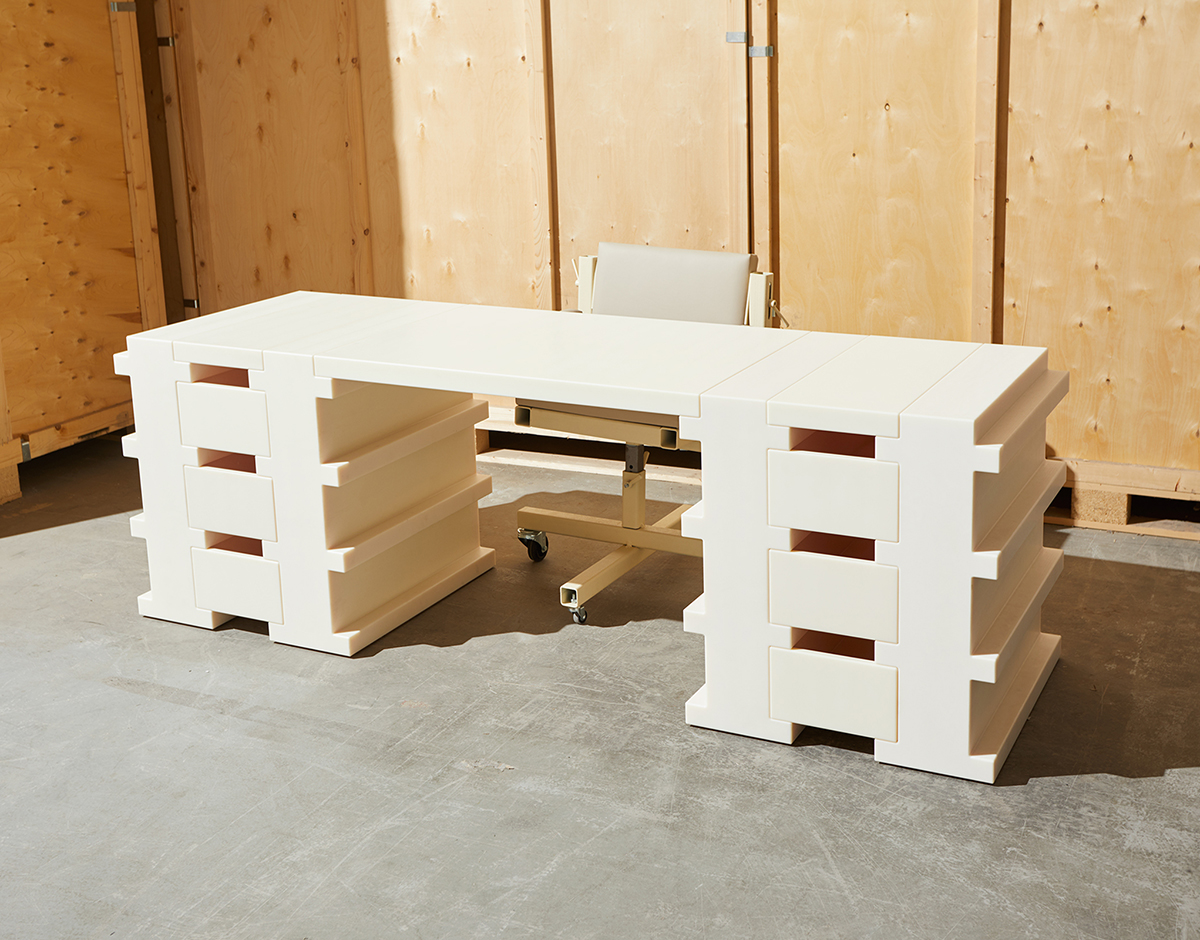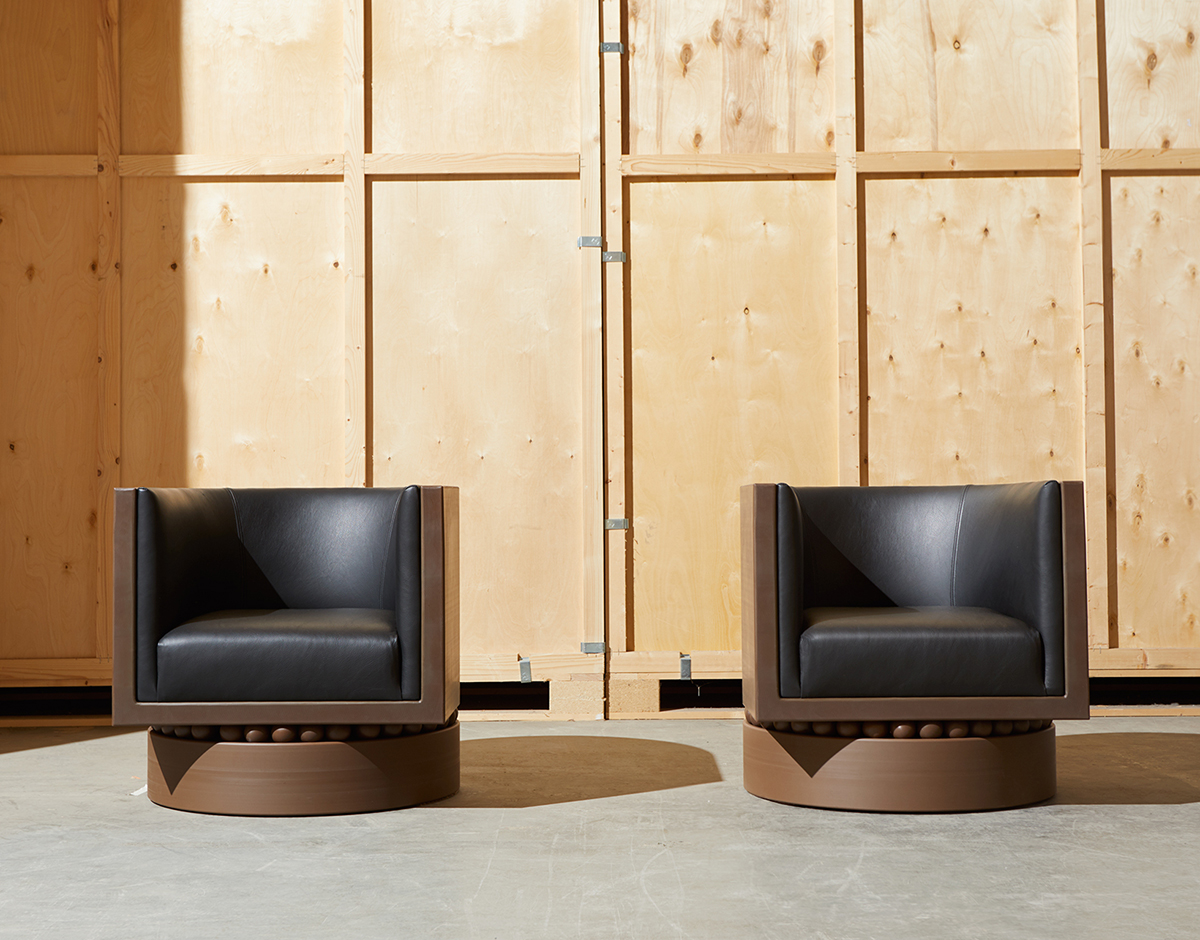 Beyond that, was there any overarching thesis about design for the office? Or was it really just about having that freedom of working without commercial constraints? If so, what specifically did you feel you could do in this context that you couldn't do with a production client?
The main thing that separates mass-produced items from gallery pieces is price. Price is usually the driving force. In this case, it was possible to think outside of the box from a material perspective because we weren't beholden to a dollar amount. Moreover, the aesthetic outcome could be as simple or as complicated as we saw fit. In the case of the nylon desk, swivel chair, and sideboard, we used the material because it's a brilliant self-lubricating plastic commonly used to make ball bearings and drawer sliders for wooden furniture. We decided to use only the functional material (nylon) and nothing else. And *then* we worked on the aesthetic and systemic properties of the pieces.
The aesthetics in the case of the nylon desk and sideboard came simply by considering which elements were needed to create a set of drawers: a support and a drawer. It became a modular system almost by accident, as we were only considering the various functional pieces. Its aesthetic is purely functional, yet rather strange looking. That strangeness would scare any brand.
The steel pieces, on the other hand, came from a completely different place. They came about because we also thought it was important to reverse our engineering focus, and create something more instinctive and quick. All of the metal pieces were made by us over the course of 5 days in a giant workshop, where we were allowed to use all the steel we wanted and weld it as we saw fit.
That's quite like the room dividers project you did for WeWork in New York in 2018.
Yes, exactly. We know we're usually good at that. We set ourselves parameters, and we stick to them, and we start making things. And interesting work often comes out of that. The small items in this collection are perfectly considered, yet very quickly made and ad-hoc.
That's also completely antithetical to the office furniture industry. Designers love to brag about how long it took to develop their office chair.
Yes, which is another reason why this project only makes sense in a gallery context. But, you don't create new things unless you make very strange decisions. And in a way, this show for us is amazing research that will help us push our industrial design capacities, how we think and view things. Physical research is so important. Designing things in the computer doesn't create new things.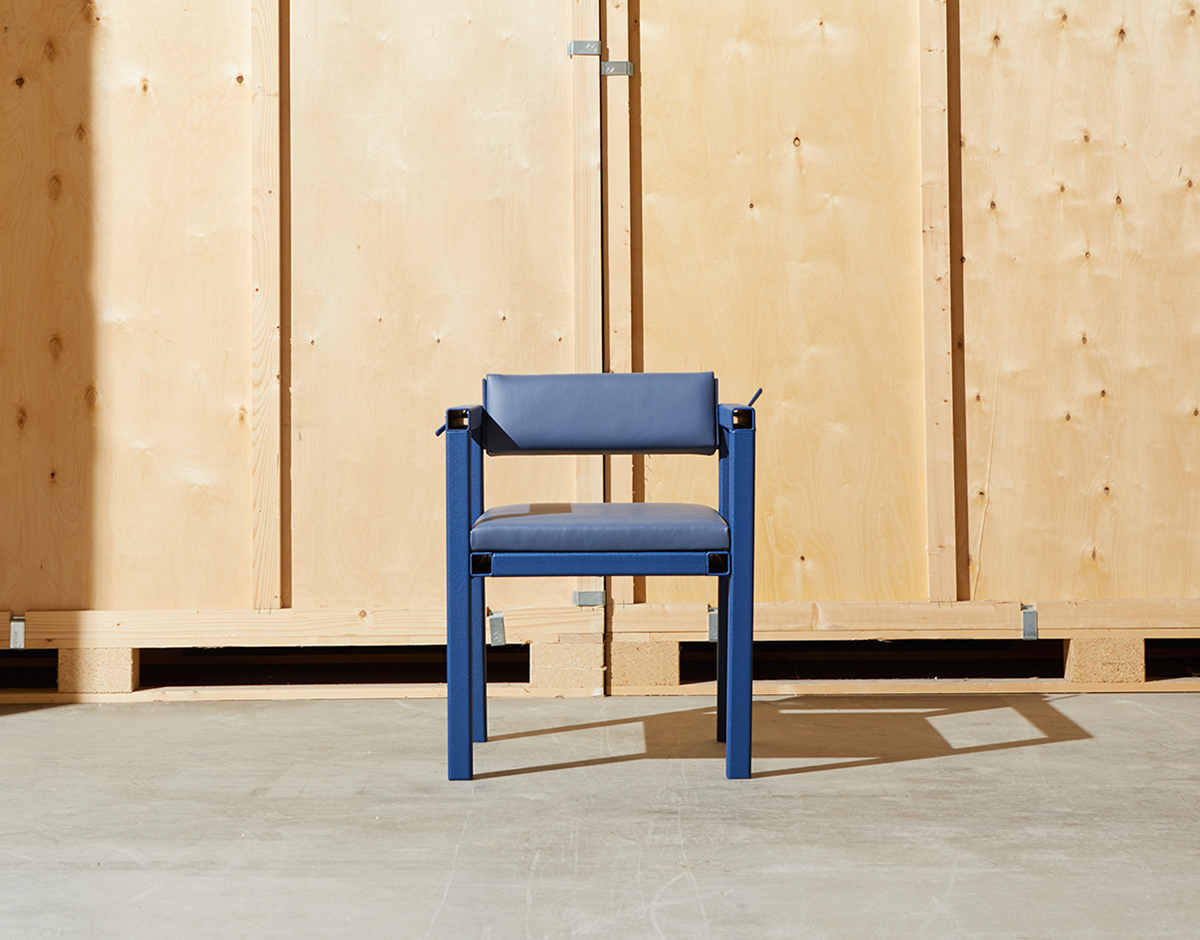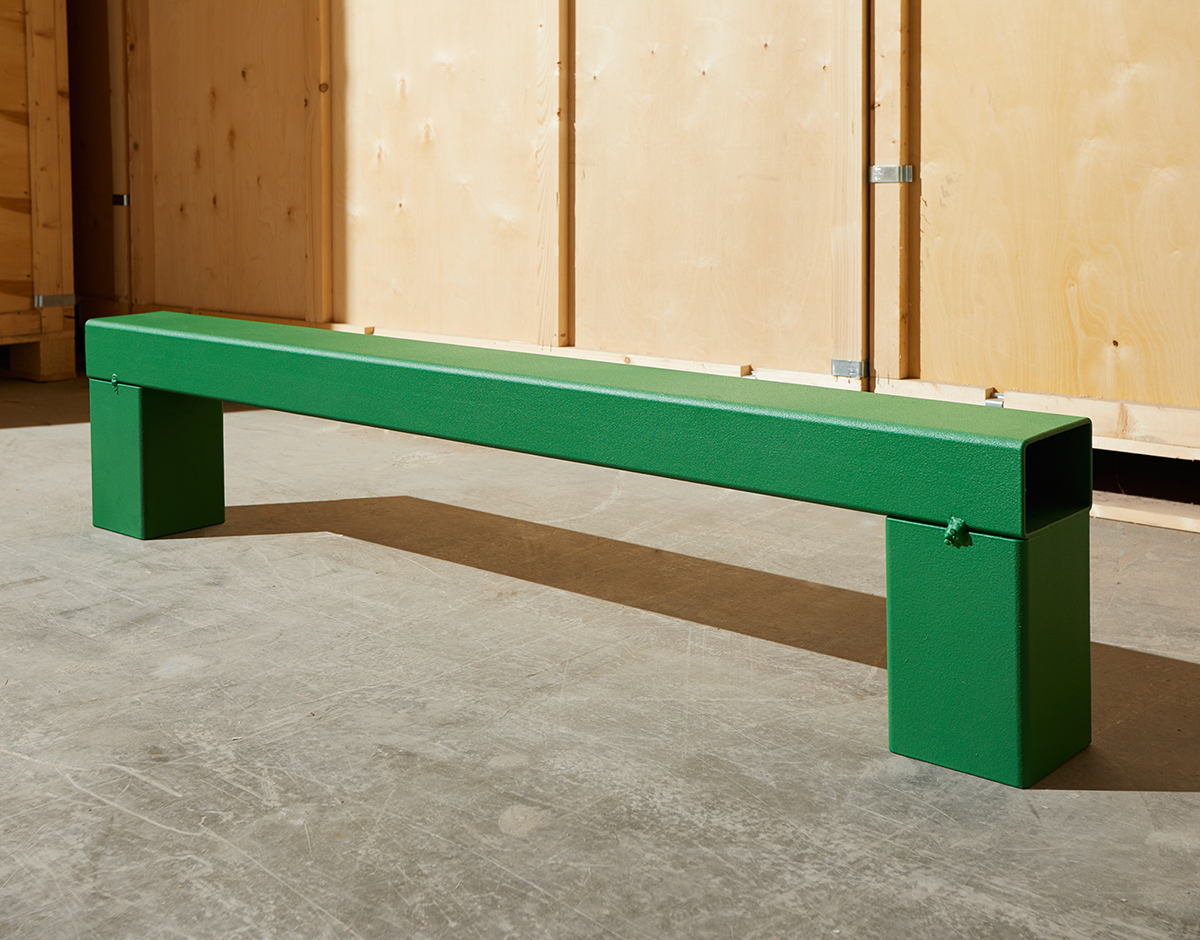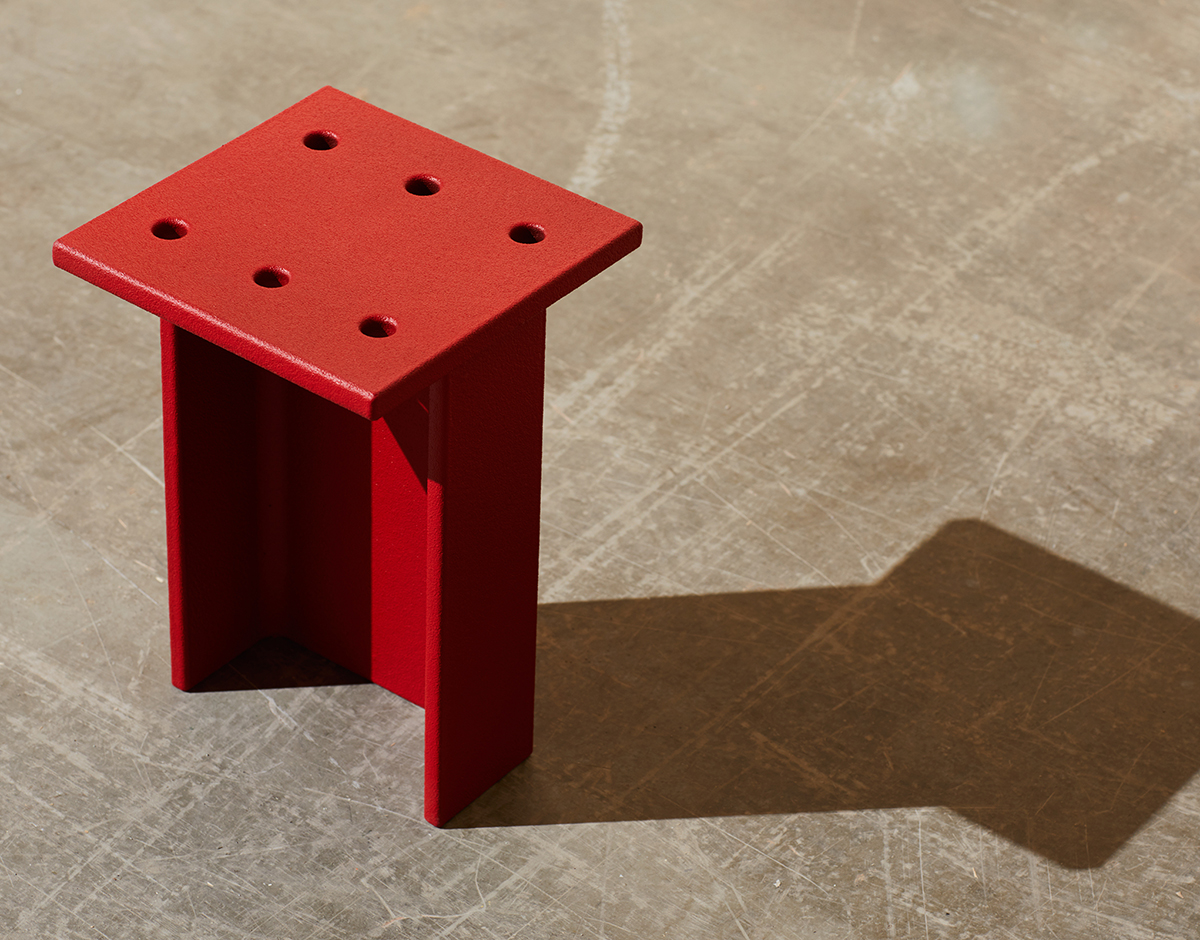 What was the primary discovery that came out of this project that you might use later in your industrial design work? (By the way, that's an excellent future book title — "Philippe Malouin: Making Strange Decisions." Lol.)
Ha! I think this project has made me realize that movement doesn't need to be complicated. A lot of products need to move in one way or another. A lot of thinking can be rethought. Also, I'm interested in the modularity of things. Systems don't only need to be pieces of a sofa, like the Ligne Roset Togo. It could be much more functional than that. It could even be electronics, etc. They are obvious concepts, and I'm sure a lot of designers reading this would say 'of course.' But I feel we need to get there in person, not behind a computer.
It's hard for me to know how these things move without experiencing them myself.
The drawers of the desk and console just pull out, but it's actually quite considered because it's a function of the difference in weight in the pieces. We made computer friction analyses that dictate the weight of everything for it to function appropriately. So it looks weird, but it's really just engineering. The upright columns are very heavy, and the drawers are light.
You mentioned that the nylon you used here is used for ball bearings and drawer sliders, and I know in the background information on this show you said that it was important that the industrial materials retain their standard colors and shapes. Can you tell us more about how you made those choices?
The nylon we worked with is typically used to manufacture cogs and cable holders for the marine industry. There aren't many colors for nylon available. It's incredibly difficult to create new ones. So we were interested in working with the readily available colors, as it communicated very well where the materials came from.
The steel was just meant to be the engineering material 101 — it's the most precise, the most solid, and the most likely to support weight, pressure, and climatic changes. It's just tough and corrosion resistant and stable.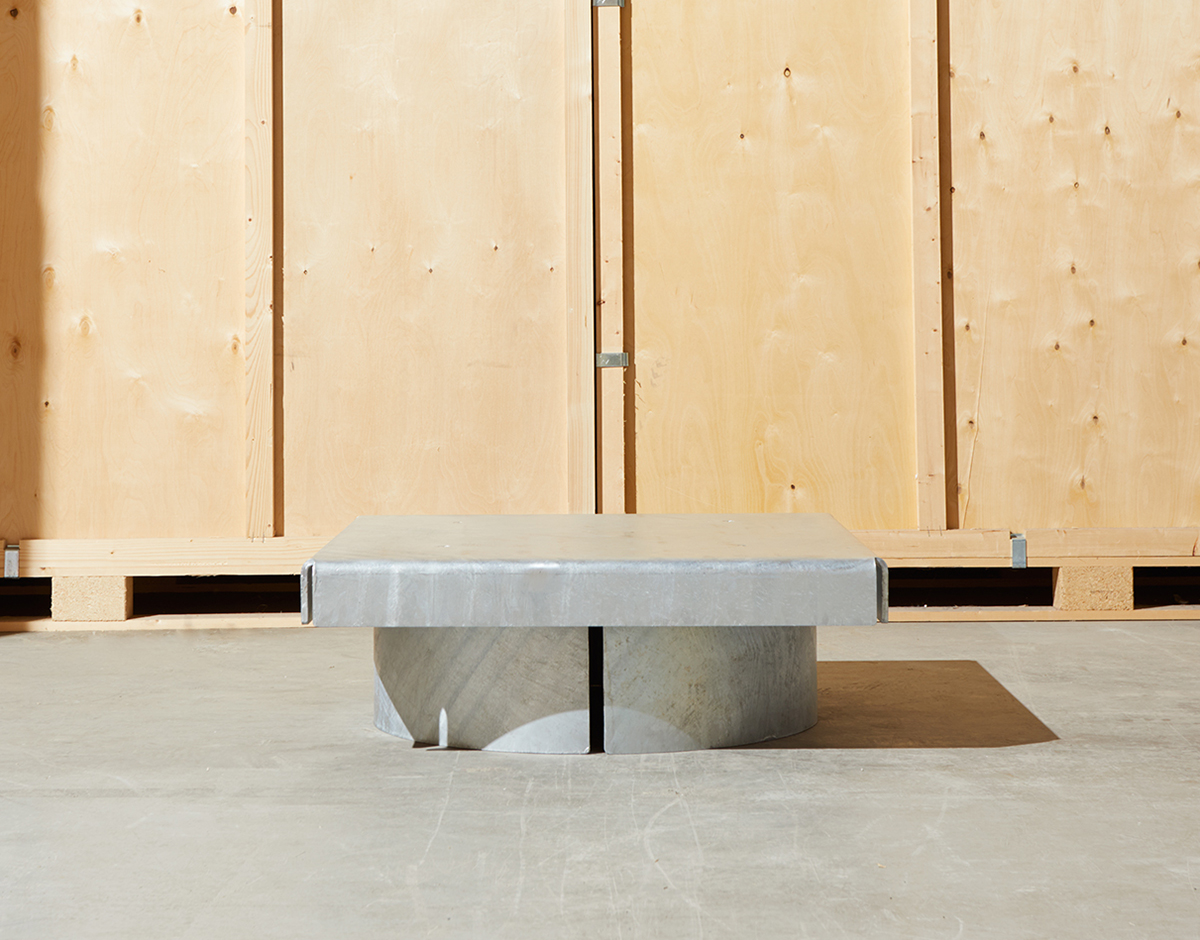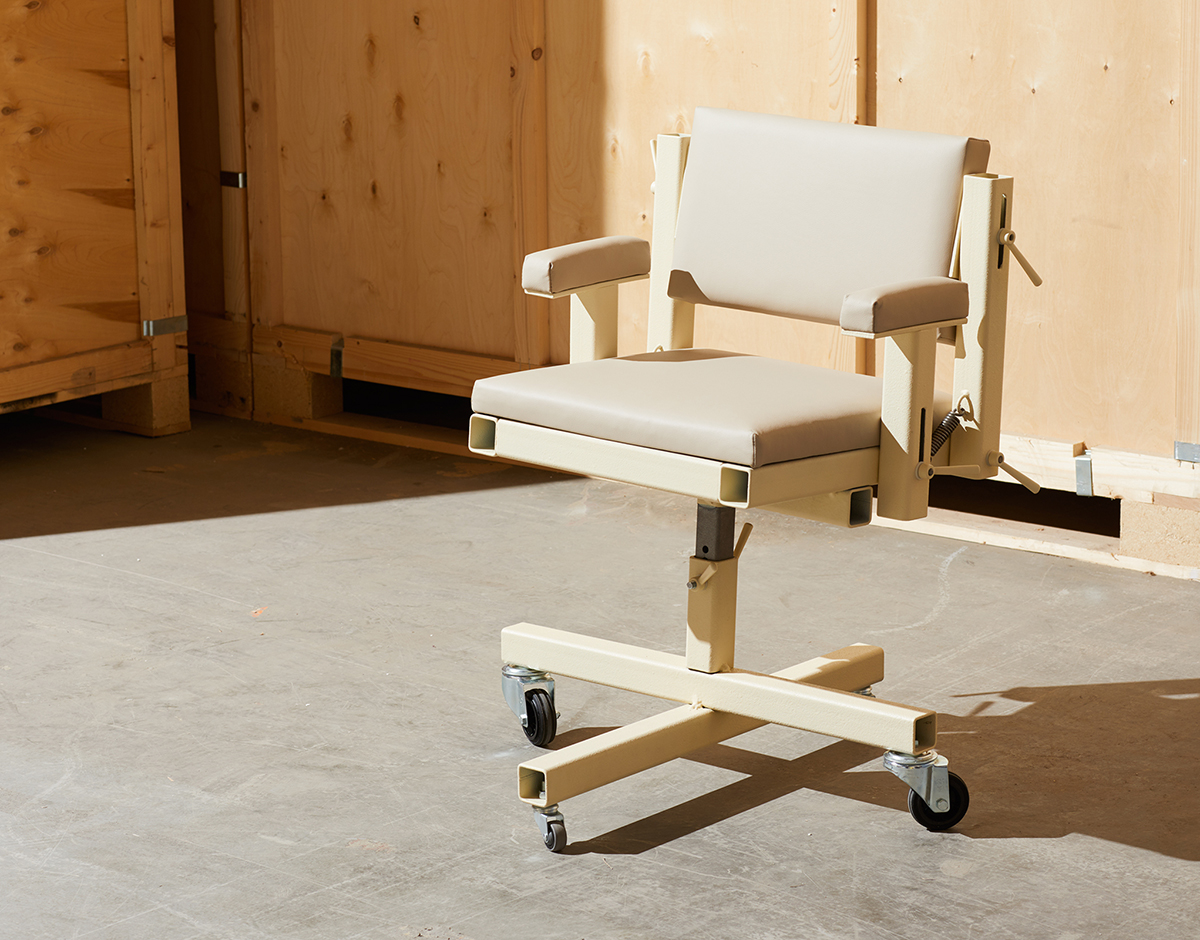 Can you tell me more about the office chair? Because as I mentioned office chairs are usually this sanctified thing that designers preen over for years.
We've been working on an office chair for a few years to be honest, but this one isn't related to that one. It's the opposite of that one. This was a very simple representation of an office chair made by a worker (in this case, us). It needed certain adjustments to be met. And it needed to use as little material as possible, so we used 50mm steel square tube and incorporated certain important elements of an office chair. We aren't stating that it's an appropriate and ergonomic chair. Just a representation of one.
It reminds me of the type of furniture my grandfather used to make in the '60s. His workshop was filled with stuff like that. He was an engineer, but he would make things for around the house using what he had; mostly it was steel tube.
The color of the chair is so perfect. It's evocative of horrible institutional design, but reinvented in this amazing way.
Exactly — like gym furniture from the '70s. At the time, all these things were made by general contractors, for the trade industry. Not by fancy furniture companies. The language was way more basic and based on available materials.
All the colors we used came together from a restricted palette we set out for ourselves.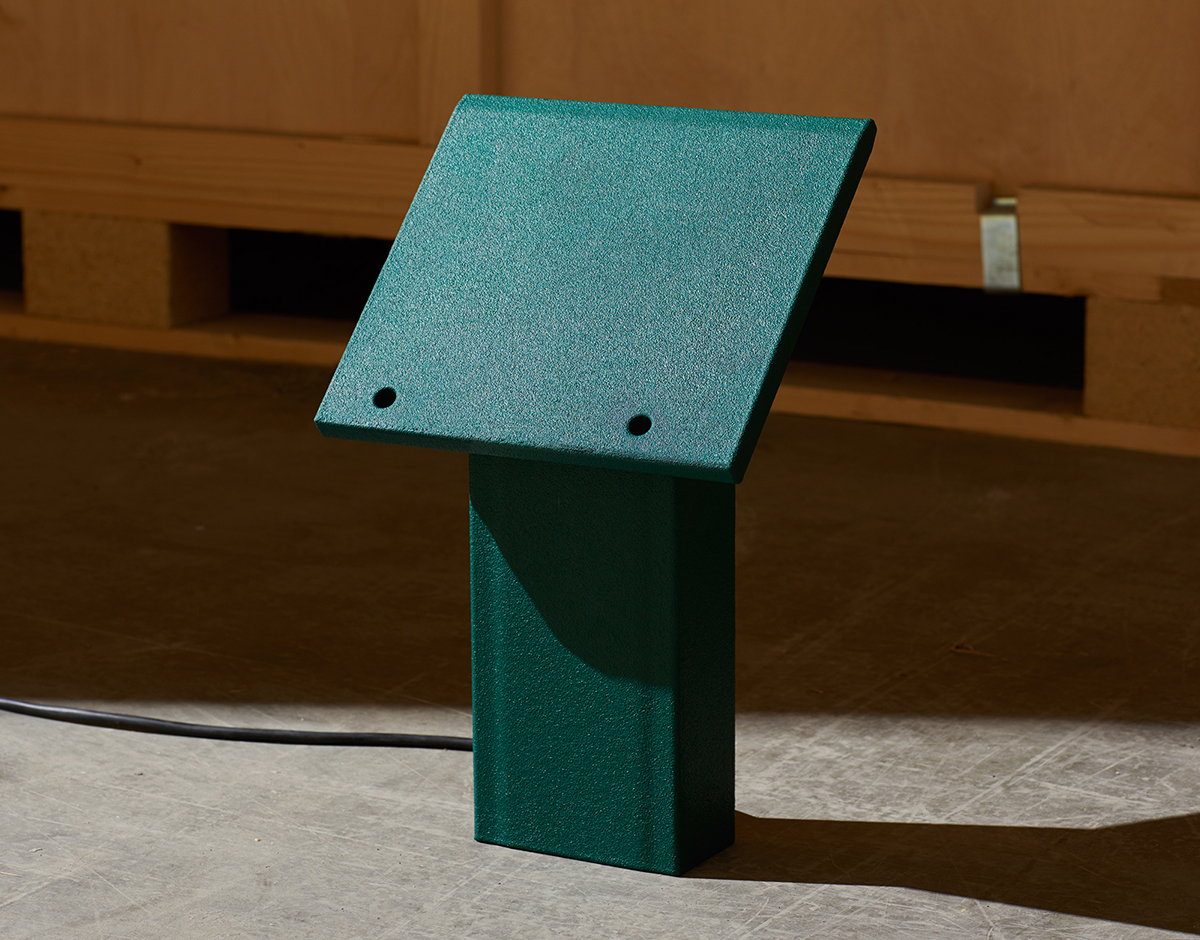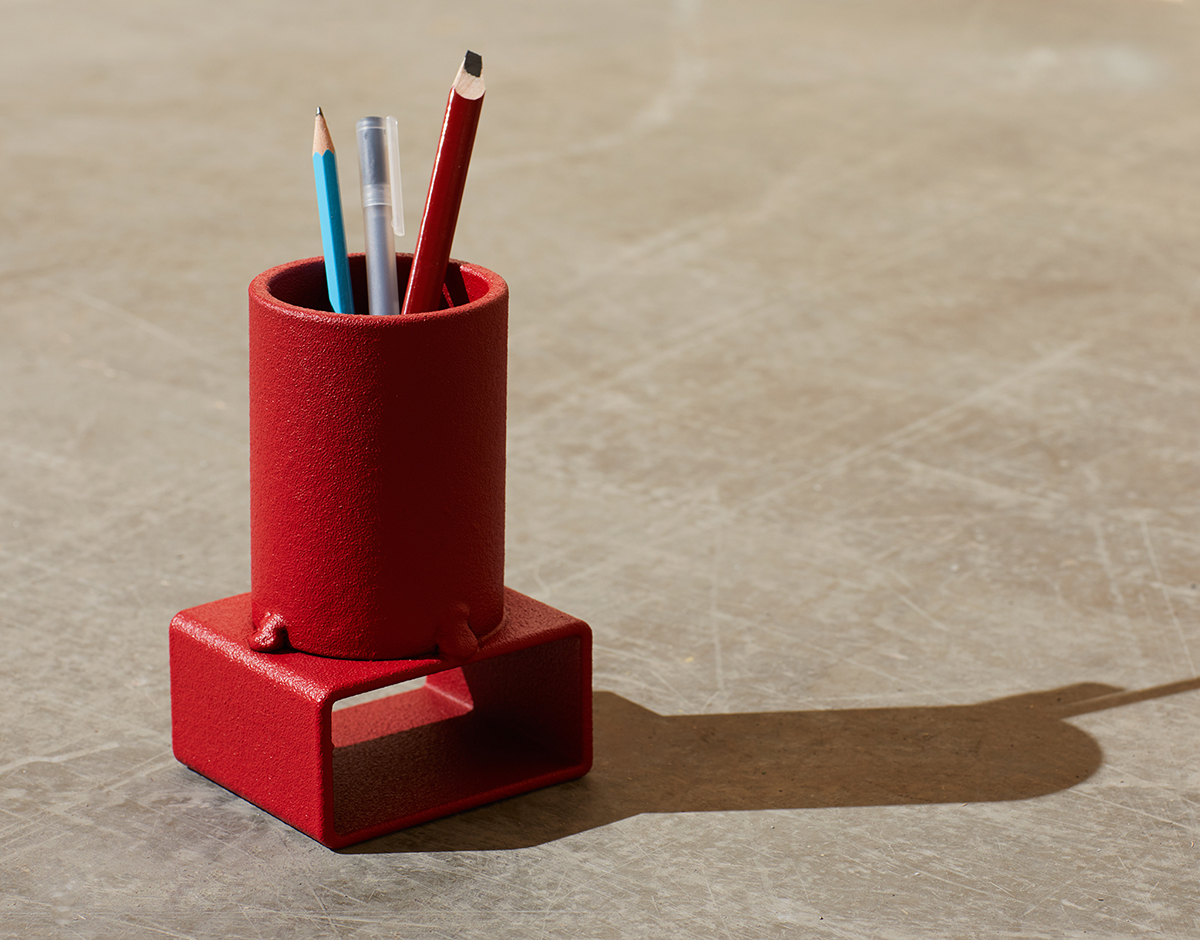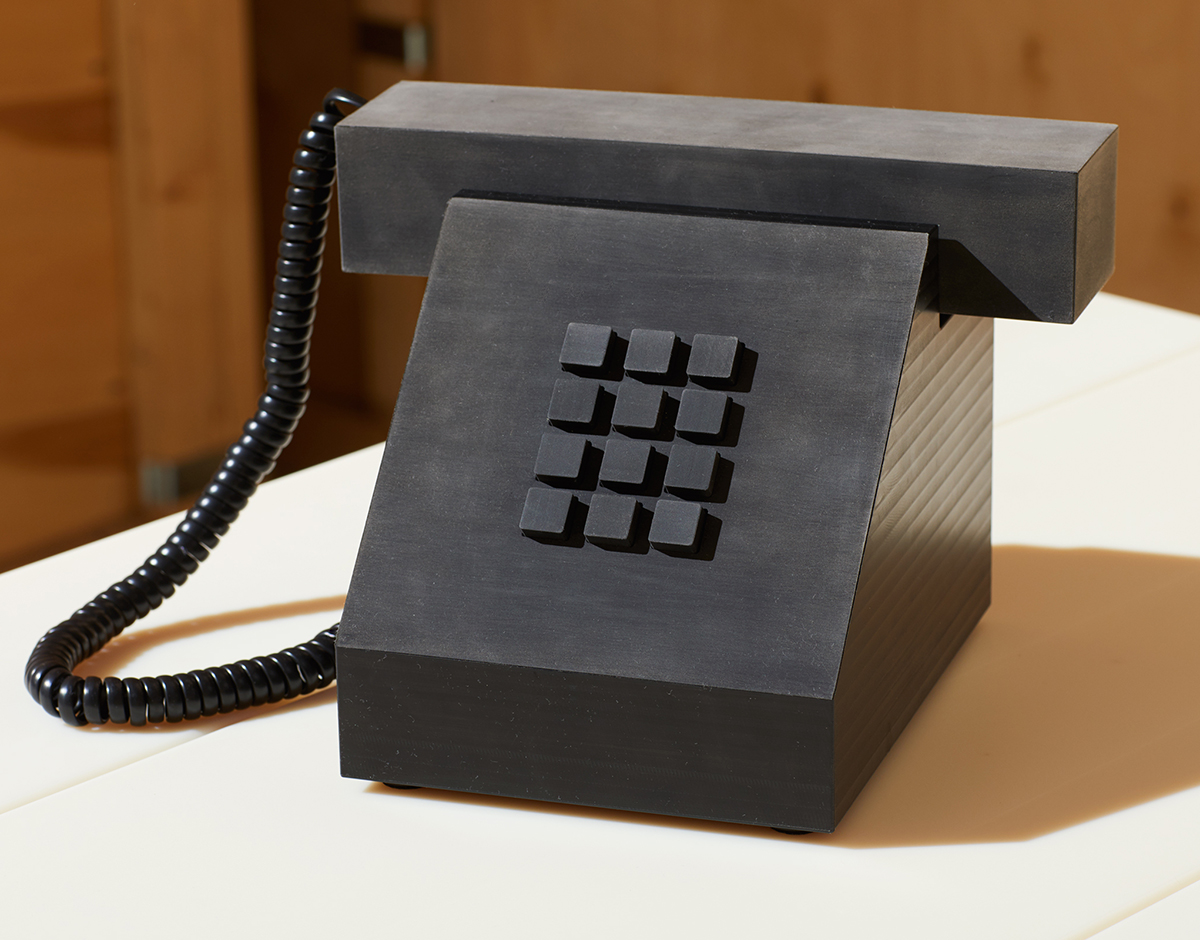 The nylon telephone is kind of the dark horse here. Does it work?
Yes, the phone fully works. We scooped the parts out of another phone and designed the case to hold all the elements perfectly.
Part of me wants to think that these pieces are some sort of subversion of the Basel spectacle, though I'm assuming that wasn't your aim…
I did think that it was subversive to introduce simplicity of form and material into a sea of marble, exotic woods, and hyper-polished metals. That's all anyone says when they come to the booth: "Omg, it's so different from everything else." Everything in my collection comes from a different place than the other things I've seen. Some of the pieces are opulent, in a way, but just because of the material functionalism pushed to the extreme.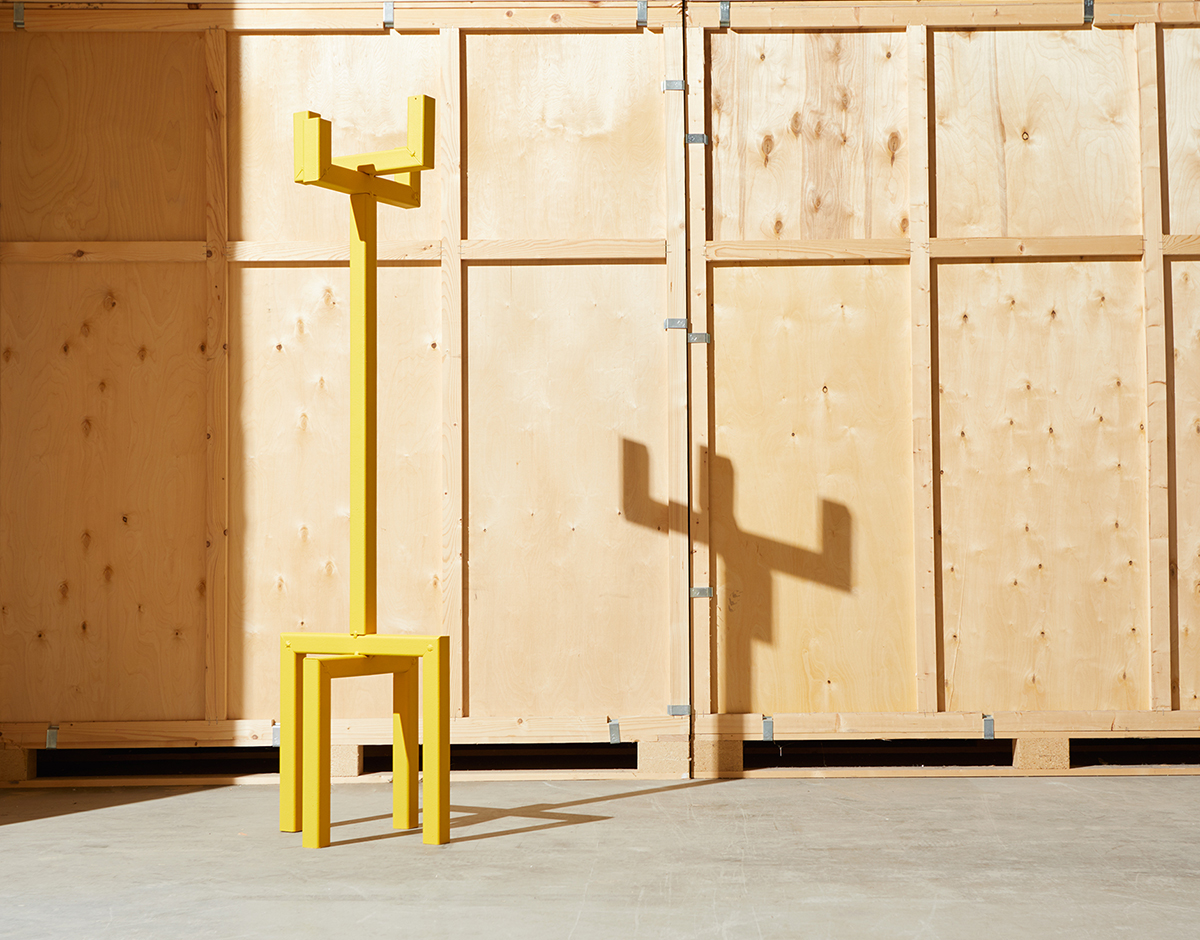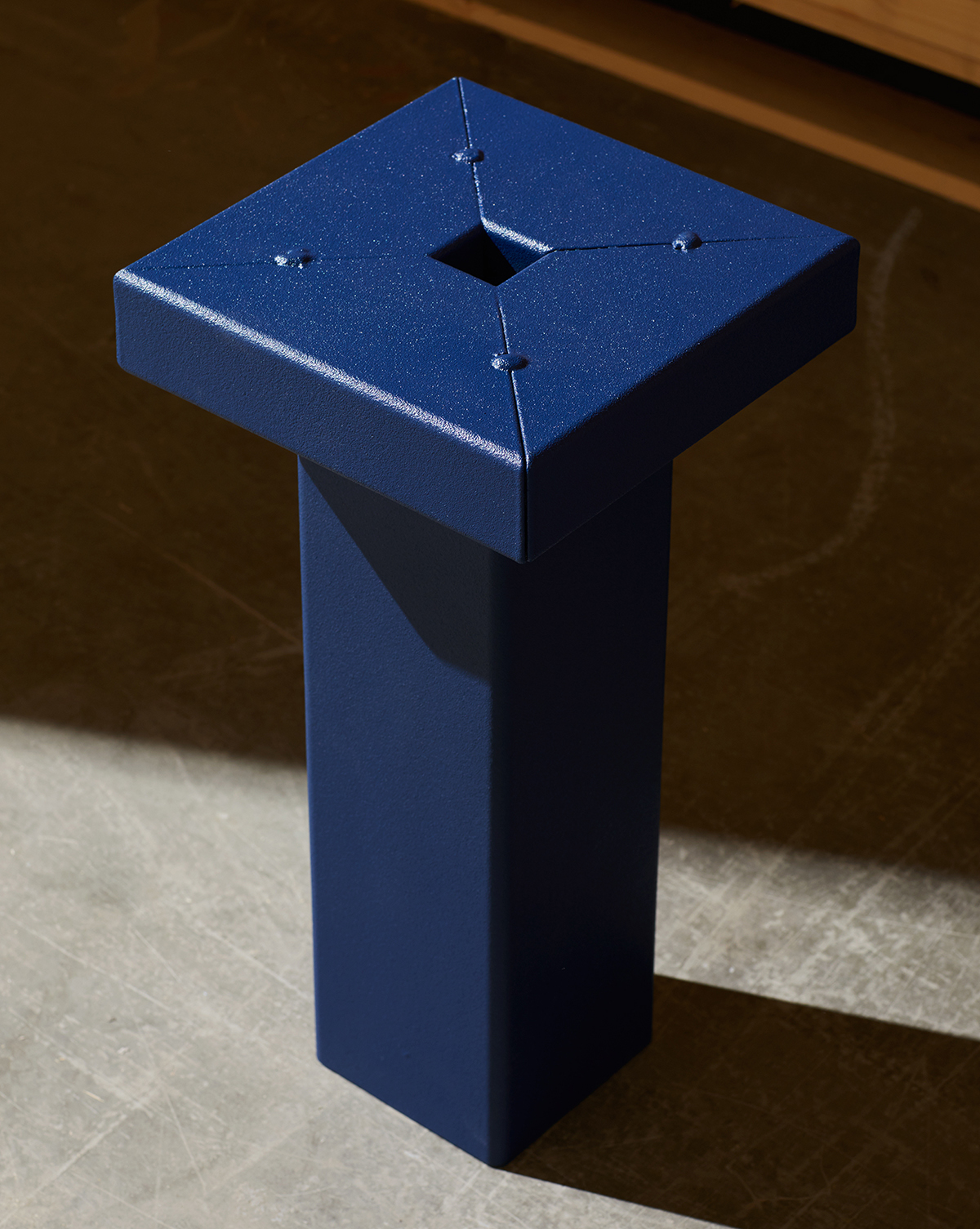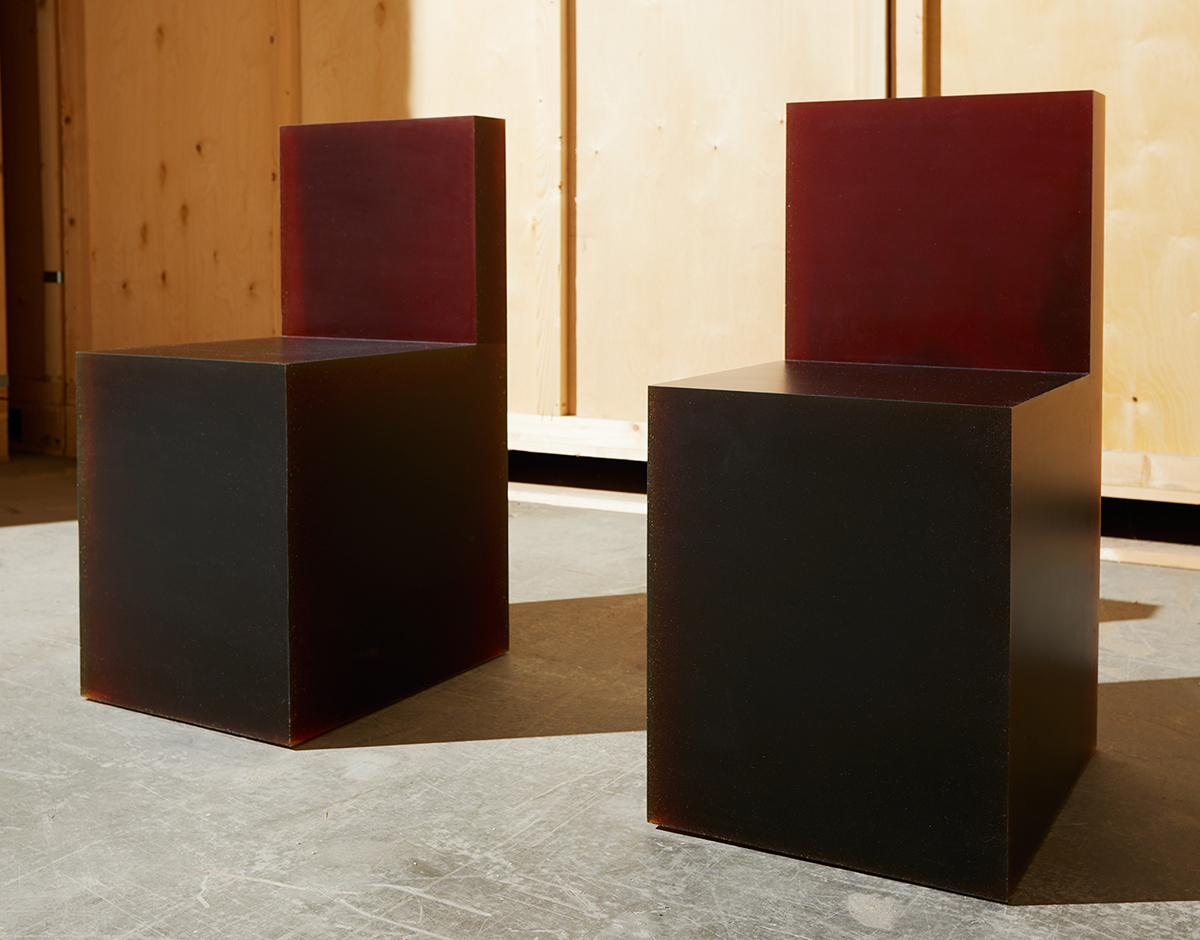 The red rubber chairs stand out a bit from the rest of the collection because they seem more sculptural. What office furniture archetype were those based on?
The archetype for those are the office chairs that never move, the ones that are in the waiting area. They're usually linked up to one another and aren't meant to move. We created this idea with the sheer weight of the chairs — they're so heavy and solid you can't move them easily. Yet they do move because of the material. They flex when you sit in them. That was done to create tension and surprise. People expect something, and they get something else.
So what commercial office product are you working on next?
I can't tell you; it's still hush hush. All I can tell you is that it's an office product, and it will be a while. A year or so. And it's been two years already. It really does take so long to develop office products.