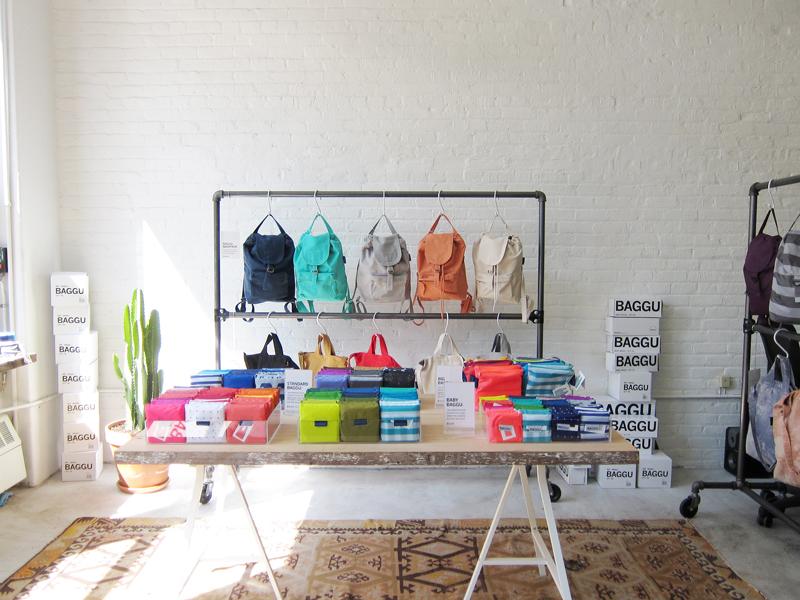 "Always listen to your mother" isn't exactly the kind of central tenet they teach you at Harvard Business School. But for Emily Sugihara, the California-raised, Brooklyn-based designer behind the reusable bag line Baggu, it's a piece of advice that's been invaluable to the brand's runaway success since its founding in 2007. Back then Sugihara was a Parsons grad working as an assistant designer at J. Crew and just coming to realize that a corporate job wasn't her calling. "As a kid, I was very entrepreneurial, and I always knew I wanted to have my own company," she says. At home over Christmas break one year, Sugihara and her mother began talking about making a line of reusable shopping bags. Her mom was "sort of a treehugger" and an artist in her own right — an expert seamstress who learned to sew making her own clothes as a kid in rural Michigan — and Sugihara was a die-hard New Yorker-in-training, sporting fingers turned purple each week as she lugged home bags full of groceries.
Together they came up with a bag that's almost exactly like the original ripstop nylon Baggu that still sells today: long handles that fit comfortably over the shoulder, gussets along the bottom that allow things like milk and eggs to stack, and a single, double-reinforced seam that's the result, Sugihara says, of her mother's "sewing genius." (Her mom, once a therapist, now works almost full-time on Baggu.) Since then, Sugihara has taken her mother's advice on everything from the brand's color palette to its potential collaborators. "My mom saw Shabd Alexander on Martha Stewart one day and sent me this email saying, 'I just saw a girl on TV who looks like you guys could be friends. She lives in your neighborhood and does tie-dye!'" Baggu and Shabd just released their second collaboration this spring.
The mom factor is particularly amusing considering that though Baggu began in a more utilitarian vein, it's since become a must-have fashion accessory, sold at hip emporiums like Need Supply and Colette. "We thought it was a natural fit for grocery stores," says Sugihara. "But we ended up finding our home in fashion, in a design or apparel setting. An $8 bag in a grocery store seems expensive, but an $8 bag in J. Crew seems like a steal." Though the original Baggu is perfect for groceries, the Baggu team finds it's being used for so much more: "You can buy a pair of shoes at Prada and put them in your Baggu and feel okay about it, whereas you might feel weird whipping out a Whole Foods bag," says Sugihara.
Baggu's fashion cred can be attributed in part to its crisp graphic identity and its amazingly varied color palette, both of which are heavily influenced by Baggu's creative director Ellen Van Der Laan, a RISD grad and childhood friend of Sugihara's who came on board soon after Baggu's launch. Sight Unseen recently sat down with Sugihara and Van Der Laan in Baggu's sunny Williamsburg storefront studio to find out more.