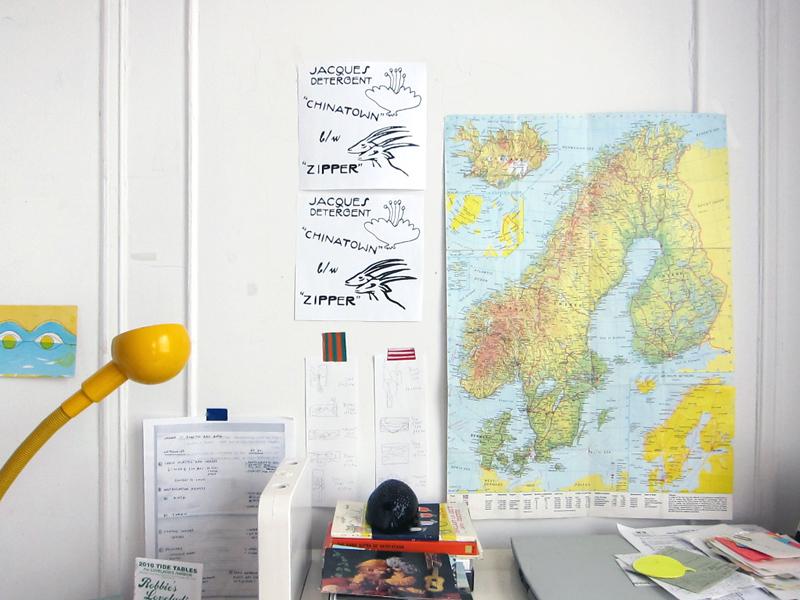 The first time I met Brooklyn artist Jason Rosenberg, I brought him a present. It was nothing fancy. Earlier that day, I'd gone to the doctor and left with a prescription tucked inside a tiny plastic pharmaceutical bag, printed with a picture of a pill and the name of a generic medication. Lest my gift-giving skills be called into question, I should explain that I was headed that night to Kiosk, the New York shop where Rosenberg was hosting a Plastic Bag Happening: The idea was to bring a bag and either exchange it for one of the many Rosenberg has collected over the years, or to have the artist, equipped with his vintage White sewing machine, transform the bag into something totally different — a hat, a pencil case, a coin purse, a wallet. I walked away with two slim sacks from Systembolaget, Sweden's chain of state-sponsored liquor shops; Rosenberg, when I visited him in his Greenpoint studio last month, was still holding on to the bag I'd brought, though where to find it in his heaps of pseudo-organized boxes, bins, and file folders was another story.
Interactions like this happen all the time with Rosenberg. Trash comes into his life in unexpected ways, providing him with a constant source of joy and inspiration for his work, which in recent years has taken the form of paper collages cut from the ephemera of everyday life and loosely taped into place. Rosenberg graduated from New York's School of Visual Arts, and for a while his medium was oil paint. "But I was always making collages alongside my paintings, and eventually the immediacy of working with paper and sticking things together — even accidentally sometimes — began to excite me much more," he says. "There's so much more room for error. With collage, you just let it happen."
Of course, no collage could happen without an endlessly replenished stockpile of materials, and Rosenberg is a consummate collector of things. Estate sales, flea markets, and eBay are his bread and butter, but even more, Rosenberg has trained his eye to see the beauty in what most of us throw away — ticket stubs, shopping bags, broken rubber bands, pencils, posted envelopes, and bulldog clips are just some of the items I found lying around his studio. "I don't have to spend much on supplies," he says. "I'll spend a good amount of money on something if I really want it, but usually the thing I want is the thing about which people will say 'Oh, just take it.' I'm looking for weird shit. Of course it's always nice to find an Eames chair, but I'm much happier if I find, like, a pile of notebooks from 1975." On a rainy day in July, Rosenberg invited me to take a look around his studio and its overflowing coffers. This is what I found.