06.25.10
To Draw Every Person in New York, by Jason Polan
In March of 2008, Jason Polan set off into Manhattan armed only with a white notepad and a black Itoya Fine Point .6 pen. He had one goal: to draw every person in New York. It would seem an insurmountable task if not for Polan's habit of documenting most anything that crosses his path, tagging each conquest with a thick scrawl detailing its circumstance, such as "Plant outside of a medical center on Orange and Magnolia Streets, April 25, 2010, drawn right after I tripped on the sidewalk," or "Philly Cheese Steak, Pat's Steaks, June 4, 2010." In the service of his blog Every Person in New York, Polan — whose illustrations often appear in The New York Times and Esquire — has over the past two years drawn more than 10,000 of the city's residents. Because he does much of his drawing in places like book expos, gallery openings, the theater at MoMA, Taco Bell, Qdoba, and the subway, he's created an odd little map of the city that is both personally revealing and universal, or at least recognizable to anyone who's spent much time on the streets of New York. (The archive even has dozens of quickie portraits of passing celebrities, from Peter Sarsgaard to Robert Verdi walking his dog.) Here, Polan describes for us how the project came about and what it's been like attemping to document every person in New York.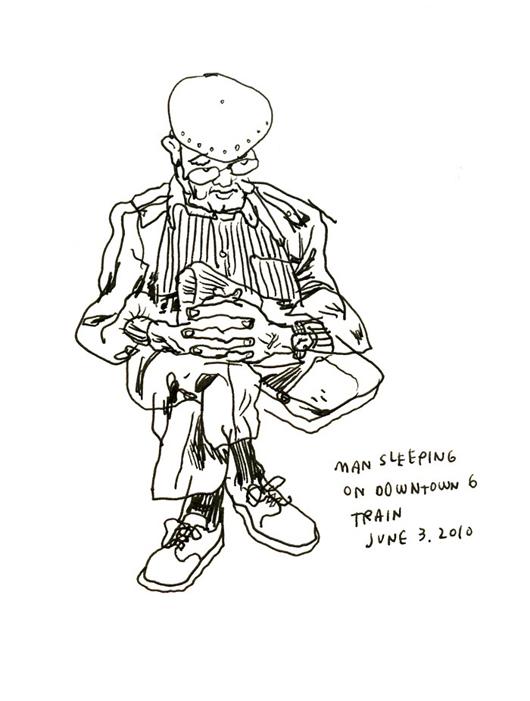 "Well, I'm from Michigan, and I went to the University of Michigan, where I got a dual degree in anthropology and art and design. I had always been interested in the relationship between those two things, and I wanted to do a project that involved making art but also interacting with a lot of different people. At school, I focused on biological anthropology — sort of the evolution of us, and how our bodies have changed over time — and I think this project addresses those subjects as well.
I had lived in New York for about a year when I received a fellowship to travel on the Artrain, which is basically an art exhibit housed in four rail cars. It had a caboose but no engine, so it was pulled and pushed by various rail companies. There were three other people as well, and we'd travel in a van, mostly in the Northwest, to get to locations before the train would get there. We'd set things up, visit schools, and bring this thing to smaller communities that didn't necessarily have an art collection of their own. And then I moved back to New York, where I've been for about four years."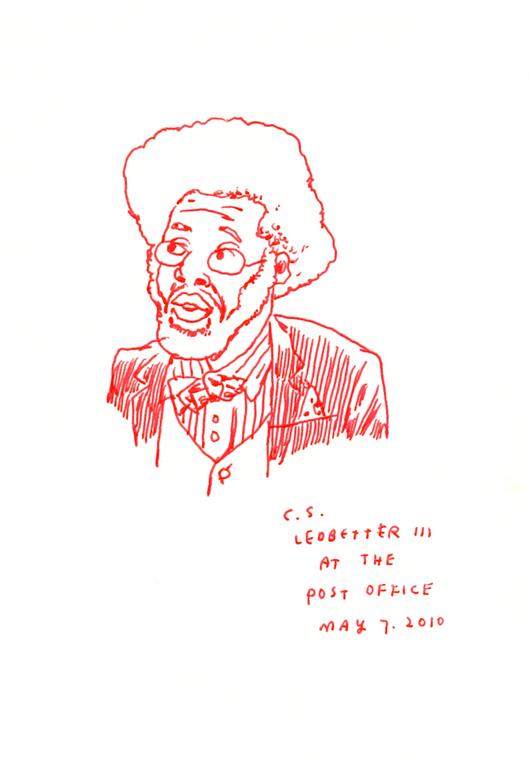 "In 2005, I did a book called The Every Piece of Art in the Museum of Modern Art Book, and that was the first project where I was trying to do this kind of all-encompassing thing. I also did one called An Entire Bag of Popcorn, and one called Every Person in the Phone Book. There was this place I went to on the Artrain called Skykomish, Washington, that had a population of 217, and the phone book was the front and back of a piece of paper. In New York, I am a stickler for authenticity — I have to be looking at the person while drawing them — but for that one I had only met a little more than half of the people, so for the others I drew maybe a stereotypical person based on their name."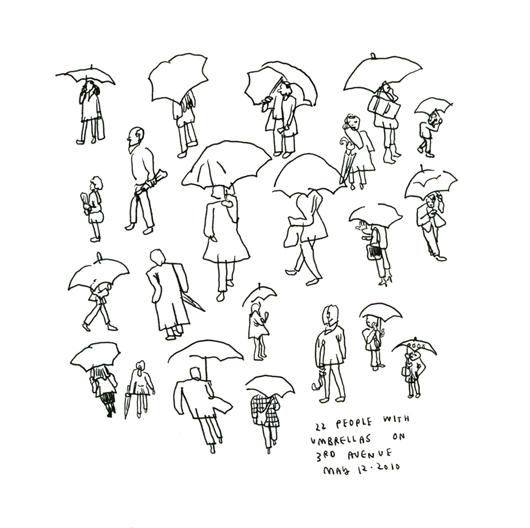 "I'm always trying to come up with projects where I can interact with people in a way that's not scary or aggressive. I have my sketchbook with me at all times, and I draw every day. If someone catches my eye on the train or walking to the post office, I'll draw them, and sometimes I'll just sit on a bench waiting for people to walk by. There aren't any set rules, and there's nothing in particular I'm looking for. Maybe it's the hat they're wearing or the way their coat is folded that will catch my attention. Other times people will email me and tell me where they'll be and I'll go and draw them — that's an option, too. I try not to be very noticeable, so it's a surprise for them when I post the drawing on my blog that night. Sometimes people don't show up if it's raining, but I'll usually be there. And I won't see that person but I'll draw other people and it'll still be great.
I draw celebrities sometimes. I did a drawing of Kristen Wiig that was really pretty bad because she was moving fast and I was excited to see her. It looks like she has a weird lopsided face, but I got an email from her people that she wanted to use it on her website. Bruce Vilanch also emailed and said, 'Hey, thanks for drawing me.' Which was a weird, crazy email to get from a celebrity."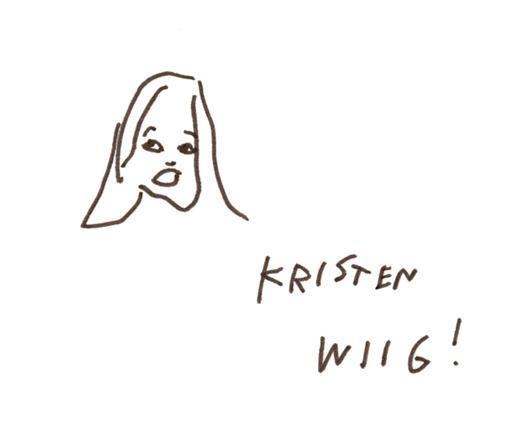 "I think it's helped my drawing skills. It's definitely helped my drawing people skills. I've learned about what people wear in different parts of the city, and the speed they move at. If I want to draw a lot of people, I'll go to Grand Central at 5 pm. Or if I want to spend more time on it, I'll go to the Met. People looking at art move really slowly. It's also pushed me to go farther away from where I normally go, out in Brooklyn or Queens, and then once I'm there I try to take different streets than I typically would."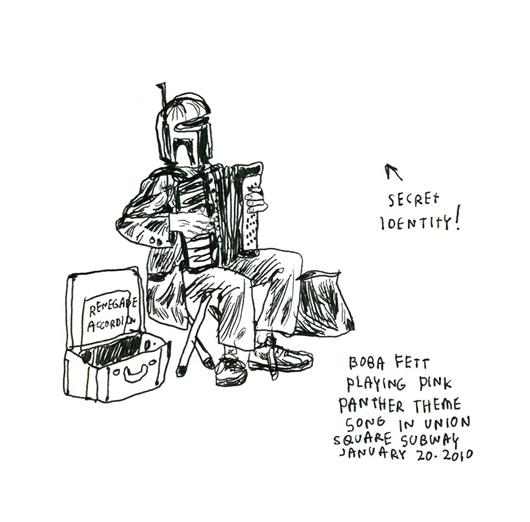 "At the beginning, I never thought I was going to finish. I've been doing it for 2 1/2 years, and I've drawn about 10,000 people. I actually did an event called 'The One-Tenth of One Percent Event' after I'd drawn about 8,500 people. I thought it would be funny to celebrate how I've achieved so much but actually so little. And I'm willing to work on it as long as I'm alive or in New York. I don't think I'll one day say, okay, I'm done now. I take it very seriously. But I know it's a goal I will probably fail at."