05.05.10
Lists: To-dos, Illustrated Inventories, Collected Thoughts, and Other Artists' Enumerations
Lists are one of the strange byproducts of daily life. You hardly ever think about them — until, of course, one of them becomes obsessive enough to turn into a book. But even for the rest of us, a list can reveal much about the habits of its maker — the multitaskers and the romantics, the punctilious and the impulsive among us. In the hands of artists, a list can become a document of the art-making process or even a work of art unto itself. That's the idea behind Lists by Liza Kirwin, curator of manuscripts at the Smithsonian's Archives of American Art, which counts hundreds of thousands of lists in its collections: "to-do lists, membership lists, lists of paintings sold, lists of books to read, lists of appointments made and met, lists of supplies to get and places to see, and lists of people who are 'in,'" Kirwin writes. She gathered 70 artifacts from the archive, ranging from Pablo Picasso's recommendation for artists to include the 1913 Armory Show (one of his picks, Marcel Duchamp, would cause an uproar in the press with his Nude Descending a Staircase) to art dealer Paula Cooper's list of things to do before she opened her eponymous Soho gallery in 1968. We've excerpted six of our most revealing favorites below.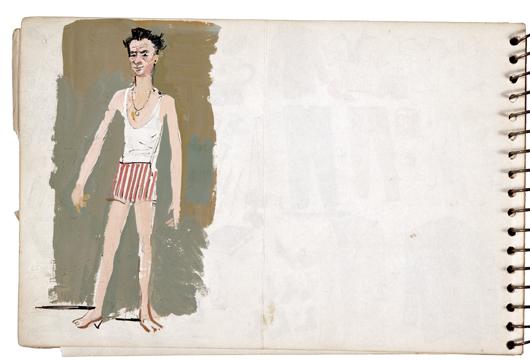 Adolf Konrad Packing List
Ca. 1962-63
2 pp. (1 Folio) excerpted, watercolor and ink
During his frequent trips abroad, realist painter Adolf Konrad (1915–2003) filled stacks of sketchbooks with vibrant scenes of street life and picturesque landscapes. In this sketchbook from his travels through Rome and Egypt in 1962 and '63, he makes a graphic list of the things he needs to pack (see main image above) as well as a drawing of himself wearing nothing but his underwear.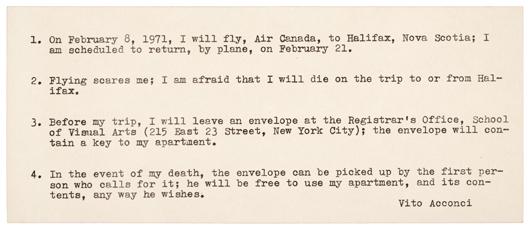 Vito Acconci Instructions to Dorothy and Herbert Vogel
1971
1 p. mimeographed typescript
Performance and conceptual artist Vito Acconci (b. 1940) has a fear of flying. In this numbered list from 1971, he leaves open-ended instructions about what to do with his apartment and its contents should he die in transit. Intended as a conceptual work of art (and perhaps as a potential postmortem performance), Acconci mailed this list to art collectors Dorothy and Herbert Vogel and others in the art world. It remains as the material evidence of the art event.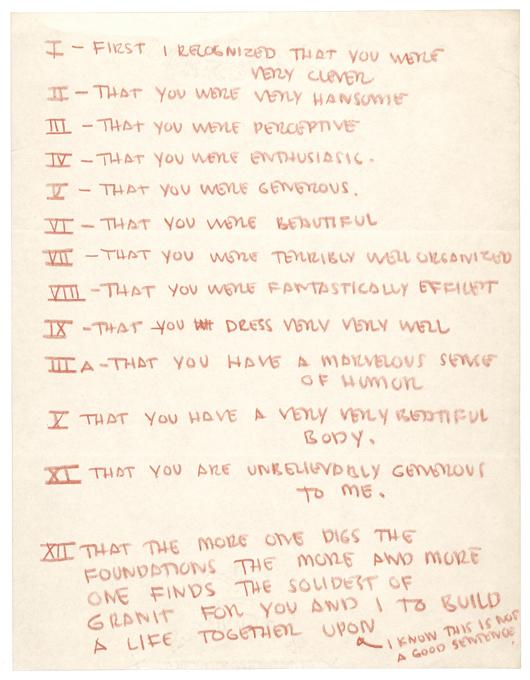 Eero Saarinen List of Aline Bernstein's Good Qualities
Ca. 1954
1 p., handwritten
Finnish-born architect Eero Saarinen (1910–1961), the designer of such structural icons as the TWA terminal at John F. Kennedy International Airport (1962) in New York and the Gateway Arch in St. Louis (1965), met his second wife, Aline (1914–1972), on January 28, 1953. Aline, then an art editor and critic at The New York Times, was writing an article on Saarinen's new General Motors Technical Center (1955) in Warren, Michigan — a sleek, corporate campus of steel, aluminum, and glass. They fell in love instantly… In this list, written around the time of their marriage, Saarinen enumerates Aline's positive traits.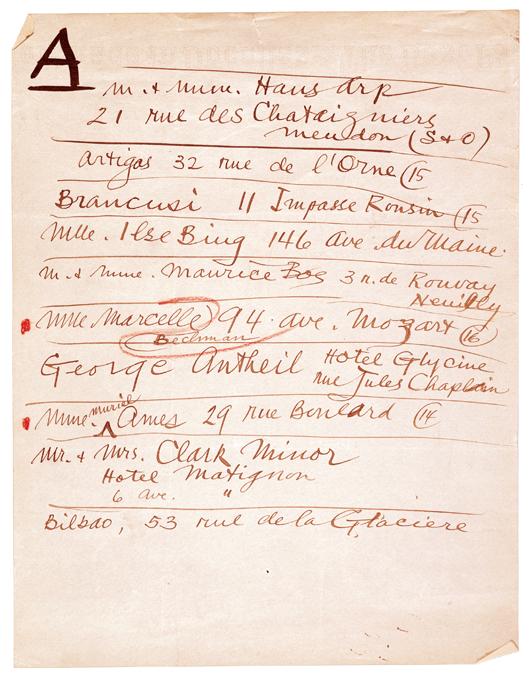 Alexander Calder Address Book
Ca. 1930
1 p. excerpted, handwritten
In 1926, when Alexander Calder (1898–1976) moved to Paris, he had little direction in his life. Seven years later, he returned to the United States an accomplished sculptor with his own expressive vocabulary — wire drawings, articulated toys, and mobiles — that became his singular contribution to American art. While in Paris he recorded his connections with other artists and members of the avant-garde in his handmade address book. This first page includes contact information for Romanian sculptor Constantin Brancusi, German photographer Ilse Bing, and American composer George Antheil, among others.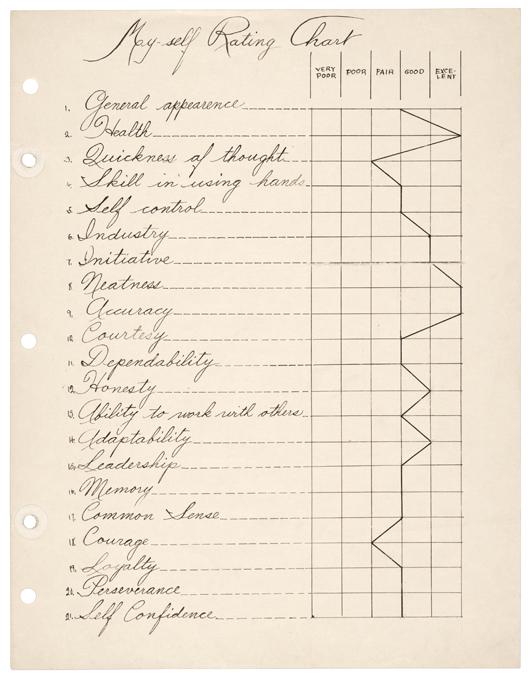 Harry Bertoia "May-Self Rating Chart" School Assignment
1932
1 p. excerpted, handwritten
Sculptor and designer Harry Bertoia (1915–1978) was just fifteen years old when he moved from Italy to the United States to live with his brother, Oreste. Two years later, struggling to assimilate as a student at the Elizabeth Cleveland Intermediate High School in Detroit, he made this list of personal attributes as part of an illustrated booklet titled My Career. Though Bertoia is hard on himself — only scoring "excellent" in health, neatness, and accuracy — in My Career he states his claim to be an artist.
From Lists: To-dos, Illustrated Inventories, Collected Thoughts, and Other Artists' Enumerations from the Smithsonian's Archives of American Art by Liza Kirwin. Copyright 2010 by Smithsonian Institution and reprinted with permission from Princeton Architectural Press.