11.05.09
Creative Space: Urban Homes of Artists and Innovators
Francesca Gavin is a London-based writer, editor, and blogger, and, like you and me, she's a major voyeur. For her book Creative Space: Urban Homes of Artists and Innovators, out this year from Laurence King, she traveled the world, slipping inside the studios, apartments, and houses of designers, artists, photographers, stylists, curators, writers, and filmmakers — always with photographer Andy Sewell in tow — to document the chaotic interiors she found there. The book takes a seriously anti-minimalist stance. As Gavin says, "Blank space with clean lines is an easy aesthetic choice for those lacking in creative imagination. This image is the definition of conformity — now becoming as old-fashioned as wood panels and gilt." Instead she embraces the exuberant interior, the one filled with Swiss marital mask carvings and hobo art and where hand-painted murals abound. They're interiors that reflect the creative process of those who live there — that show how what these people do inspires how they live, and vice versa. Here is one of our favorites. Gavin writes: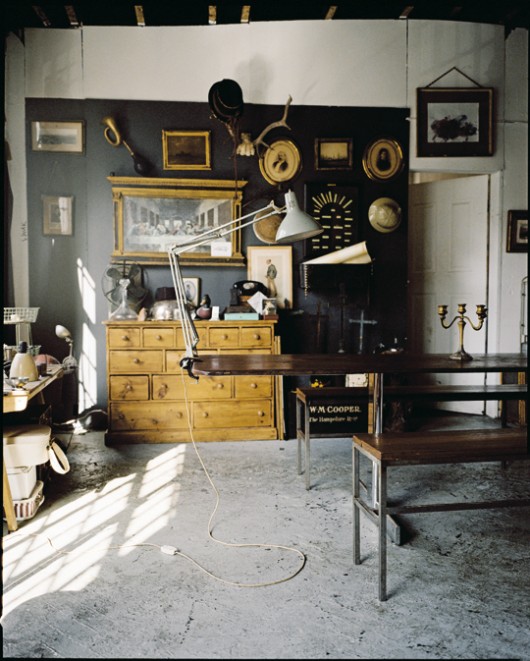 Henry Armand Smith and Dean Slydell are Snakeskin Jacket, a duo that has worked on props, sets, furniture and events for Vivienne Westwood, Eley Kishimoto, Wound Magazine, Maison Bertaux and various directors for TV, film and music videos. Their home in Smithfields veers between brilliance and chaos the minute you walk in the door – past the broken piano that is crammed on its side next to the stairwell. There is nothing humdrum about the space. In one corner of the central living room, a bedroom was created out of cardboard boxes and coloured panes of Perspex. The opposite side of the room is like a pastiche of a nineteenth-century drinking club. The space is as varied and unpredictable as the work the pair creates.
How did you form Snakeskin Jacket?
We are old friends and about four years ago began working together doing the sets and art direction on music videos for the director Nick Frew. When we moved into the building we found ourselves in a position to have a great workshop so we branched out and started producing other bits and bobs. Snakeskin Jacket was the company we formed; a nod to Nick Cage in the film Wild at Heart; 'This here jacket represents a symbol of my individuality, and my belief in personal freedom.'
You've done a lot of different projects – from Happy Mondays music videos to sets for Vivienne Westwood shows – what links your approach?
Saying yes to everything we get asked to do! Between us, and a pool of talent we have worked with in the past, we have found with a bit of thought and pre-planning we can always solve most problems. This way you get to learn new processes and techniques that you can later apply to other jobs.
Tell me about the furniture you've made.
We have made furniture for parties, film props, restaurants and showrooms. The materials vary, often with a leaning towards the recycled. As we enjoy making these bits, we often tend to take this route rather than hiring or buying new.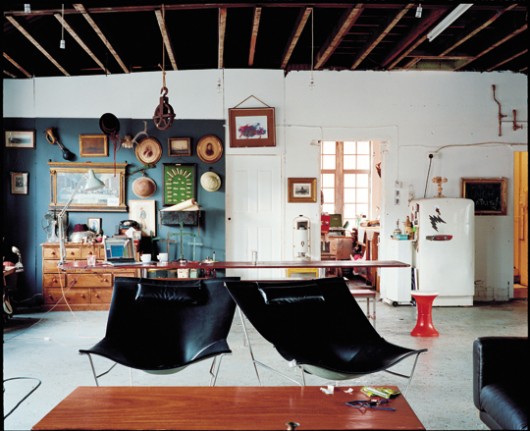 How did you end up living in the space?
A good friend, Robert Pinnock, put us onto the space. It's basically looking after empty buildings for developers or companies. We had a call from Robert one day saying 'get to Smithfields and bring a sleeping bag'. We got there, secured the building and began turning it into our space.
There are Eley Kishimoto prints around the space, especially the bathroom filled with fake surveillance cameras. How did that happen?
Mark Eley wanted to use the space as his showroom during 2006 fashion week. We had only just moved back in, as the site had been the HQ for the London Architecture Biennale for a month. When we moved back, the space was empty again so we had a clean slate. We needed a toilet/shower and kitchen, so when Mark approached us, we jumped at the chance, knowing we could source some great materials off him. His printed plywood and plasterboard were fantastic. We had seen it before and knew he would have some bits around his studio. The surveillance cameras were sitting around in the workshop. We thought it would be unnerving to fit them in the bathroom! No one likes being watched on the toilet!
How did your Victorian corner evolve?
We call it 'Gentleman's Corner.' It's just collections of found objects and props we have gotten for music videos and various jobs. We decided to make the corner as decoration for an evening we host called 'The Boys Club,' where a variety of our friends come for dinner to talk, drink, and get away from girls for the evening.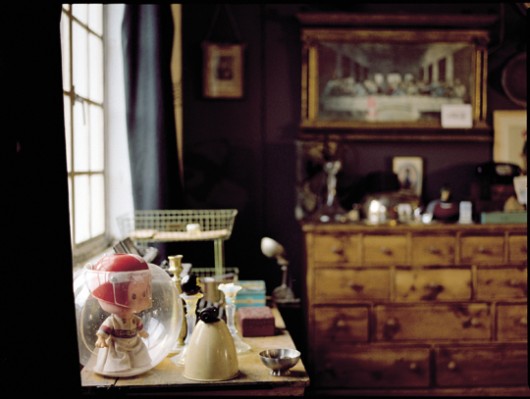 What's the story behind the Swap-A-Rama Razzmatazz sign?
Swap-A-Rama Razzmatazz is a party we started with the concept of attending the night in the clothes that are in the bottom of your wardrobe that you don't wear anymore. Throughout the night we ring a klaxon, when everyone must swap an item of clothing. We all agreed we needed a swap box, the concept of this being a bright noisy object that signalled to the audience when it was time to swap clothes.
Where did you find the objects in your space?
Anywhere and everywhere. Skips, household waste sites, streets. If we find something interesting and can get it home any way possible, we do.
Does your space reflect your work?
The space is our work. When you live in a temporary place you need to create the living space to be versatile and moveable. Shelves and walls are made from reclaimed wood, which is not great to look at, so the best thing is to decorate them with our interesting collected bits.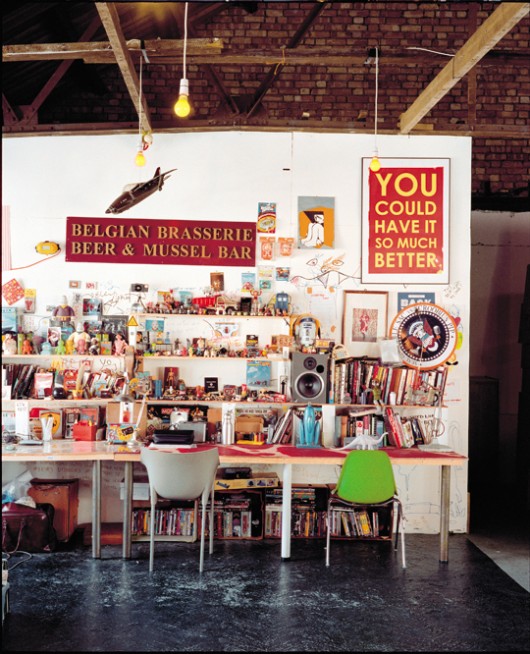 What is the strangest object in your home?
The Broken Boudoir Grand Piano at the bottom of the stairs, which was used in a music video. We never could face hauling it up to the living space, though. The bed is made from scaffolding. I bought an expensive mattress, but didn't have the funds to buy a bed frame, so we made it from dirty old scaffold poles. We had a crucified rubber skeleton with a fairy light crown for a Christmas tree.
From Creative Space: Urban Homes of Artists and Innovators, by Francesca Gavin. Copyright 2008 by the author and reprinted with permission from Laurence King.