06.12.20
Studio POA's Work Combines Natural Materials With Computer-Generated Growth Algorithms
This piece is part of Sight Unseen's 2020 Offsite Offline coverage. To view Studio POA's virtual booth on Offsite Online, click here. 
Guatemala-born, New York–based designer Giovanni Valdeavellano blurs the boundaries between digital and analog, industrial and unrepeatable. His sculptural designs estrange familiar materials like glass, wood, ceramic, and steel to create fresh structures and shapes.
Trained as an industrial designer, Valdeavellano spent more than 15 years working as a contractor in Miami before deciding to put the insight he had gained into materials and building processes to a new use. In 2016 he relocated to New York and opened his Studio POA — short for "pardon our appearance," a phrase borrowed from his time art directing a men's fashion chain, which put signs with the sentence up each season as the shops shifted their displays. Valdeavellano continues to realize every project by himself — such as the hand-made ceramic and glass lamps and CNC-milled tables and chairs on display as part of Offsite — out of his Brooklyn studio.
Sight Unseen caught up with Valdeavellano to talk abstraction, technology, and the hand-made in an era of life taking place increasingly on the small screen.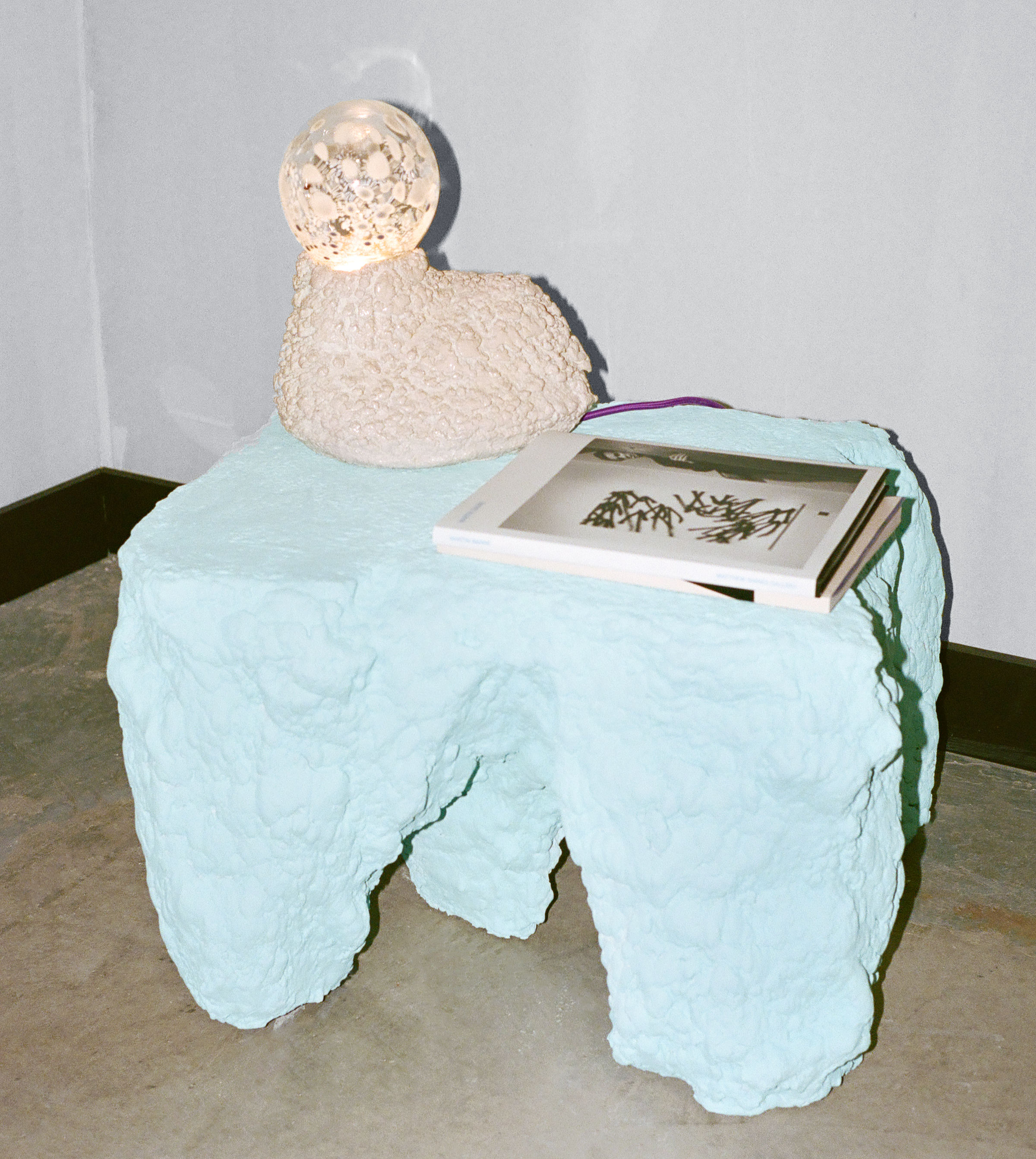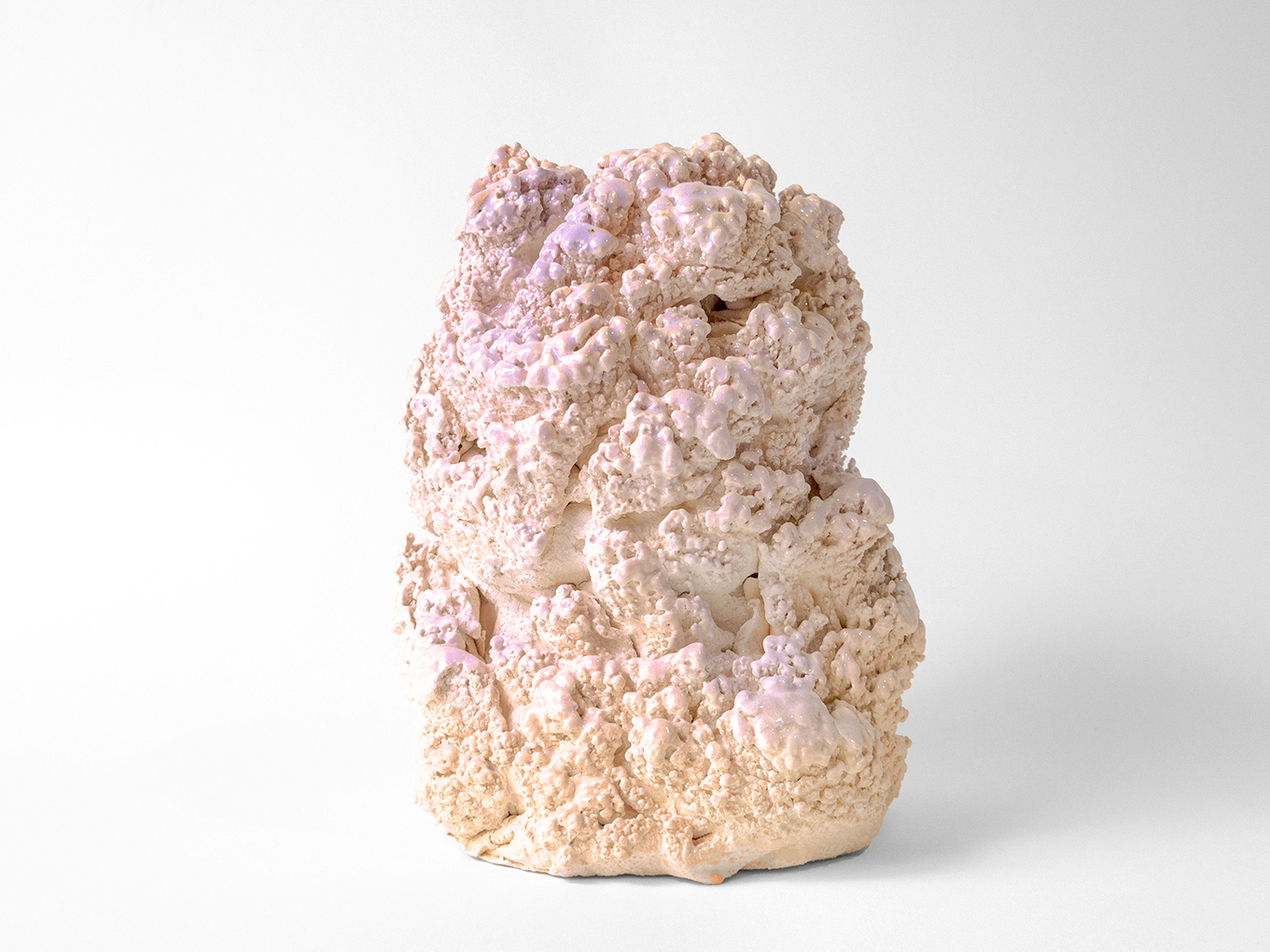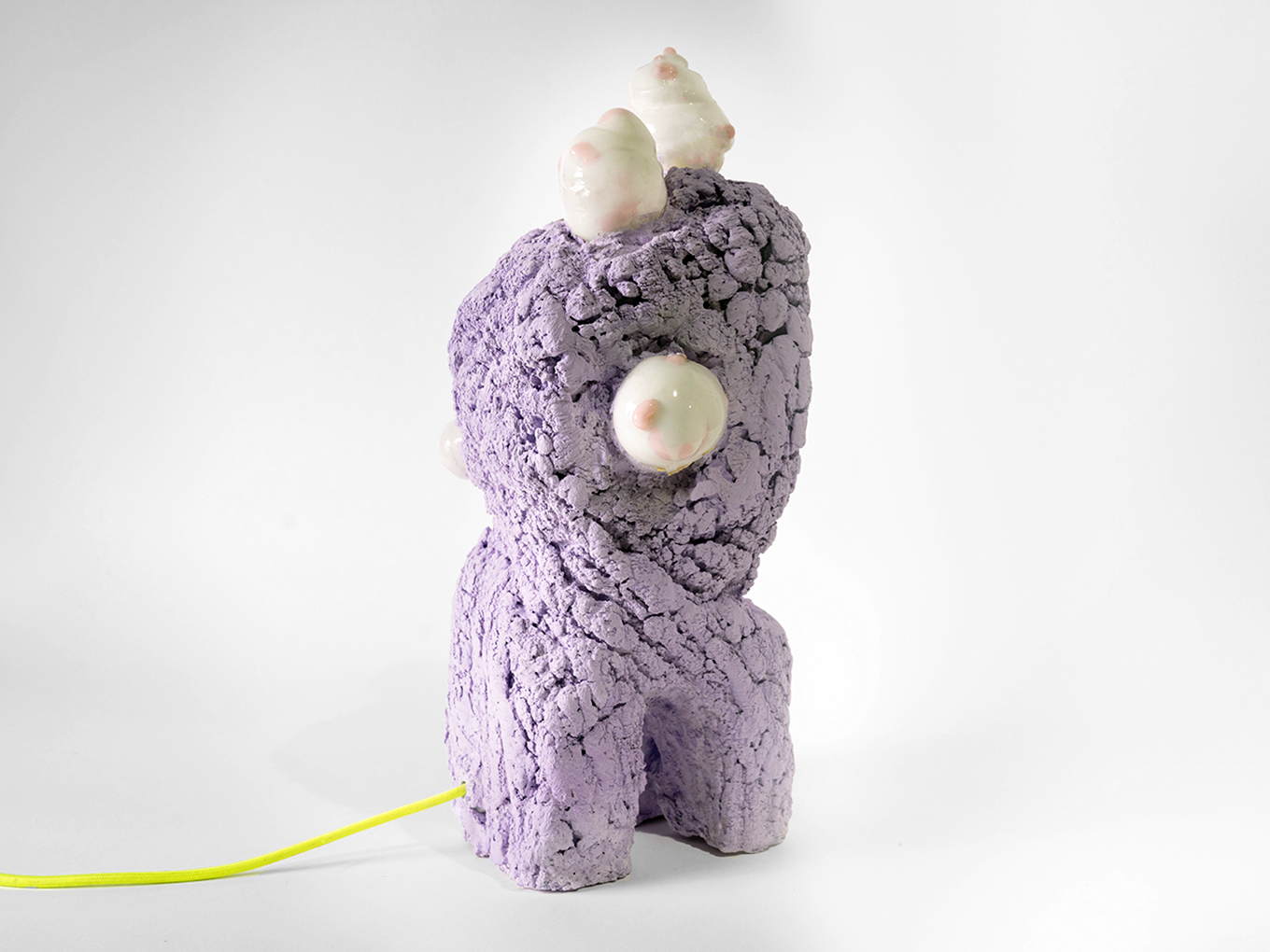 The textures of your Croissance ceramics are very layered and complex. How do you go about making them?
I hand sculpt the body of the lamp first. I try to emulate the natural growth of fungus or tree bark, so I start adding layers and layers of slip to the clay bodies. After the slip solidifies, I add another layer and then repeat the process over a few months. And then these added layers just start growing in their own way. It's something that cannot be replicated because each piece starts taking its own shape.
While you're making these unrepeatable shapes, they're also inspired by computer-generated growth algorithms, which model natural growth processes. You take the inspiration of those forms and make them physical — analog, even — again. How did you come to this idea and what's it like working between those layers of abstraction?
I've always been amazed by works by some digital artists. There's also a French mathematician who started studying the growth of fungus, and he created an algorithm to feed into the computer so that he could generate these random patterns that actually derive one from each other, and they grow in the computer. I was like, "That's amazing!" That was the inspiration to bring my work back to nature, but in a different way.
It's so difficult to create something original because most shapes and most forms and colors and everything has already been used. We have thousands of years of existence. So creating something that nobody has made is nearly impossible. A way to approach this is to modify systems and processes in a unique way so that the result is in itself unique.
A lot of digital artists are always creating things that seem impossible or like dreamscapes or fantasy things that they can only create on the computer. But I thought of it as a challenge to replicate these things in real life.
And you make them by hand in earthenware, instead of, say, 3D printing them.
Glass and ceramic are probably the most ancient art forms. They come from the earth; they require fire. And they've been with us throughout all civilizations. So offering a modern take on these materials is something that I find fascinating.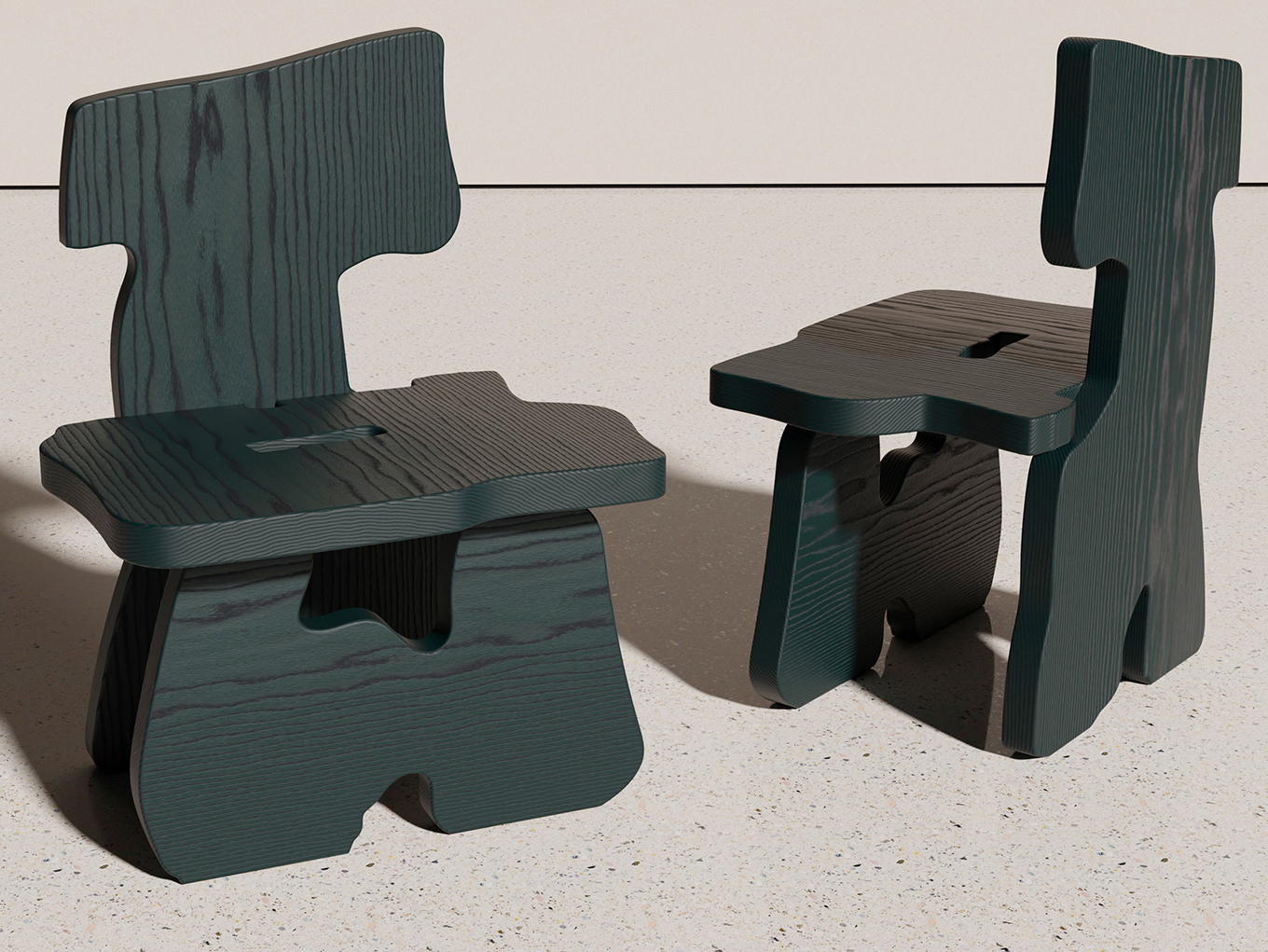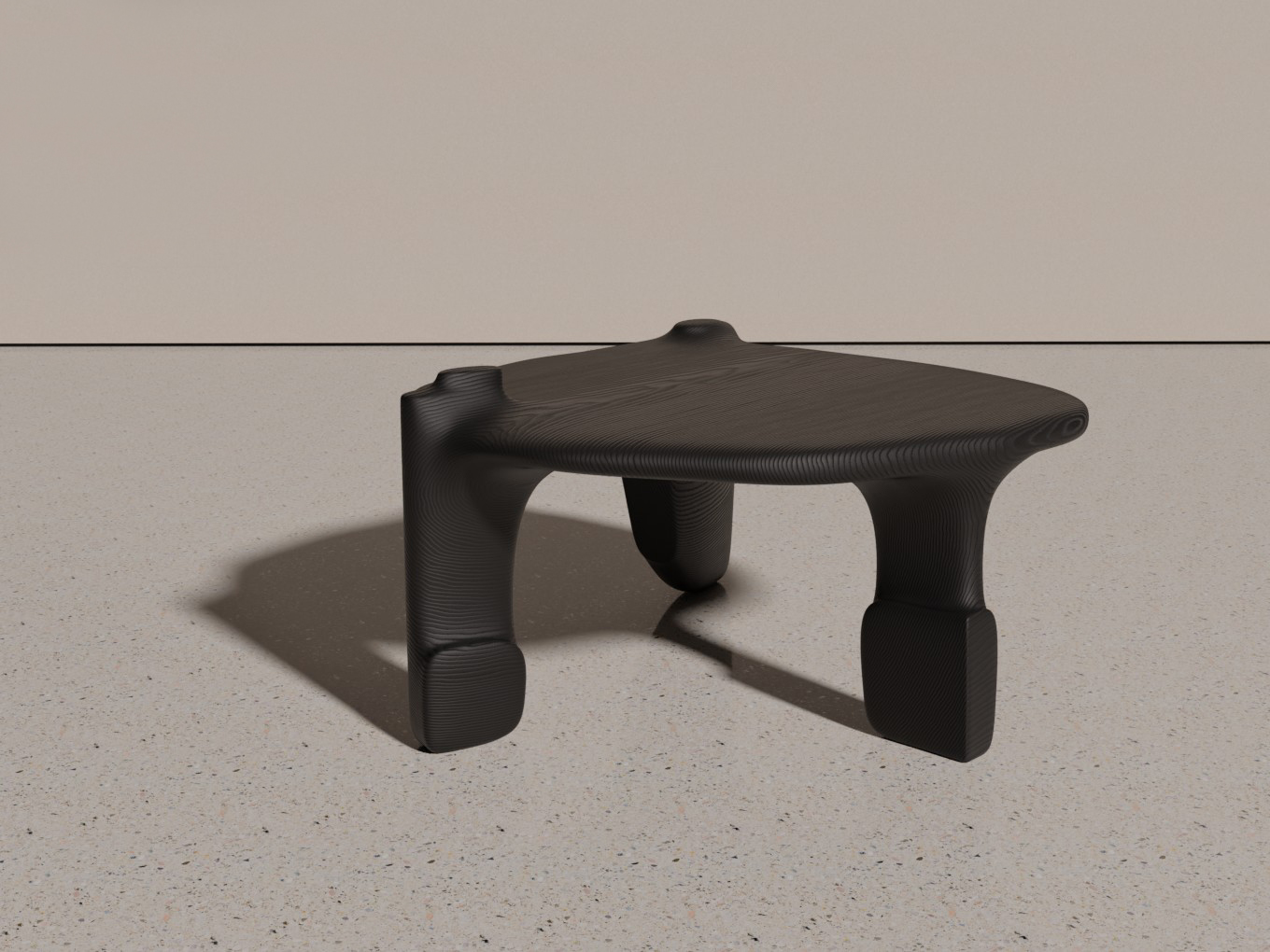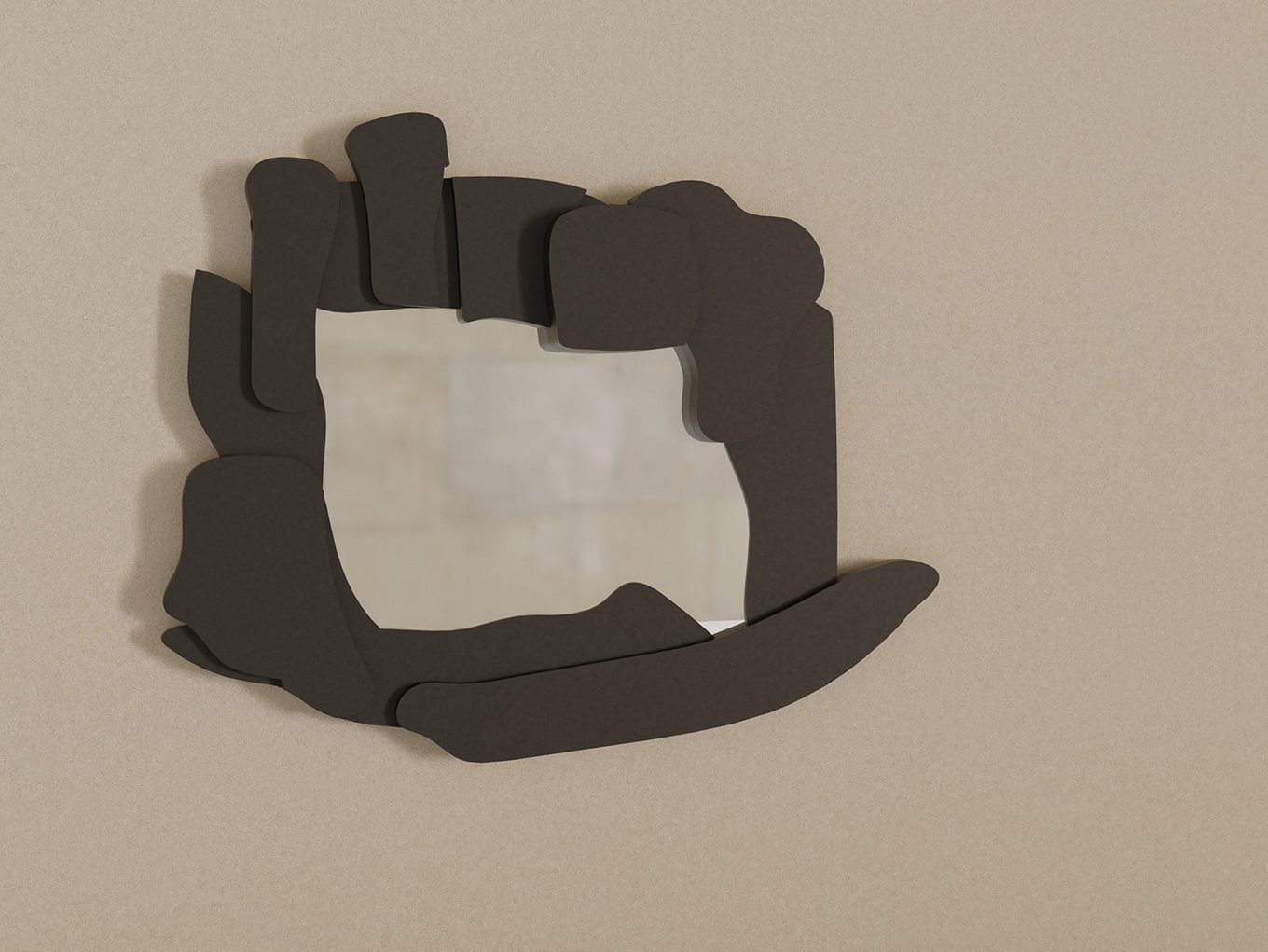 With the wooden furniture and mirror, there's an irregularity and asymmetry, but there's still very much a structure to them. They aren't blobby, exactly. And you cite many inspirations for them — Mayan jade sculptures, sculptor Roberto González Goyri, and your mentor, the guitar maker Farhad Soheili, being some of them. How do these inspirations converge into the final forms?
It's a process of letting the material take its shape, but with me still being in control of the process. I feel like, for example, a square table, it's very predictable. It's very predictable but when you approach the table and you come in contact with it, it doesn't really conform to your body. So I started looking for shapes where I can be a little bit more immersed in the table, sort of like how a guitar body has these curves so that your belly can fit into it. I'm trying to find a way where you can come into a relationship with an object without finding a leg that hits your leg or something  interrupting you from being comfortable. These irregular shapes help you find your position.
How do you get from a concept to final form?
I mostly have ideas while I'm either going to sleep or when I'm just waking up. I think it's very important to stay in bed for a little bit and keep your eyes closed, because you can completely isolate from everything. And then you can shape ideas in your head a little better.
After doing that, I grab my iPad with the pencil and I start drawing shapes. Those shapes become a tabletop or a table leg. I try to translate that hand-traced movement to the digital media. The iPad is a great tool for that, because I can convert that hand-traced drawing into a code for the CNC machine to cut the wood. So even though it's being cut by a machine, it comes from a hand gesture. It's a very good way to meet technology with nature. What's more natural than hand drawing?
There's a directness because the design goes from your physical gestures and motions right to cutting the final product.
It's almost like a dance, it's translating that movement that cannot be replicated, but I'm replicating it. It's like freezing it in time, but it's repeatable. It's amazing.