06.11.20
Simon Johns's New Collection Was Inspired by the Geology of the Canadian Wilderness
This piece is part of Sight Unseen's 2020 Offsite Offline coverage. To view Simon Johns's virtual booth on Offsite Online, click here. Renderings by Charlotte Taylor and Victor Roussel
From his studio deep in the woods of the Appalachian mountains, Simon Johns takes in views of the uneven cliffs that surround him, and discovers rocky outcrops while on hikes with his sketchbook — all of which informed and inspired his new collection, an exploration of the unique geology that exists in the Canadian wilderness. Called Outcrop, the collection — comprising a mirror, two tables, and a bar — pairs mineral and stone with combinations of aluminum, glass, and wood. "When I spend time in the mountains or on trails, I stop thinking about 'to do' lists and frequently have time to reflect on the big picture," says Johns. "A beautiful moss-covered cliff, a boulder with a view — the magnificence of it is all-encompassing, and the fragile details and the monumentality of the scene play equal parts in their effect on you."
Embracing uneven shapes and textures, his experiments with stone in this collection allow the material to sit center stage. Smashed gypsum cement protrusions over glass in the Fracture mirror reference the structured way in which stones break under impact, and the floating wall-mounted Ledge dry bar — made of carved solid ash — is inspired by the crumbling of a slate formation. Smoother finishes appear in the satin-like polished aluminum surface of Johns's Dolomite coffee table — with its uneven chunks of bleached ash, made to mimic fractures of sedimentary stone — and the asymmetric top of the white oak Hex diamond table, which cleverly deconstructs traditional circular seating to encourage a more thoughtful exchange between people.
Originally trained in fine art, Johns's work is dynamic and innovative, his editions illustrating a conversation between the fabricated and the elemental, with a progressive and open-ended approach. His designs feel more like pieces of art, evoking emotion in their presence, while remaining absolutely functional. Here, he reflects on his approach, his practical philosophy, and more.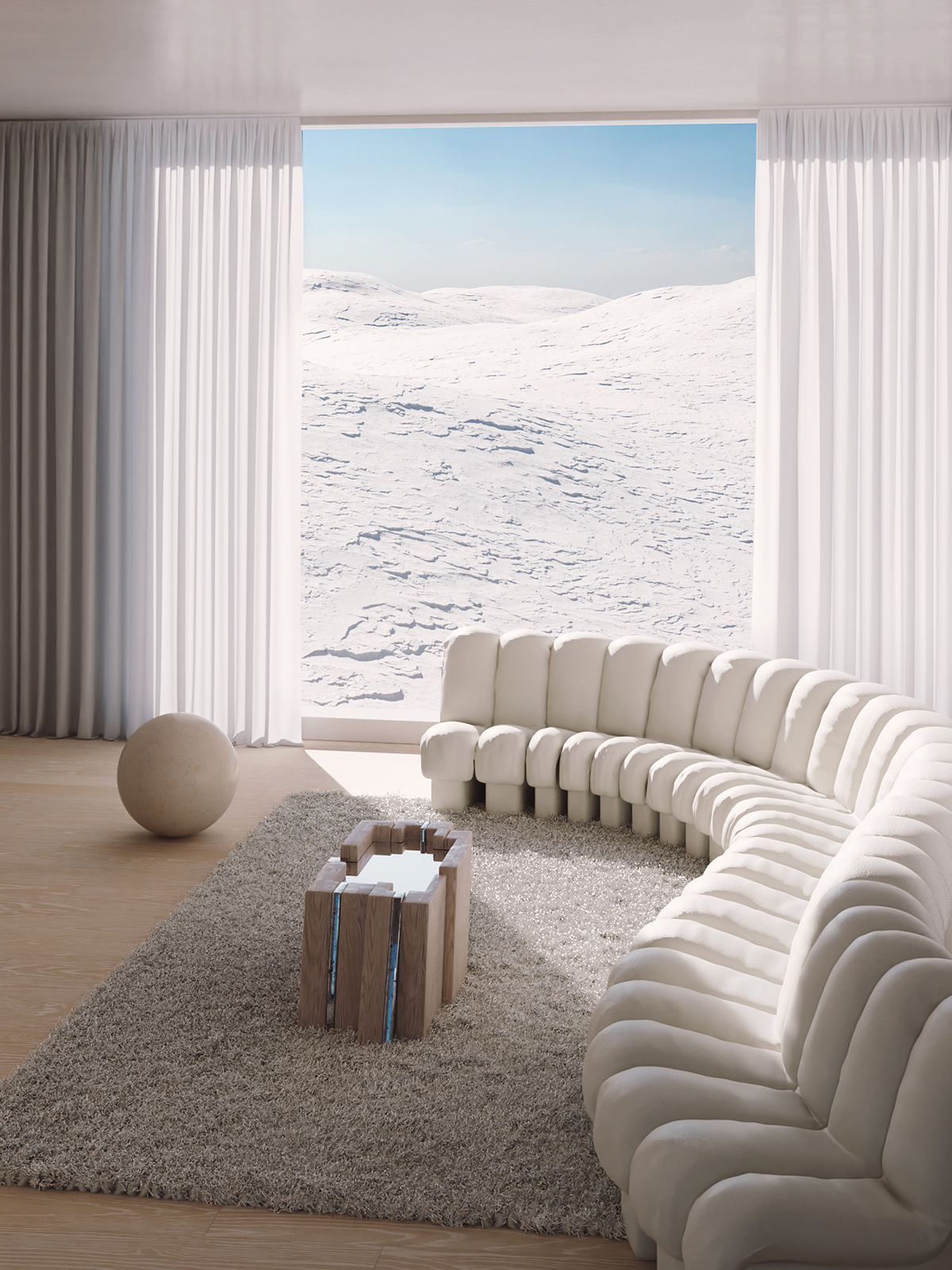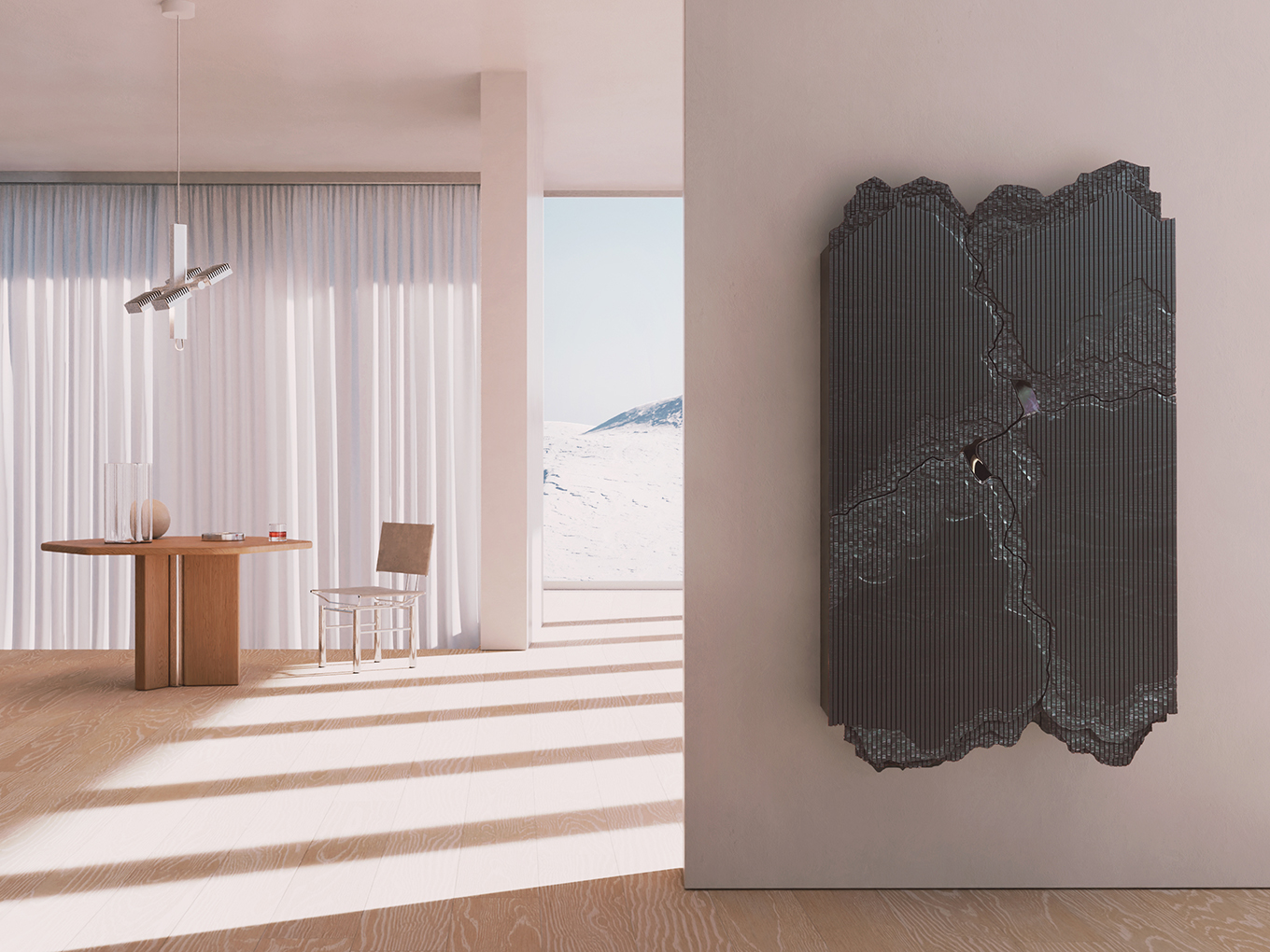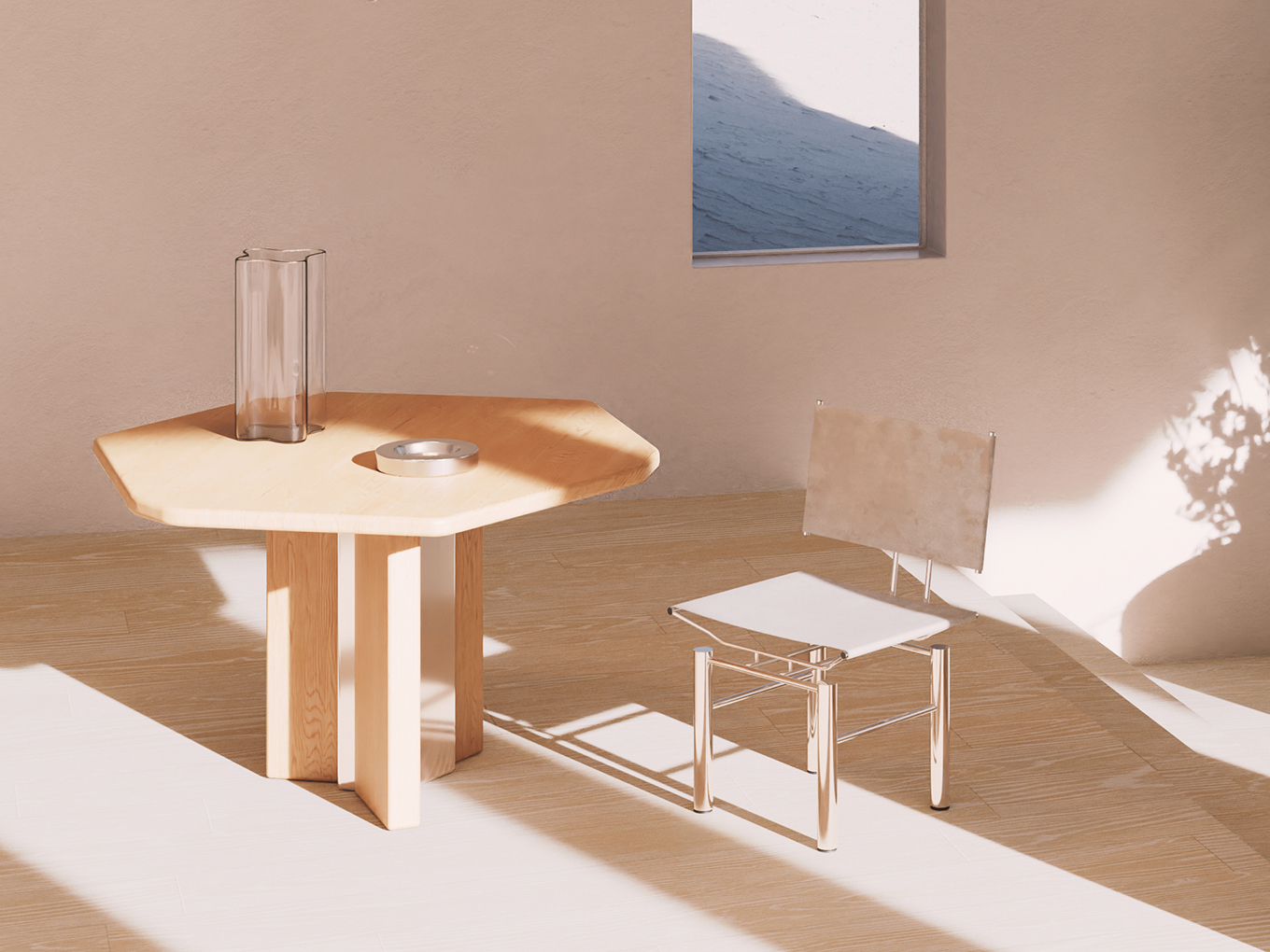 After your degree in fine arts at Concordia University in Montreal, how did you get into furniture design?
I also studied sculpture in Mexico at the Taxco campus of the Escuela Nacional de Artes Plasticas, and later I worked teaching art part-time in an alternative school and building sets for theater and music videos in my loft workshop. I became tired of the city and not having enough space to build things, so my partner and I bought a house on a whim just over an hour from Montreal near the border with Vermont.
I got a gig designing and building furniture for a Woolrich showroom in Montreal and loved it. I only realized furniture was something I could take seriously after going to New York Design Week in 2015, and slowly it became my art practice.
When did you make your first piece?
My first piece that actually had an aesthetic intention was probably the only chair I ever made in 2011. It looked like a manufactured poolside chair for a suburban prefab model home. I have yet to make a chair since, but it's on the "to do" list.
Do you design with a particular goal in mind?
I always have an incomplete idea that keeps coming back, so the goal is as simple as getting to the bottom of it, and trying not to compromise or give in to fears that may arise along the way.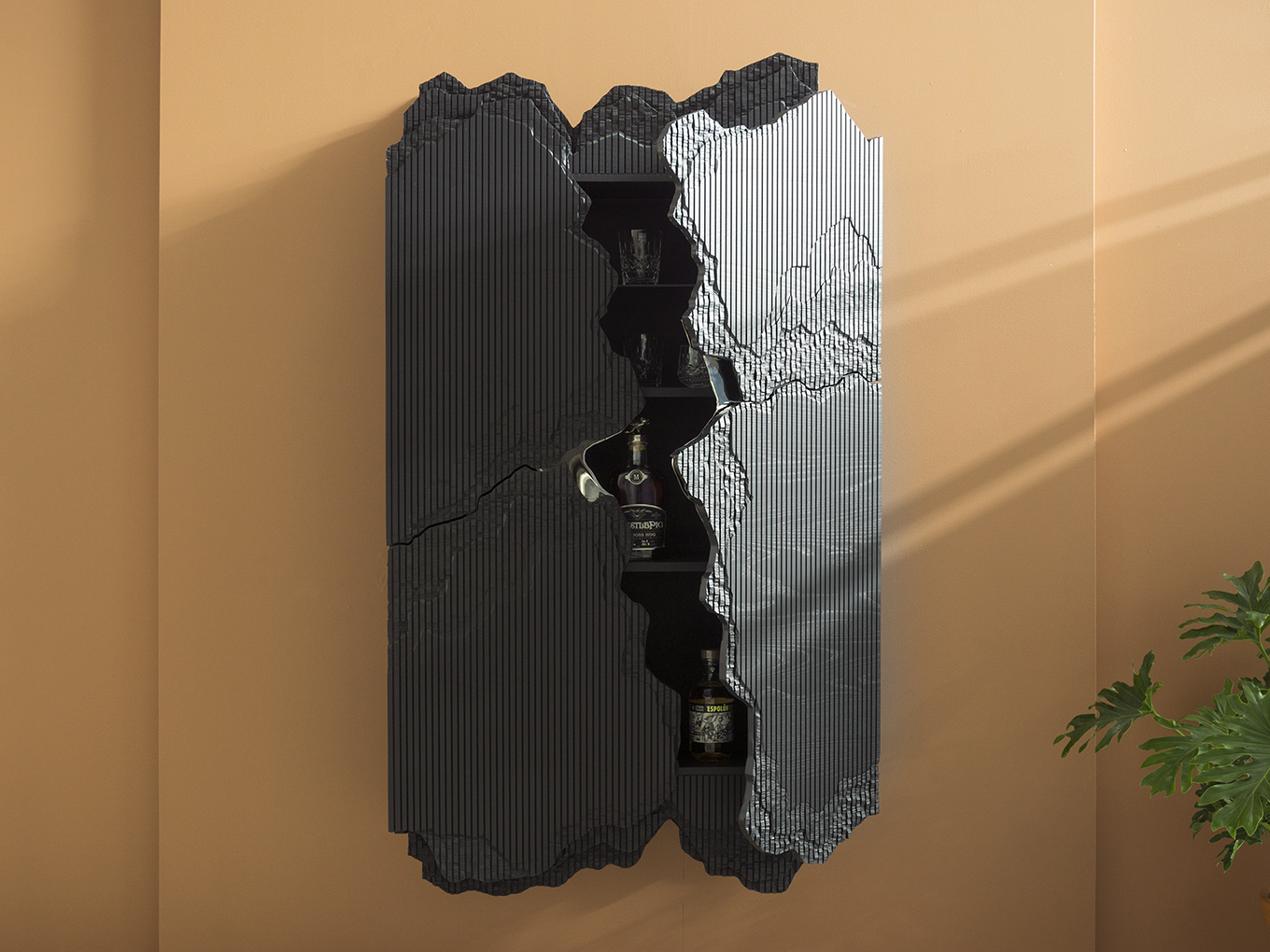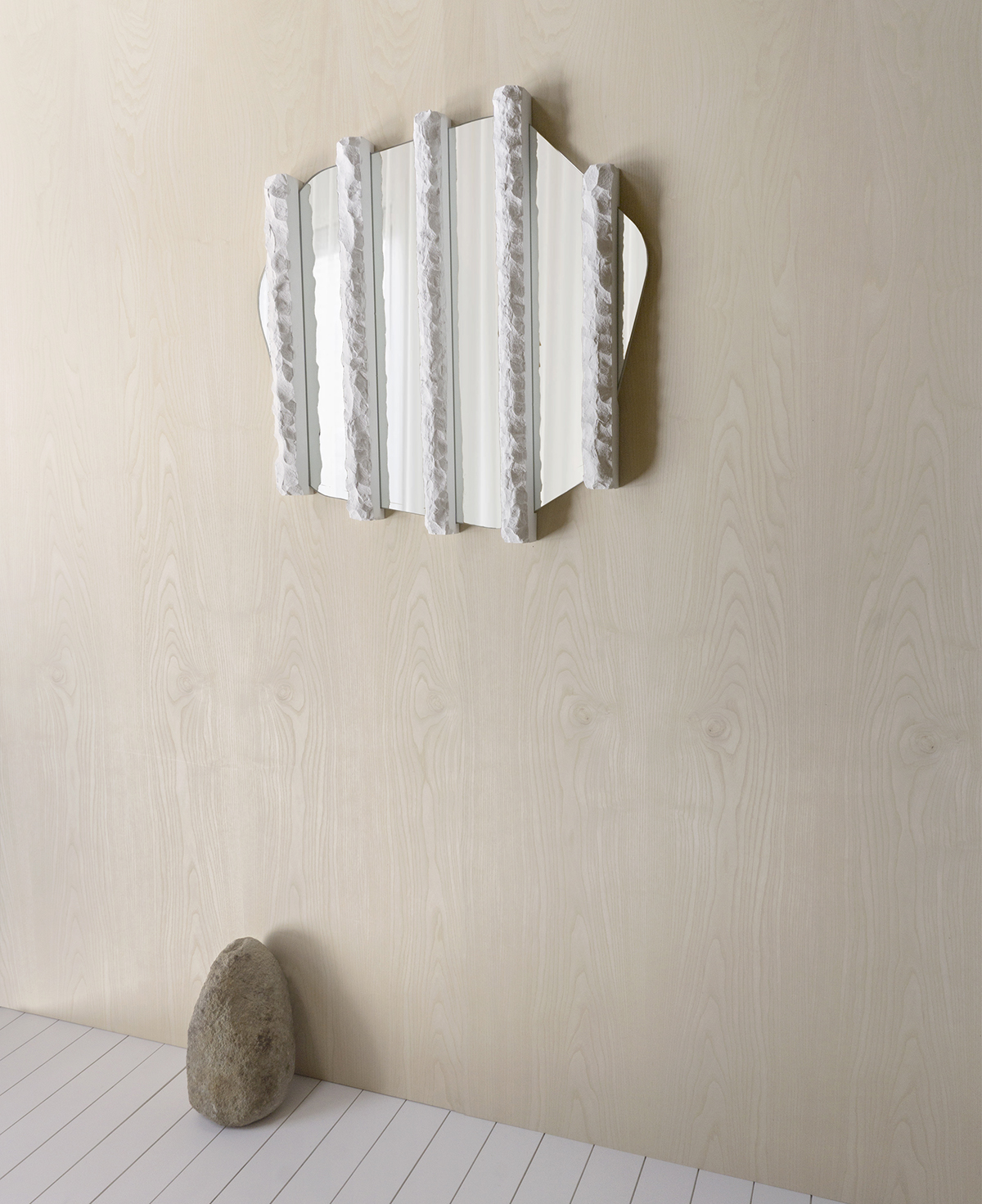 Tell us about this new four-piece Outcrop collection. The materiality of the pieces using organic rock is really strong. What is it about working with rock, for you?
Mineral references have a very different natural feeling to me than organic ones. I am struck by the beauty of natural stone in its strange shapes when found raw versus quarried. Often times, even bedrock in the region that has been dynamited breaks into fragments of similar geometries. It creates quantities of stones that look as if they were created along the same design brief but they are completely natural. Nodding to that strangeness, distilling that geometric approximation is interesting to me.
What have you discovered about the material that surprised you?
That it has the quality of keeping me interested for longer than I expected!
What sorts of shapes and forms did you look at for inspiration for the surface texture?
The surface of the Ledge dry bar is inspired by the cracking and crumbling of a slate formation. Made up of parallel foliated plates, slate crumbles as if it was once laminated and layers break off leaving different depths.
Can you walk us through the process of working with these materials and the narrative behind the pieces in the collection?
I walk a lot, photograph and sketch patterns and shapes taken from outcrops along these walks. Then I try to distill the qualities of these stone formations in the hope that some of the bewilderment, or peace, isn't lost in translation.
Is there room for trial-and-error when you're creating something? Are you hands-on sculpting rather than rigidly pre-planning a design?
It's almost all trial and error. I sketch ideas all the time, in several different sketchbooks. Then I go straight to making scale models in foam, cardboard, plywood, or whatever works. Often, I'm just measuring off the scale model and making parts for the full sized piece. I still haven't drawn the Dolomite table with any software yet, and might not either.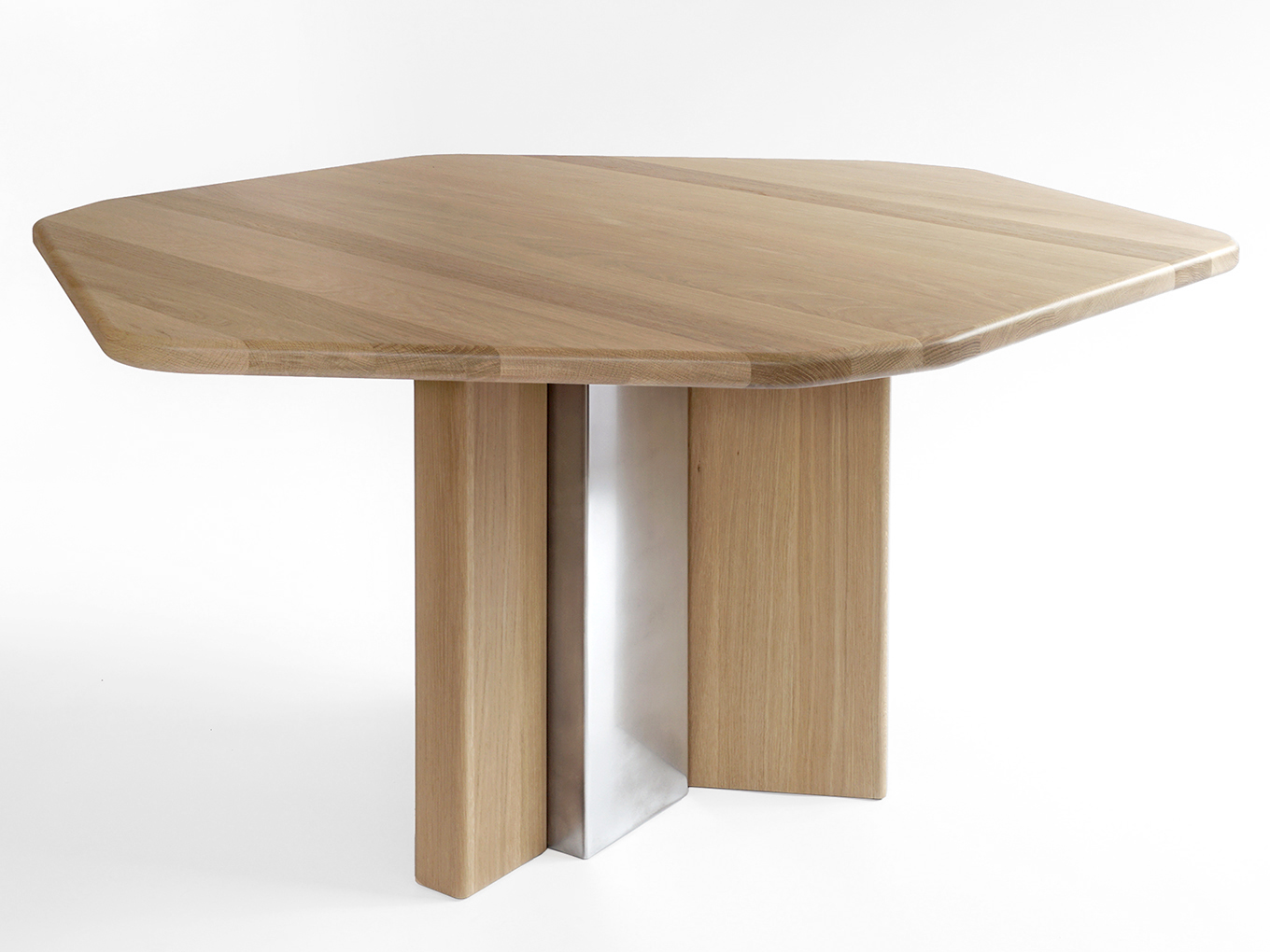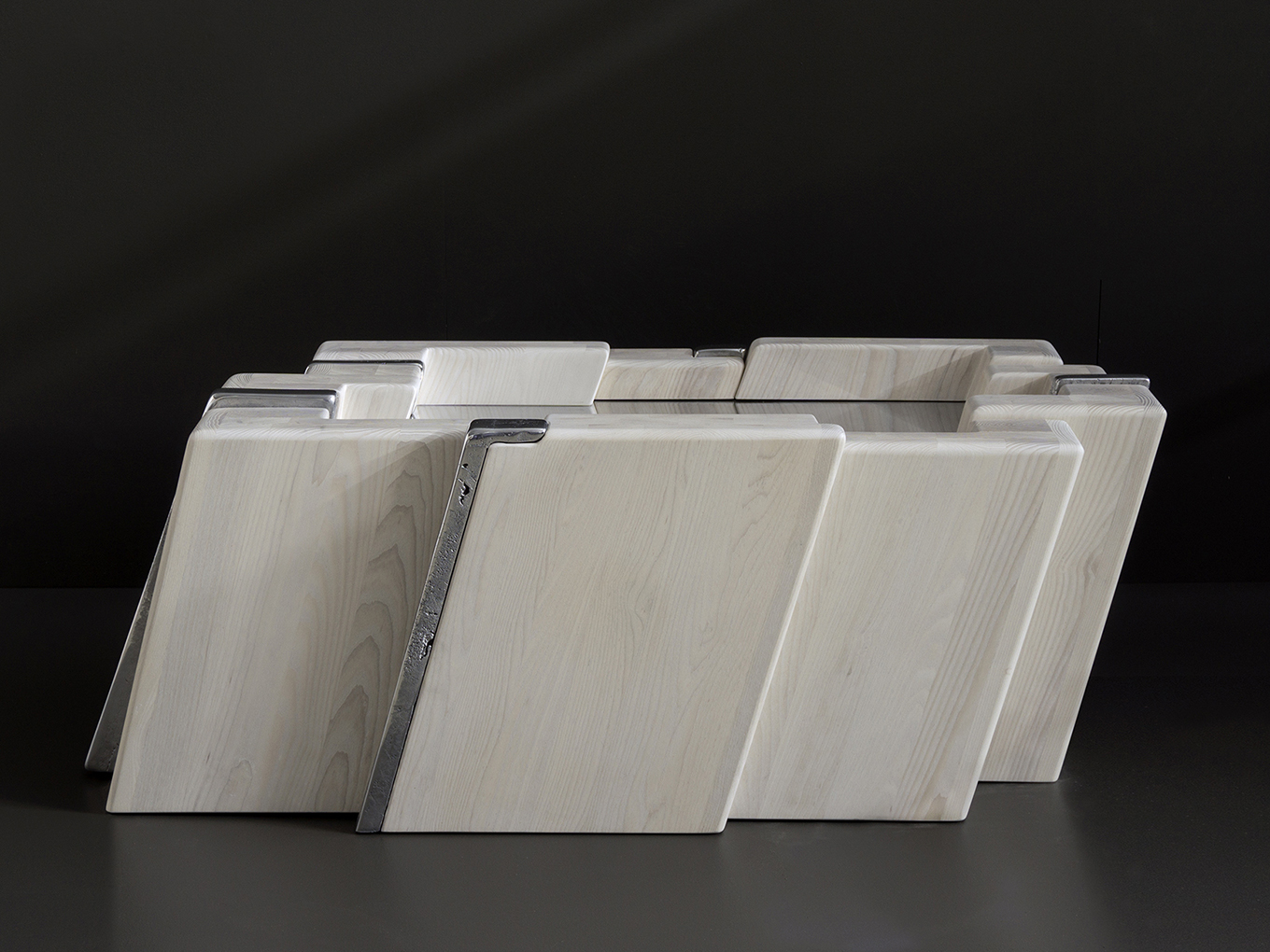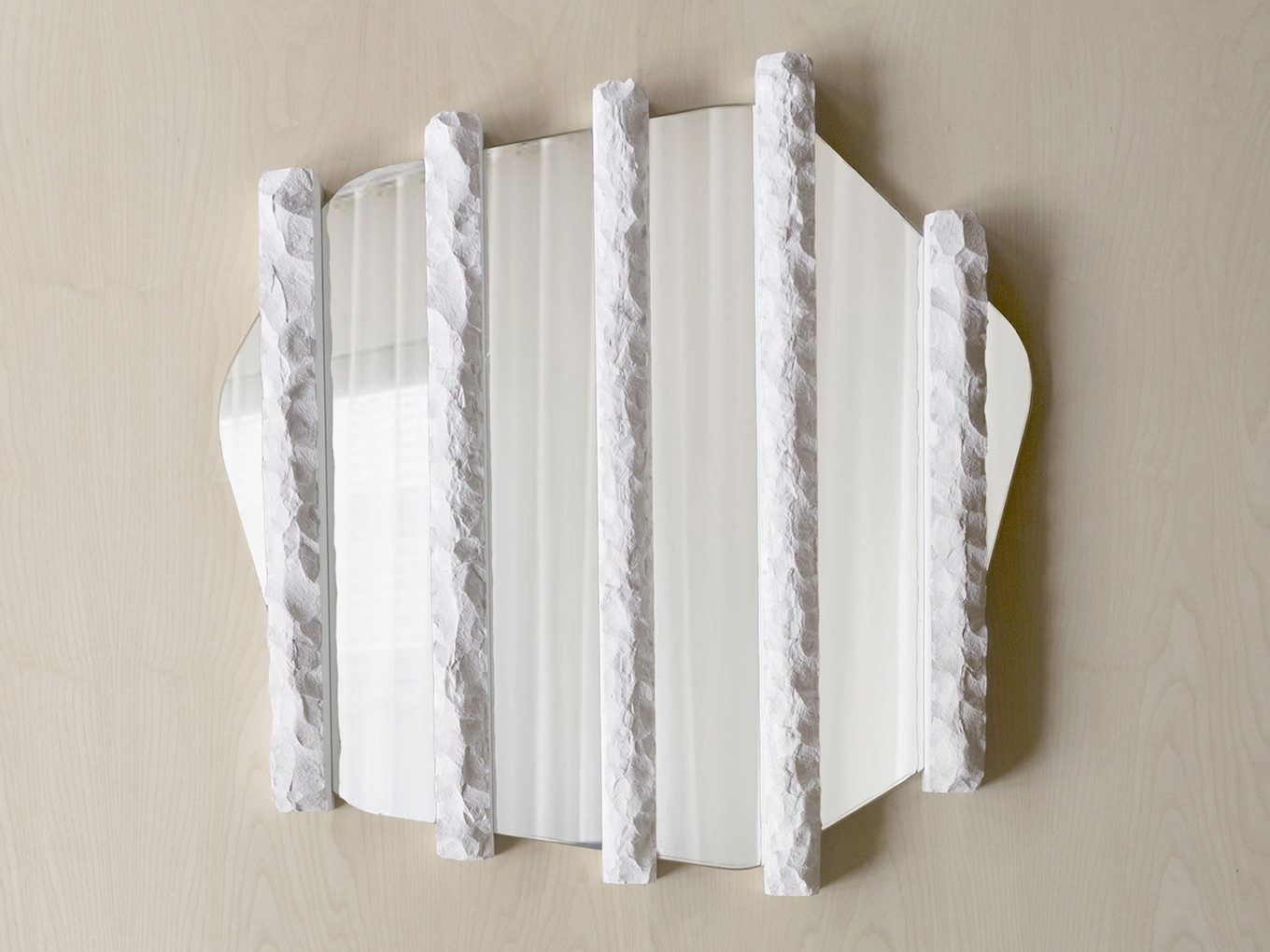 What mainly informs your practice? Are you more inspired by form, material, function?
I am naturally drawn primarily to form and materiality, but sometimes I force myself to start with function. I prefer to play with materials with a form in mind, and develop something that's possible, and then see what function it can translate to. The Ledge dry bar's surface treatment technique works for panels, so pieces that require panels like cabinets are a natural fit. The smashed plaster of the Fracture is still new to me, but I expect to expand that idea to more pieces soon.
Who do you design and create for? If you could envision an ideal client or locale for your work, what might that look and feel like?
I'm trying to design pieces independently of what interior project they might end up in. But of course I'd love my work to end up in good company in a well curated collector's home, where the light is indirect, and pieces have room to breathe. I'd also love to show work within someone's curatorial project, to see how it would be appropriated and possibly contribute to a different narrative.
Is there one piece of your work that resonates with you particularly strongly?
Right now, I'd say the Dolomite Table. Like many pieces I have made, I was really uncertain the whole way through making this table. I'm only starting to get comfortable with the piece, and that's meaningful to me. I like work to get me out of my comfort zone, to make me nervous as I make it, because then I feel like I've grown, or that the work was a little transformative. I had never worked with cast aluminum or with that pale palette in general.
Now that you've made this collection, how do you feel about it? What do you think it communicates about you as a designer?
I'm still figuring that out. This collection is far more sculptural than most of what I've done in the past, and I'm excited about this departure. I guess I've gained a little more confidence and stability in the last couple of years, enough to realize I just need to trust myself and my team, and make these things, and hope that someone else will get it — and if not, well, too bad.
What's next for you?
Everything is of course a little uncertain for now. My next immediate project is expanding my own home by quite a bit, so I'll have room for some experiments there. Also, I just received a generous research grant from the Quebec Council for the Arts, for which I am really grateful, so I should be busy experimenting with some new materials and ideas in the fall.