06.11.20
In Common With's Sculptural Lights Are The First Step Towards Building a Design Collection
This piece is part of Sight Unseen's 2020 Offsite Offline coverage. To view In Common With's virtual booth on Offsite Online, click here. To purchase their designs on 1stdibs, follow this link.
Nick Ozemba and Felicia Hung, co-founders of the Brooklyn-based lighting studio In Common With, haven't seen each other in weeks. Quarantined in different New York City neighborhoods, the two have communicated only virtually since March, continuing operations and, most recently, celebrating the launch of three new collections — the Puck Series, the Disc Series, and the Terra Series — from afar. Despite the distance defining the current moment, the designers insist that artistic connection and collaboration remain cornerstones of their brand. (The pair partner regularly with glassblowers, metal workers, and ceramicists; the Terra Series is a collaboration with ceramic artist Danny Kaplan.) "Our name comes from a sentiment we care about: creating things together with people," they write via email. "We think all three collections touch on this idea in different ways."
The studio's newest pieces build on the designers' commitment to combining sculptural beauty with utility, and to allowing their chosen materials to dictate the forms they produce. "Instead of just making a table, we think, 'What does the wood want to do? What does the ceramic want to do?'" Ozemba says. "There's a dialogue that occurs in the process of making the piece that ends up informing the final design. We try to embrace that in every single thing we create."
In the case of the Disc series, hand-blown fixtures can be ordered in a variety of styles and colors, furthering the team's mission to make customizable work at affordable price points — and extending their collaborative approach to the customer. "The real life for all of our products begins," the duo writes, "when they get placed in projects and homes."
We chatted with the designers by email and phone to learn more about their innovative approach to lighting, and the creative ideas fueling their newest work.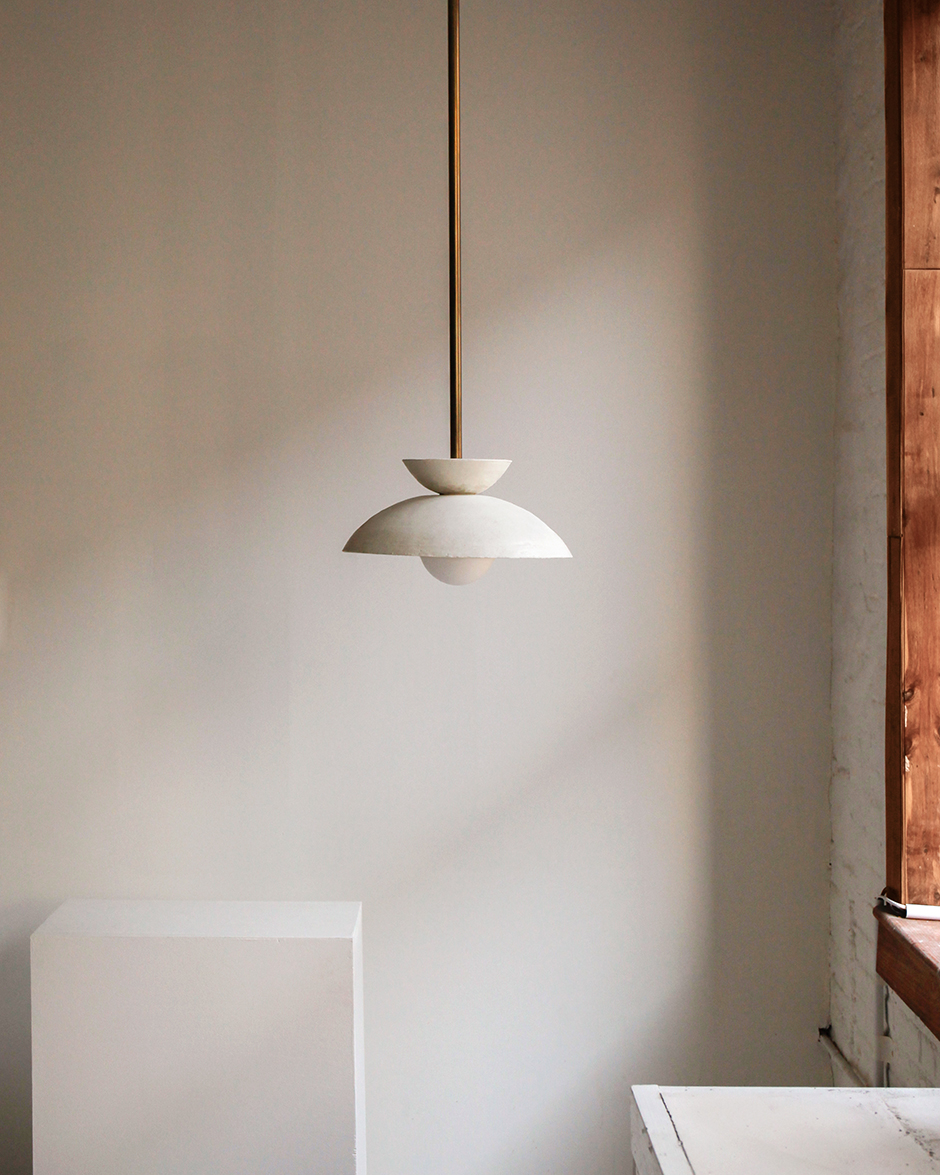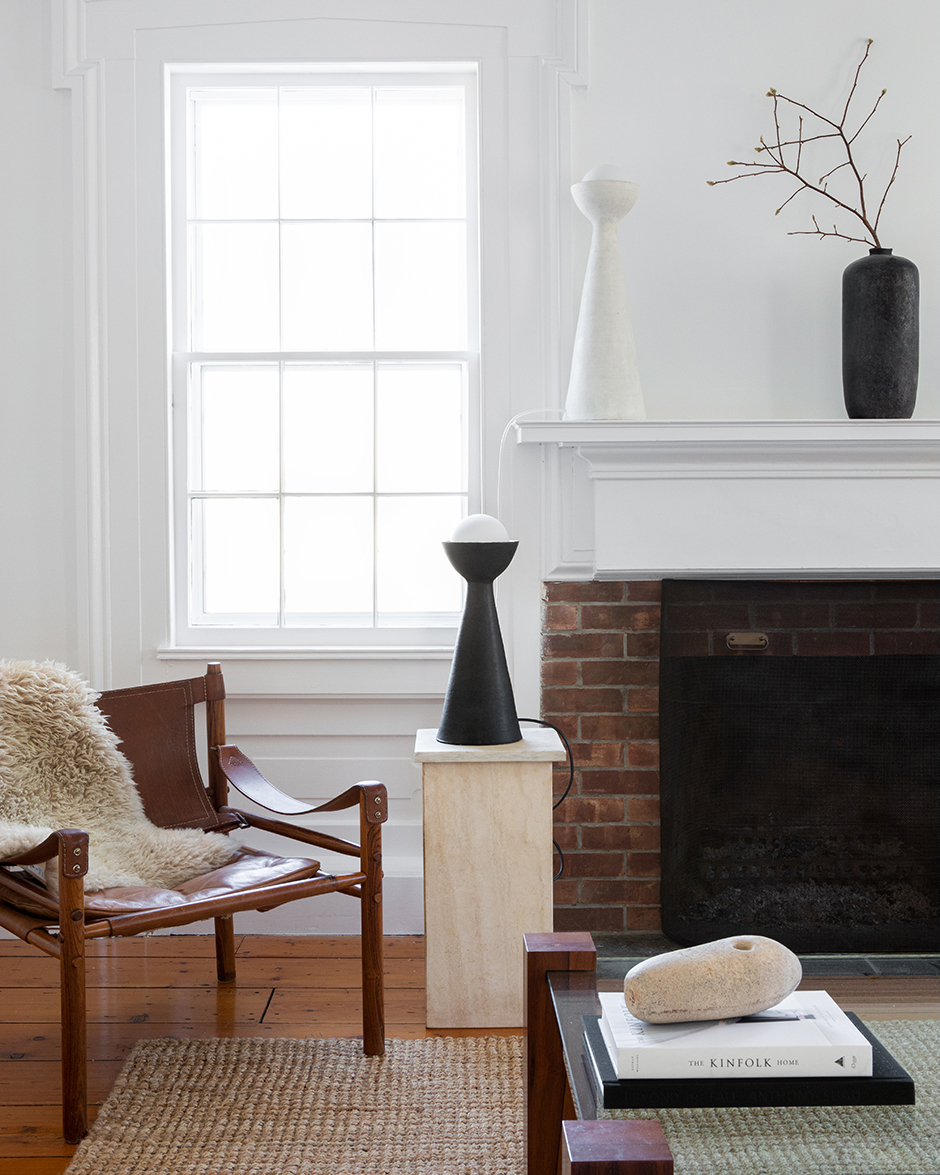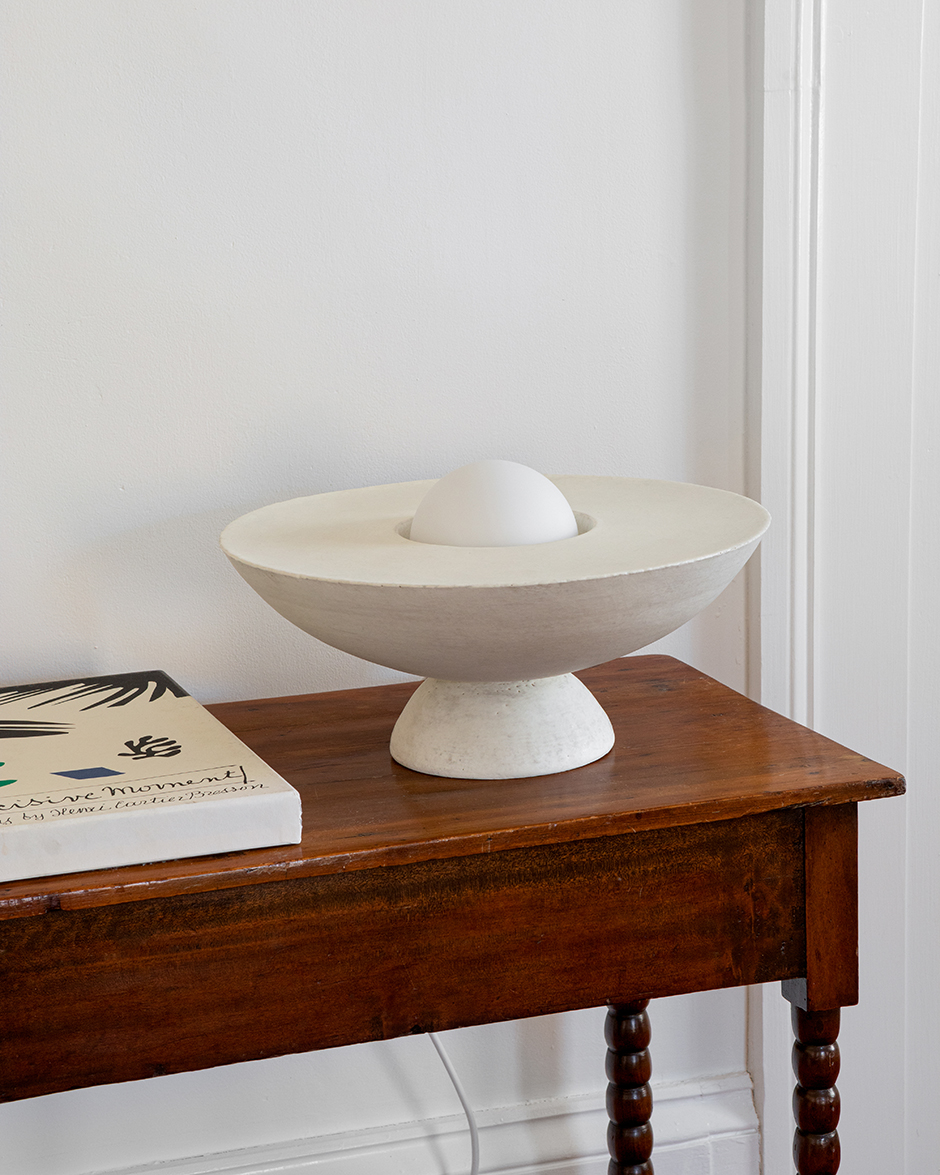 What interests you most about lighting in particular? And what defines your approach to the medium?
Felicia: We started with lighting because it's so versatile, and it also changes a space so drastically. When you're working with a lightbulb and a source of electricity, there's so much you can do in between.
Nick: After we left school, Felicia ended up working with a bunch of product designers in Brooklyn and was doing some custom work and manufacturing for them. I was doing a lot of interior design work and also designing custom products. What we liked about designing these sorts of packages for other brands and designers was making something more unique and special than something that's off-the-shelf. So a lot of the energy we put into our lighting collection from the start was to make it customizable and modular, so that when we work with an interior designer or another company, we can start to change some of the different components without reinventing the wheel every time. This allows us to do custom projects at more affordable price points. The idea of modularity and customization that's built into our designs is a key element of how we approach all of the products we make.
You've mentioned that your process centers largely on learning about and understanding the materials you're working with. Does your interest in specific materials dictate who you choose to collaborate with? Was it an interest in ceramics, for instance, that spurred your partnership with Danny Kaplan on the Terra Series (above)?
Felicia: Not necessarily. Our studio and design practice is based in collaboration. We have a fascination for materials and how things are made, and find like-minded collaborators in other artists. We found a like-minded co-creator and friend in Danny Kaplan. We had been following each other's work for a while, and the idea of working together came about organically. We didn't try to make a specific thing, but instead, embraced what our materials, together, wanted to become. The result is a collection of lights that blends beauty with utility.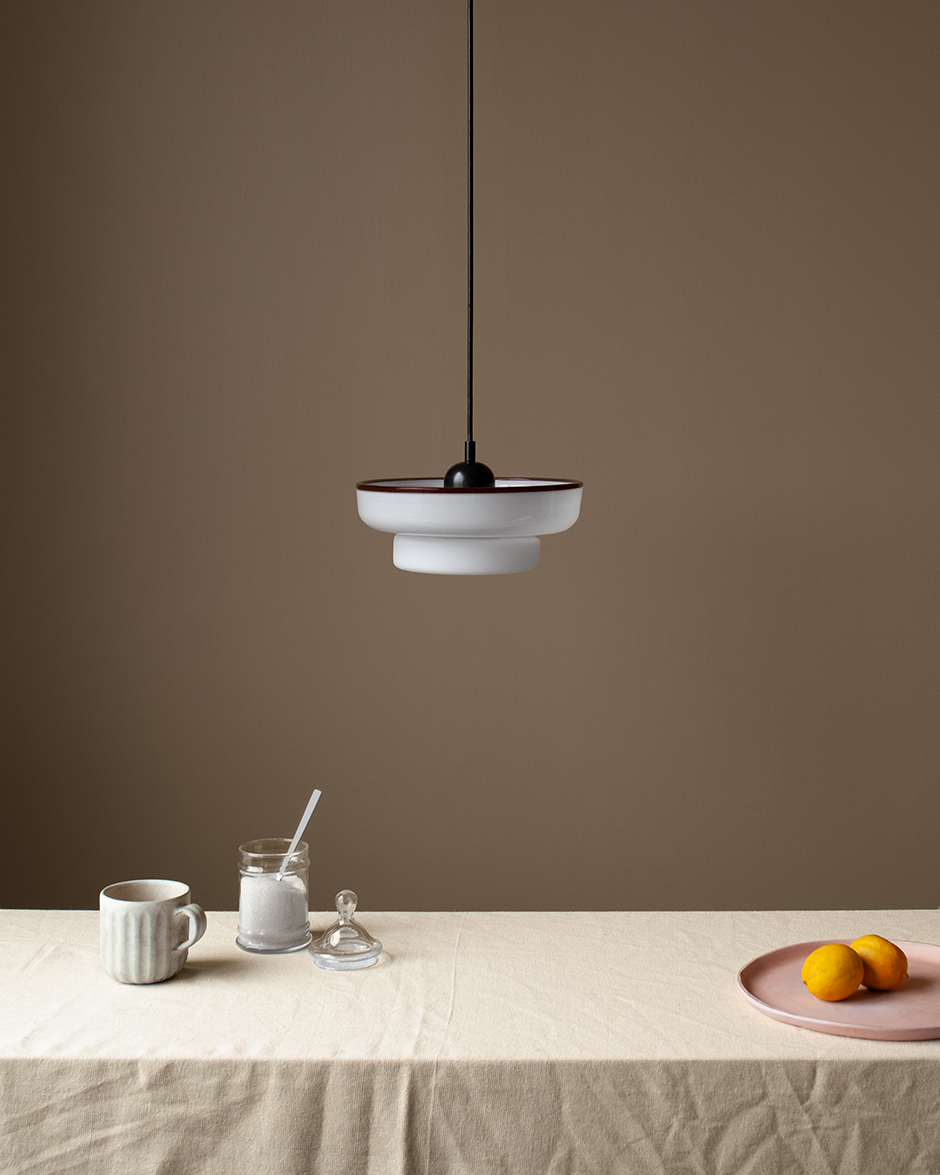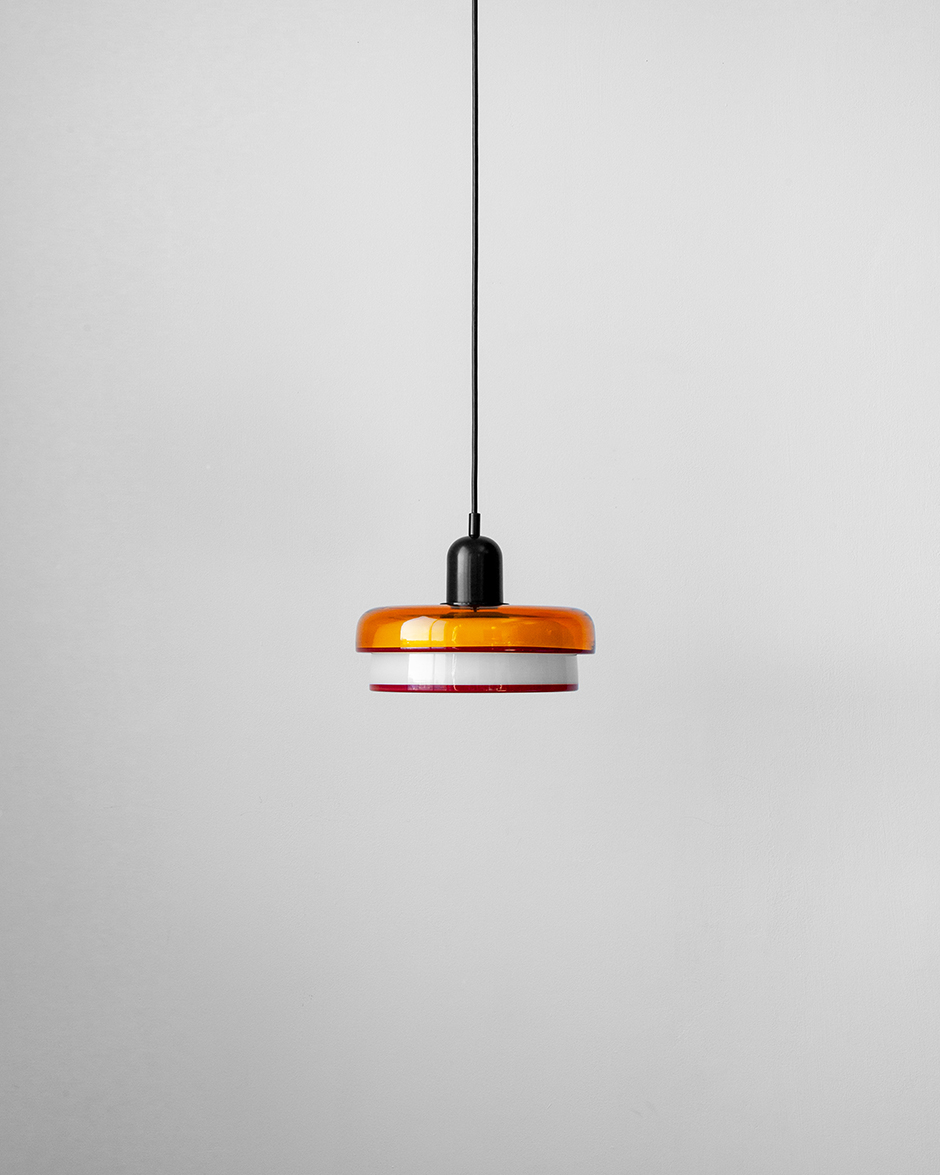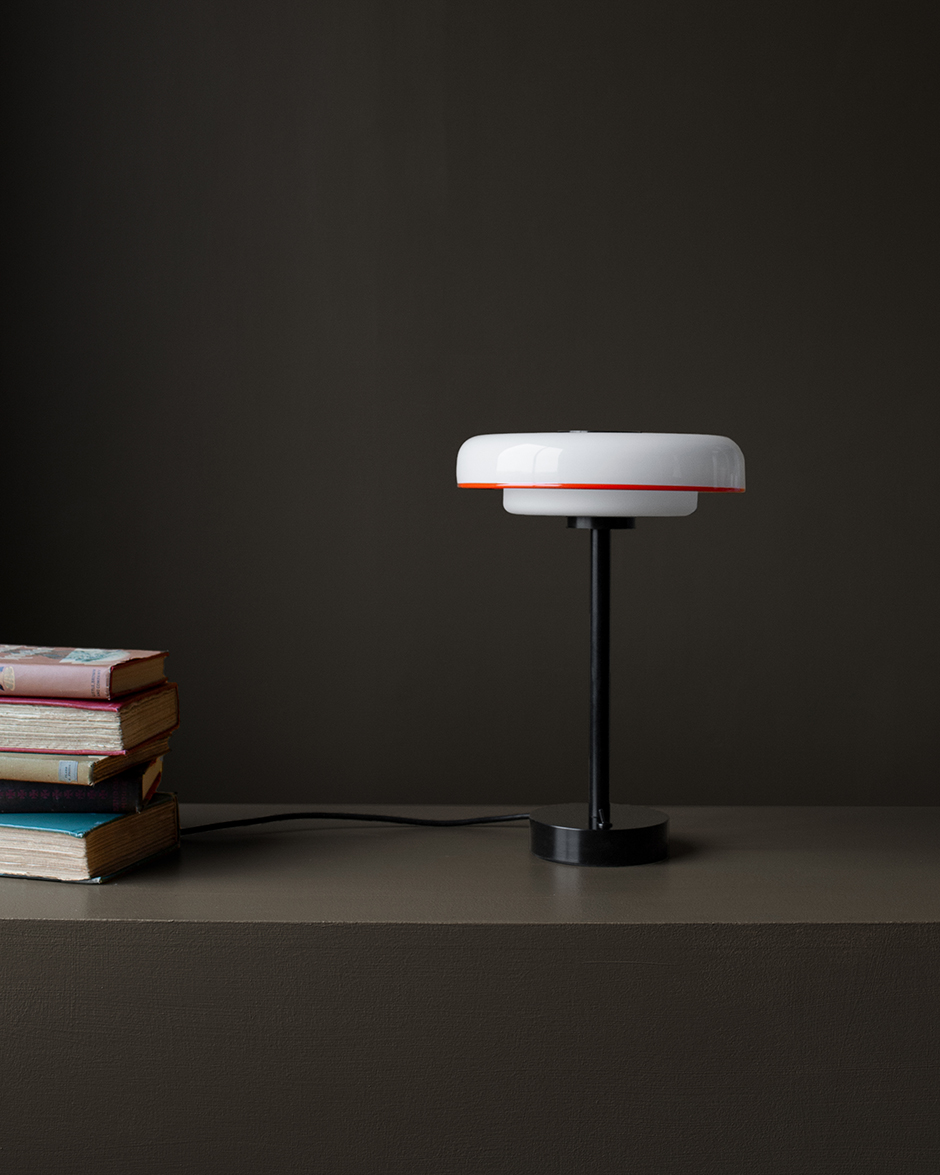 Tell us more about the Disc Series (above). How did these forms originate?
Nick: Discovery is a big part of how we develop our designs — we like to let the process of making and design inform each other. The first Disc prototype we made was intended to be a prototype of our Puck diffuser, and often, interesting surprises happen along the way of making prototypes. As we were hand-blowing the first few forms, we saw that the material wanted to form something else. The more we explored and pushed the materials' tolerances in the hot shop, the more we turned constraint into freedom. We learned that the Puck diffuser wanted to be mold-blown, and we embraced the hand-blown process to make the Disc shades.
Felicia: After sitting with the forms for a while, we created a diffuser-and-shade system allowing for dozens of styles.  The system can be combined in a variety of configuration options and in different sizes, colors and finishes. What's really exciting about this collection is that it's completely customizable. It allows us to work with customers to make a fixture unique to them.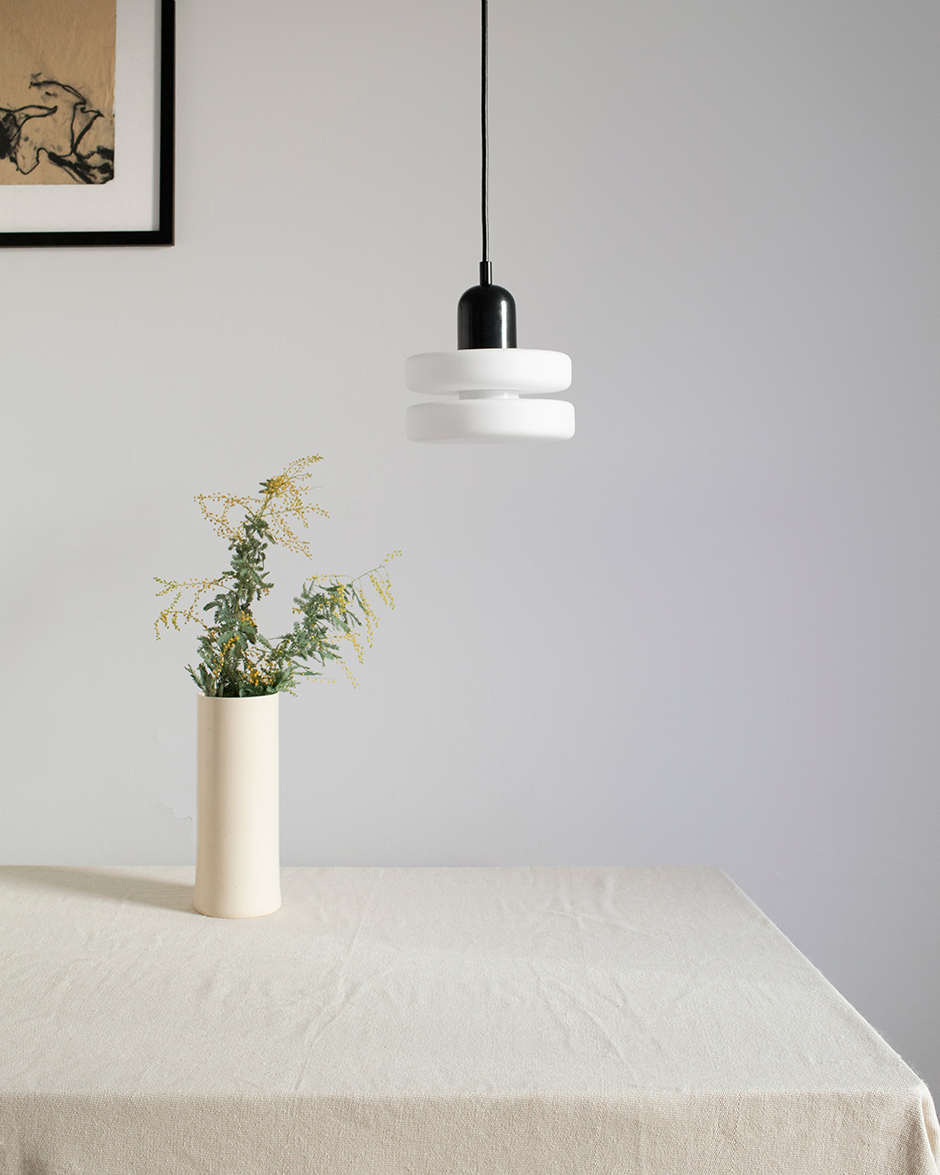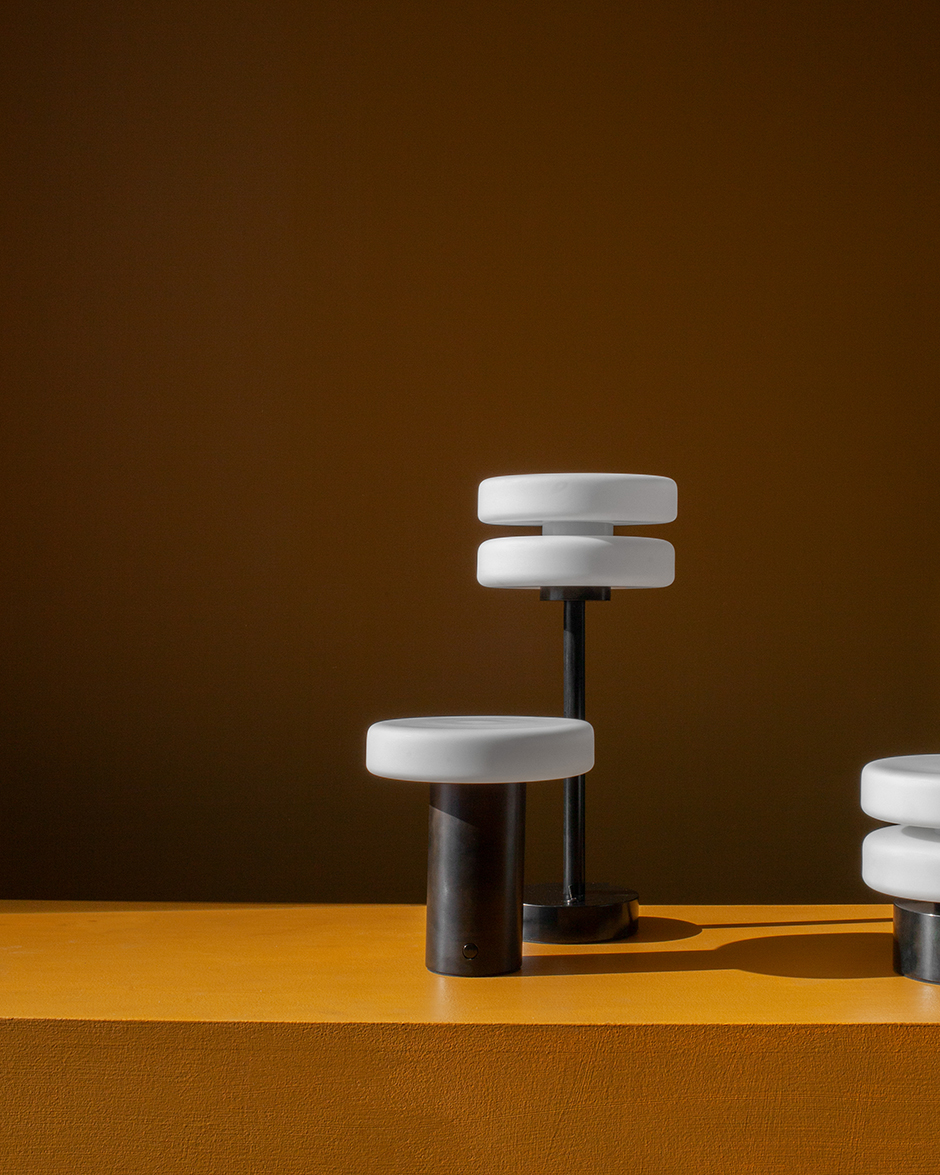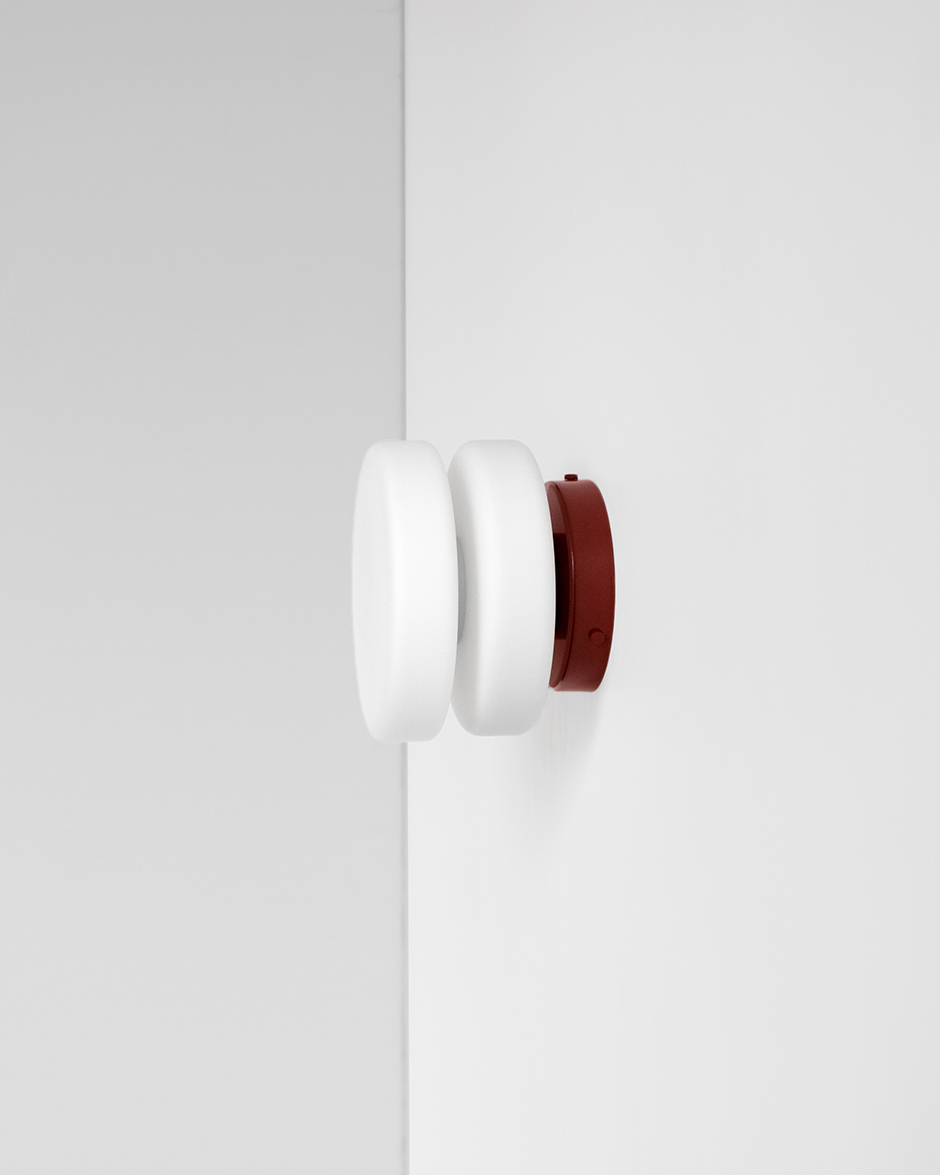 What about the Puck Series (above)? You refer to it on your site as "visual vocabulary"—what did you mean by that?
Nick: Puck started off as a simple diffuser, until one day we stacked two on top of each other. We were immediately inspired, and created an open-on-both-sides diffuser that allows for a bulb to pass through the structure entirely unobstructed. Our goal was to write a visual vocabulary of components and concepts that are so intuitive, new configurations almost suggest themselves. The pared-down forms and intuitive repeatability reward exploration. The series contains multitudes, from a straightforward table lamp to a hanging stack.
As we enter a new decade, how do you see the world of lighting evolving in the future?
Felicia: I think people are already leaning toward more sustainable and more environmentally friendly design: the idea that you live with a piece forever instead of just having it in one apartment and getting rid of it when you move.
Nick: In a really big way, people are moving away from purchasing home products from larger, big box companies and are looking more to smaller brands instead. People are thinking a lot more about the humans making their things instead of just looking for an affordable price point — we're already seeing this happen now, but I think it will develop even further. Especially now. When you're spending so much time sitting in your home, you want to be surrounded by things you actually love.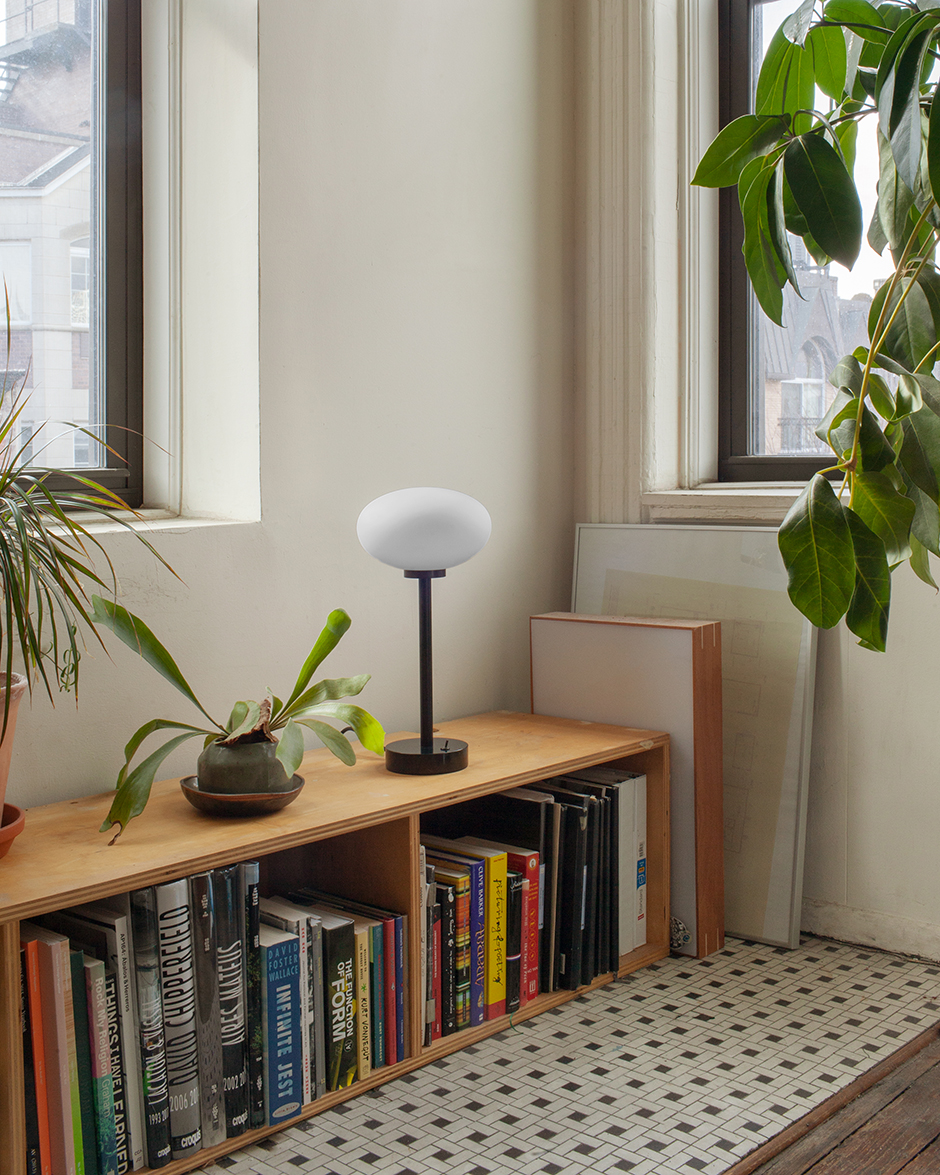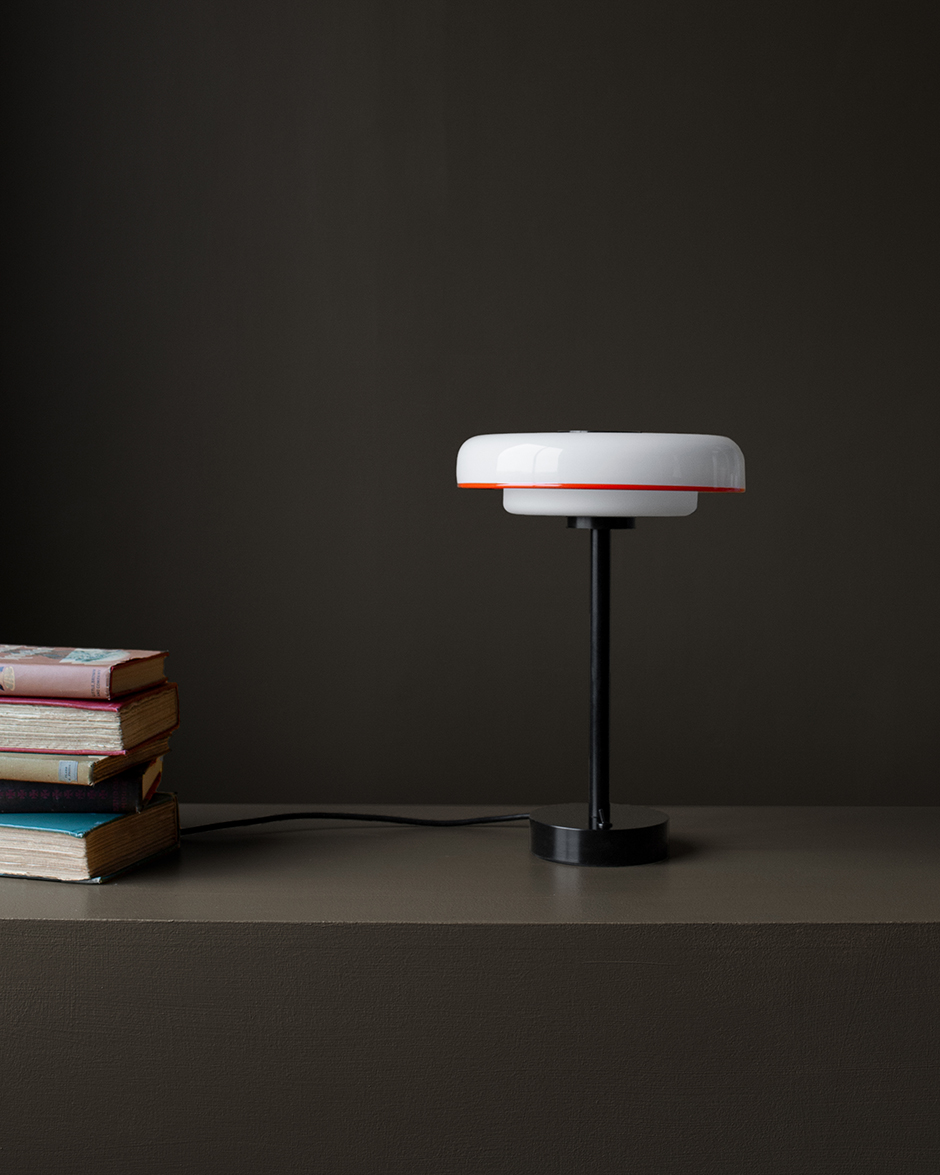 What's on the horizon for you that you're most excited about?
Felicia: Our studio is moving to another location in Gowanus, and that's very exciting. There were two trade shows that we were going to do in March and then Sight Unseen in May, but we're looking forward to having these pieces out in the world for people to see. We're also working on a lot of custom projects that are very different from anything we've done before.
Nick: These types of custom projects are something you'll see a lot more of from our studio as time goes on. I really wish we could say more about them right now. But it's the type of work we've integrated into our studio from the beginning, and it's really exciting for us to collaborate with other designers to make something special. Also, we haven't seen each other in person for so long. Whenever we're allowed to go back to work will literally be the best thing.