06.10.20
Joris Poggioli's New Collection Was Inspired By the Hedonism of the 1960s Italian Riviera
This piece is part of Sight Unseen's 2020 Offsite Offline coverage. To view Joris Poggioli's virtual booth on Offsite Online, click here. To purchase his designs on 1stdibs, follow this link!
When Paris-based architect and interior designer Joris Poggioli goes about designing new furniture, he doesn't just draw up a handsome collection of tables and chairs; he envisions the entire world they might inhabit. His latest project, Villa Luce, finds inspiration in the hedonism of the Italian riviera during its La Dolce Vita golden age. "Italy in the '60s was free and happy," Poggioli says of the collection's creative seed, and "I wanted to capture this feeling." Placed via 3D renderings inside a hilltop palazzo overlooking the Mediterranean, Villa Luce encompasses three smaller capsule collections: Eden Paradiso, Primo Estate, and the all-new Enamorados, launching for the first time here for Offsite Online. Composed, among other things, of an amorphously shaped solid oak screen, a desk in shifting planes of walnut, and a sofa formed from four upholstered tubes, the Enamorados capsule, according to Poggioli, is reminiscent of intertwining bodies and was designed as "an ode to love in all its forms."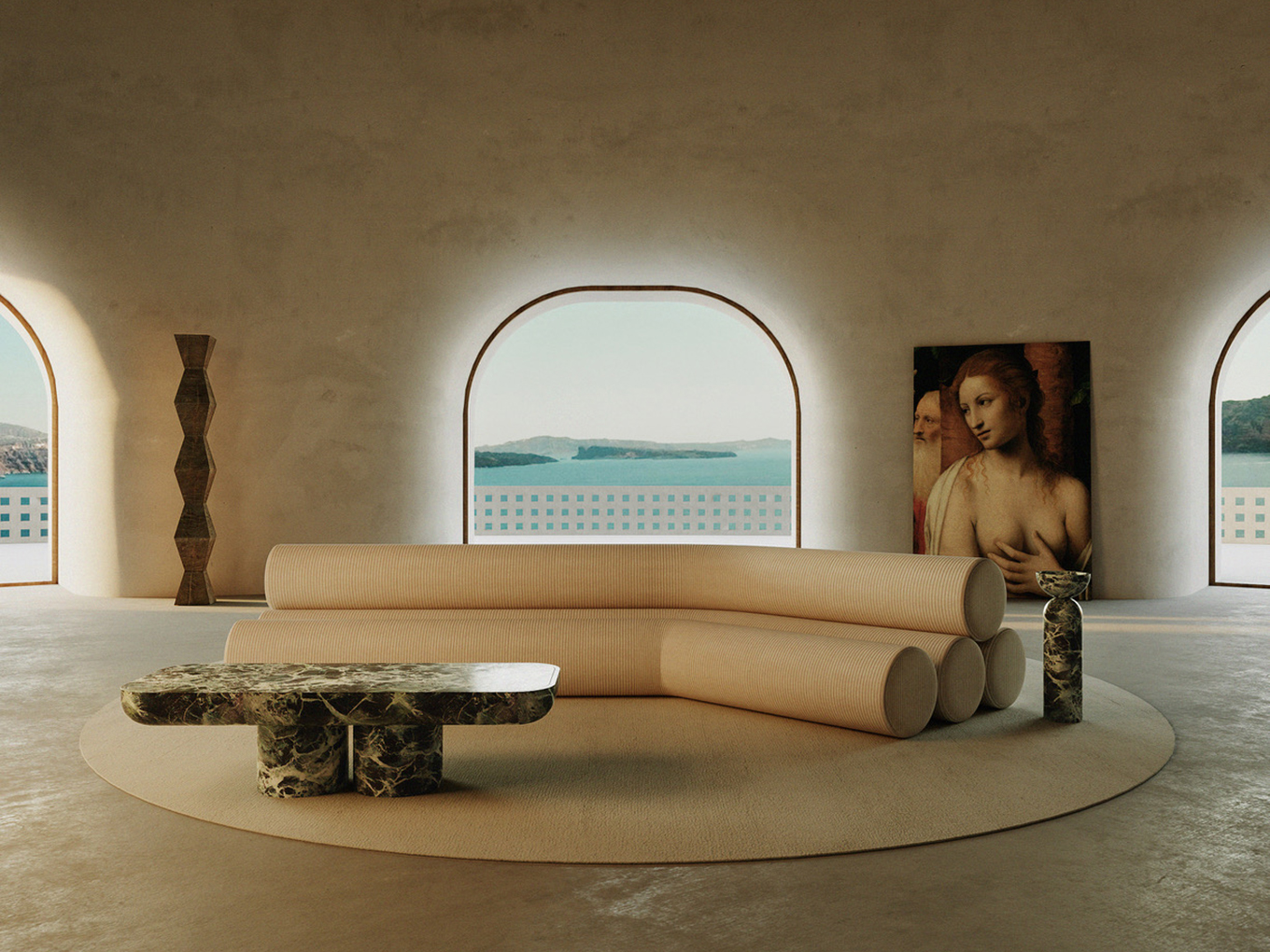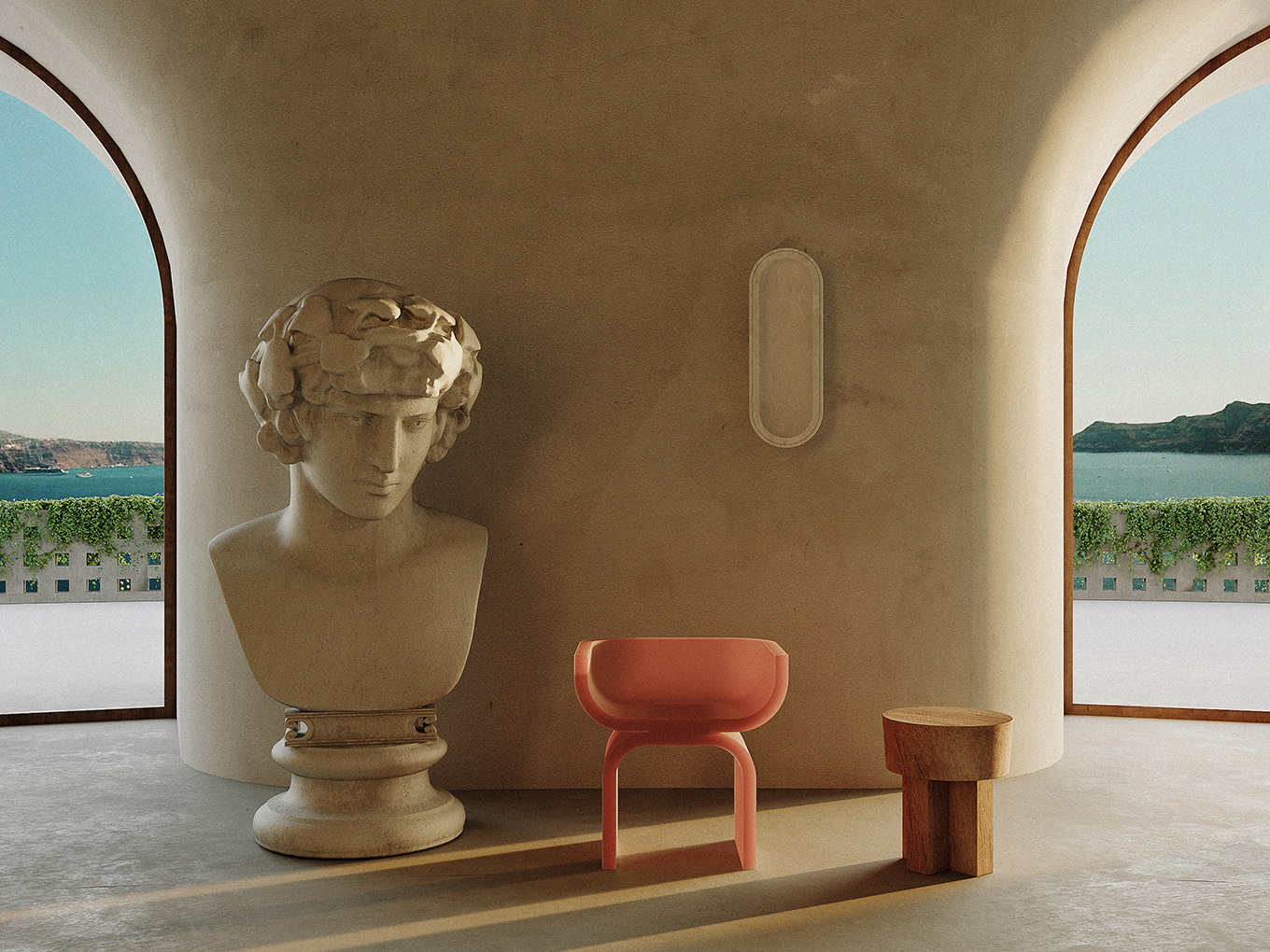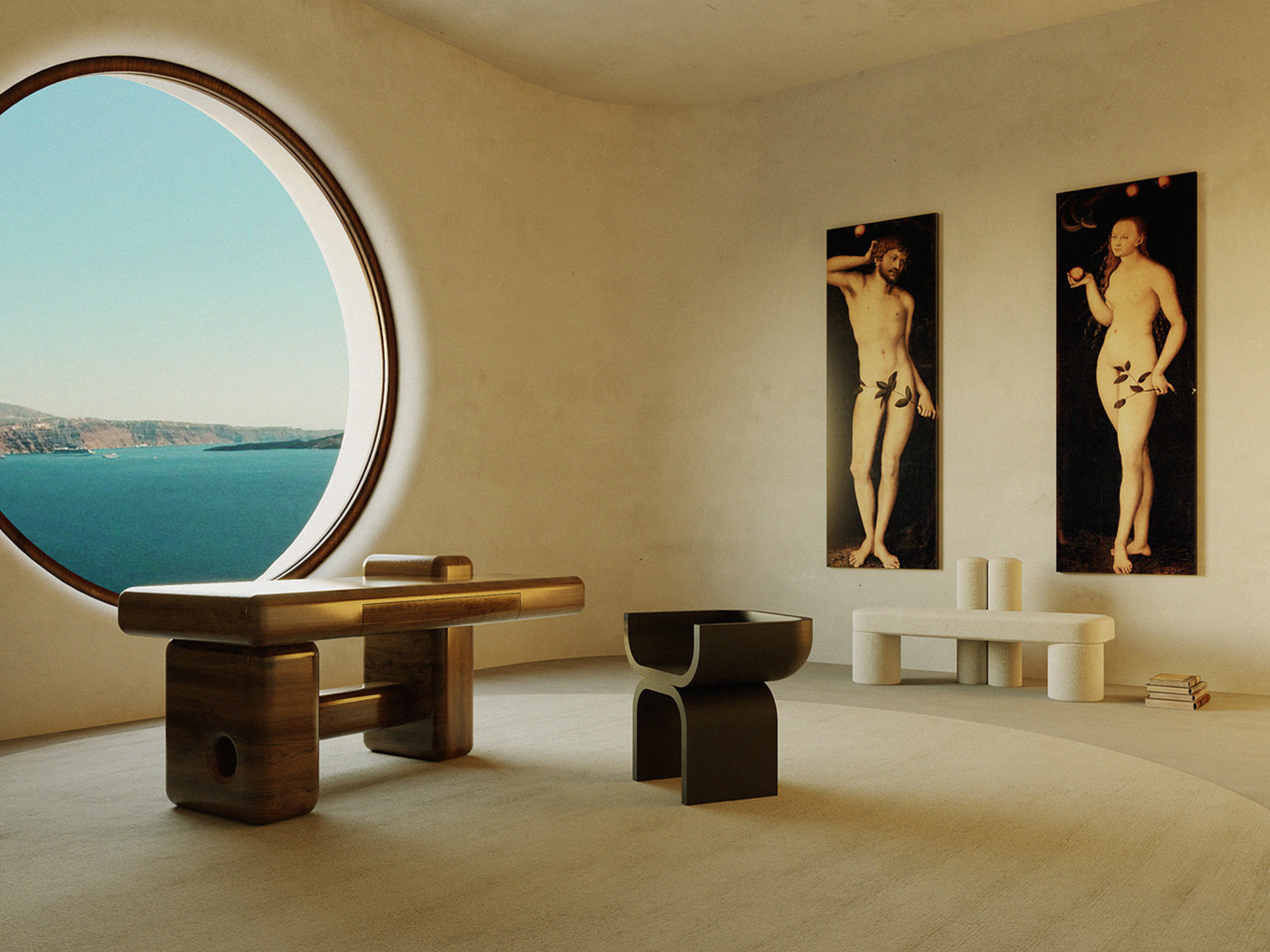 But while his backstories float towards the fanciful, Poggioli's practice remains firmly grounded in the study of form and materials. Though he's since trained as an architect, Poggioli spent his early years honing his vision in his uncle's sculpture studio high in the French Alps. "He would drive to the mountains, choose a piece of marble, put it in his car, and go directly to his atelier to sculpt it," Poggioli told me over Skype of the three years he spent training with his uncle. Side-by-side, listening to Beethoven and classic jazz, he nurtured an appreciation for the more tactile elements of design. "I was working with clay because I was a beginner, but he taught me to put your hands in it and try to find a form that speaks to you. It gave me a sense of liberty," Poggioli recalls fondly.
In his design practice, Poggioli continues to draw from those early lessons. His process begins with sculpting a structure in chalk white plaster. "We design from the form in order to be sure it will work, first applying it to a very poor material," he says, detailing a system of cycling through endless iterations before settling on the perfect shape. His team then translates that exhaustively pored-over form into something more noble: Verde Alpi marble, onyx, walnut, oak, or barely translucent colored resin. "If it works with the poor material, it can work with any material. It's easy to do anything with onyx or marble — everything is cool. But if you do something in plaster it's harder to make it work. So after this prototype phase we apply it to the best materials we have."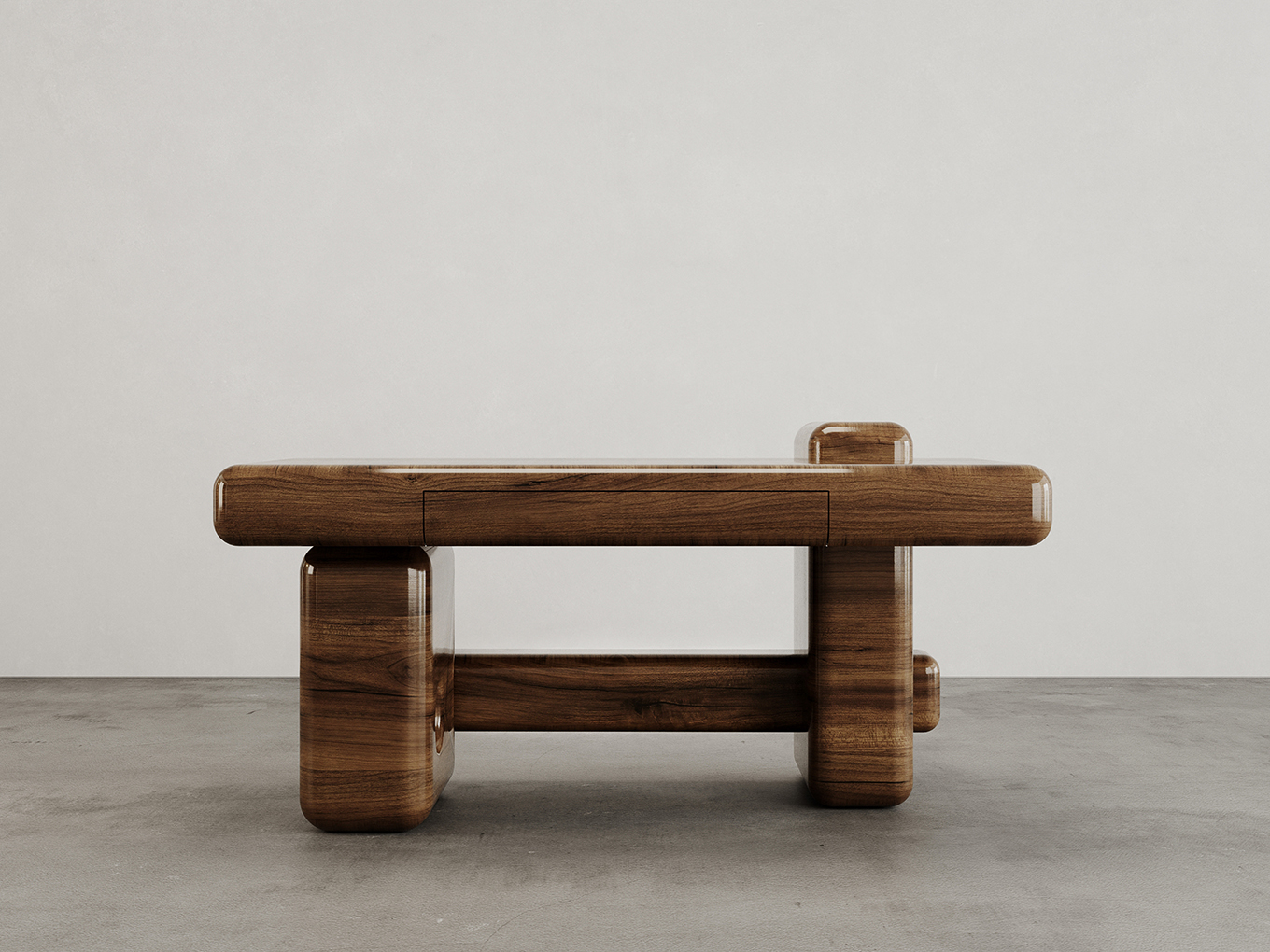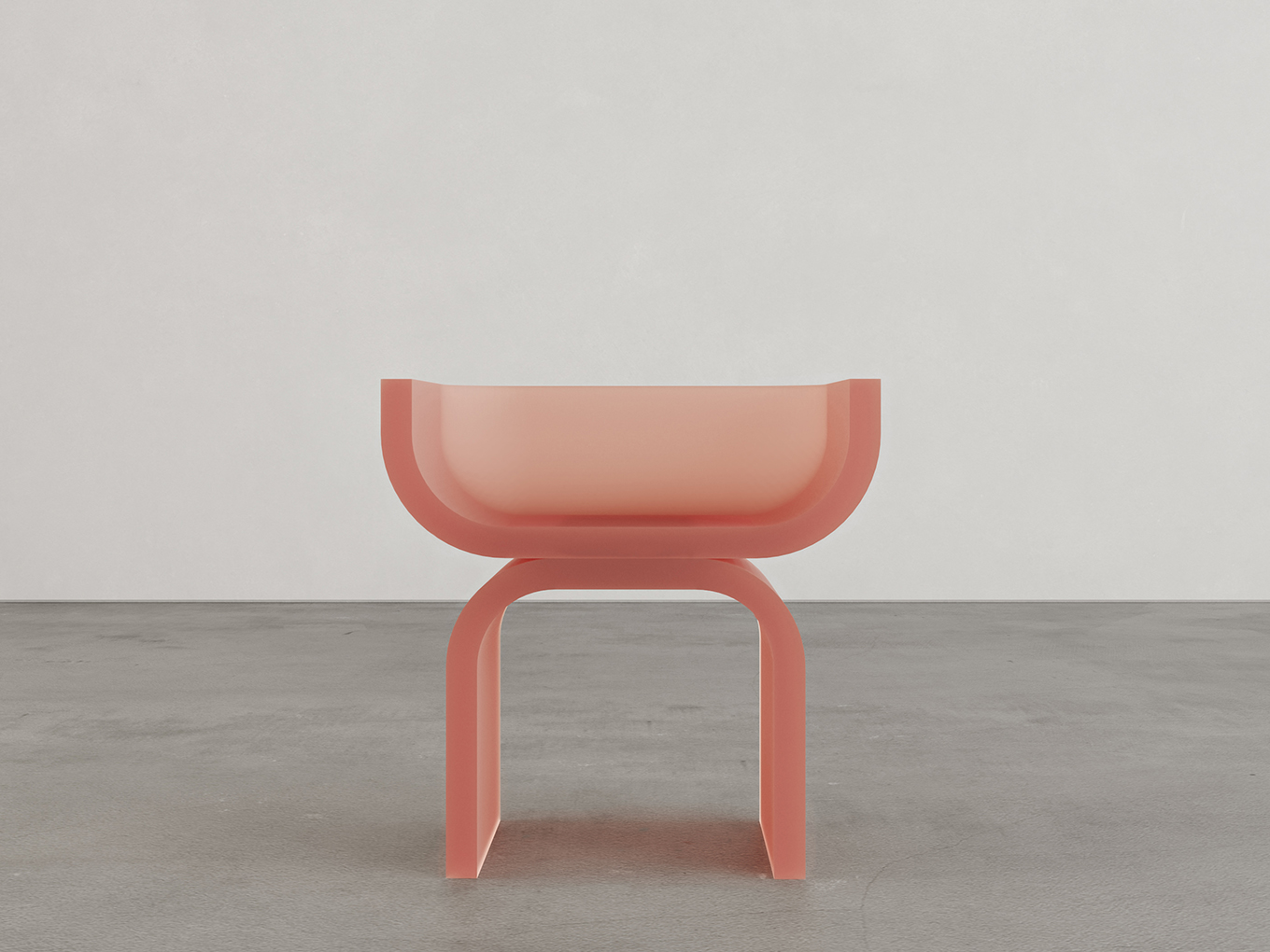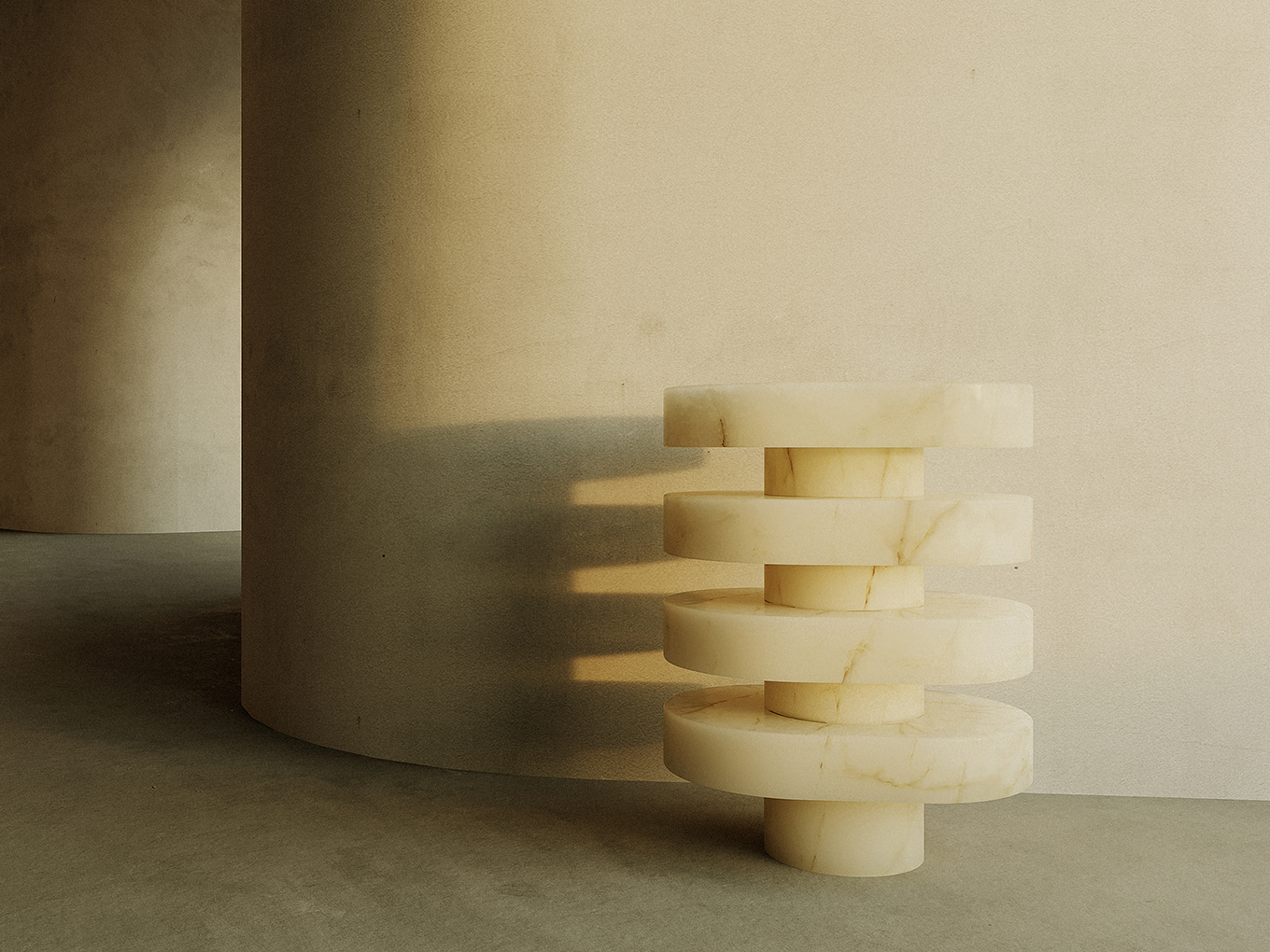 It's a process that has already paid dividends. Despite founding his design studio as recently as 2017, some of Poggioli's pieces have gone viral in a way that few pieces of furniture ever do. His Aglaé console (above) — a totem-like table formed of a series of stacked discs in lacquered wood or marble — spent the better part of a year in the back pocket of interiors stylists from London to LA, a grand achievement, especially for a fledgling brand. "One day I went to a vernissage in Paris with another architect and when they introduced me to a friend, he made the shape of Aglaé with his hands," Poggioli recounts of the moment he realized his work had taken on a life of its own. "It was so cool."
The table was, undeniably, everywhere for a while, even making a solo appearance on the April 2018 cover of Le Monde's design supplement — a testament to Poggioli's ability to engineer a timeless form. "Beauty for me is important," he ponders when asked why he thinks Aglaé made such an impact. "I want all of my pieces to exist like sculptures. To exist anywhere at any time in any material. I think that's what my uncle gave me — a sense of sculpture."