10.06.21
We've Launched a New Design Mentorship Program, and We Need Your Help!
More than a year in the making, we've just launched a design mentorship program with the Female Design Council that offers people who are currently pursuing — or curious about pursuing — a design career the chance to book 30-minute phone calls with professionals in a wide array of design disciplines. But we need your help to make it great! When we started the project with Lora and Cydney at the FDC, our goal was to do our part to help widen the playing field in design, so that young people from all backgrounds could gain access to knowledge about and connections within the industry. The idea was that educators and youth program leaders around the country (or the world!) could promote the match program to their students or participants, who could log in and find a menu of amazing mentors at their fingertips. That's where you come in: If you lead a program, know of a program, or want to become a mentor yourself, we'd love to hear from you.
The FDC Mentor Match program website is password-protected, so that not just anyone off the internet can book a call with our amazing mentors (a small handful of whom are pictured below, just for reference). But we've included key parts of the site's FAQ further down below, so that you can read more about the program; once you do, you can use the links directly below to register to participate. And of course, please send this story to anyone who you think might be a good fit. Just note that all of our mentees must be 18+, so if you lead a youth program, just make sure you have folks in mind to share it with who are over that age.
CLICK HERE TO REGISTER YOUR INTEREST AS AN EDUCATOR OR YOUTH PROGRAM LEADER
Use this form if you'd like to bring this initiative to potential designers, curators, and architects from all backgrounds, to help us provide proper access to entry and equity within the design and architecture field.
CLICK HERE TO REGISTER YOUR INTEREST IN BEING A DESIGN MENTOR
Use this form if you are a professional with 5+ years experience in a design or architecture position and have the ability to commit to at least three 30-minute sessions with a mentee.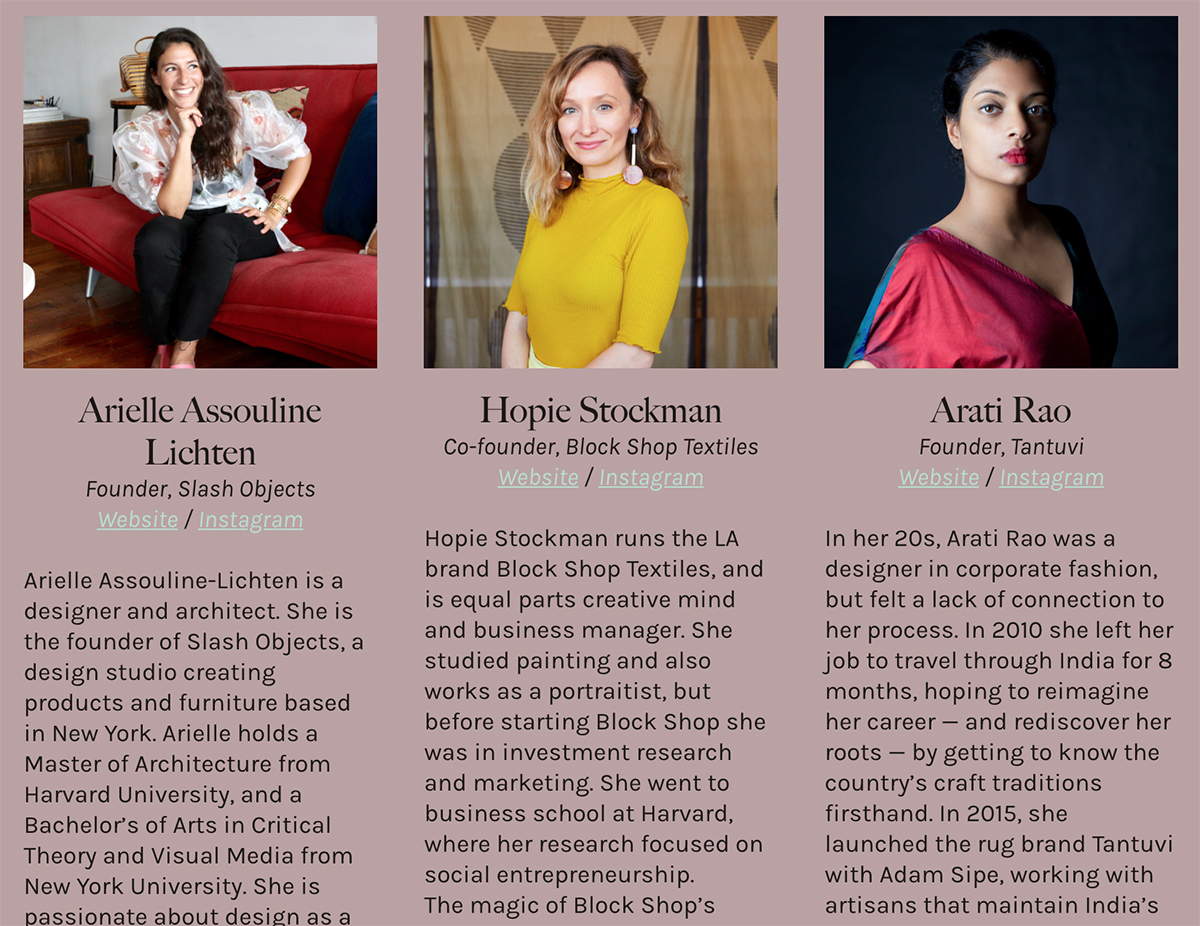 FDC MENTOR MATCH PROGRAM ABRIDGED FAQ:
Who are the FDC's mentors?
—FDC Mentors are established professionals in their respective fields of interior design, architecture, furniture design, applied arts, and more. They have navigated their careers successfully, taking a creative journey that led them to their current successful design or architecture practice. Their real-world design and production experience will help guide questions and needs that university does not always address.
Who are the FDC's mentees?
—College students currently pursuing a career in design or architecture
—Aspiring designers who are not currently in school but are at least 18 years of age
How does the program work?
—The Mentor Match website is password-protected. We give the password to educators and program leaders, who in turn can give it to anyone in their program who is over 18 and interested in a career in design or architecture.
—The FDC Mentor Match site features mentor profiles to review so that participants can select mentors based on interest, discipline, and availability. Once they've decided who you they'd like to speak with, they just click on the mentor's "schedule a call" link to book a 30-minute phone session through Calendly.
—Each mentee can schedule 3 one-on-one 30-minute sessions total, with up to three mentors of their choice. Mentees may choose to hold all three sessions with the same mentor, or select from our pool of mentors if they feel they'd benefit from a variety of perspectives. ◆