10.08.21
We Paired 9 Norwegian Designers With 9 American Brands — Two Years Later, Here Are the Results!
In 2015, we traveled to Oslo for three weeks and spent a lot of time with the designers in Norway's burgeoning scene, concluding, at the time, that "the American design landscape bears a similarity to the Norwegian design landscape, combining a comparative lack of homegrown design brands with a steadily growing talent pool." America's emerging designers had responded to these circumstances by making and marketing their own products, and we wondered if Norwegians ought to do the same, so in 2016 — with the help of funding from the Norwegian Consulate General in NYC — we paired Norwegian studios with American ones, inviting them to go through the process of designing and fabricating a new object together. Three Norway x New York editions later, though, we decided that if we were going to reprise the project for our 2020 Offsite show, it might be a good opportunity to step back, look at everything that had changed in the past five years — including a small burst in new American brands — and consider a fresh approach.
Having interviewed 20 Norwegian designers about what would benefit their businesses most, with nearly all saying they were seeking new relationships with manufacturers, we decided to introduce nine of them to a US design brand that best fit their skills and aesthetic. Each designer then worked closely with the brand for a year to develop a product for its catalog, the first prototypes of which were meant to be on view at our 2020 Offsite show. Fate, of course, intervened, but this week we finally unveiled the results in a standalone exhibition hosted by Matter at its New York showroom, displayed inside a colorful landscape designed by Office of Tangible Space and built by Thirdkind Studio.
The pieces created include lamps by Vilde Hagelund for West Elm, Bjørn van den Berg for Matter Made, and Runa Klock for Souda; tables by Jenkins&Uhnger for Dims, Kaja Dahl for Areaware, and Stine Aas for Tortuga; a bench by Jonas Stokke for Bestcase; room dividers by Vera & Kyte for Designtex; and a carpet by Pettersen & Hein for Edward Fields — all described in detail below. While the carpet is one-of-a-kind, all of the other objects will be going into production in the near future, so eventually you'll be able to purchase them for yourself.
As always, the 2021 edition of Norway x New York has only been made possible with the support of the Norwegian Consulate General in NYC, and we also want to shout out the sponsors of our opening event, Zuzu and Las Jaras Wines. If you're in New York this week or next, we hope you'll be able to visit in person!
Visit the show at Matter October 7 – October 20, 2021
405 Broome St., NY
Monday – Friday, 11am – 5pm
PHOTOS BY MATTHEW GORDON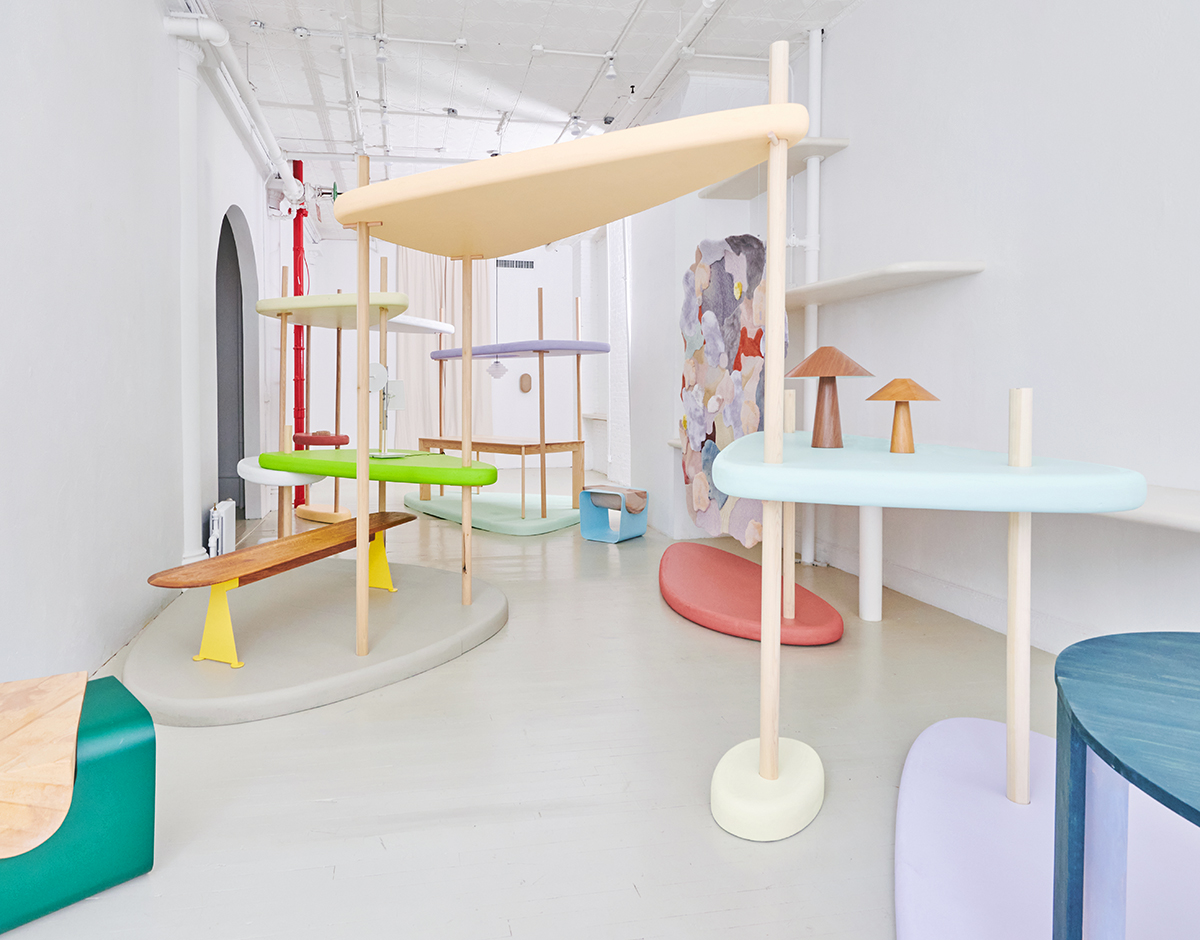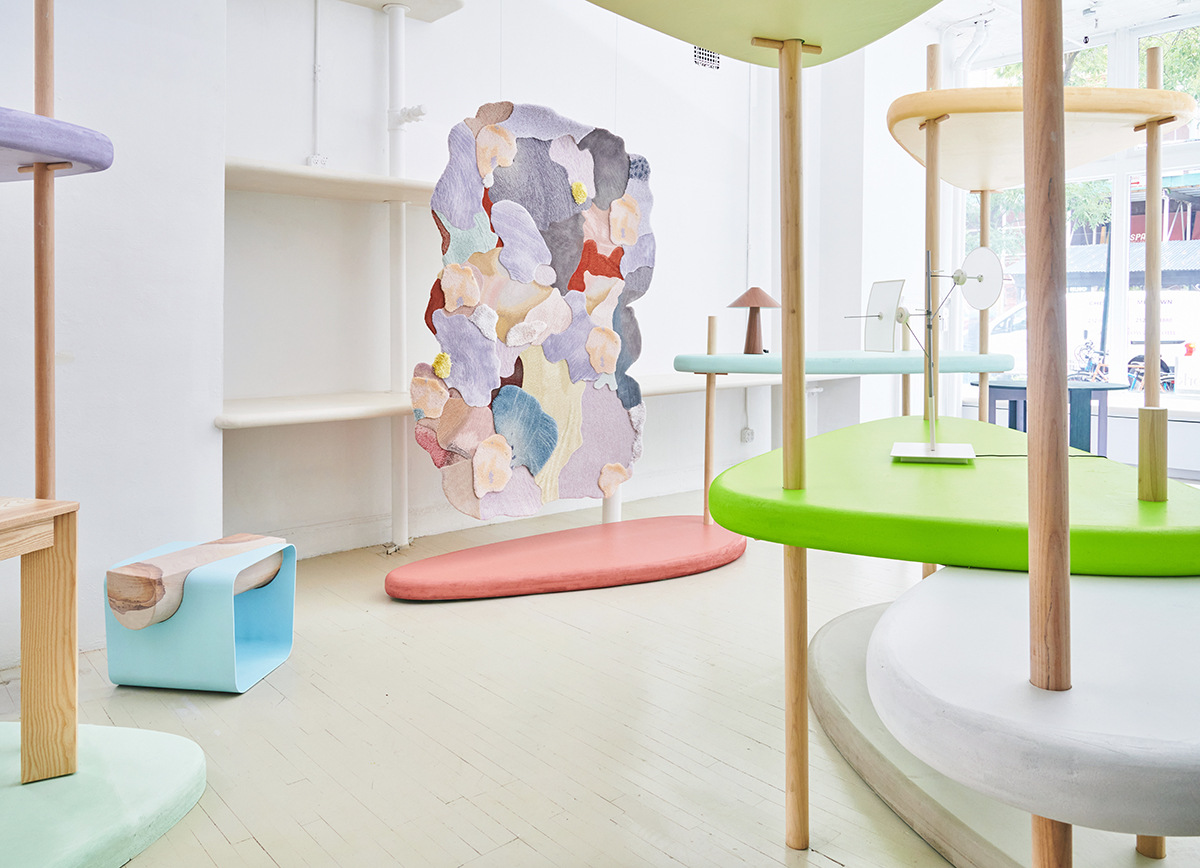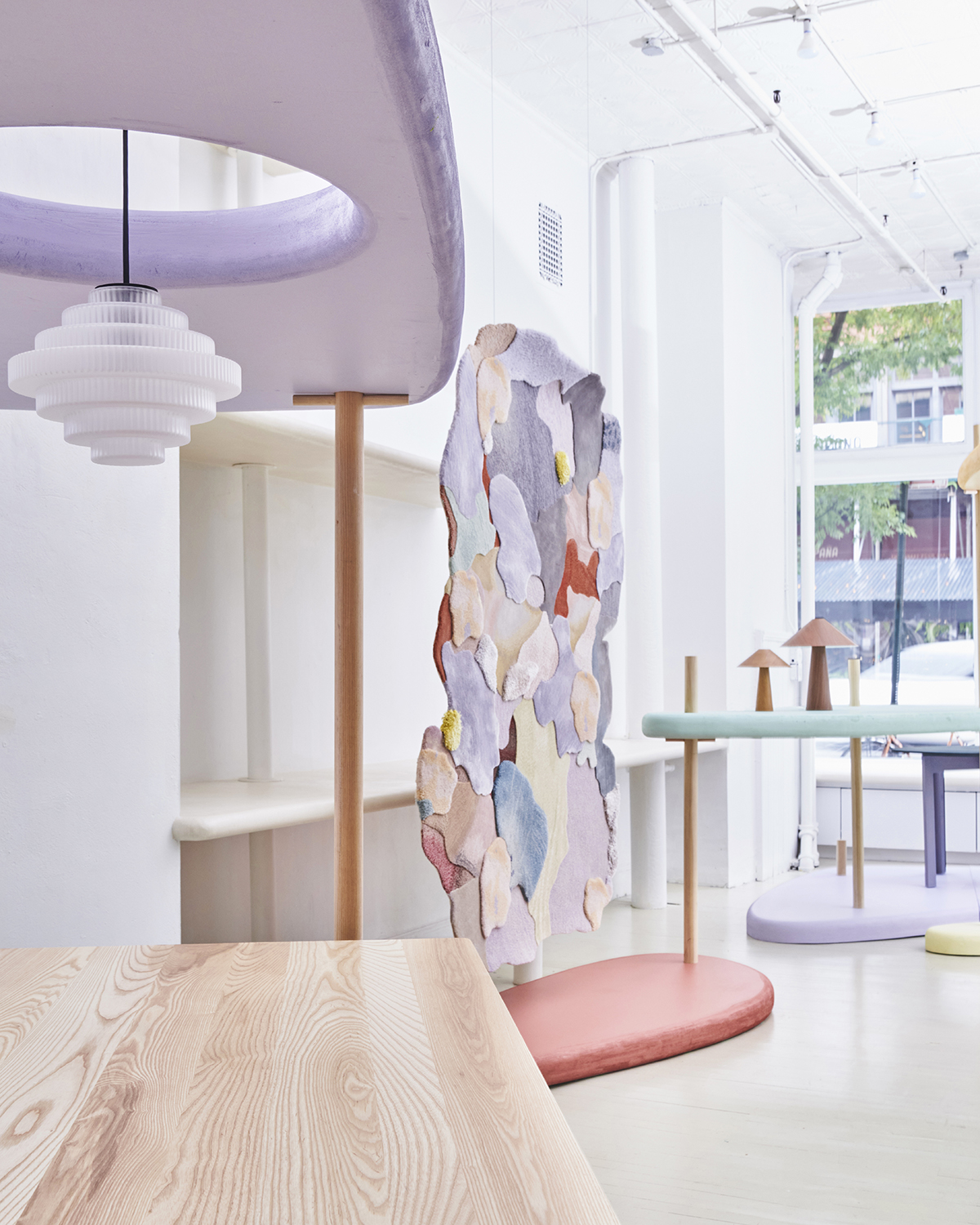 Installation designed by Office of Tangible Space and built by Thirdkind Studio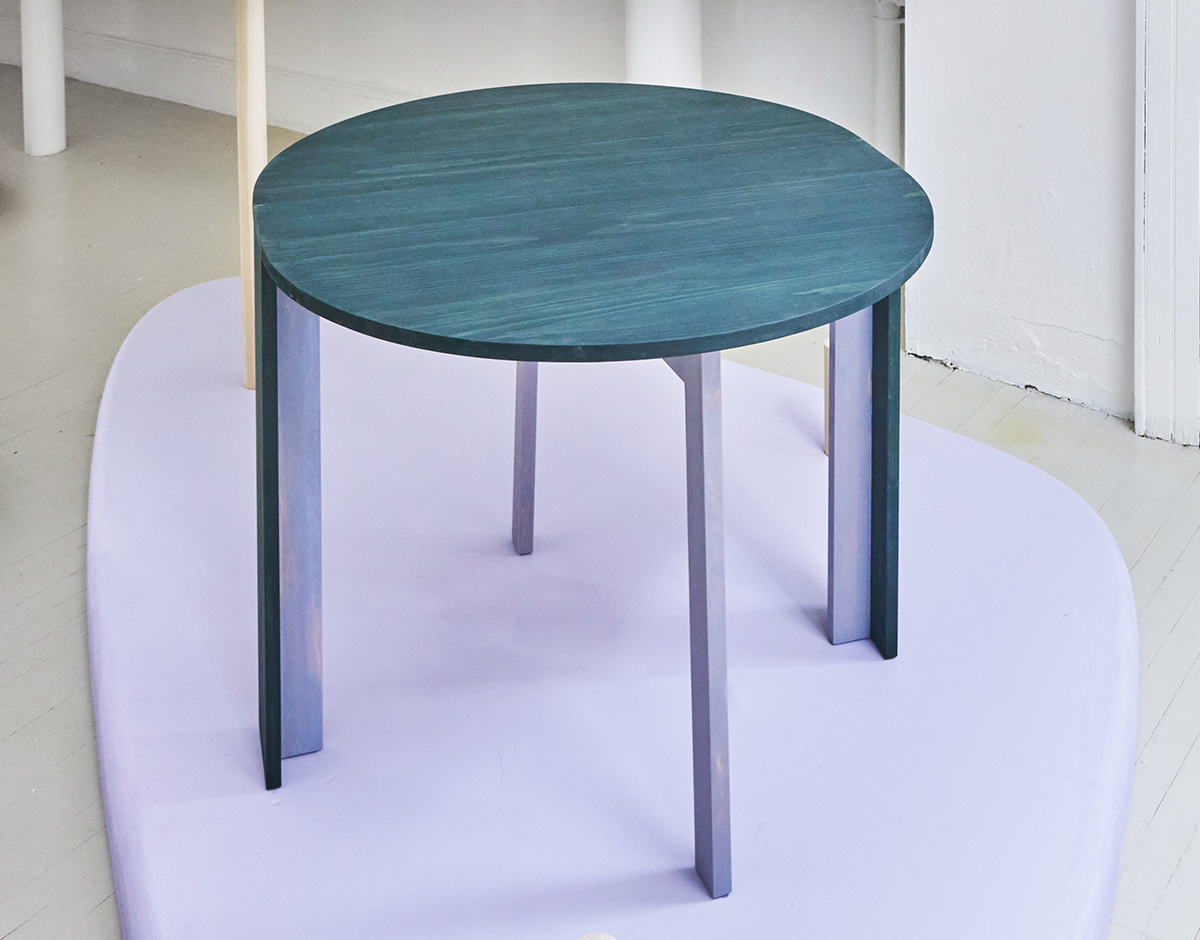 Clap Clap table by Stine Aas for Tortuga
The Clap Clap Table is a double-folding indoor table that can be positioned in three ways: fully folded to optimize storage space, partially opened in a half-moon shape to seat 1-2 people, or fully opened to seat up to 4 people. The Clap Clap Table is made of solid wood and finished in two tones of a semi-transparent linseed oil paint.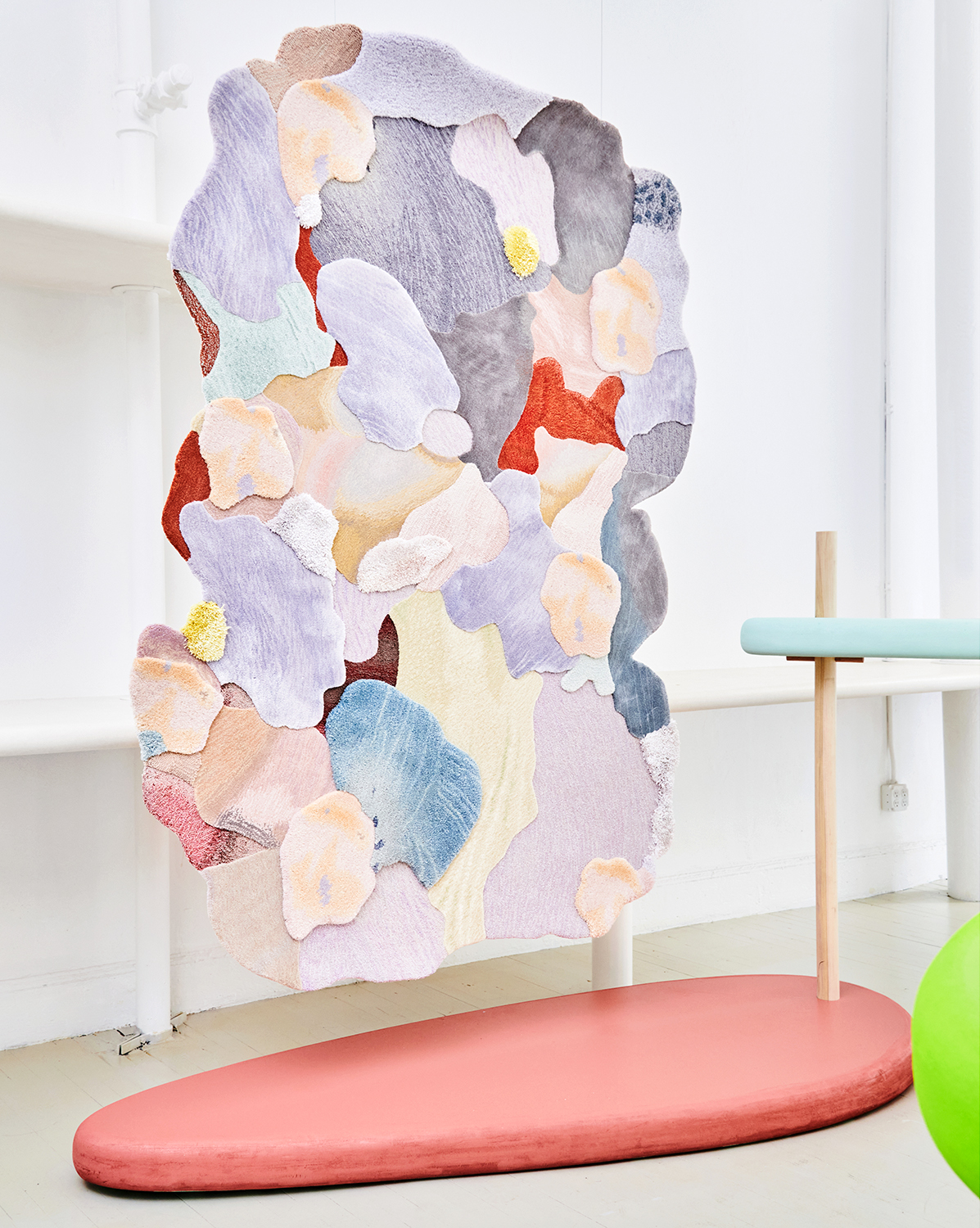 Heirloom rug by Pettersen & Hein for Edward Fields

Inspired by the process of planting a garden, Heirloom is a one-of-a-kind rug that embodies nature's inherent surprises, from seed to plant. The rug's unique three-dimensional construction — which uses yarn remnants for environmental sustainability — captures the beauty of an untamed, wild garden. The carpet pushes the boundaries of what an area rug can be, with its organic overall shape and multi-layered use of textures, colors, and materials, including different types of wools, silks, and flax.
Mast table light by Bjørn van den Berg for Matter Made
Mast's inspiration came from looking at alternative ways of mounting, adjusting, and interacting with a light source. The lights use a low-voltage power source running directly into two vertical rods attached to the base. The spring clip attachments give the lamp a lightweight and cordless look, as well as the freedom to adjust the light directly on the power source.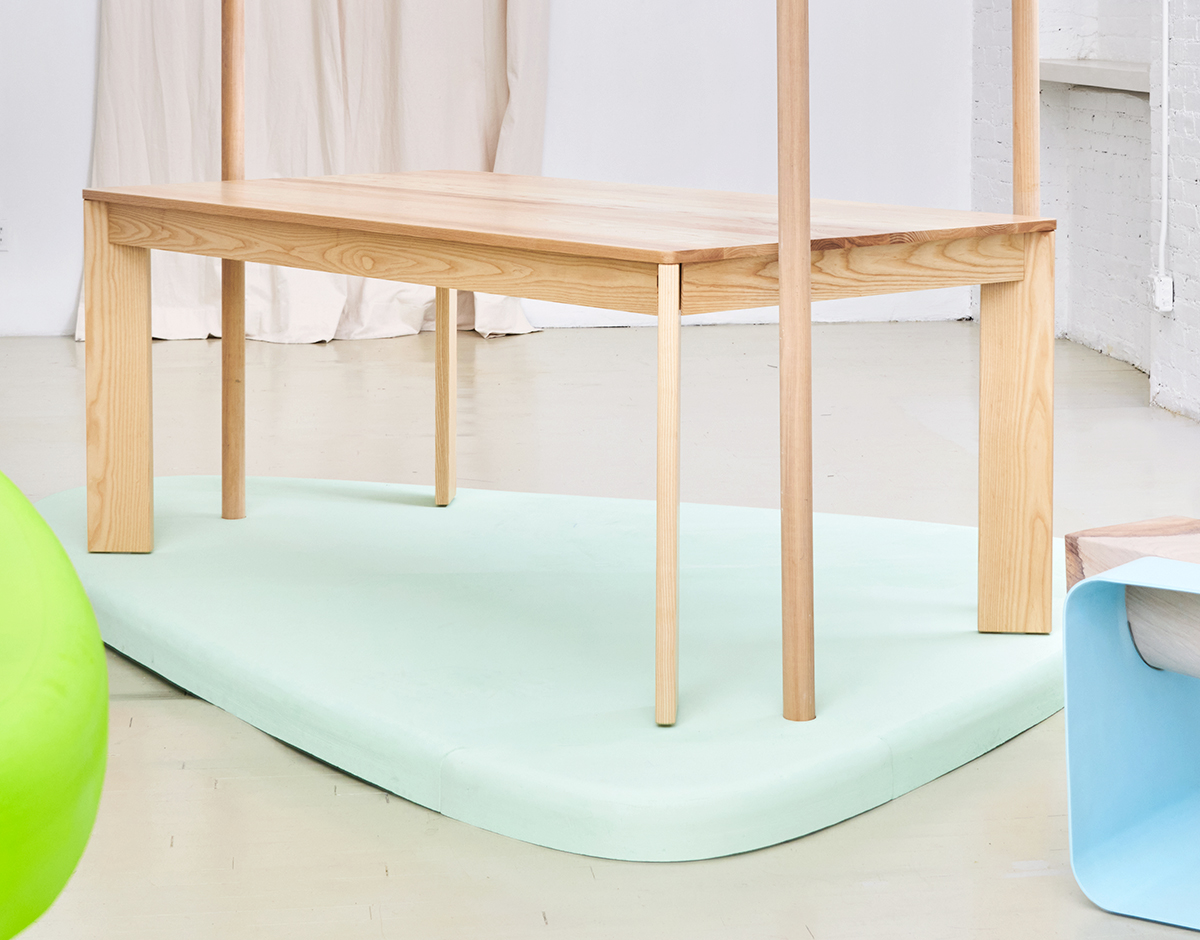 45 Table by Jenkins&Uhnger for Dims

Based on a classic apron construction, the 45 Table takes un unconventional turn via the 45-degree angle of its rectilinear legs, which create dynamic proportions when viewing the product from different vantage points. Offered in a selection of American-harvested solid woods, 45 Table is produced by Dims. and manufactured in Grand Rapids, Michigan.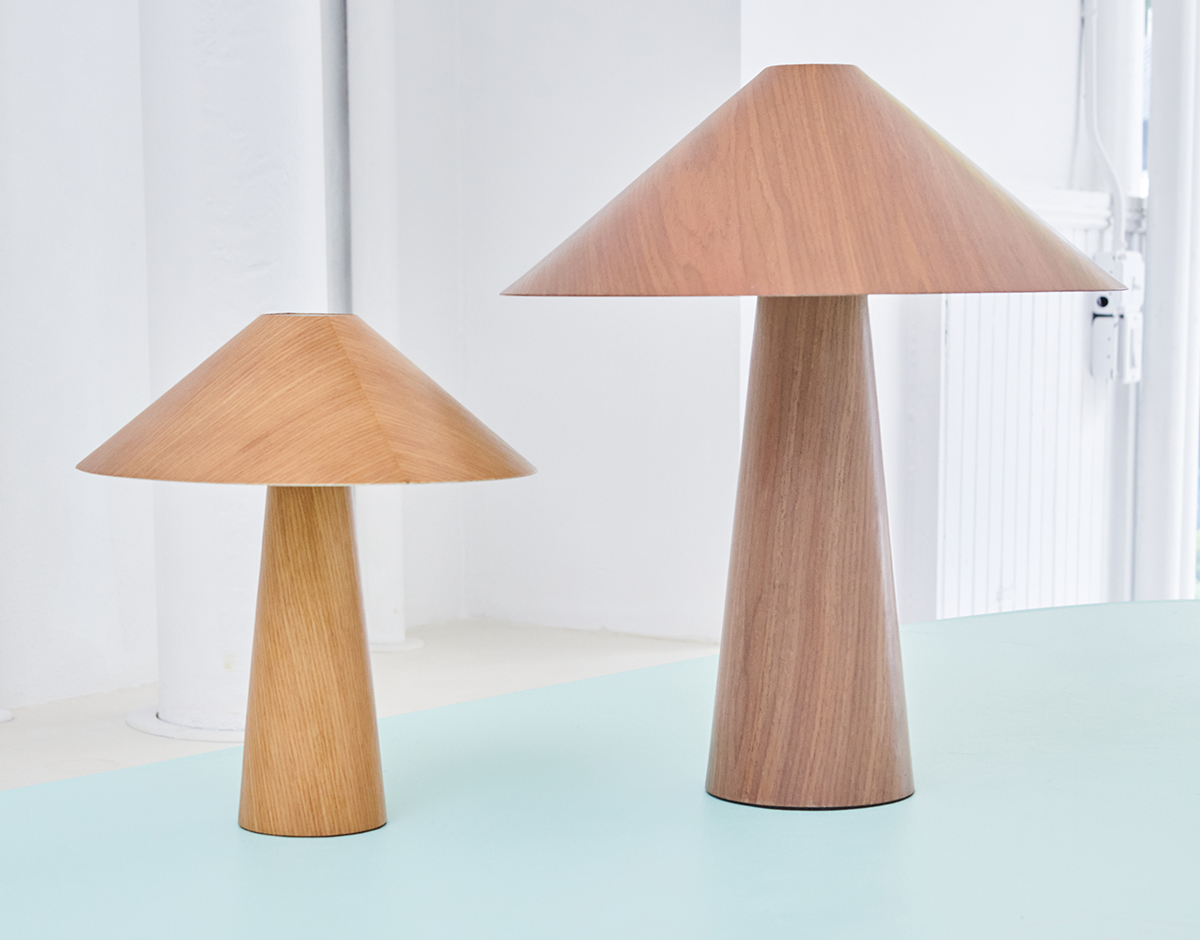 Silva lamp by Vilde Hagelund for West Elm
Inspired by the dappled light of the forest, Silva is a tribute to the beauty and warmth of wood's natural grains and fibers. Traditionally, table lamps have been made with minimal use of wood, but Silva celebrates the material in its entirety. Silva's form echoes the archetypal table lamp with its distinct silhouette, allowing the natural material and its texture to take center stage.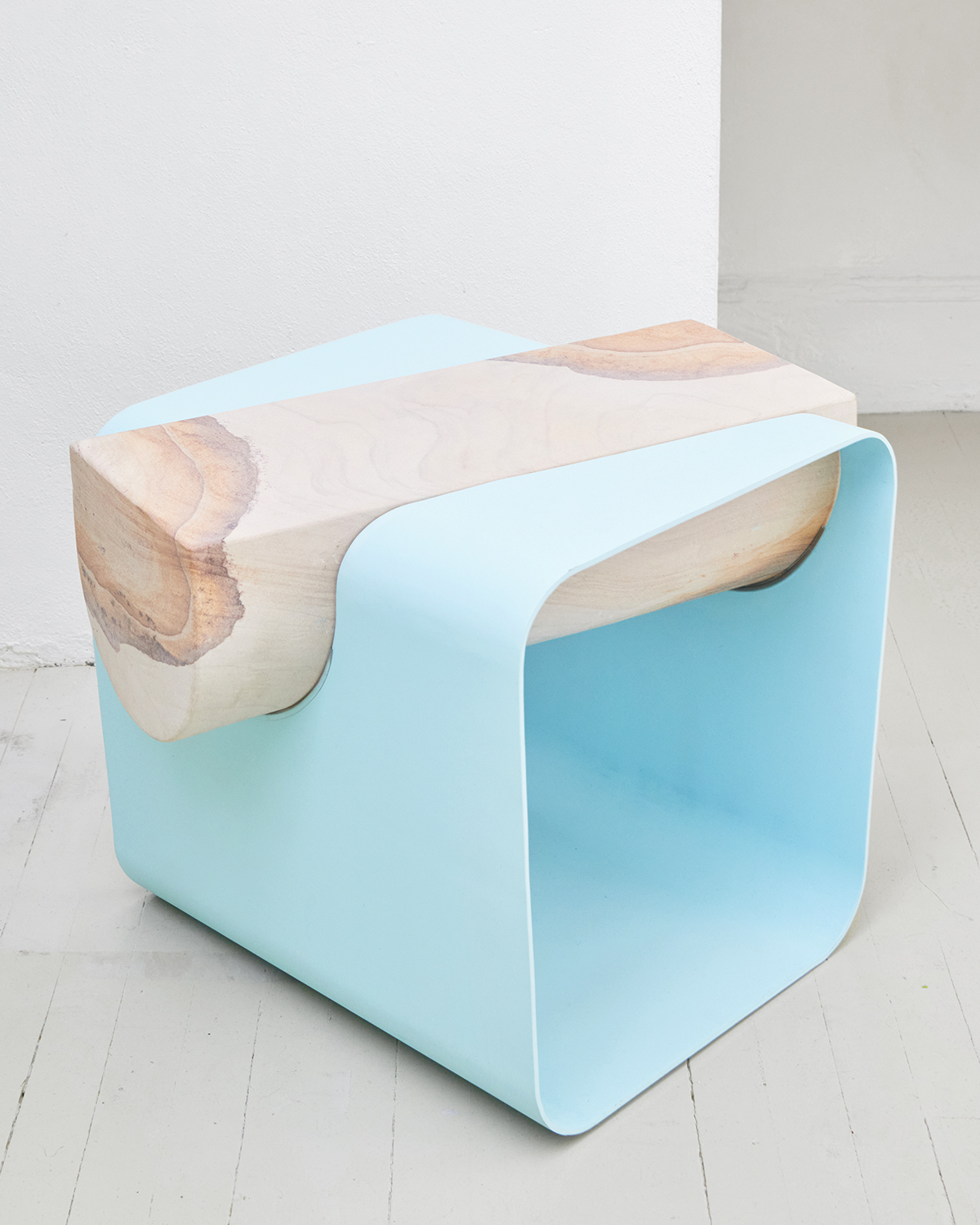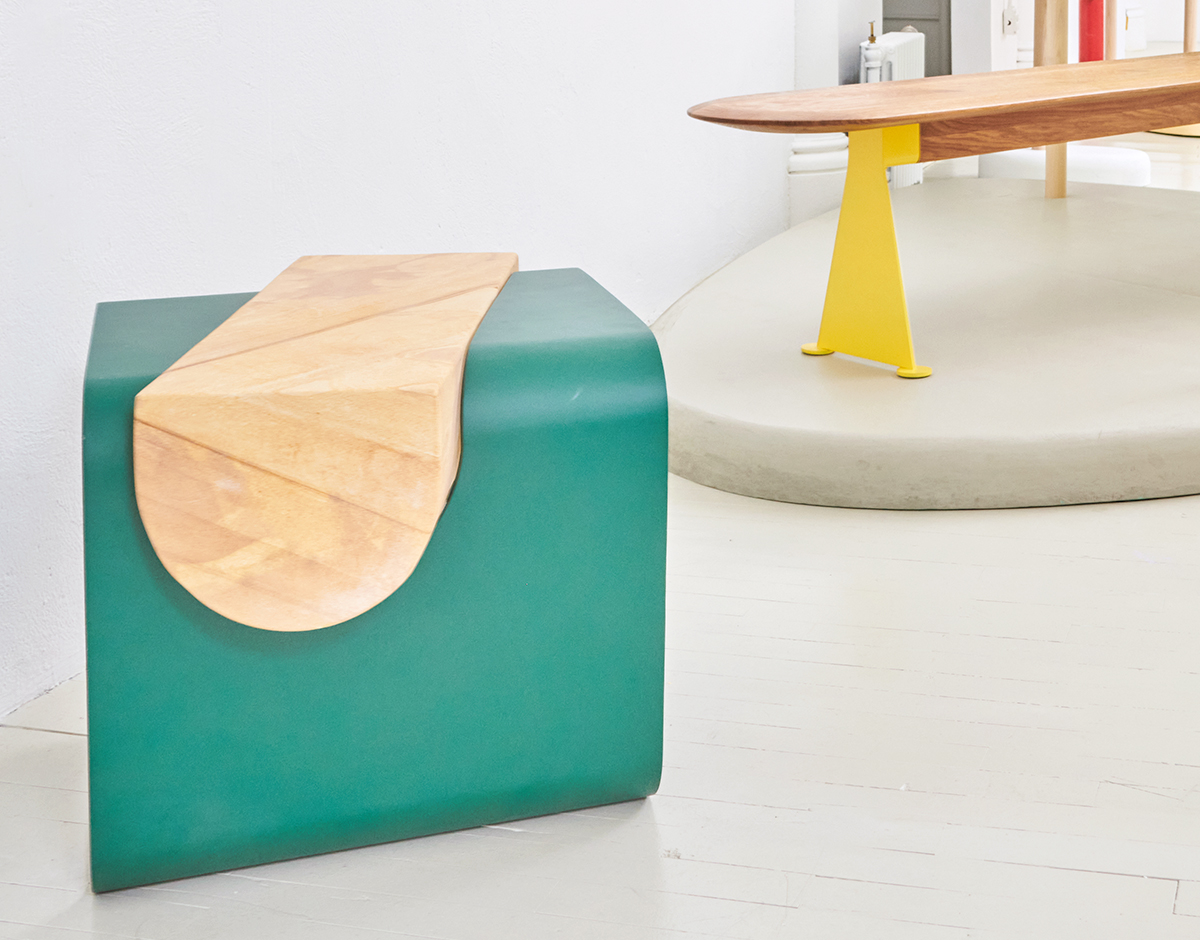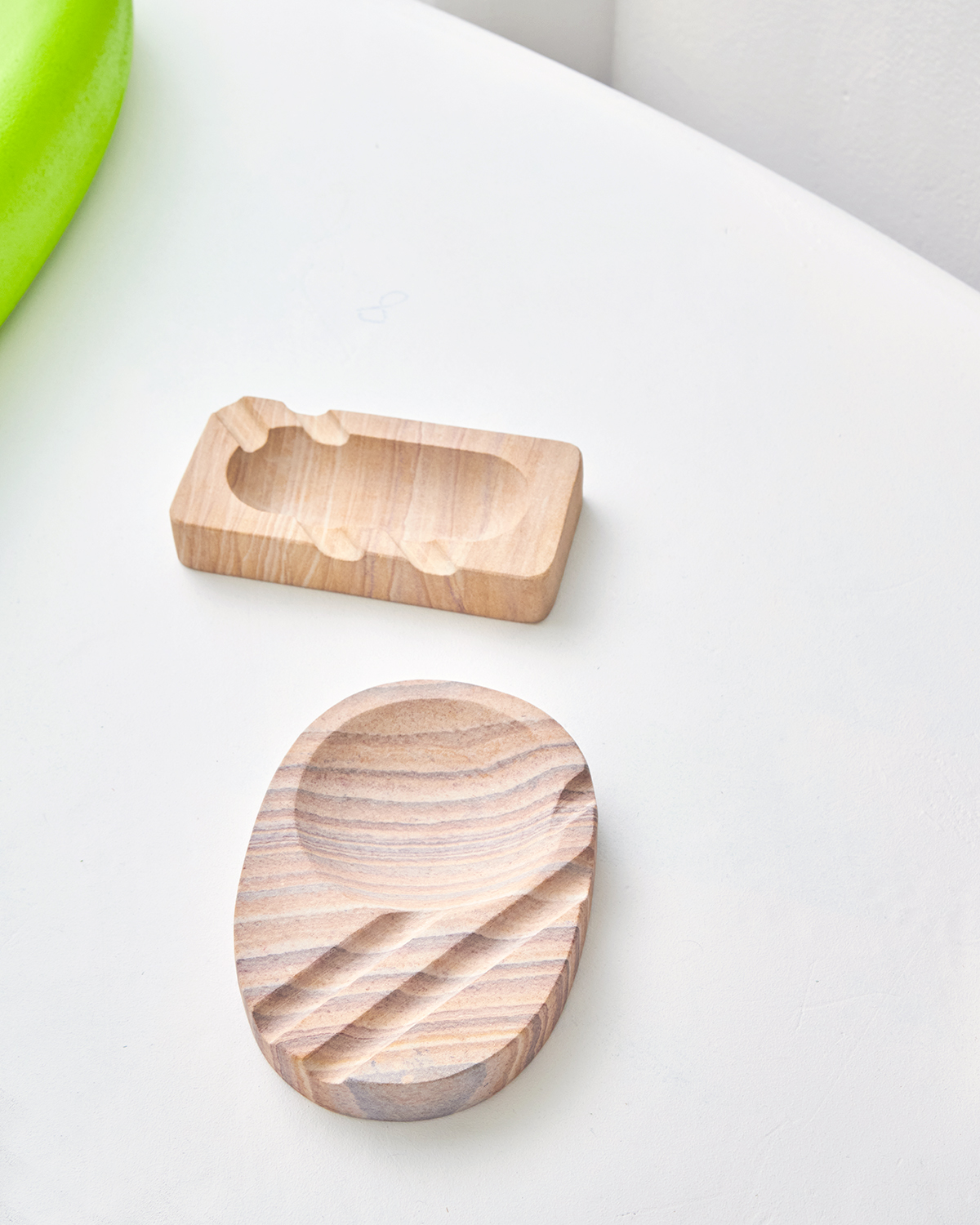 Stone Side table and Stone Catchalls by Kaja Dahl for Areaware
The Stone Side Tables and Stone Catchall both came from the same starting point: creating shapes that would display the beauty of the natural stone. Dahl played with angles and composition in her design process, ultimately focusing on contrast between the very controlled, minimalistic meeting of the shapes and the organic character of the sandstone — resulting in clean, sculptural pieces with angles and shapes to discover.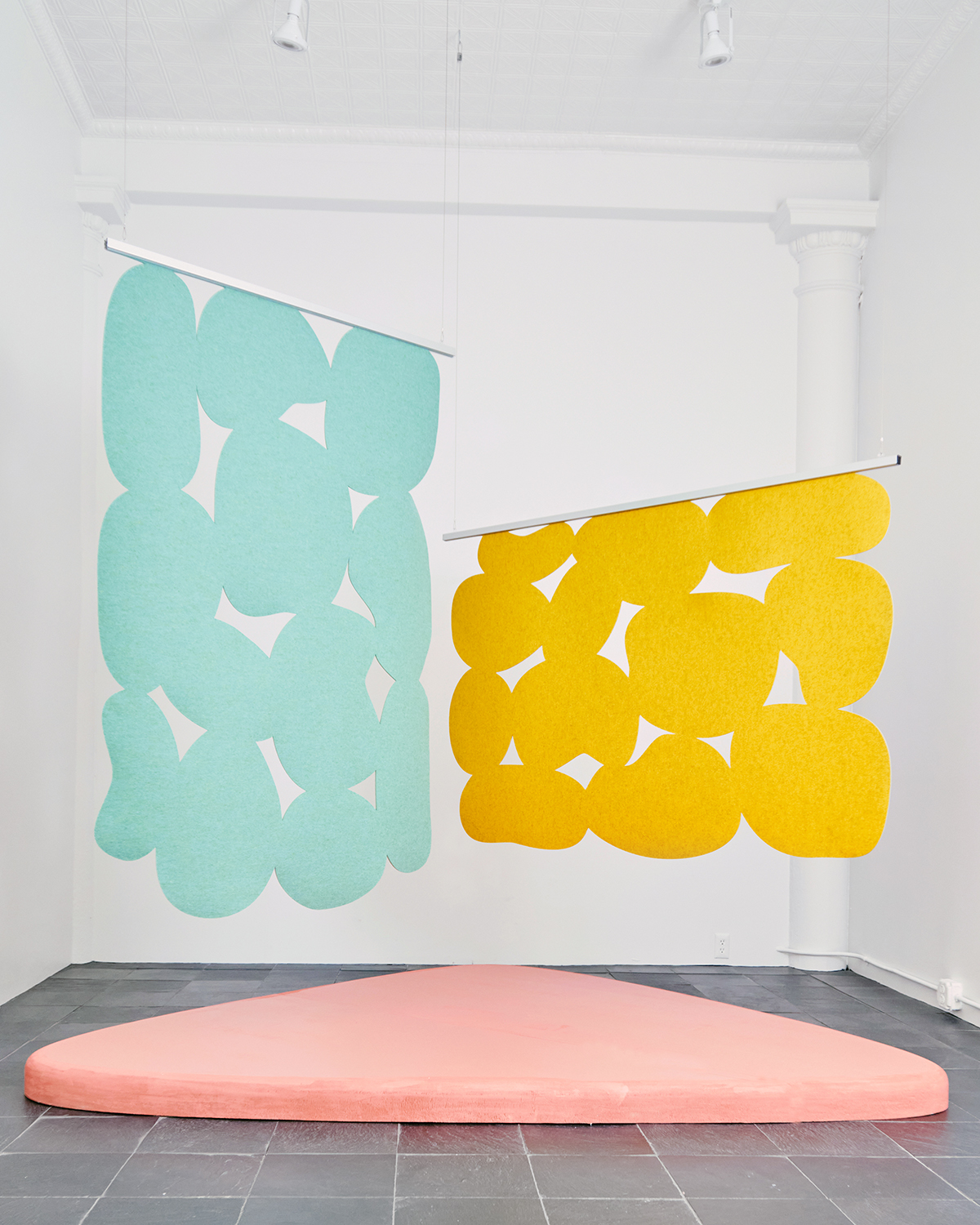 Stream divider by Vera & Kyte for Designtex

Stream is a semi-private wool-felt panel that acts as a partition while maintaining a visual connection and openness within your space. The sculptural form is inspired by rounded pebbles that have been shaped and scattered by flowing water, adding an organic touch to contract environments. Stream's warm wool felt and friendly shapes provide a sheltered space that softens the soundscape as well as creates a visual calm for concentration or conversation.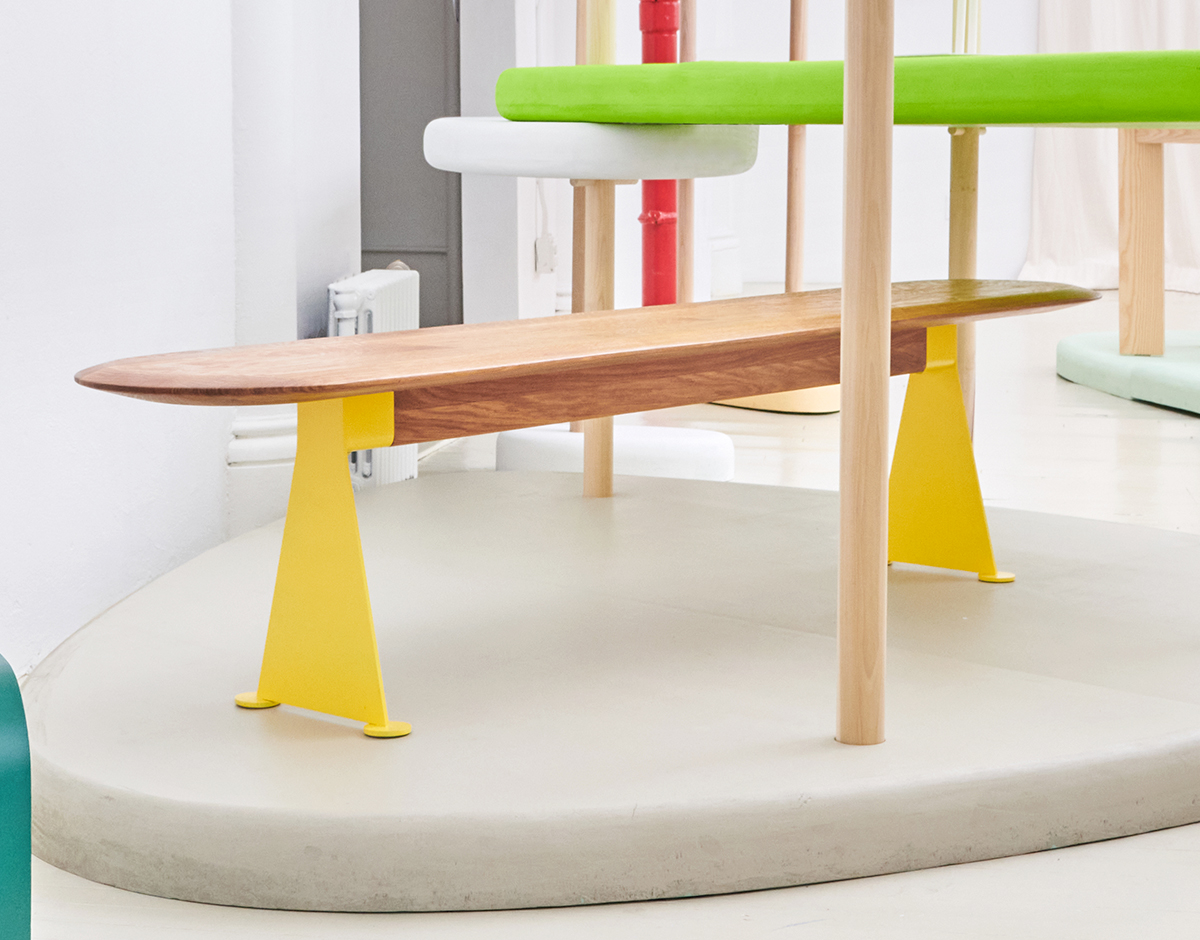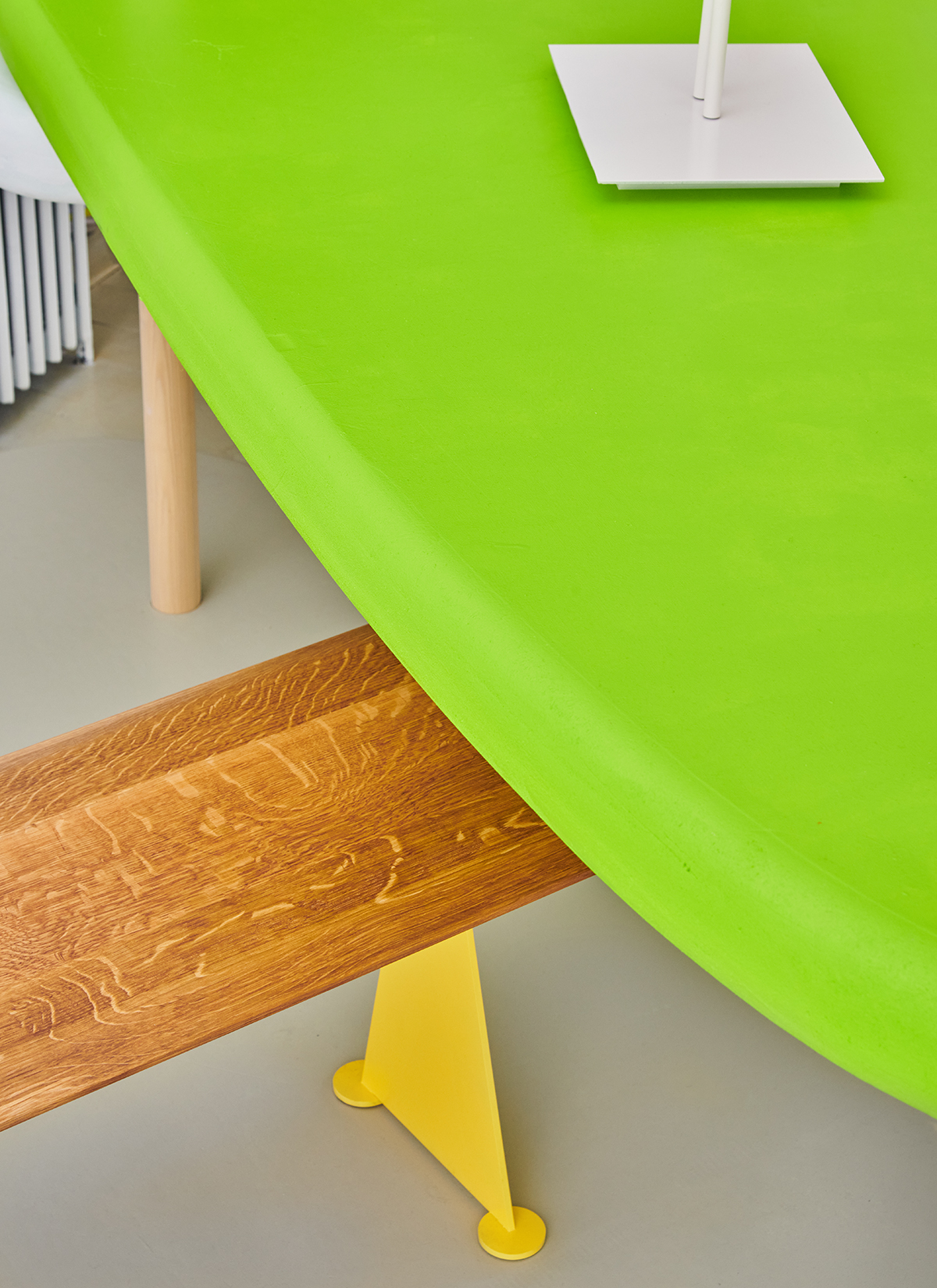 Foundation bench by Jonas Stokke for Bestcase
The Foundation bench is the result of a continuous dialogue between designer Jonas Stokke and Bestcase CDO Charles Constantine, centered on the importance of steel in forming modern America — as in the physical manifestation of Manhattan skyscrapers. Mies Van der Rohe's Seagram building in particular, with its rational approach to standardized manufacturing and adherence to material properties, served as an inspiration, as did Jean Prouvé and his factory aesthetics. The steel structure of the bench is the foundation, which carries the wooden beam, soft towards the human body.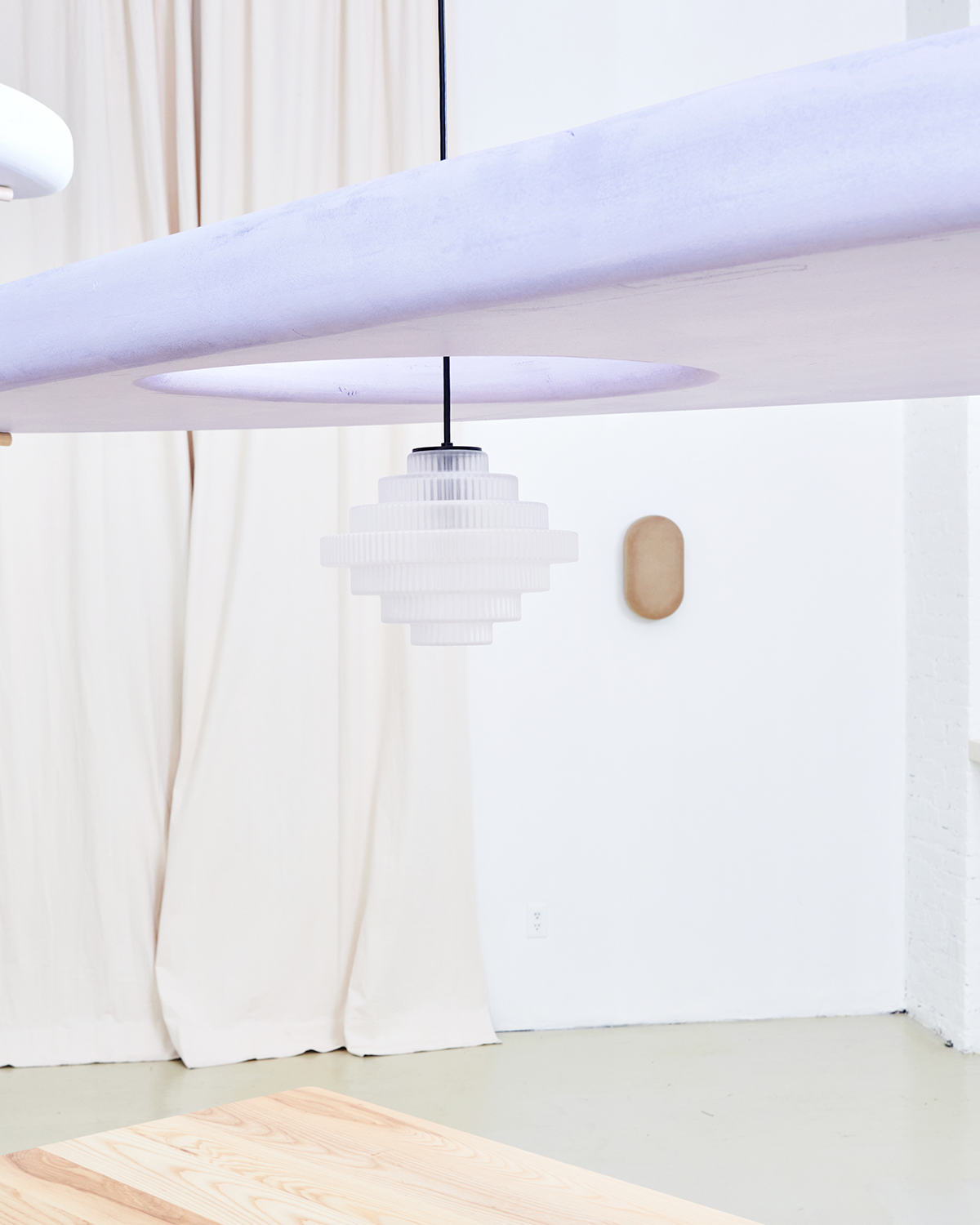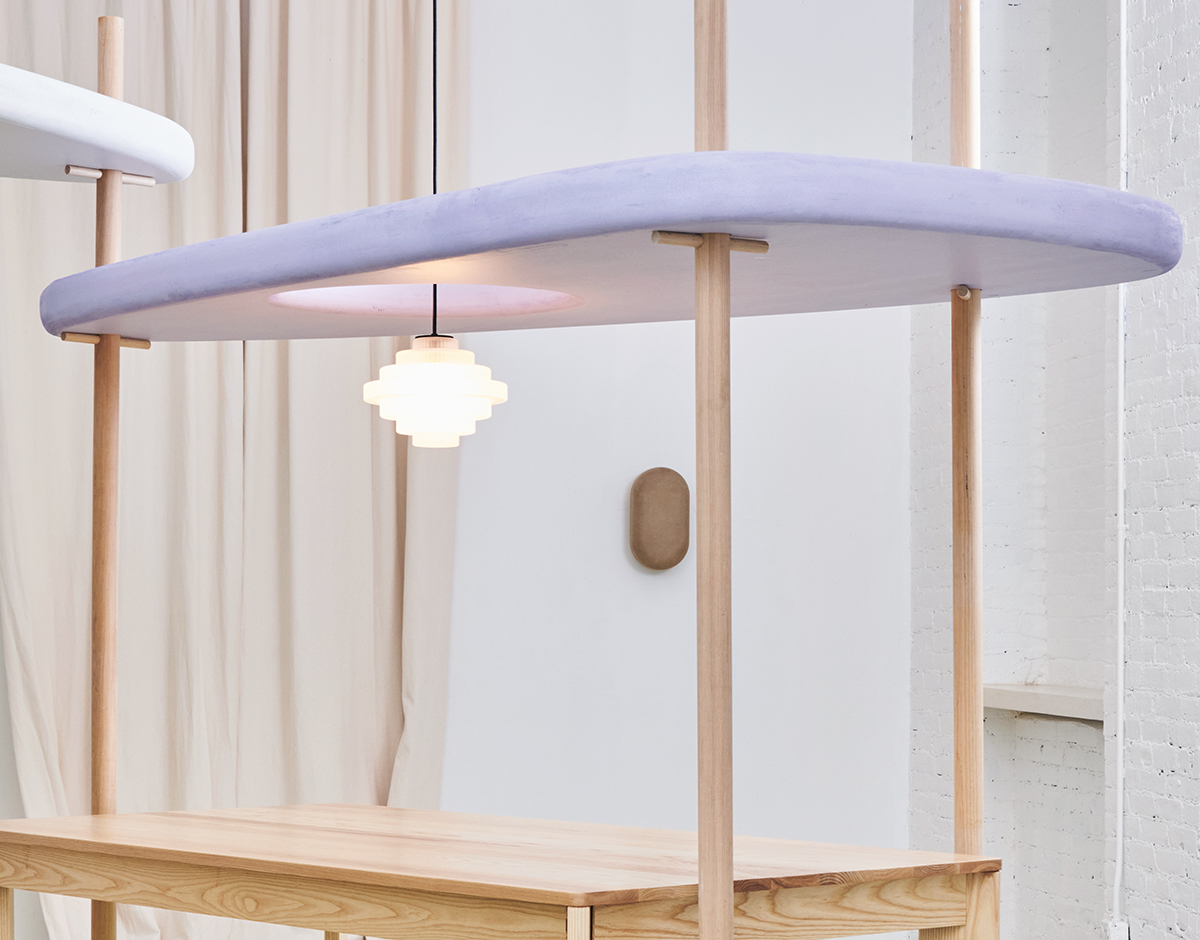 Archive pendant light by Runa Klock for Souda
The Archive Pendant Light is a remix of New Wave visuals and Art Deco motifs. Inspired by New York City's iconic architecture, the blown-glass lamp is decidedly modern while nodding to a rich history of aesthetic styles.