02.10.22
The Former Gucci Model Turned Textile Designer Making Waves in London
British designer Tom Atton Moore creates tactile rugs inspired by painterly abstraction, revealing a visually poetic exploration of shape, color, form and function — the compositions of which are at once dynamic and meditative. In his London studio, Moore uses vintage deadstock yarn to tuft each rug, which is then latexed, bound, and shaved with sheep shearing clippers — a slow-paced labor of love that takes up to two weeks or more for each distinctive floor covering. Following his UK exhibitions — "Dear Magnolia" at Jermaine Gallagher in 2020 as well as "Hannibal's Pond" at Maximilian William and "It's Good To Be Home" at Gallery Fumi in 2021 — the textile artist is now sharing his experimental works Stateside in his first solo show at BC in Los Angeles, entitled "Eden," on view through February 20. The collection was inspired by the patterns he observed in the swirling chemicals on the surface of a countryside pond during the pandemic lockdown. We recently chatted with the former high-fashion model and illustration graduate to gain insight into his material world and self-taught design process, which began with the purchase of a tufting gun from eBay and watching how-to videos on YouTube.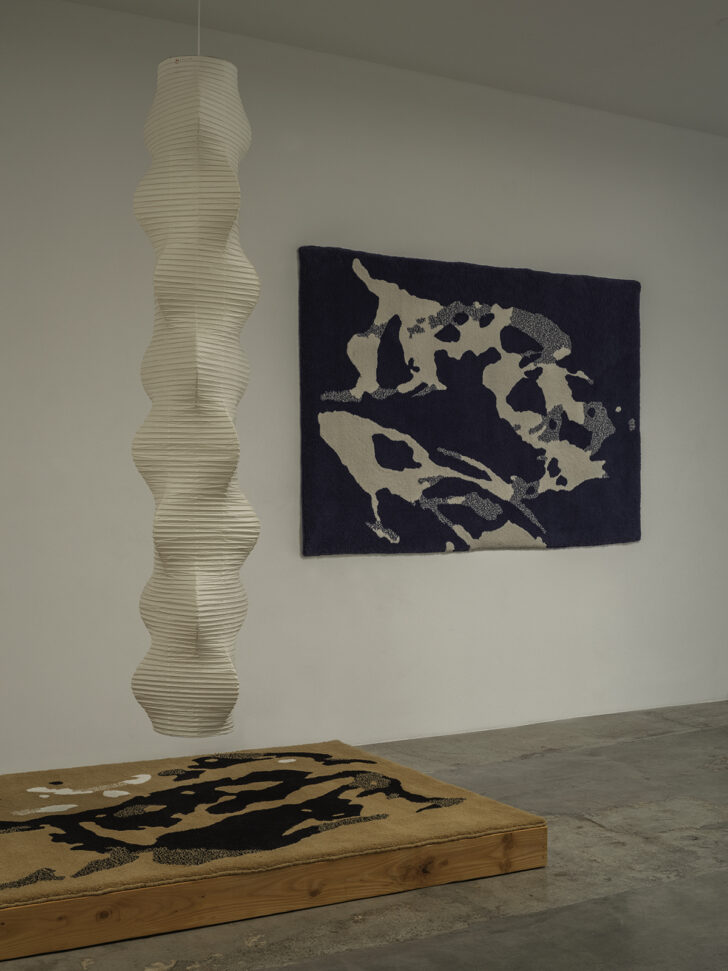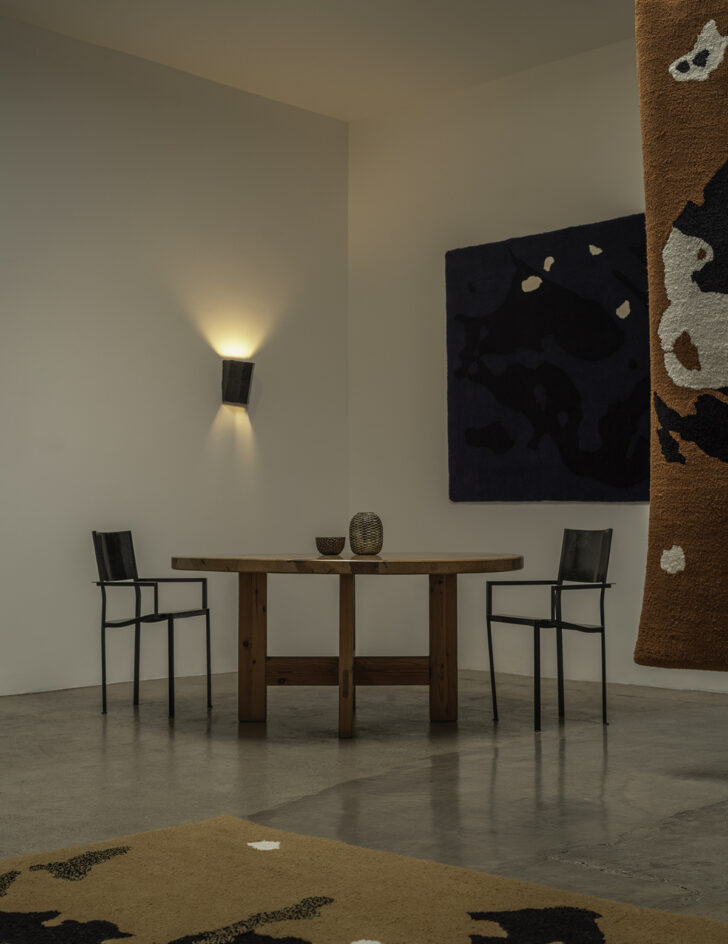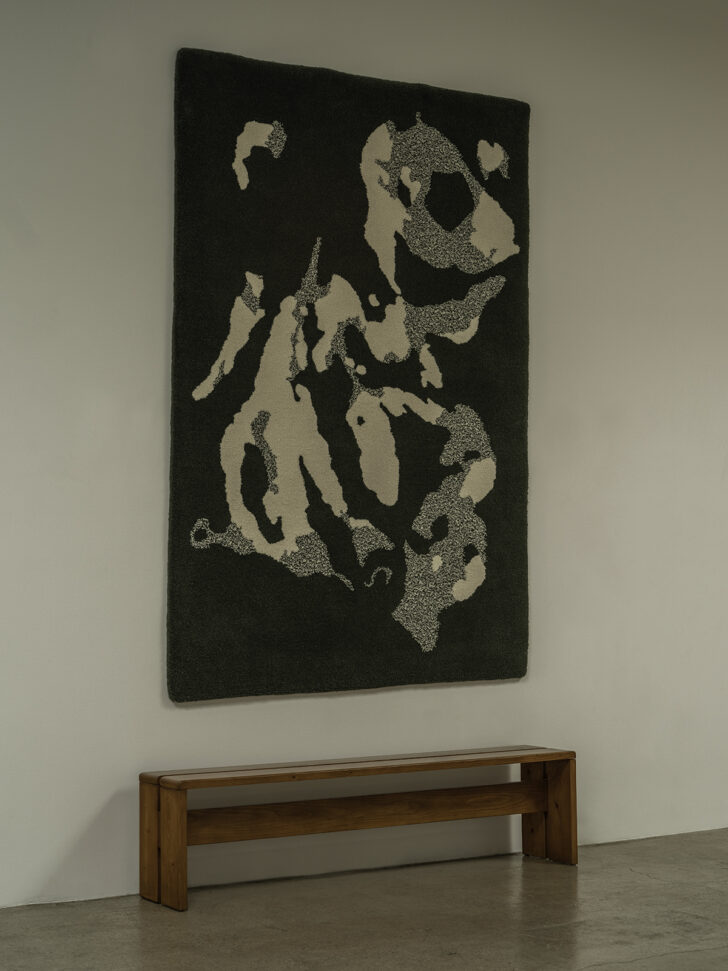 Tell me more about your start in rug-making. It was a bit trial and error, yes? 
I originally started weaving on a handmade loom. Anyone who has tried this before knows how long it takes and I wanted to make something much bigger. I then discovered vintage tufting tools, which I played around with for a while until I found out about the tufting gun. Originally it was a nightmare to find, but now you can get them on eBay! Moving to a tufting gun from weaving always felt like a natural progression; starting from the most traditional methods to a tool now that reflects these traditions.
So what exactly is your process?
I begin each rug by stretching a special canvas onto a custom built frame. I then project my design to scale and trace it on the canvas. Once outlined, I turn on my air-compressor and get my gun ready for tufting! I work with this tool in vertical movements until the piece is complete. I latex the back to keep all the yarn in place and once this has dried, I cut the piece down and turn over the edges and latex these down again. I finish the piece by using sheep shears to shave the surface.
My studio is in an old converted warehouse in Leyton, London. The area is super industrial and next to some marshes. I like it because it almost feels like it's not in London. I love the studio so much that I've been commuting across London three hours a day to use it! I typically only use my studio for the production of my works (I much prefer creating the designs from the sofa at home). I often get lost in the tufting process as I've always loved repetitive things. Making the rug can feel this way as I'm creating the piece mostly in single tufted vertical lines. I put my headphones in and can be lost in this process for hours.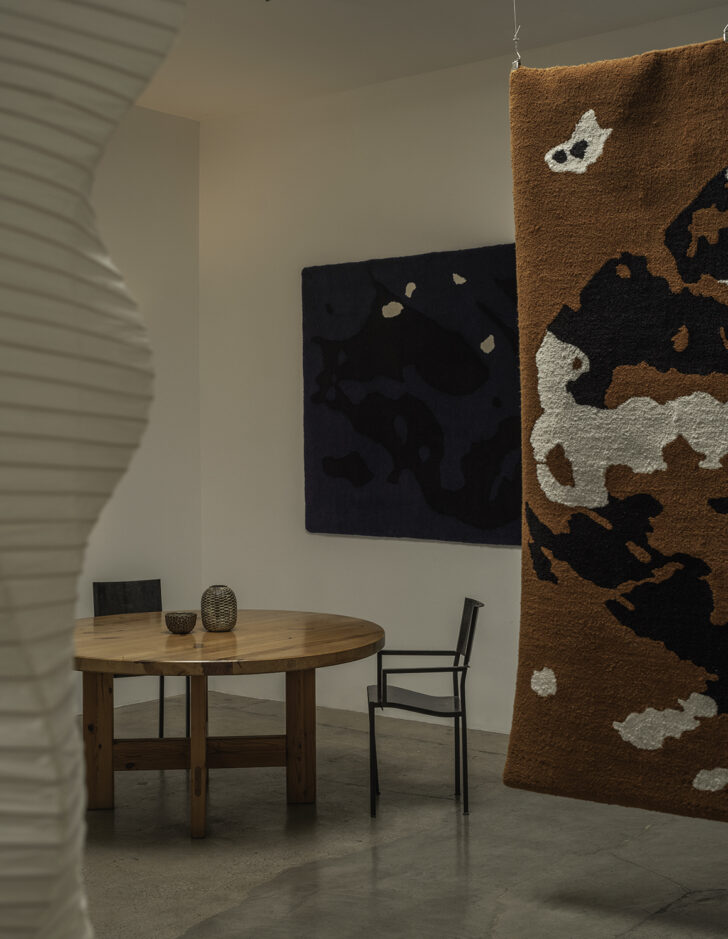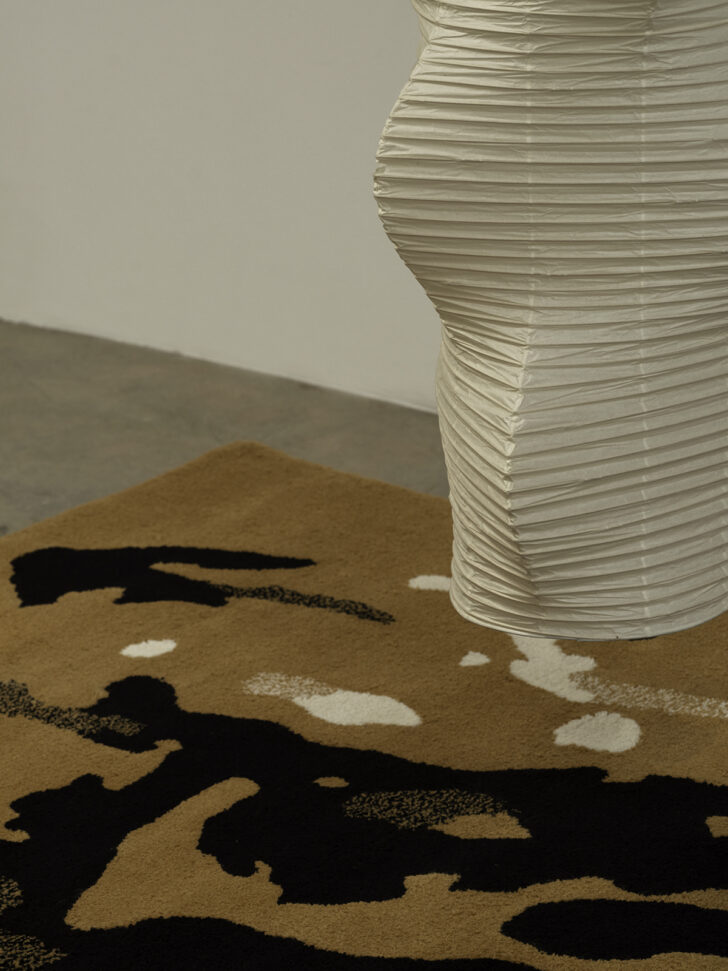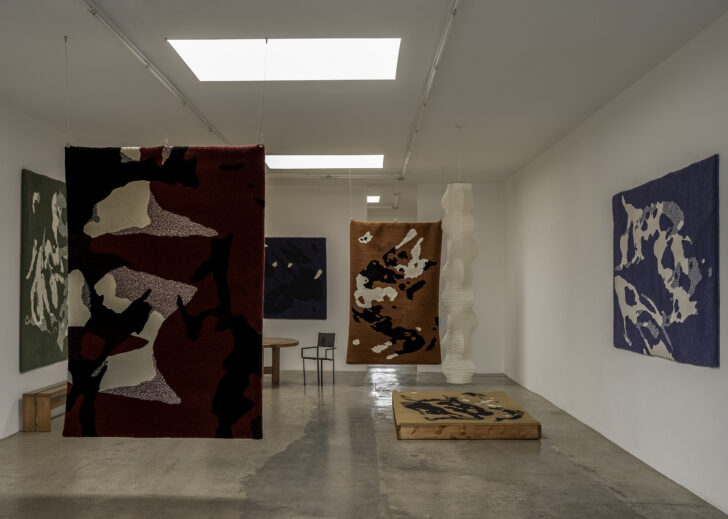 It's interesting that you come from a fashion background— was there anything you learned from working in that industry which has helped inform your current practice?
Modeling provided me with the funds and freedom to make my art which I wouldn't have had the opportunity to do otherwise. I often worked with Alessandro Michele at Gucci, and when doing looks, he would put down antique rugs which felt like the color source of his vision. He created environments through a palette that played with antique and modern aesthetics that fit together seamlessly.
The rug as medium has long captured artists' attention, with both Henri Matisse's famous cutouts, and Salvador Dalí's Surrealist spirit inspiring punchy rugs. And of course Wassily Kandinsky reworked his iconic "Small Worlds" compositions into colorful carpets. Which artists influence your designs?
Most of my inspiration comes from painters. I find Joan Miró and Deborah Remington inspiring because of the graphic forms found in their work. I also find abstract painters such as Helen Frankenthaler inspiring because I am trying to make my works less flat. Although paint and yarn are such different mediums, I try to look for the similarities between them. I've started working on pieces that have longer pile heights which give the rugs more movement and depth, as these free flowing longer strands of yarn mimic the expressive quality of brushstrokes.
What's your approach to color, in terms of giving your rugs more of a design identity?
I use bold colors in my work to challenge modern environments today. I think there is a sense of homogeneity in contemporary interior design and I like my rugs to feel disruptive, and I hope to achieve that through bold impactful colours.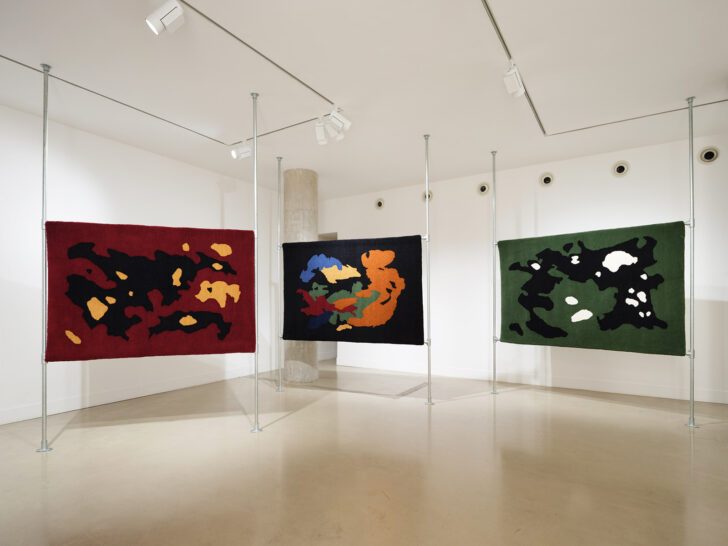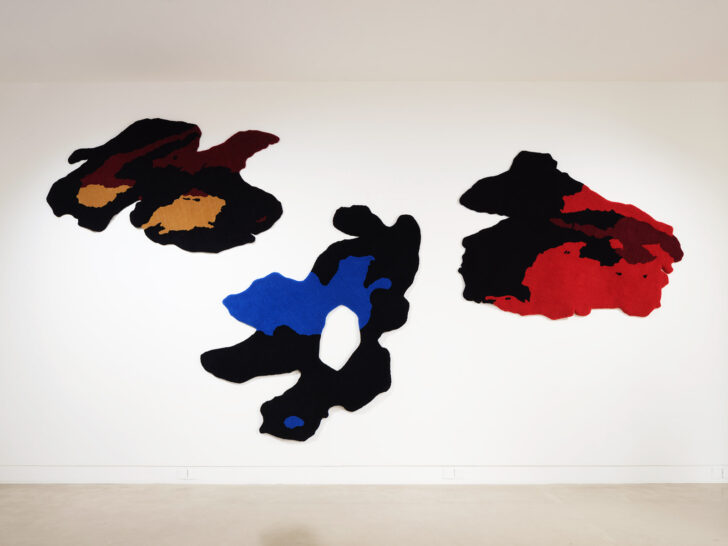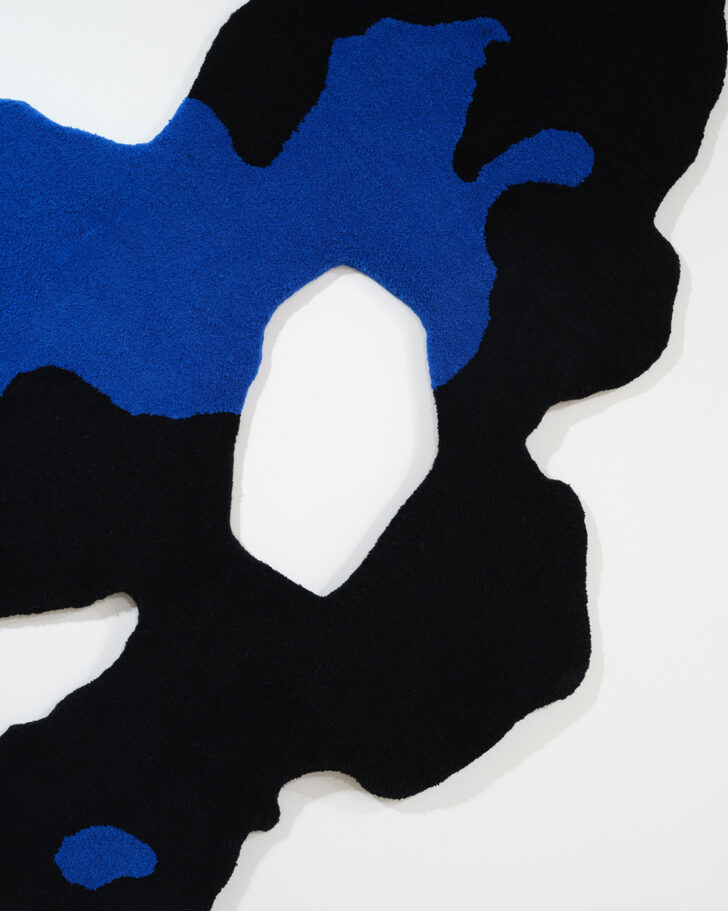 I imagine that disruptive sensibility extends to you breaking the rectangular rug rule too! Will there be more shape shifting in the future?
I will 100% be doing more shape shifting in the future! However, when making usually shaped pieces, it's a lot harder for me to find the balance within the forms. I started breaking away from the rectangular rug rule by asking myself, "What makes a rug a rug?" We're so used to seeing rugs in a traditional format and I want to push myself to challenge this as much as possible.
To me, your work evokes an emotional response. Is that important to you?
It's important to me that my work be approachable. I want people to walk up and touch the rugs. Rugs encourage this because yarn is a soft and tactile material. When one sees the pieces, they evoke a familiarity that might be seen everyday in a house but presented in a different way. I want to evolve this in my work by playing with the depth of the rugs' surface and challenging the way to present them.fa
Have you ever created any custom bespoke rugs, and have you considered possible collaborations in the future?
Typically I've avoided custom and bespoke pieces because I try to treat each work like a personal painting and frankly, I get worried that people are going to dull down my colors! I would definitely consider collaborations in the future. I think the process of collaborating is exciting. My dream would be to transform an entire space with my works that's not a typical gallery or showroom.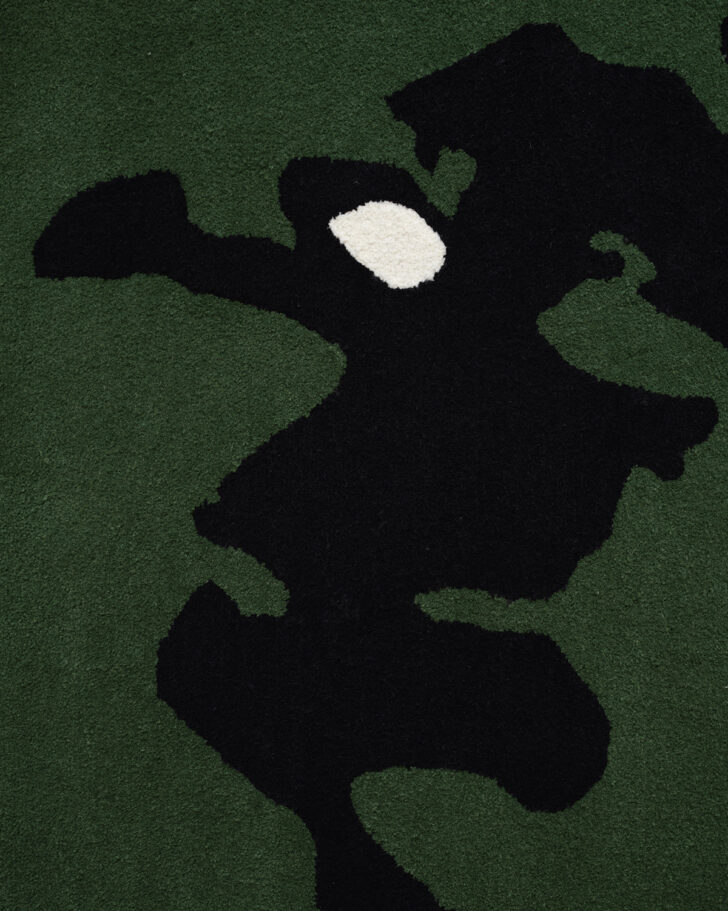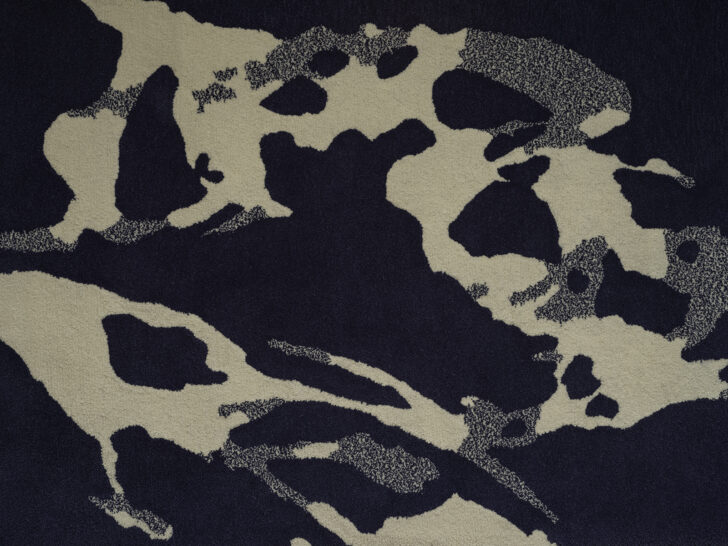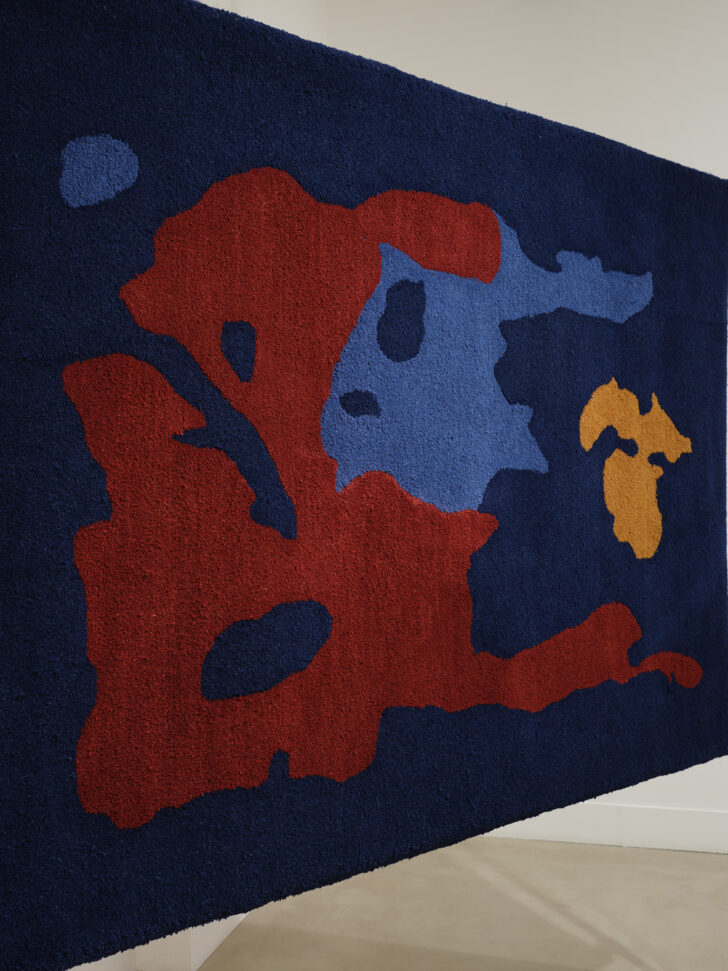 Well that leads me nicely into my next question about presentation, as I'd love to know more about your debut exhibition in LA. What can we expect from that, and how does it differ from your past exhibitions in London?
The LA exhibition displays my work with furniture. It's the first time my pieces have been presented in this context and it's at BC, an interior design studio. I love the projects they produce, so it meant a lot for me to work with them.
Each show is always displayed in a way that best fits the space, and considering the existing environment is extremely important for me, because it shows the versatility of my work and how a rug can be presented. "Dear Magnolia" was done using wooden structures and clips to hold the rugs up. "It's Good to be Home" showed a rug on the floor. This time, '"Eden" will combine both of these methods of presentation by having rugs hung vertically from the ceiling and spread out horizontally on a platform.
What's the story behind the Eden collection and your use of vintage dead-stock yarn?
The pieces in Eden are inspired by my time in the countryside during lockdown. The world was still, but there was life happening in my back garden. I specifically observed my tiny pond and found design inspiration in the patterns left on the surface of the water. The subtle movement within the pond created amazing designs which I documented on my phone over time. These ultimately became the forms scaled onto my rugs. When sourcing yarn there's very few traders in it. Most places will directly dye their yarn to ones specific needs whereas the place I locally source from are leftover stock from larger projects.
Did you see a rise in interest in your rugs, both mid-and-post-pandemic, since the focus on updating our interiors became more prevalent?
Definitely, although people seem to want them for the floor and then they end up on the wall!
So what's the best feedback you've received so far about your rugs?
I had a show at Maximillian William in London, and this lovely lady approached me at the opening. She grew up in a textile workers family and was so thrilled to see such a similar practice to her own. What excited her even more was that these pieces had the ability to be put in a gallery context. She never thought they couldn't be presented in a space with fine art.