11.09.21
Meet the Swedish Brand Championing "Bold Minimalism" With Rugs That Are Stylish, but Subtle
Most family businesses we know came together around some sort of legacy — a piece of property or a manufacturing or service know-how, passed down from their forebears and reinvented by a new generation. For the Berglunds, though, it was the opposite: All that Liza Laserow-Berglund, her husband Fabian Berglund, and his brother Felix Berglund knew when they came together and decided to collaborate in 2016 was that, with their varied backgrounds and skill sets, they'd make a great team. Doing what exactly, they weren't sure. Felix was an entrepreneur and poker player, Fabian was an ex-ad exec who had once made a Superbowl commercial for Squarespace, and Liza was a trained lawyer who'd done a 180 into her family's antiques business. The biggest thing they had in common? Sweden, and their desire to share some part of their native country's vibe with the rest of the world. When they realized that rugs played a huge part in every Swede's life — keeping their floors warm while aesthetically grounding their interiors — they founded Nordic Knots, a rug brand aimed at spreading the Scandinavian design gospel.
The trio picked rugs partly because Fabian and Felix's father is in the business, which helped them see a weakness in the market for a strong, highly curated brand offering mid-range floor coverings with a distinct point of view — but not one so loud that it would overwhelm a room. Hewing close to the Scandinavian principles of "functional design with a minimalist aesthetic," they developed a design language in which a rug's pattern or color might dip a toe outside the realm of understatement, but rarely both, and any aesthetic influences would come from vintage references rather than contemporary trends. Some of their early designs had faint echoes of old geometric Swedish textile motifs, or featured monochromatic cut-pile patterns rather than woven ones. Most were (and still are) offered in cream or beige in addition to any more saturated options.
Recently, as their reputation has grown, they've started releasing slightly more daring creations alongside their more subtle ones, designed both in-house and in collaboration with outside talents like the London studio Campbell-Rey, but always balanced with some element of restraint. We recently spoke with Liza about how the brand approaches that delicate balance between style and livability, and tradition and modernity.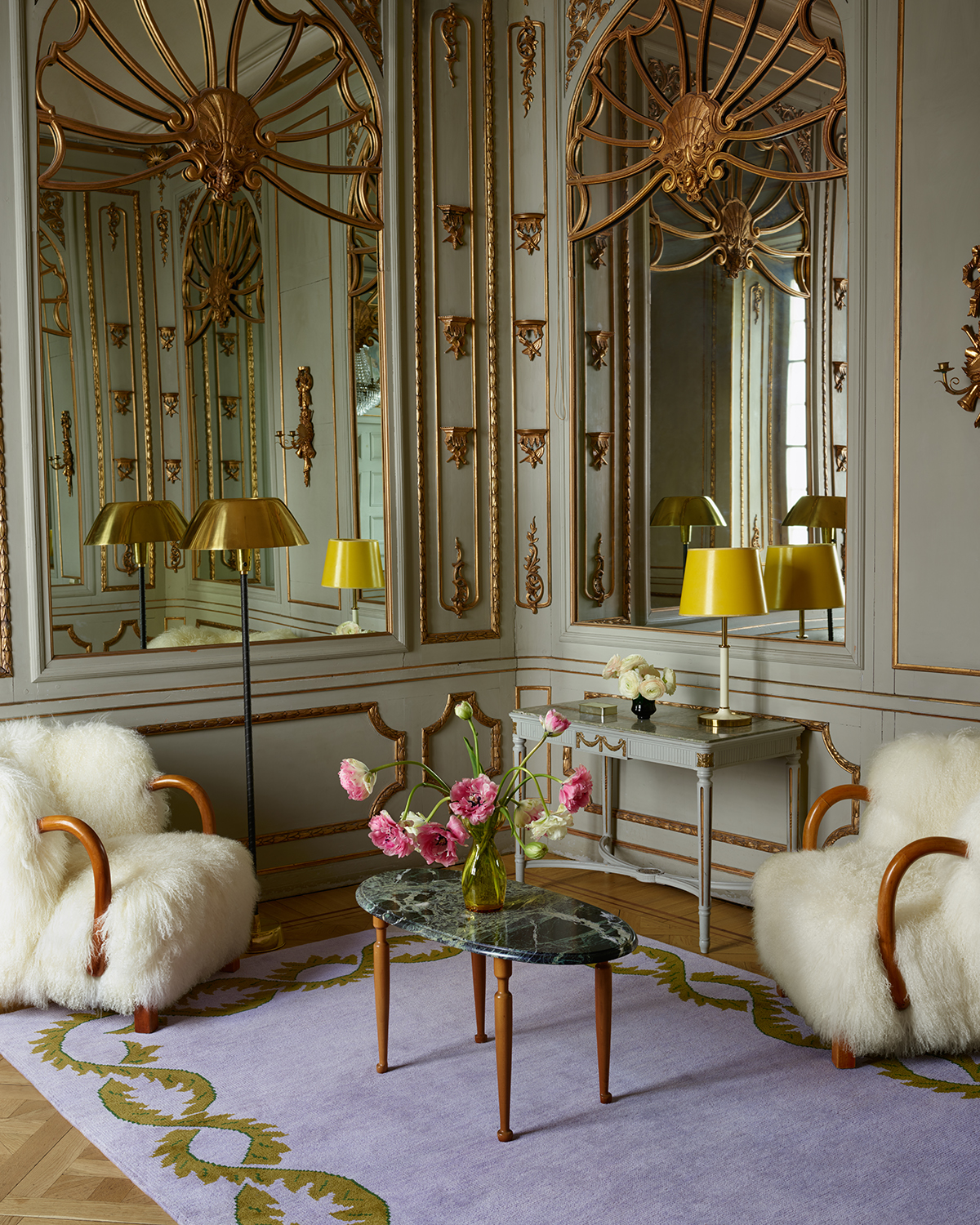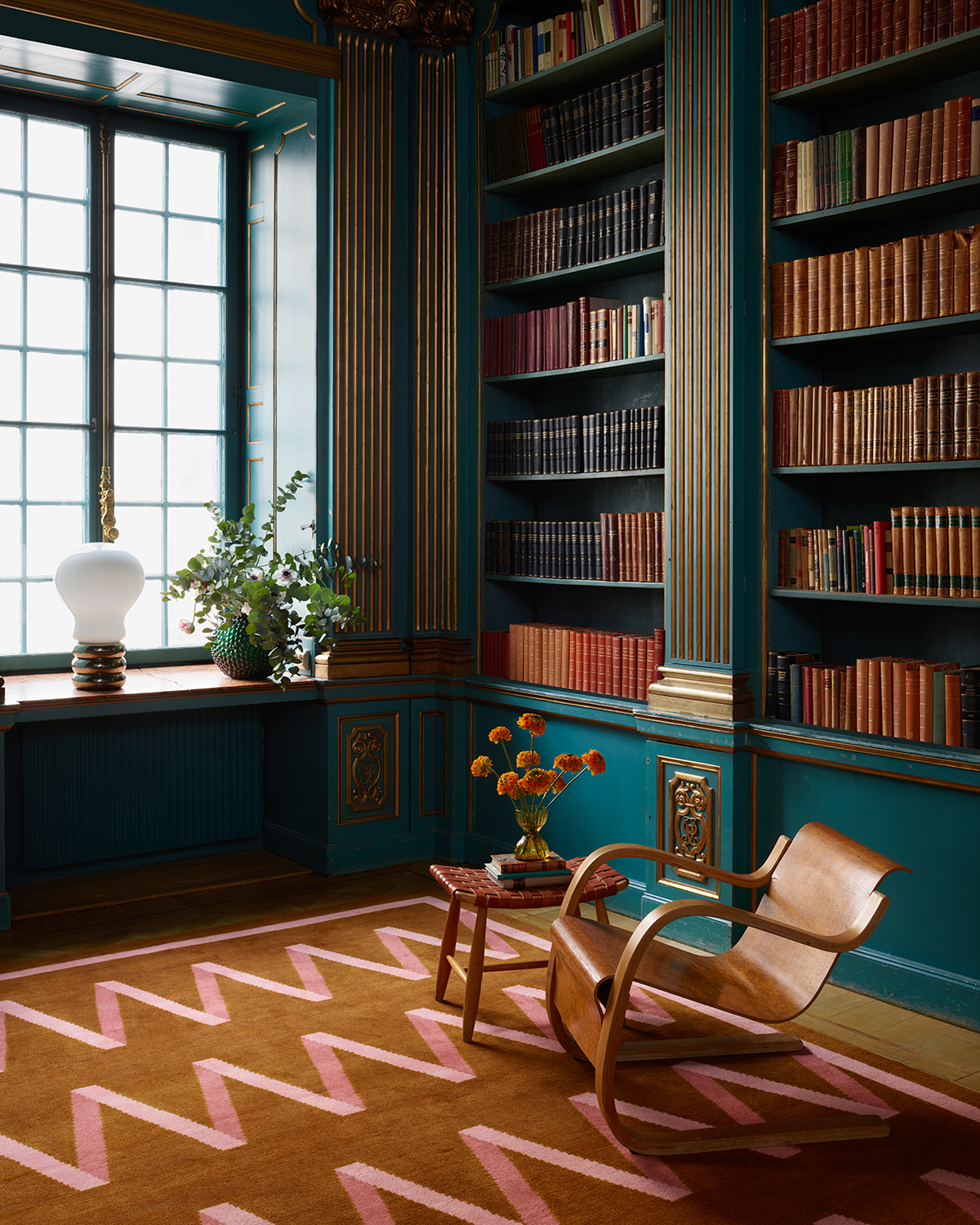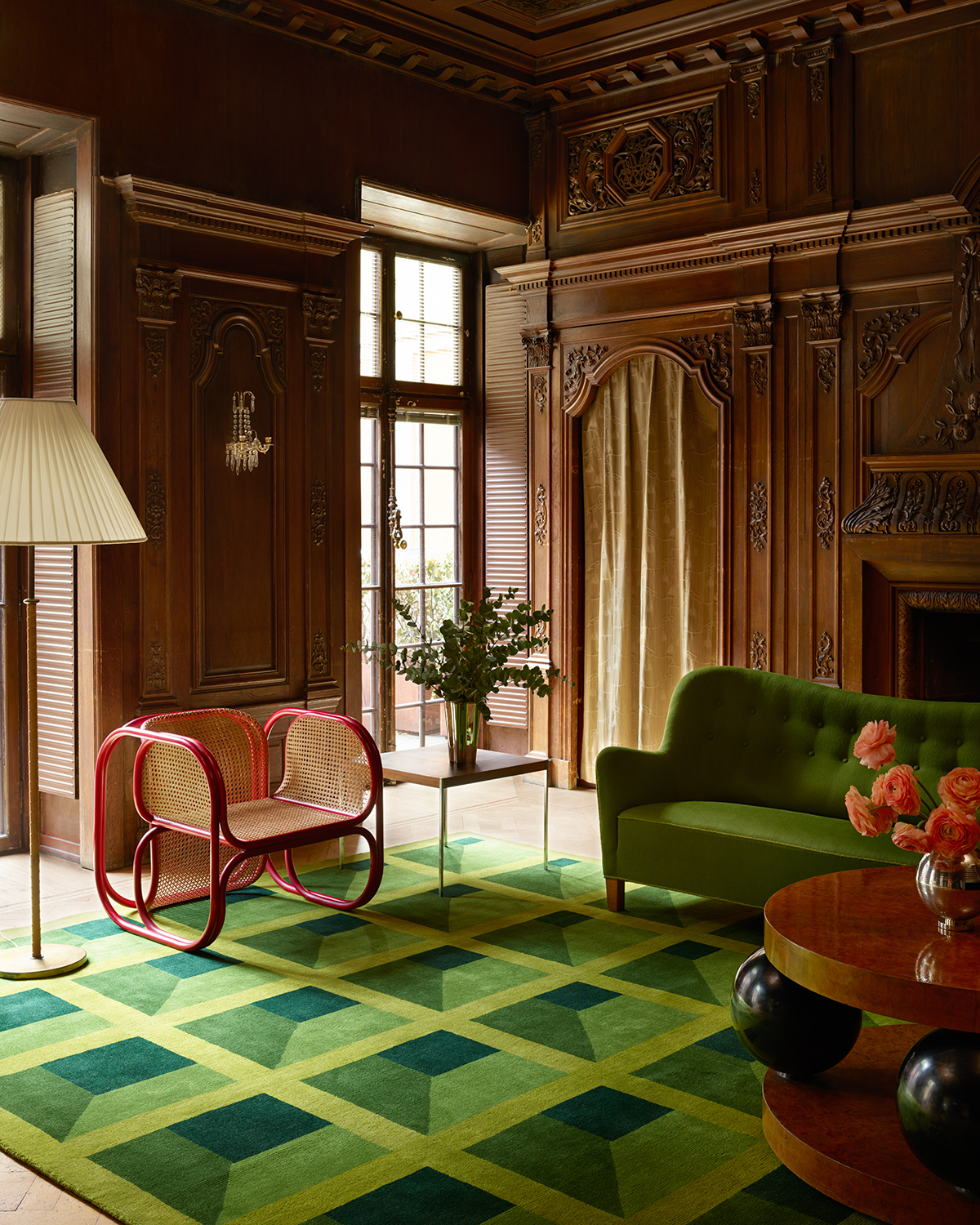 Collaboration with Campbell-Rey
You all come from such different professional backgrounds — why did you decide to start a rug brand, and what was your mission statement, so to speak?
The idea was to really bring something from our home, which is Sweden, to every home. When we started thinking about that idea, as a concept for our brand, we realized that at the center of every beautiful Swedish home is a great rug. Whether it's purchased or inherited, there's always a rug — which is kind of obvious because it's pretty cold in Sweden during the winter, so you need a rug to not freeze your feet off.
Once we nailed down the product, we realized that there were many rug manufacturers, but few proper rug brands, and that's what we wanted to create. With rugs we felt like there was so much more to do. Most rugs are more of a functional choice than an aesthetic one. In the US market, you can either buy a rug for more than $10k somewhere like ABC Carpet, or you can go to a chain store and get something cheaper and simple without a strong identity or brand. We really wanted to offer a more curated collection at a good price point, where if people buy from us, they know it will look good. We want to inspire people to have a better home.
Can you tell us more about how they're produced? Why did you decide to make them in India?
Producing them in Sweden would have been too expensive, and would have made it impossible to do what we wanted to do, which was offer great design at a lower price. India has really skilled weavers, and such a deep culture of rug making, and the possibilities of their techniques are endless. We tapped into a great source of knowledge when we started working with our partners there. The quality is very high, and we wanted our rugs to be able to last. Being Swedish, you're always surrounded by high-quality pieces that can last a lifetime. We wanted our rugs to be on the same level. For me, coming from an antiques background, I'm used to using pieces over and over, where if you move, you bring it with you. And we hope people will do the same with our rugs. That's why we're careful not to build any of our collections on a trend. It's contemporary design, but timeless.
From a design standpoint, your brand is clearly connected to the Nordic tradition. How do your rugs fit into Swedish design history?
There's a really long history of textile design and weaving in Sweden. At the end of the 18th century, rugs were very common in more wealthy homes. Then during the 19th century, they could be more seen in common homes as well. Weaving has always been something that Swedish women, especially, preoccupied themselves with. So we have a lot of textiles and tapestries and things that were traditionally made for using in a carriage. But these were used in a more functional way, and weren't as much intended as a design element.
I think Swedes in general do design really well, but we kind of take it for granted. Fabian and I didn't really see it until we moved abroad. When you leave Sweden you get this perspective where ok, Sweden is such a small country but it has such a great aesthetic. We are by nature pretty practical, so we love things that are aesthetically appealing but practical. Rugs are the perfect combination of the two, because it gives the room warmth, physically and aesthetically. If you choose the right rug, it adds a lot to the room. We want our rugs to add a lot but not take over, that's the balance we're looking for in our designs.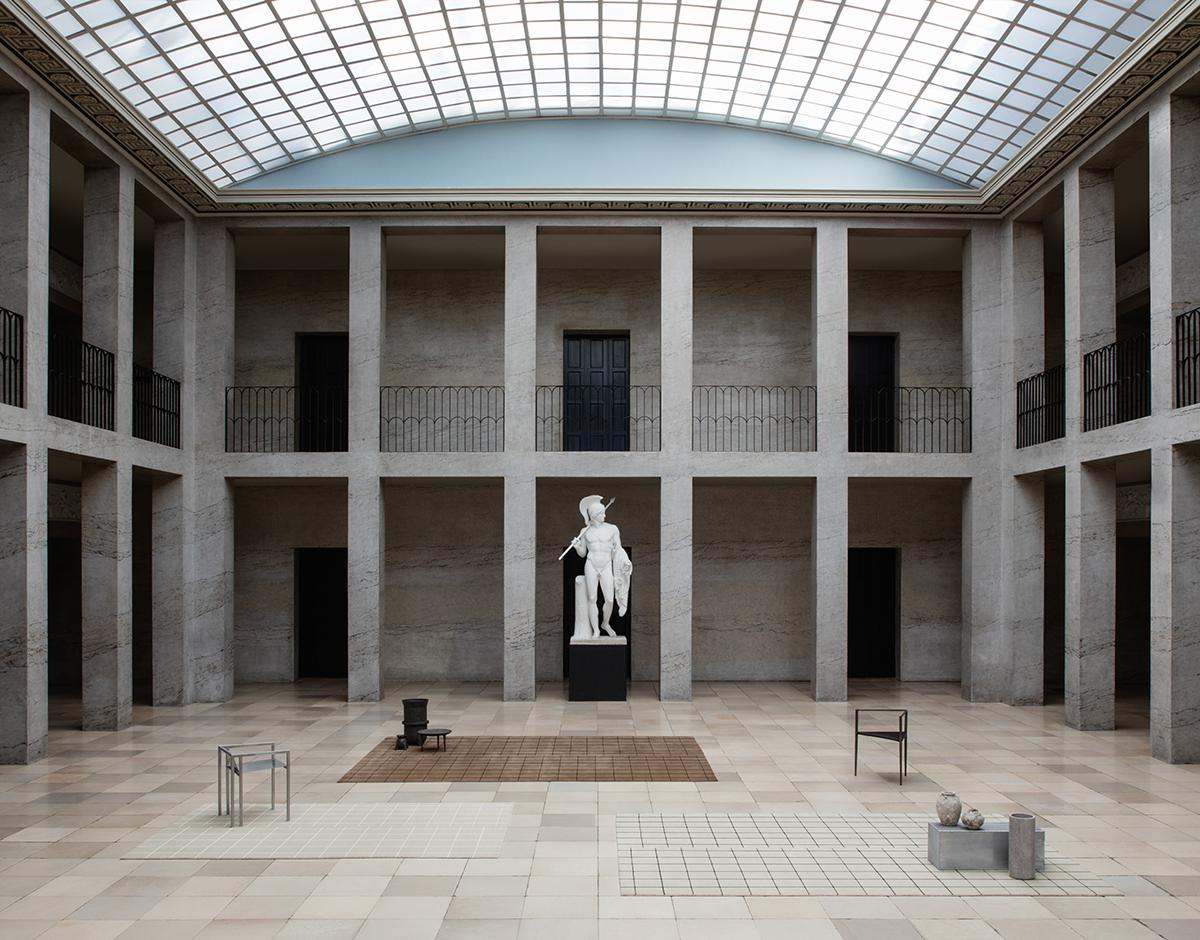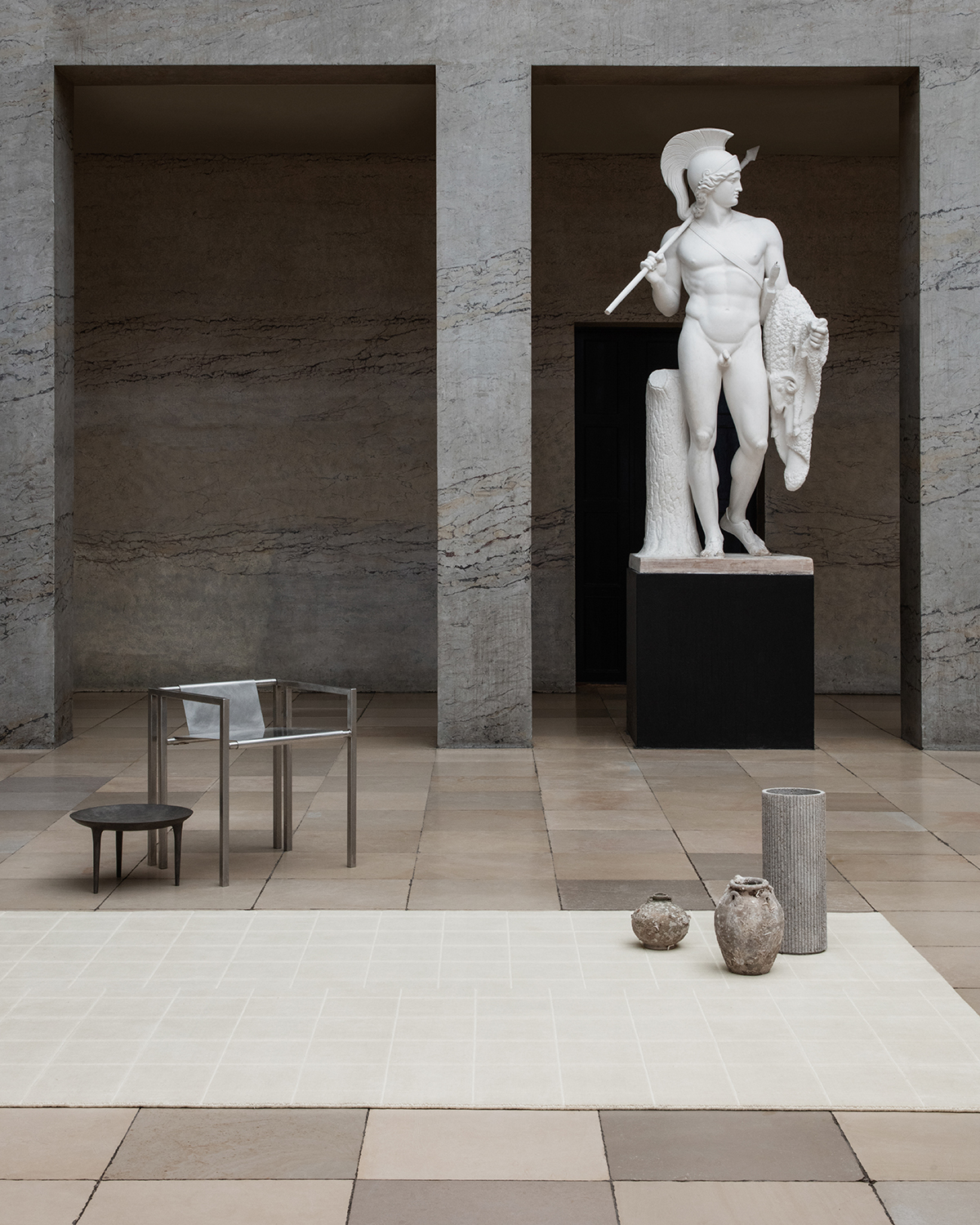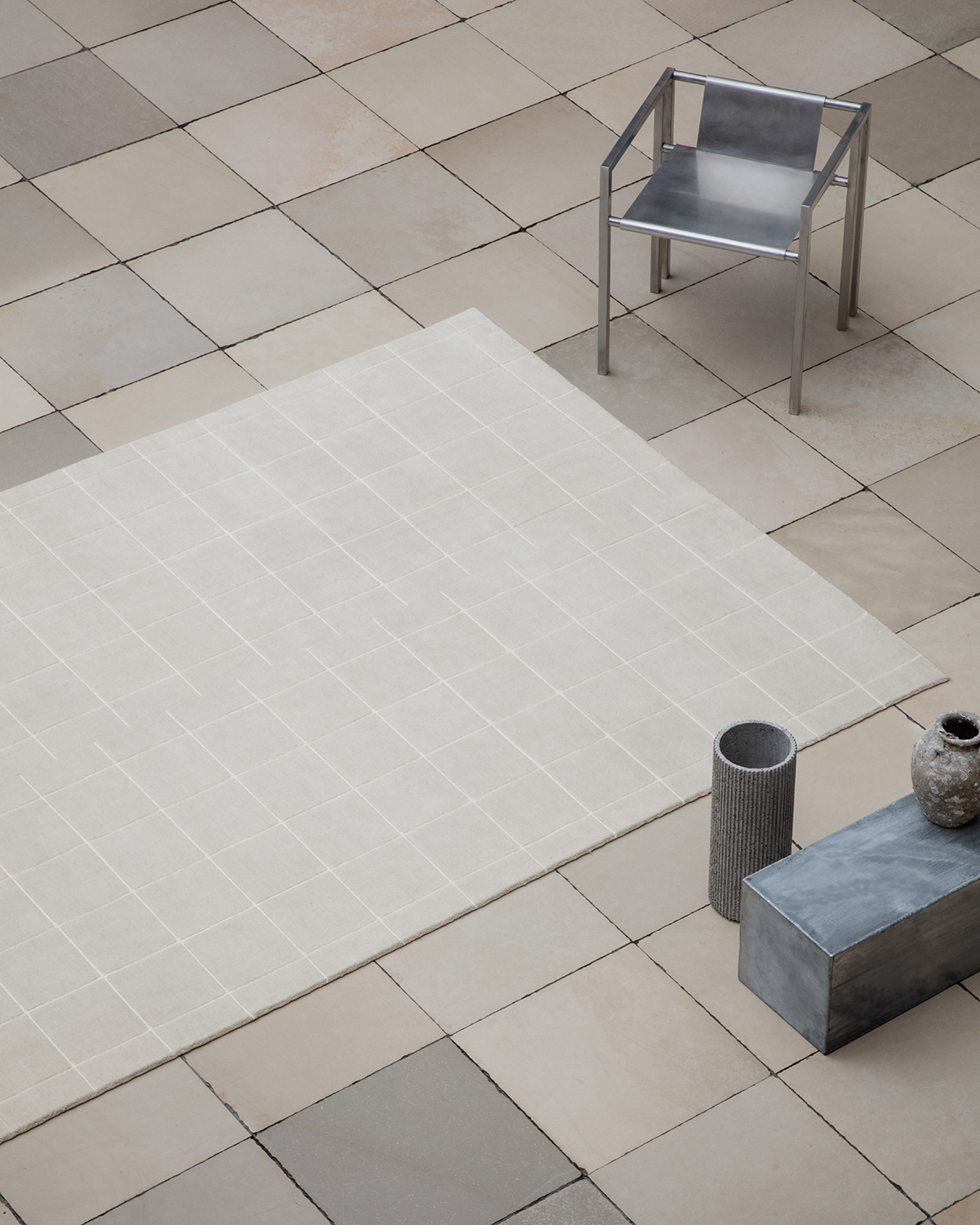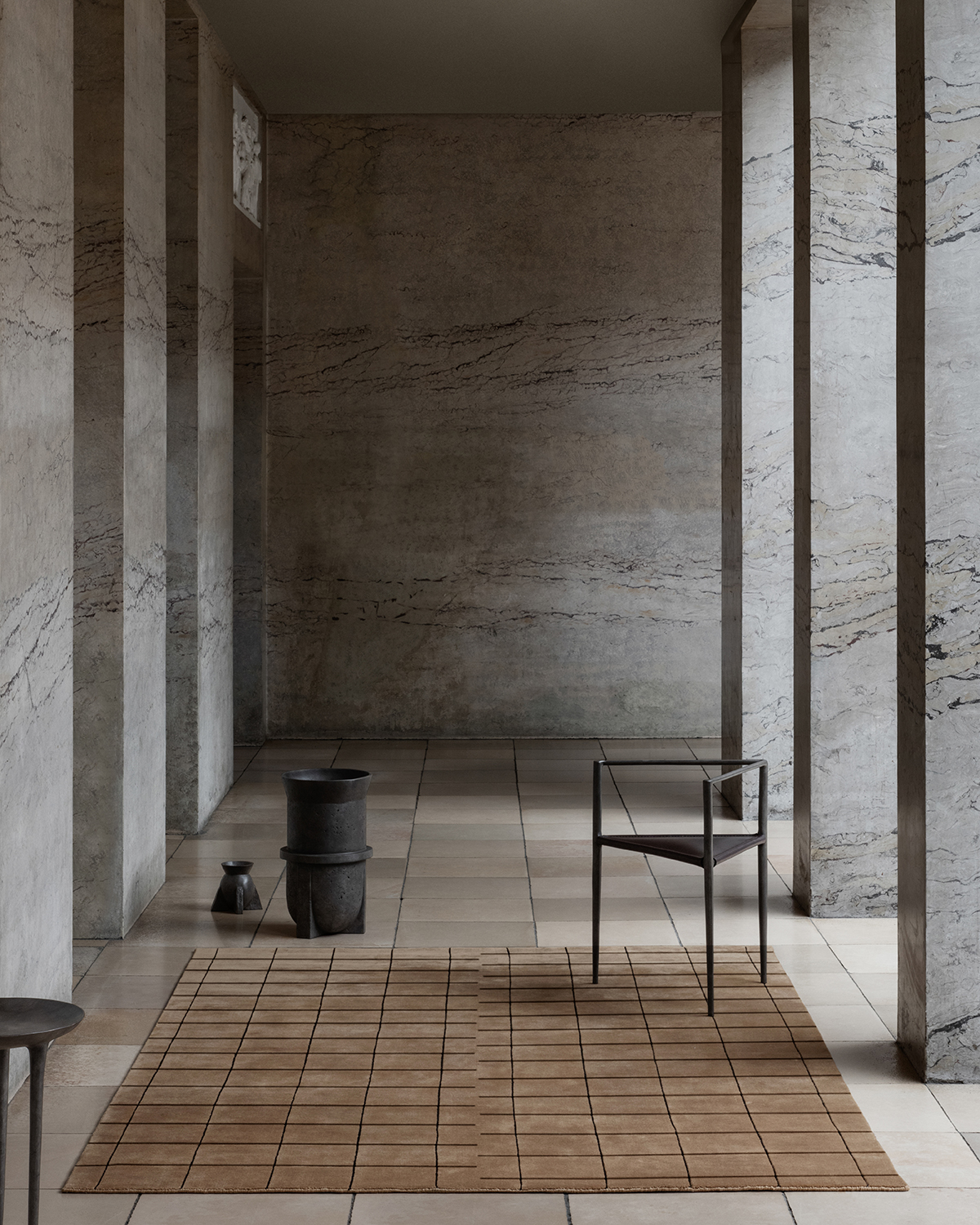 Grid collection
I'm particularly interested in your thoughts about color, because the standard for rugs is very plain and beige, since that's what most people are comfortable with. What was your approach to color, and how did you negotiate between this consumer comfort zone and giving your rugs more of a design identity?
When we started, we had the idea of making the rugs in the same colors as the facades of Stockholm. Back when Stockholm is built, they used the same architects as they had in Paris, so it's a more colorful Paris, in a way. The houses are burnt red, pale blue, faded green, pale pink — they're colorful. You walk around and it's kind of astonishing when you start to notice it. We wanted to take that and create rugs in those colors. They didn't sell particularly well; it's easier to place, say, our grand white than a pale pink with a red stripe. But I still feel like our striped pink and red is a beautiful rug. So that was the aesthetic, and we searched a lot through vintage designs and got inspiration, and Fabian created our classic striped square pattern from scratch. We still make it today. Some of the originals live on in the collection, and some we had to move on from in favor of rugs that are really easy to place.
Our mission statement was to share a slice of the Scandinavian aesthetic with the world. Since we're from Sweden and by definition everything we do is Scandinavian, in the end it doesn't matter if it's crazy colored or beige or white: If we go back to wanting to inspire people to create beautiful homes, everything we do revolves around that. We have the luxury now to offer a larger selection of rugs, so we can have our core collection with more neutral-colored rugs, and we can also add fun and interesting collections like the collaboration with Campbell-Rey. I call it bold minimalism — or subtle maximalism — because when you see the rugs in rooms, they really don't take over. With the Campbell-Rey collection, you might think what is Nordic Knots doing, going from a super clean and cool aesthetic to that, but the way Charlotte and Duncan use colors is genius. I was surprised when I saw them pull it together. They use quite classical patterns — the vine, the maze, and the folding ribbon — and even though the rugs are visually interesting, it's still not overbearing, because the patterns are so repetitive. They were able to achieve a balance with something really bold yet subtle.
What about your approach to neutrals?
We worked a lot to find the perfect shade of white. You don't want it too yellow, you don't want it stark white, and you don't want it too sensitive. We chose a dusty white that works really well with wood and with black, even when you have a crisp white sofa. It's a very versatile white. For us there's a thought process behind even a simple white rug. We definitely see a trend going toward more saturated colors instead of neutrals, but I think the neutrals will always do best.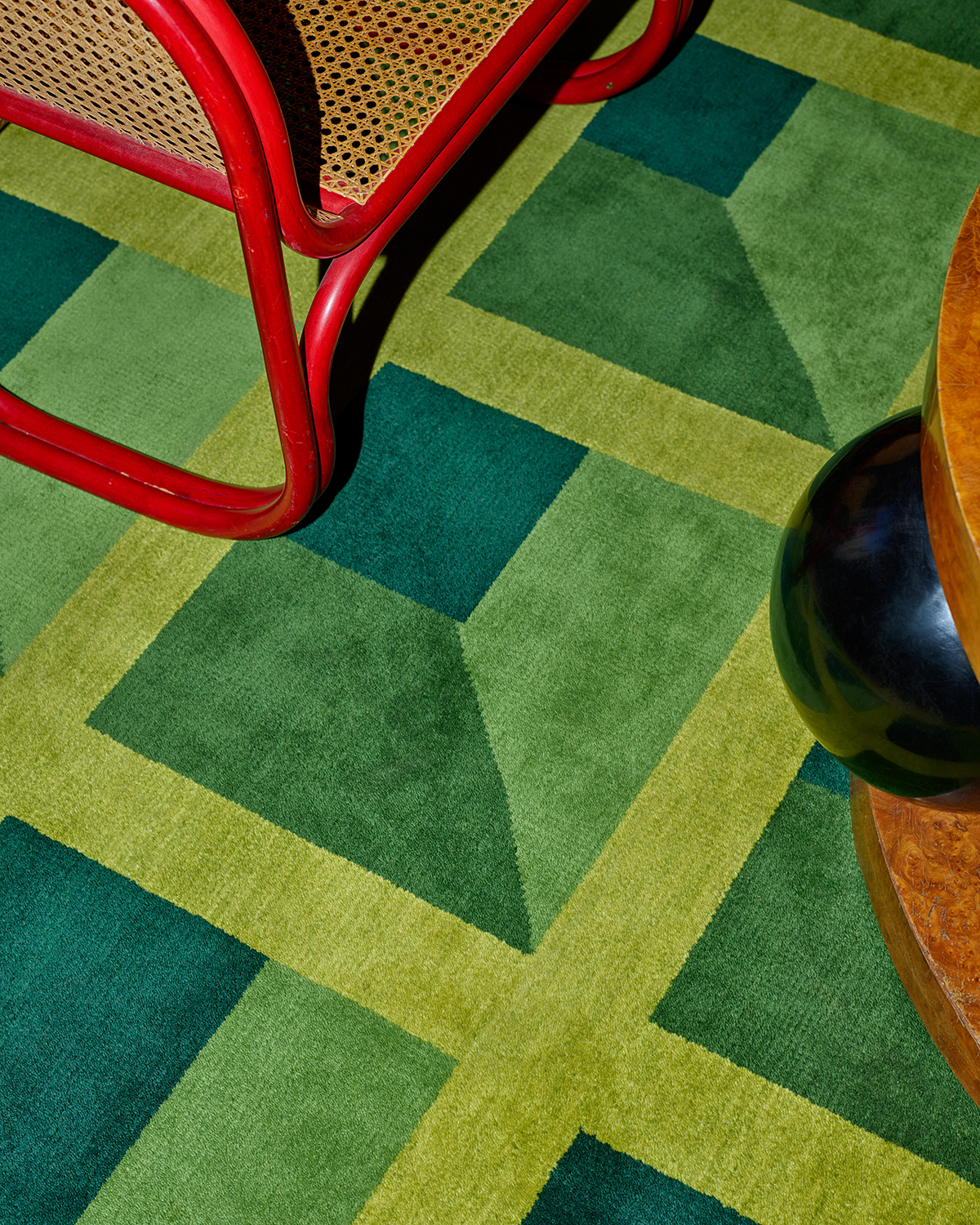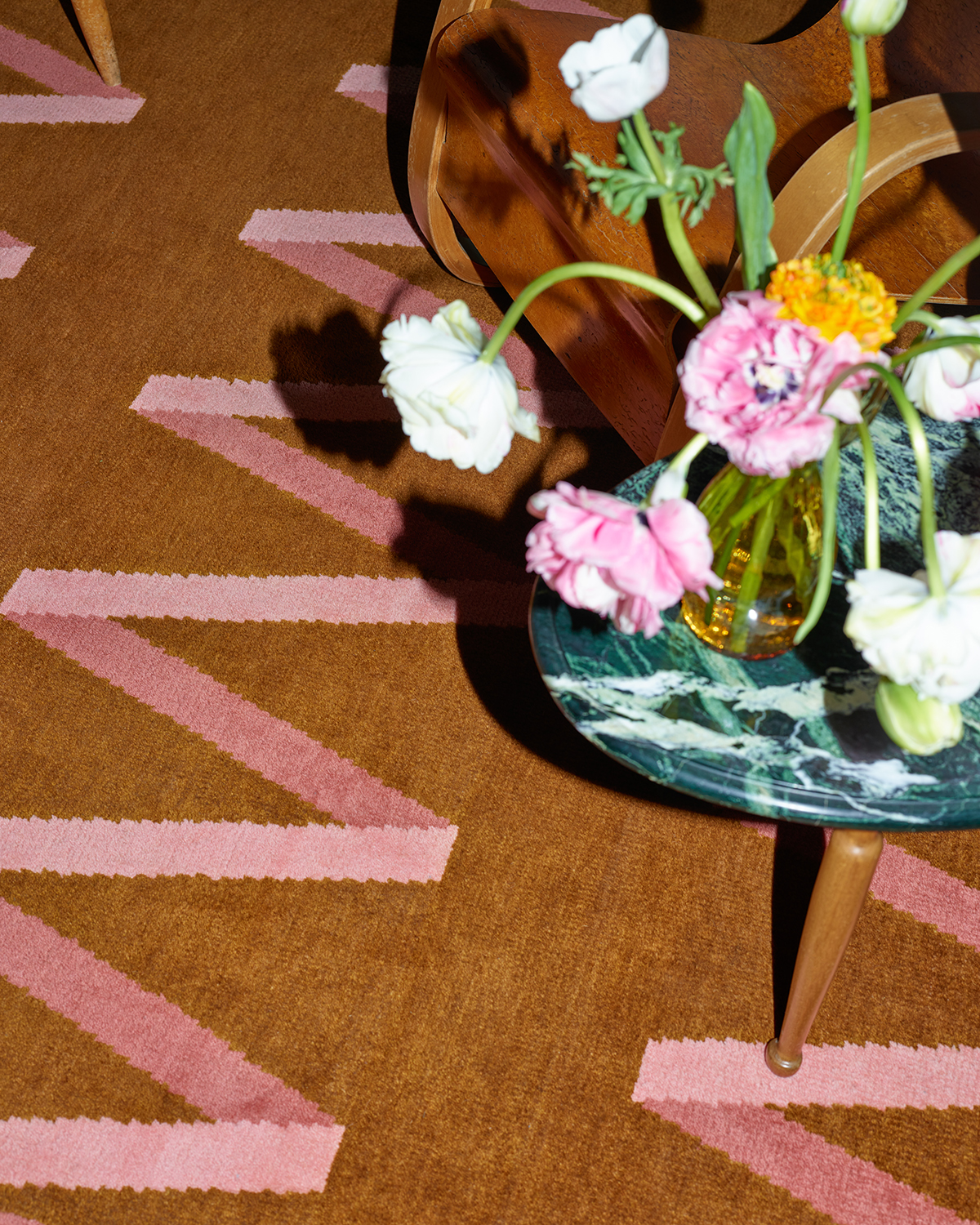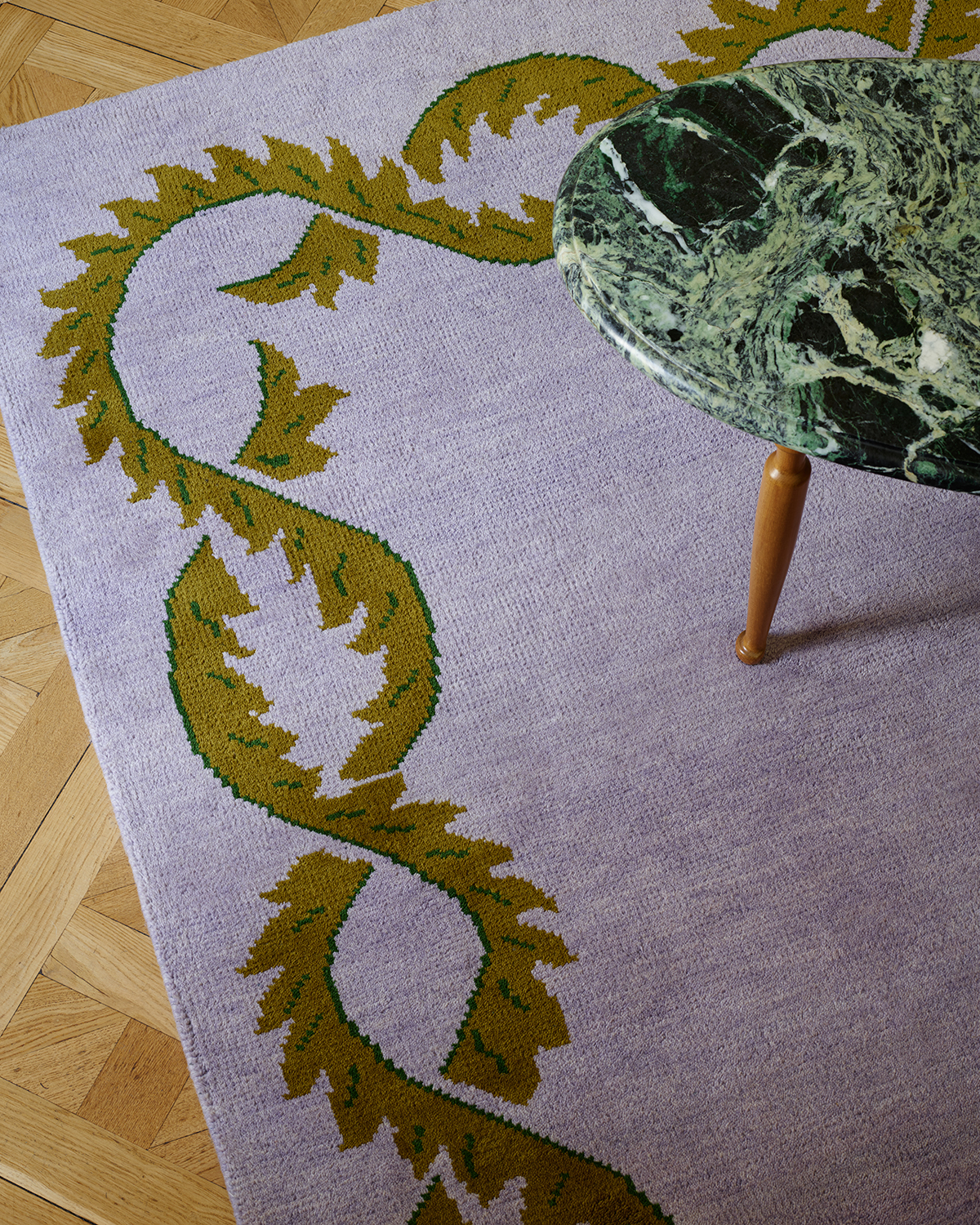 Collaboration with Campbell-Rey
Going back to the Campbell-Rey series, when and why did you start doing collaborations with outside designers, and how did the Campbell Rey project come about?
We tend to do two big collaborations a year. In the past we had Untitled and Simple Object, with the artist Carsten Beck Nielsen, and Norr Mälarstrand by the architect Andreas Martin Löf, and Nomad, with the tattoo artist Erik Lööf. We have another one launching in the spring with a fashion design duo who just ventured into homewares. They've designed two rugs for us. We always said we wanted to have fun with this company, and when you're working with other creative people, it's really a fun process, where you enter their world and step out of your own comfort zone. The Campbell-Rey series is so out there compared to what we do, but we feel like it adds so much to our collection.
For that collaboration, we reached out to Charlotte and Duncan and they were game, and we had our first meeting in London in February of 2020. Then I realized that Charlotte was from the same town as me, in the south of Sweden, and that I actually went to riding lessons with her older sister in Malmo. We were drawn to the Campbell-Rey world, and how they live. They're such interesting people, and their travels, the places they visit — everything is so on-brand. They don't force it at all, it's just how they are. I think their main skill is how they work with color, and how they put colors together in ways that are different than you might think. Maybe you don't understand how this brown goes with this pink and purple, but then you put the three rugs together and it works so well. We had our launch event at Charlotte's home in London, which is this pretty mix of deep blues and moss greens and pinks and reds. And then you come home to me and everything is black, white, and beige. How they managed to transform their aesthetic to fit Nordic Knots was really interesting. They dug down into Swedish history, with the ribbon, and made something classical but in bold colors. And that's what really makes it work, and makes it coherent with what we do.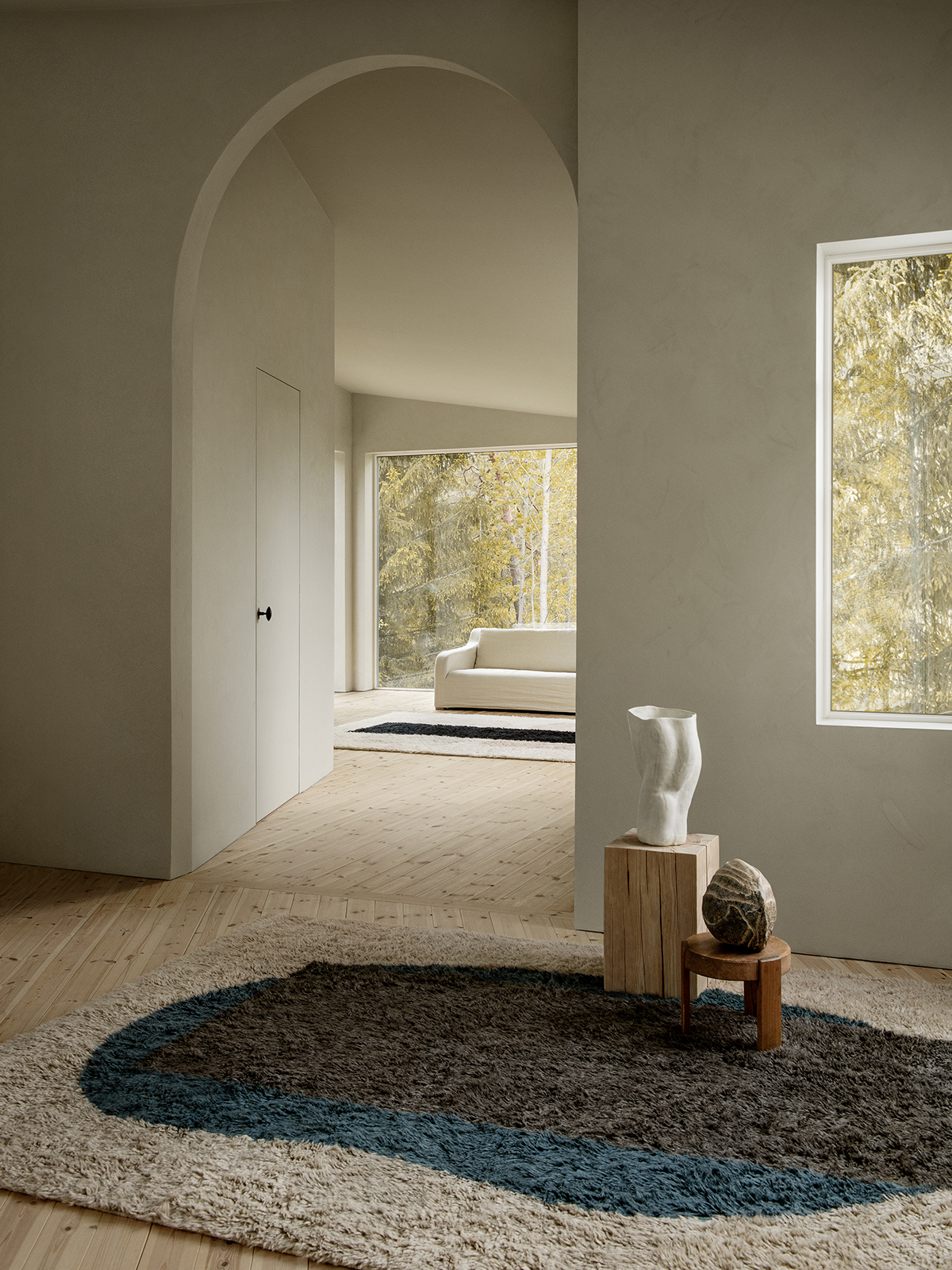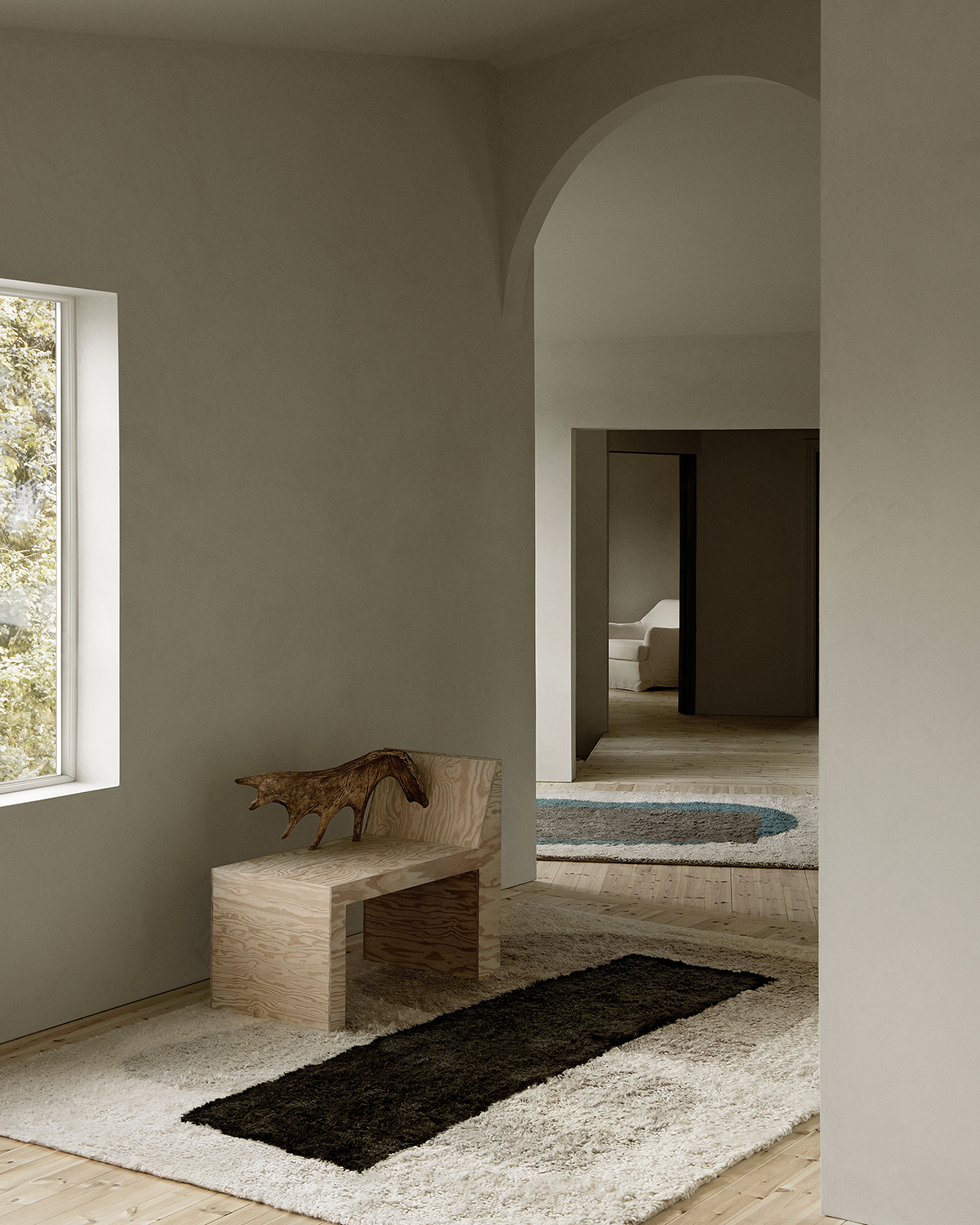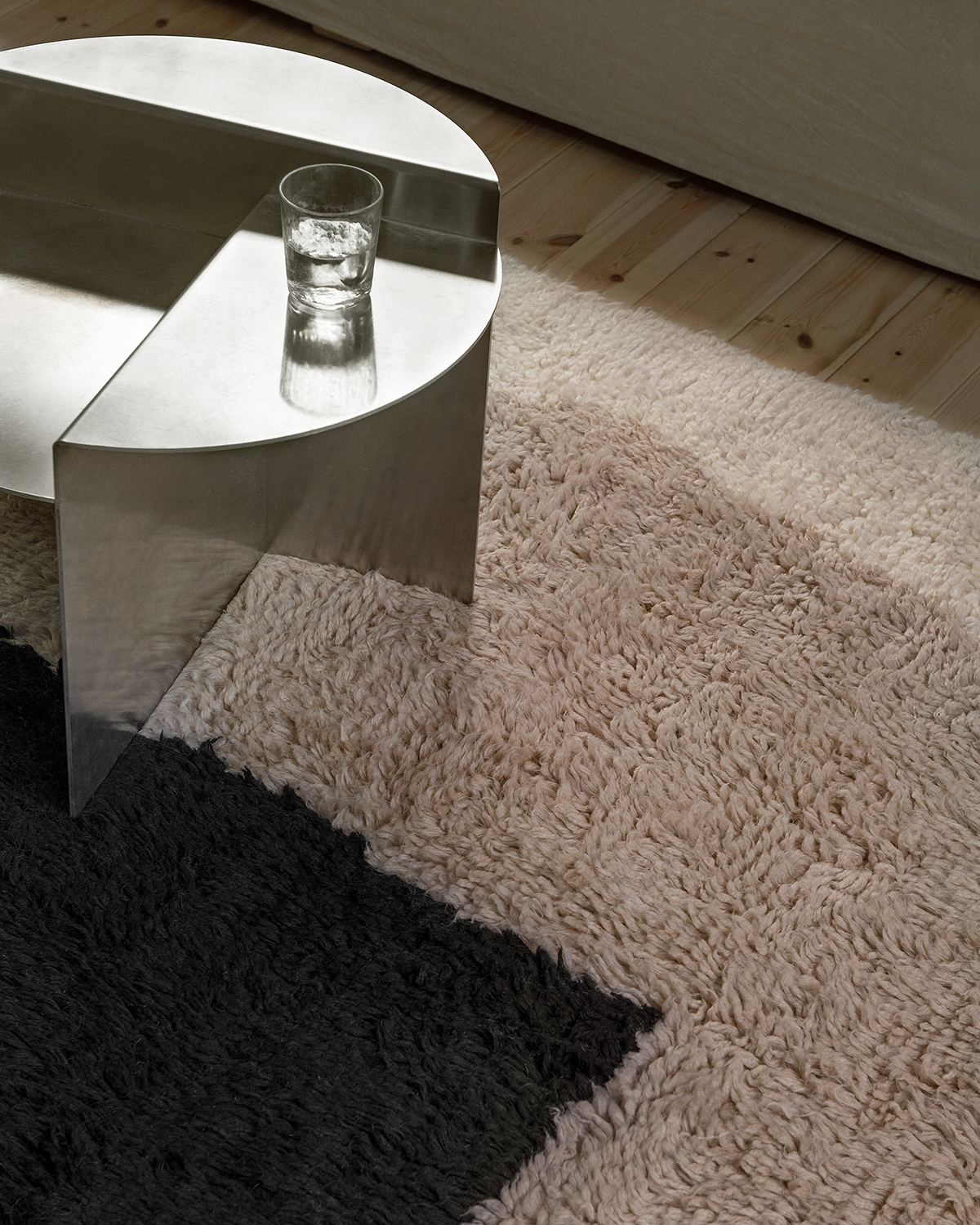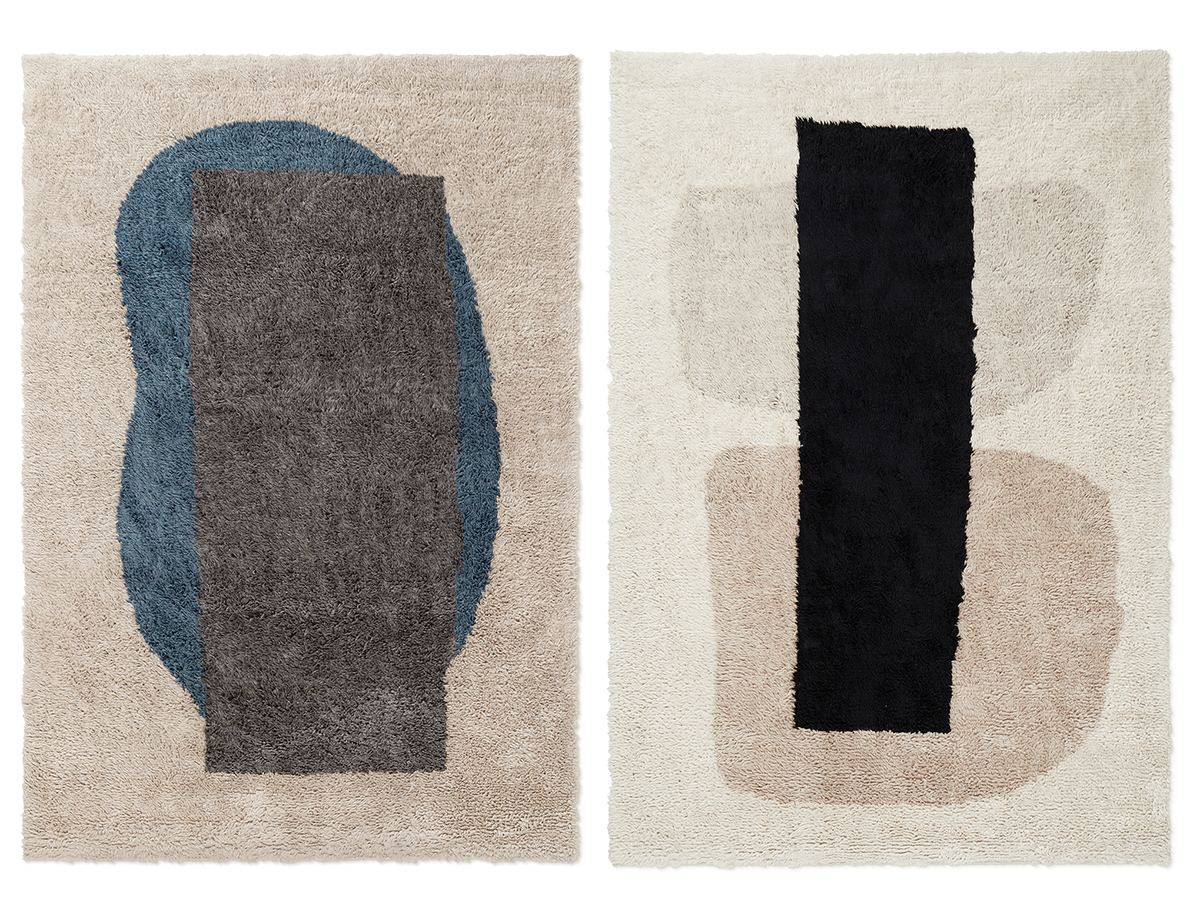 Monolith collection
What inspired your newest in-house collections, Grid and Monolith?
Grid is a really minimalist pattern that we actually created back in 2017, but we decided at the time that it wasn't elaborate or interesting enough. We brought it back to life, and now that's the reason why we really love it. We didn't invent the grid pattern, but it's perfect for a rug, and for the foundation for a room, where you have a guiding symmetry for furniture and décor. It's a pattern architects work with. So it's not new, but we made something new of it, where we broke it up into two fields. We shot the photos of it in Copenhagen, in this big Brutalist school, and used Rick Owens furniture to get some weight onto the pattern. Grid is really easy to decorate with.
Monolith, crazy enough, is inspired by a rock formation: At the southern tip of Sweden, there are 59 boulders that are arranged in a 67-meter-long oval shape. They were placed there in the 5th century, the end of the Nordic Iron Age — they don't know if it's a solar clock or if it's a calendar. It's been debated over the years. But that's what we drew inspiration from. The shapes you see on the Monolith rugs have the same kind of forms as the stones. Fields are solid-color shag rugs that you can combine with Monolith, which pick up the base colors of those rugs.
How do you think the pandemic affected people's attitudes towards their homes, and their rugs?
In Sweden the home has always played such an important role, because people spend a lot of time at home. It's the polar opposite to what you have in New York where people spend all their time out and about, dining or drinking. New Yorkers don't tend to go to that many dinner parties, whereas in Sweden you invite people into your home. Since it plays such a central role for us here, including for me personally, we need to really be particular about our homes, because that's where we create our most intimate worlds. I love to say "Let's go home" — it stands for so much comfort and warmth. And that idea only grew bigger with the pandemic. People choose even more carefully now what to include in that intimate world, and we want to be a part of it. ◆