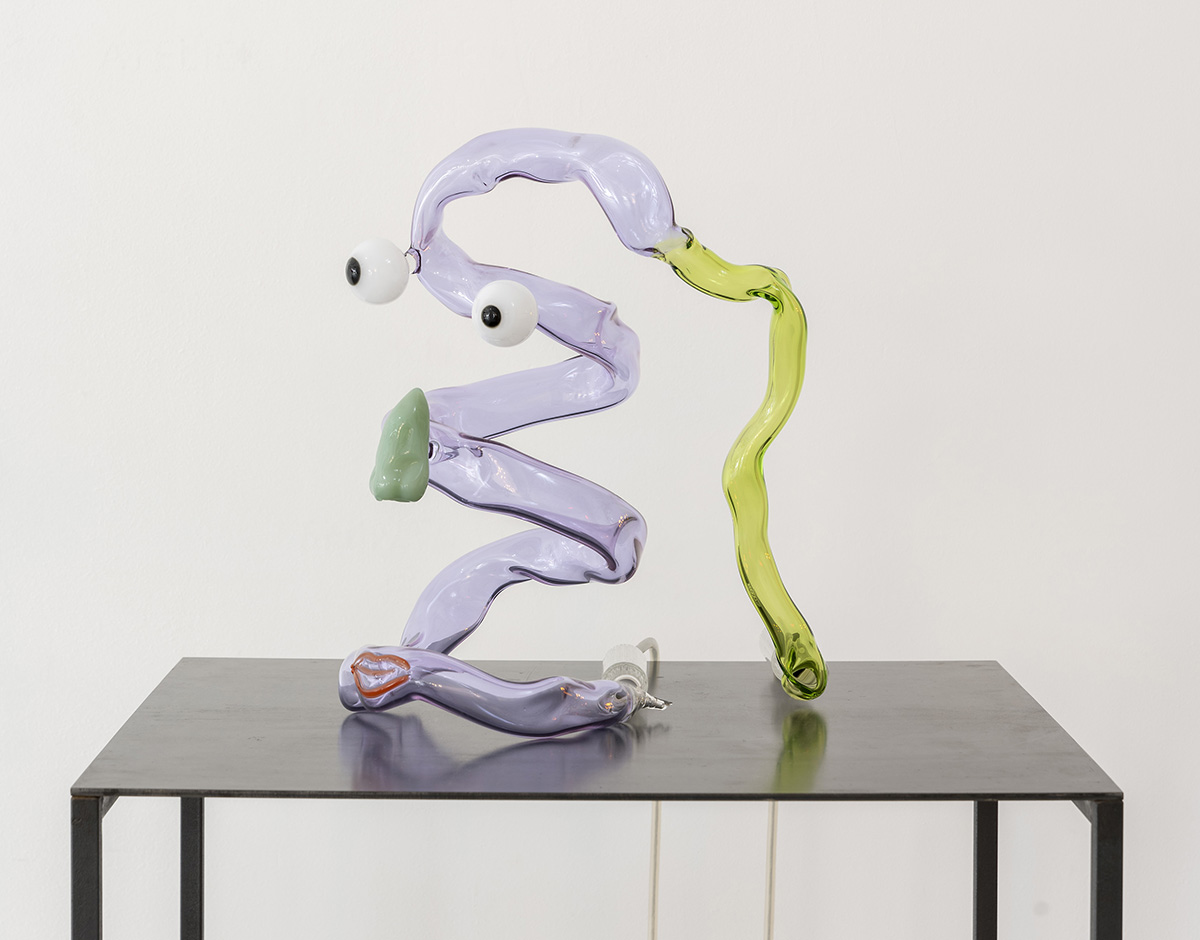 A weekly Saturday recap to share with you our favorite links, discoveries, exhibitions, and more from the past seven days. This week: perforated rugs, a truly absurdist exhibition featuring these excellent glass-blown googly eyes, and an apartment that looks like the set of a sci-fi soap opera.
Exhibitions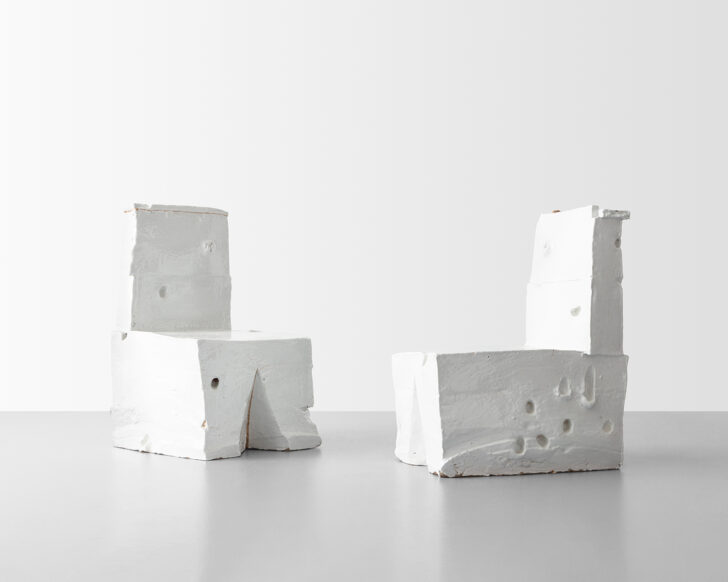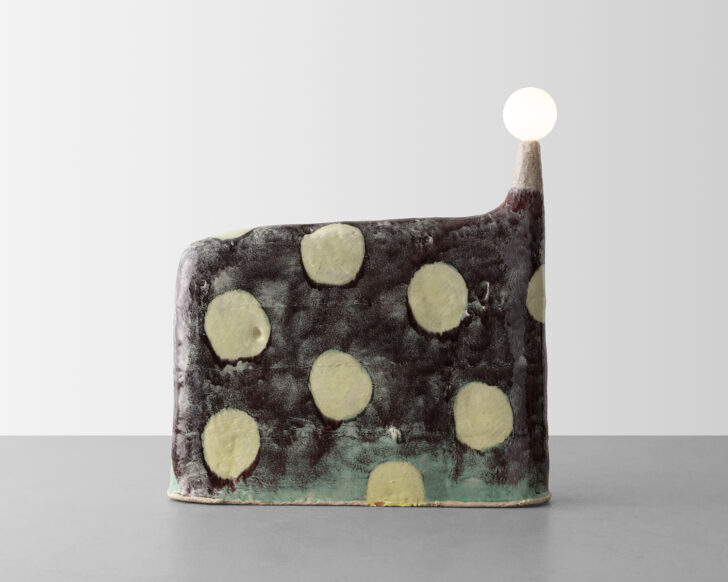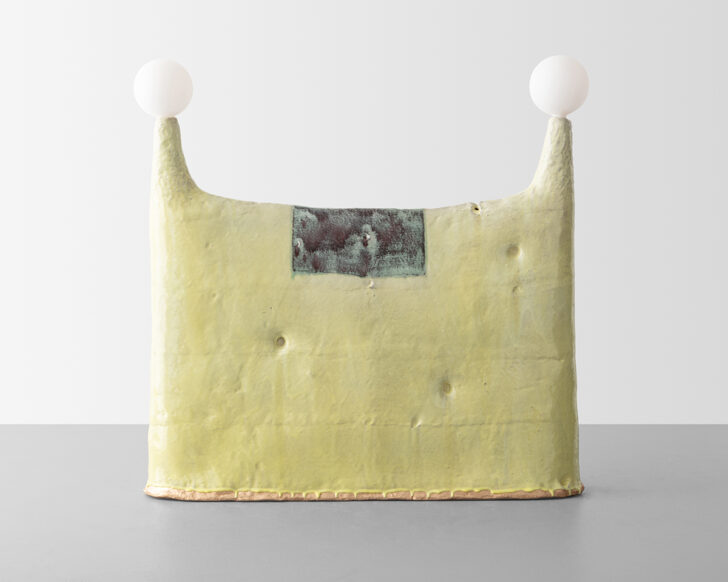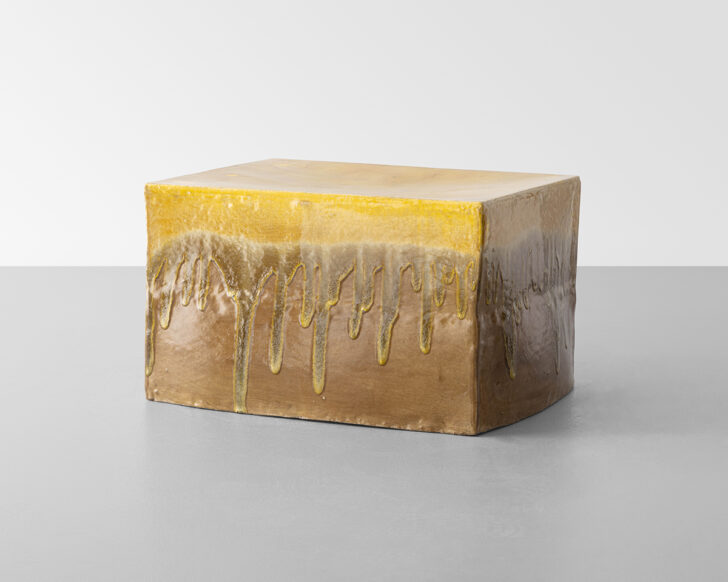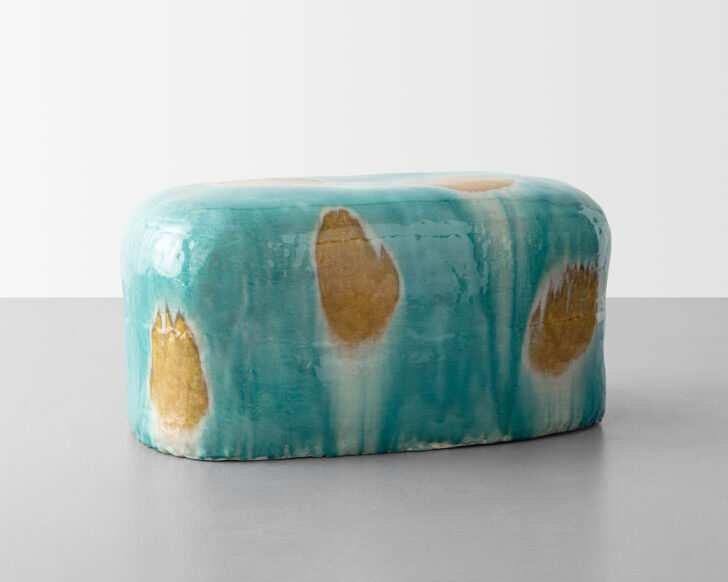 Oversized ceramics are always a treat, and the latest showcase of work by Hun Chung Lee at R & Company has plenty. The Korean designer's first exhibition in NYC in a decade includes bulbous seats and cheese-like chairs, all finished in the Korean celadon glazing for which he's become renowned. I'm particularly smitten with his new characterful ceramic lights, glazed in a California-inspired palette of cool blues, desert russets, and pale yellows and greens. These also feature textured bronze-toned details and small spherical bulbs that look like tiny heads. Catch it before August 12.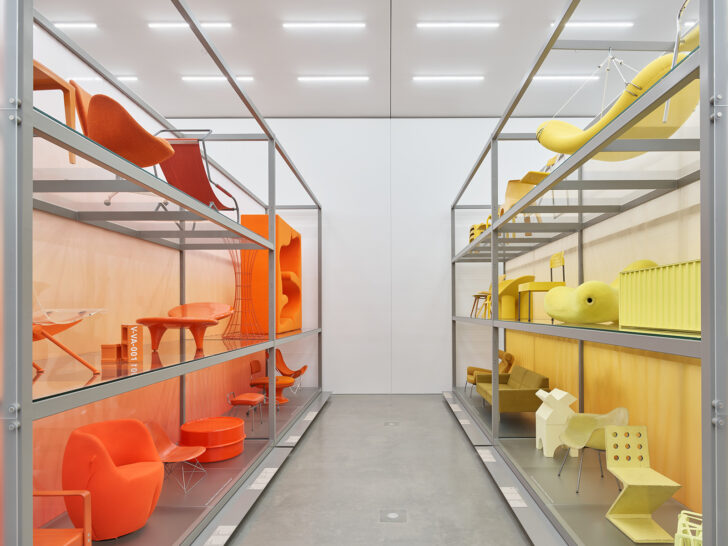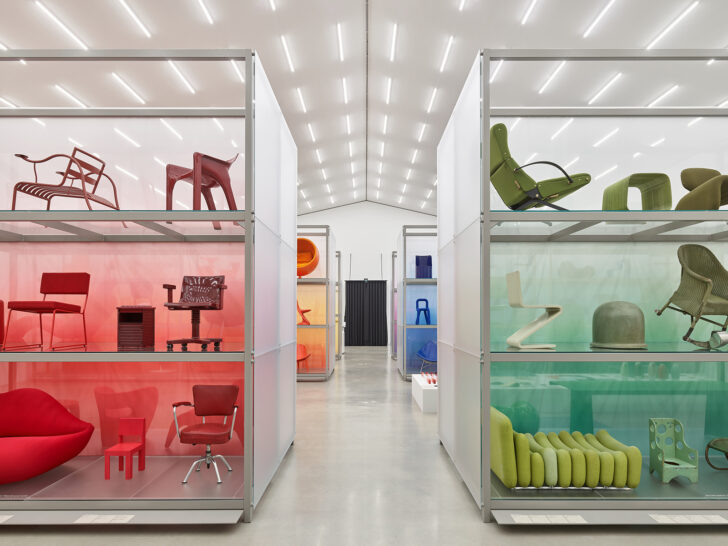 For those of us who like to organize by color, this exhibition by Sabine Marcelis at the Vitra Design Museum looks incredibly satisfying. Each of the featured designs is organized by hue and displayed in a matching compartment. The Colour Rush Installation brings together furniture pieces by the Rotterdam-based designer, like her pastel Candy Cube, alongside classics by Naoto Fukasawa, Charles & Ray Eames, Pierre Paulin, and more from Vitra's back catalog. On view until May 14, 2023.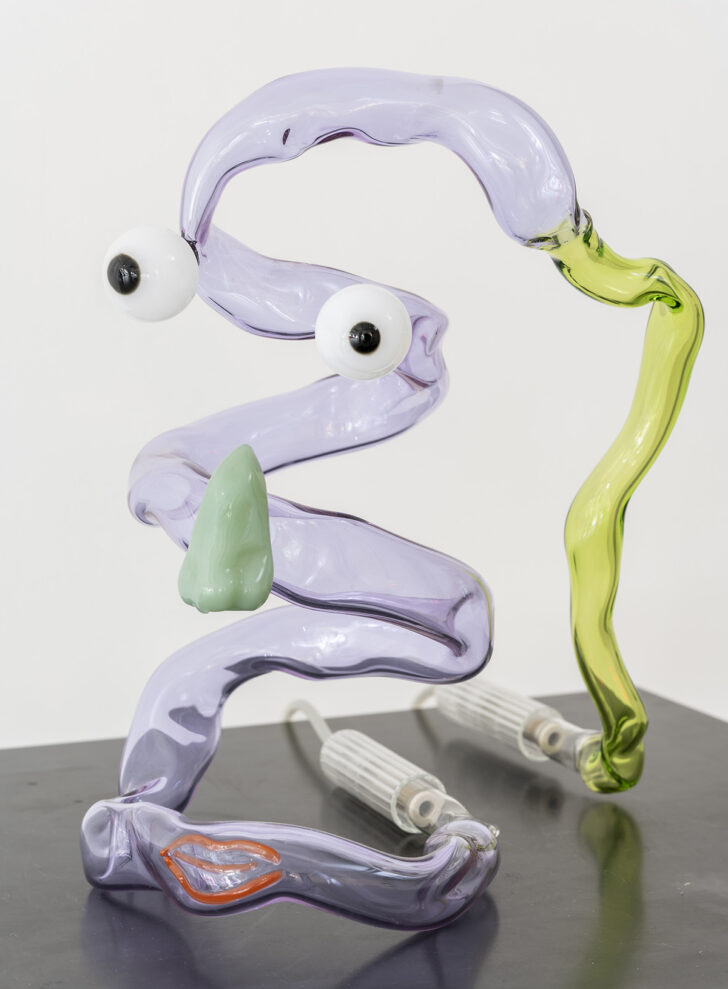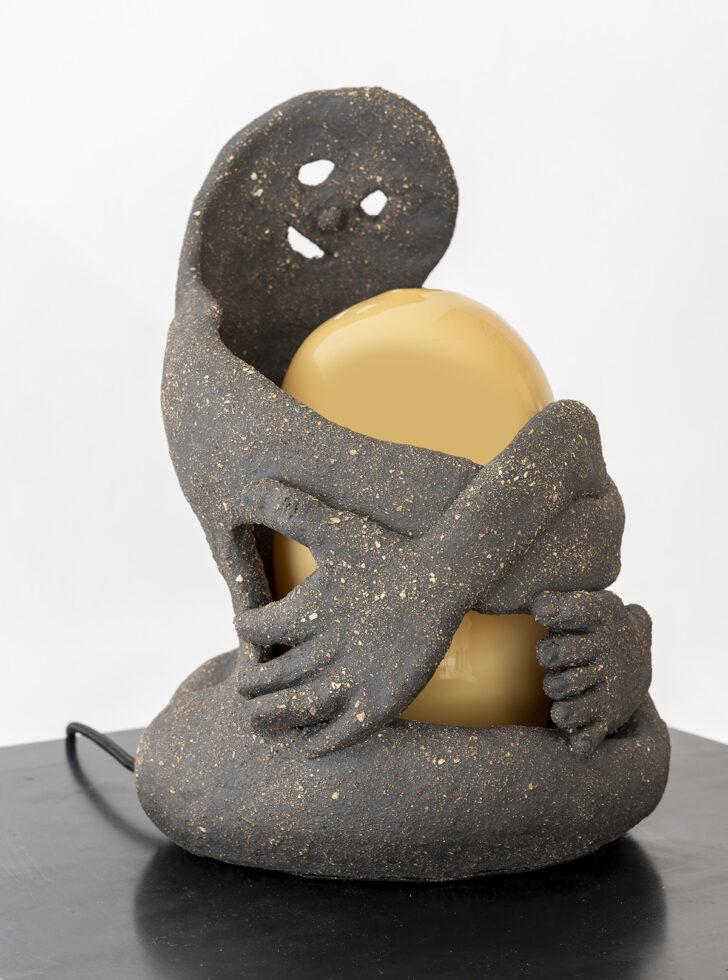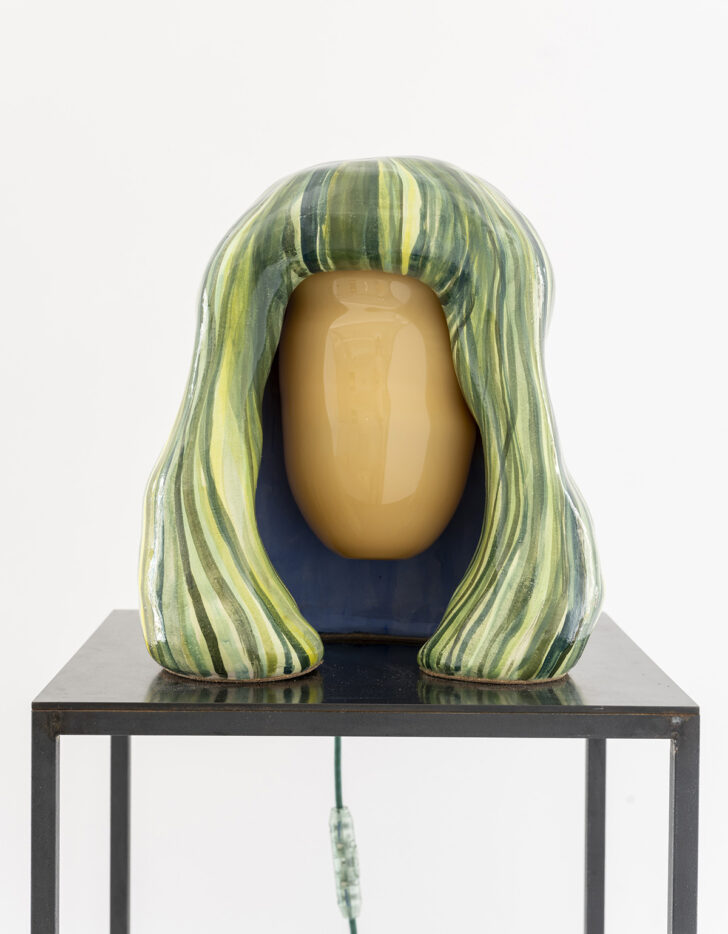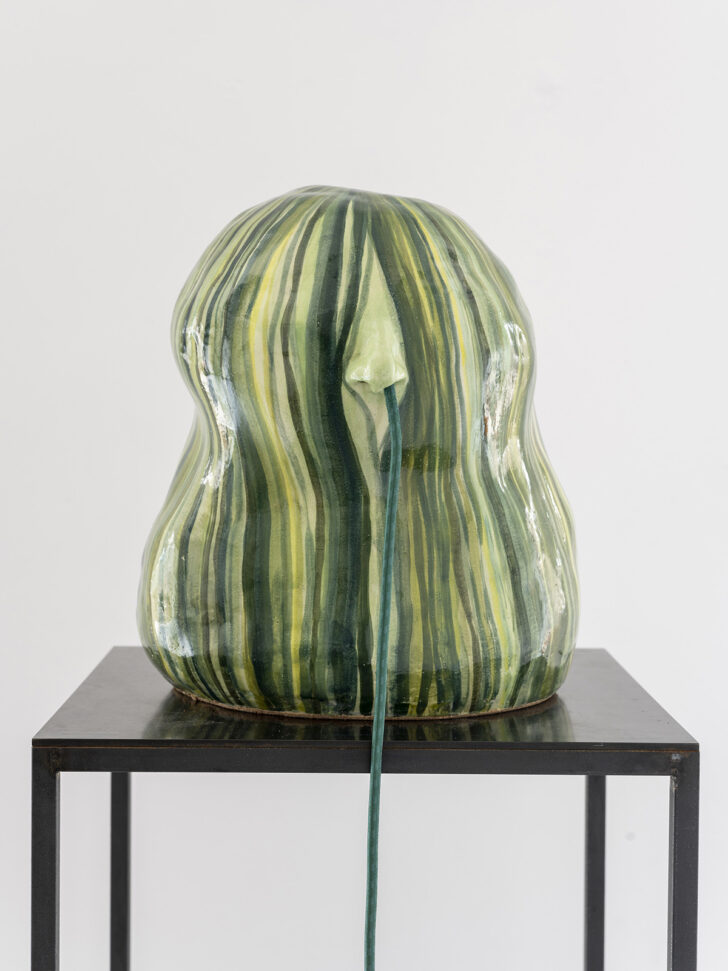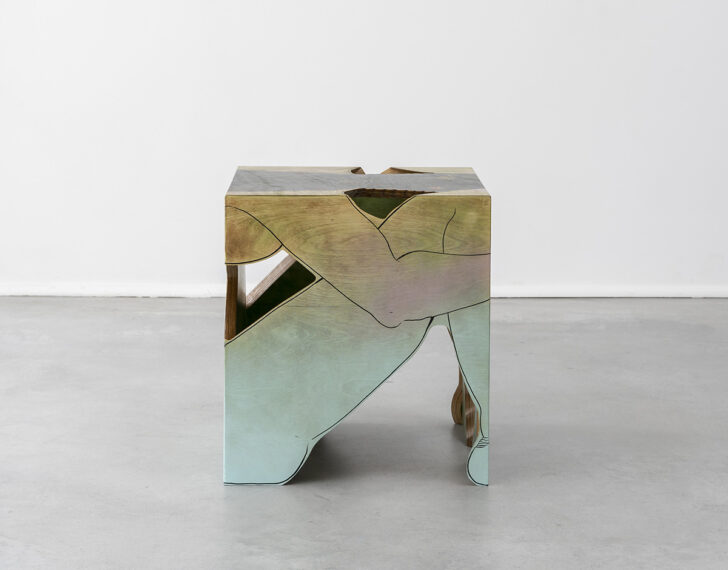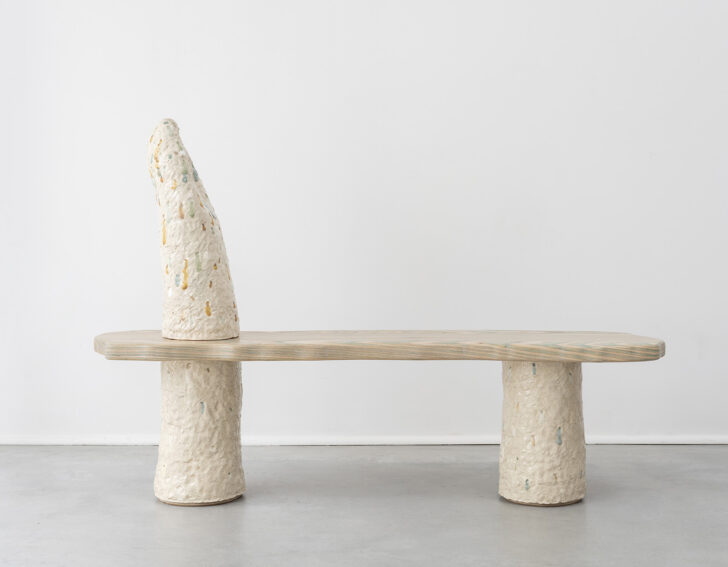 London's Gallery Fumi is hosting an exhibition of works by artist Saelia Aparicio, and there's a heck of a lot of absurdism to unpack here. First, and most intriguing, is a series of cubed-shaped stools formed from folded cutouts of naked human figures, which represent characters from mythology. Next are a wooden bench and a tiered freestanding shelving unit supported by textured ceramic pillars, created with her sister, Attua Aparicio. There's also a mirror framed by papier-mâché hair, as if the reflective surface is a blank face waiting for the user's expression to animate it, a lamp whose bulb is the "face" and whose cord comes out through a nose in the back, as well as our favorite, tangled neon tube lights made in collaboration with Jochen Holz, featuring glass googly eyes and lips. Titled A Sentient Space, the show is deliberately cartoonish, humorous and approachable, and runs until July 16.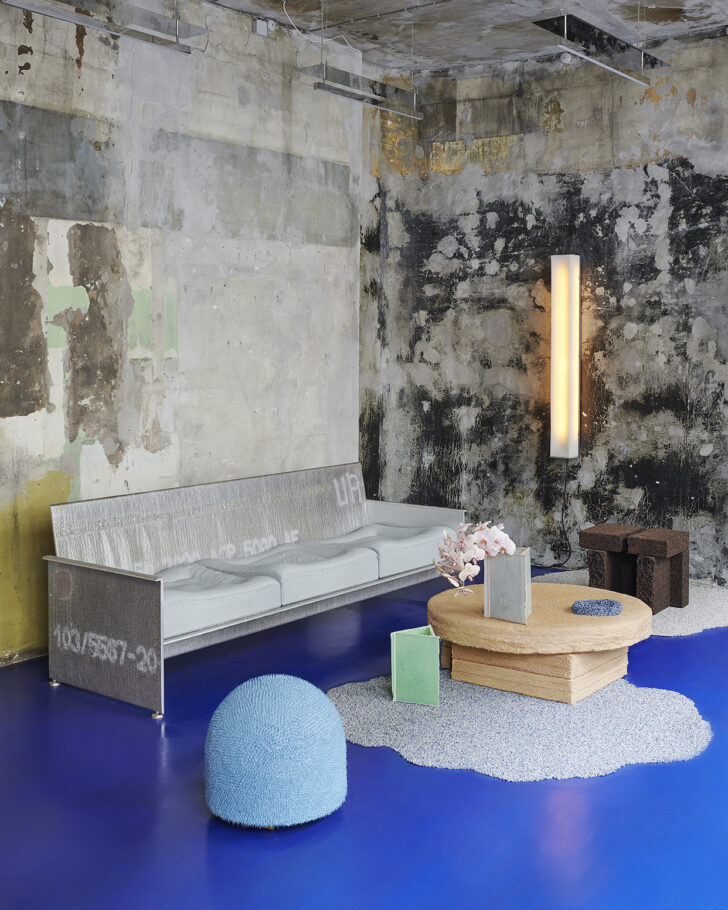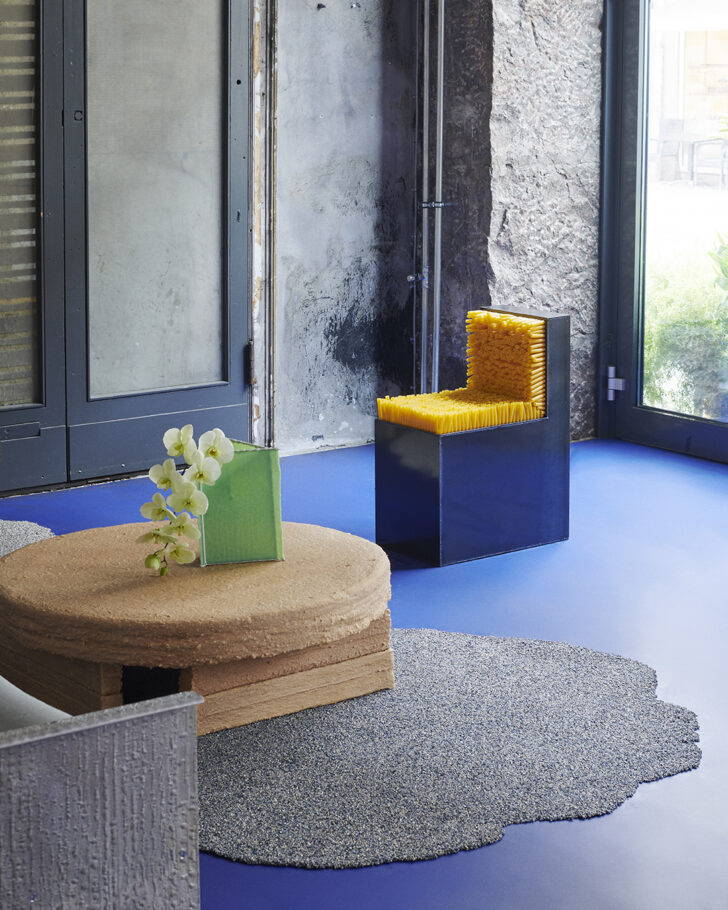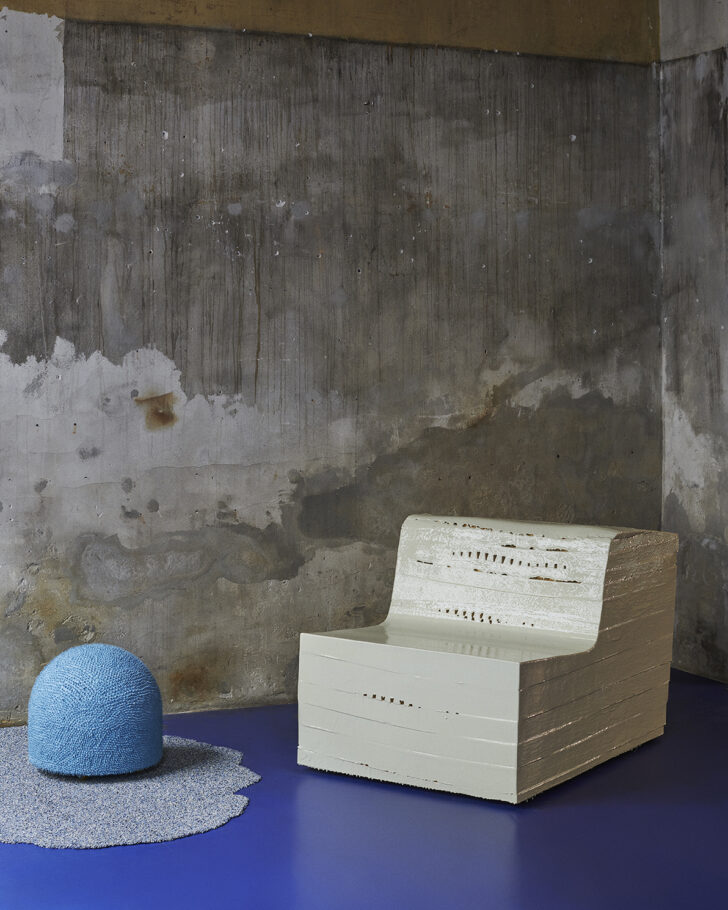 "Soft" was the provocation used by Carsten in der Elst when creating furniture for his first solo exhibit, at Tableau gallery in Copenhagen. From broken cork pieces to rubber bristles and steel sheets, the German designer spent two months gathering a "rather odd material selection" to produce chairs and tables that are all interlinked in their marks of production. Until July 3.
Links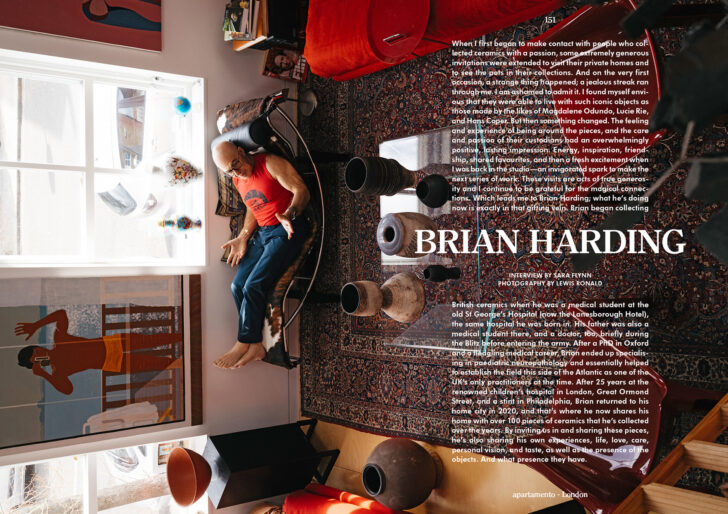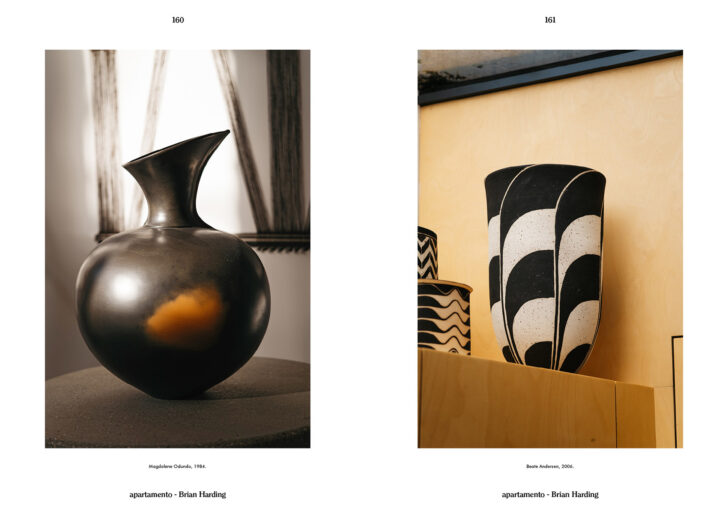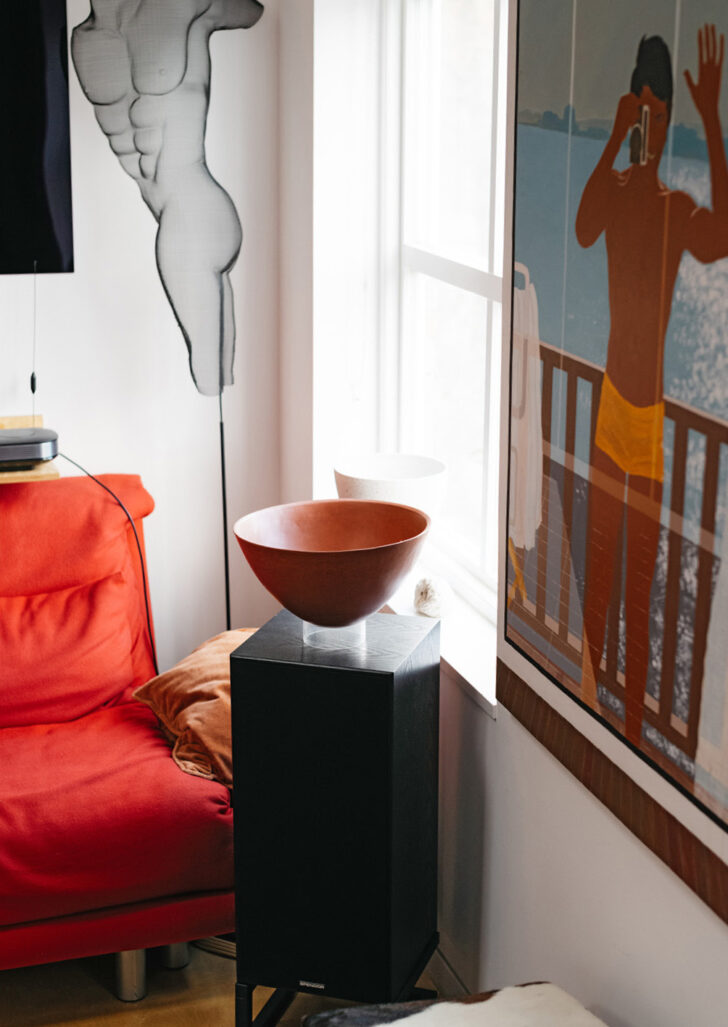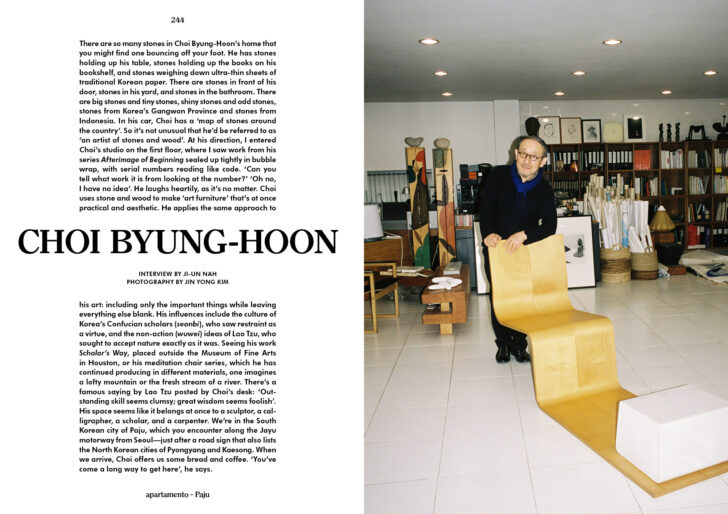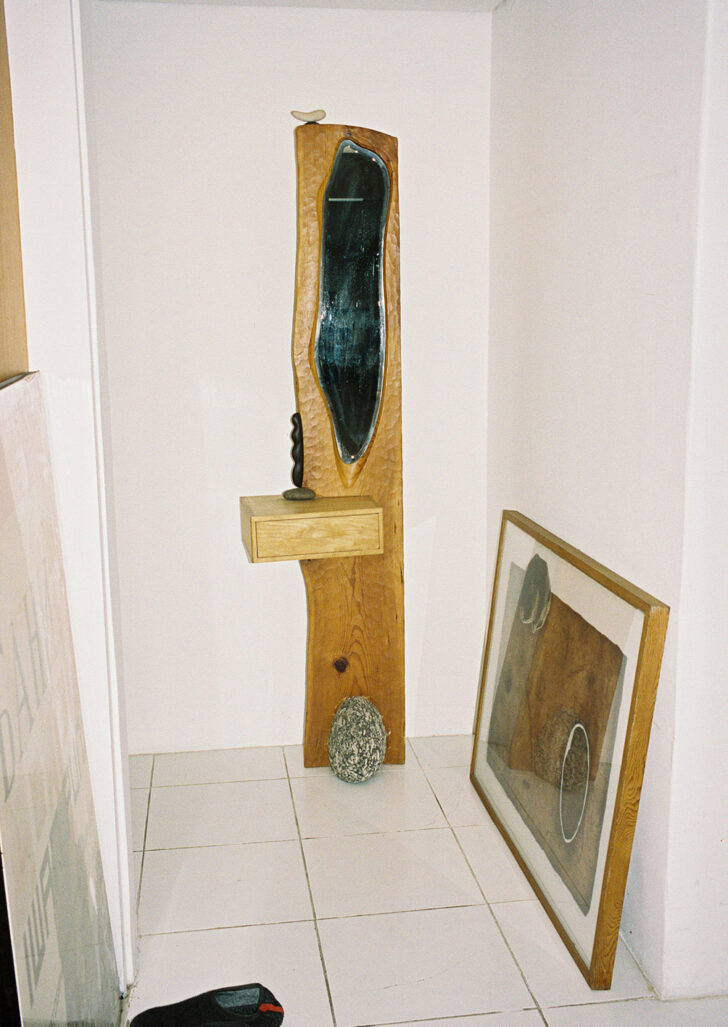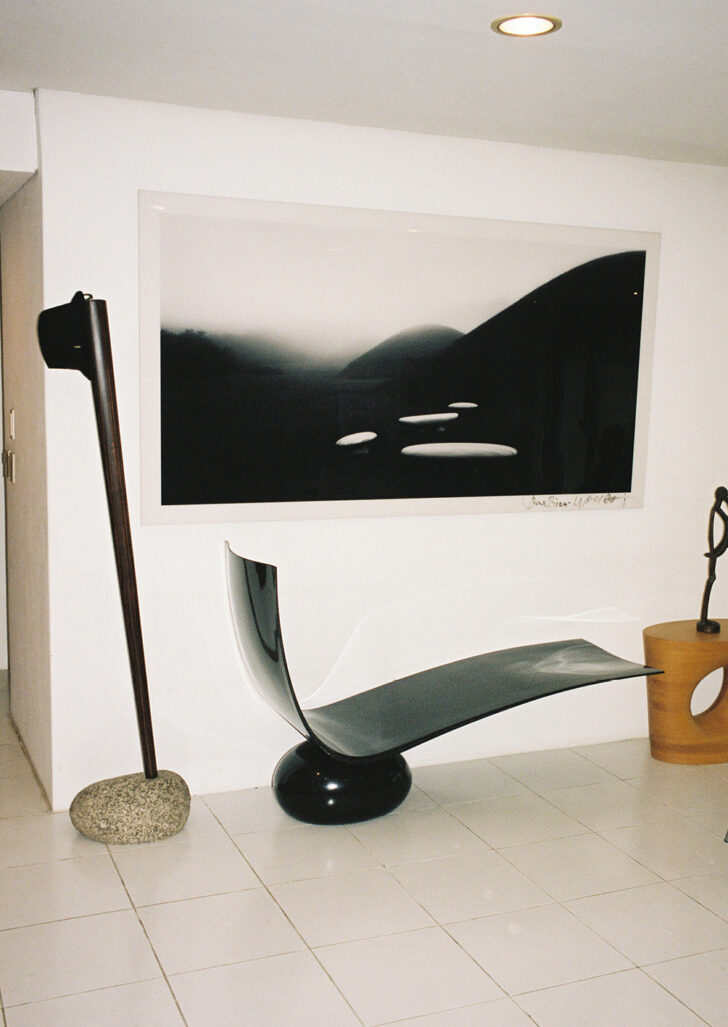 In the Spring/Summer 2022 issue of Apartamento there are two interviews that stand out, both with avid collectors of very specific items. For Korean artist Choi Byung-Hoon, it's stones, which he finds all over the world and uses throughout his home as table supports, bookends, paper weights, and decorative items. Meanwhile, London-based neuropathologist Brian Harding lives with over 100 British ceramics he has obtained over a 40-year period. Both interviewees draw interesting comparisons between their professions and their collections in the articles, which are presented alongside photos of the pieces displayed in context. Well worth a look.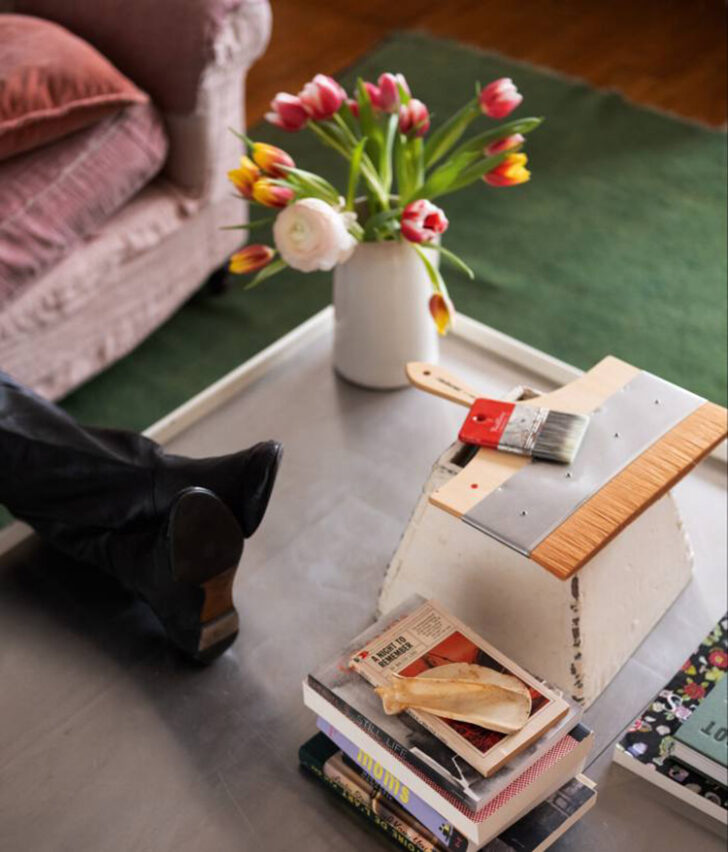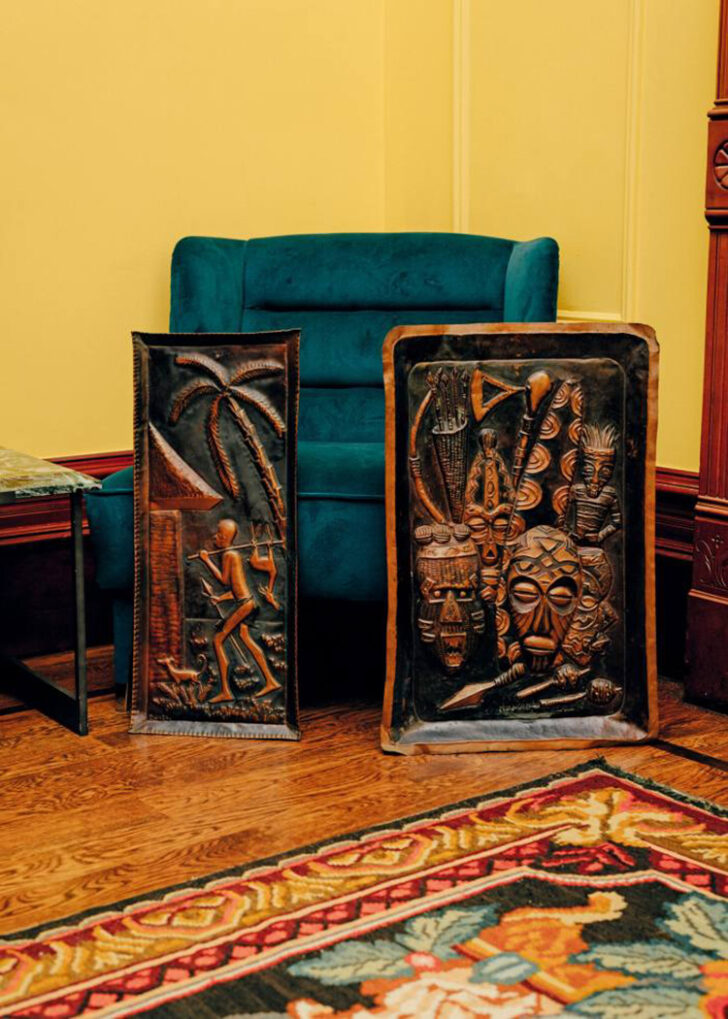 What's the best souvenir you've ever brought back from a trip? The FT asked famous "aesthetes" this question, and the charming and heartfelt responses have me itching to go vintage shopping abroad. Some highlights: Tracee Ellis Ross is obsessed with her Italian cake stand, despite never baking; Lauren Ridloff still uses a teak stool she found 16 years ago while on her honeymoon in Thailand; Cynthia Nixon's Montauk home is filled with (now faded) Moroccan rugs. (Above: Dapper Dan's African art and Leanne Shapton's seal shoulder-blade bone)
Discoveries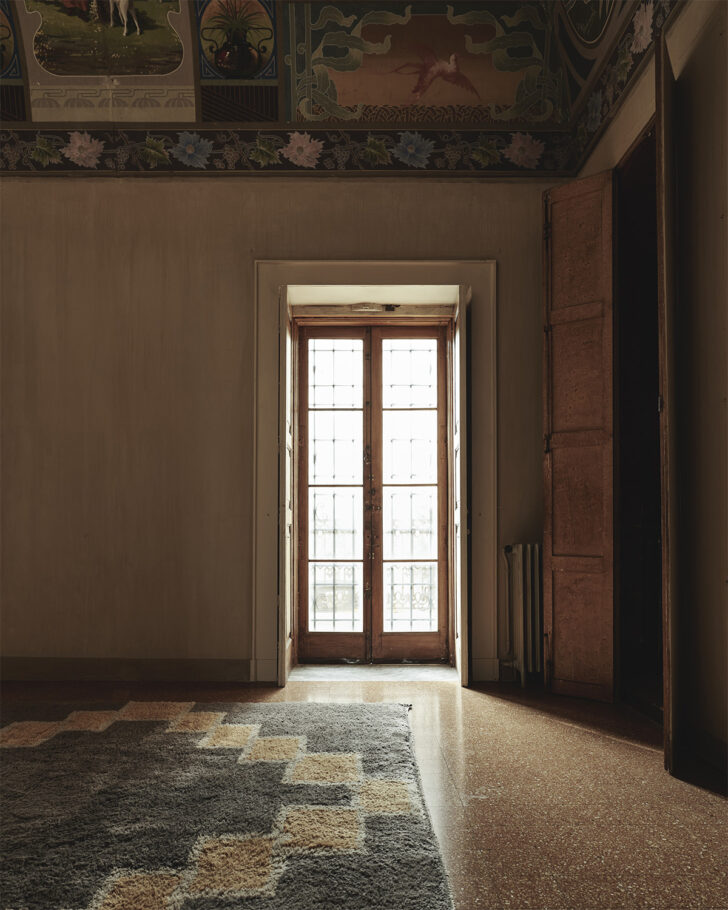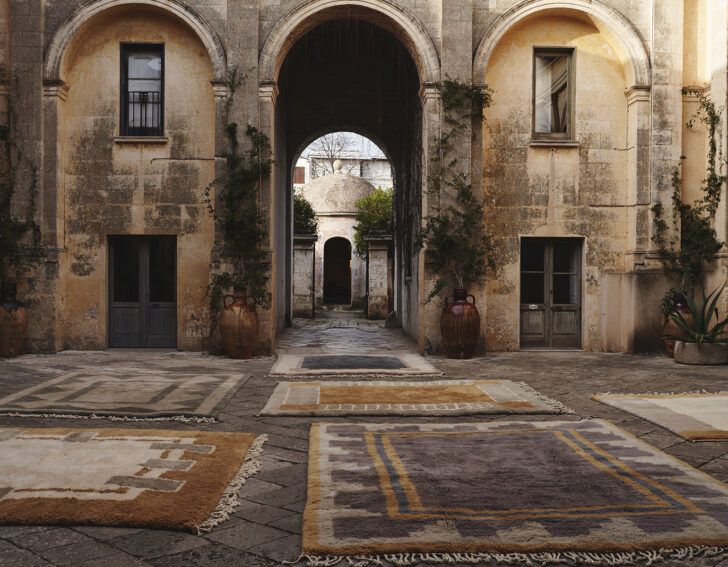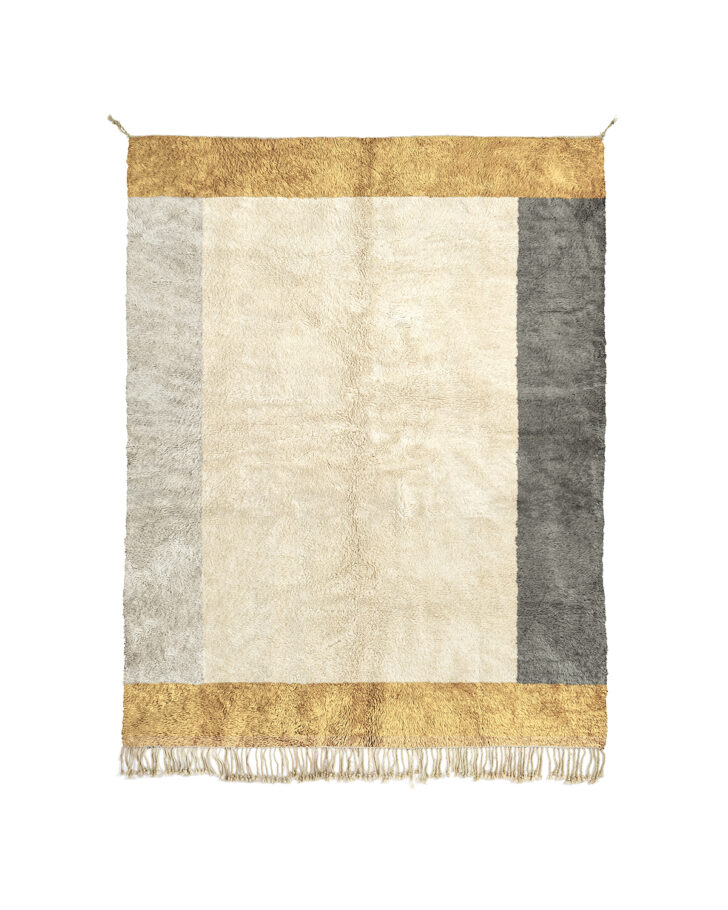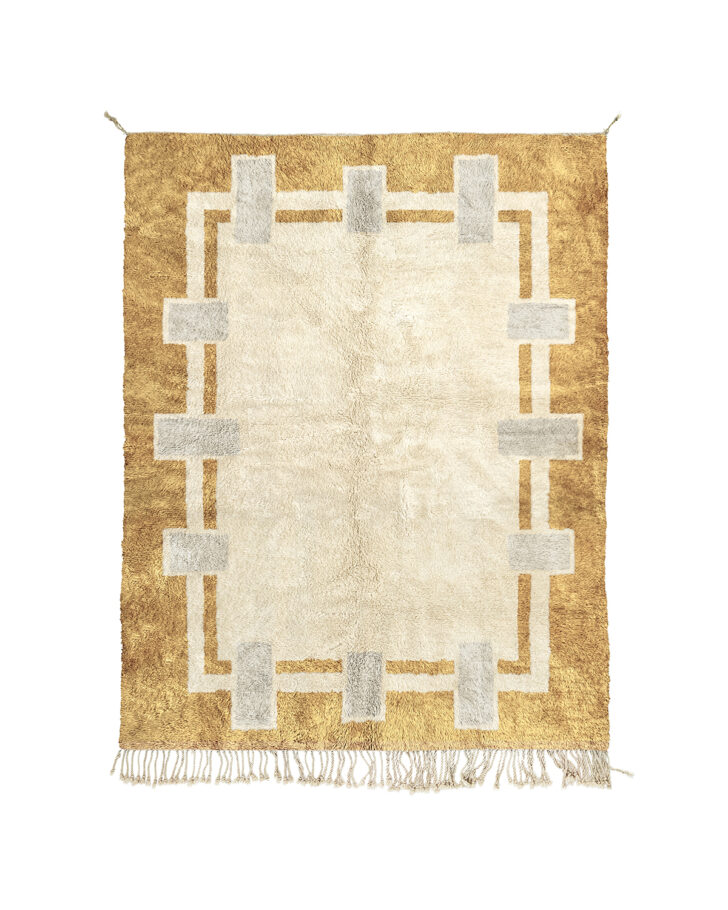 Beni Rugs has a new 10-piece collection created in collaboration with interior designer Colin King, who was this week named the brand's artistic director-at-large. Named Spoken Lines, the range features faded earth tones and incorporates borders that reference various ancient architectural elements, with titles like Scala, Griglia, and Taglio offering clues about the motifs to those who speak Italian. (Stairs, Grill, and Cut for me who had to Google translate.) The moody campaign shots by Adrian Gaut show the rugs in grand palazzo spaces, also adding to the Milanese flavor and tying in with their launch during this year's Salone del Mobile.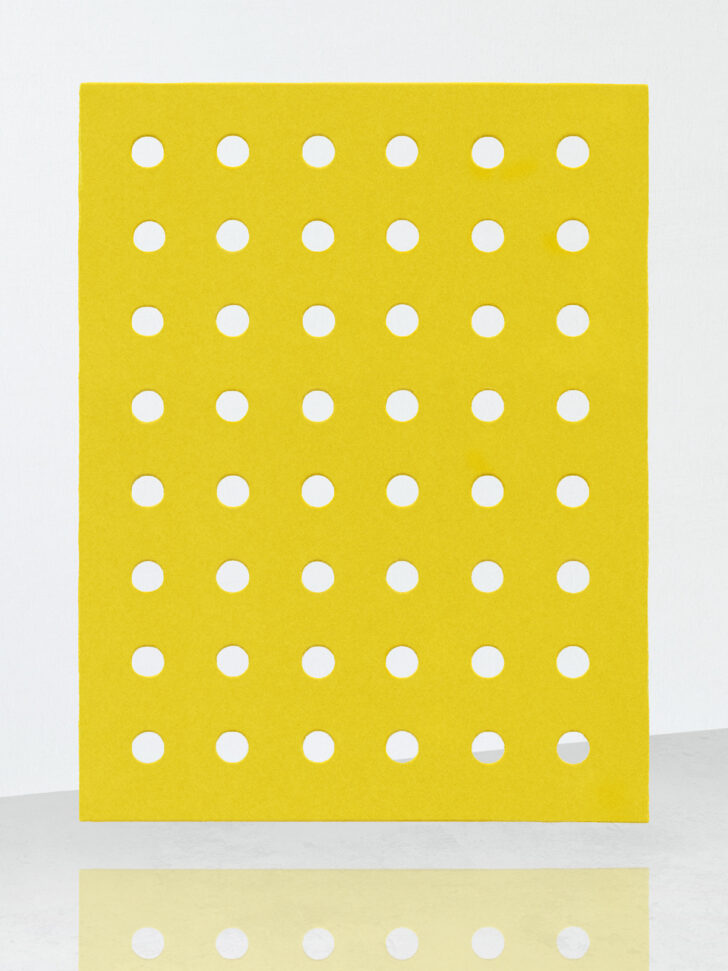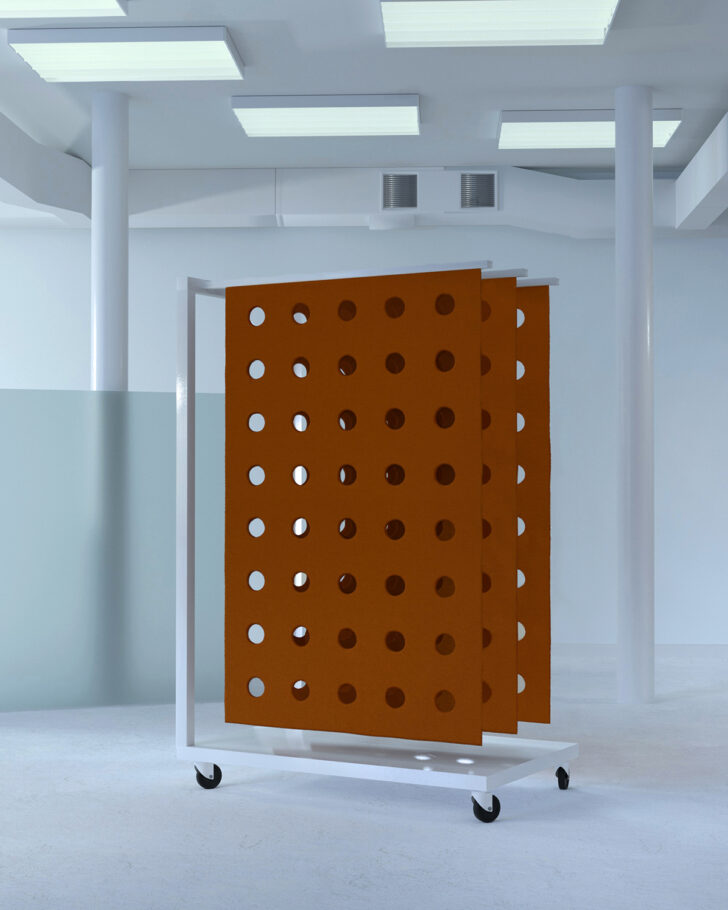 More new rugs! This time from Bi-Rite, which has released a series of single-color designs perforated made from New Zealand wool and with small or large holes, kind of reminiscent of a reverse Lego block. The simple yet effective pieces were designed by the studio's founder Cat Snodgrass.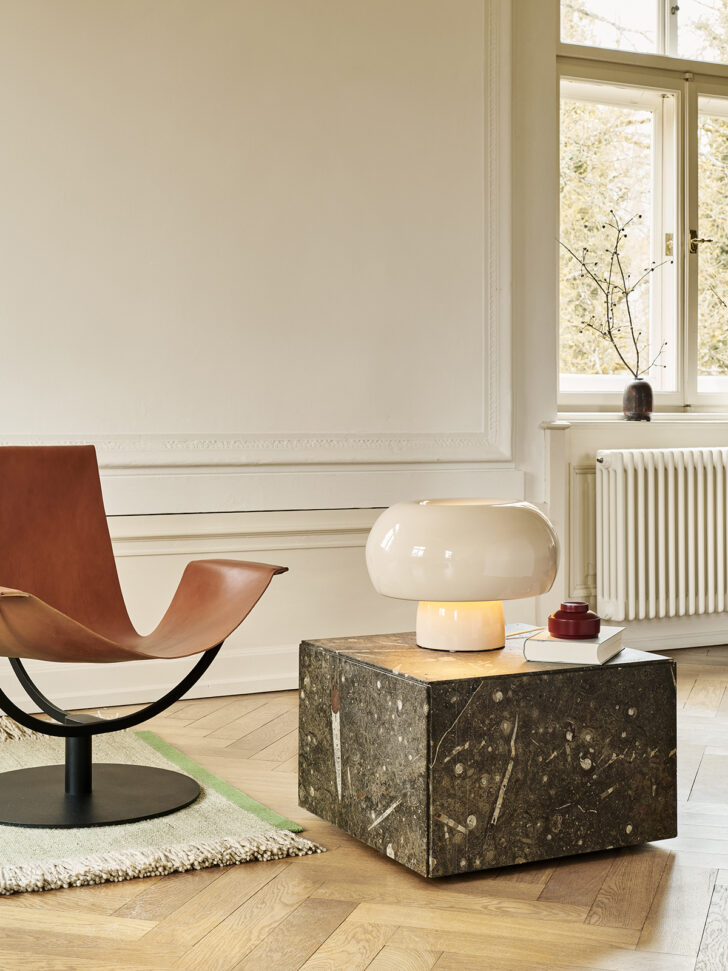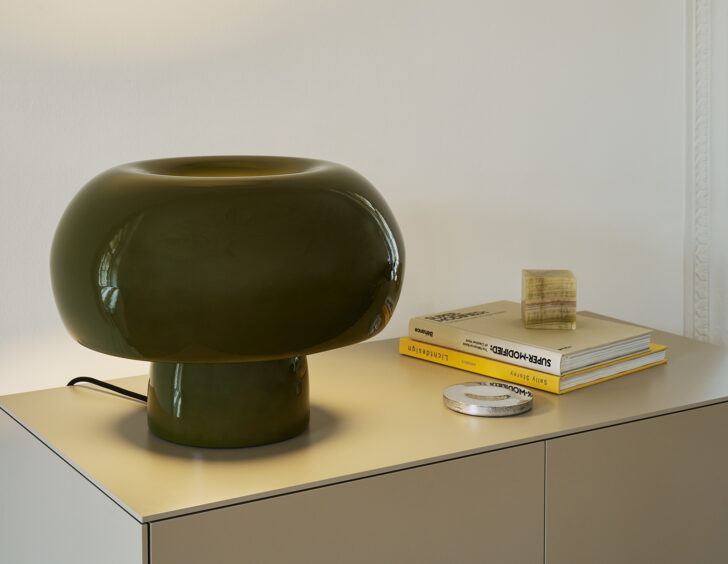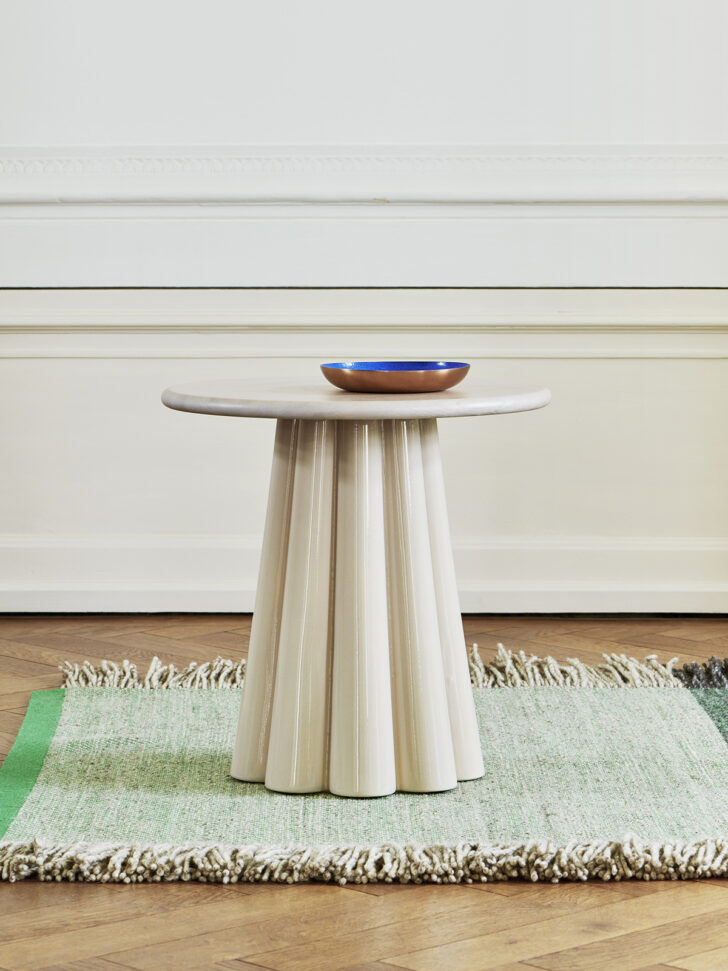 German design brand Favius has released two sweet new pieces: a table with a draped skirt called Bromo by Hanne Willmann, and a mushroom-shaped table lamp named Fonte by Christian Haas. Both are sculpturally shaped from glossy ceramic, and available in multiple colors, to complement one another in both form and materiality.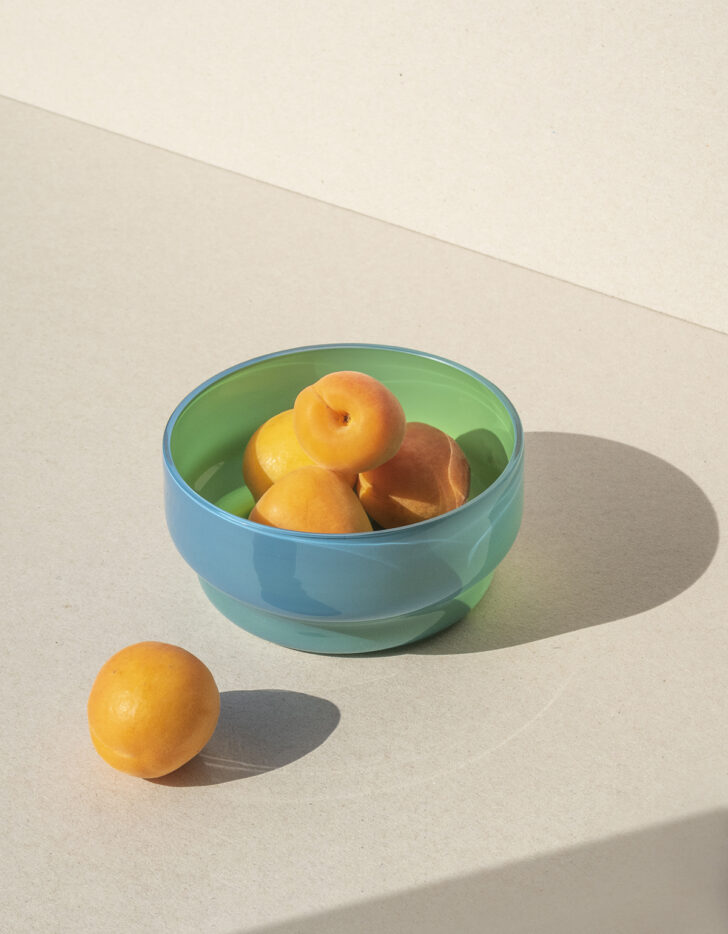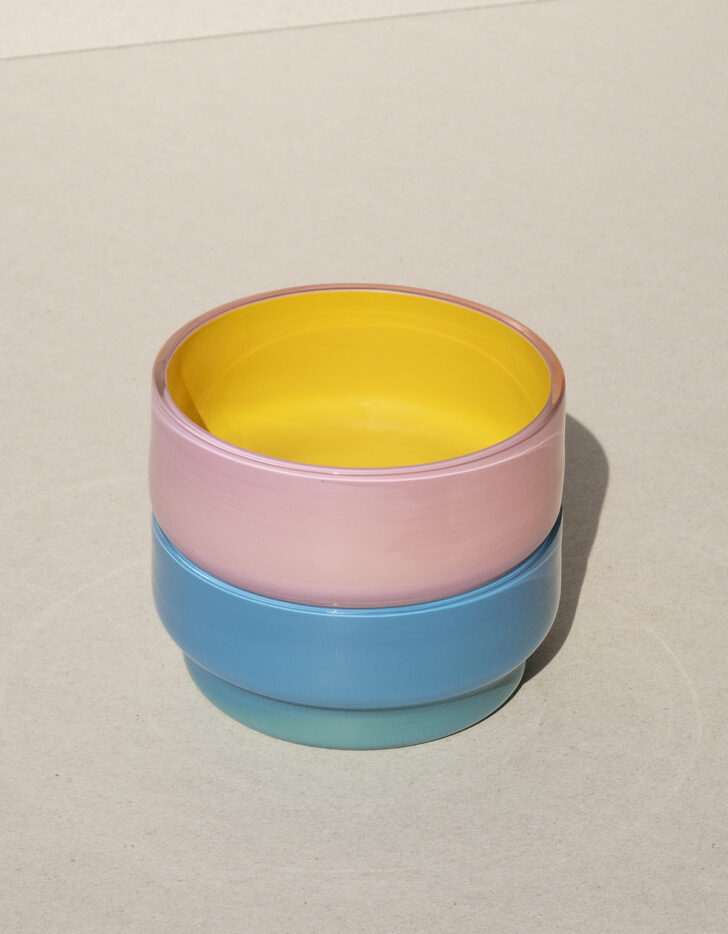 The Spanish tradition of enjoying an aperitif before dinner, during "La Hora de Vermut," informed this set of stackable glass bowls by Colombian designer Alejandra Perini. The charmingly chaotic amount of plates and glasses typically found on the table during this hour led to the creation of vessels of different heights and colors, which could be used for different "tapa" and stacked on top of each other to save space when finished nibbling. Crafted by Prosper Riba, the bowls feature softer hues on the outside and more intense shades inside.
Interiors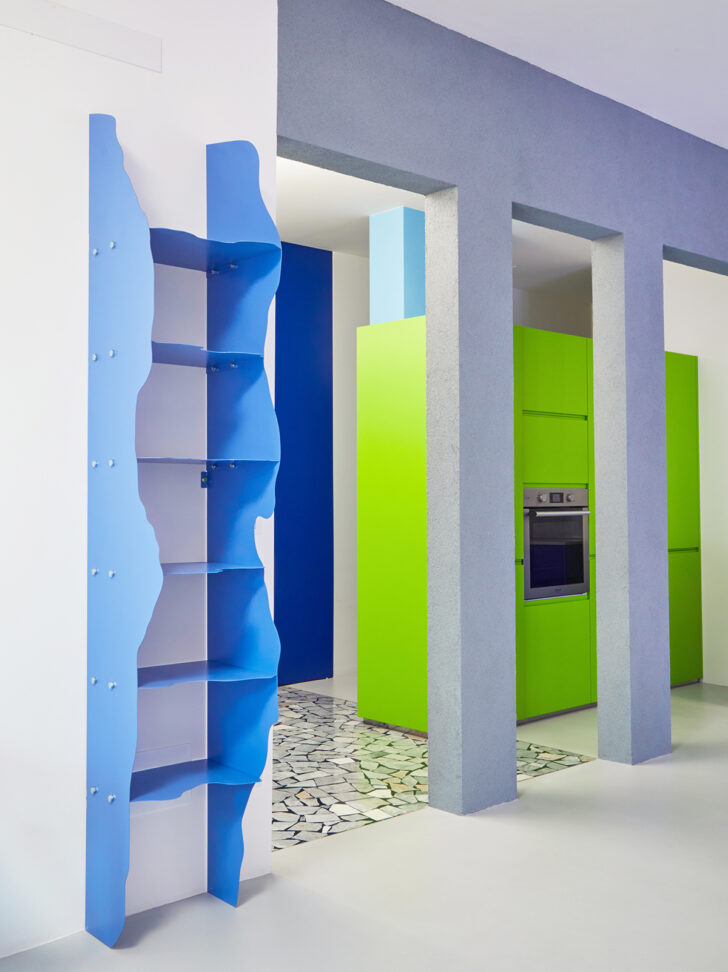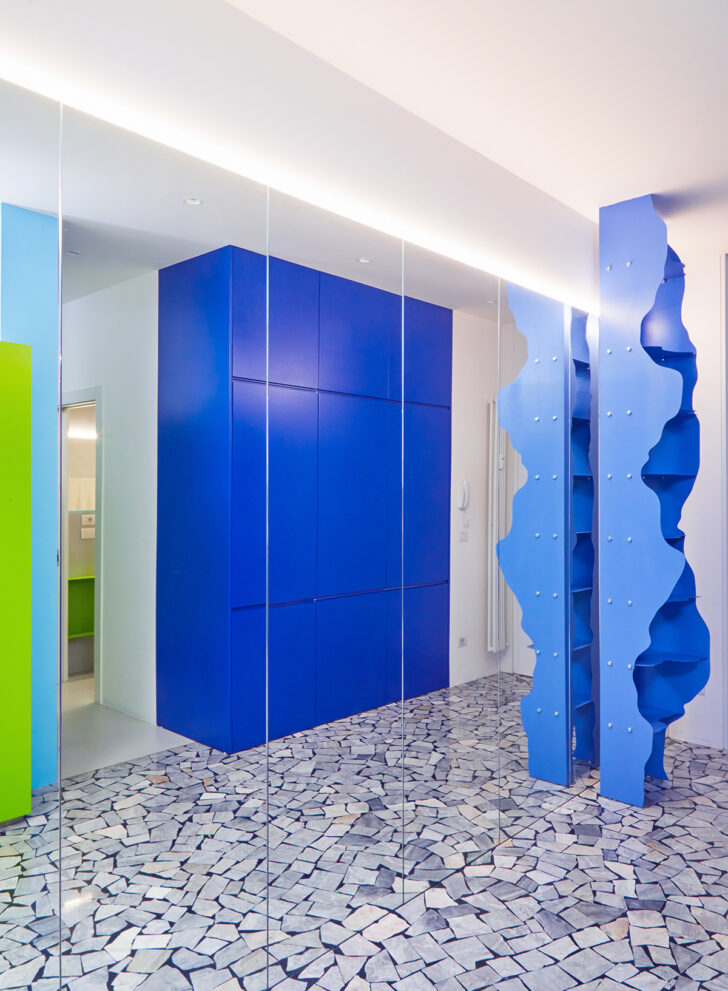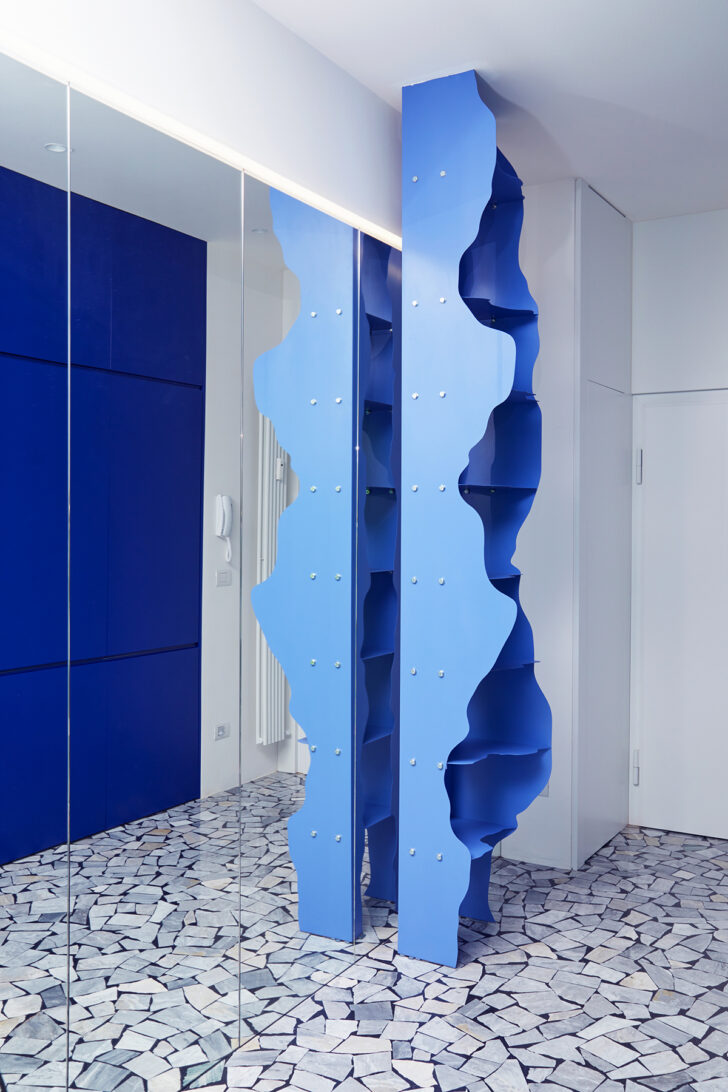 Bright blue furniture. Lime-green kitchen units. Lilac curtains. All installed in a stark white and metallic Bologna apartment, which Valencia-based architect Mario Montesinos renovated and filled with his own designs. These include lighting and shelves laser-cut into rocky outlines, 3D-printed dining and coffee tables with slimy-looking legs, and a translucent pendant that could be mistaken for a deep-sea creature. Definitely not everyone's taste, but would make a great setting for a sci-fi soap opera, which I now want to write.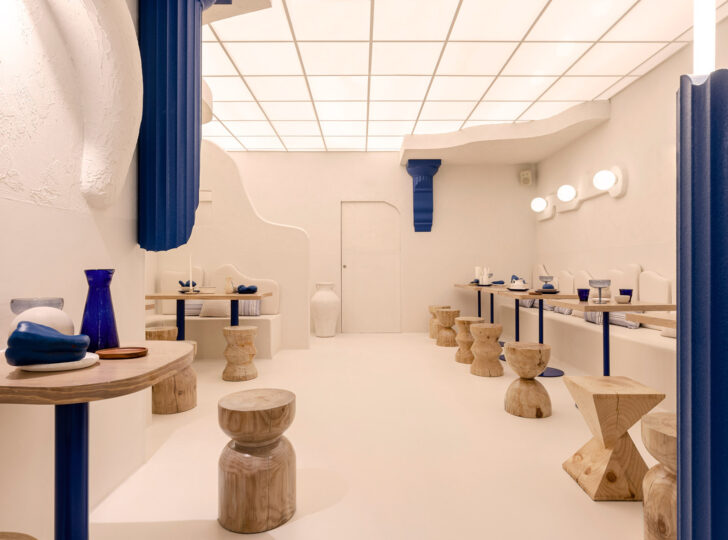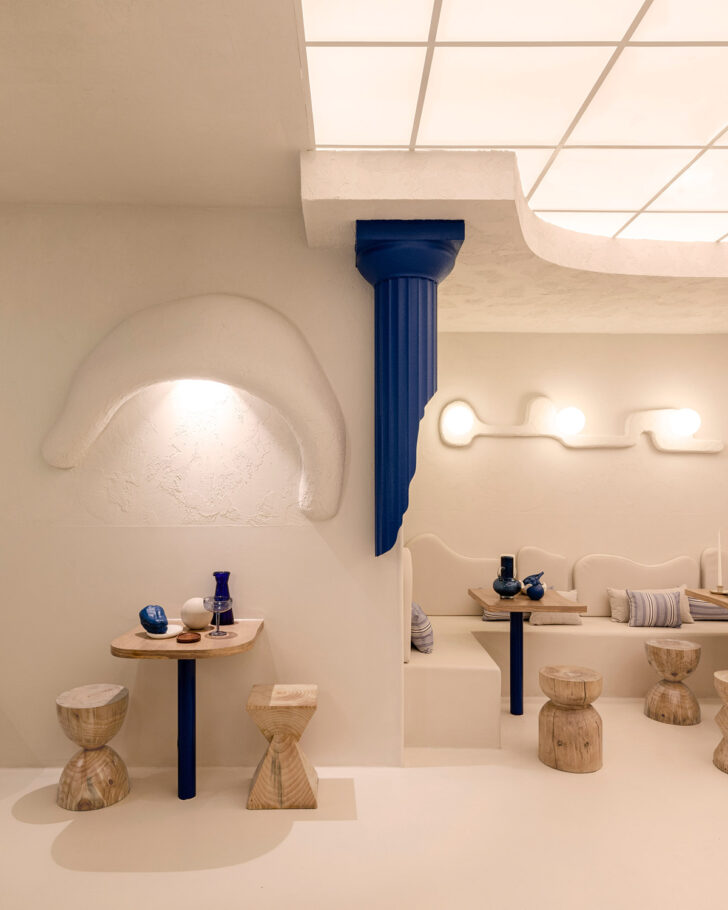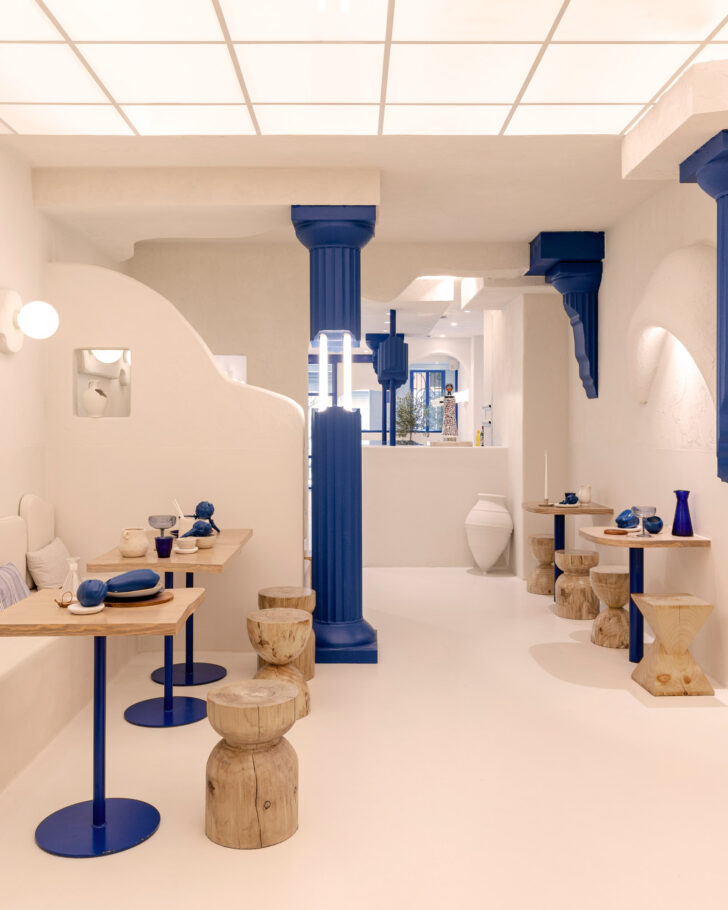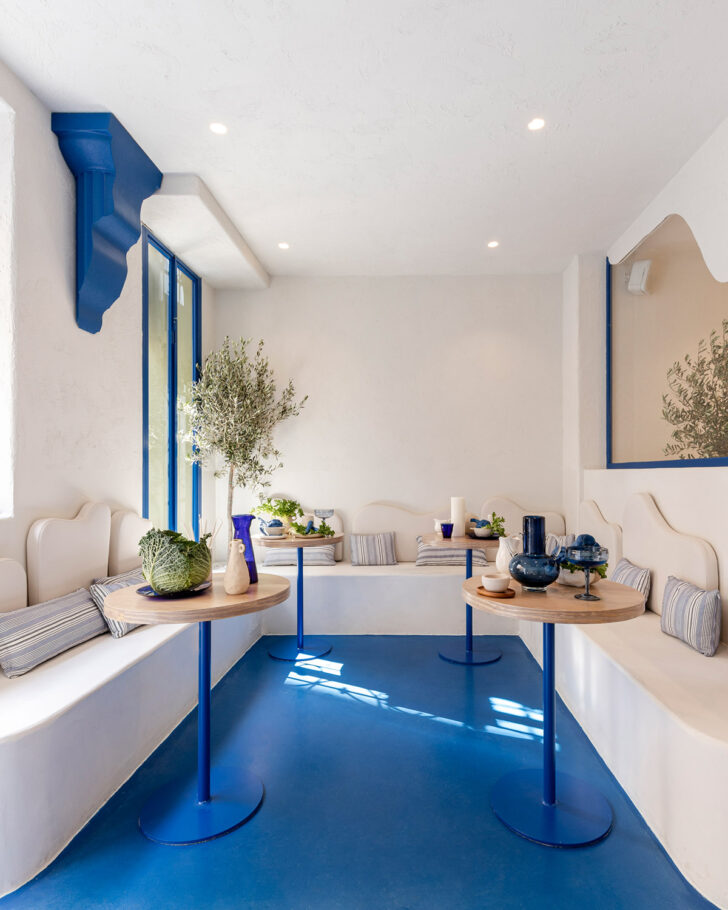 Spanish studio Masquespacio has made a name for itself by applying brightly clashing colors to interior projects. But the firm opted for mostly neutral, cementish tones at the Egeo restaurant in Valencia, which recently opened as a sister to the existing chain of Greek eateries in Madrid. The design team couldn't bring themselves to remove the color entirely though. A deep Aegean blue is used as an accent across window frames, table legs, small decor items, and 3D-printed versions of classical columns with sections eroded away – some of which are replaced with neon tubes. Very "Santorini hotel meets Daniel Arsham".