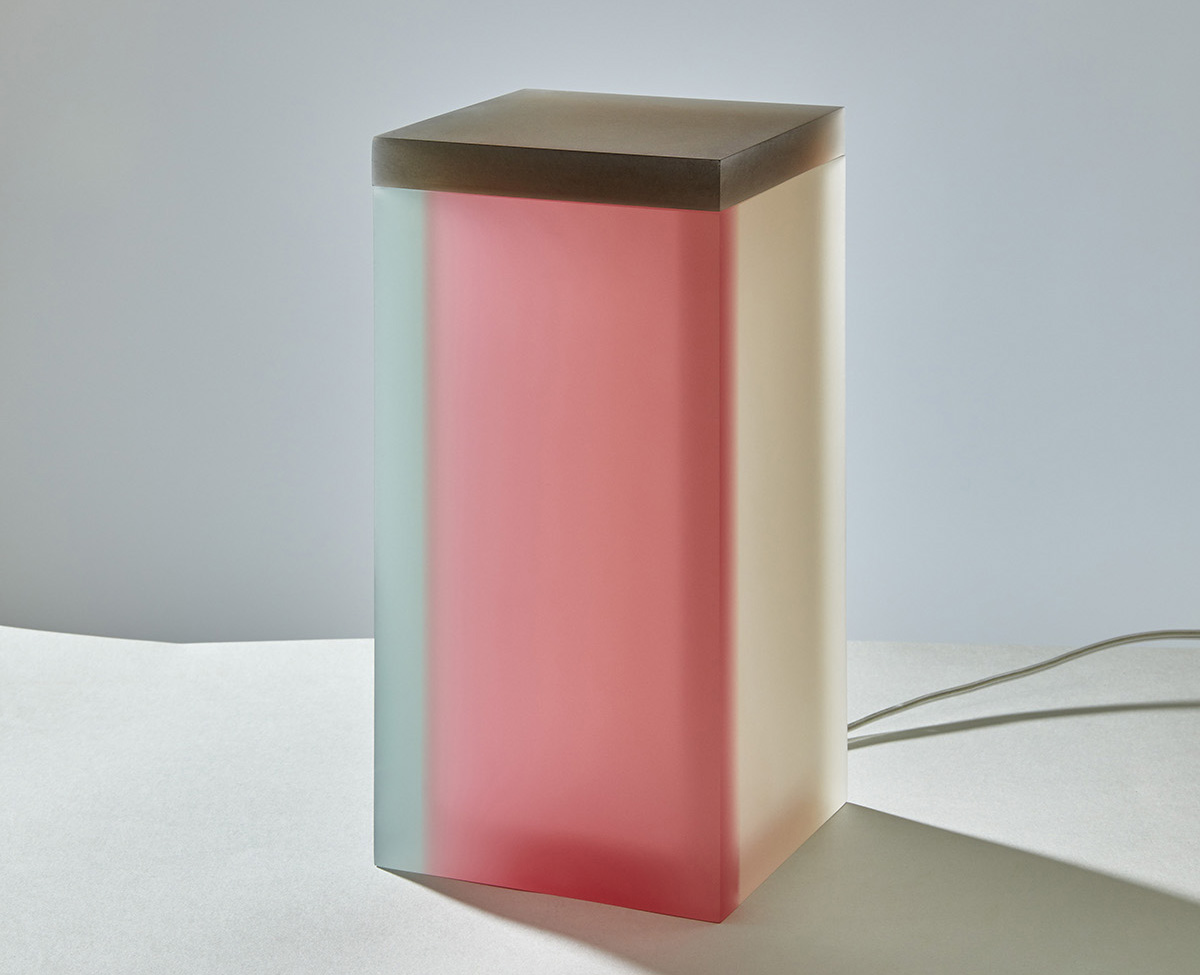 A weekly Saturday recap to share with you our favorite links, discoveries, exhibitions, and more from the past seven days. This week: a Swedish restaurant in a giant greenhouse, nostalgic items as sculptural miniature candles, and a very wiggly chair.
Interiors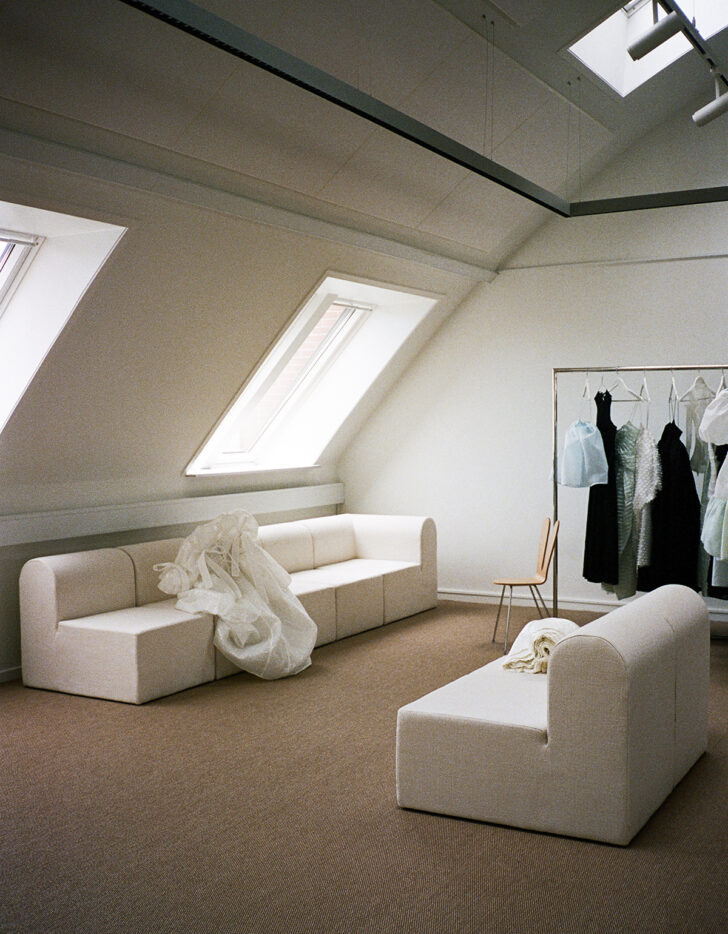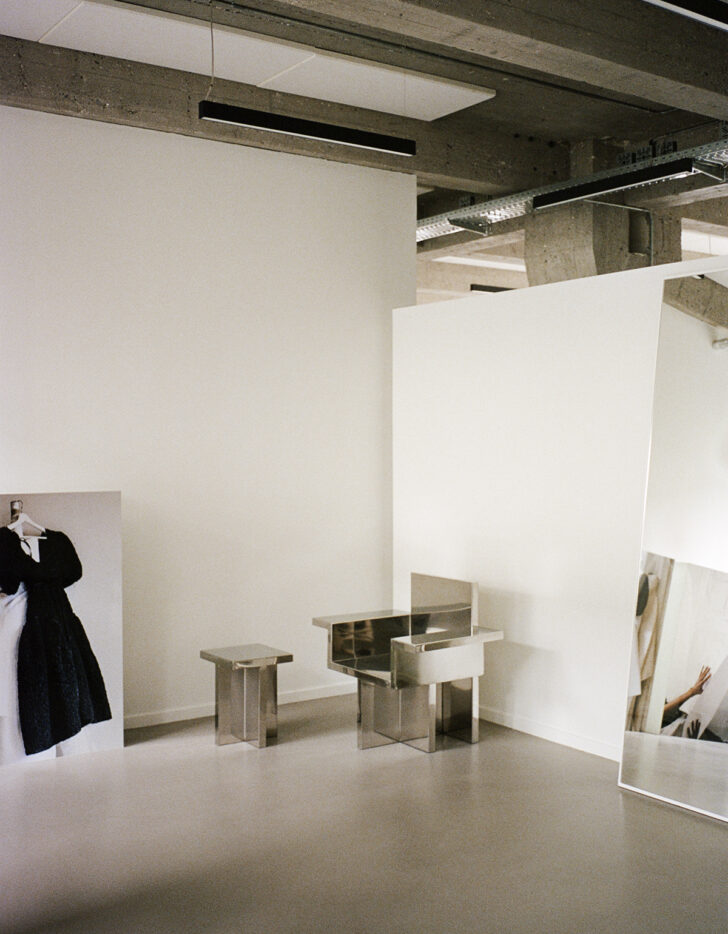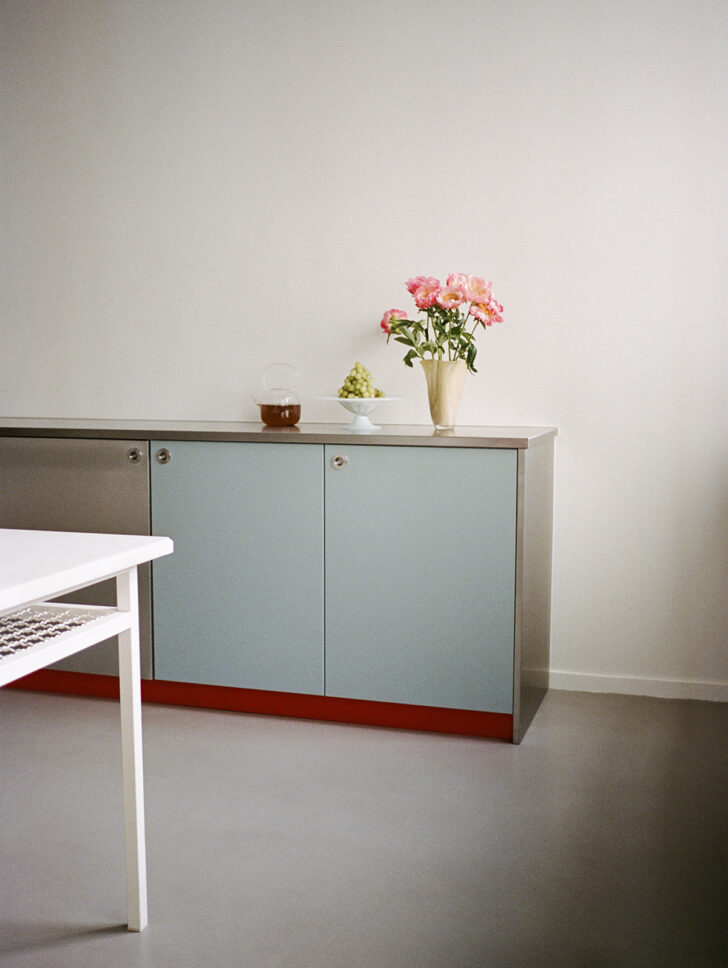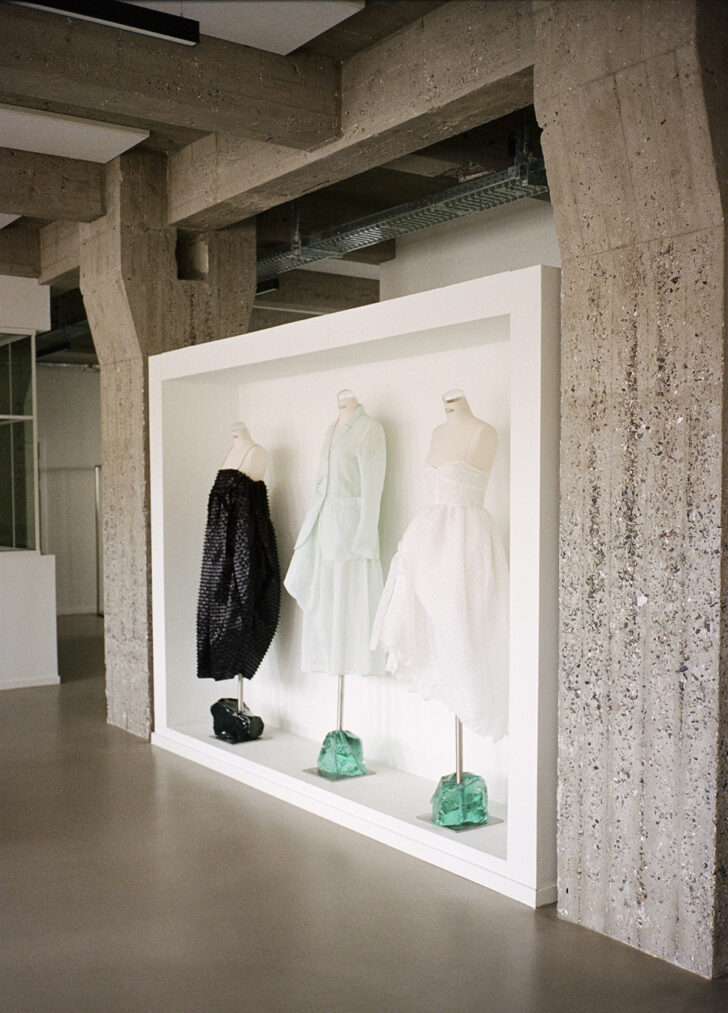 Danish fashion designer Cecile Bahnsen has moved into a new space in Copenhagen's Osterbro neighborhood, and it's a perfect canvas for creativity. Discovered when photographing her Spring/Summer 2020 campaign, the two levels of a former industrial building have been converted into a minimal atelier and showroom with the help of architects Stamuli and creative agency MOON. Light pours in through skylights that puncture the arched vaulted ceiling. Garments are displayed in framed white boxes, on mannequins weighed down with what look like giant gemstones. The stark interiors, concrete floors, and mirrored surfaces allow Bahnsen's bright fabrics to really pop, creating an intentional contrast between the architecture and the designer's "hyper-feminine world."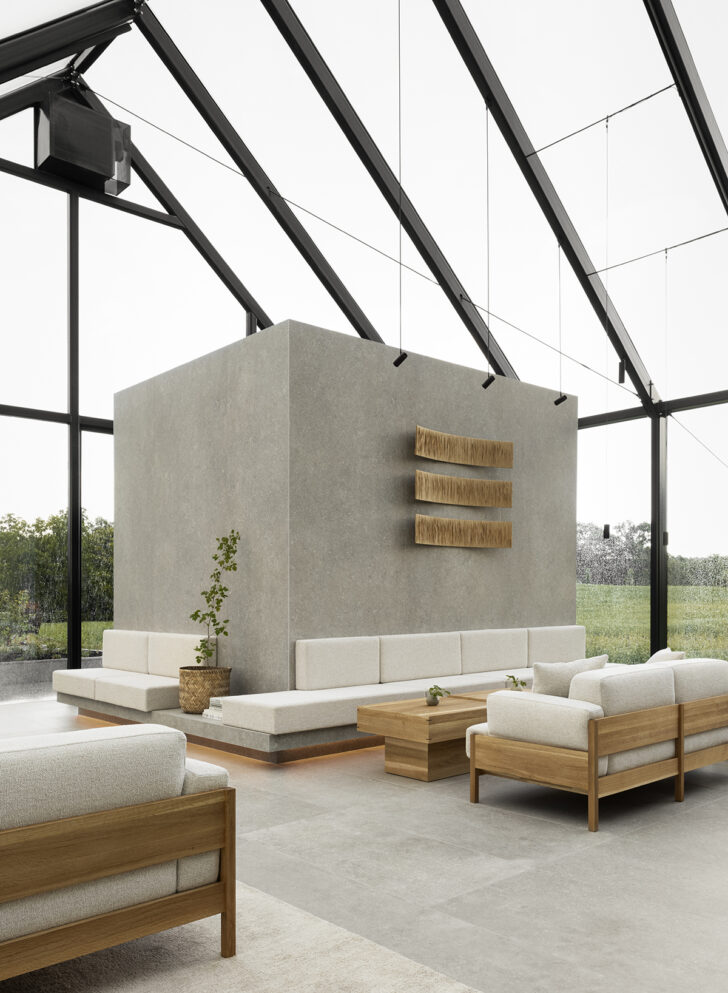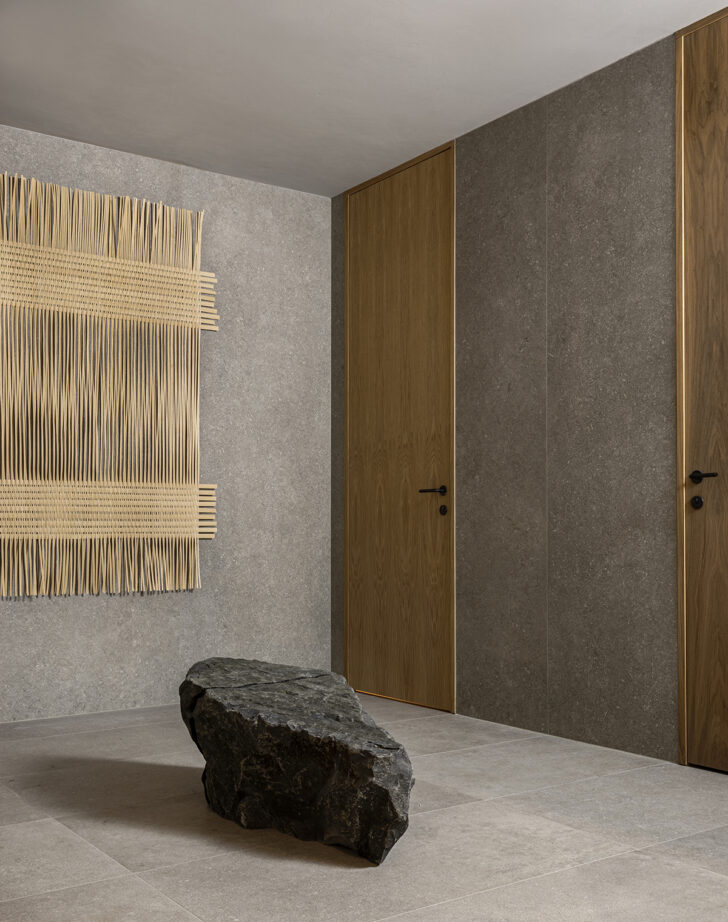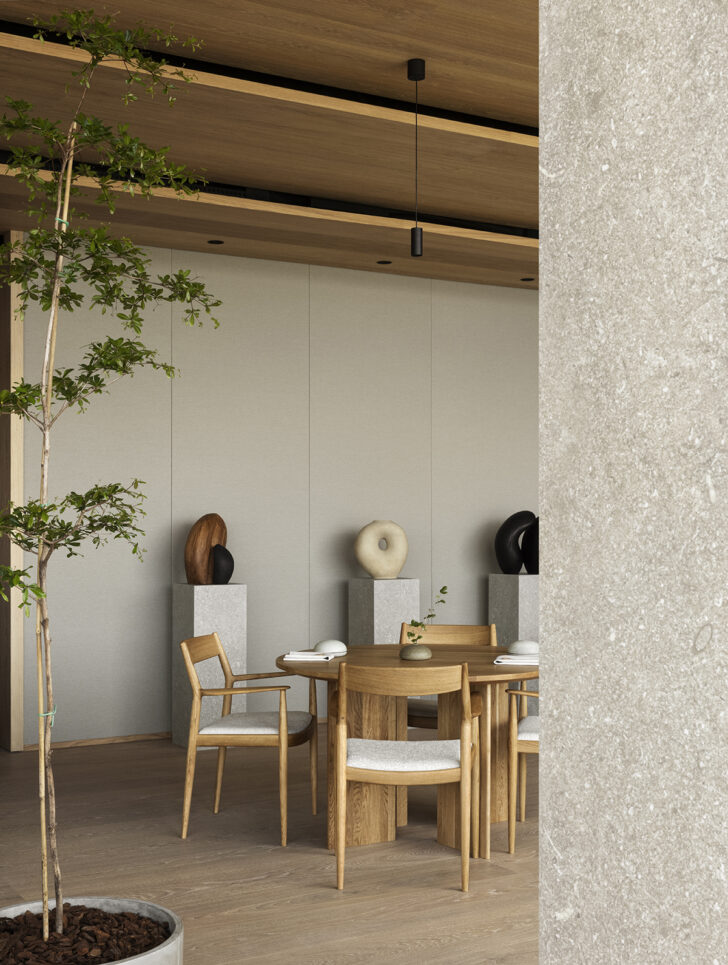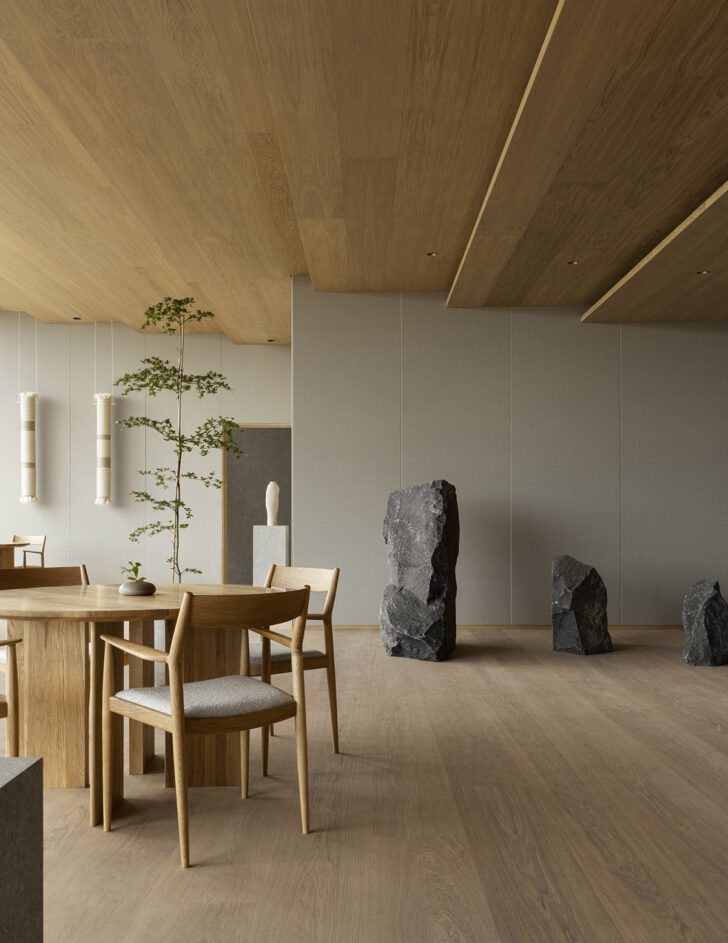 Dining in an entirely glass barn overlooking the Swedish countryside has shot to the top of my bucket list after seeing photos of this restaurant designed by Norm Architects and Japanese furniture brand Karimoku. The Michelin-starred ÄNG occupies a newly constructed giant greenhouse within a meadow that neighbors a vineyard, and conceptually explores the similarities between Japanese and Scandinavian design, which evidently there are plenty. The space is populated with bespoke minimalist furniture by Norm and Keiji Ashizawa, also soon to be added to Karimoku's collection, as well as sculptural stones, ceramics, and wall-mounted artworks that all adhere to the restrained palette.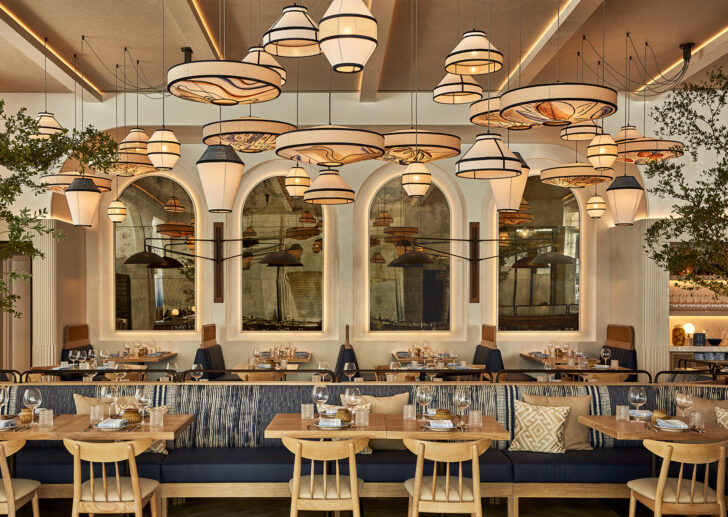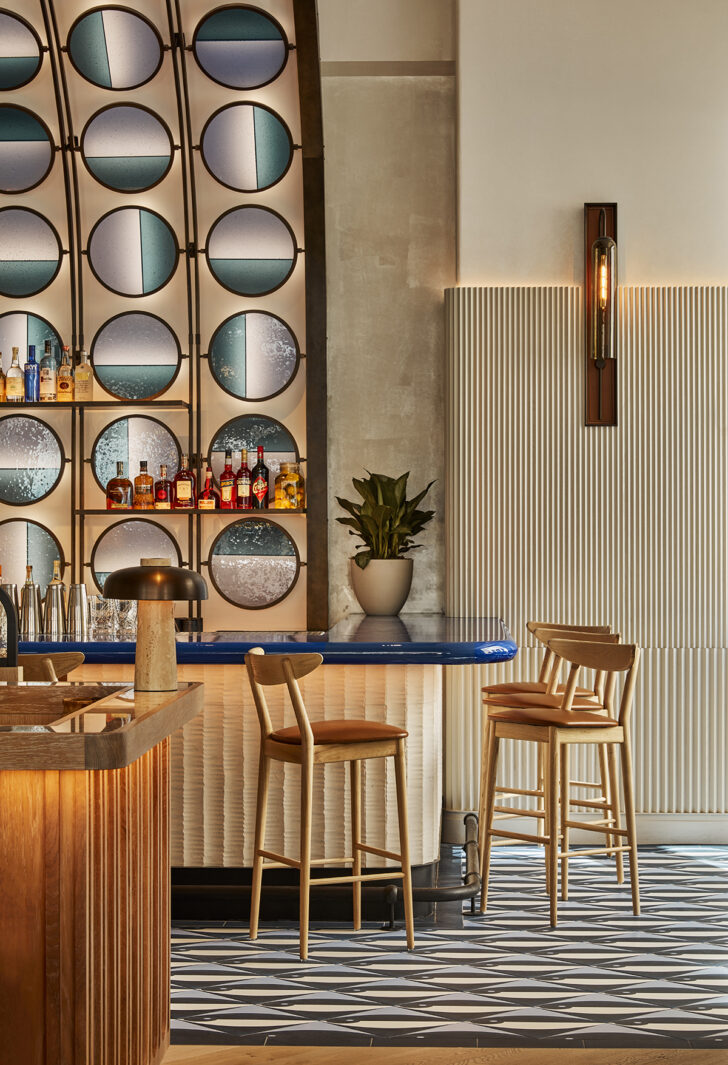 For anyone who's not in Mykonos right now (anyone?!), you can get your fix of Eastern Mediterranean vibes at Zaytinya, a new restaurant at The Ritz-Carlton in New York's NoMad district. Hospitality design aficionados Rockwell Group made sure that the space felt nothing like Manhattan, combining white-to-blue ombre linen curtains, a wall of two-toned glass disks behind the bar, textile pendants illustrated with Grecian scenes by The Alpha Workshop, and faux olive trees meant to transport diners straight to the coasts of Europe, without the risk of lost luggage.
Discoveries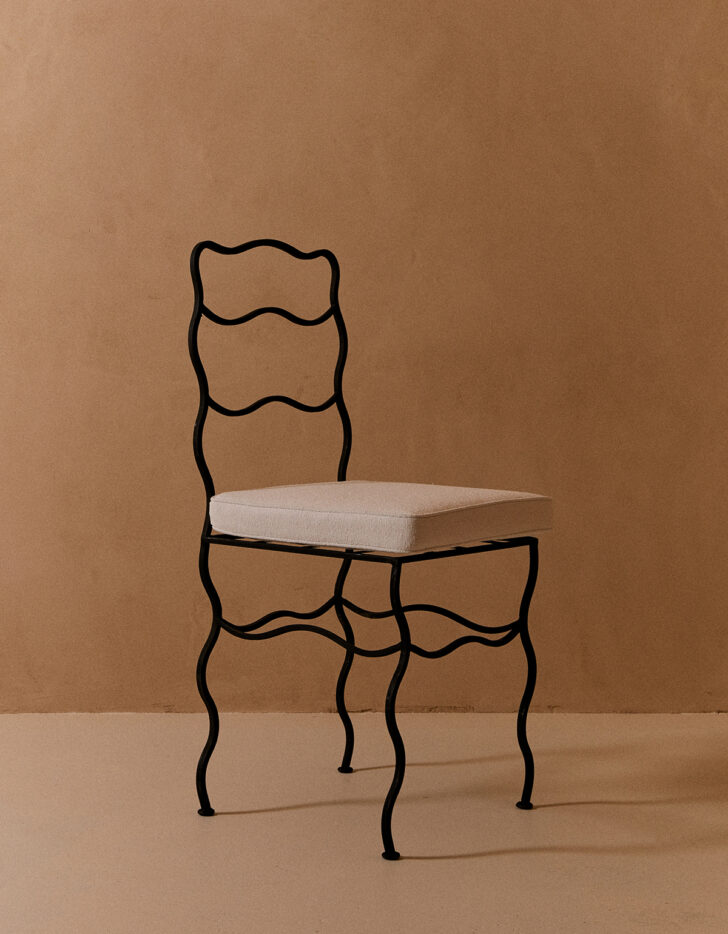 One chair and its wonderfully wiggly frame caught our eyes from CLO's new Marrakesh collection. Influenced by Moroccan craft, the Australian design studio has launched a range of pieces that also includes more traditional-looking chairs, with similar square cushions and thin black legs and backs. But the Celine Dining Chair's wavy outlines make it a no-brainer for us. Straight on the Pinterest board!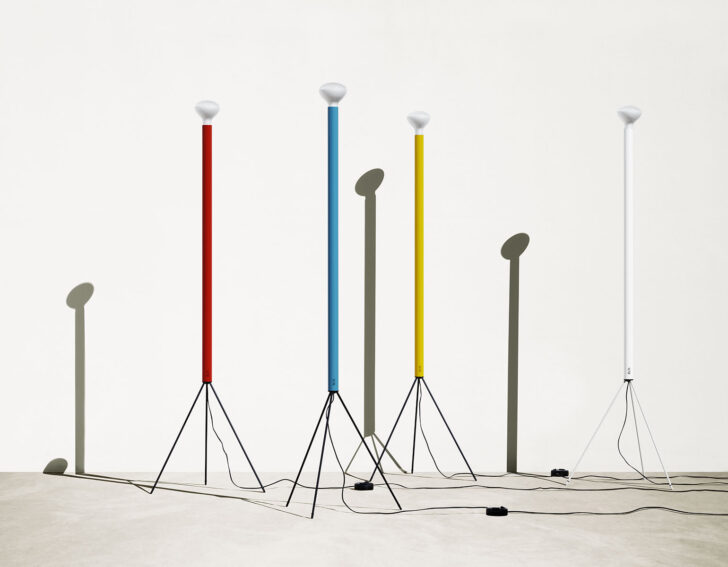 A classic, reborn in color: The Castiglioni brothers' iconic spindly Luminator lamp has been rereleased by Flos in four new hues, light blue, red, yellow, and white. Joining the original anthracite version, the colors were chosen based on original production models from the 1950s, as well as lifted from the Flos archive. The slender metal tubes sit atop demountable tripods and hold the bulbs at the top, which now come as dimmable LEDs too.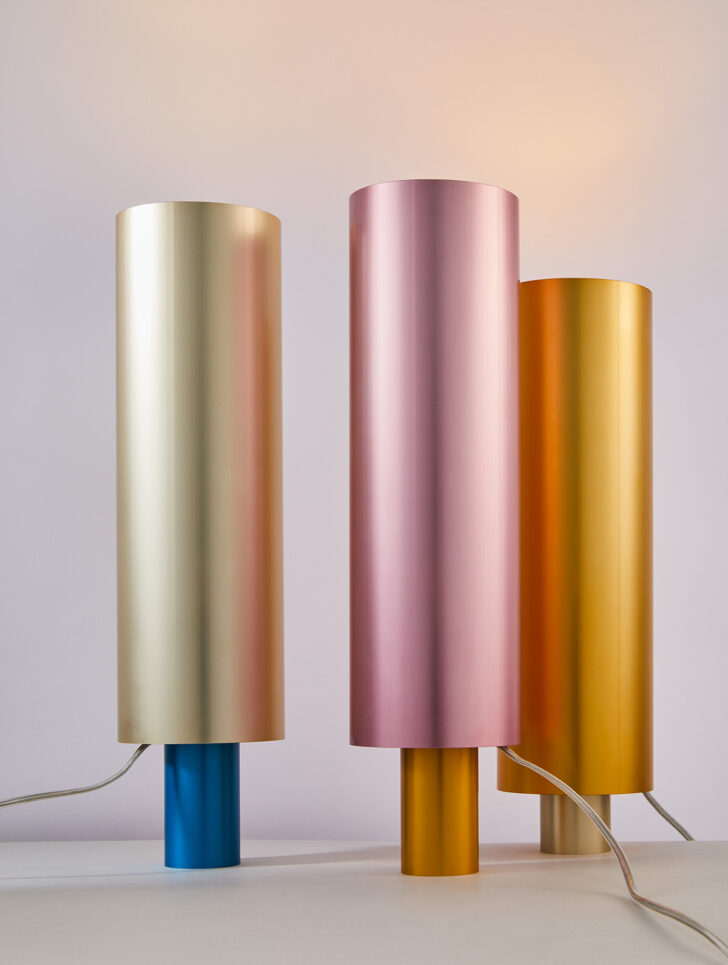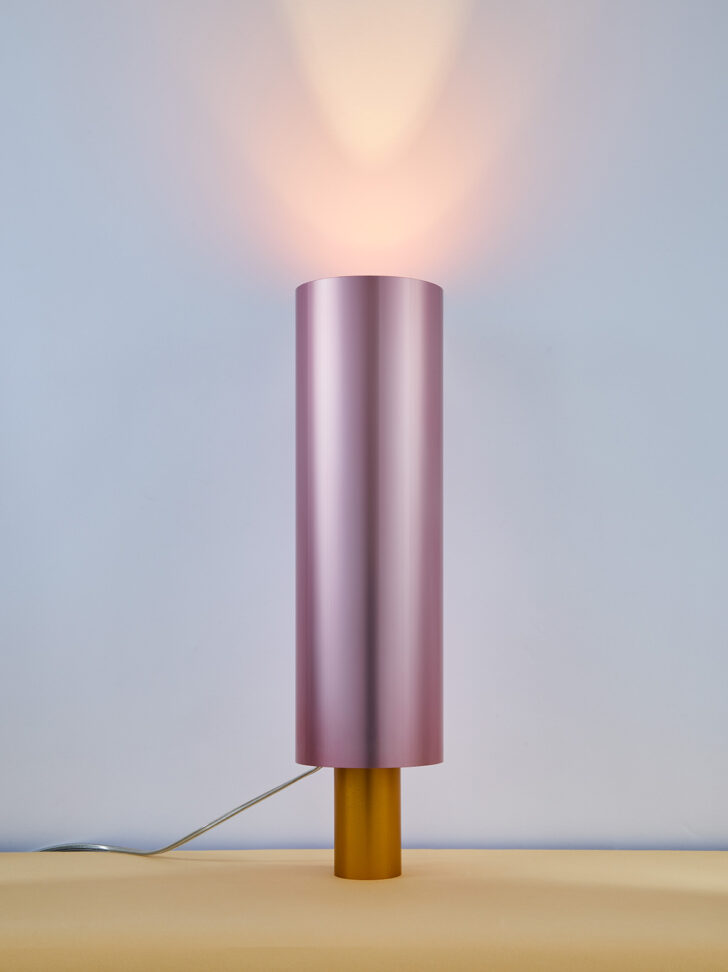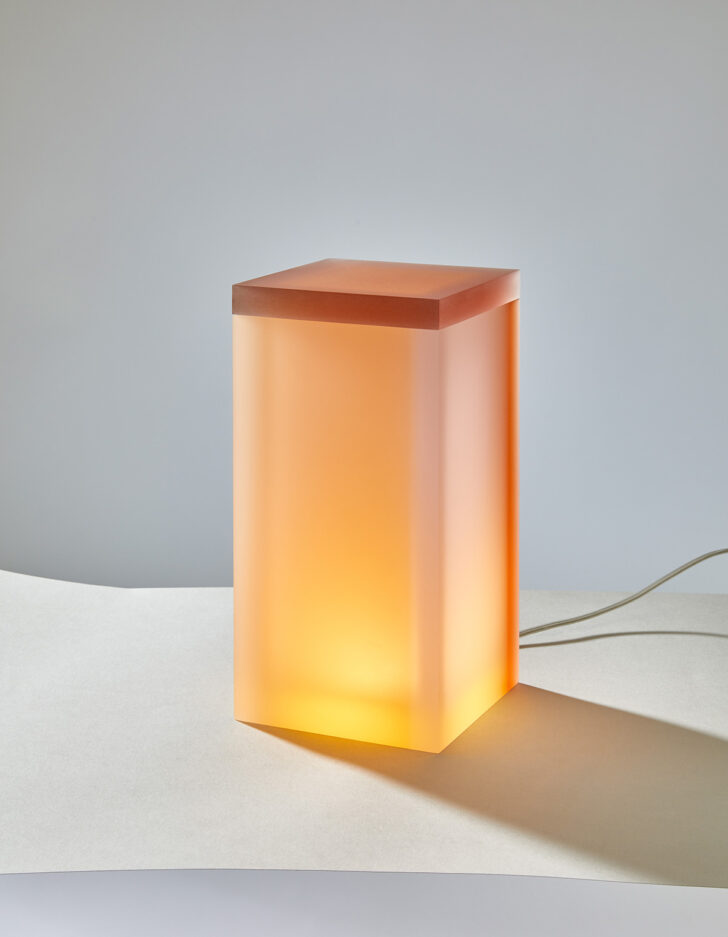 These candy-colored lamps are the results of experiments with materials by Dutch studio Forever, who were looking for ways to use them out of context, and the results are simple yet super effective. The first design comprises colorful resin slabs arranged so their edges overlap, while the second features a larger aluminum tube balanced on top of a smaller one. Available in several different color combos, both would look great on a nightstand or desk.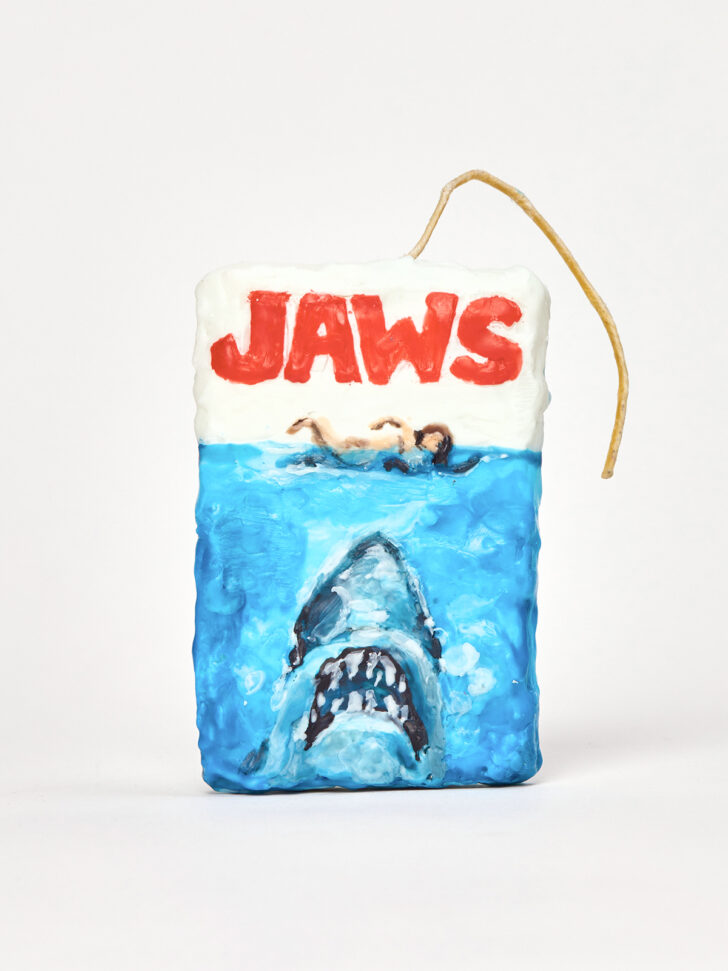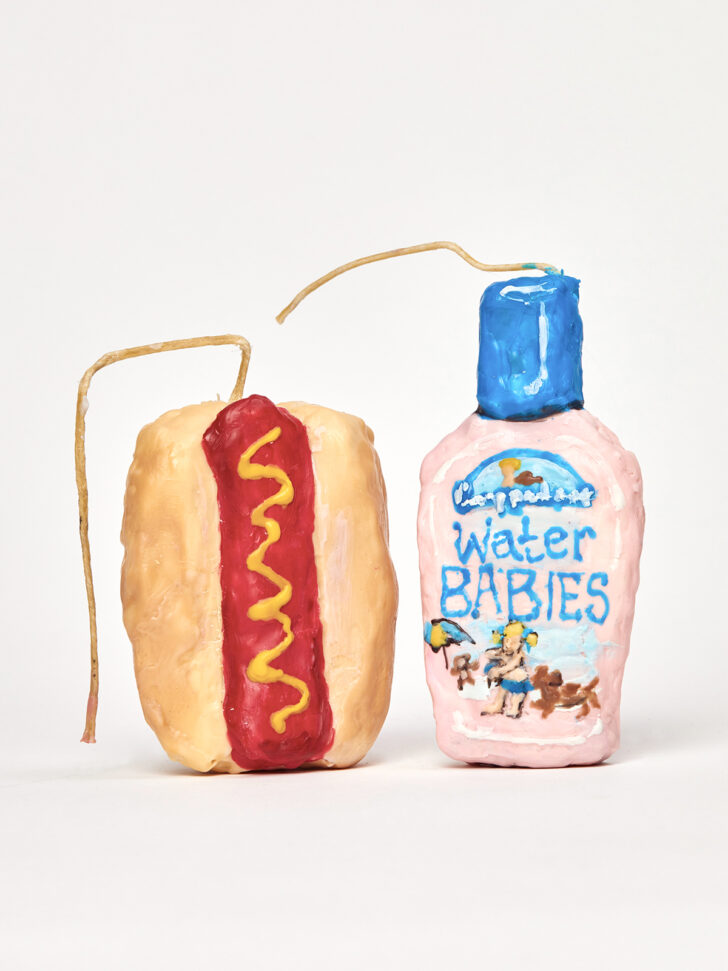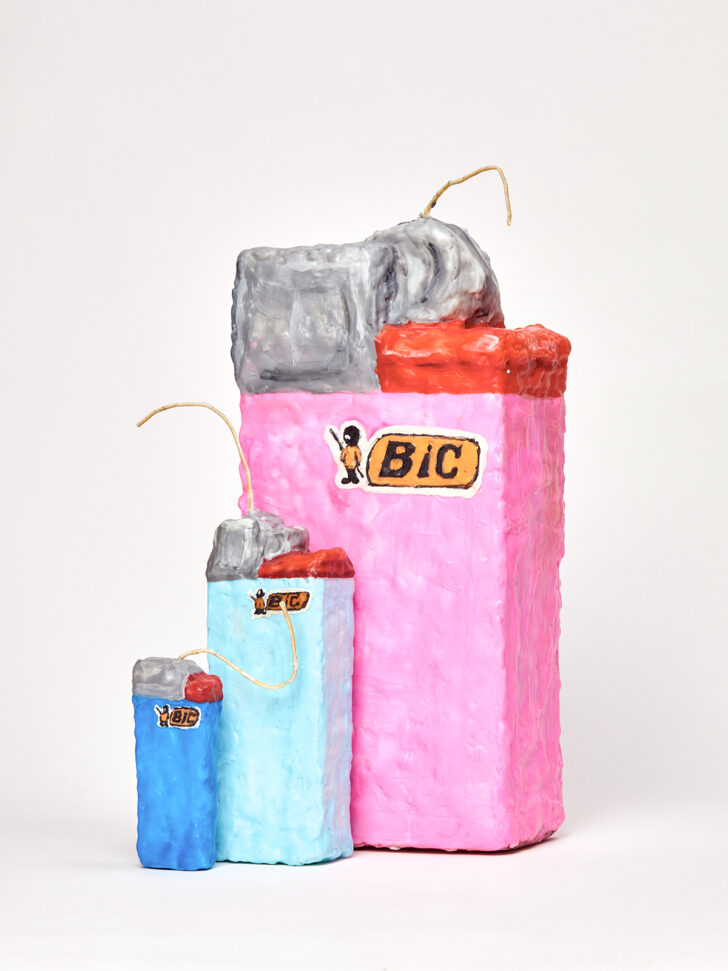 New York–based artist Janie Korn has modeled a series of miniature nostalgic objects as sculptural candles for Fort Makers: From hot dogs and tennis rackets to Bic lighters and a vintage Water Babies sunscreen bottle, the wax items are incredibly detailed down to tiny dials on the cassette player. All are equally fun, but the Jaws movie poster might be the winner for me.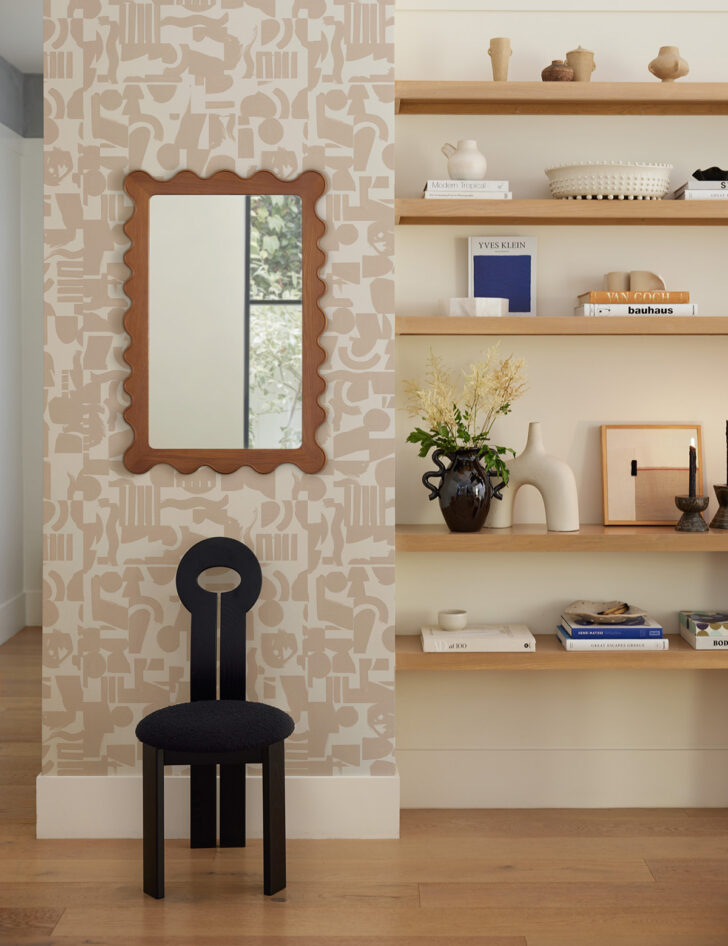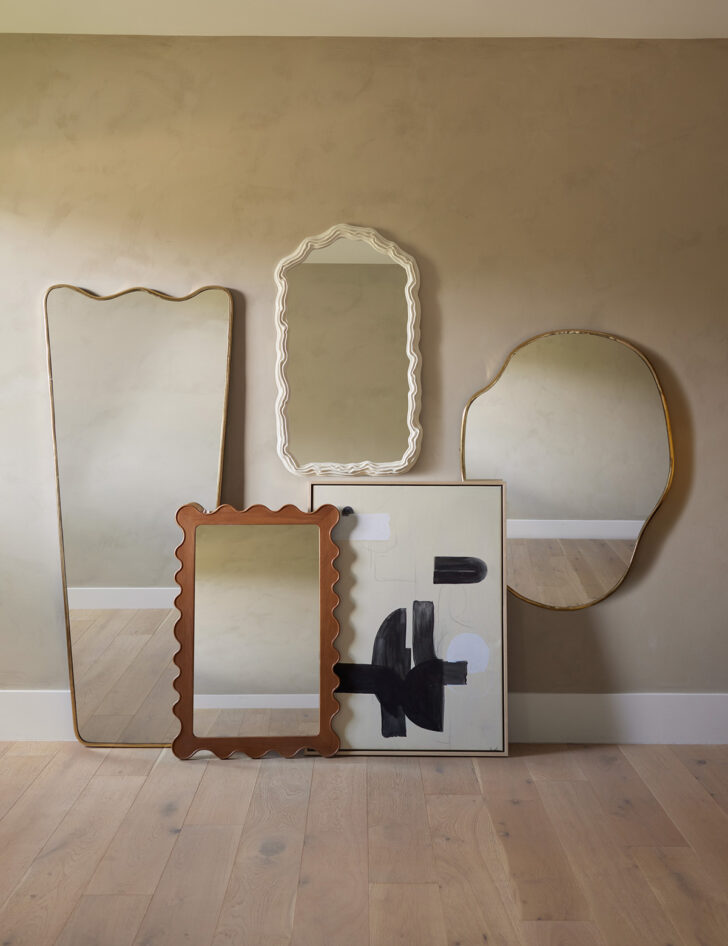 Not wanting to restrict herself, interior designer Sarah Sherman Samuel broadly describes her latest collection as "wall hangings" to encompass both mirrors in a variety of shapes and frame styles, as well as a pair of abstract artworks created using a neutral palette. Of the frames, one looks like piped frosting, another in wood has squiggly edges, and a metal design traces an amorphous shape around its reflective pane.
Exhibitions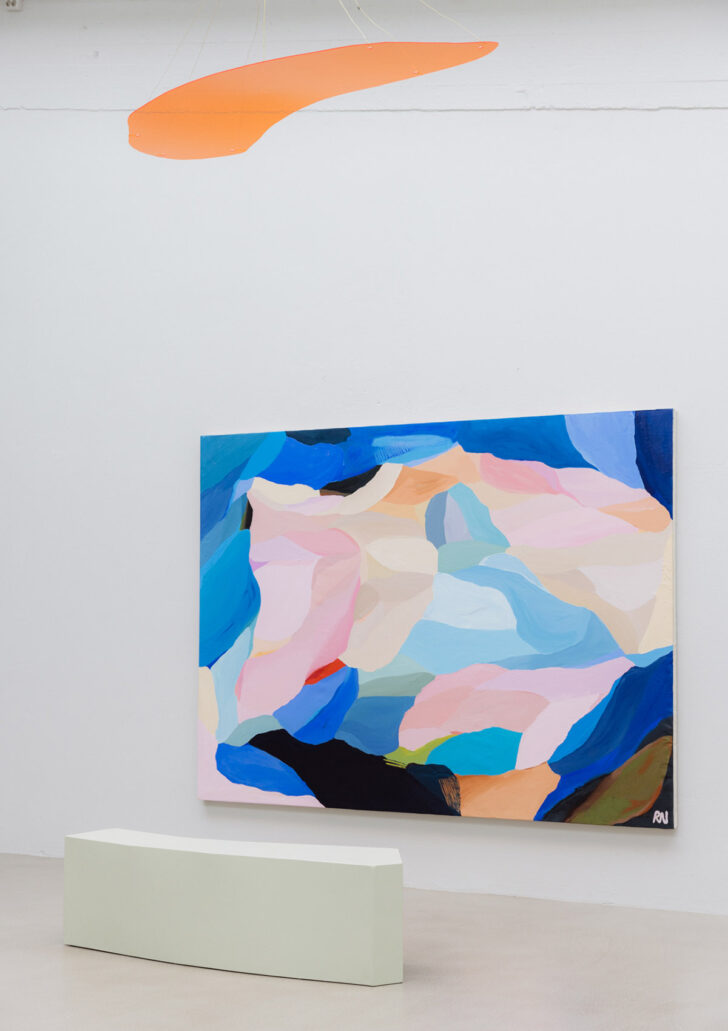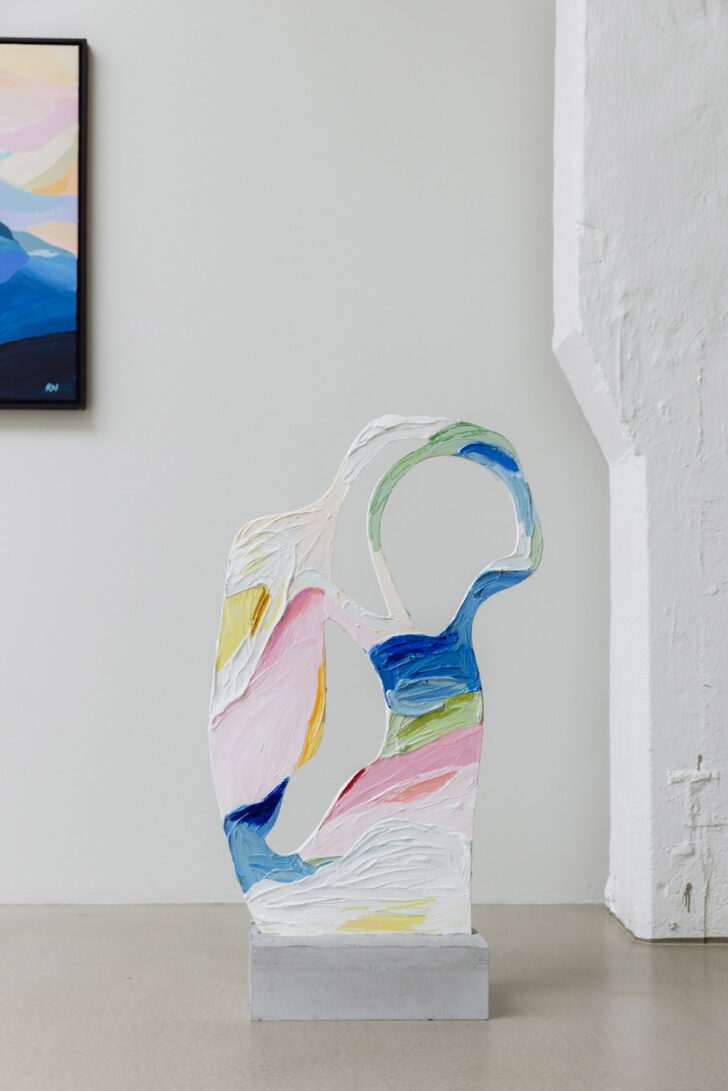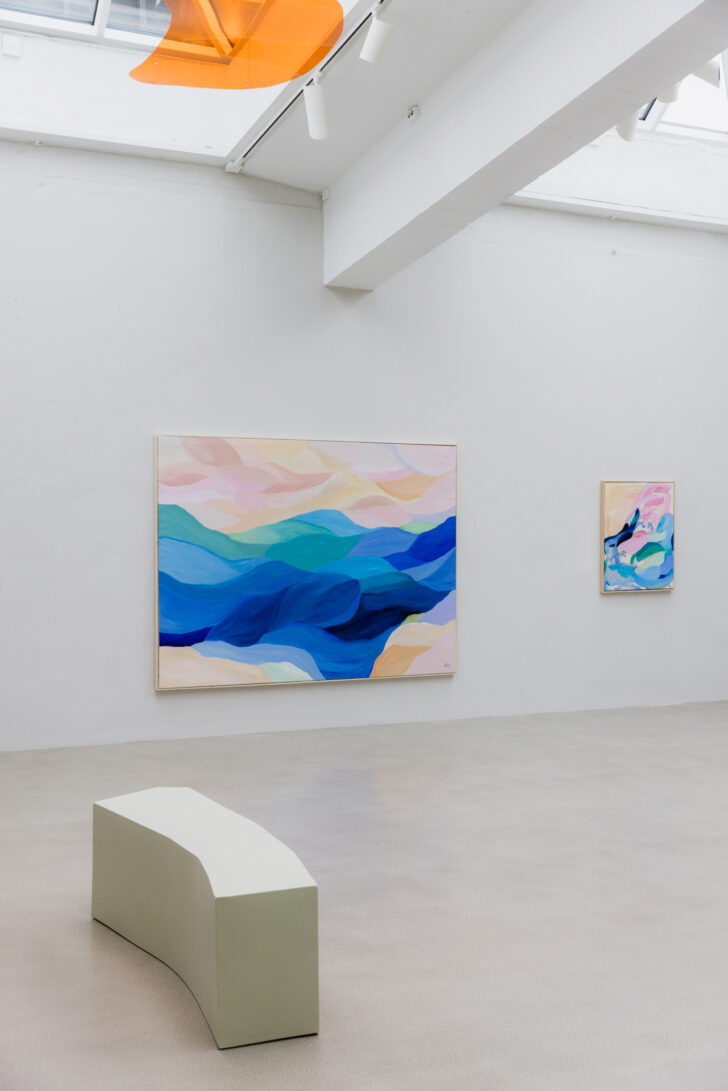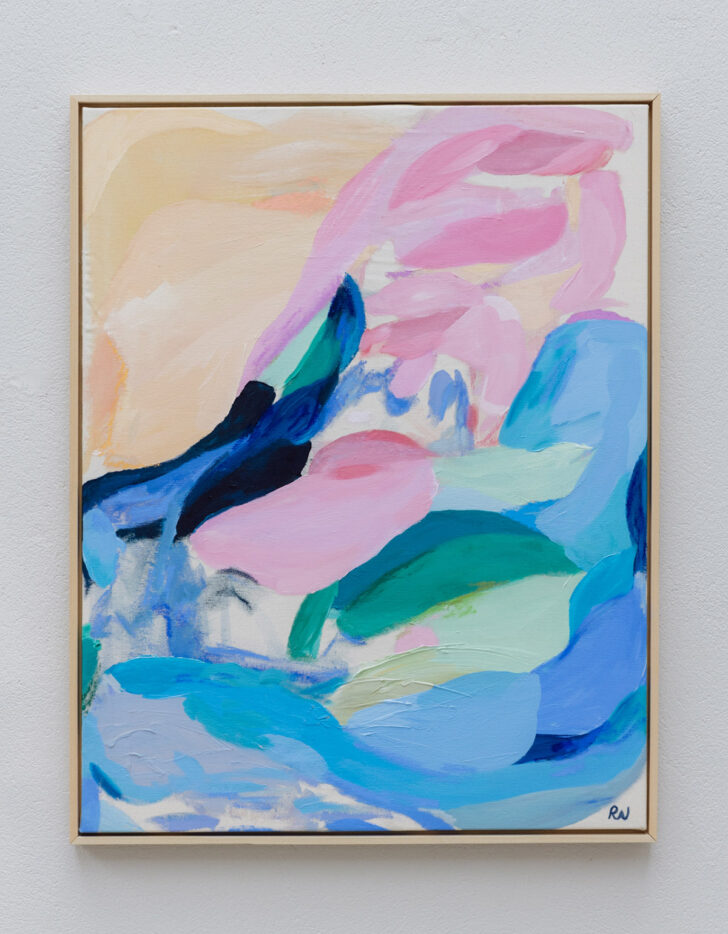 Staring at the color combinations in Norwegian artist Ragnhild Nes' recent paintings and sculptures immediately reduced my blood pressure. The serene works were created during two residency programs in Portugal, where the post-industrial setting of PADA studios in Lisbon's South Bay and the light at DUPLEX Air in Graça informed her brushstrokes and gestures, which form fluid patchworks across the canvases and 3D sculptures. The works were exhibited at Hos Arne gallery in Oslo earlier this summer, in a show titled Sette en Strek, which roughly translates to "set another path" and refers to her time spent abroad.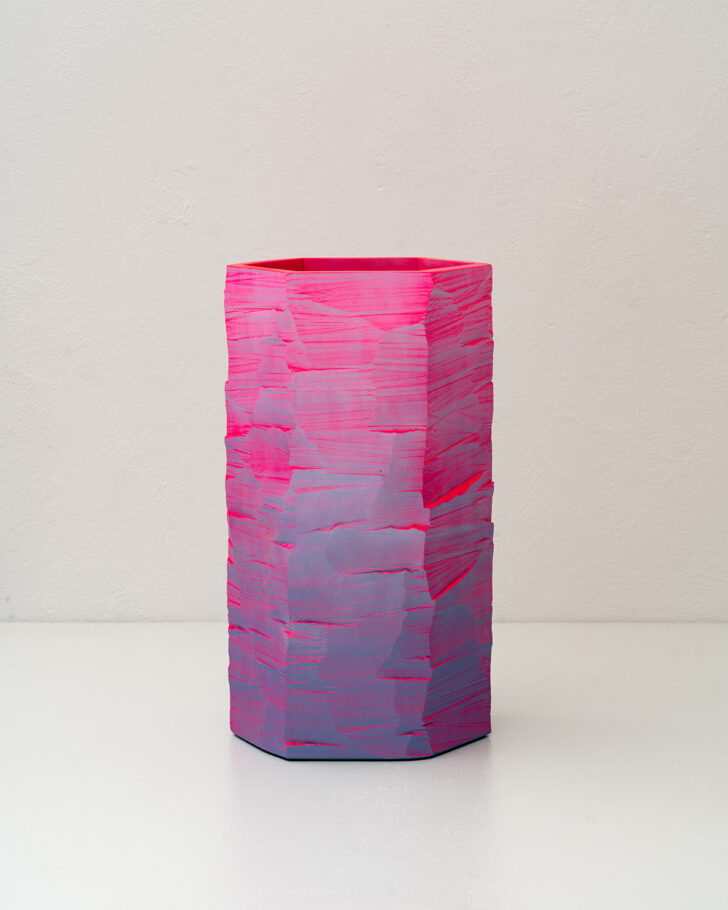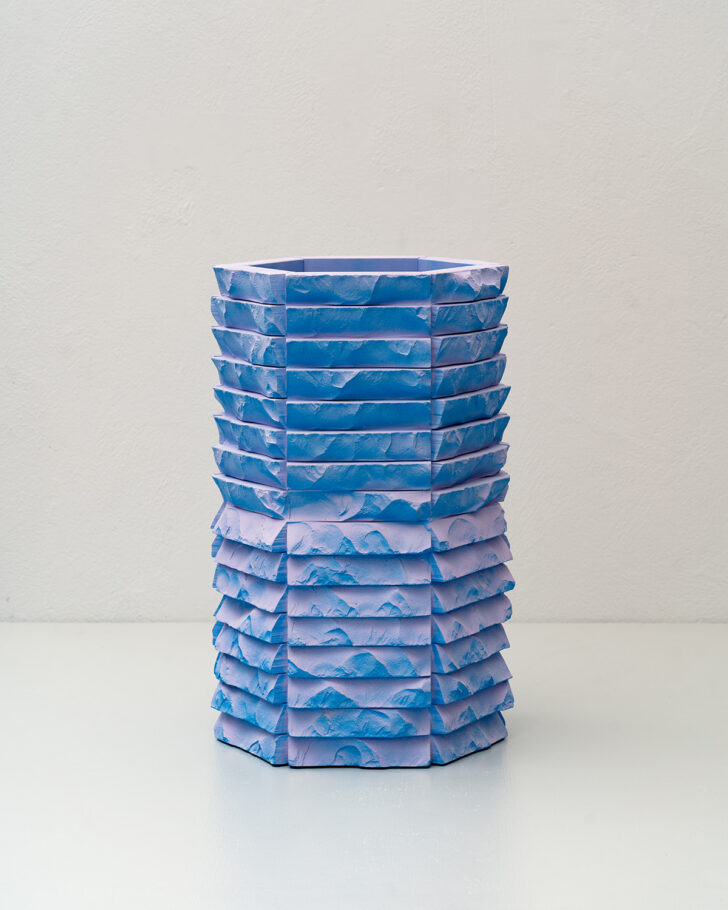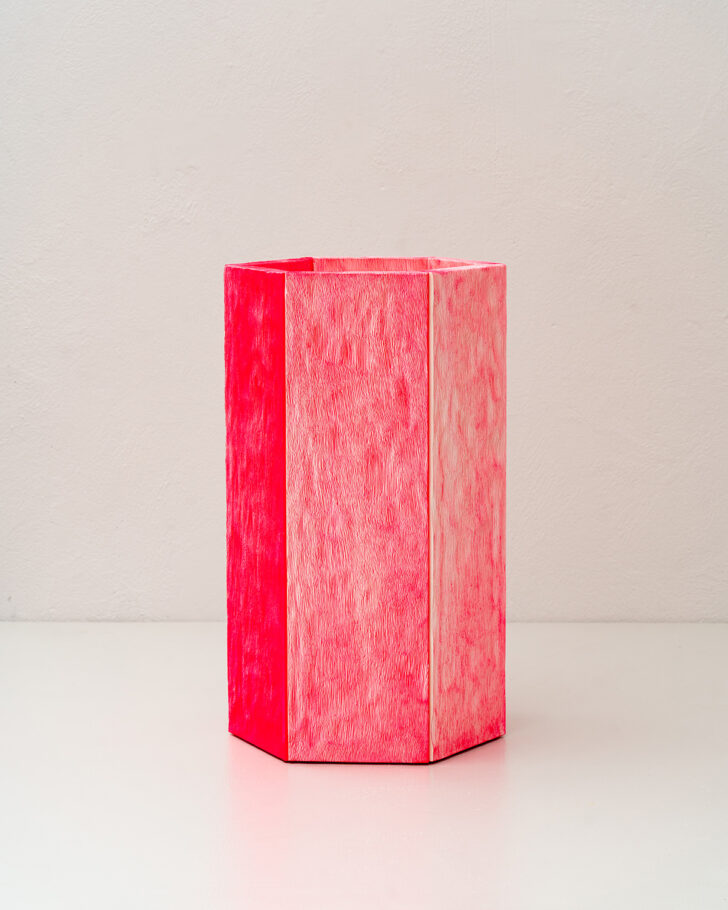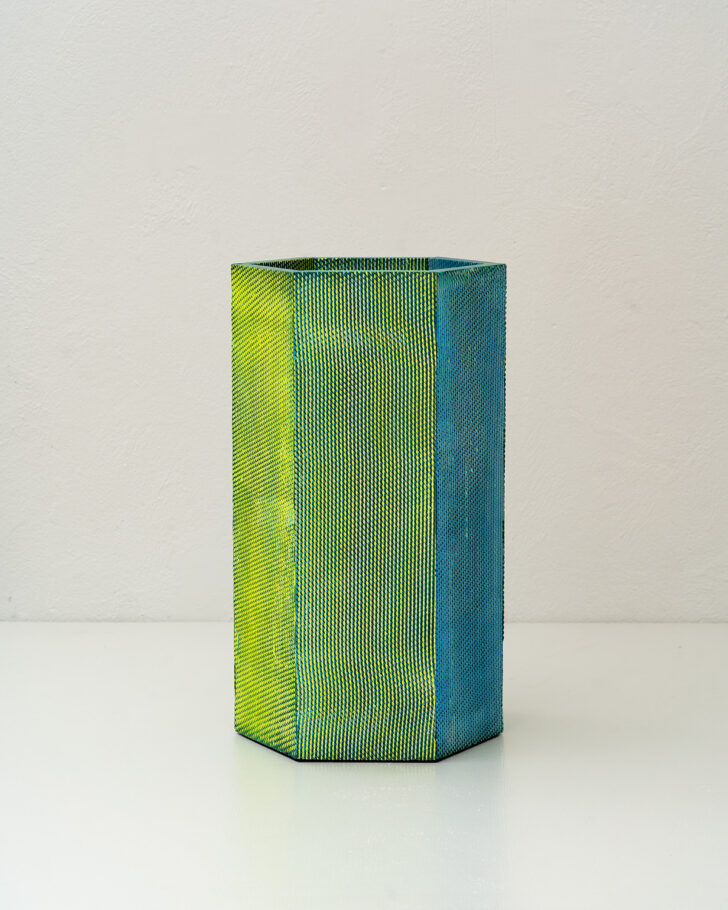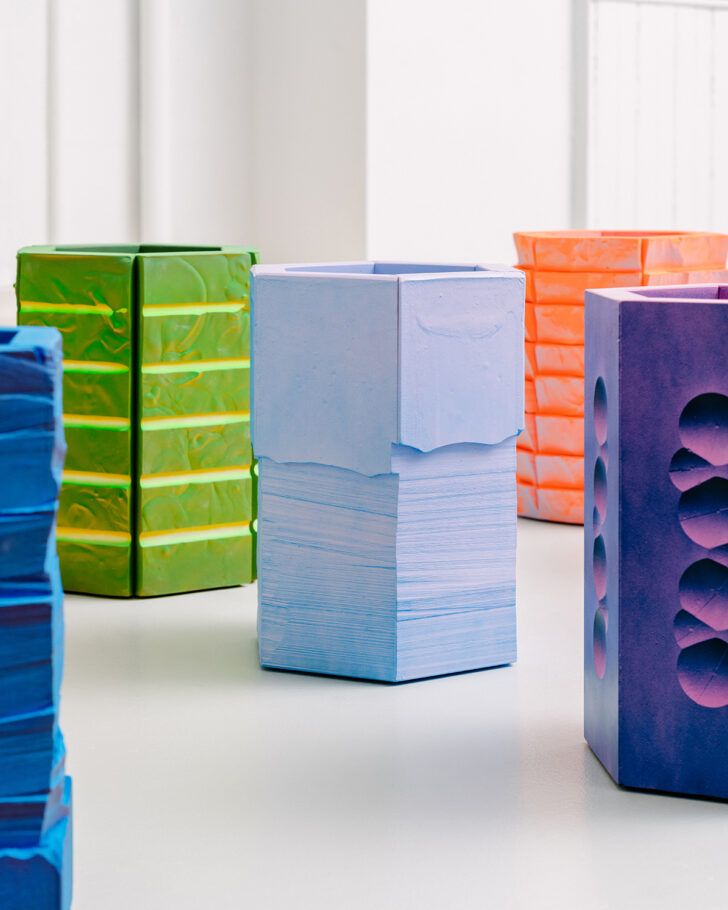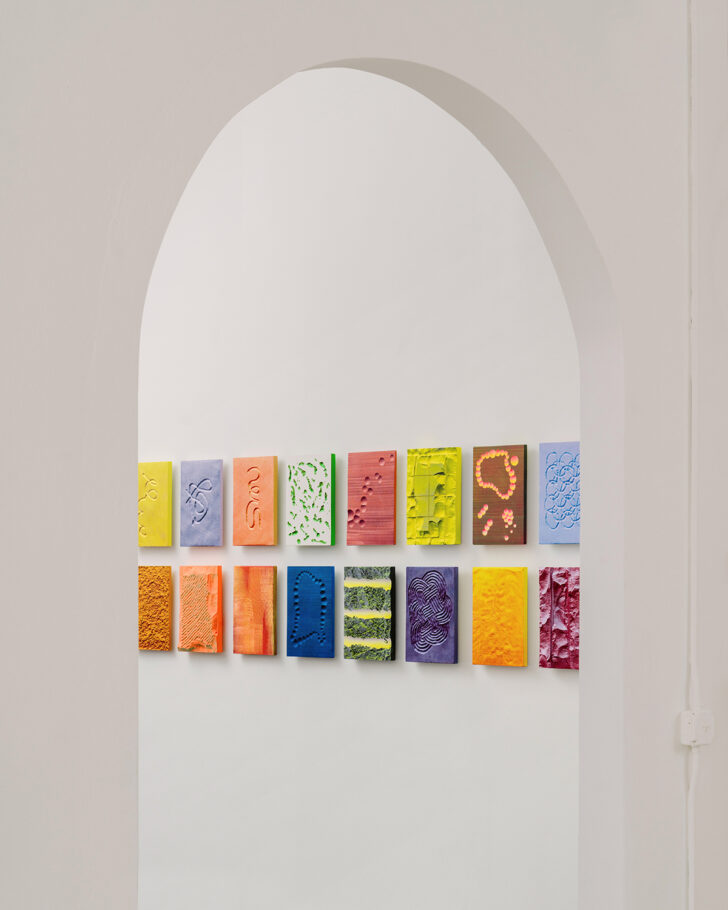 A patch of lichen growing on the shady side of a rock was the initial muse for almost 100 textured sculptures by Brooklyn-based Jamie Wolfond, which are currently on view at Matter in New York. The pieces were made by casting, carving, and painting gypsum cement, then spray painted in neon colors from a hard angle to emphasize how light and shadow can capture a form. Named Flash Set, the series includes three typologies: wall-mounted panels, and large and small vessels. Until September 9.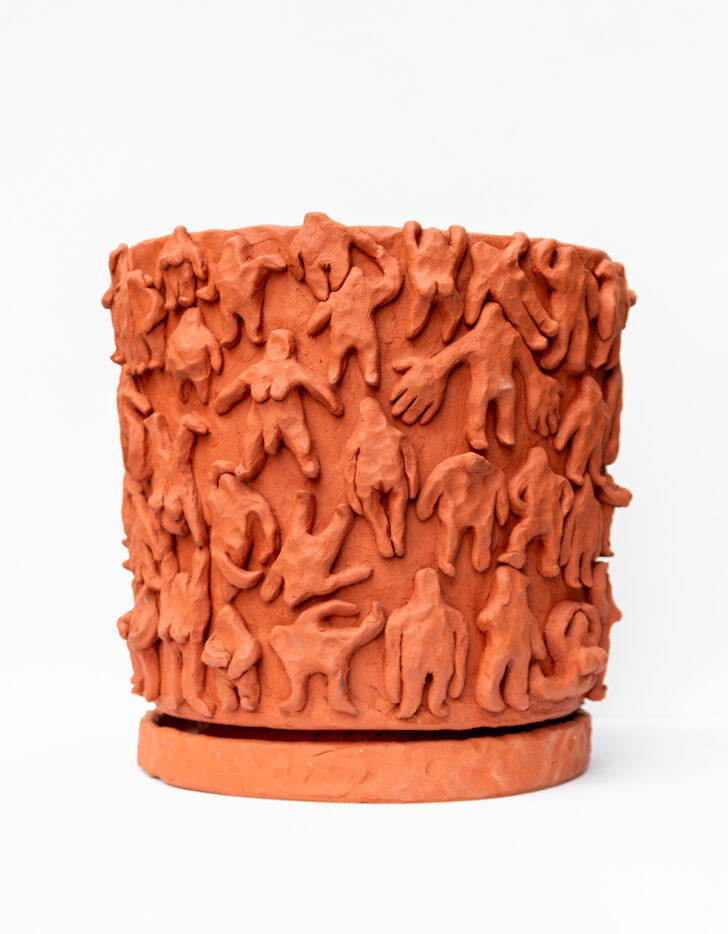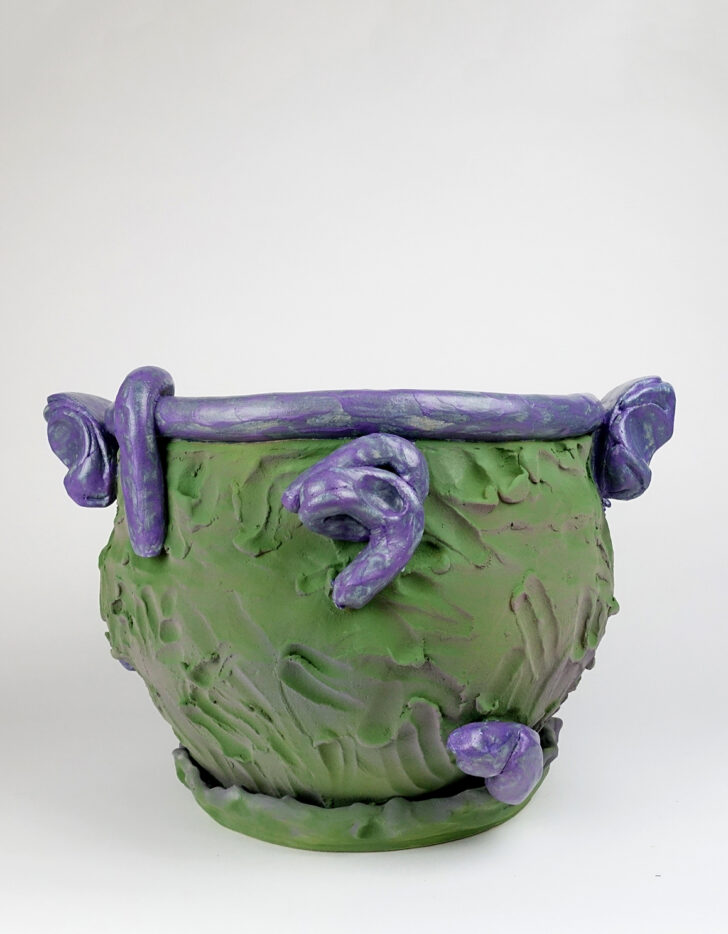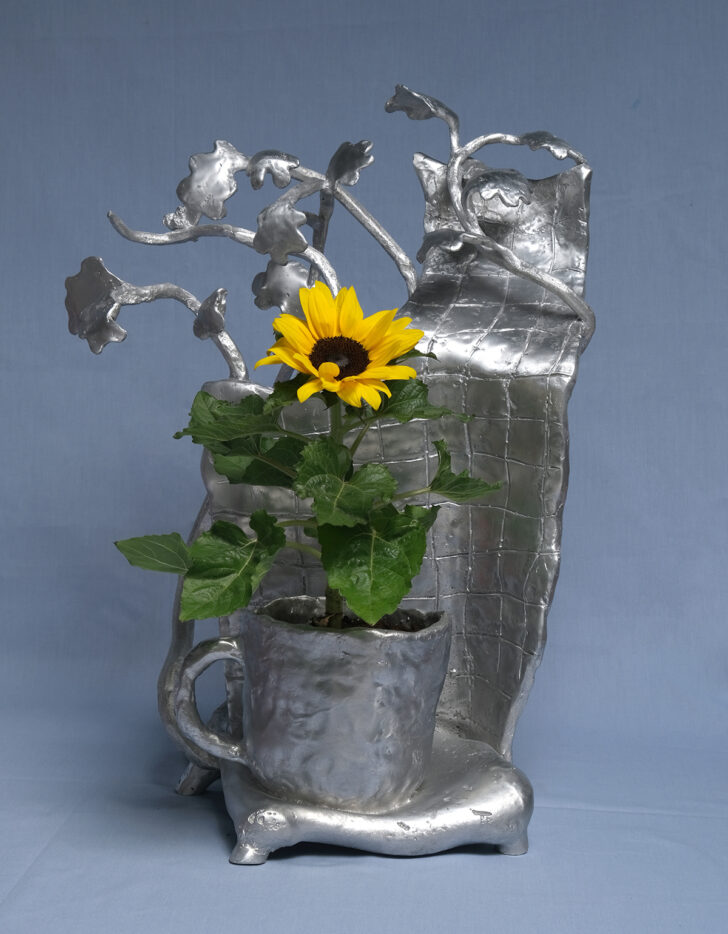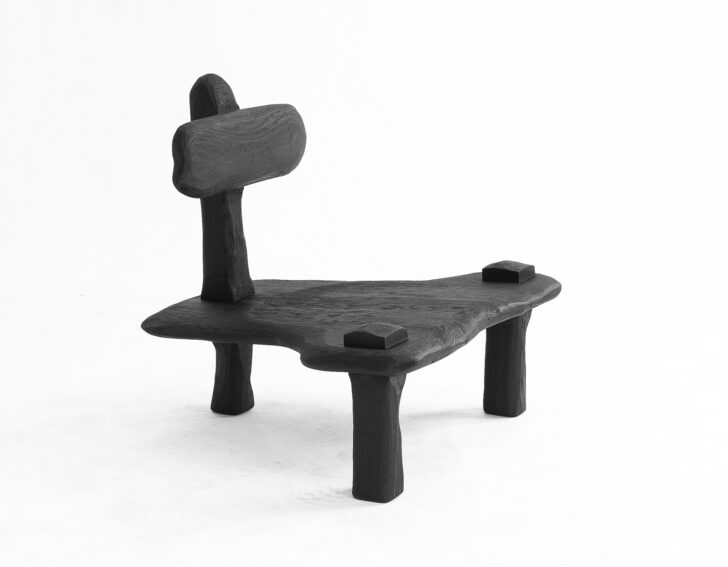 One for all the plant parents out there. Belgian gallery FRACAS has commissioned nine artists to reimagine the humble planter for this year's Art-o-rama fair, taking place in Marseille later this month. The brief asked for attention to both form and function, with consideration for which plant species would inhabit the vessels, whether it would be placed indoors or out, how water would drain and more. The results range from abstract to beautifully bizarre, from Coline Rosoux's terracotta pots covered in tiny human figures to Olga Flór's expressive metallic sculptures. Art-o-rama runs August 25-28.