05.19.20
BZIPPY's Outsized Ceramic Works Are the Statement in the Room — Not the Accent
This piece is part of Sight Unseen's 2020 Offsite Offline coverage. To view BZIPPY's virtual booth on Offsite Online, click here. 
If you're lucky enough to ever see one of LA-based artist and sculptor Bari Ziperstein's outsized ceramic works in person, the combination of scale, texture, and hue might stop you in your tracks (not to mention make you wonder how much they weigh, and if you might steal away with one when no one is looking). Her design studio, BZIPPY, creates striking, often Brutalist-inspired ceramic vases, vessels, lamps, and furniture — as well as an exclusive collectible design collection for The Future Perfect — while within her complementary fine art practice, Ziperstein has been known to explore meticulously manicured fingers, dimensionality, or, as she did for Charles Moffett Gallery in 2019, the aesthetics of Soviet propaganda. With her robust dual practice, Ziperstein welcomes decorative ceramics into the fine art conversation, and vice versa. For Offsite Online, we connected with Ziperstein to find out what she's debuting, how she's evolving, and what she's thankful for.
RENDERINGS BY CHARLOTTE TAYLOR & VICTOR ROUSSEL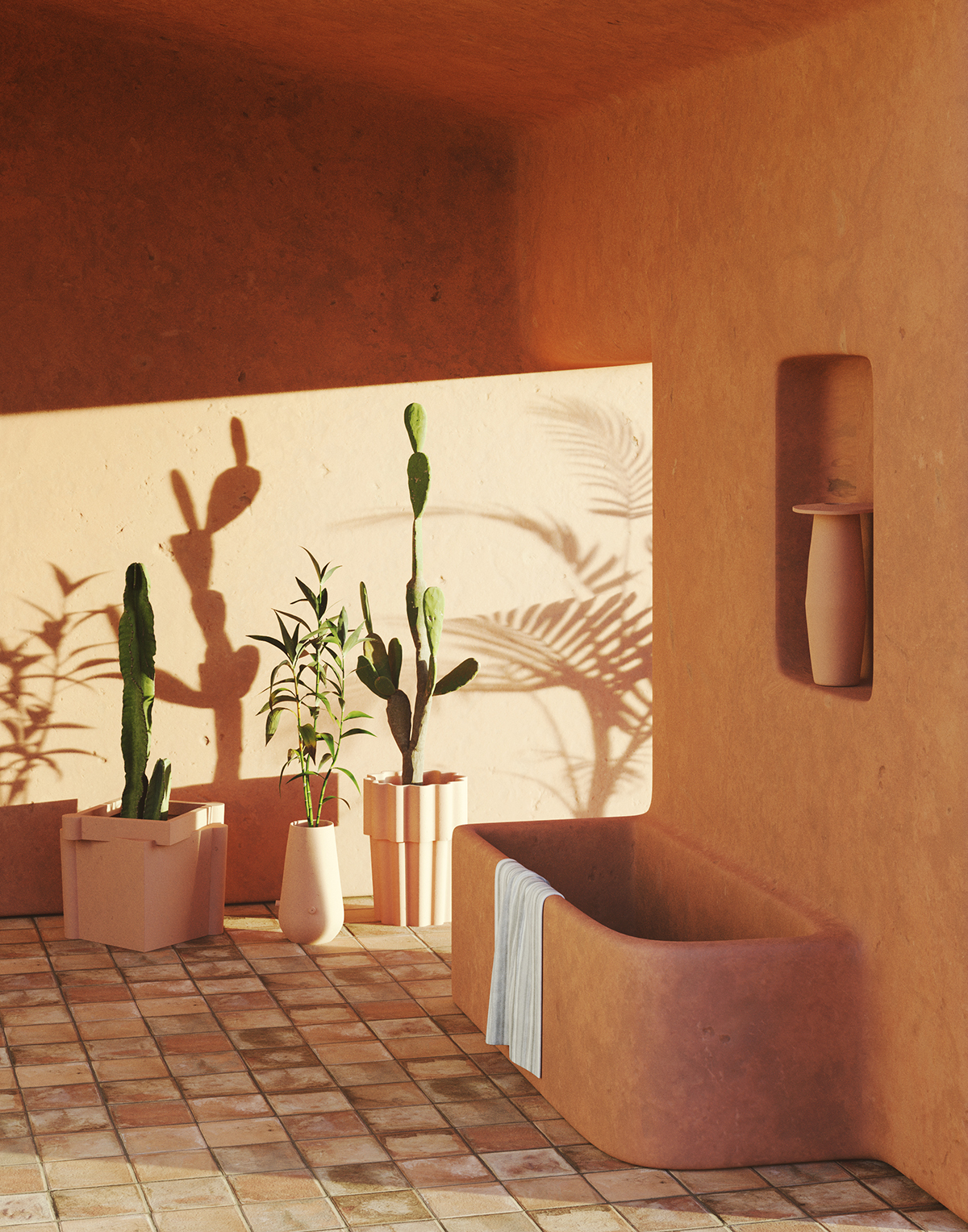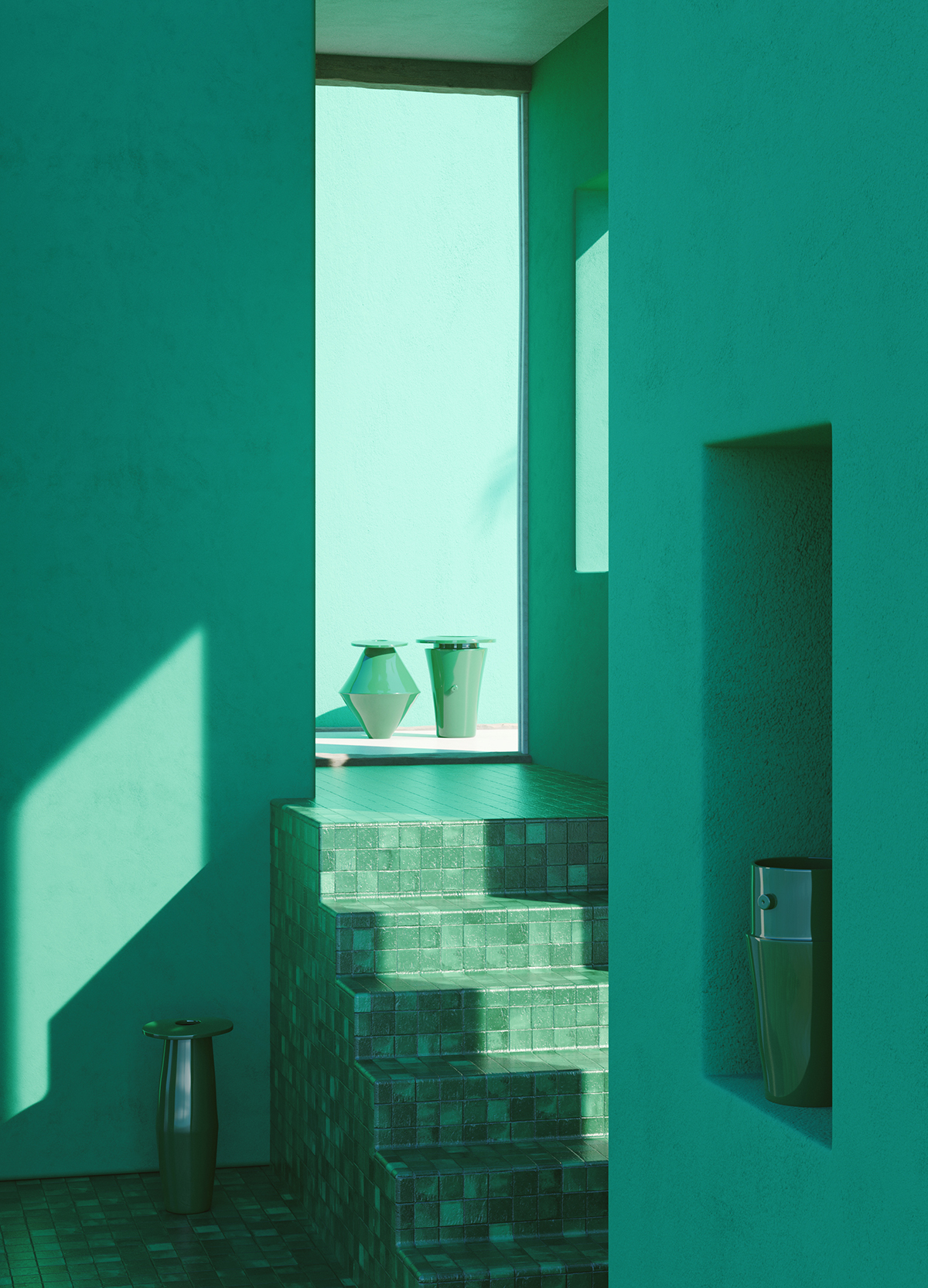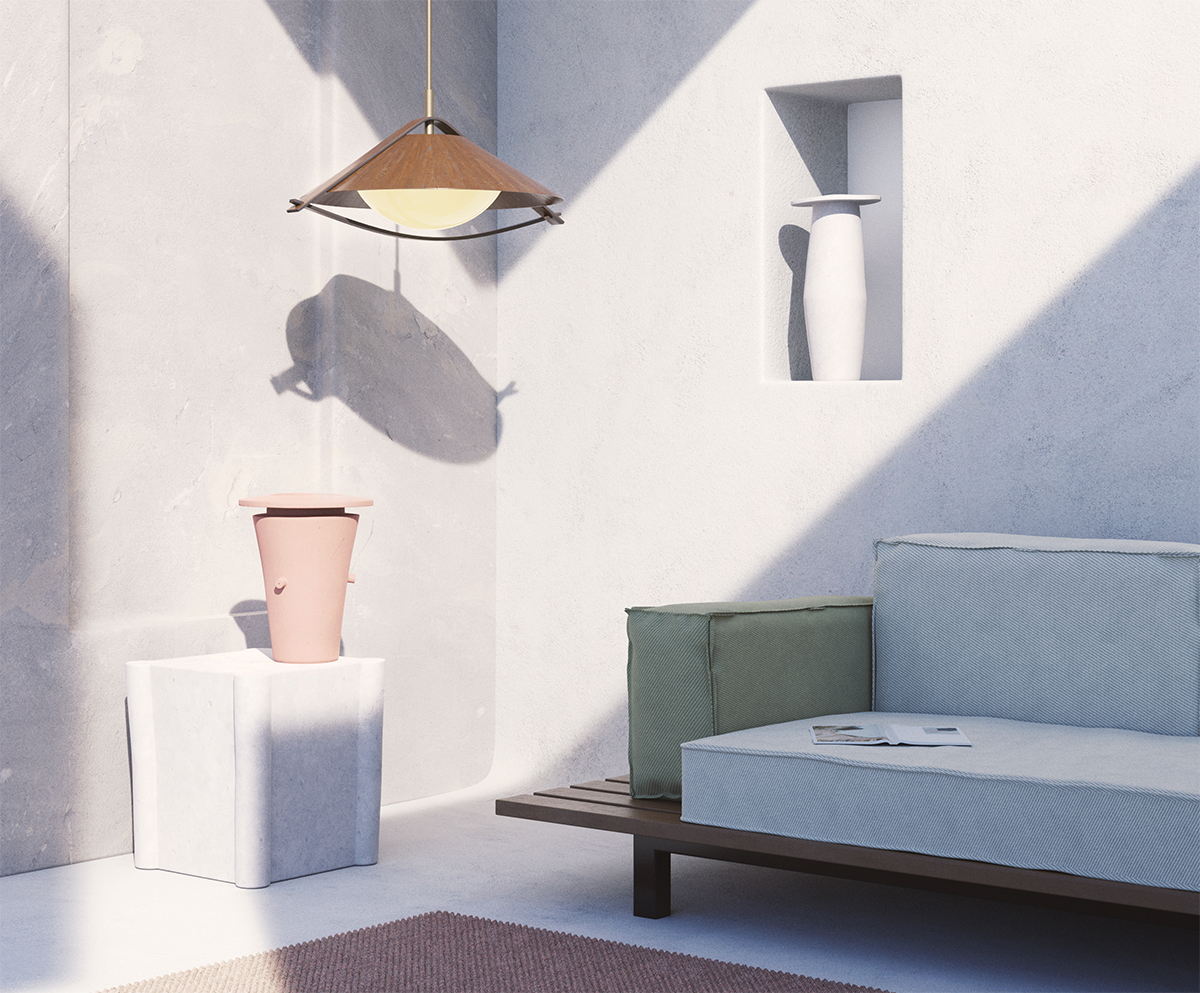 Your new collection for Offsite Online is, quite literally, a big deal. Tell us about it!
The collection expands upon some of our studio's iconic works — including the Cloud Planter and Tube Series — and ambitiously approaches scale, introducing the Giant Tube Series, the Giant Clover Ball Planter, the Castle Planter and Side Table, and a newly scaled-up version of the Cloud Planter. The larger works also present an opportunity to better highlight the studio's dynamic glazes including the newest ones, Chrome Green and Almost Teal.
It can be tough to get a sense of size online. What's the actual size of these new works?
The Cloud Planter is nearly two feet tall. Within the Giant Tube series, height varies from 15.5 to 22 inches. They are heavy — the Giant series ranges from 20-35 pounds, and the larger side tables and planters are over 50 pounds.
In thinking about how our existing works relate to the body, we really wanted to push the scale and challenge ourselves on an engineering level. The new collection pushes the physical boundaries of our works, and asks how ceramic objects may be observed as the subject of a scene rather than an accent.
The new, scale-defying works respond to the studio's dedication to challenging engineering methods and its abilities to accomplish ambitious projects. The Castle Planter and Side table, for example, mimic a fortress-like construction and present a compelling demand to physically take up space. On a production level, these works physically push the limits on what can fit in a kiln.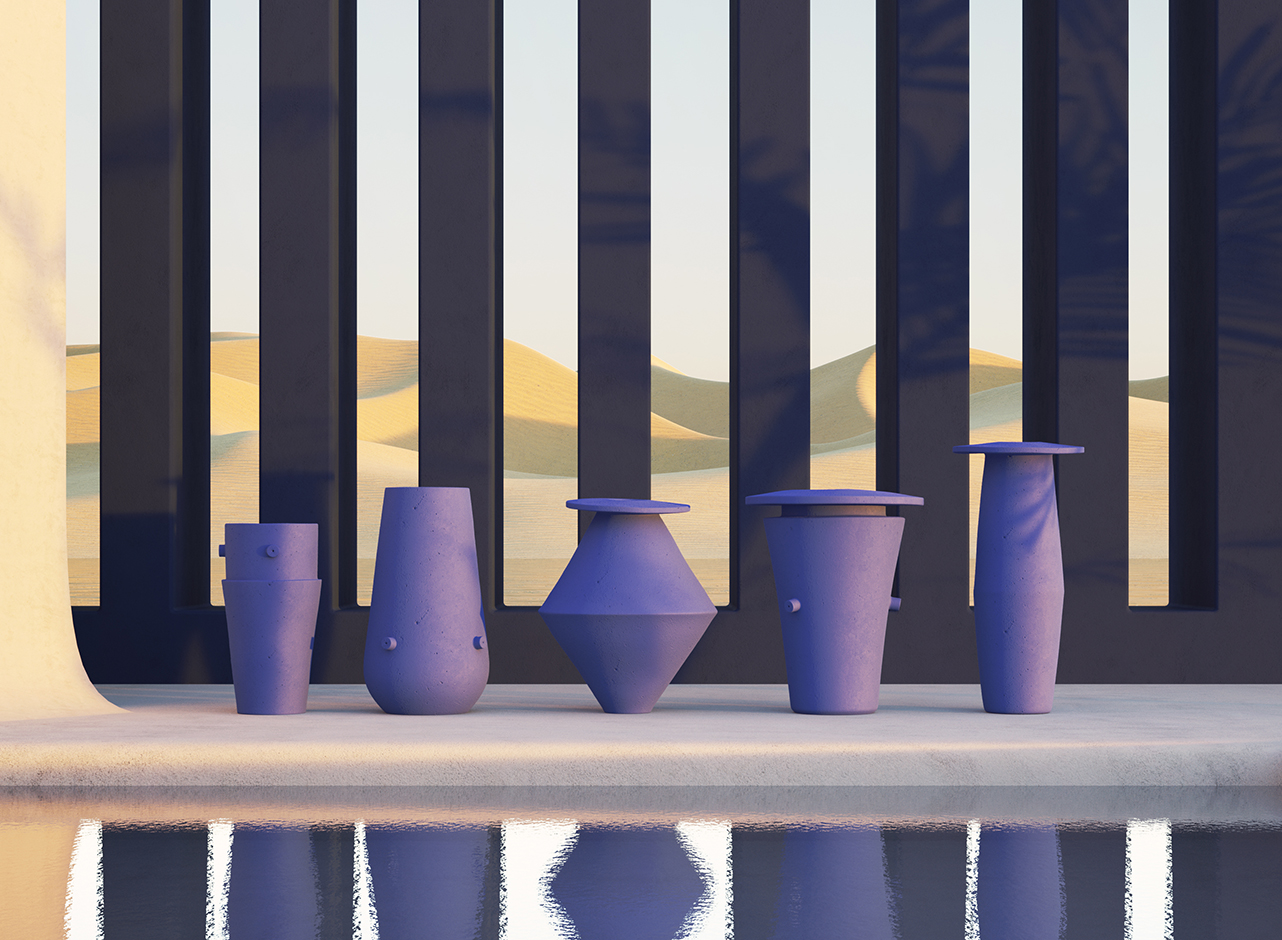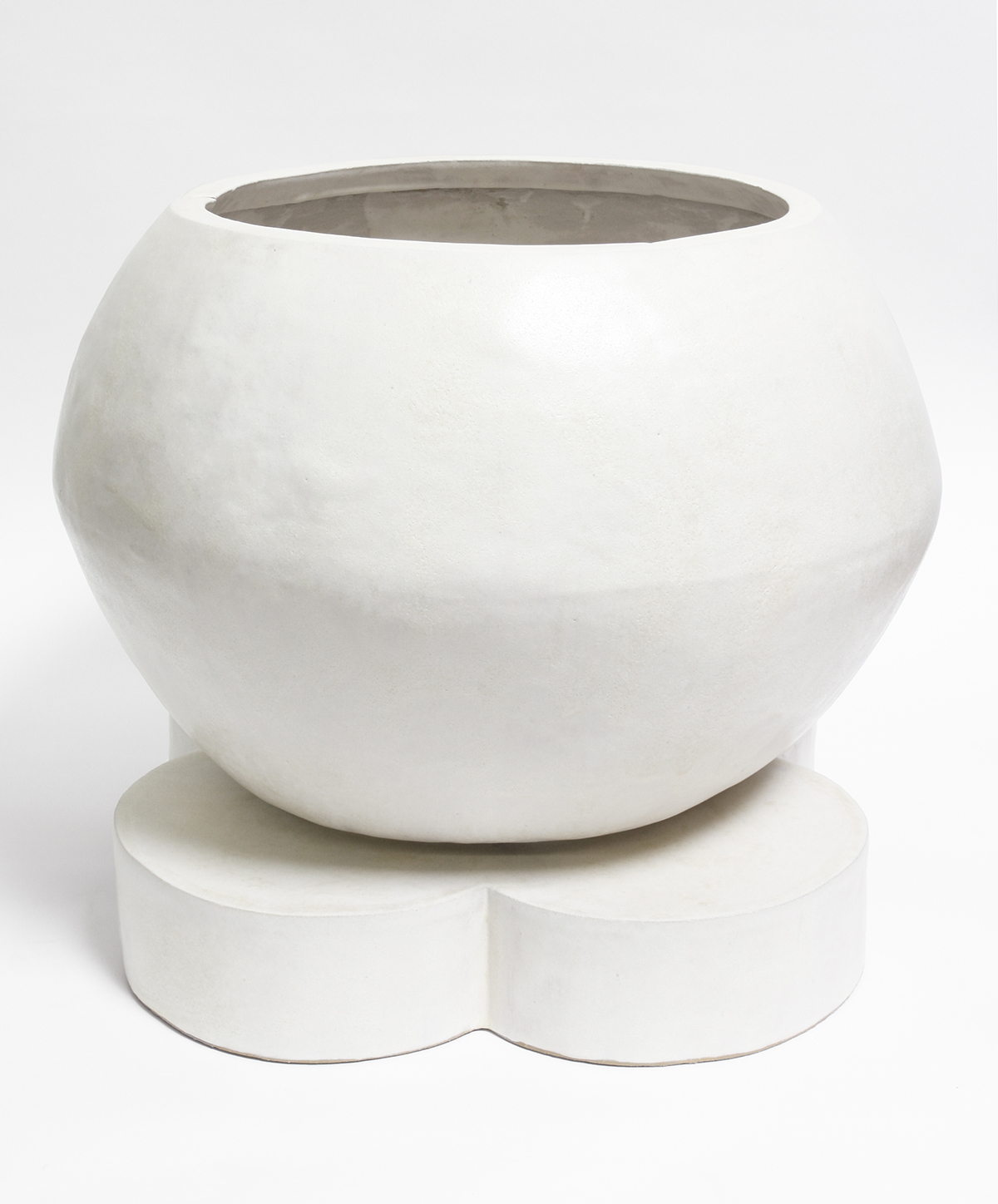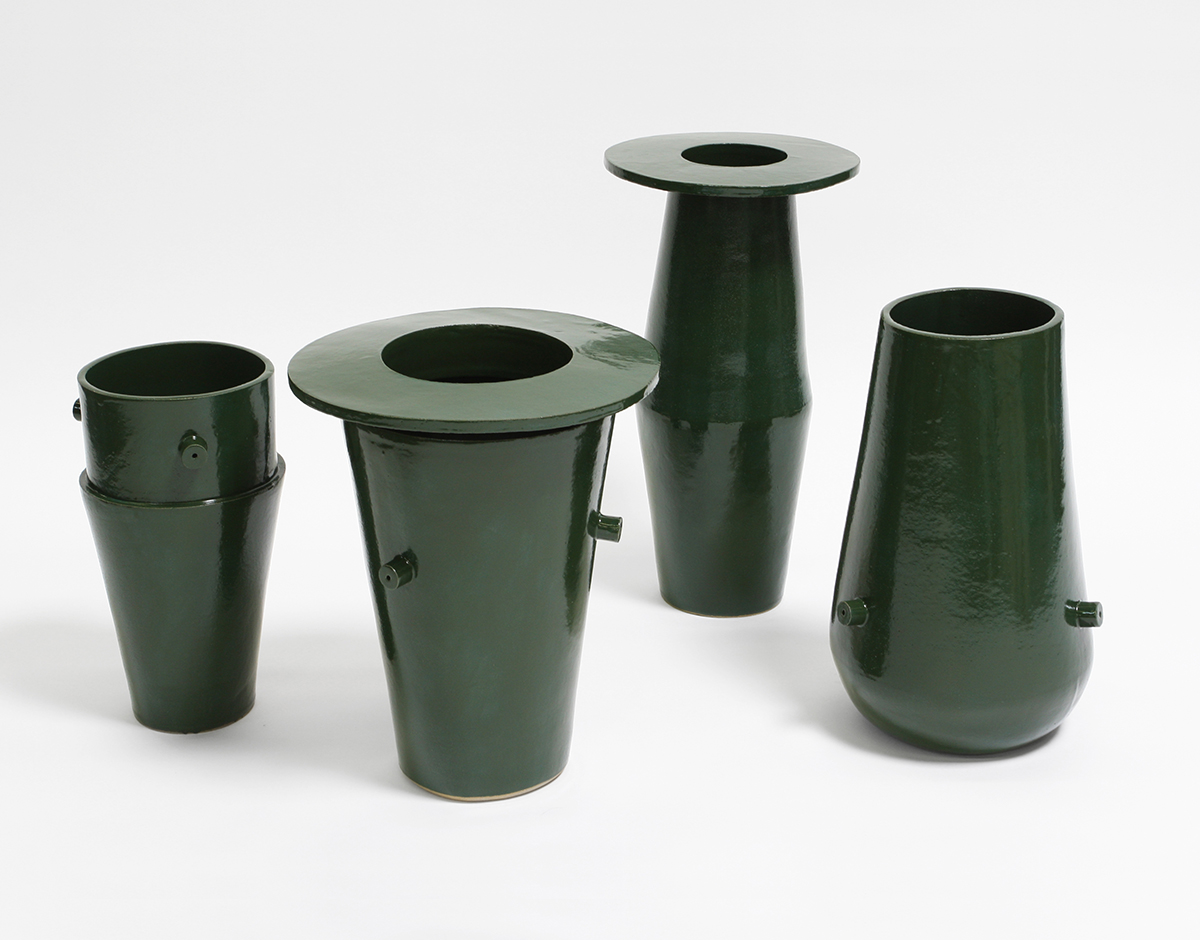 How do you go about creating at this scale?
We develop engineering methods that challenge conventional notions of slab constructed ceramics. We have produced both intimately-sized and architecturally-scaled ceramic vases, vessels, planters, chairs and side tables. Everything is slab-built or extruded from an industrial extruder, but it all starts with a sketch and most often a clay model. From that sketch my lead fabricator and I work on paper to determine dimensions and a cut list for various departments in the studio, from the slab throwers and extruders to the fabrication team.
What specific considerations does this type of scale require of you as you design?
I typically work with the goal of constructing ambitious pieces that are designed to make it through the kiln in one piece. This requires planning and strategizing tools or repair methods and glazes. This goal helps me continually develop a new series of works including side tables and planters that challenge scale to maximize the boundaries of the kiln.
What drives you to create both commercial work and fine art work?
BZIPPY is a woman-owned, artist-owned company that serves as a model for parallel practice in fine art and entrepreneurial endeavor under the same roof. Our products add a woman's voice to the traditionally male-dominated fields of decor, design, and architecturally scaled ceramics. I try to design objects that are missing in our day to day — everyday objects such as vases and side tables with a fresh approach and unexpected technique.
Beyond that, we provide stable, good paying jobs with benefits to our community of artists who are often subject to precarious employment, housing, and healthcare coverage.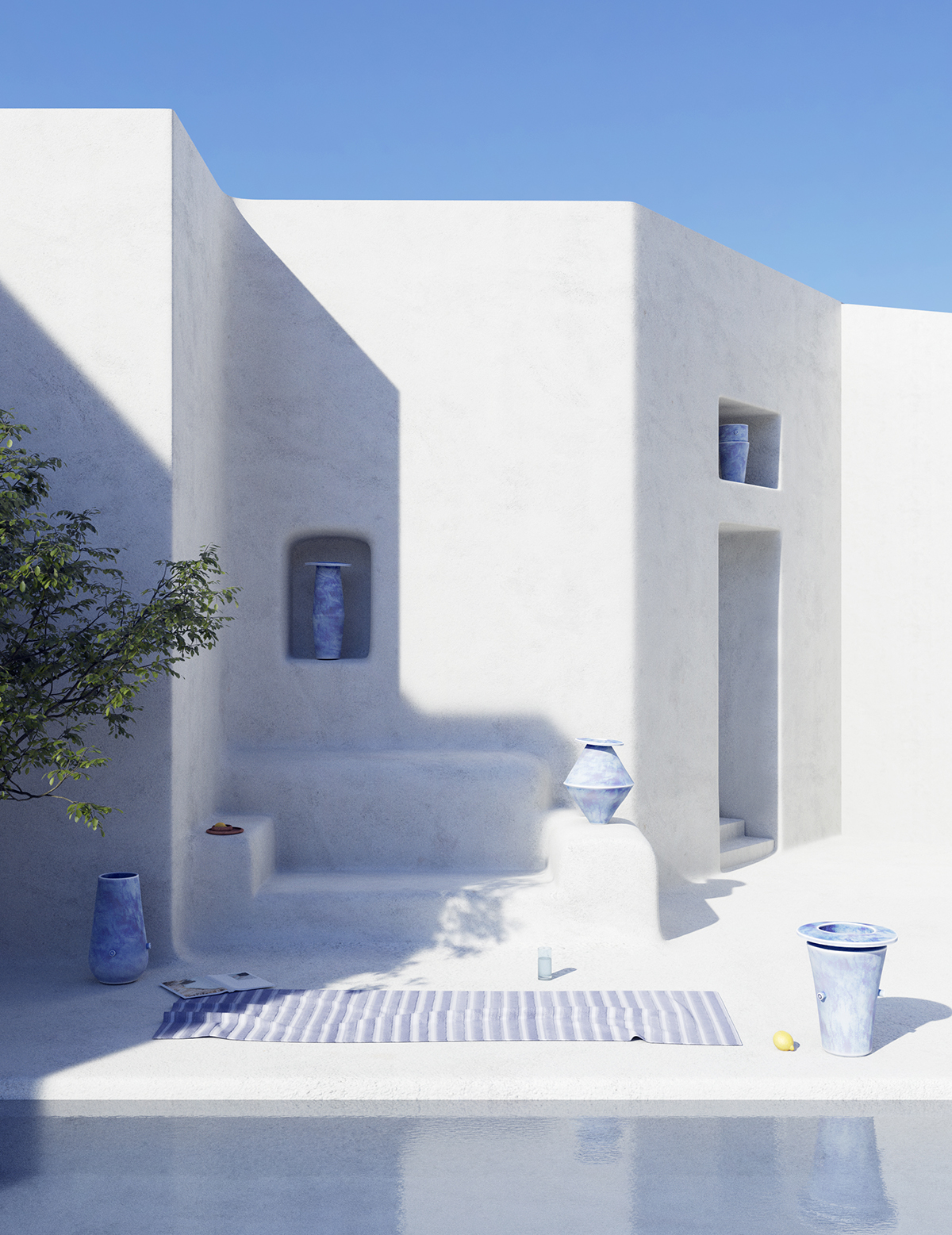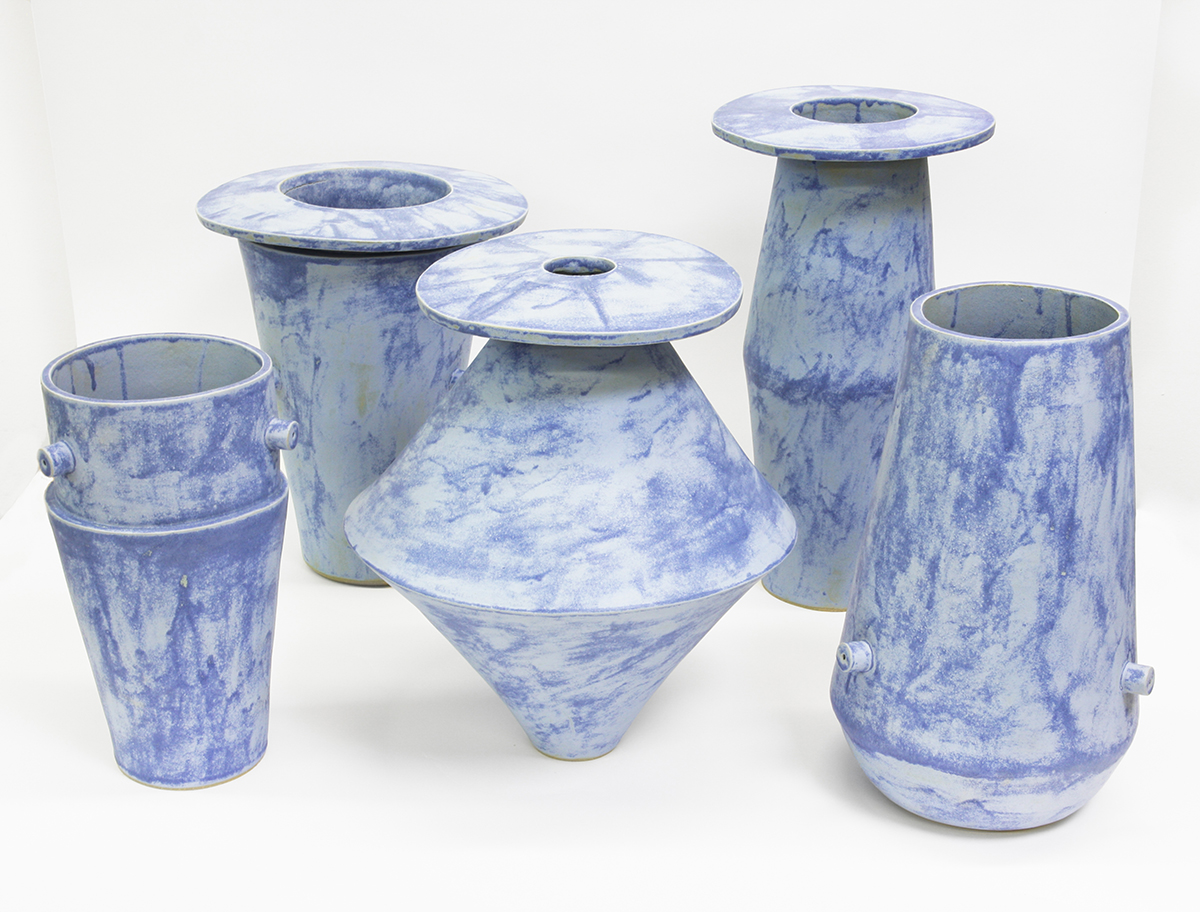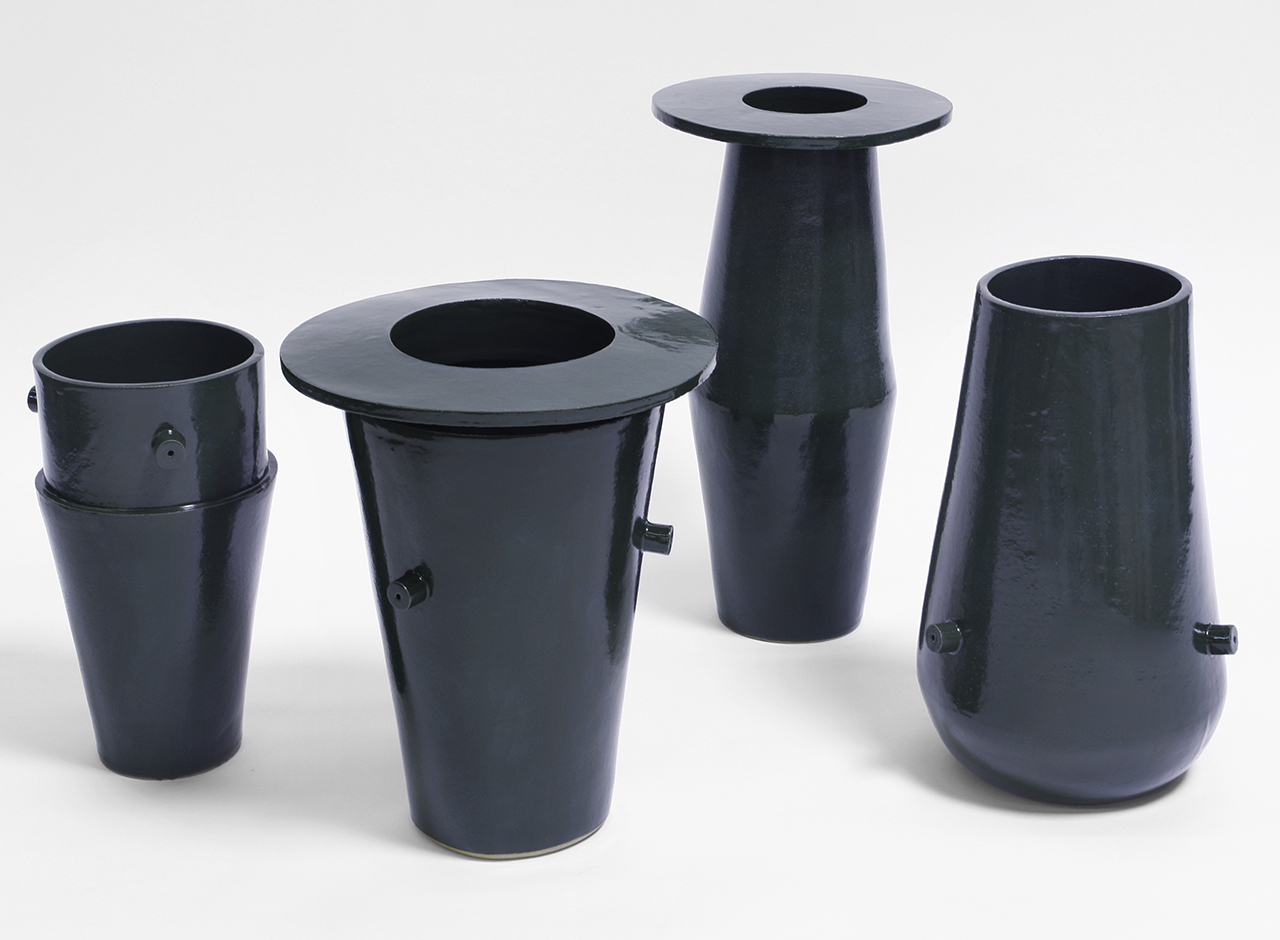 The renderings you commissioned for Offsite strike such a different mood than what we typically see from your work. Did you talk to Charlotte and Victor about the direction those should take?
Yes, we talked about a California vibe filled with natural light, and the works being the focus in the room. Charlotte asked if I wanted my pieces paired with historical furniture, and I asked her to focus more on getting everything to scale. I was very interested in monochromatic scenes — with the terracotta specifically. I loved what they did so much that I actually commissioned them to make five in total rather than one.
In general, do you think about or fantasize about what kinds of interiors your pieces will end up in?
I always imagine my works being the statement in a room, not the wallflower — either by their bold glaze choice, sheer scale, or the design themselves. I don't imagine the works behind glass in a cabinet, but rather really used and incorporated into one's life with overflowing plants and large groupings or clusters of works lounging in the California light.
Was it fun to have your pieces in this context rather than in a traditional "booth" setting of a fair?
It was incredible to have these pieces in a fantasy context, as having our works in situ is a huge gap in our marketing materials. As a company, we were gearing up to rent a house and had a photographer lined up, but due to COVID those plans aren't possible. It was a delightful process to use technology to fill some of the gaps in our in situ photography needs, being our first time working in this method. It's so important for our clients to see how the works function in space and even how to use the works in their homes. Booth settings have their place to call out a new collection and have a more refined presentation, but it's always in the end about how the works will look in context.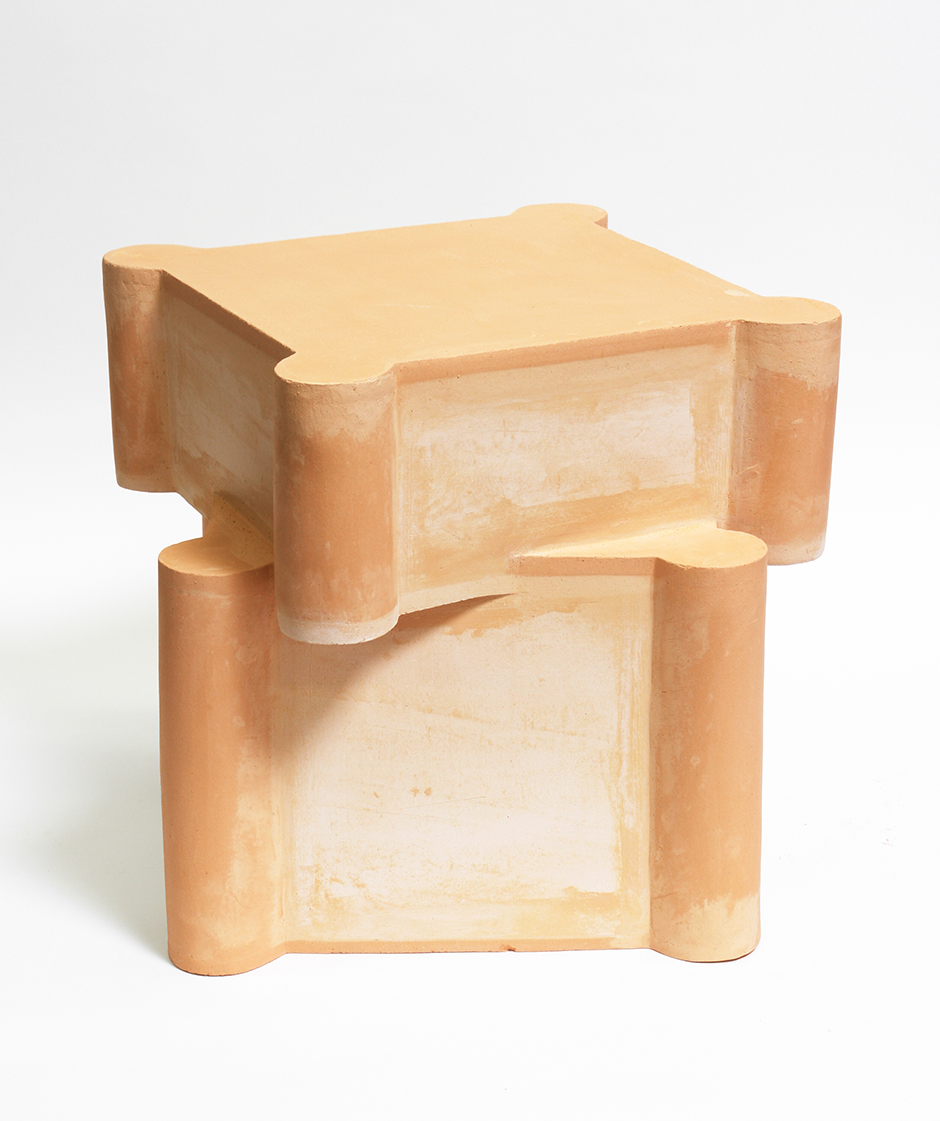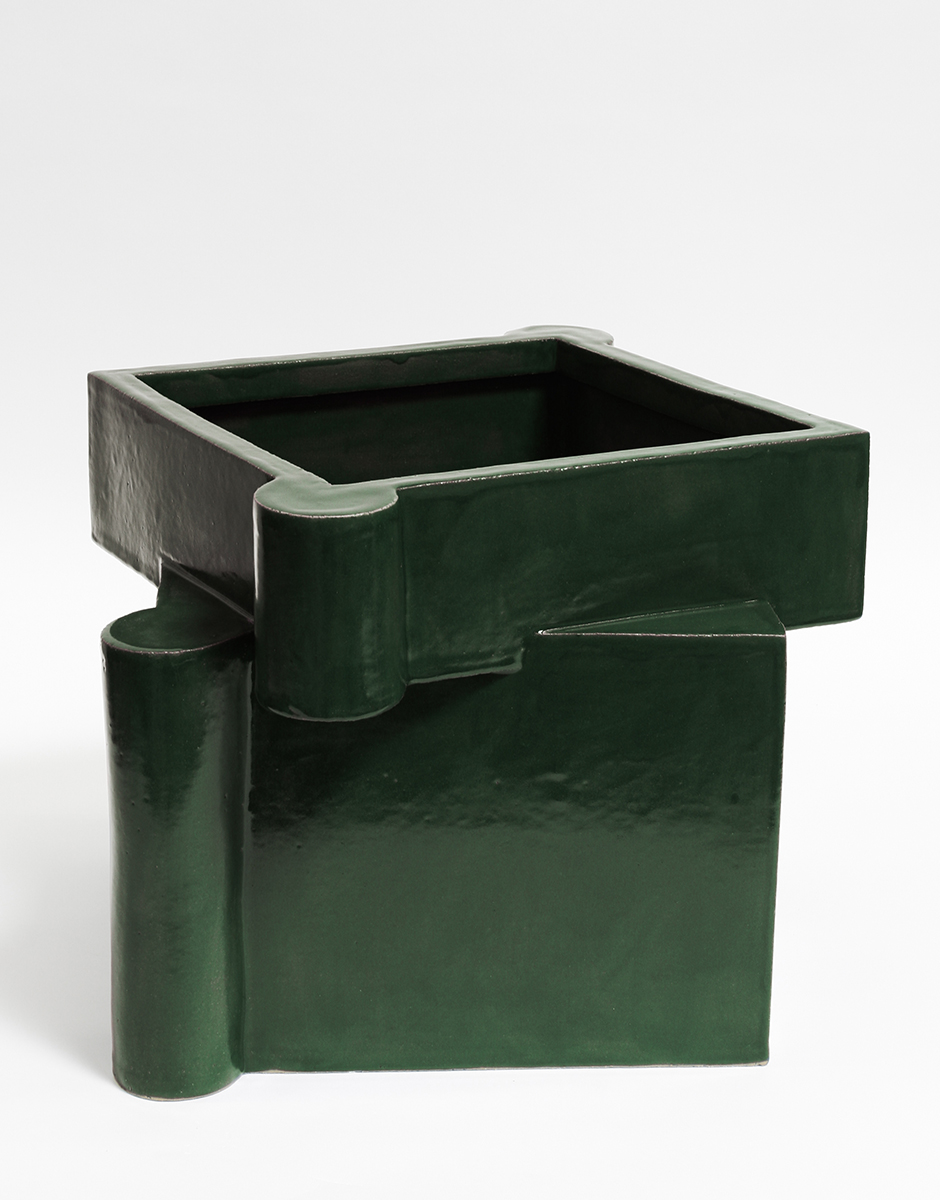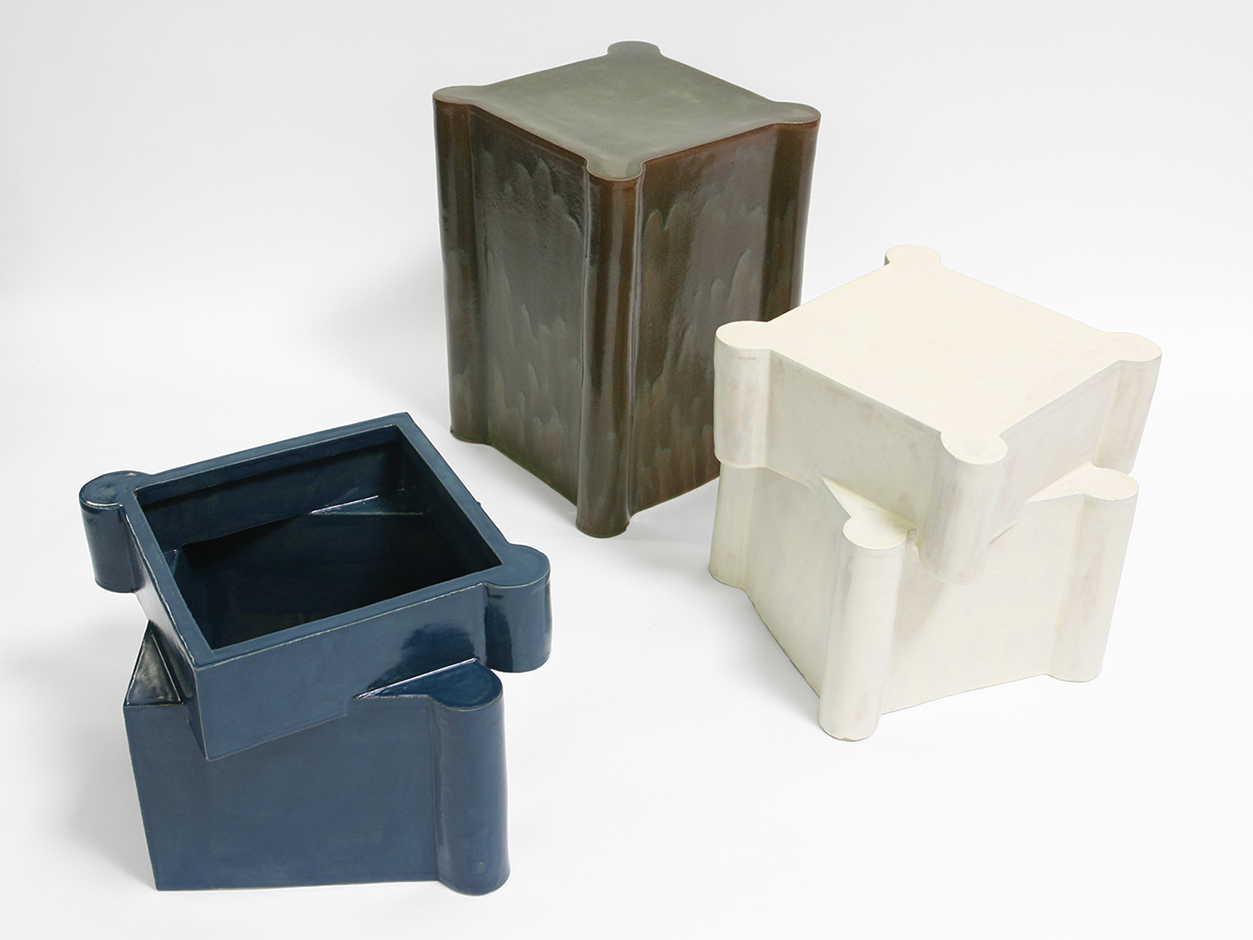 We're spending so much more time home right now. Has that afforded you any new insights around the idea of home?
Usually the house is a place we come home to. Now, we're really using it in another, fuller way. In terms of our business, I'm finding that people are only buying the larger works right now. People are filling a gap — a need. Right now it's not so much about finding something to put flowers in, but a side table to use every day. It's a little more function-forward. At the same time, a month before lockdown, we got a new dining table from Kalon. I feel so grateful to have beautiful objects made by LA makers that I can really live and spend time with. 
Is your practice different in the current climate? Tell us about ways you have had to pivot or change parts of your business.
I'm thinking not only about survival, but what the new normal may look like for our company on a day to day basis. It's a daunting task, and not so inspiring. Small slivers of hope come in the form of asking questions about why we are doing the things we do by hand with so much labor.
As someone whose identity is related to work and making things, the heavy lifting and heavy work of being back in production has been extremely centering. Doing computer work is not the most embodied work, so to come home and feel the day's work in my body is helpful. Overall, it's been an opportunity to be more physical with the grief, which I always appreciate, and doing heavy work allows me to feel more grounded.
Any surprising evolutions or opportunities that you'll keep exploring if things return to normal?
Although extremely tragic, I'm thankful for this time because I'm alone in the studio working as the sole fabricator, which is a process I haven't engaged in for years, as I had shifted to working more on the business end. But I'm planning to build the company back up. As of mid-March, we let go of our entire production team. At the rate at which we were previously growing, I wouldn't have had the time to pause and develop an evolved version of the company with a new organizational chart.
As things evolve and begin to return to some state of normalcy, I hope to continue spending time hands-on in the studio and streamlining our operations. Before this period, I had moved  away from working in the studio on fabrication. Now I am making work that I've never made before, and it's extremely gratifying. I don't want to ever not have that. And then the opportunity to look inward has revealed all the ways we can work on becoming more efficient in all processes moving forward. In addition to the internal elements, I hope to continue connecting externally with clients.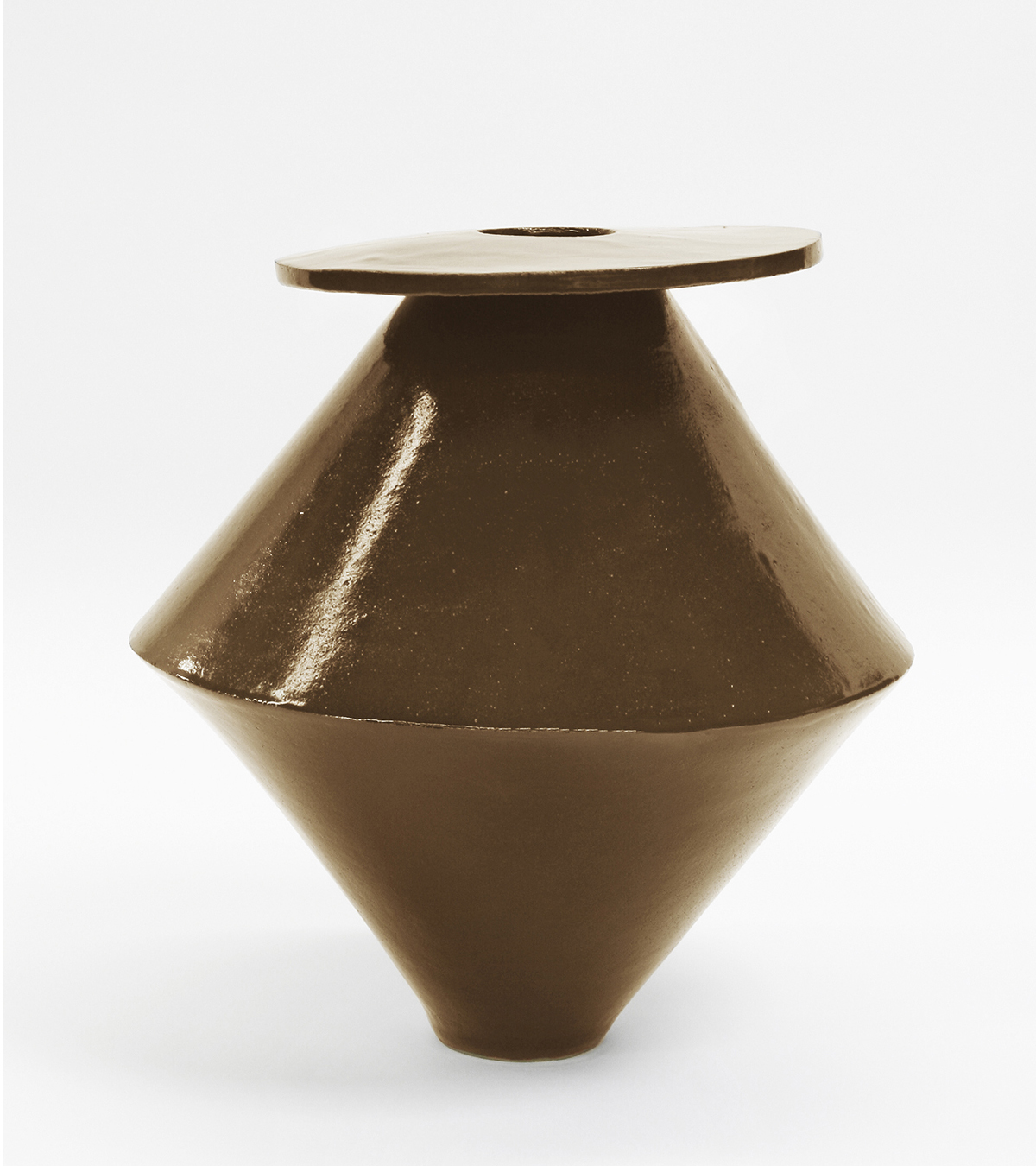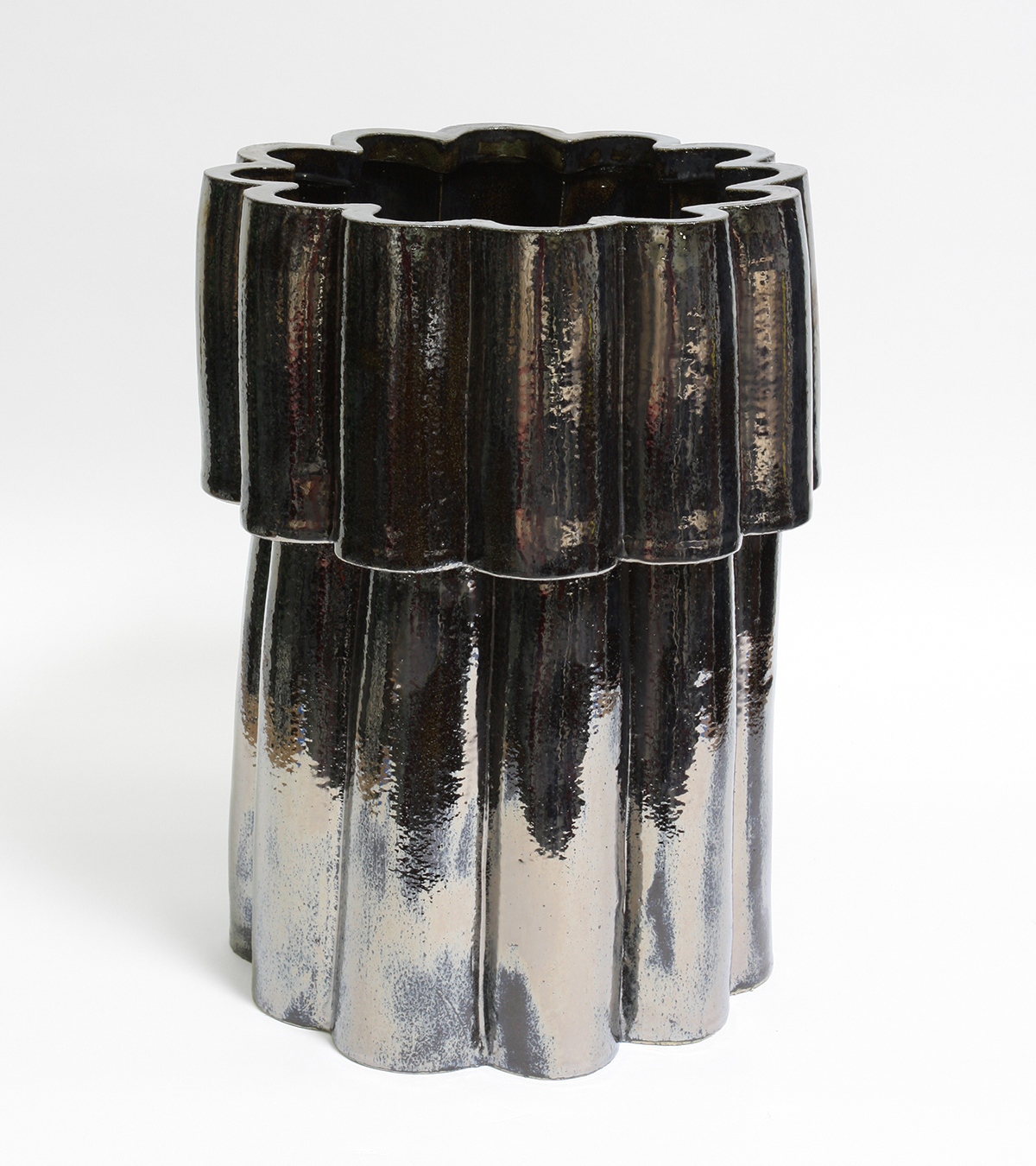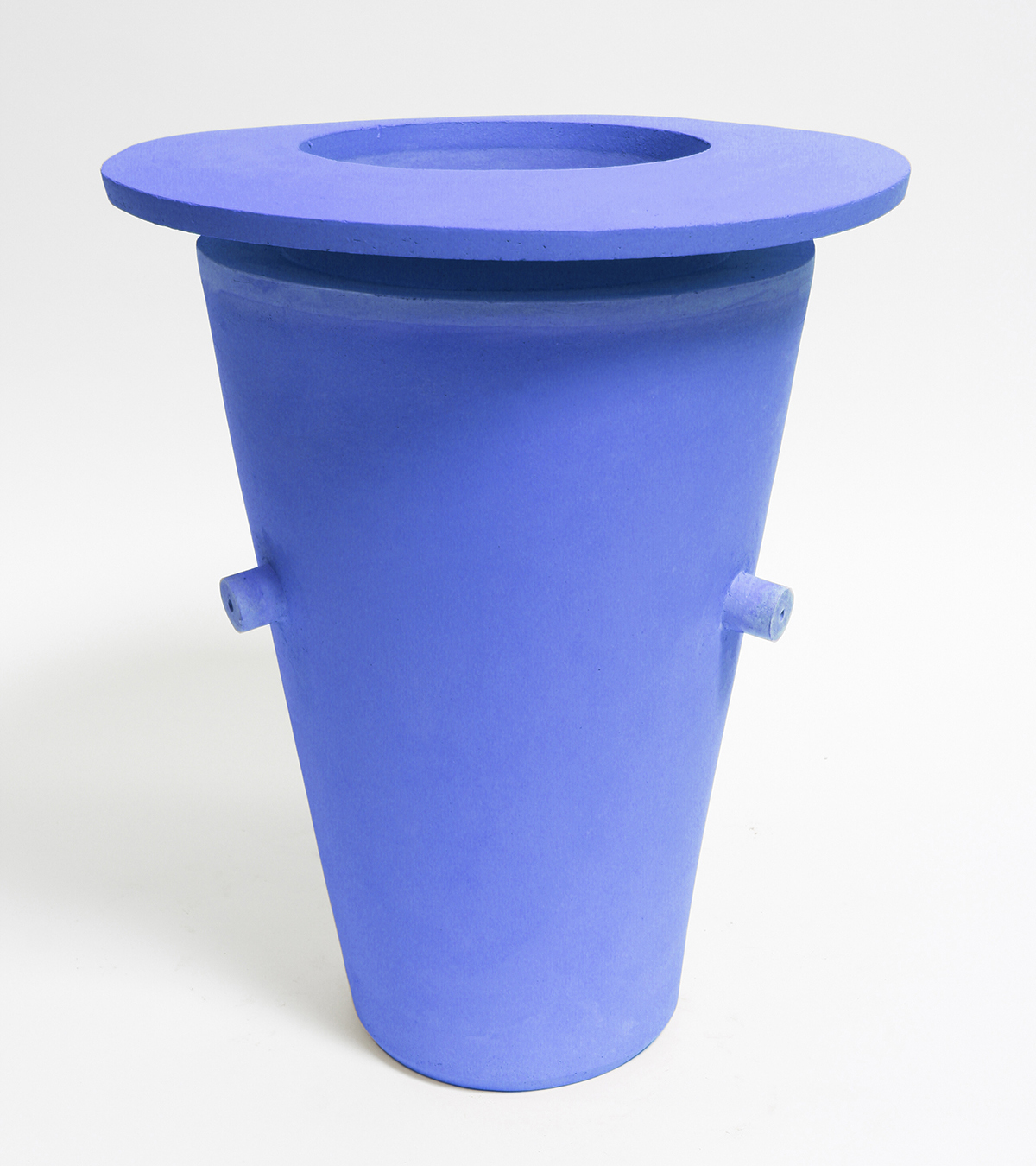 What do you feel is the importance of 'good design' right now?
Beautifully made objects can certainly be sources of inspiration right now, but the elements that got the object made are just as important. Ethically made objects — starting from back of house operations — contribute to good design and embody important values that may offer respite in a time like right now. 
What's inspiring you lately? What are you thinking about lately?
Since starting the company, I've never had the studio to myself, so it has been a privilege to be in the studio alone without having to manage a team. Of course, none of this would be possible without the team — the invention, community, culture, and sheer output, but it's rare to take a pause within a career that is due to outside forces like a pandemic.
I'm going back to my roots of running the show solo. It's like starting a company again but having all the pieces already in place for success. Pieces like a decade of experience in the design field, solid trade / wholesale relationships, and a great relationship with my bank.