09.08.22
This Cross-Cultural Couple is Carving Out a Space for Contemplation — And Furniture Production — in San Miguel de Allende
Part of what motivates designers Giulia Zink and Mat Trumbull of OHLA Studio is a question: "How do we build within the traditions of the past as new challenges loom?" The answer for OHLA, based in San Miguel de Allende, Mexico and Los Angeles, is to balance a contemporary aesthetic with a respect for the region's vernacular design and historic motifs, while turning to local and not-too-far-away artisans and resources to realize their projects.
Since founding their studio in 2017, Zink and Trumbull have provided art direction and interior and landscape design for a variety of clients. Combining those interests with hospitality, in something of an ongoing experiment, they've also created a minimalist residence and gallery of collectible furniture and decor called Sin Nombre. Located in the old colonial city's center, the white plaster exterior of the house, by Associates Architects, looks almost monolithic from the outside but opens up into distinct interior spaces, drawing on the idea of hidden courtyards. The effect is elemental and sculptural: "We wanted the space to feel as if it were carved from a single block of limestone, inside to out," says Trumbull.
Zink and Trumbull have taken a similar approach with the Alocer collection, their own foray into furniture design, which fills Sin Nombre. Muted in color, it's a bold play on proportions — from a series of slab-like travertine tables that reference early stone carving, to the scalloped contours of a chair made of pine cast in aluminum, to the almost undulating, delicate effect of their copper lighting.
The collaboration and connection between Zink and Trumbull is both professional and personal. The pair first met in 2010 in San Francisco (at a bar in the Mission called Amnesia — ironic, given how memorable it turned out to be for them). Zink, who grew up between Sardinia and Northern Italy, was in the US studying abroad and Trumbull, originally from San Diego, had just become a stylist for RH (formerly Restoration Hardware). After several years — "a string of emails, letters, calls, other romances, life" — they reconnected and eventually started OHLA. They've found that their respective creative backgrounds complement each other: Giulia has formal expertise in design, having earned a Master's from the Nuova Accademia di Belle Arti (NABA) in Milan while Mat has a broader liberal arts degree from Hampshire College in Massachusetts. We reached them via email to learn more about their work and inspirations.
(Ed. note: We'll soon be carrying some of OHLA's work in our 1stDibs shop… stay tuned and sign up for our newsletter for more details!)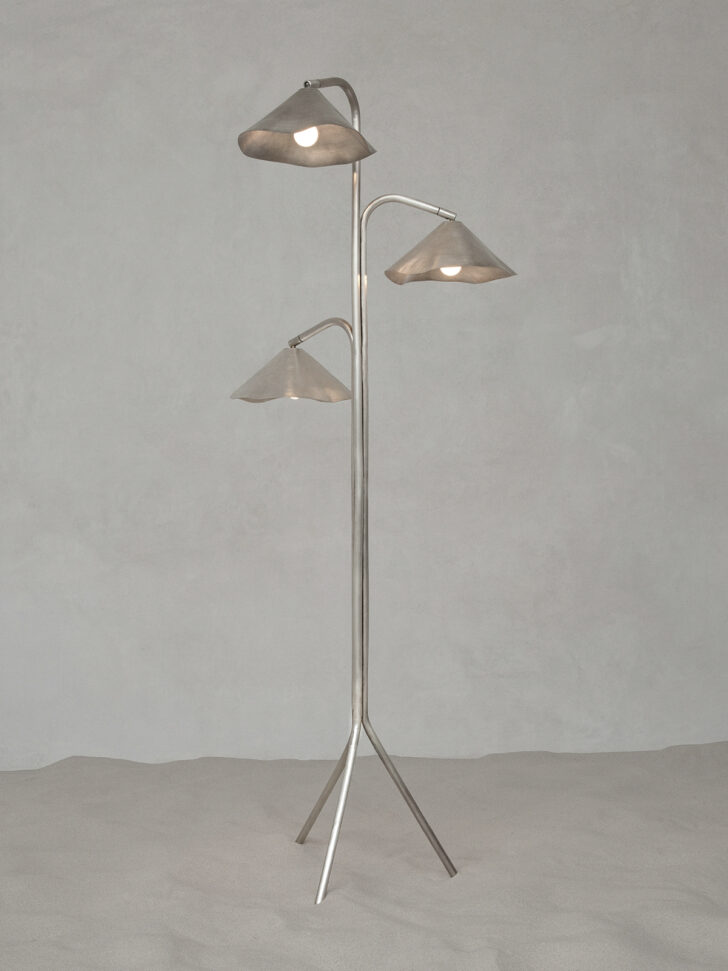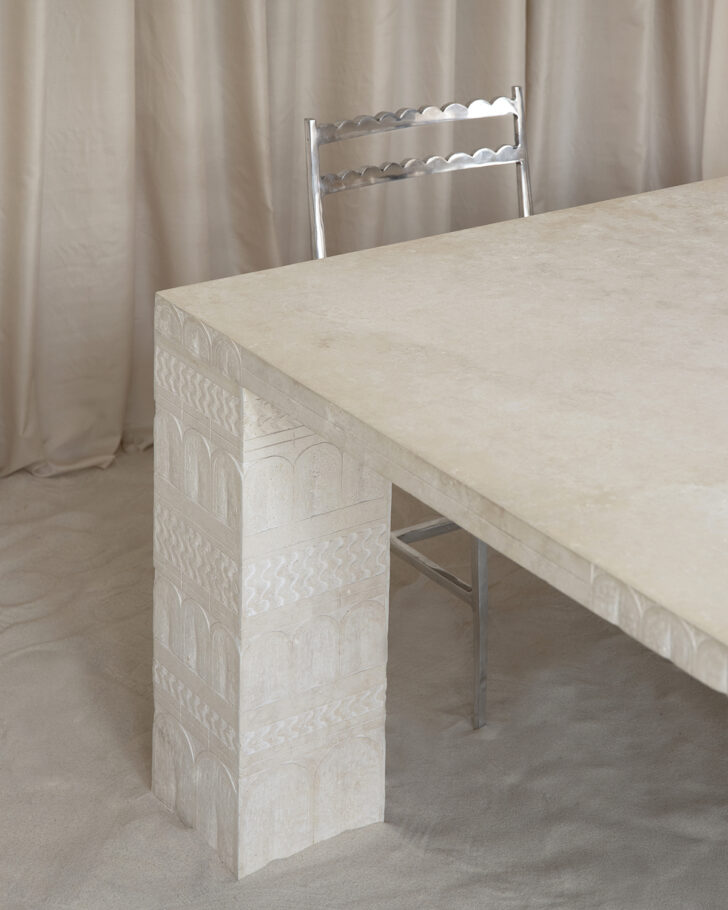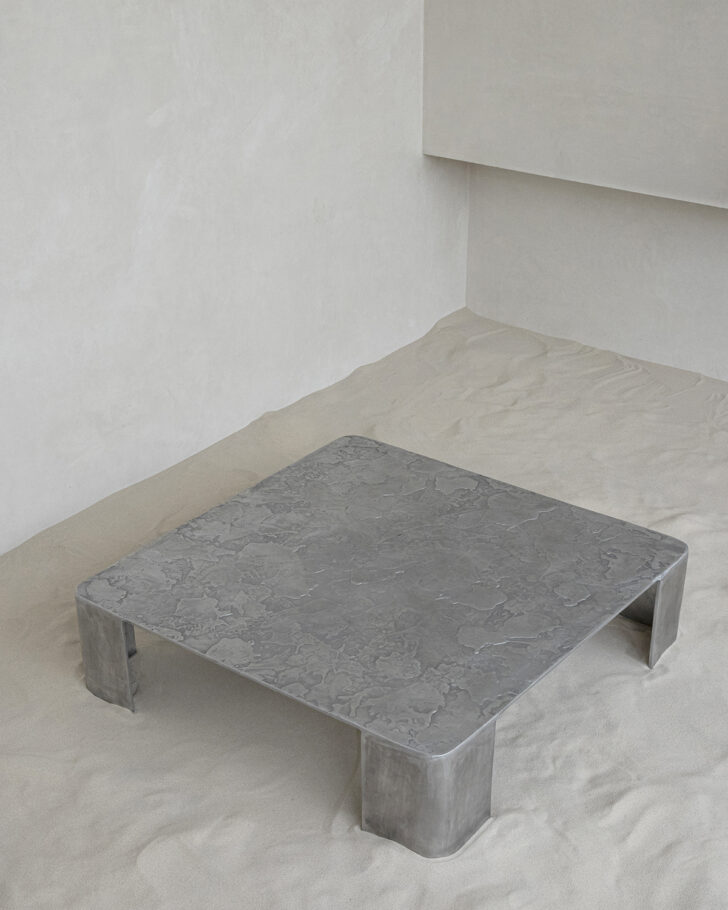 Tell me about your creative paths — how did you find your way to establishing OHLA?
We share similar values and we both have a creative core. We make life decisions based on passions, intuition, and what we believe is artful and full of love. As creatives, I (Mat) am non-secular, and Giulia comes from formal training. I'd say that I group and block out disparate thoughts and Giulia strings together curated ideas — in the delta of our creative practices we create metaphors, which in turn become the foundation our work.
The goal of OHLA Studio was to create a vehicle that would take us on the journey of our lifetime, where our only limitations are our imagination. This requires vision, belief, and discipline. I think it's important to note that we had to work to shape these tools: bolster our vision, strengthen our beliefs, and practice to form habits of discipline.
We sketched out what would be OHLA Studio over dinner in Milan in the winter of 2015 on a paper placemat. We had created a mind map. The map became how we rank opportunities, frame up questions, and make decisions: creative, family, money, travel. It also mapped out the first few geographic stepping-stones – California, Mexico, and Italy.
What brought you to San Miguel de Allende? 
My parents retired in San Miguel de Allende. Since retiring, my father is an accomplished painter, and my mother an accomplished ceramicist. We witnessed their life transform from bustling busy professionals to budding creatives in San Miguel de Allende and that seemed correct to us. Also, I had spent some time there, but it was largely new for Giulia, and for me it felt like neutral relationship territory steeped in an incredible, vibrant culture. The move was about re-tooling our priorities – to be inspired, create a strategy around it, and believe the resources to continue will follow.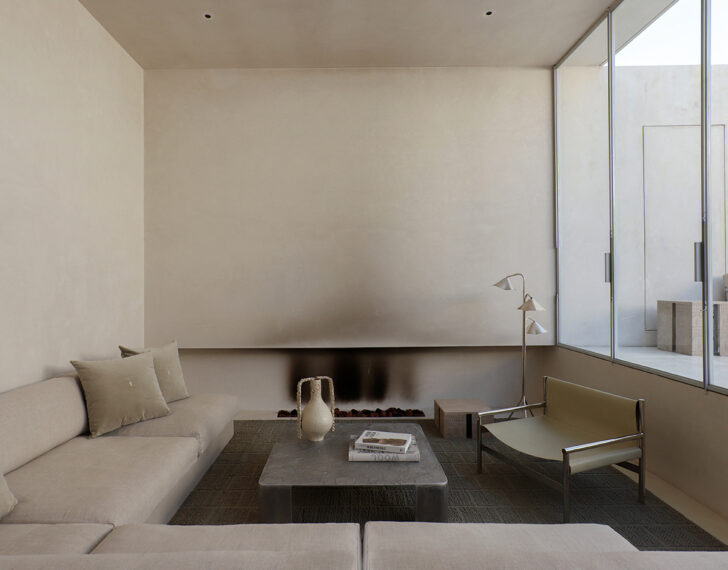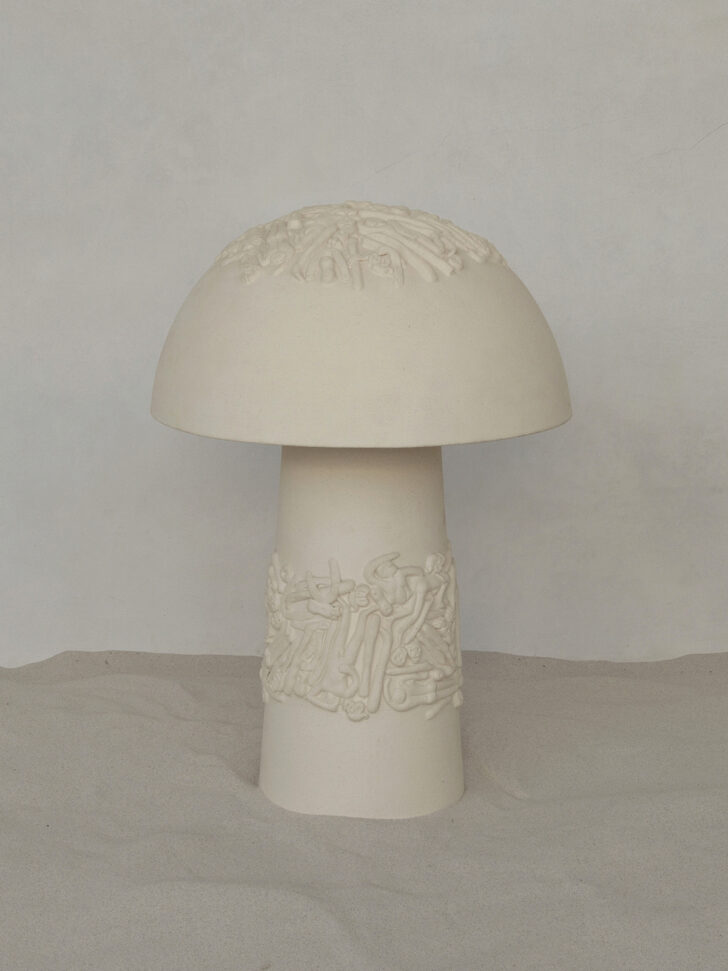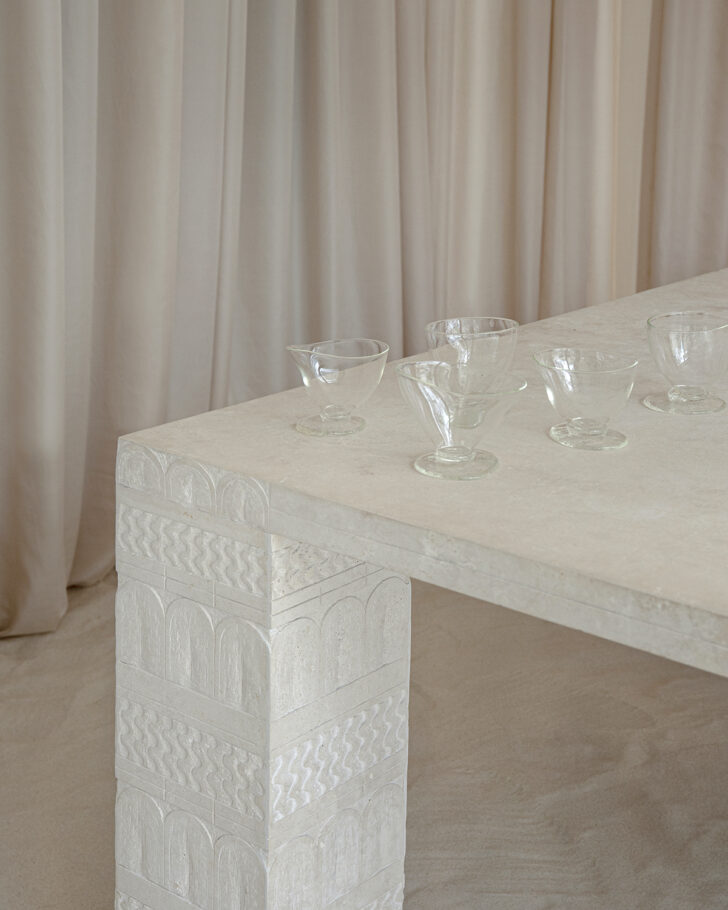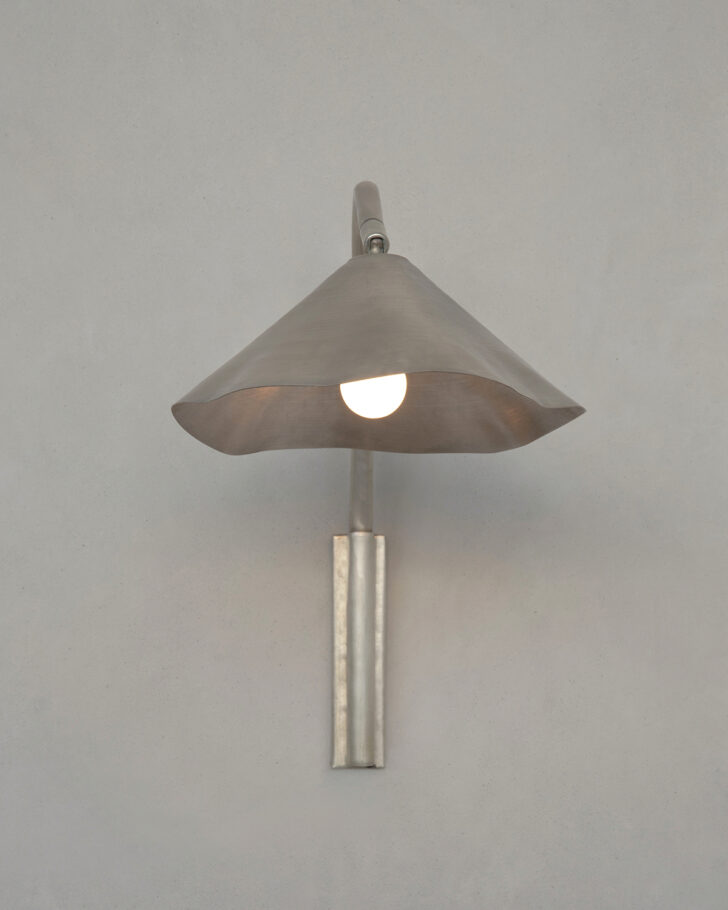 I'd love to know more about how you decided to launch a furniture collection and what influenced your choices around materials and palette.
We wanted the opportunity to create a singular point of view within Sin Nombre, as a way to blend the definition of architecture, interior design, and art. We focused on volumes, proportions, and simple well-defined spaces. The limited palette of materials and color allowed for us to lean into and play up material, form, and texture and we kept chiseling details until it felt as if the house and the furnishings were one.
We grouped a nuclear family of finishes. For example, we were inspired by the cast aluminum foundries in the Bajio [region of Mexico] and we wanted our chair profile to be a cast aluminum piece and so we tried to keep that look for all the metals in the house. We wanted the space to feel as if it were carved from a single block of limestone, inside to out, so we worked with stone carving artisans to make a square dining table to feel as if it were carved from a single piece. Other discoveries emerged: fantastic leather resources in León, incredible ceramic craftsmanship in Dolores Hidalgo, copper-smithing in Santa Clara del Cobre.
How do the two of you tend to work together and collaborate? It seems like a lot of creative partnerships are either mind-melds or else thrive on a tension between two distinct visions. How would you describe your collaboration?
Both mind-meld and tension. Of course, we prefer not to rely on tension, which can produce negativity and strain the relationship. We prefer that great work comes from a mind-meld. However, we've learned that if you're not pushing to advance the work and fighting for detail, that the work will feel complacent because you haven't given it your all.
Giulia and I hold different responsibilities in the studio. I'm suited to thinking in space, circulation, proportion, volume and light, speaking with clients, finding new talent, creating a team culture. Giulia is incredible with product, interior and graphic design, studio organization, timeline and schedule. Giulia is practical and grounded, things run smoothly and deadlines are met. I often identify larger patterns and try and rearrange them to connect dots. Giulia often works in the present. I often work in the future. Overall, we have a yin and yang thing happening.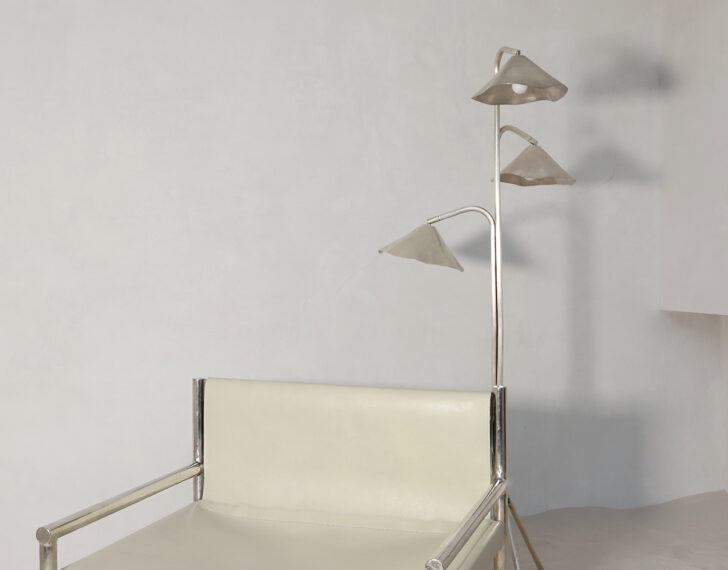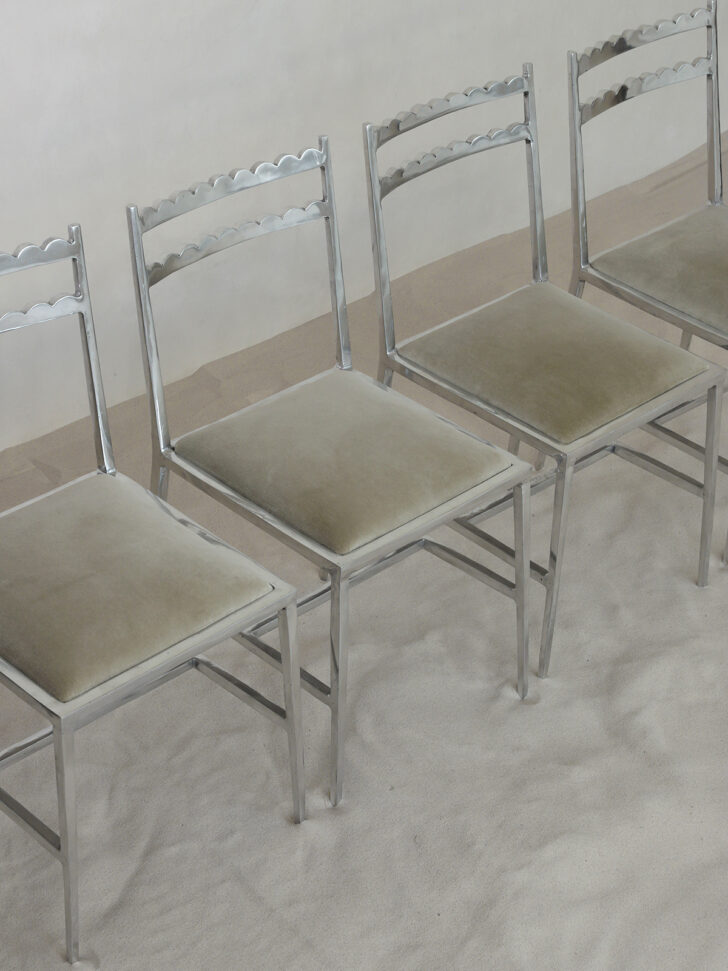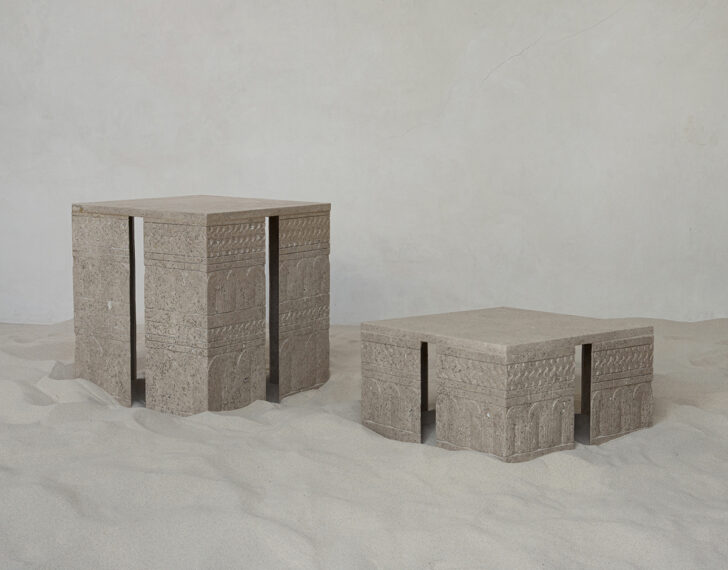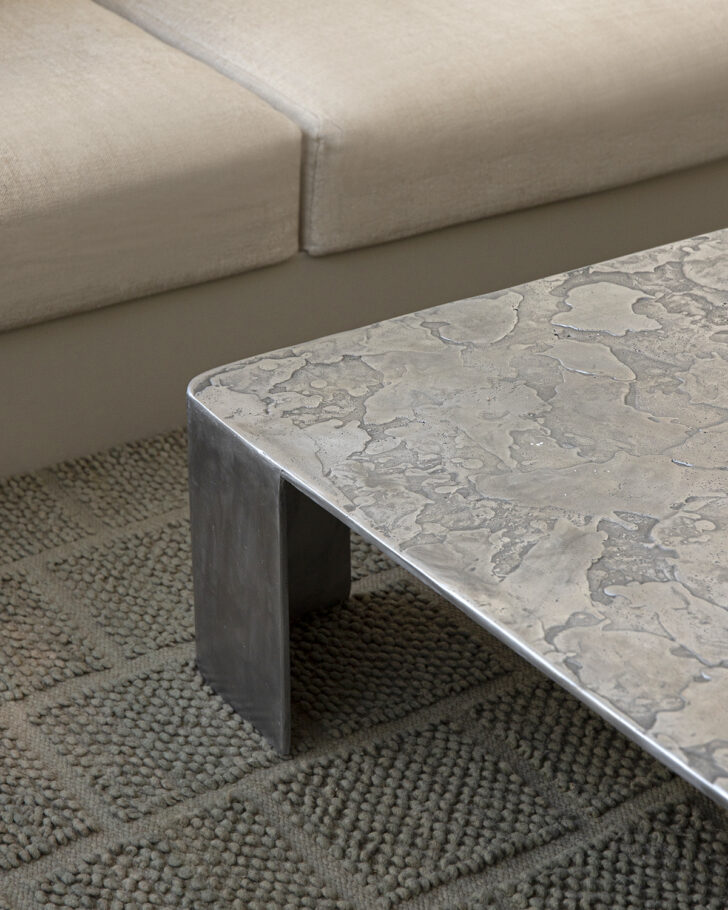 Can you tell me more about the residences: Sin Nombre house and there's another in the works? What led you to create Sin Nombre and what has the experience of operating it been like?
If we could have anything in the world, it would be a creative space where, when you arrive, you have all the resources to achieve the project of your dreams and the surrounding environment is nurturing and dynamic. That's our mission statement. It also happens to be a place where you can experience our work.
We're still working on the operations. We thought it would be incredibly casual. It turns out it's a lot of hard work. We've had many people reach out, and we're committed to put more thinking and resources into making our visits and stays program a valued experience.
I think the residences are our most important concept, and our least developed and least thought through. The goal is to bring life and animation to the work we do. We are private people, perfectly content to swim in the lake of our work. Often, we forget to connect carefully with the community around us. The residences' concept creates a strength from this weakness – we create opportunity to connect, collaborate, invest in ideas and most importantly people.
For future residences we are looking at a project in Alghero, Sardinia and we are weighing this against a project in Merida, Yucatan.
What's been inspiring you lately?
We curate experiences which guide us to research. Although, we spend most of our time filtering thoughts, intentionally discarding 10,000 things and seeing potential emerge in a few. Fabergé egg jewelry, Mayan carved stone relics, Italian travertine quarries, palm tree farms in Southern Florida, Tuscan wood fired ceramic kilns, and anodized titanium.
What's next? What are you currently working on? 
We have three pillars of our studio: projects, products, and places. We never neglect our clients, so we're heavily focused on our projects -– we're working on a myriad of developments for RH, an estate in Napa, a restaurant in San Francisco, and two boutique hotels in Merida among others. Internally we are working through production logistics for our product line to ensure quality and consistency with every purchase order. We're evolving our offering, refining it and expanding on what we've learned – so expect more from us. Also, we're sketching ideas for our new office because we believe in our studio and we believe in our people, so lately that has been top of mind. When we release news of our latest residence, we'll surely let you know. It'll be the right place, at the right time, for the most personal of reasons.